Everything You Need to Make Entertaining Easy
It's always fun hosting friends but sometimes, cleaning, setting a table, and preparing food sounds like so much work. One of the most important things you can do is have the essentials on hand. I've always loved entertaining and have learned a thing or two about simplifying the process over …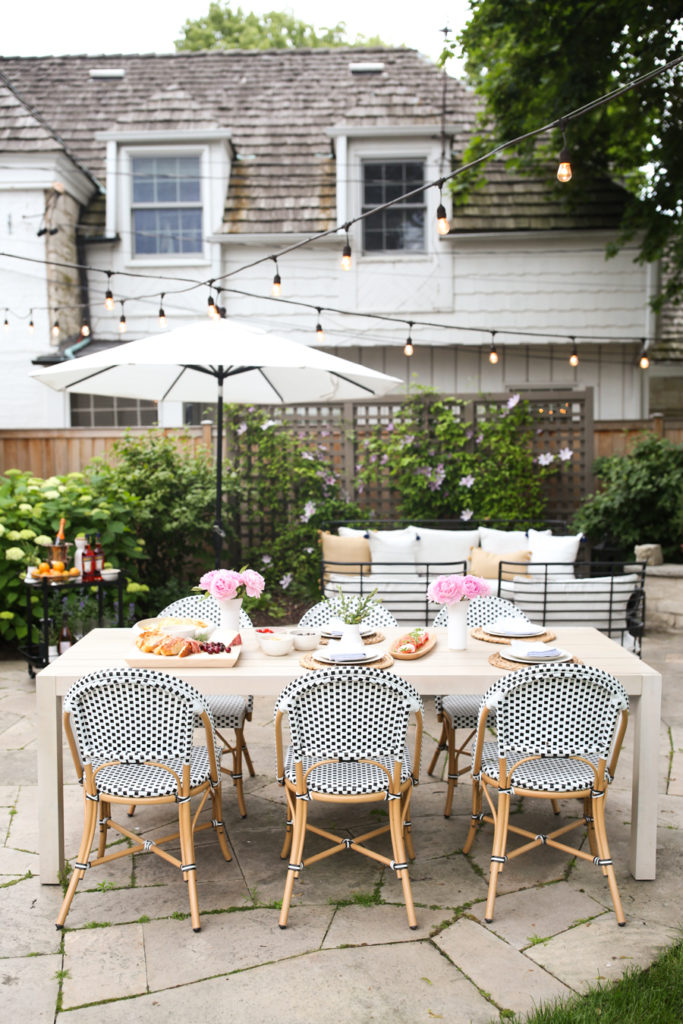 It's always fun hosting friends but sometimes, cleaning, setting a table, and preparing food sounds like so much work. One of the most important things you can do is have the essentials on hand. I've always loved entertaining and have learned a thing or two about simplifying the process over the years, so I'm excited to partner with EQ3, a chic, modern, and budget-friendly brand to share how I quickly and easily entertain friends on our patio.
Everything You Need to Make Entertaining Easy
First, the essentials:
A place for everyone to sit. A sofa or table, inside or out. You just need somewhere to seat your guests.
Mood lighting in the form of twinkle lights (outside) or a lamp and candle inside. This is one of those things that goes overlooked, but lamps are much warmer than overhead lighting. Just sayin'
Cloth napkins. There are so many reasons to go cloth. The first being that they're eco-friendly and the second being that they're much prettier than paper.
Placemats. You can get by without them but these are under $5 and really elevate your table.
Dishes. Specifically, coordinating set of dishes and serving pieces.
A set of nice glasses. I recommend having tumblers that work for both water or a cocktail, and champagne flutes is always great for prosecco or mimosa.
Fresh flowers and a vase or two. I buy almost all my flowers at Trader Joe's. You can't beat their prices and they're so nice to have on hand.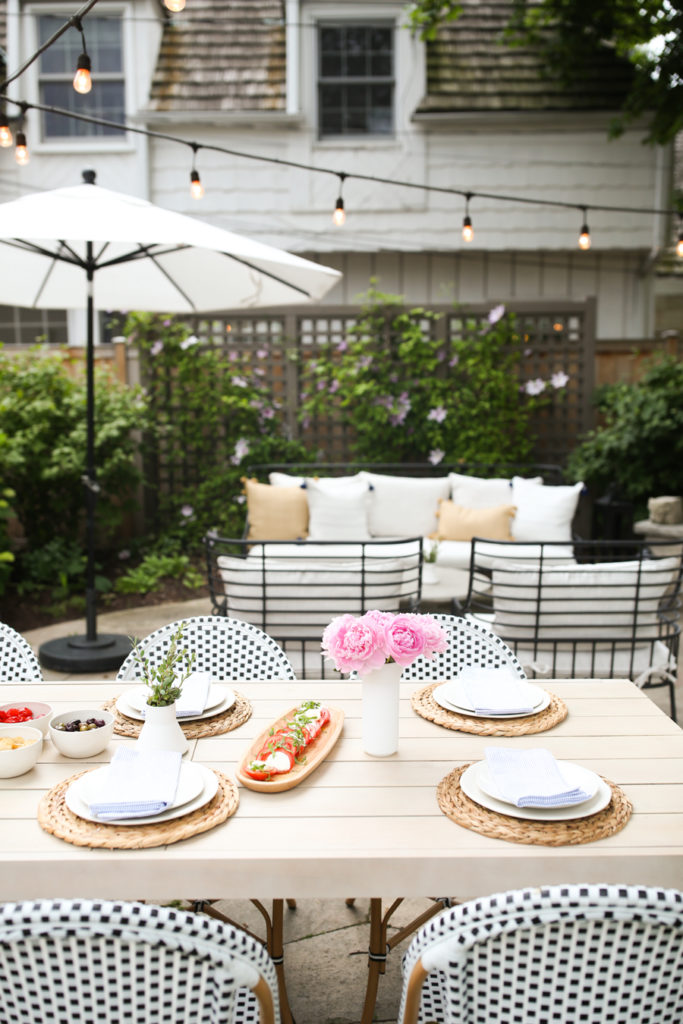 Ok, so let's talk about the table
Styling this table took a few minutes. With the right dishes, pretty napkins, placemets, and greenery, you'll have your table looking perfect in no time at all. I set this up while Margot played – it was so, so easy. You'll notice there isn't even flatware (we ordered pizza and didn't need it) but it still looks pretty, right? It's all in having the right pieces.
The food
There are so many ways to make things easy while still having it look like you spent time putting everything together. Not that we're out to trick anyone, but I feel good when my home looks good and when guests feel welcome and cared for. Entertaining can be as simple as pouring a glass of wine and ordering food, hosting a potluck, or making a 3 course meal (I usually opt for the first 2 options).
We whipped up some caprese (tomato, basil, mozzarella, and a little balsamic). An easy crowd pleaser. Another go-to for us? A very simple cheeseboard – bread, manchego, prosciutto, cherries, marcona almonds. Add a bowl of olives, peppers, and some chips, and voila. Charcuterie for all. And then we ordered pizza. So easy, no stress, and everyone had so much fun.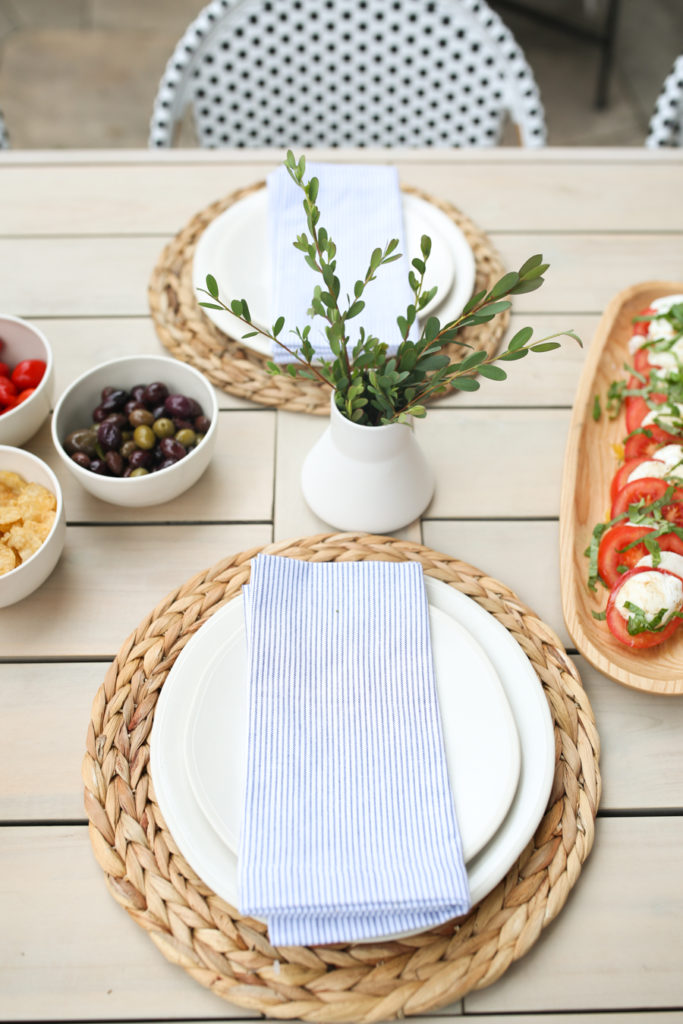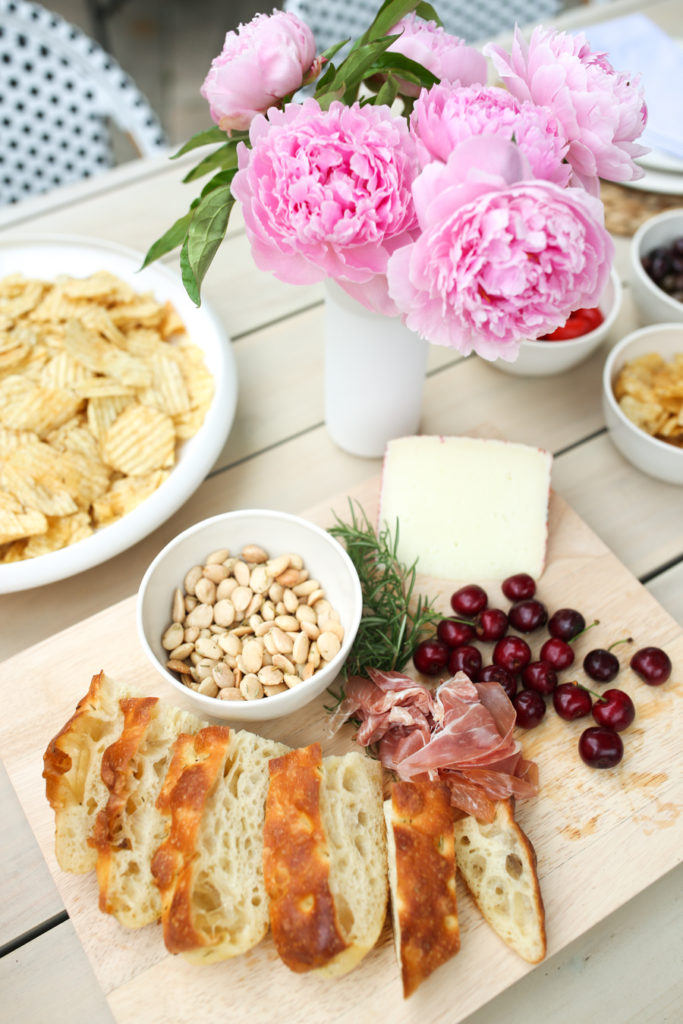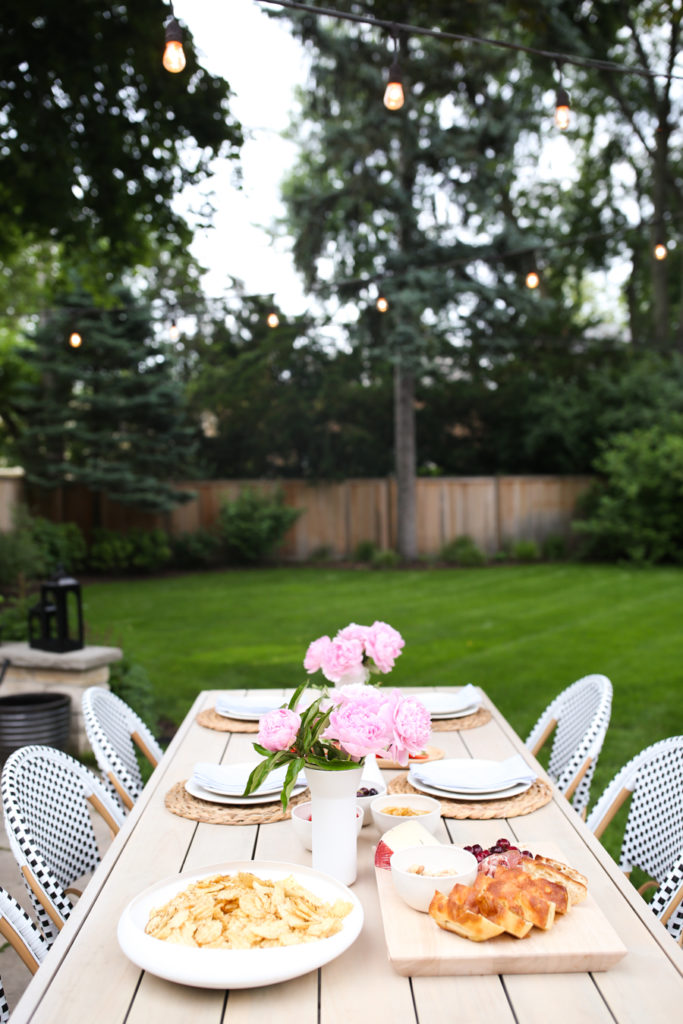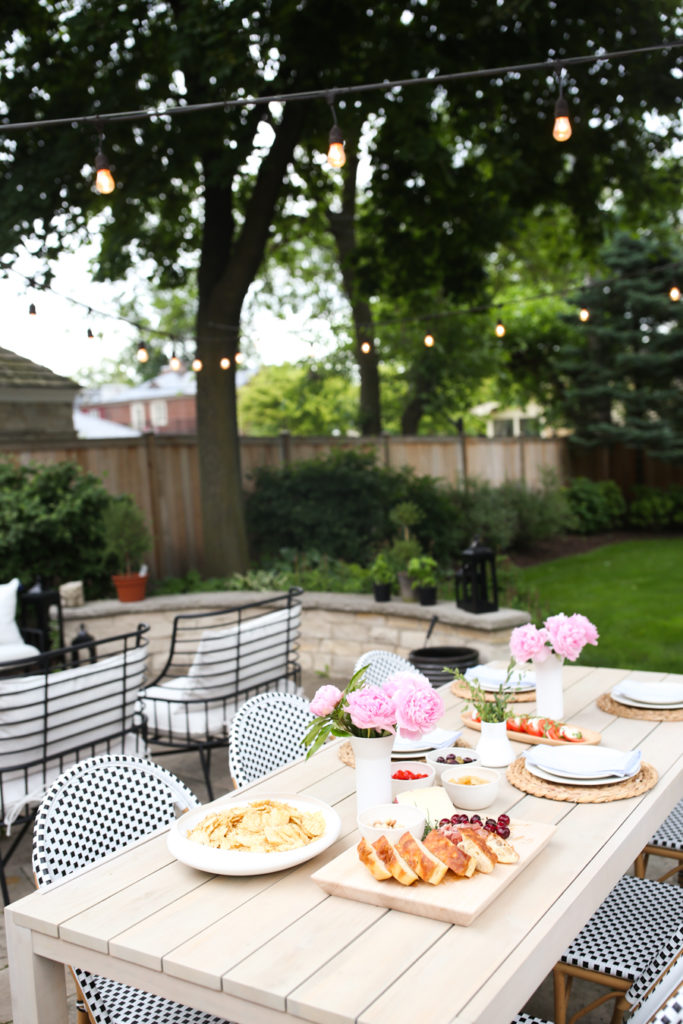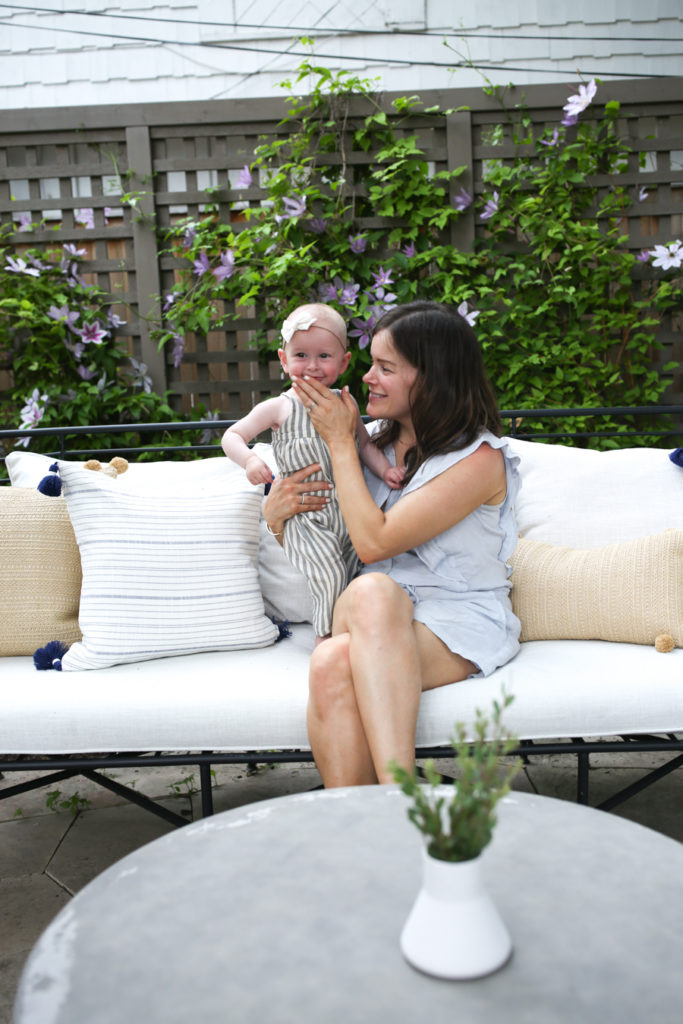 Drinks
Normally, I'll just grab a bottle of wine (or three) but it's Spritz season so I set up a bar cart with some rosé and all the essentials to make Aperol Spritzes. No bar? No problem. You can turn anything into a bar – a dresser, cabinet, or an actual bar cart. Alternatively, you can also use a bar cart to hold books, a record player, etc. Anything goes. I added a vintage bread basket with oranges and vintage champagne bucket because I love to mix old and new. Again, anything goes when you're using what you love. It's all about having the essentials that work for you.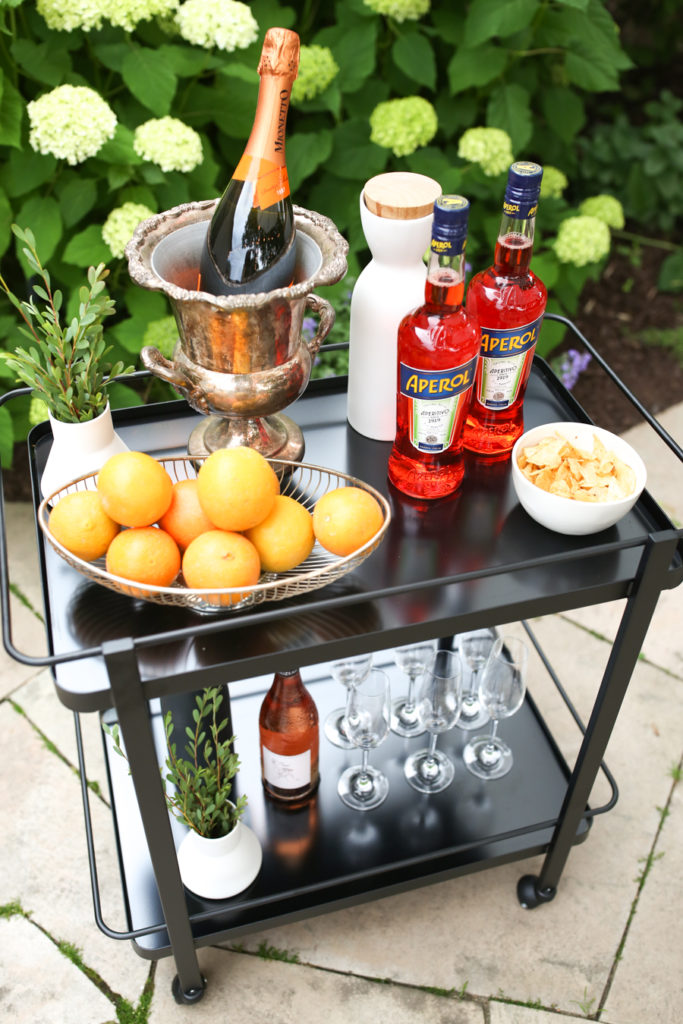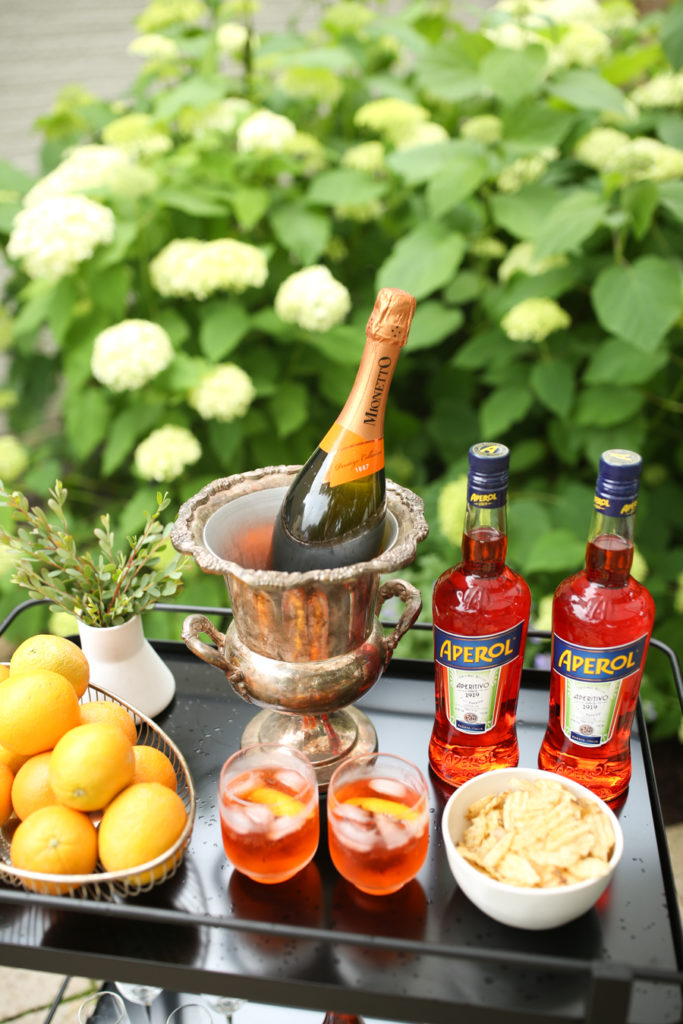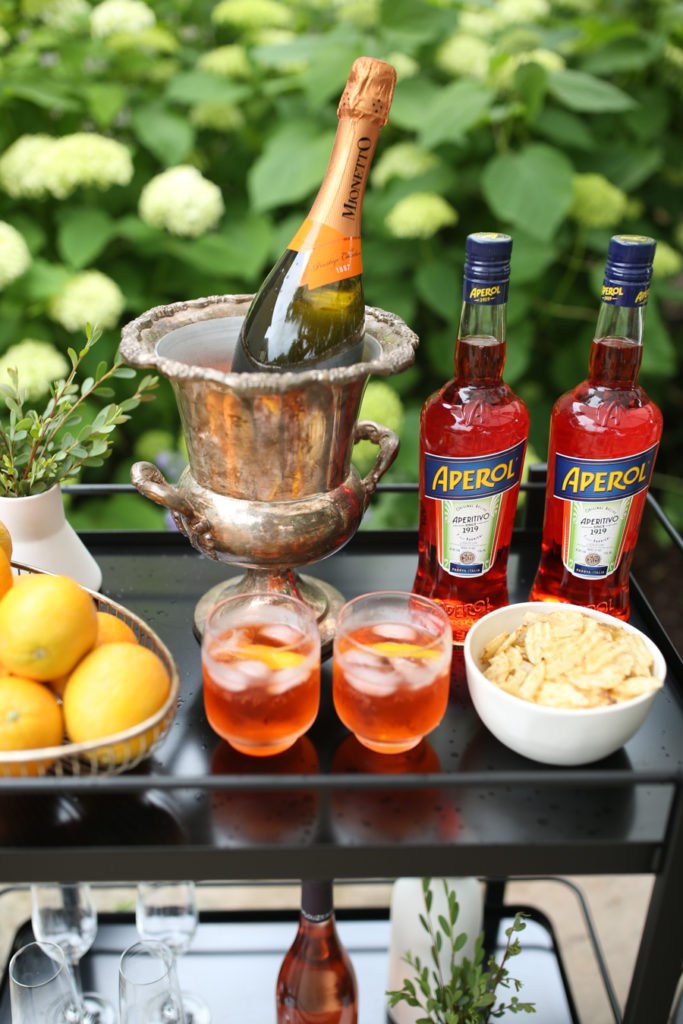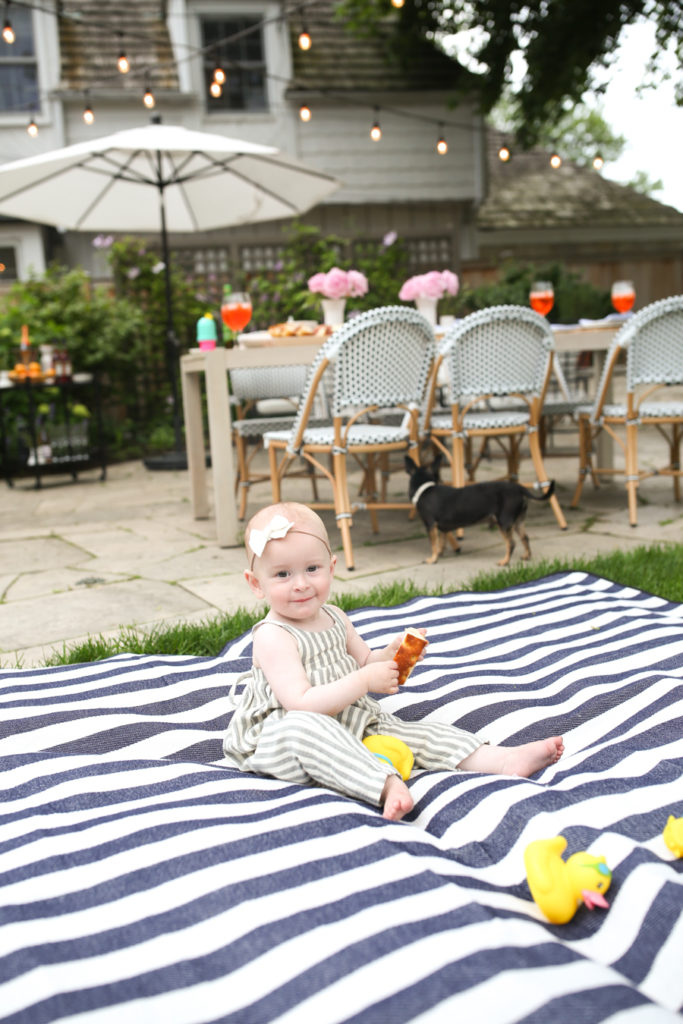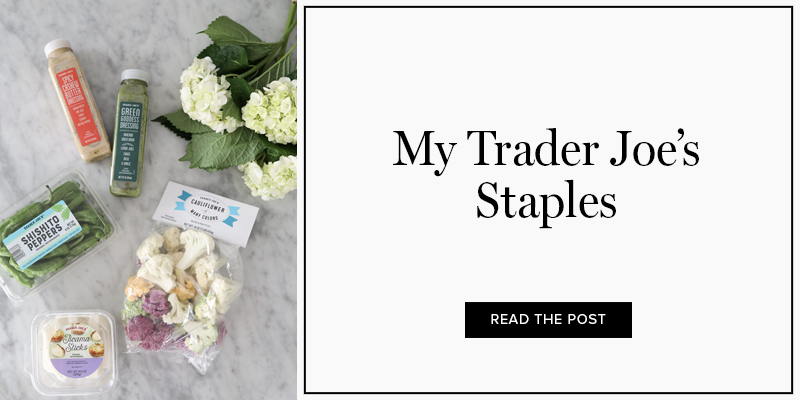 Striped napkins, $19.99
Placemat (these are only $4.99 each!)
Mirage serving bowl, $34.99
Halo jug, $24.99
Champagne flute, $3.99
Tumbler glasses, $3.79
Bar cart, $299
Stoneware bowl, $9.99
Stoneware plate, $11.99
Alfred vessel, $16.99
Black jug, $19.99
Wine carafe, $29.99
Cutting board, $29.99
Thank you to EQ3 for sponsoring this post. All opinions are my own. EQ3 has 14 stores in Canada and the US, and recently opened here in Chicago and they have a new store opening in Lincoln Park next week!