How to Make a Balloon Garland in 3 Easy Steps
I always thought DIY balloon garlands were for really crafty people. You know the type. They make Halloween costumes. And that is not me. But our nanny assured me that I could make my own balloon garland. Given that people charge hundreds of dollars for these, I was sure mine …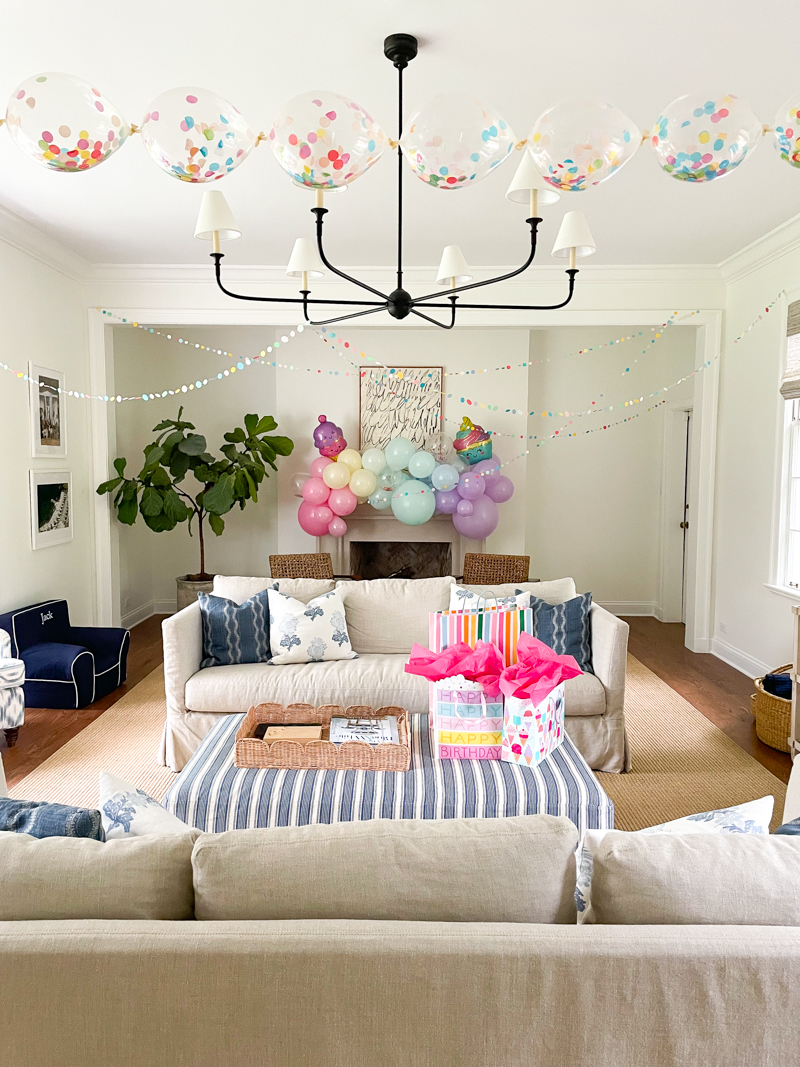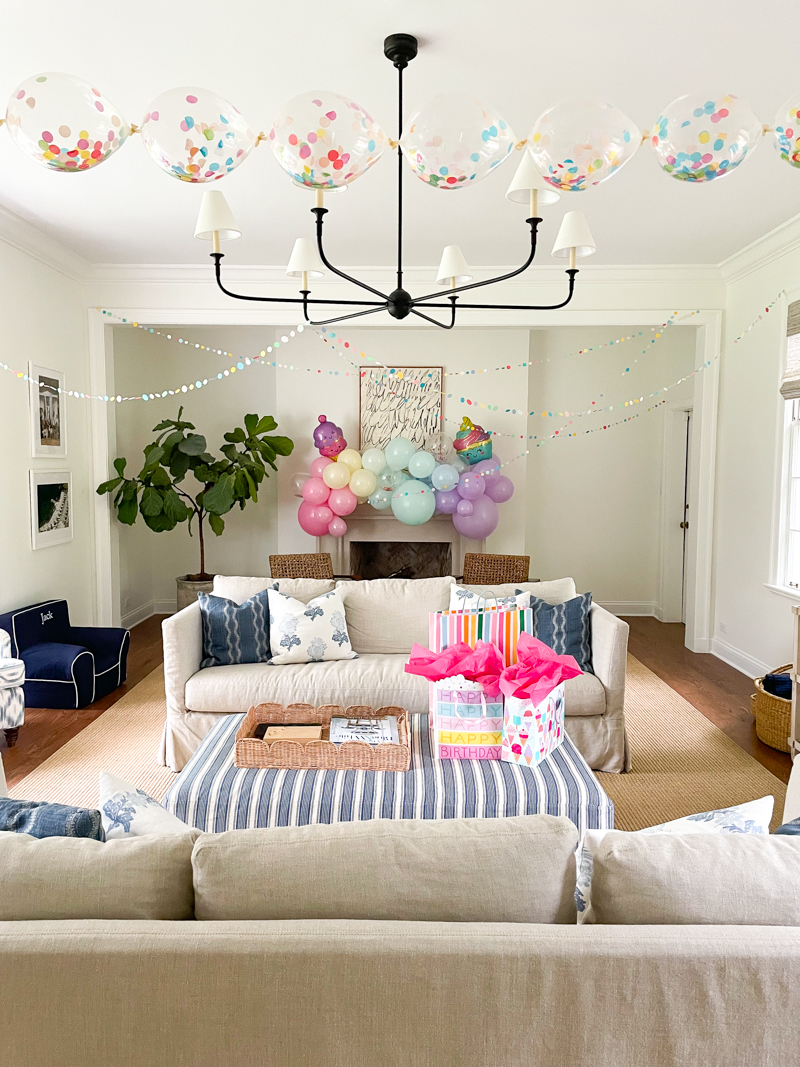 I always thought DIY balloon garlands were for really crafty people. You know the type. They make Halloween costumes. And that is not me. But our nanny assured me that I could make my own balloon garland. Given that people charge hundreds of dollars for these, I was sure mine wouldn't look great. But for less than $50 (the cost of a pump and DIY kit that had everything I needed) and a few hours of time, I had to try. I never even looked at an online tutorial – I just went for it. If the thought of making balloon arches or garlands completely overwhelms you, let me assure you that you can do this. You just need a few simple supplies and a little time (about an hour or two) and you'll have a beautiful balloon garland at your next party. You can watch my video tutorial here.
How to Make a Balloon Garland in 3 Easy Steps
The night before my kids' birthdays, I like to decorate the house, and this is really the perfect way to make a huge impact and make their birthdays feel extra special. The first time I made a garland, it turned out like this (see below). I could not believe how great it turned out. Like I walked by it every day for a week and was just so impressed with myself 😂 It took almost 3 hours, but a week later, I made the treat garland (pictured above) in about an hour. Here are step by step instructions to make an easy balloon garland that will add some serious wow factor to your party space.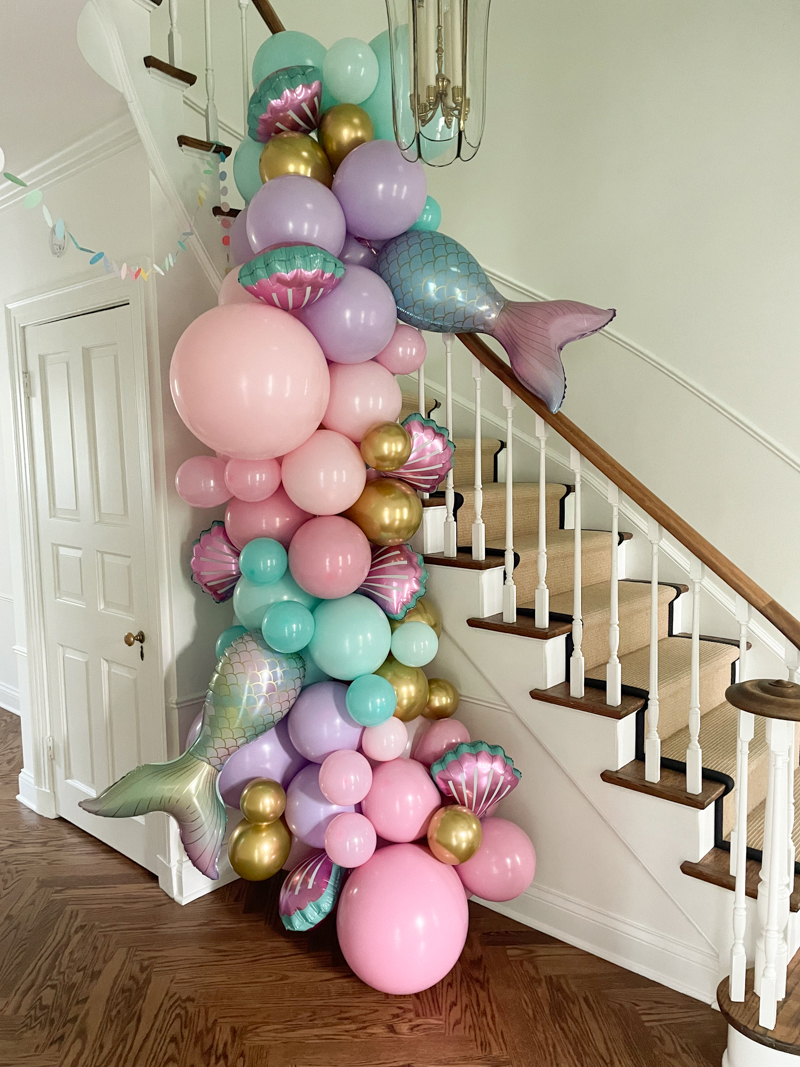 A step-by-step video to make a quick and easy DIY balloon garland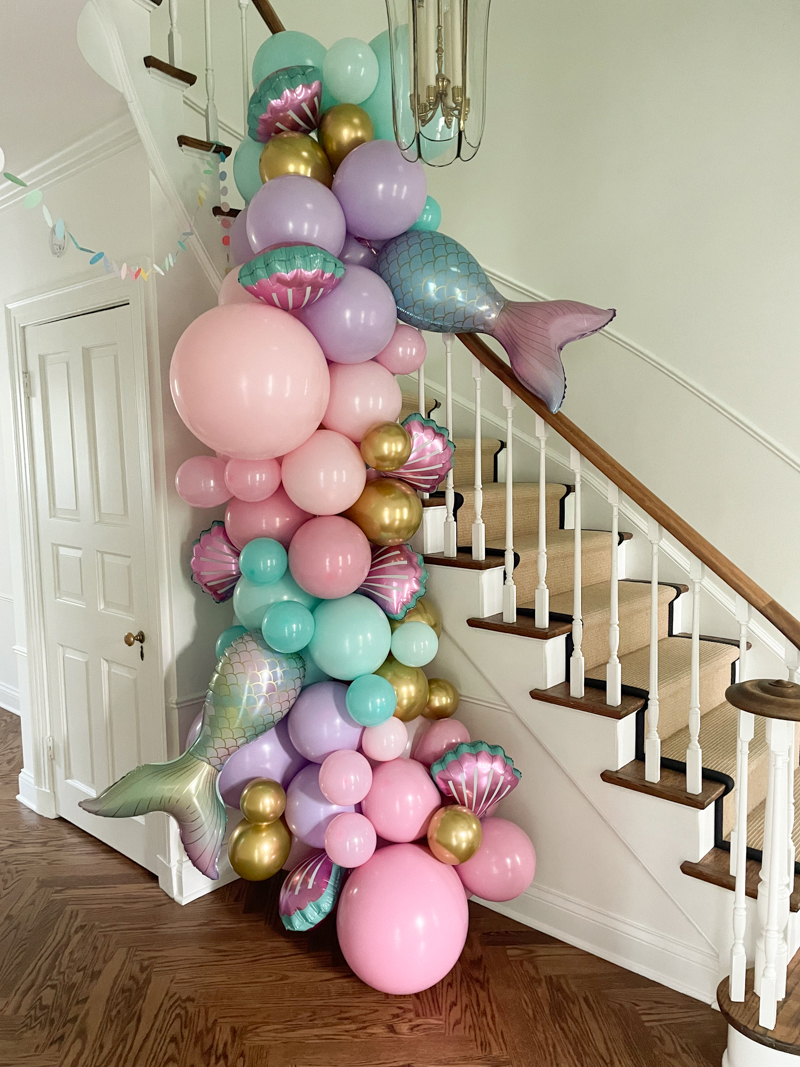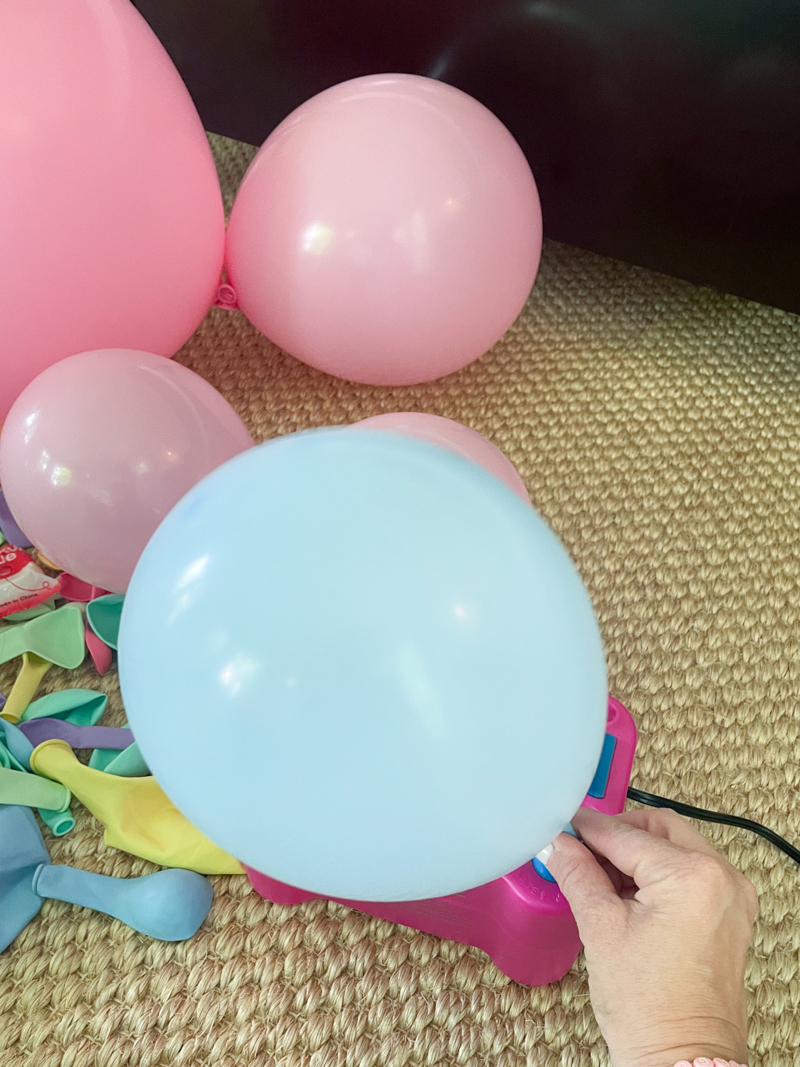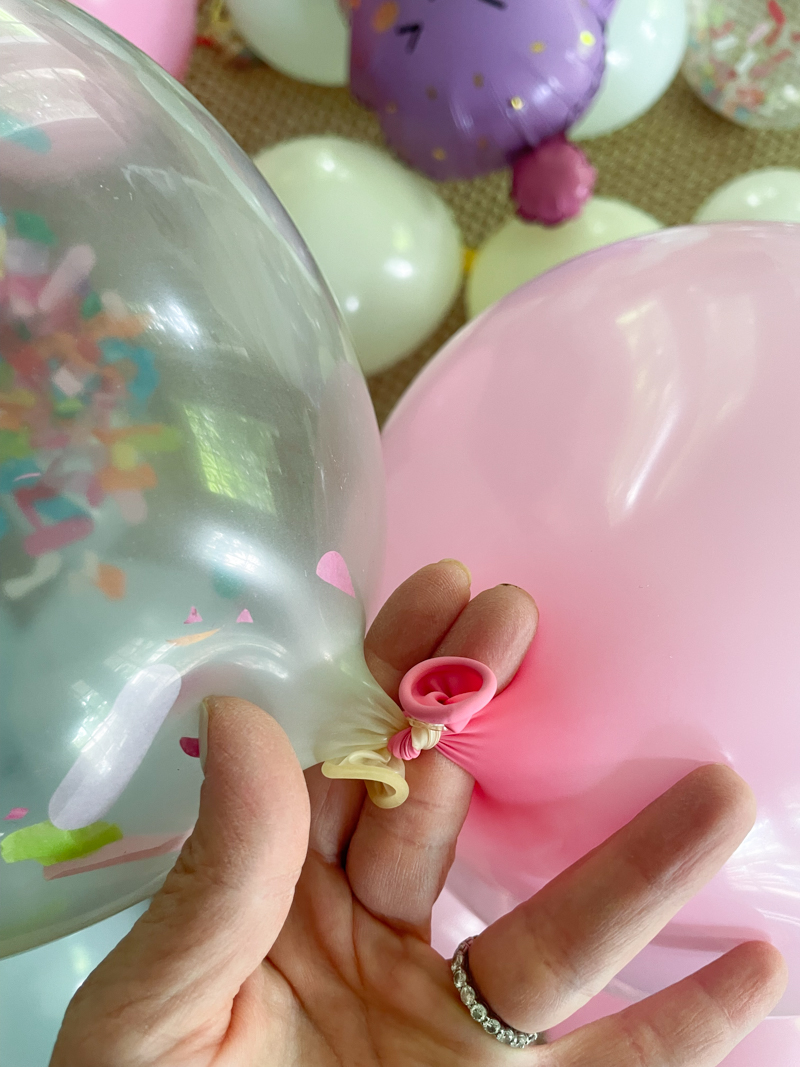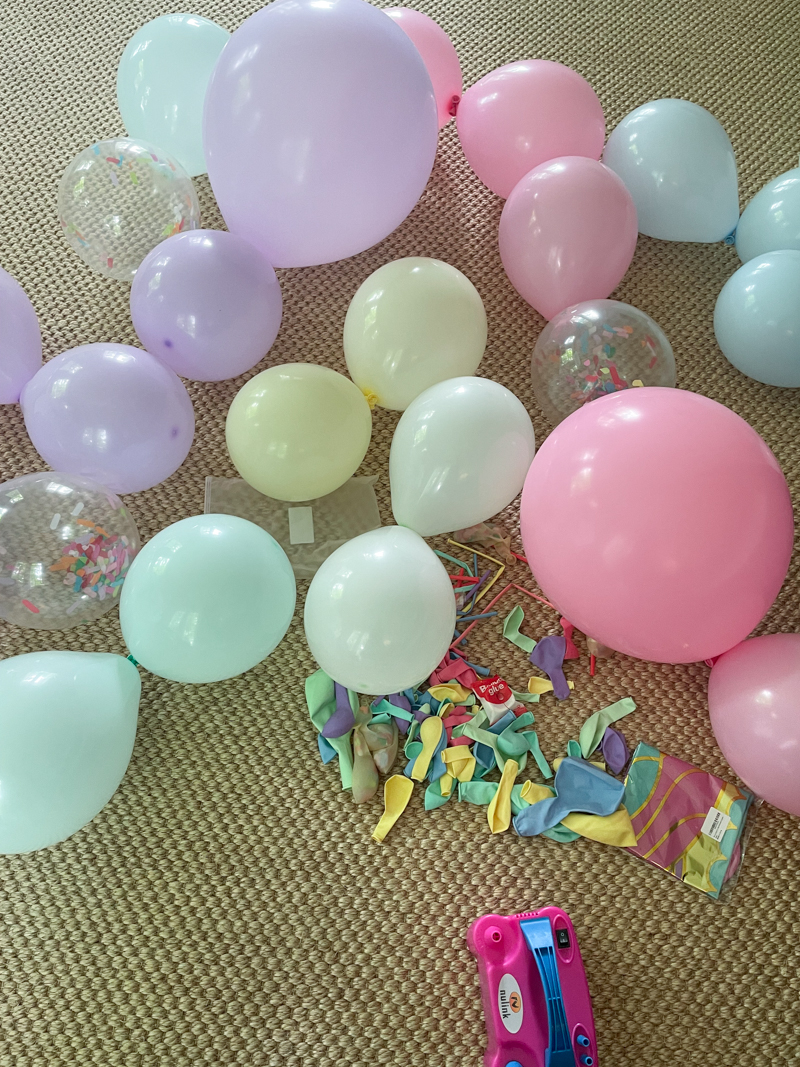 1. Get the balloons ready
It all starts with latex balloons in the color scheme of your choice. You'll want a few different sizes. It's nice to have some standard 12 inch balloons, a few larger balloons around 18 inches, and smaller balloons around 5 inches. I only like a few large balloons – maybe one in each color. You can buy packs of balloons by size and color, or can find DIY balloon garland kits on Amazon and Etsy. Blow up all of the balloons with an electric balloon pump, tying them together in sets of two. Thank you to the people who suggested that tip – tying them together makes the entire process faster and easier. Be sure to mix up sizes of balloons for a beautiful end result.
The electric pump I purchased is so easy to use, and you can blow up one or two balloons at once.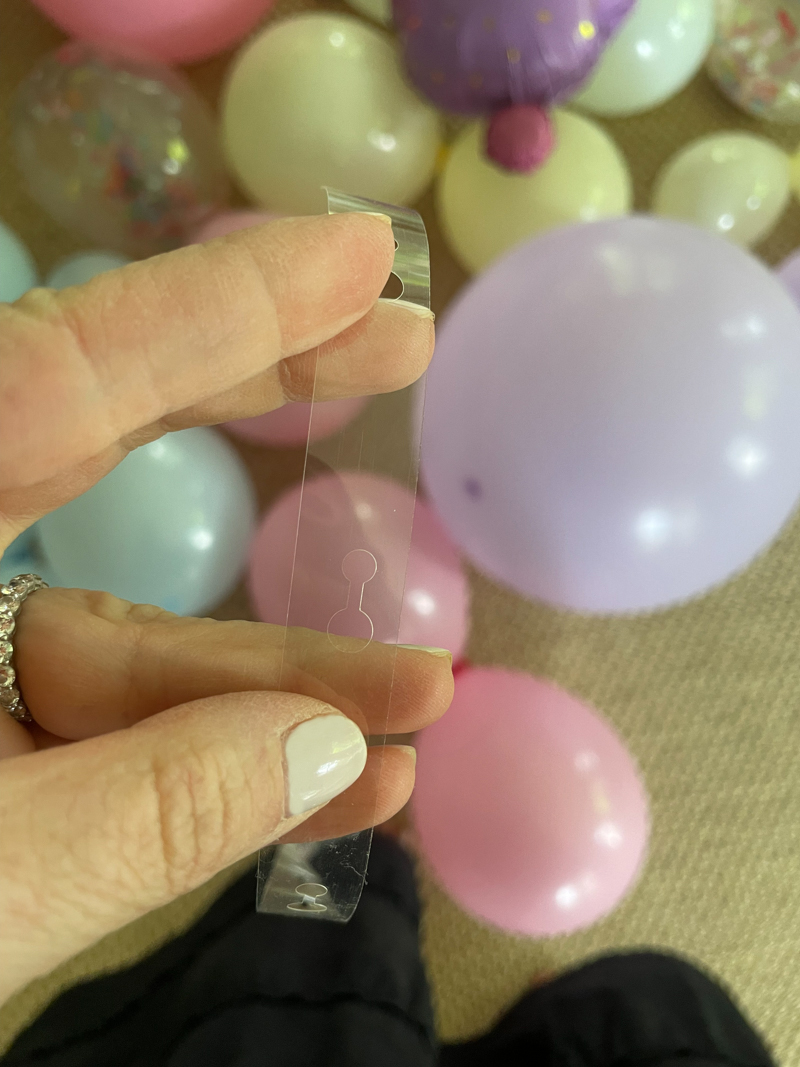 The balloon knot will go through these little holes here. I kept the colors in groupings for a beautiful pastel rainbow balloon garland.
This pump is so affordable and easy to use. Keep in mind that it fills balloons with air and not helium, and that's exactly what you want for a balloon garland.
Shop now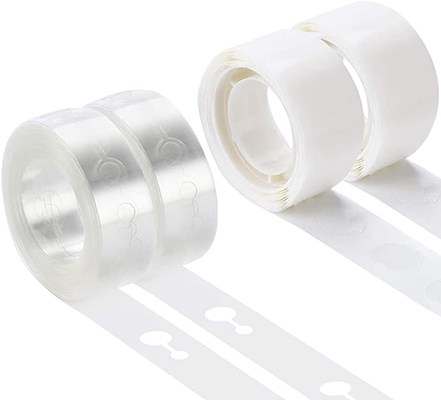 You can purchase a complete balloon kit, or this strip and glue dots to use with balloons you already have.
Shop now
2. Put the garland together
This might sound difficult, but trust me when I tell you how easy it is. As you need is a balloon strip or balloon garland tape. I couldn't believe how great my first garland looked. This balloon tape will be included in a garland kit, or you can purchase it on its own. I put my garland together before cutting the strip. Just start at one end and pull the tied end of the balloon through the small holes in the balloon strip. Put balloons together by color, or alternate colors (and don't forget to alternate sizes) as you create your garland.
Once your garland is together, it's time to add embellishments, like mylar balloons, that will tie your balloon garland to the theme of your birthday party. The easiest way to do this is with some string or fishing line. Tie the string around the opening of the balloon and then tie the other end to the balloon tape. It's that easy!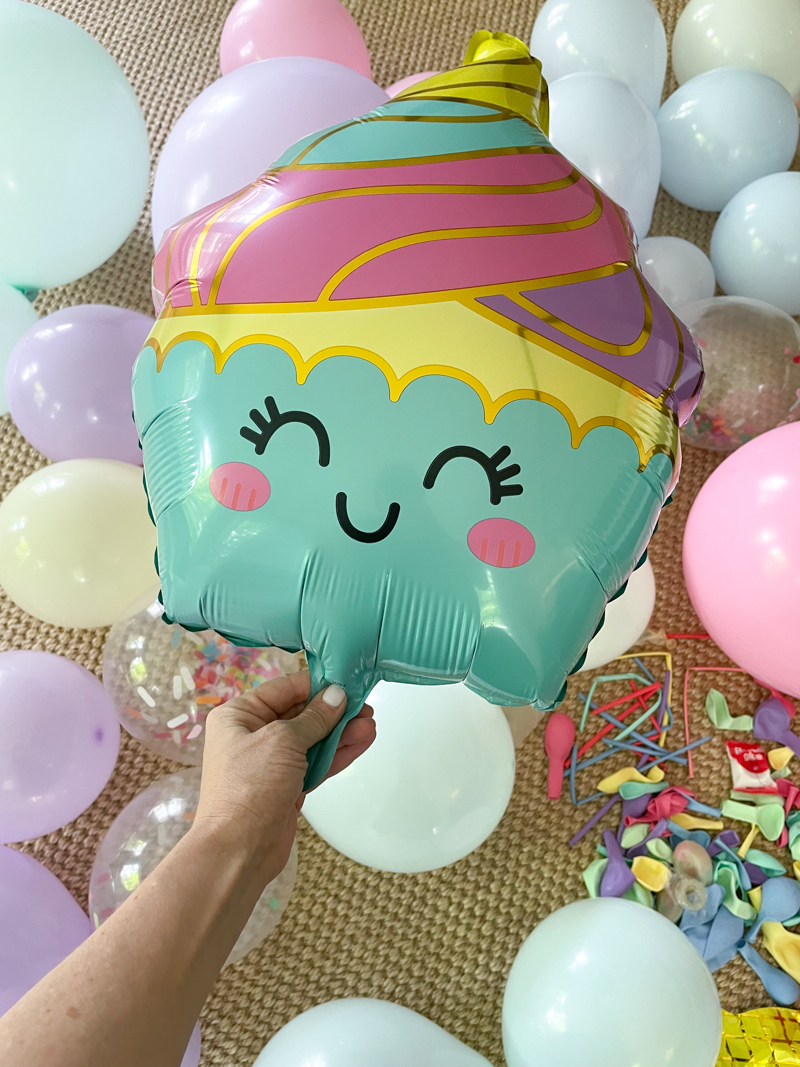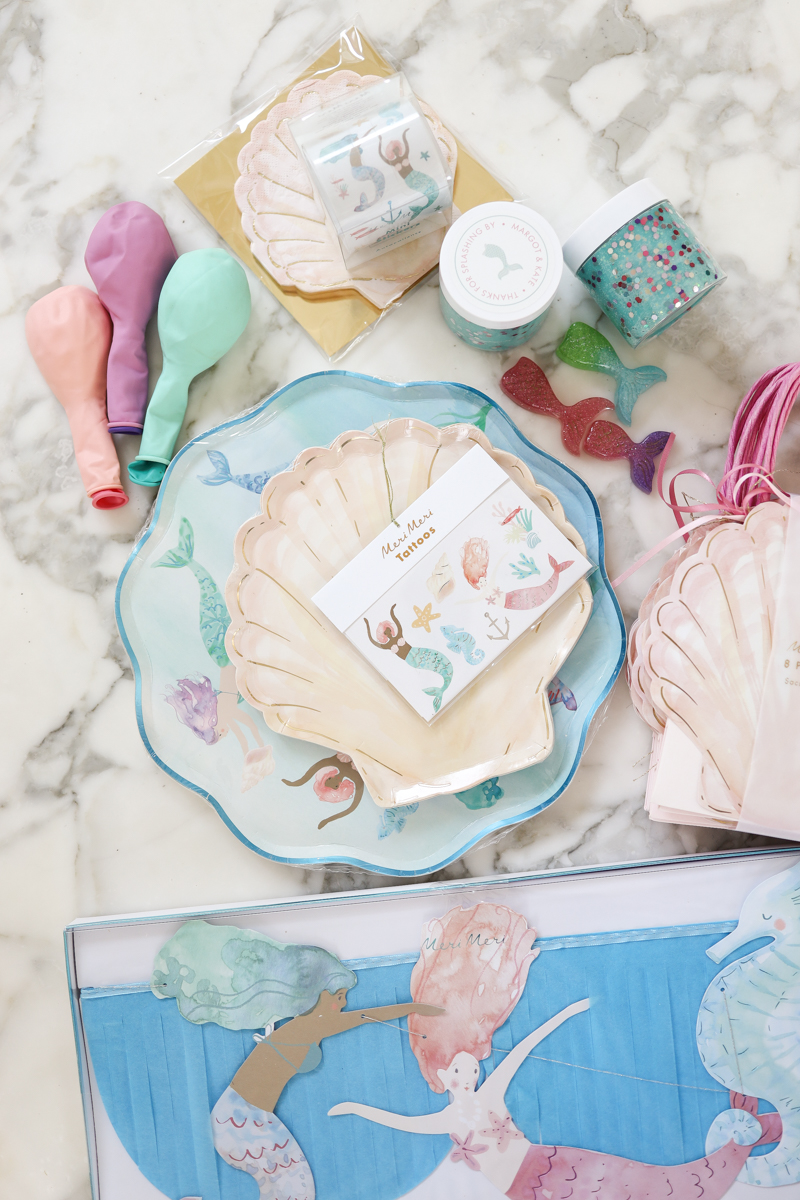 Everything I used for my girls' mermaid themed birthday party
3. Hang your garland
Use command hooks to hang your balloon garland by the end of the strip. Tie one end of the balloon strip to the command hook with fishing wire. And for the final step, use glue dots to attach small balloons. These filler balloons aren't a must, but I think they make a difference.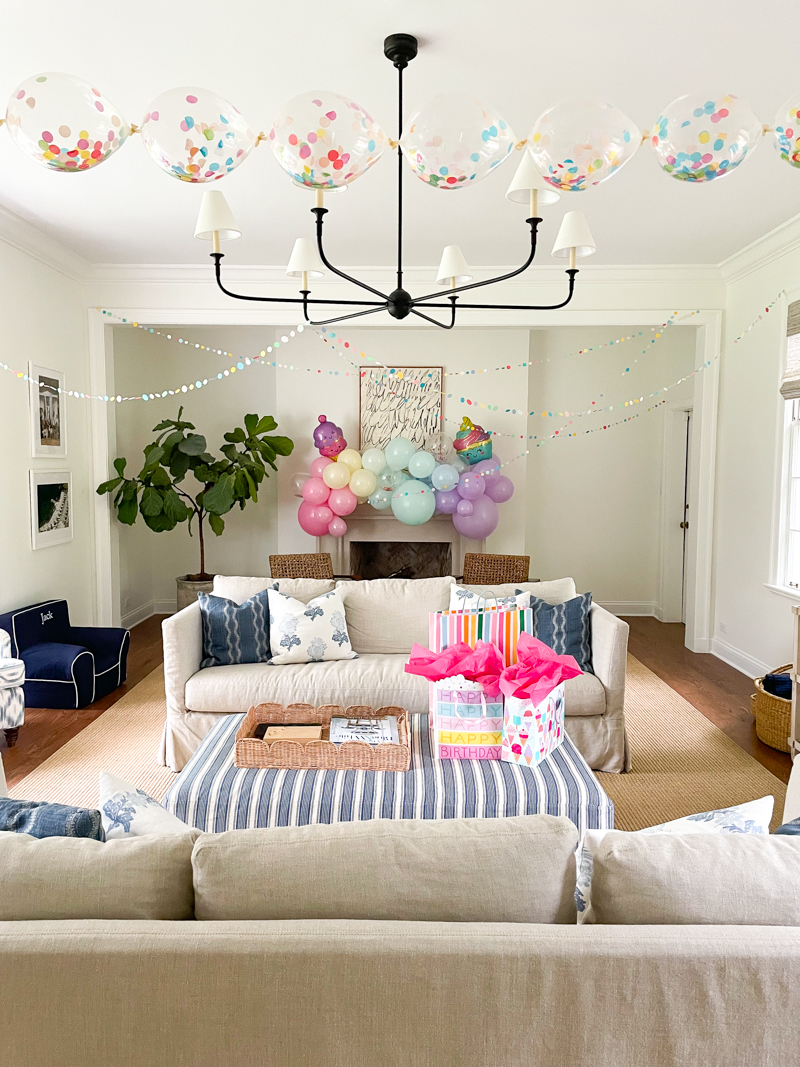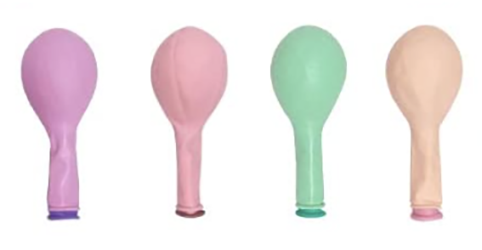 Amazon
This is the year I make a balloon garland. But not just any garland, a mermaid balloon garland.
Shop now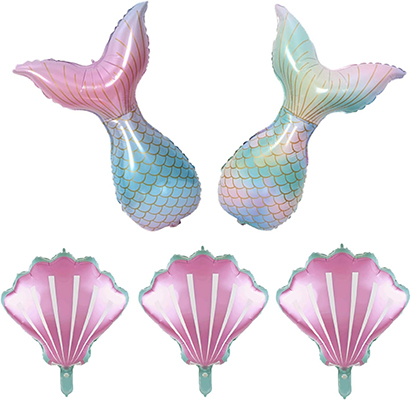 Amazon
I'm going to add these to our balloon garland. Adding themed balloons to a standard garland is a great way to extend the theme.
Shop now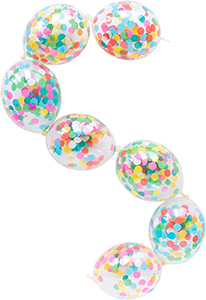 These are quick and easy to set up and look so fun and festive. I did not use these in my garland, but had to share them since they're so fun. I just used these exact ones for my daughter's birthday and she loved them!
Shop now
This post contains affiliate links. If you purchase something using my links, I may earn a small commission at no cost to you.