The Best Trader Joe's Staples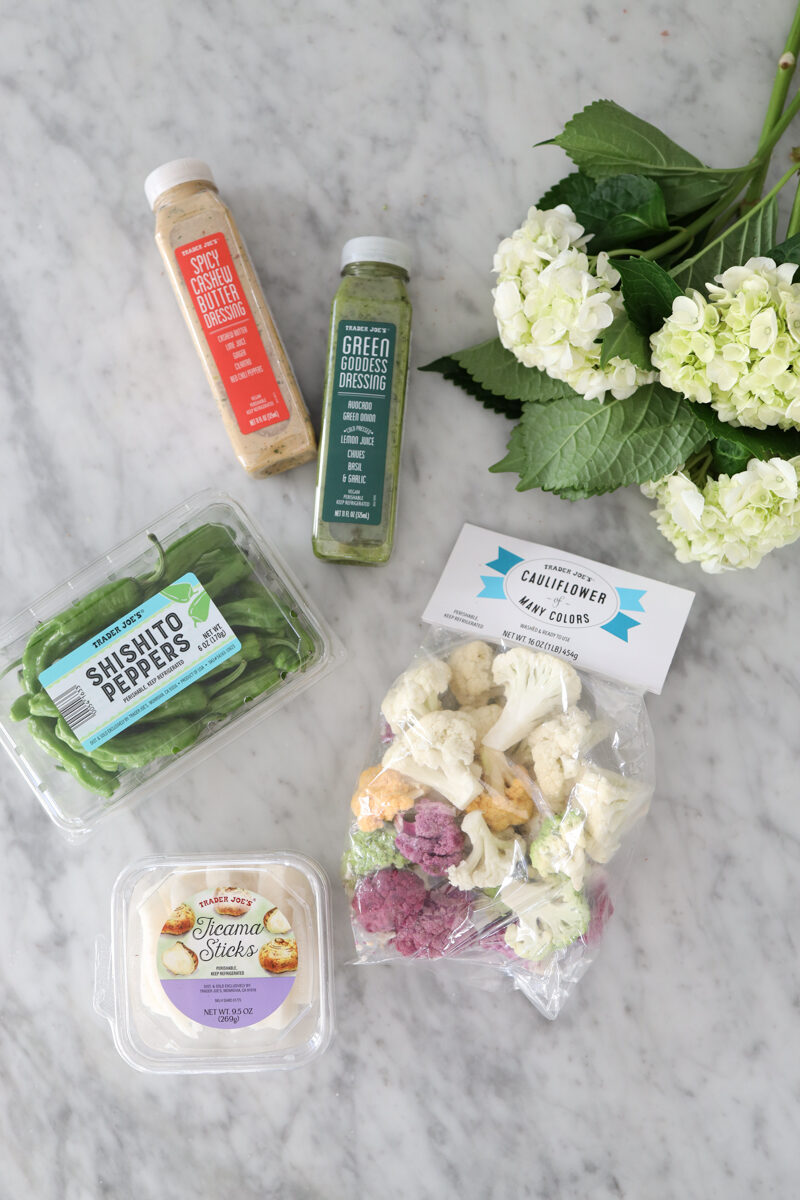 Who doesn't love Trader Joe's? The prices are great, flowers are affordable (and beautiful) and it's a go-to for snacks and easy weeknight dinners. I wasn't doing in-person grocery store shopping for quite a while. Now that it's safe again, I've been going every week or two for my favorites. And fresh flowers. Oh, how I missed those. I'm sharing my Trader Joe's staples that everyone should stock in their kitchen and pantry. See some of my favorite recipes here.
The Best Trader Joe's Staples
Whenever there's something new at TJs, I want to try it. The fruits and vegetables can't be beat, and there are tons of other healthy options, too. With so many options and the desire to try them all, figuring out what to buy can be a bit overwhelming. Let's dive in.
Fresh Produce
From sweet potato and red peppers to stir fry mixes and fresh greens for salads, the fresh produce at Trader Joe's is priced so well. Here are my favorites.
Fresh fruit (all of it). There are tons of organic options to choose from if that's your thing, and again, the prices can't be beat.
Jicama sticks: These are great with hummus or guacamole in place of tortilla chips.
Shelled fresh edamame
Broccolini: so random but you can't beat the price and it's just so much better than regular broccoli
The Best Trader Joe's Snacks and Pantry Staples
Freeze dried banana slices: My daughter loves these (bonus: zero added sugar)
Freeze dried strawberries: My daughter calls these strawberry chips and thinks they are pretty much the best treat ever. Crunchy and delicious, but easy for toddlers to eat.
Roasted and salted marcona almonds with rosemary
Cinnamon graham crackers
Bamba peanut snacks
Plaintain chips (paleo approved)
Prepared and refrigerated foods
Vegan Kale Pesto: So healthy and so good. I'm not vegan but prefer the taste of pesto to an overly-cheesy one.
Organic string cheese (and really all of their cheese): The string cheese is one of my youngest daughter's favorite snacks. And any time I need to stock up on cheese and meat for charcuterie, TJs is the place to go.
Organic deli turkey
Dips, Dressing, and Sauce
Green Goddess Dressing and Spicy Cashew Butter Dressing: These dressings have clean ingredients (and 0 added sugar).
Everything But the Bagel Seasoning: I always have a few bottles on hand and it's so worth the hype. There's even an EBTB smoked salmon.
We always get our tomato sauce at Trader Joe's
Trader Joe's coconut oil is priced so well
The Best Trader Joe's Frozen Food
We don't do that much frozen prepared food, but when I'm in a pinch, TJs does have the best options. I do stock up on frozen fruits and veggies, and we love Trader Joe's frozen treats. Here are some favorites:
Cauliflower Gnocci (this is a quick, easy, healthy option). Top with pesto or tomato sauce.
Mandarin Orange Chicken: not the healthiest option but it's fantastic. If you're craving orange chicken, this stuff is legit.
Frozen crushed ginger: This is easily 1,000 times easier than having fresh ginger on hand, and then peeling and cutting it.
I love the riced cauliflower stir fry. Healthy and light, it's a great add-on to serve with your favorite protein.
Desserts and Baked Goods
Sea Salt and Turbinado Sugar Dark Chocolate Almonds. Because oh. my. god. I'm not even a chocolate person and love them so much.
If and when they magically have them, the raspberry shortbread stars and hearts are my 3-year-old's favorite.
Hold the Cone Mini Vanilla Ice Cream Cones