My Breast Reduction and Breast Lift Surgery and Recovery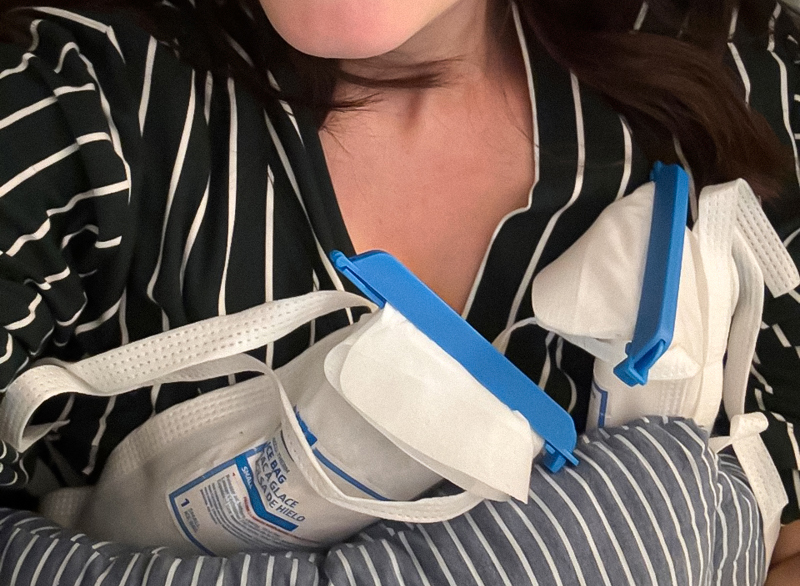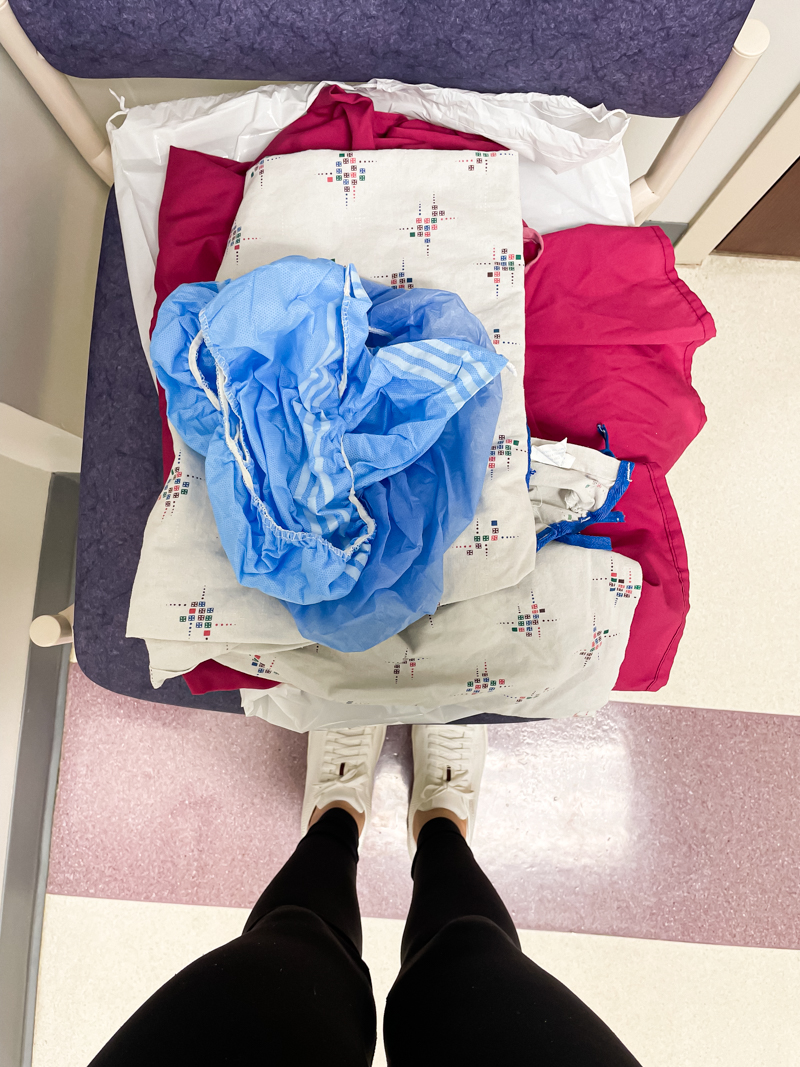 I've struggled with the size of my breasts for as long as I can remember. When I had kids, they only continued to grow. I went from a D to a G (DDDD) and felt so uncomfortable in my own body. They were big, saggy, and heavy. Nothing fit properly. They caused back pain, neck pain, shoulder pain, and made me look larger than I was. Aside from physical issues, heavy breasts can cause emotional problems, too. I wore a bra 24/7 – even to sleep. I felt uncomfortable in most of my clothes and in my own skin. After having my third baby, it was time to consult with a plastic surgeon for a breast reduction procedure.
My Breast Reduction and Breast Lift Surgery and Recovery
We talk so much about body positivity, but if something causes you physical and/or emotional discomfort, it's ok not to love it. When we had our last baby, I started looking into a plastic surgeon for what would be my second breast reduction. My first reduction took place right after high school, when I went from a DDD to a D. The doctor didn't do a great job. The incisions and shape weren't great. They were a smaller version of what I started with, and I never loved them. Then I had 3 babies and found myself larger than I was pre-reduction. I was done having kids, and it was time to finally fix my breasts.
Choosing a surgeon
A friend recommended Dr. Babis Rammos. She had seen him for a revision, and was thrilled with her results. His "afters" were unlike anything I had ever seen, so I booked a virtual consultation. I was told that the soonest I could have surgery was 6 months after having a baby. Keep in mind that I did not breast feed, so that sped things up for me. Because my case was reconstructive, I needed someone with experience in reconstructive and reparative surgery. His work really spoke for itself, and you know I wouldn't recommend him if I didn't think he was the very best. A few months later, I drove out to Peoria, Illinois for a pre-op appointment. Weeks later, I would return for surgery.
Choosing cosmetic surgery is a big, scary decision. This was my second reduction, after all, and I wasn't happy with the first one. Would I be happy this time? Would I like the final results? What would this mean for my family? How much would it hurt? How would I feel on pain medication? What should my new breast size be? Then there are the potential risks that come with any surgery, and the physical limitations that would impact my family.
My consultation
I met with Dr. Rammos in person a few weeks before my surgery date. He looked over everything and explained the procedure. I would have a bilateral breast implant exchange with mastopexy, internal bra placement, and areola reduction. Chances are that you haven't heard of an internal bra placement, and I am not an "expert" but will tell you what I was told in a moment. This type of surgery was reconstructive, and he assured me that he could make them look great. And he did – they are honestly incredible. I didn't think these results were possible for me.
We went over any medical conditions, medical history, and the surgical techniques he would use to reduce the size of my very large breasts. We discussed the final size of the breasts, too. I was so sick of "big" breasts and suggested a B, but am so glad I trusted Dr. Rammos and went with a C.
Breast surgery after baby
I thought a lot about when I could have this major surgery. The soonest would be 6 months after having a baby, which was October 12. He happened to have a date on October 10. But the healing process is long, and I would not be able to lift my baby for at least 4 weeks. It felt like something I had to do now or when Jack is 3 or 4, and I couldn't go on like this any longer. Recovery time felt worth it for years of happiness and both physical and emotional comfort that would follow.
Weight loss is typically recommended, but even when I lost weight after my girls, my breasts did not get any smaller. I do have another 15 pounds. I'd like to lose but felt safe getting a reduction at this point. The emotional issues were really consuming. It was time.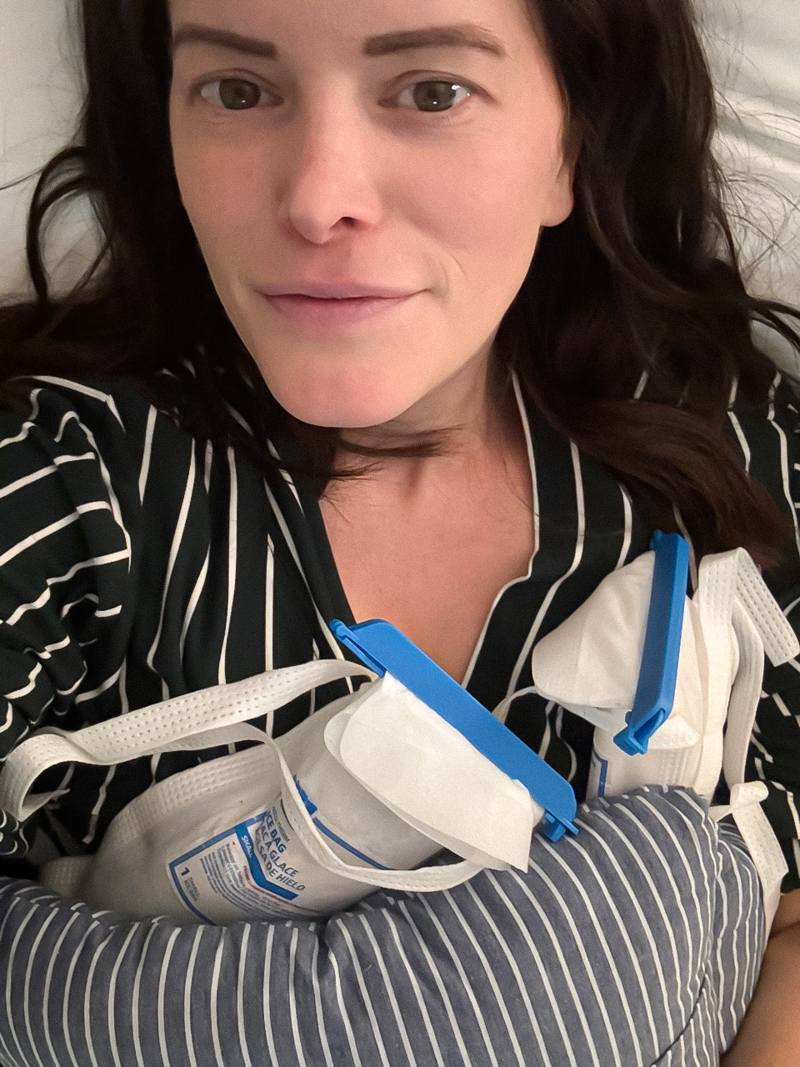 My breast reduction, lift, and implants
I would need a breast reduction, breast lift, and implants to give them shape. Not all reductions and lifts require implants, but due to the lack of tissue that I had on the top of my breasts, it was necessary for me. I went with silicone, which I'm told is more like a gummy bear these days, so that felt safer. It might seem a little strange to reduce and add something in, but I needed this for shape, fullness, and lift. Dr. Rammos would also place an internal "mesh" bra, that would hold the implant up, and give them shape.
Over time, the mesh bra dissolves, and is replaced with scar tissue that holds up the breast and/or implant. This will help my breasts maintain their shape.Excess skin and excess breast tissue was removed, and I was left with smaller, perky (they do not move without a bra – I can't believe it!) breasts. The surgery would be done under general anesthesia, and would take about 2-2.5 hours. It's an outpatient procedure, so I would stay in the recovery room for another hour, and then at a hotel that evening.
Post-Op
It is important that you have someone with you for the first day or two post-op. You'll be sore and on pain meds, and should not be alone. My sister flew in to drive me to and from the procedure, and to take care of me afterward. Some doctors place drainage tubes, but I would not need them for this procedure. I woke up in a surgical bra which was not removed until my follow-up the next day. It needs to be worn for about 4-6 weeks. After my follow-up, we drove home. Keeping the seat reclined really helped – the drive wasn't bad at all. I was even able to wear my seatbelt normally.
I was given antibiotics since there's always a risk of infection post-op, pain pills, and anti nausea pills. Since I didn't experience any nausea, I stopped taking the anti-nausea pills after the first day. I ordered a few things that helped, like a special pillow with pockets for ice packs, and a wedge pillow to add below my regular pillows.
Post-Op Essentials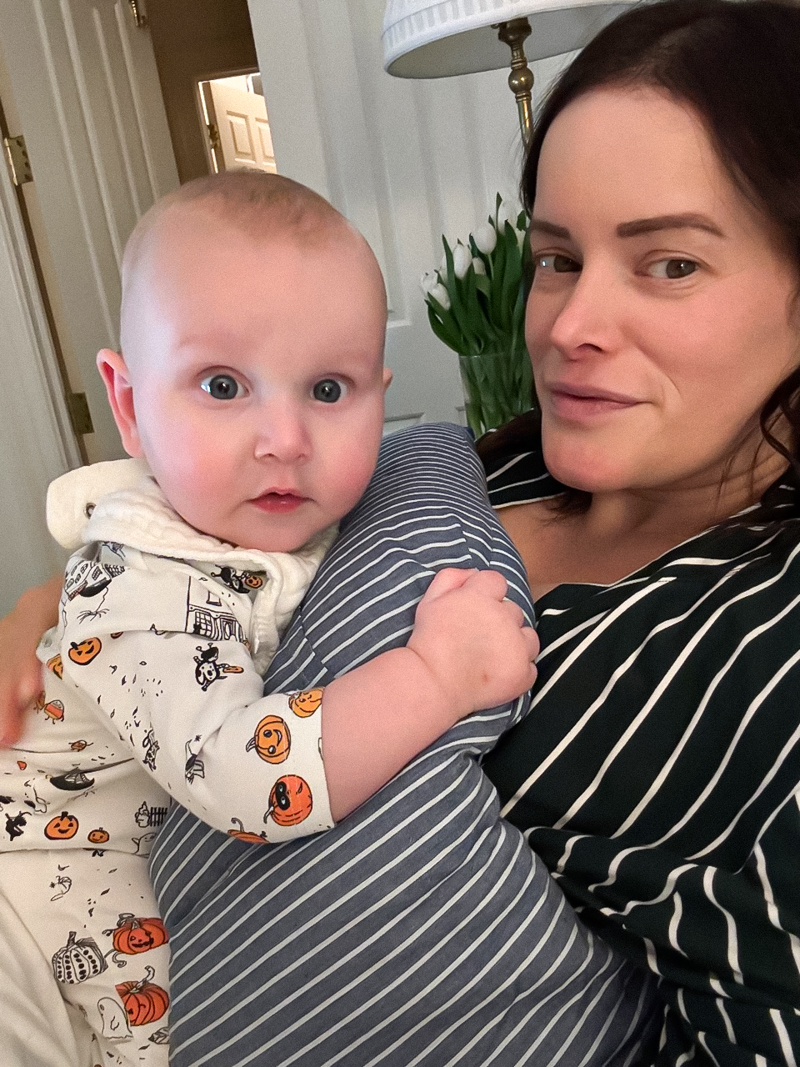 Post-op pain
The physical pain wasn't great day 1, so I got in bed and just slept it off. The pain meds didn't feel like enough at all – I was so sore. I'll be very upfront and tell you that the dosage was 2 pills every 4-6 hours. I was taking them every 3 hours and it was uncomfortable enough that I took 3 at one point. Day two felt a lot more manageable – I was back to normal dosage. I woke up very sore that morning but did not take pills overnight which was a big mistake. Stay on your meds! By day 3, I was down to one pill, and some extra-strength Tylenol. I found that it helped to recline in bed, so I would recommend having a wedge pillow or a lot of thick pillows.
It wasn't the kind of pain that you would expect would come with incisions. The pain was more pressure-based. It was very uncomfortable day 1, a bit uncomfortable day 2, and pretty good day 3. As long as I laid in bed, on my back and elevated, I was mostly ok. It hurt any time I got up, so I did not move very much and just laid in bed with ice. The striped ice pillow has been so helpful. I fill all the pockets with ice and it also acts as a barrier from getting bumped, which was a big fear.
The recovery period
I was told I would be able to drive within 5-7 days. I can sit with my kids, but cannot lift them for at least a month. It sound like I'll be able to pick my baby (6 months) up after 4 weeks and my older two (3 and 5) after 4-6 weeks. Not being able to pick them up (especially my 6 month old) already feels hard and it's only been a few days. I know the time will fly, and that my happiness and comfort will be worth it, but it's hard.
Having smaller breasts already feels so good. I feel physically lighter, and the fact that they stay up without a bra is mind-boggling to me. They feel extremely tight, but on day 3, I'm already in a lot less pain. This is something I had been thinking about for years, so it feels pretty amazing to have done it. I already feel like a new person, and they're pretty swollen, and I'm still sore. I'll be able to walk around the house without a bra on under my pajamas, my clothes are going to fit so much better, and I'm going to feel confident in a swimsuit.
This post contains affiliate links. If you purchase something using my links, I may earn a small commission at no cost to you.