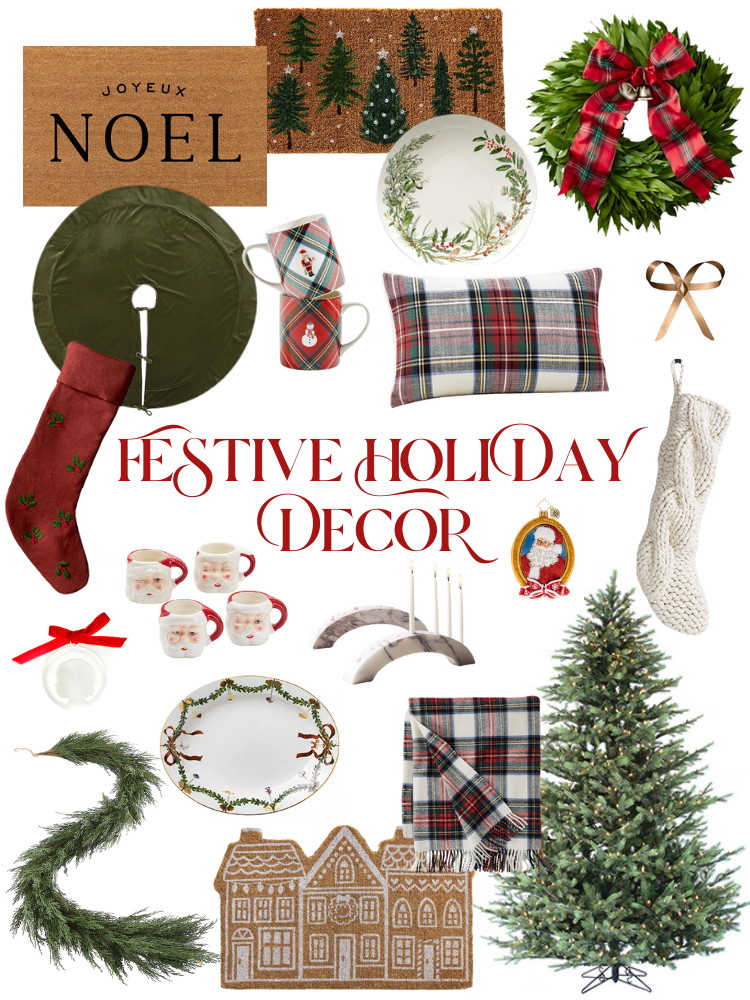 The holiday season is upon us, and I am starting to think about gifts and decor. Holiday decorations are one of the best parts of this time of year. November is just a few weeks away, and I like to decorate right around Thanksgiving, so now seems like the time to start looking. The good stuff (especially garland) always sells out early, probably because Christmas trickles into stores before fall even starts. But nothing says holiday cheer like Christmas stockings, string lights, table settings, and other other seasonal decor. And the anticipation of the holidays is one of the best parts of the season. It's going to be so magical with our two little girls – I cannot wait.
A few things to note: our tree was gifted from Treetime Christmas Creations last year and I did not think I'd love it as much as I do. I never considered pre-lit Christmas trees but needed an artificial tree when my daughter was immunocompromised 2 years ago and just wow – it's so easy. It honestly looks real and to get the smell of a real tree, just add in some wreaths and garland. I'd love two trees in our new home and am debating a real one (mostly for the experience) so we'll see. It turns out that I'm someone who loves artificial trees pre-lit with twinkly lights – it's here to stay.
If you haven't done your shopping yet and are looking for the perfect gift, I have gift guides for (almost) everyone.
My Favorite Festive Holiday Decor
I just love the holidays. and this time of year, love having Christmas decorations in each room of our home. Nothing is more festive than pulling up to a house with Christmas wreaths in each window. I like a touch of outdoor decorations – mostly greenery – but am considering some lit reindeer for our yard since the girls would love that. I'd like to add some cozy plaid throw pillows, and can't wait for a beautifully decorated dining room with holiday serveware and plaid table runners. I just need to finish my dining room. So here it is – my favorite holiday decor for 2022.
This post contains affiliate links. If you purchase something using my links, I may earn a small commission at no cost to you.