Roast Chicken Recipe: How to Roast the Perfect Chicken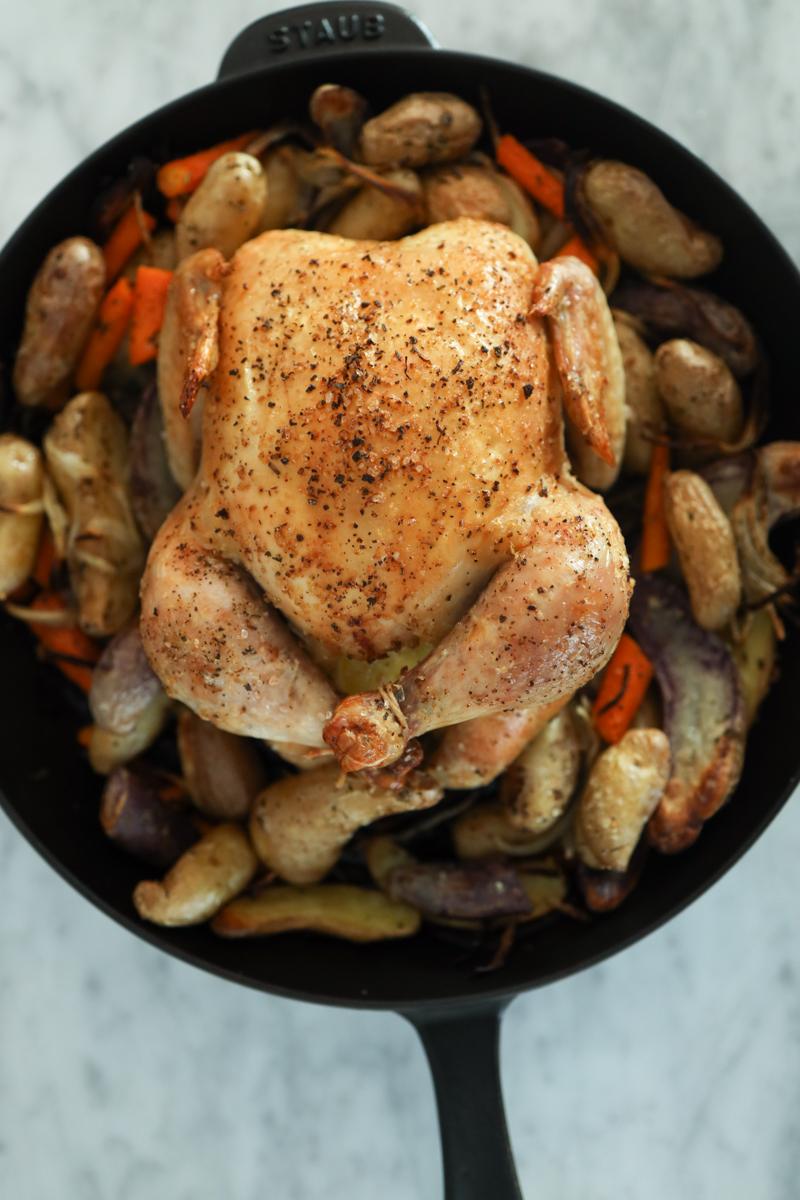 This recipe has been a go-to for us throughout fall and winter, and it's perfect for those nights when you don't feel like cooking. There's very little prep involved, but you'll want to plan ahead to allow enough time for seasoning and cooking. Until last year year, I was always hesitant to attempt a roast chicken, but it's a lot easier than you might think. We tried a few variations with different seasoning, and figured out a recipe that results in the most crispy, flavorful, roast chicken. Enjoy!
Roast Chicken Recipe: How to Roast the Perfect Chicken
Roasting a chicken is surprisingly easy. We played with seasonings and found the perfect balance. And the potatoes get the most amazing flavors roasting with the chicken. Here are some more easy recipes.
Ingredients for roast chicken:
1 3 lb. chicken
4-5 carrots
24. oz fingerling potatoes
1 lemon
1 white onion
salt
olive oil
borsari citrus blend (or the seasoning of your choice)
fresh rosemary
You'll need:
cooking twine
cast iron pan
How to roast chicken:
1. Place the chicken in a glass dish and cover with a layer of salt. This helps remove some moisture from the skin. Let the chicken sit at room temperature for an hour, then blot with a paper towel.
2. Preheat oven to 425.
3. Cut a lemon in half and place inside the chicken with fresh rosemary. Rub olive oil on the outside of the chicken and season with borsari citrus blend (our favorite), or herbs de provance.
4. Put the chicken in a cast iron dish with root vegetables. Roast for an hour and 15 minutes at 425.
Enjoy!