A Simple Spring Caprese Salad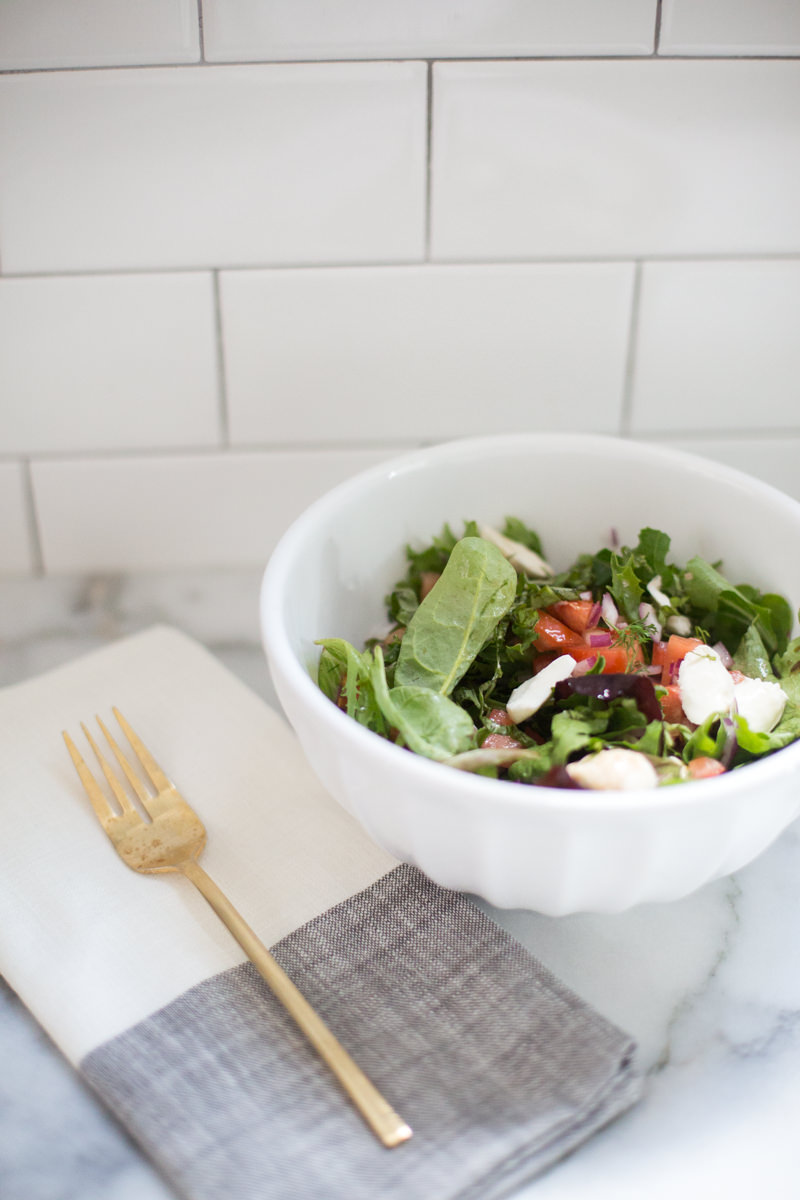 Salad season is upon us. They never seem to satisfy me during winter – it's just too cold. But as soon as it starts to "warm up" (you know in the 40s), they're all I want. Almost every time I order a salad to-go, I'm left wondering how I can create it at home, so today, I'm sharing my go-to, fresh, healthy, salad recipe that never disappoints. Because nothing is better than a fresh Caprese salad. They are fresh and so flavorful. Add fresh mozzarella, cherry tomatoes, sweet basil, and homemade infused dressing (or olive oil and balsamic).
Spring Caprese Salad Recipe
A Caprese salad is an Italian salad made with fresh mozzarella, basil, tomatoes, salt, and olive oil. I wasn't sure this Caprese salad recipe was worth sharing since it's so simple, but it was good enough that I decided to make it twice since, so that has to mean something. The best part about this recipe is there's no measuring anything. Add as much of each ingredient as you like, toss in some basil olive oil (you can buy it or infuse your own) and a little balsamic. *chefs kiss*
Looking to make it more of a meal? Add some fresh grilled chicken or pair with fresh pasta. I add chicken when I'm making this for dinner, but it's just so simple on its own and definitely doesn't "need" it.
One thing that is especially important for the success of this salad? Good, fresh ingredients. Buy the "good" mozzarella that's packed in water. It's soft and usually comes in a ball, and is high moisture, so it won't last as long, but it's worth it. Splurge on fancy olive oil and only use it for salad dressings. Not sure what else to do with all that fresh basil? Throw it in pasta, on pizza, in water with some strawberry (trust me), or make homemade strawberry and basil popsicles. Heaven.
Ingredients:
There are three main ingredients needed for a Caprese Salad: mozzarella, tomatoes, and basil. Like I mentioned earlier, these ingredients are heaven on their own, and they're delicious in salad form, too. Since this recipe is so simple, try to use the best quality you can find.
Fresh mozzarella cheese: Buy a large, fresh ball cased in water, or the smaller ones that you can toss in whole.
Fresh basil leaves: Add these whole or cut them into strips. It's really a matter of personal preference.
Grape tomatoes
Red onion
Spring mix or fresh arugula
Basil infused olive oil (or plain olive oil)
Balsamic glaze (not balsamic vinegar)
Salt
Balsamic glaze vs. balsamic vinegar
Balsamic glaze easy to make, but you can purchase it ready-made. It's thicker than balsamic vinegar, and is the perfect, final touch to your fresh Caprese. If you'd like to make it on your own, just bring 1 cup of balsamic vinegar to boil and simmer it until it has reduced. It should be a bit more dense than balsamic vinegar.
Instructions:
This is as easy as it gets. Place the fresh greens in a bowl or on a platter.
Cut or break the fresh mozzarella into bite-size pieces.
Dice the tomato and onion.
Add mozzarella, tomato, onion, and basil leaves to the spring mix or fresh arugula. Toss the salad, or place the ingredients by type over the greens for a beautiful presentation.
Toss in olive oil and balsamic vinegar, or if making the salad on a platter, drizzle olive oil and balsamic vinegar on top.
Optional: add salt and pepper.
Like I said – as easy as it gets. There are few things I love more than tomatoes and mozzarella, and I'm not even a tomato person. But the combo, with a drizzle of olive oil and fresh balsamic always does it for me. Enjoy!
This post was originally published in 2016.