How to Bake S'mores Cupcakes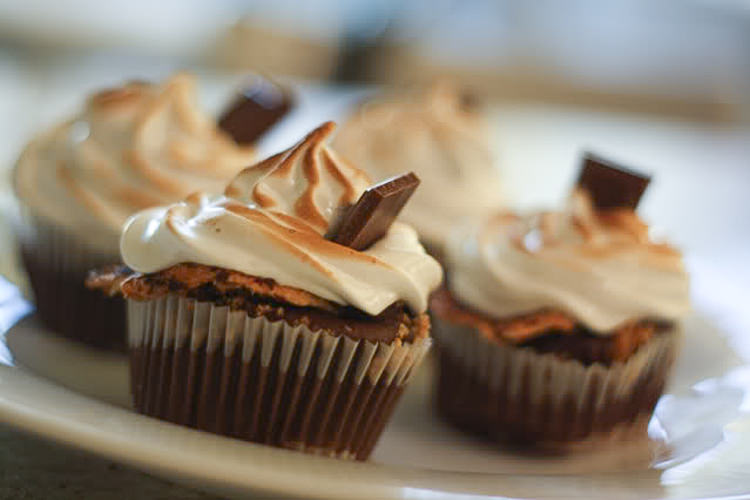 On Wednesday night I finally decided on a recipe for Thursday's recipe exchange party. I would make s'mores cupcakes. I figured that anything combining s'mores & cupcakes had to be good, and the recipe required a kitchen torch. Done. 😂 I suppose you could make it work without one, but using the torch was pretty fun. These are fantastic – the graham cracker at the bottom and marshmallow center were pretty amazing. The additional graham cracker sprinkled on top, meringue frosting (torched to look like a marshmallow) and a little piece of chocolate to top it off, really did it for me. So here's how to bake s'mores cupcakes. They were a huge hit even though I got second place to a cheese dip (which makes no sense).
How to Bake S'mores Cupcakes
Ingredients:
1/4 cup sugar
2 tbsp. pure vanilla extract
1 cup boiling water
1 1/2 cups graham cracker crumbs
1/3 cup unsalted butter
1 box of the cake mix of your choice
For frosting
8 large egg whites
2 cups sugar
1/2 tsp. cream of tartar
2 tbsp. pure vanilla extract
How to make them
Preheat oven to 350.
Place 1 tbsp of graham cracker mixture at the bottom of each cupcake liner. Use the bottom of a small glass to pack crumbs into the bottom of each liner. Reserve the rest of the mixture for the topping. Bake for 5 minutes until golden brown.
Remove from oven, fill each cup 3/4 full with batter and put one marshmallow inside the center of the well. Sprinkle the remaining graham cracker crumbs over each cup. Bake at 350 for 18-20 minutes, rotating pans halfway through baking until tops are firm and a cake tester comes out clean.
Place egg whites, sugar, and cream of tartar in the bowl of an electric mixer and set over a saucepan with simmering water. Whisk until sugar is dissolved and whites are warm to the touch, for about 3-4 minutes.
Transfer bowl to electric mixer fitted with the whisk attachment on low speed, gradually increasing to high, until stiff, glossy peaks form, for about 5-7 minutes. Add vanilla and mix until combined. Add to pastry bag immediately, and pipe frosting in a spiral motion on each cupcake. Transfer cupcakes to a baking sheet. Using a kitchen torch, lightly brown the top of each cupcake.
enjoy!