Life Lately & Q&A: Masks, Preschool, Links, and What We've Been Up To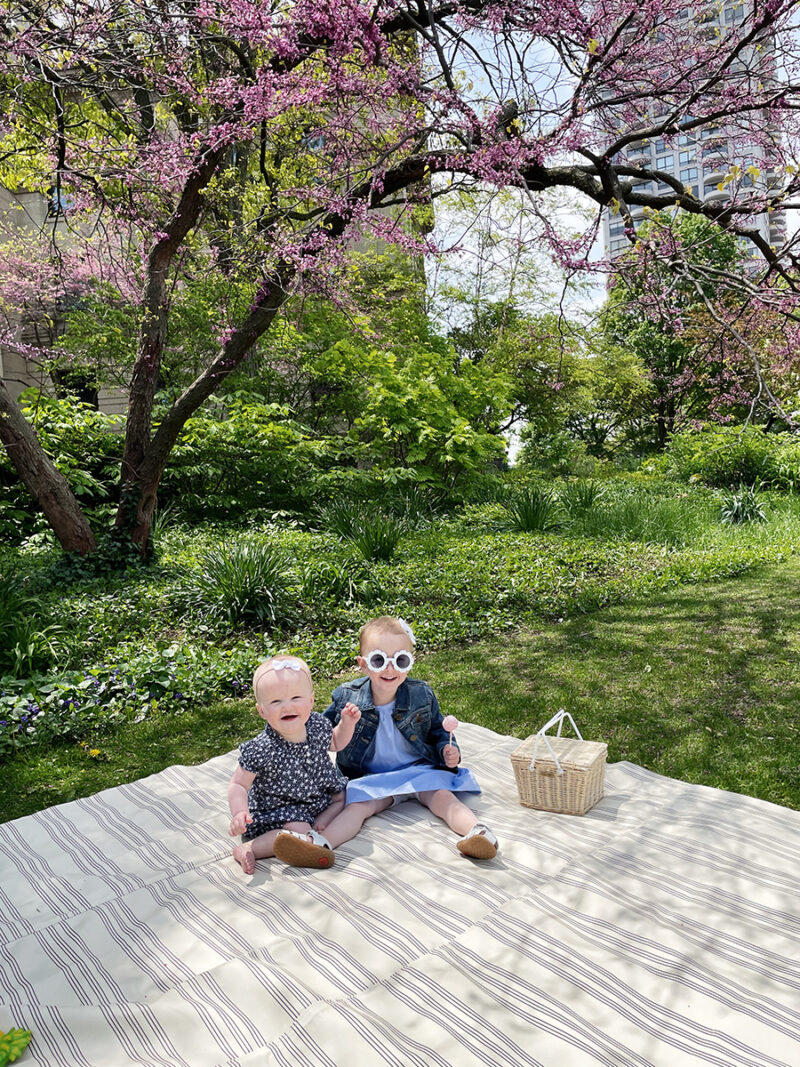 Curbside pickups for salads, donuts, and Margot's favorite chicken from Beatrix, a picnic in Lincoln Park, and lots of time together. As luck would have it, a rock cracked the windshield of my new car, but whatever – it's just a car. Something that would have stressed me out a year ago means nothing now. Perspective. Life Lately & Q&A: Masks, Preschool, Links, and What We've Been Up To
Life Lately & Q&A: Masks, Preschool, Links, and What We've Been Up To
It's been the strangest few weeks.
I'm not sure where the hours go, but I'm not doing as much work as I hoped or thought I'd be. The girls are so attached and as amazing as our nanny is, they've needed me, and I'm just trying to be there for them. I know I need to spend more time away but there isn't really anywhere to go, and my office is right off the living room. I'll figure out a groove at some point. After the year we've had, it's been nice to step away and slow down a bit. I even napped yesterday.
I've been spending a lot of time with the girls and on house projects, cleaning, organizing etc. Margot also had a week of steroids and required a lot of extra care, so that was my focus. She did so well and took her meds without any issues. Medication refusal (specifically steroids) was strangely one of the worst things we went through during treatment, so my anxiety was very high, but we did it. She's amazing.
I power washed our patio! Not sure what it is about power washing but I enjoyed the process more than I probably should have. Here's the before and after.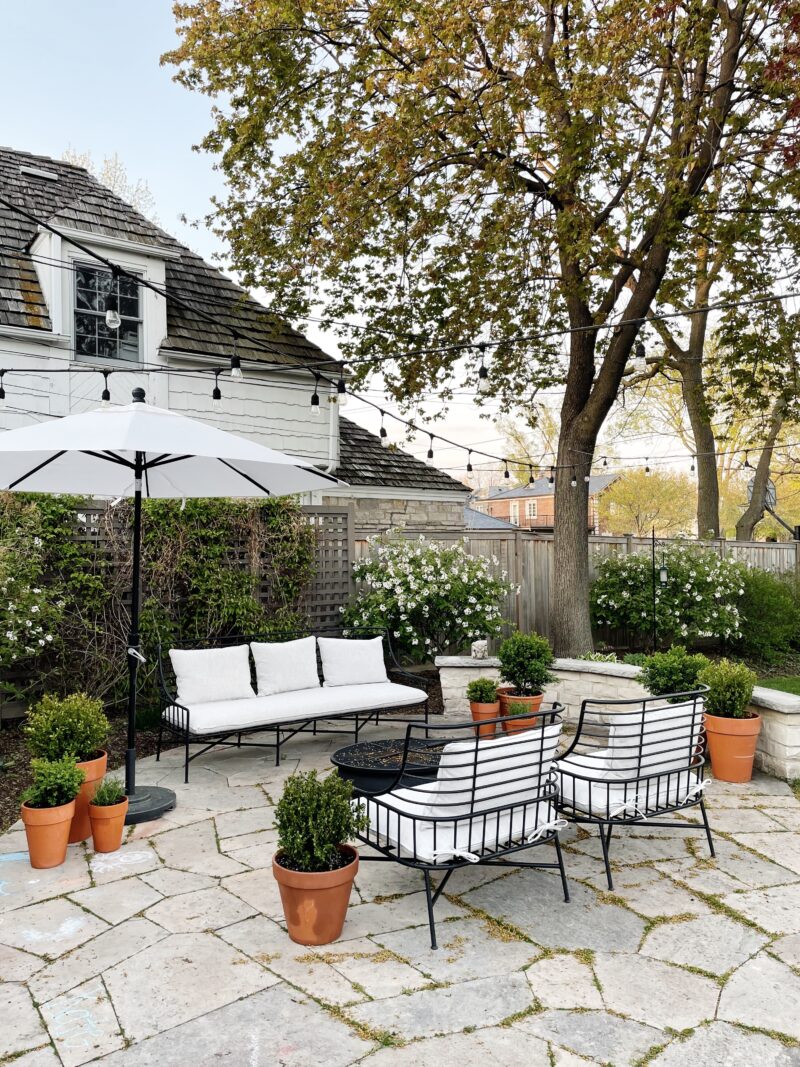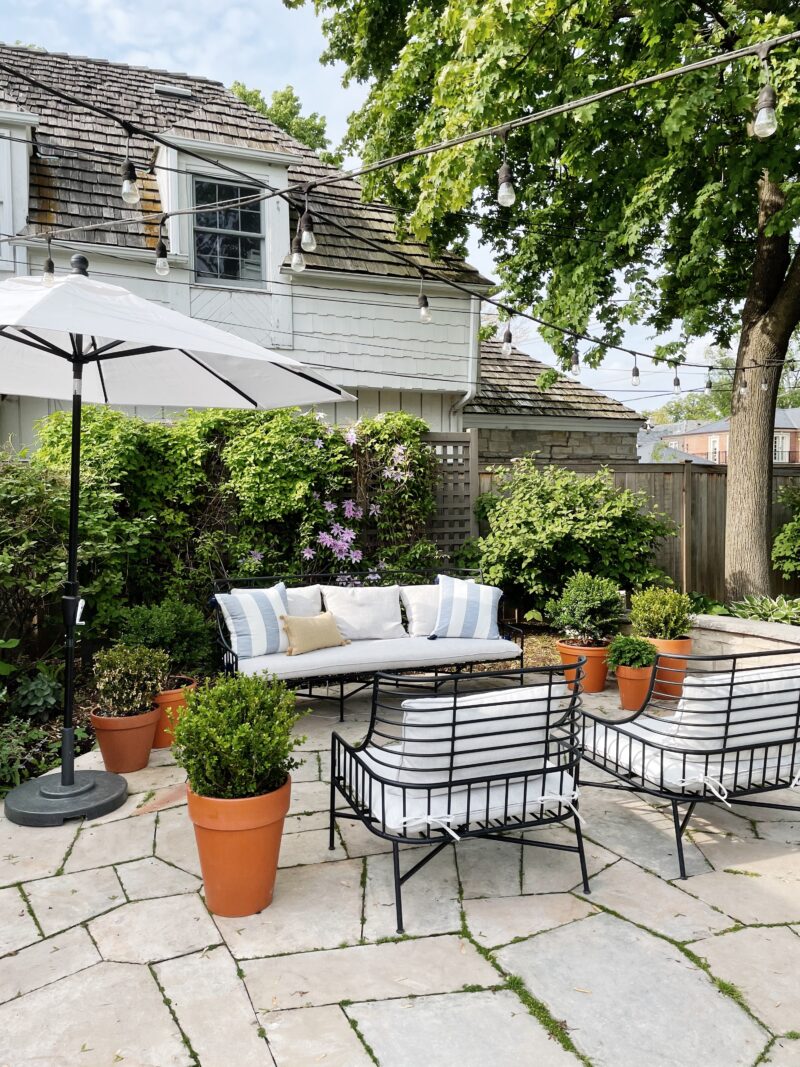 I started tackling our pantry again and will get that photographed in the next week or two. Everything always seems to take forever.
I went back to pilates last week! I've been 3x so far and it's felt amazing to get out for a workout. The studio windows are open and everyone's masked, so it feels safe. Enjoying it while I can.
Kate's room is a piece of art and new dresser knobs away from being done! Her new rug came (c/o Serena and Lily) and it's beautiful.
We're shooting family photos with my friend and wedding photographer Katie Kett. Our last shoot was in the fall right before Margot started the hardest block of treatment, so this feels like a big deal. We'll probably do photos again in the fall.
And now, to answer some of the questions you asked this week.
Have your preschool plans changed with the new CDC updates?
Under normal circumstances, Margot would have gone to preschool part-time this fall. Even with treatment, this is something that would be ok for her this year. The new updates make us pretty nervous, so we made the difficult decision to hold off on preschool until the vaccine is available for ages three and up. It is my hope that she will be able to attend later in the fall or early next year, because she needs it. Until then, we're doing a few safe, masked, outdoor activities and seeing friends safely when we can. I'm also hopeful that through some of our classes, I'll meet some parents who might be interested in a fall pod.
How have vaccines changed your life day-to-day? Thoughts on the CDC update?
Our definition of careful is different than most because it has to be. We can see people who are being as careful as we are, so there are very few people on that list. While vaccinated people can see each other safely, children are not vaccinated, and Margot is at risk. There isn't enough information about asymptomatic cases since most people who aren't symptomatic aren't being tested, so Margot can't see anyone who is seeing people unmasked indoors. I just went back to pilates last week since windows are open and everyone's masked, and that feels ok, but that's sort of it. We just started to feel like we were going to be able to do a bit more but it feels too risky now.
Favorite brands for summer clothes & accessories?
I love this brand for light, flowy dresses
This one for cotton cozy cotton dresses
The best denim shorts
How do you keep your house so clean?
First, we have a basement, and half of it was a complete disaster until about a month ago. The stuff piles up. Laundry is never-ending. Every few days, I'll bring 1-2 loads up and fold them on my bed. By the end of the day, toys are scattered in the living room, our dining table is usually a mess, and the sink is full. I try to keep things clean as I go. Every night, I run the dishwasher, and unload it in the morning while the girls eat. Cleaning the living room is pretty easy. The girls each have a basket for their toys and I store the rest in this IKEA table.
Father's Day gift ideas?
These outdoor games are really fun. I got the bocce ball set for Conor for his first father's day.
Recommendation for a couch cleaning service?
We use chicago carpet cleaning group. They come every 4-6 months and do our dining chairs, sofa, and chaise. They are fantastic.
Any tips for handling writer's block?
I have a running list of blog post ideas but sometimes (like now) I feel stuck. There are times I'll make a list of things I want to write about or ask readers what they want to read, but others when I'm just not feeling it, and take a break. This explains the one post in the last week. When I don't have anything to write about but want to do something creative, I'll put a product roundup together. Q&A posts help me start writing again.
Favorite summer sandals
The arizona EVA sandals are great for playing with the kids. Comfortable, waterproof, and easy to wear. I have them in black and white.
These are a splurge but so comfortable and look great with everything.
What sunscreen do you use for your girls?
Tubby Todd sunscreen, body wash, bubble bath…all of it. We love Tubby Todd!
Favorite baby clothing brands
Lou Lou and Company – we had a lot of the gowns and 2 piece sets. They are so soft and super stretchy, so they last for forever.
Jamie Kay – love these pieces – the leggings are so soft and knits are beautiful
Little Sleepies pajamas – These are our favorite. They're lightweight and stretchy.
Quincy Mae – organic basics
Mini Mioche – organic basics
H&M – budget-friendly, just bought this set, and this one, too
Cat & Jack for basic play clothes
The toy with color names that Kate was playing with the other day?
I think you're talking about this one!
Most recent purchase?
I ordered this dress today!
Summer blouses for the office
One of those things I haven't looked for this year, but this is really cute, and it's linen.
Could you share what blankets Margot sleeps with?
Margot has a twin blanket (pretty oversized in her current bed) from Allswell, but the solid pink is no longer available. She also always sleeps with her slumberkins and Little Giraffe blanket.