Life Lately: A Midsummer Check-In
It's been two months (you know, over half of Jack's life and now we're halfway through summer) since I shard an update. But I have a new baby and house projects. And…I took on 6 partnerships recently. Yes, 6, and naturally, 5 of them happened over the last week or …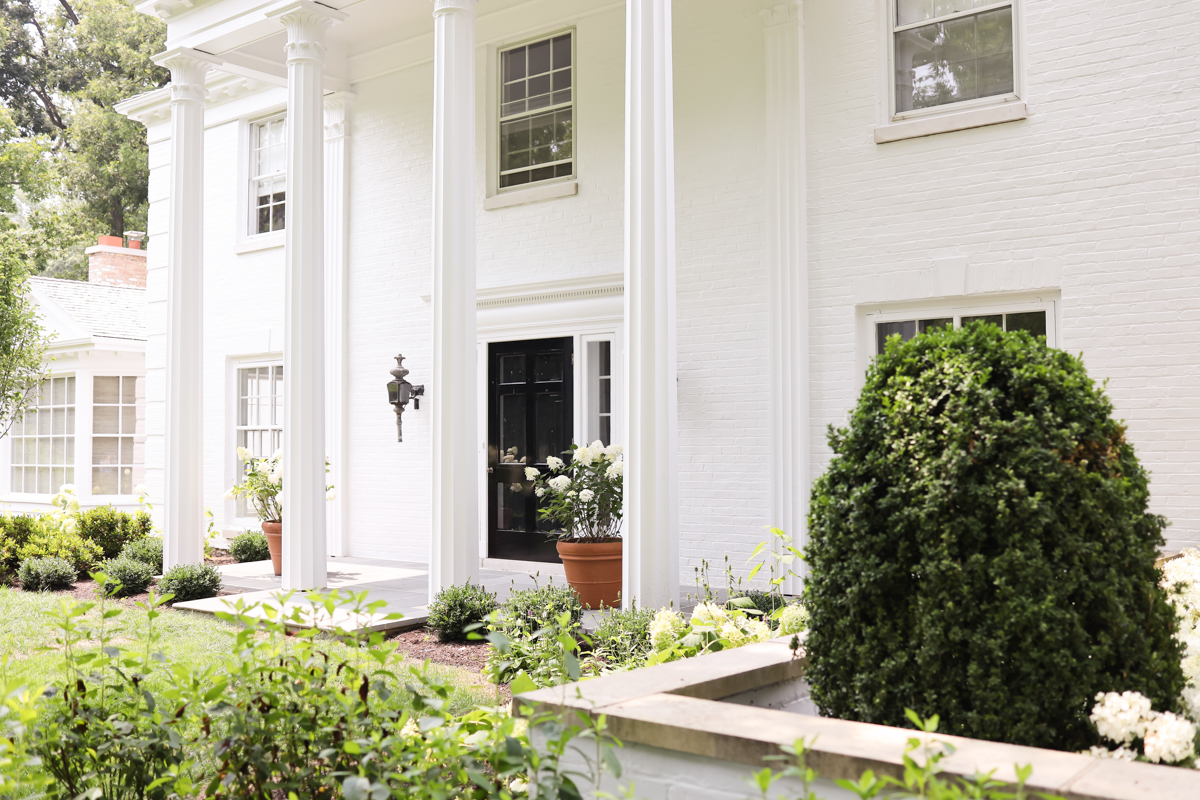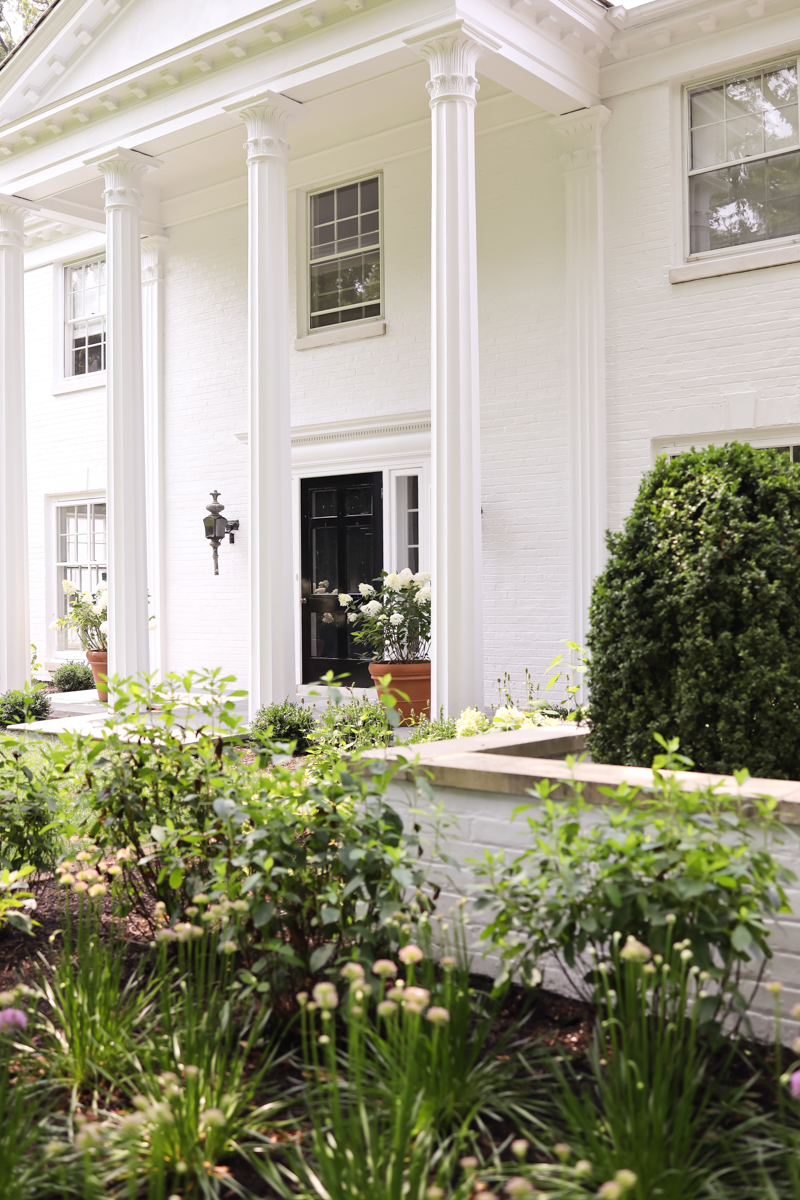 It's been two months (you know, over half of Jack's life and now we're halfway through summer) since I shard an update. But I have a new baby and house projects. And…I took on 6 partnerships recently. Yes, 6, and naturally, 5 of them happened over the last week or so. I feel like we're in a pretty decent groove, and our au pair arrives this week! So things are about to (hopefully?) get a lot better. Maybe it's the new dream baby or it could be that we're one year out of treatment. I've got this summer mindset that I just don't want to lose, and hope to make the most of these days. So here's my midsummer check-in and what we've been up to the last few months.
Life Lately: A Midsummer Check-In
A lot has happened since my last update in May. Jack is 3.5 months old! It feels like the newborn stage flew by. He's the sweetest, smiliest baby, and we are all so in love with him. The transition has been seamless for Margot and mostly good for Kate. She's needed some extra attention because she's three and of course she has. So we have mom and Kate dates, and they seem to help. Whenever she's struggling, we try to get in the car, just us, and go do something. Even if it's a trip to the grocery store or a short walk. Our bathroom is almost done, the house is being repainted, and we did some landscaping, too. I am ready to wrap up these house projects and just chill for a moment.
Summer plans
The girls didn't like camp, so I pulled them out a few days in. It's just camp, they have a new brother (big change) and it felt right for us. I'm sharing this because sometimes, we need a reminder that it's ok to change plans. Our nanny is here 3x a week, and I'm taking things slow this summer. Or I was until the last few weeks when these partnerships that I couldn't pass up came in. The first month of summer, I was still in newborn mode with Jack, but we've been getting out more. Plans, playdates, and afternoons at the pool. It's been fun!
Life with 3 kids
This has been the best transition by far. Jack is a dream baby, the girls are at such fun stages, and it feels like we're in a pretty good groove. Nights are hard, but I am loving life with 3. I haven't taken all 3 out alone yet but think I'm going to go for it this week. We're going to Margot's best friend's house, and that feels like a safe place to start. Wish me luck? Ha.
Our childcare situation
I am going to write a more extensive post on this, but the time with our night nurse has come to an end. I will share more on our experience soon. Our nanny has been here M-W until 3PM, so I get done what I can during that time, but between plans and appointments, there's so little time for anything. We matched with our au pair in January and after 6 months, she's finally arriving this week! I'm excited and a little nervous, but mostly excited. We text a decent amount and I really like her. I won't be sharing too much about her for privacy reasons so you will probably not see her on IG or my blog, but I'll let you know how things are going.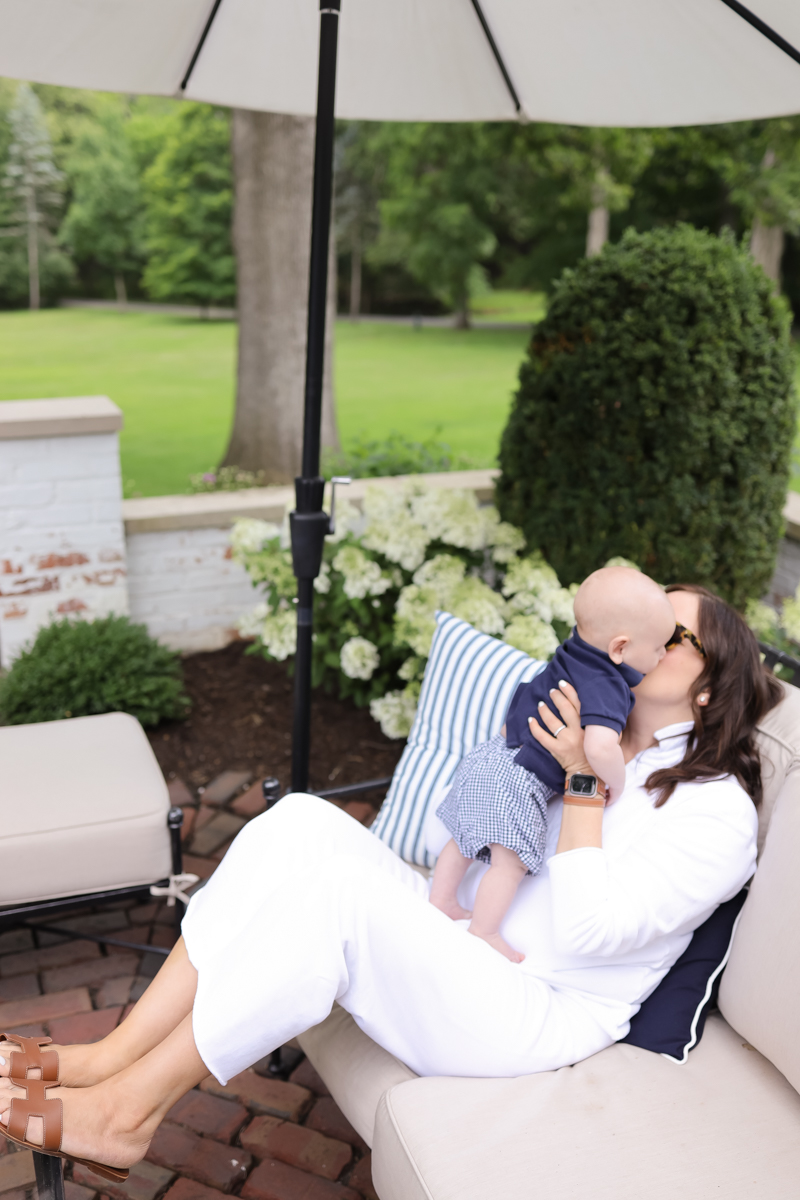 Recent partnerships
I very (very!) rarely reach out to brands. Like less than a handful of times a year. But last year, I reached out to Frank & Eileen and never heard back. Then they randomly wanted to partner this year (in the form of gifting outfits and payment) so of course I said yes. I love Frank & Eileen. The pieces are definitely a splurge but I had purchased a few pieces last year and love them. So I got to work with this brand and in case you missed it, stepped outside my comfort zone and did this.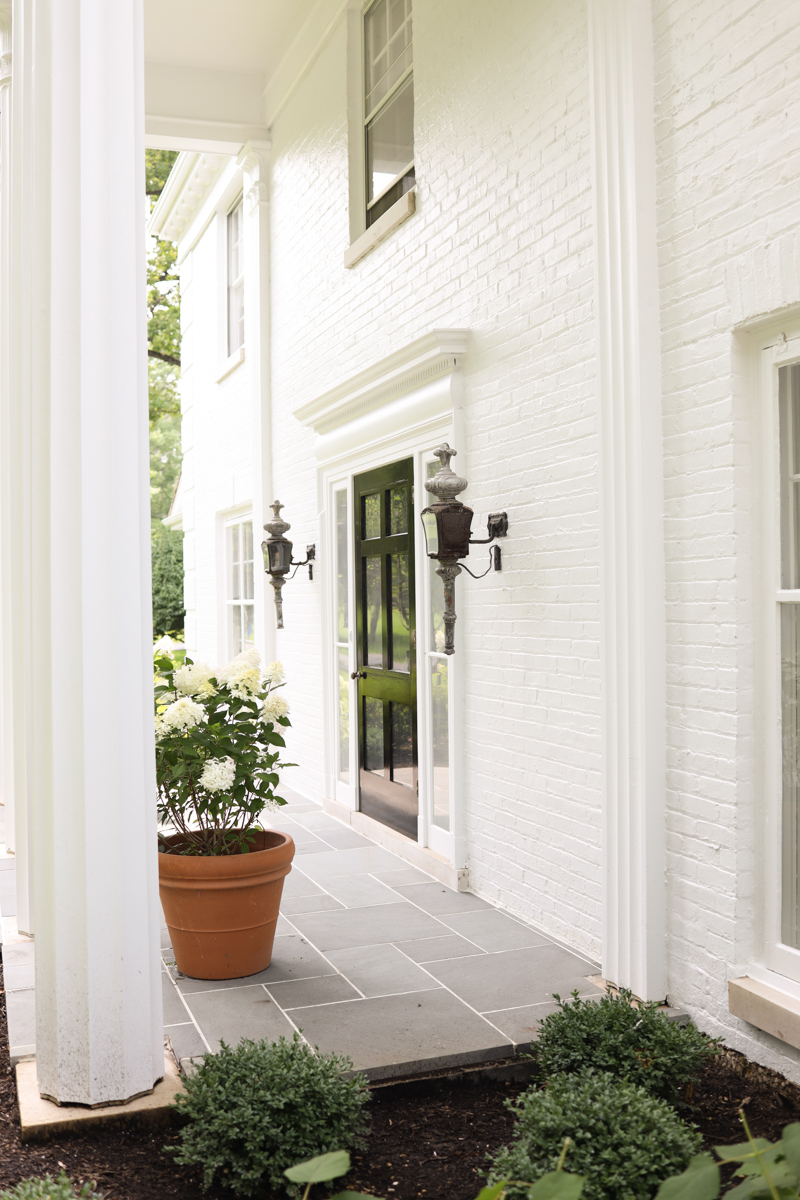 House updates
Our house got a fresh coat of white paint and just wow – it looks like a new house. We painted the doors black and are adding black shutters to both sides of the house, too. The primary bathroom is almost done! We're just waiting on our mirror and glass doors, and will eventually order window treatments. I'll share a landscaping update soon, and we do plan on finishing the porch room at some point. I'd just like to change out some interior and exterior door knobs and then but will hit pause on big projects. My goal is to work on finishing the rooms that we use most – our empty entry, a dresser and settee for our bedroom, rugs for the kids, and maybe some antique pieces for the living room? More updates coming soon!
Our new car
I also got to partner with Mazda on the CX90 and a blog post wasn't part of the partnership, but I'm planning on writing one because I think it will be really helpful. If you are between the XC90 and CX90, and have 2-3 kids in car seats, I would go with the Mazda. If we didn't own or Volvo, I'd get the Mazda next. I was given a few days with the car, but no, did not get another car. We have the Volvo XC90 which I love, but it's not ideal for 3 car seats because the third row doesn't have latch or tethers for car seats. And we just got the Lincoln Navigator, so I'll review that after I've had a little more time with it, too.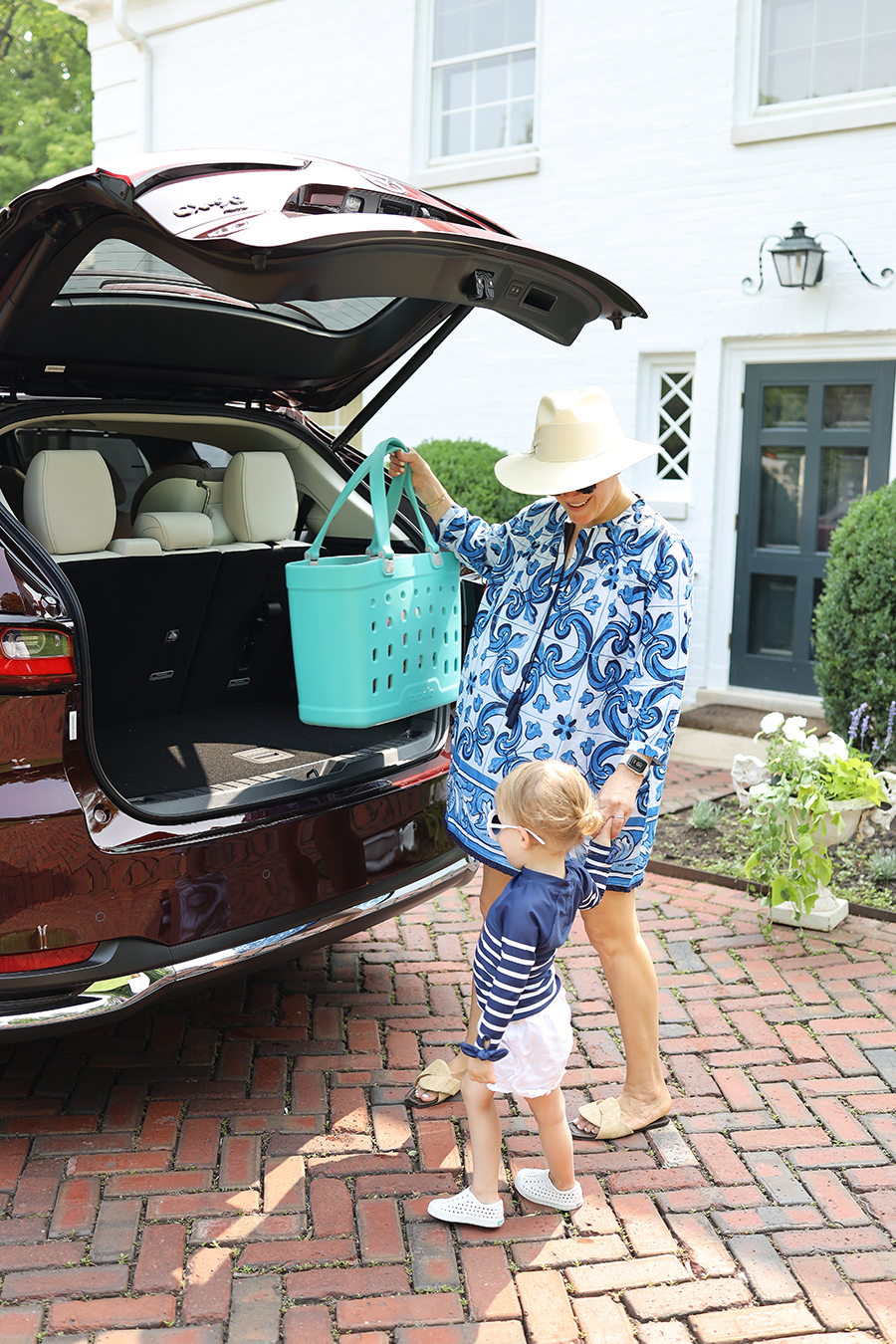 This post contains affiliate links. If you purchase something using my links, I may earn an affiliate commission at no cost to you.