May Q&A: The New House, Links, and a Big Surprise for the Girls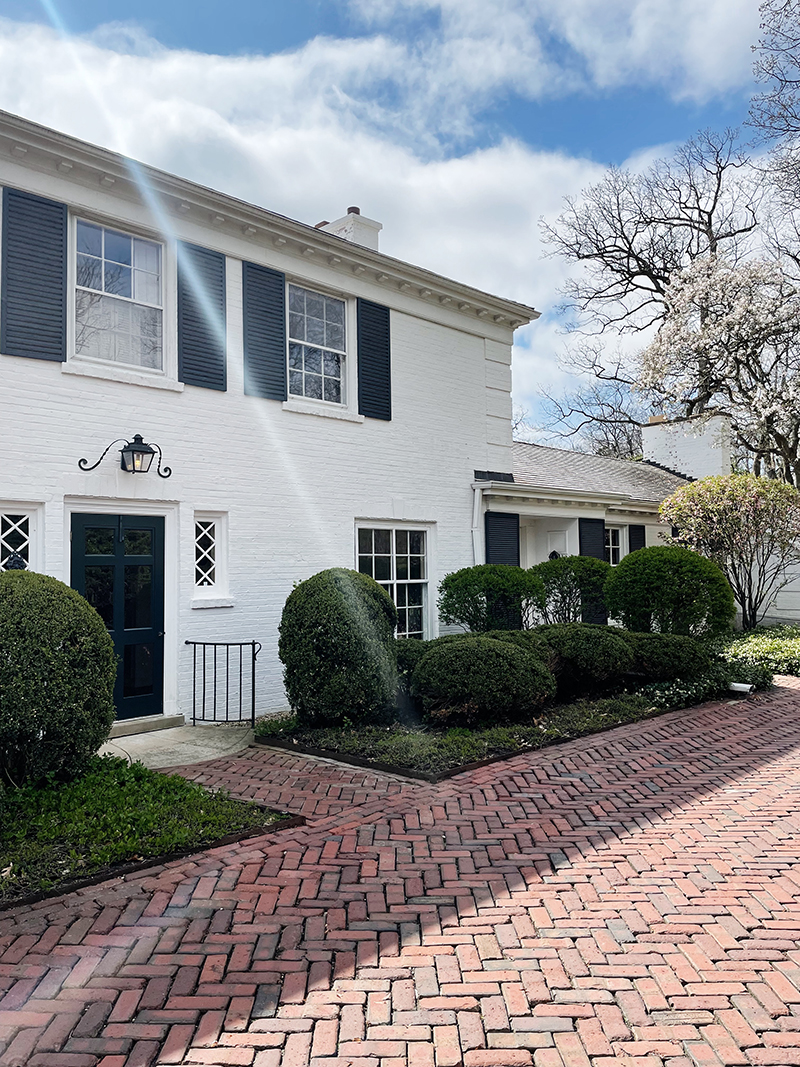 I was painfully behind on my Instagram messages so I did a Q&A on IG. It's been a minute since I've done one of these! I planned on sharing my answers in stories but I'm feeling and don't want to be on my phone. Most of the questions are about the new house, and a few link requests, and Qs about the girls. Here's my May Q&A.
May Q&A: The New House, Link Requests, and How We're Doing
How are the 5 of you doing?
We're good! Conor and I are excited for the changes that are coming. The girls are doing so well. They're becoming friends – it's so sweet. A few days ago, they were walking through our yard holding hands, playing ring around the rosie. Kate is talking a lot more, so that's helping their bond significantly. And she lives to make Margot (and everyone) laugh. It feels like we have two little kids now, and I'm so excited for summer with them. Parents of babies, it just keeps getting better.
How are you feeling? Home stretch but surely so many emotions.
First, thank you for asking. So many emotions. I'm really ready to move into our new house. To start over in a new neighborhood, new home, and to be done with chemo. Work feels very good – I can be so flexible which has made no nanny life significantly easier. But the flexibility has been huge for my anxiety.
It's this crazy up and down – push pull of feeling happy and grateful and anxious and sad. The moms who have walked this road ahead of me said feelings definitely come up at the end, and I'm feeling that. I was hit pretty hard when we finished frontline and wonder what it will feel like when we're done. I'm so ready for these changes and grateful that the prognosis is so good. She needs labs every 2 months for a year, then every 3-4 months for a few years. It is scary that she will be monitored so closely but also a relief. I worry about the long-term from time to time but mostly stay in the present, and in the good things that will come when she's no longer on chemo. We can't control much in our lives, and while I hate that she needed to be saved, we got to save her.
Can we get a tour of the new house?
Yes. Definitely. The current owners still live there and I wanted to be respectful of their home, so I didn't take any video (and very few photos) while their things are inside. Once they move out and it's officially ours, I'll share a tour.
When are you moving?
We close in June but have a little work to do, and Margot has surgery at the end of June followed by a week of steroids. The plan is to get through all of that in our current home, and to move the following week. We have this house until Mid July, so we're not too rushed.
Will you bring your swing set to the new house?
Yes. I've already contacted the guy who built it for us (he works with Cedarworks). He's going to take it apart and move it to the new house. I also ordered a big surprise birthday / end of treatment gift for the girls. They're getting a new addition for the swing set! It will arrive at the new house right after we close, so he'll add that on, too. We have the structure on the left, but are adding a second structure to the right. The girls are getting a twisty slide! In case there's any question, we did not work with the brand on this – nothing was gifted or discounted. I'll always tell you when something is.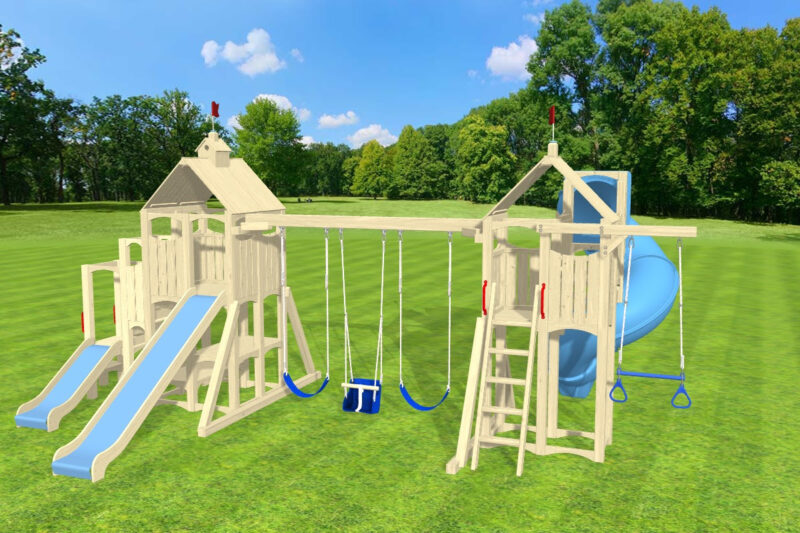 Are you staying in the same suburb?
We're not. And we're really excited for a change.
Favorite plants for landscaping?
Ok, so please keep in mind I am not an expert (like at all). Hydrangea (I especially love limelight), lavender, boxwoods, catmint (has a lavender vibe), We have a row of arborvitae, too. Here's a look at last year's planters.
What are your plans for the backyard in the new house?
We'd eventually like to add another patio and probably more hydrangea? We're going to have a landscaper come out to help us with a plan for next year. We have a house to furnish and eventually want to redo the kitchen and 3 bathrooms. The yard looks great right now, so that's not something we're tackling any time soon.
What are you doing differently in the new house?
Aesthetically, it won't be that different, but I'd like to incorporate more pattern and things will get to be a little more custom. Example: We're redoing a powder room and it can only hold a tiny wall-mounted sink. More wallpaper. A block print or floral headboard.
What's your current inspiration for the new house?
I actually wrote a blog post about this.
I love the style of your new home. Is it in Chicago? I haven't seen anything like it.
It is. I feel like I've seen homes similar to our new house in the north suburbs.
Can you talk about your experience with The Expert? Prep, how you used the hour, would you do it again?
Of course. So it was great for us, but the prep was pretty thorough. Because of that, we had time to figure out the family room, living room, and our bedroom. I created a PDF of the house with our floor plan, ideas, a list (and images) of all the pieces we were looking at. It was pretty straightforward, and we love Steve's style, so the meeting was great. He helped us figure out the floor plan for the family room, confirmed the pieces we wanted, gave us some great lighting ideas (we loved all his picks).
The shoes Margot wore to clinic?
These. They're great for running around/play. Both girls have them in white and navy.
What sports would you like your girls to do?
Margot has shown interest in taking ballet again, so we're going to start that when she's off treatment. I think she might like gymnastics since she loves Simone Biles. Tennis is a great social sport, so I'll probably introduce them to that and see if it sticks. Soccer seems like a fun sport for kids under 5. We'll see what they like.
Do you have any healthy kids snacks that are easy to pack on the go?
These peanut butter puffs are great, and I usually keep a bar, applesauce pouches, Once Upon a Farm Smoothie pouches, Annie's cheddar bunnies (Margot's favorite), and fresh fruit in little silicone containers. If we're going to their grandma's I'll fill this box with a few options for them.
Is your Naghedi bag easy to clean? Does the ecru get dirty?
So it's not dirty yet, but I've only owned it for about 2.5 months. I tend to keep things pretty clean although as I type this, realized I spilled a cup of coffee IN my Goyard tote a few weeks after I got it. I would recommend the ecru.
Hi. Love your style. Dining chair ideas for a white marble topped parsons table?
Hi! Thank you. I'd get these cane chairs.
Can you please link the desk stand you shared?
I ended up with this one. The two levels looks a little ridiculous, but it's ideal. I have a bluetooth keyboard and mouse on the lower tray and my laptop on top. My walking pad arrived yesterday, but I only had about 20 min to use it before an appraiser showed up, and I napped after clinic today.
Choosing paint is overwhelming. Ideas for white paint?
I wrote a blog post on my favorite white paint. Choosing paint IS overwhelming. Most of our house will be white, but I do want to bring some color into the office, guest, room, and girls rooms. White is just so clean and easy, and allows you to easily change out accents.
First baby on the way and I'm feeling so anxious? Advice for anxiety as a first time mom?
It's so hard. I didn't have anxiety while pregnant but definitely found myself feeling anxious after Margot was born. The anxiety very obviously escalated with treatment, and comes in waves. I was so anxious about the nanny transition, for example, and it was fine. I can't just say to relax and enjoy the ride because it's hard. Therapy. Do the work. Figure out the root of your anxiety and work through it. Ask yourself if those worries will help you, and what you can do to let them go. I try really, really hard to stay in the present and not worry about things that are months or years away. And I'm not always perfect at it. If I've learned anything it's that we have zero control – I've had to learn to let go.
New wagon vs. Veer?
Ok, so both are great, but the Wonderfold is amazing. I'll share more after we've had more time with it, but from the few times we've used it, the girls seem to enjoy it more, it's easier to maneuver, I prefer the stroller-like handle, and the storage is incredible. It's bigger and heavier, so really depends on how you'd use it. I chose the W4 (it was gifted from the brand) but the W2 would be great, too. I liked the idea of the girls having more space, being able to sit together, and having space for friends, too.
Favorite toiletry bag?
I have this set in ecru and love these, too.
Ideas for a graduation dress?
It's been a moment since I graduated. And I know I don't usually do much color but I kind of love this. This is pretty, too.
Date night outfits for a summer trip to Coastal Maine?
This is beautiful! I love this one, too.
Any recommendations for a sectional sofa?
If you can, I would get sofa and two chairs or two sofas and have them face one another. Unless it's in a basement/TV room, I'm really just not a fan of sectionals. If you have people over, you're all on the same sofa, and they're just so big and clunky. I can get behind chaise sectionals but strongly prefer a sofa and chairs.
Best jean jacket?
I have this one (it's roomy) and this one, too. Both are great.
How do you get Margot to do things she doesn't want to do (brush teeth, get dressed etc).
Kids are fun. She doesn't really fight us on teeth, and the thing we've probably struggled with the most were medication and eating. We talk through things. I acknowledge that it's something she doesn't want to do or something that might feel hard, but give her some options. She can do it, or I can do it for her. We need to leave, and you have to get dressed. Do you want to wear this or this? If you can't choose, I'll choose for you. And I try to focus on what we get to do next! As soon as we get dressed, we're going to ___. Making things silly helps, too. You can't get dressed. You don't know how to put pants on. And because I'm not perfect, sometimes I bribe her. Sometimes, I'm short with her. And when that happens, I apologize.
Can you link the smaller masks Kate uses?
Yes, they're from wellbefore.com. I'd say they're ideal for age 2 – they fit perfectly.
Can you share the bins in your basement?
They're the white bins in this post.
Ideas for a bridal shower with a French theme?
I think you could keep it really simple – beautiful flowers, macarons, and pastries? Crepes? Depends on how themed you want to go. I don't usually do anything overly themed unless it's with the girls.
Can you re-share the account with Disney princess dresses?
Of course. It's Taylor Joelle. The girls love these dresses! Margot has been living in her Doc McStuffins themed dress lately.