Q&A: Moving, Babies, Skincare, Preschool, and Work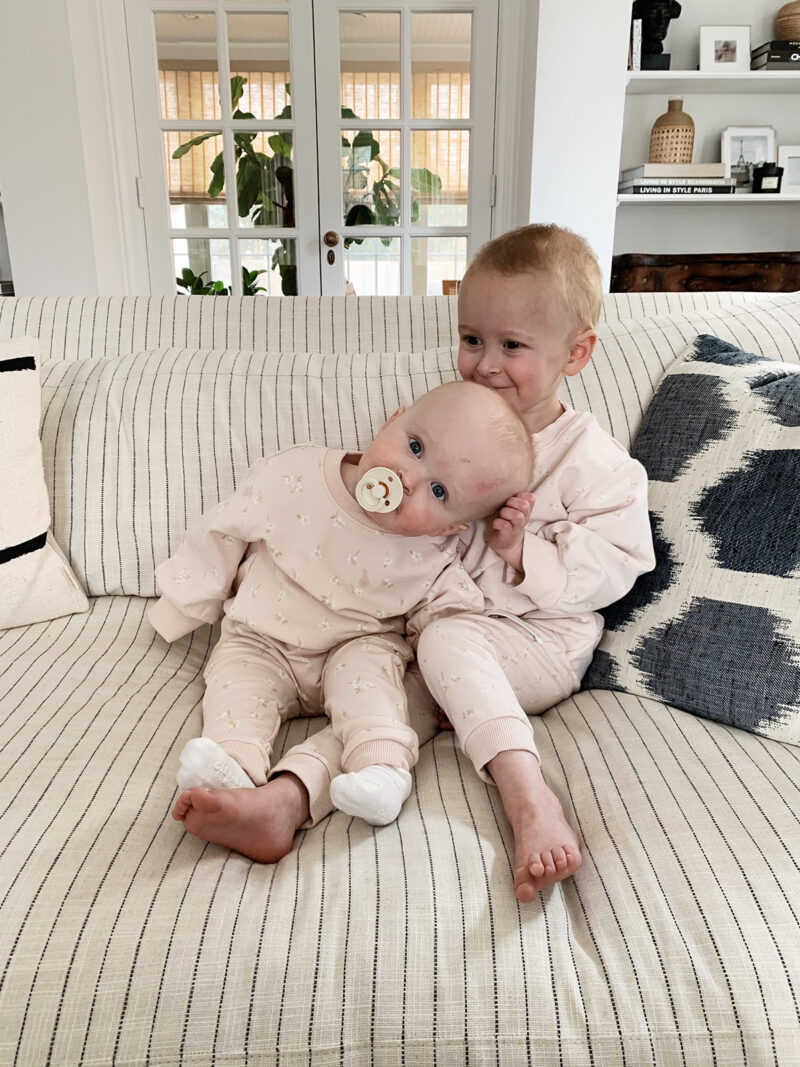 I'm back with another Q&A and have a whole list of blog posts that I want to start working on. Tomorrow will be our sixth day of having help with the girls in over a year, so I'm slowly adjusting to having time to get things done. There's not much of a routine yet but that's ok. I organized our garage and have a mountain of things to organize in the basement, and a long list of blog posts I want to write. But for now, here are my answers to your recent questions. Q&A: Babies, Preschool, and Moving
Q&A: Babies, Preschool, and Moving
Do you miss living in the city? Any plans to move back?
Yes and no. I love having a house and it was not in our budget to purchase a single family home downtown. I would be nice being able to walk to the lake but I don't mind the burbs. It's not exciting but works day-to-day. We have good friends close by and I love our house and yard. Our plan is to stay in this house until an old, beautiful fixer-upper with incredible details goes on the market. We're not looking but we're not not looking, either. I assume we'll find something we love in the next few years.
Are you done having kids?
If you asked a year ago, we would have both said we were going to be 100% done after two. Conor would still say that (ha) and I think I'm done too, but a teeny tiny part of me would consider a third. Life feels full with two girls and I love that we don't feel like we're spread thin. Kate has been such a dream baby and if this last year taught me anything, it's that nothing matters more than family. The thought of being pregnant or going through the baby stage again doesn't sound too appealing, but I love the idea of three kids long-term and I'm crazy about my girls. To answer your question in a long, drawn-out way, I think we're done.
How is Kate doing with your nanny? My baby refuses everyone but me!
She's doing great and always sounds happy unless she can see me. Then she cries. It's also only been 5 days and she's been with us her entire life, so I expect that it will take time. Developmentally, this is very normal, so I'd just ease baby into it. The only way I can really hand her off is to put her on her play mat with a toy and then we switch. When they wanted to go for a walk today, I put Kate in the stroller and she was fine, but if I had handed her off she would have cried and I just want to make the transition easier for her (and me). So many feelings. On their walk today, Margot told her nanny she "felt a little bit nervous" since I wasn't with them and they came back. I was so proud that she told her how she was feeling and love that our nanny respected Margot's feelings and brought her back.
Are you planning on enrolling Margot in preschool in the fall?
In a normal world, I 100% would have but right now, I honestly don't know. COVID really scares me, especially with the meds she's on, but I hate the idea of her not getting that interaction. Hoping things will be a lot better and that it will feel safe for her to attend.
Can you please share finished photos of your pantry?
Yes! It's on my list. The baskets are semi-organized but I feel like I need a better system before I can photograph it and say how organized it all feels. It took almost three years but I just photographed my bedroom closet. Promise I won't wait that long.
Do you miss The Everygirl?
Not really. Making the decision to step down was the hardest part, but I have zero regrets. I miss working with our team but prefer life now. Given all that we've been through, it feels really good to slow down and have more time with the girls. Our nanny comes four days a week, and on Wednesday, I'm with the girls all day. We're only a week in to having help, but even on the days our nanny is here, I have so many sweet moments with the girls and that feels like a gift. There was just no way I could go back to being at a computer 40 hours a week after the last year, and life feels lighter, more flexible, and I can enjoy my girls and take better care of myself without feeling distracted and burned out.
Can you share your makeup routine and products you use?
My makeup routine is pretty minimal and I'm honestly not great at applying makeup. I've really embraced skincare over the last year. Most of my clean beauty products are linked here and I'll work on some blog posts since I've only shared my clean hair and body products.
If I could use one skincare product, it would be this. And I don't always use foundation or cover up, but I always fill in my brows with this.
How did you keep the hope alive when you were dating and looking for your person?
I did not always keep the hope alive but I tried. Sometimes, I felt fine and others, was really anxious and thought I'd be single forever. Getting to a place where I was happier in my life and knew what I wanted helped, but it's a roller coaster and sometimes, it feels really lonely. Embracing my life and enjoying doing what I wanted to do helped. Remembering that it only took one guy, and believing that I'd find a good one when the time was right also helped.
Dating is so, so hard. There wasn't a chance I was going to meet anyone at work and I wasn't a flirt with guys at bars kind of gal, so I tried online dating. Conor and I met on Tinder of all places and at the time, I was in this "men are scum" place since the guy I dated right before him had a secret wife, baby, and girlfriend that he didn't tell me about for almost three months. I went into our relationship in a sort of breezy, I don't care what happens place and it worked out.
Tips for getting things done while having a baby at home?
It's so hard. I'd say to set the bar low (I promise I mean that positively) and give yourself a break. Try to get things done while baby naps, or give yourself 15-20 min while baby is happily playing in a bouncy seat). I barely remember how it worked with just one and it feels mostly impossible to get things done with two. How's that for the least helpful answer ever?
What have you stopped buying since going into isolation?
I didn't really buy real clothes until recently. Just sweatsuits. Gas? I didn't have a car for most of the last year. I can't think of anything specific that I stopped buying, but most of my purchases are curbside groceries or things we need for the house or girls.
What vaccine did you get and how did you feel after the second dose?
I received the Pfizer vaccine and felt nothing after the first dose. The morning after I received my second dose, I felt tired had a minor headache most of the day. I was just so grateful to be vaccinated, although it doesn't change much for me day-to-day. Resuming life as "normal" won't happen until my girls aren't at risk, and since babies and toddlers can't be vaccinated, we're continuing to be extra safe.
What's the name of the upholstery cleaner that you use?
We love Chicago Carpet Cleaning Group. Amazing customer service, they do a great job, and most important to me: they are eco-friendly. I've never partnered with them in any way but if I had, would only recommend them if I loved the work they did.
Gift ideas for a friend's 35th birthday?
Depends on how much you want to spend and her interests.
A few things for her home. This marble planter and a candle?
An at-home spa basket. I love everything from Cowshed.
A luxurious robe or pajamas.
Gift ideas for a family that just had a second baby.
If you can find out what they have and what they actually need, that is always nice. We didn't really receive any gifts for Kate – just a few things from Conor's family which was so nice because we didn't need a bunch of stuff. I'd honestly say a gift card to a favorite restaurant unless there are items they need and can use. Baby basics that don't hold up are nice if they don't have them – bibs, burp cloths, basic onesies. I don't know. We were fortunate enough not to "need" anything with Kate.
Would you have a wedding reception or small dinner party and bar after (for a small wedding in 2022)?
I would go with the small dinner party. We did that after our wedding and it was so fun.
Where is your chaise lounge from? The baskets in your console? Your rug?
These questions come in daily and it's honestly a lot to keep up with. I want to help so you can actually shop my home by room in my shop. If there's something you can't find, please do let me know!
Who helped you get Kate on a schedule?
I worked with Michele of Peaceful Littles. She's wonderful and was so accommodating. I tried working with someone who did the Moms on Call approach and was so not prepared to let Kate cry at six weeks. If that works for you, that's great! I couldn't do it. Michele helped me find a way to soothe Kate while helping her become a better sleeper. She really considered what worked for me along with what our family needed in terms of sleep. Love her and cannot recommend her enough.
How did you get back into shape post-babies?
I'm hesitant to talk about this because we (women) focus too much on our bodies (I'm guilty of this, too) but I would not say that I'm in shape. Weight-wise, I am back to where I started but I'm really soft and not toned at all. I haven't been working out regularly and try to eat healthy, but it just hasn't been a focus this year. Our nanny started last week and I rode the peloton three times, and did a quick 15 min mirror workout. Hoping to get back into a great workout routine since I haven't had that in a long time.
What swing set did you end up choosing?
I shared it in this post.