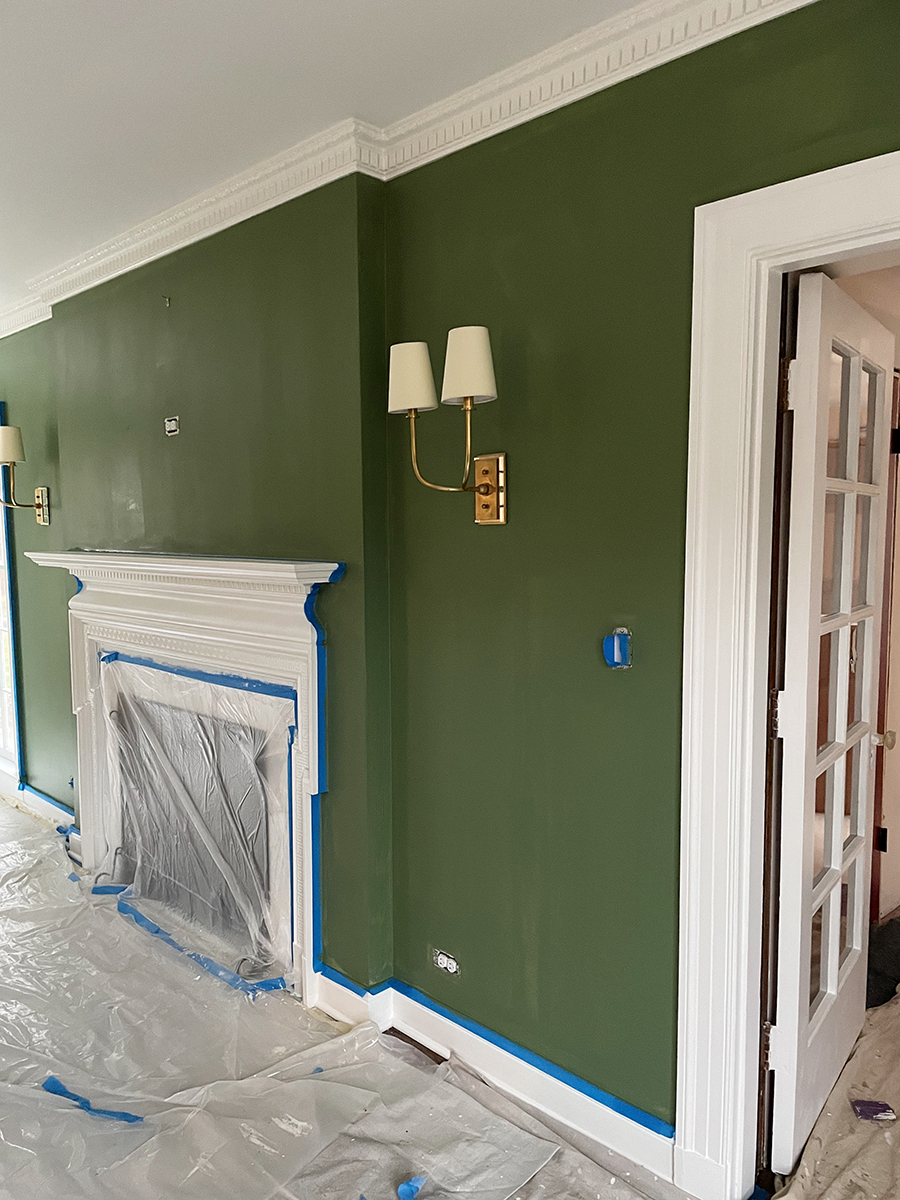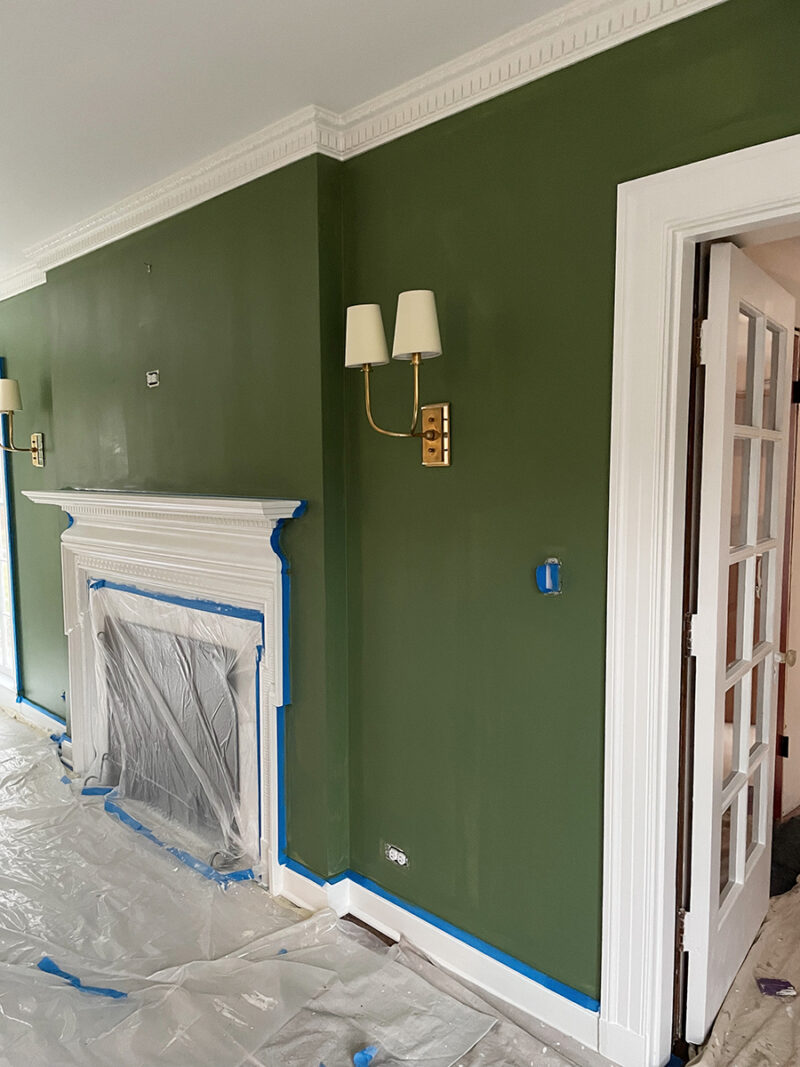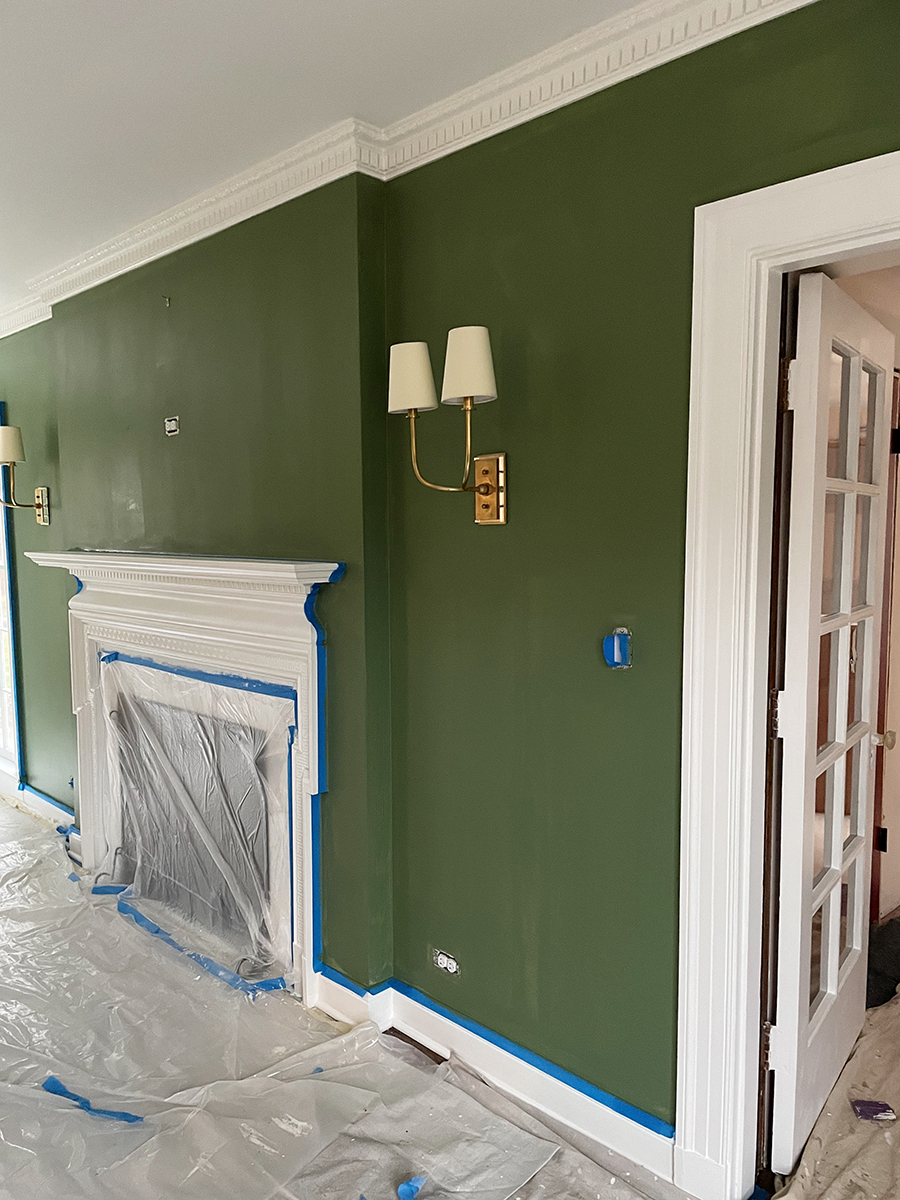 It's been a minute, so for my December Q&A, I'm answering all your questions and sharing a some specific gift ideas. There were quite a few questions about the house, and it's been a while since I've shared some updates. I'm excited to share our living room and dining room. I was going to answer more of your questions and specific gifts but our nanny left at 3 and it's just not happening today. And a stocking stuffer idea: What if we all donated $10 to Alex's Lemonade (or another cause near and dear to your heart) as a stocking stuffer this year?
December Q&A
I noticed a lot of people asking for gifts below $50, gifts for men, women, and in-laws. And I promise this isn't a shameless promotion of my own content, but I happen to have gift guides for each of those categories here. Which…is why I created my gift guides in the first place. I also noticed a lot of people buying gifts for family members who a. don't want anything b. don't need anything and c. don't like anything. Can we consider sponsoring a family or donating to a good cause? Otherwise, something nice from a small company like Zingermans or if you're in Chicago, Broken Tart.
More house updates please!
You've got it! The living room is being painted GREEN. We had so many swatches on the wall and I somehow landed on the brightest one. Big (huge) departure from my neutrals but I love blue and green so here we are. The color is Farrow and Ball Calke Green. We'll have a white roll arm sofa, white chairs, and will bring in some color and pattern with pillows. We'll also have a piano and antique wood secretary in the room, and still need to find a rug.
The room through the doors off the living room is the family room. It will be painted white with blue accents. I've linked almost everything here. Our dining room is almost done, so more photos coming soon. This rug is going in the dining room. I like that it will add some warmth and texture.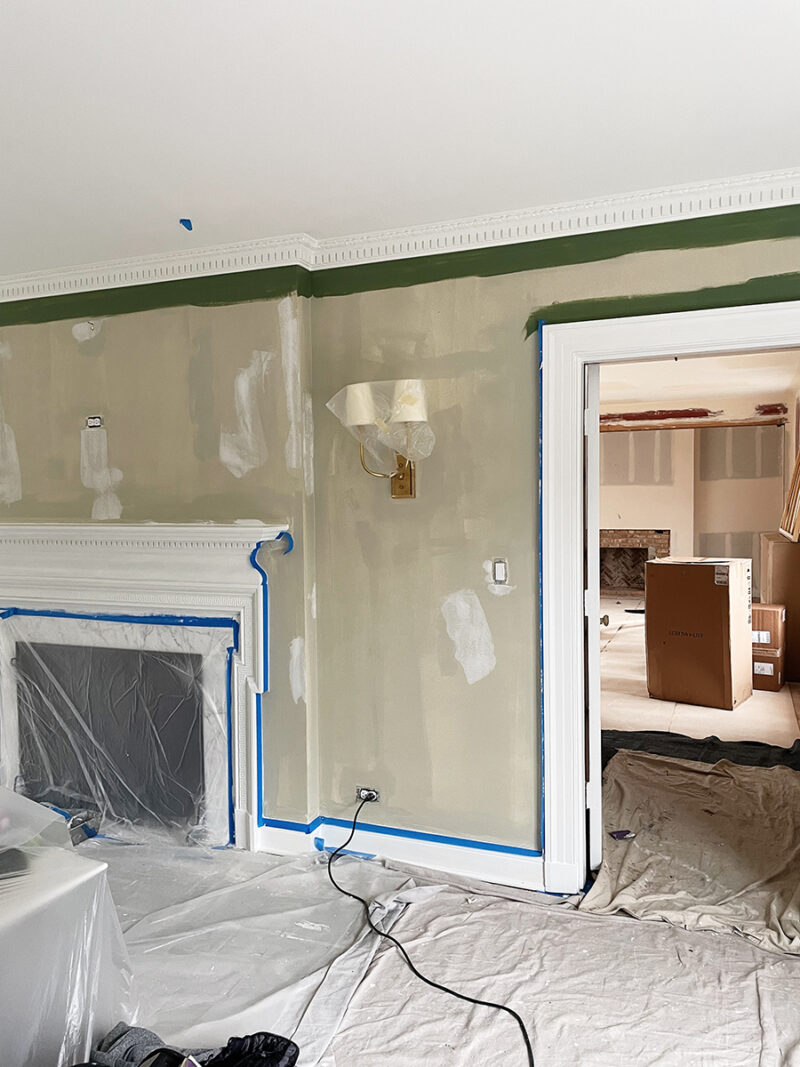 If money was no obstacle, what would you splurge on for your new home?
Easy. I would hire Mark Sikes to do the entire house.
Recommendations for sourcing wallpaper?
I ordered from: Lisa Fine, Cowtan and Tout, Casa Branca (grasscloth – did not love them), Farrow and Ball, Serena and Lily, Sister Parish, Anna French, and Pierre Frey to name a few. It felt like endless florals showed up for our dining and we were at the point where Conor was like "can you please just pick one" but nothing felt right. Then, I saw that Mark Sikes and Schumacher brought produced his Chinoiserie in green and blue, so I ordered samples of both. And just like that, we had our wallpaper. I ordered the paper the day the swatches arrived, so I do believe that when you see the right one, you'll know. If you're not sure, do not commit.
And pro tip: hire someone seasoned to install your paper. I took a chance on someone new and it blew up in my face. The install was awful and I was not offered a refund for the work. I then had to buy all new paper, pay someone good to remove the paper, prep the walls, and redo the room.
When you paint a room white, do you paint the trim the same white?
If we're using white, yes. We did most of the house in snowfall white, and did the walls in eggshell and trim in satin.
Can you share some design inspiration for your son's nursery?
This feels a little too grown-up and is not finalized but is my first go at the nursery, so I'll share it with you. I'm going to use Kate's old crib and am leaning toward this wallpaper. When doing the kids' rooms, I am really trying to choose decor and furniture that will grow with them. His room is the old guest room and has a queen bed, but unfortunately, the headboard is a little too feminine, so we'll change out the bed. I'm waiting on swatches so the bed and rug are not finalized. My MIL has some vintage rackets that Conor used to have in his room so we're definitely using those!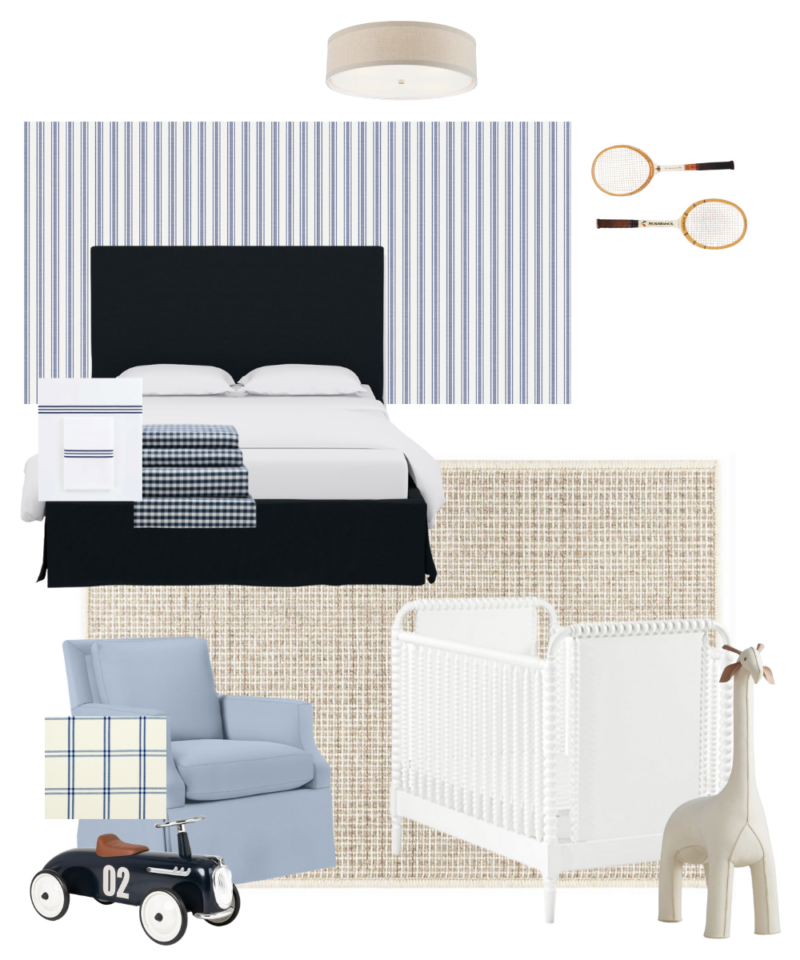 Would love a "products you'll be buying for baby #3 post"
I have kind of started to think about this. He needs the basics: clothes, burp cloths, bibs, and new bottles and pacifiers. And I have to figure out a bassinet (will likely rent the SNOO again), maybe a swing, and a car seat since I sold ours. I have 2 boxes of baby toys so we're really good there. The goal is to buy as little as possible.
Plans for Kate's dollhouse?
Kate is getting this dollhouse (currently on sale!) from her grandma for Christmas. She also bought Maileg mouse house furniture and I got a few mice for her stocking. The plan was for the girls to share the other one, but we won't have a playroom for another year, so I'm trying to make Kate's room a little more fun.
Where do you find the most joy?
I love this question! Seeing my family happy and being with the people (family and friends) that I love most. In terms of what I do, I find the most meaning in two things. The first, raising money for childhood cancer research, helping other moms getting their children through treatment, and doing anything I can to make a difference within the pediatric cancer community. Any time I get a message from someone after sharing something personal, and they tell me that I've helped them feel less alone.
What holiday traditions are you doing with your kids?
I wrote a post on this but am most excited to bring presents to the oncology floor. We always donate food to families in need but would like to get more involved in actually helping prepare/putting baskets or bags together when the kids are older.
What SEO tools do you use on your blog?
I use Ubersuggest to search for keywords and to track my organic traffic, Rank IQ to search for keyword details, and the free version of YOAST SEO to make sure all my posts are "green" (as in green light) before publishing. I do also just write what I want a lot of the time. Not all my gift guides were highly searched terms. So I basically write what I want to write and find a good keyword if I can. I don't write just for SEO.
How are you feeling? Any baby updates?
Thank you for asking! I'm feeling really good. I've been a little tired the last week but that's nothing. This pregnancy has been my easiest – zero nausea or heartburn so it sometimes doesn't even feel real. The whole thing is just so wild and I can't wrap my head around it. No updates other than I'm officially halfway (crazy) and we have our big anatomy scan on Monday so maybe that will make it feel more real?
I'd like to see fewer shopping guides.
I get it – it's a lot. My reason for posting so many was to make sure everyone could find what they needed. I included gifts for everyone by category to make the process organized and easy to search. If you're not looking for kids, great – skip those posts! I don't expect everyone to read or shop all of them.
How will you fit 3 car seats in the Volvo?
We're doing 3 across for the first year. The girls are both in the Clek Foonf, so they will be in the side and middle seats, and baby's seat will go on the other side. We plan on keeping the XC90 (bought it and love it) but will get another SUV when Conor's lease is up, we'll get another SUV with a 3rd row with latch. I haven't really started to look into that but would like to keep something around this size (not a Suburban). I can't drive a huge car.
How many days did you see girls in a mask after you got Covid?
I avoided them for 5 days and then masked for another 4.5. Kate got sick on my last night and was throwing up (not Covid) so I had to be there for her. If it helps, our oncology protocol was to mask for 10 days from the start of symptoms.
Can I read past editions of the newsletter?
This is a question I have been getting a lot since writing about my parents. Unfortunately, you cannot. I'd have to individually send them out and do not have the time or resources to do that. BUT – I am going to write more about going no-contact and getting through the holidays without your parents. So if you want to read more about that, sign up here.
Are you still on Lexapro?
I hesitate to answer this one because people could be judgmental but the benefits (of helping someone else) outweigh the negatives here. I am NOT a doctor so do not take this as medical advice. Always *always* talk to your doctor. But my OB did approve my staying on it and said it was safe, so that's what I did.
Tips on the transition to a new home with a 2 year old.
Honestly, it was fine. Get the kids room and a basic area to hang out set up ASAP. I had the girls rooms mostly done (minus wallpaper and window treatments) first.
What would you put on a wedding registry?
The essentials. Nice pots and pans and other cookware, dishes, flatware, glasses, linens (sheets, bath towels etc). I would skip all the gadgets you do not need and just get the basic essentials.