December Q&A: Pregnancy, House Updates, and When We Plan on Moving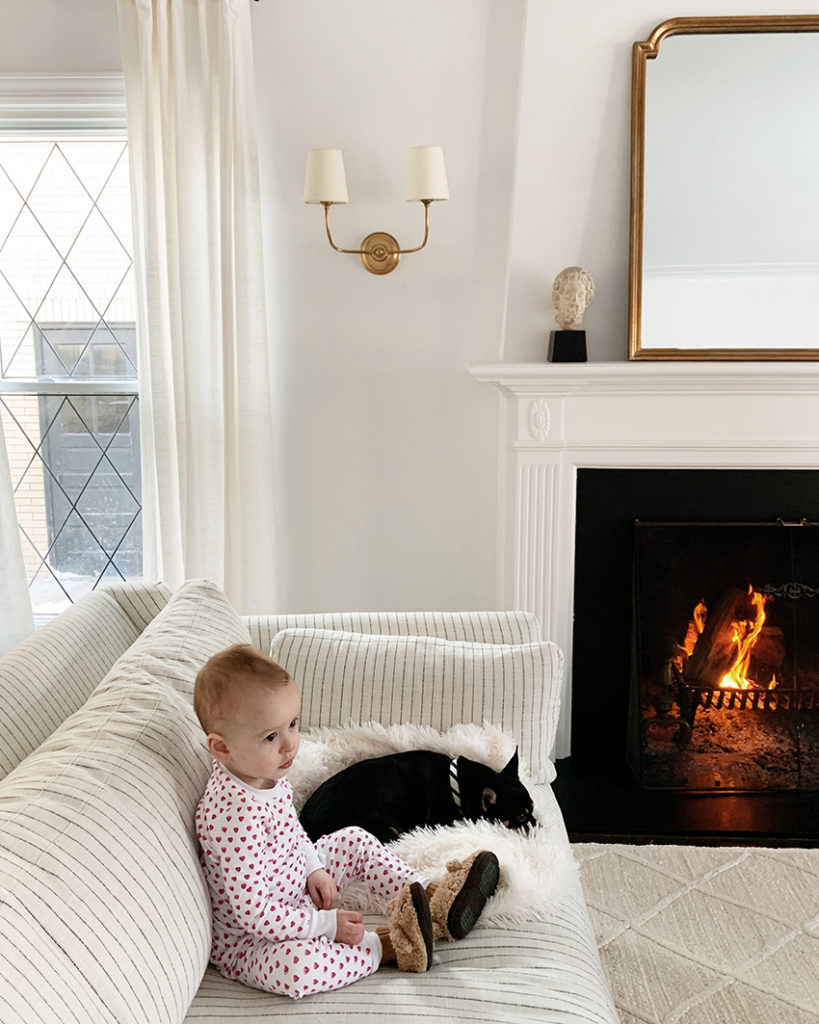 I'm answering some of the questions you've asked on instagram over the last few weeks here on my blog. This is something I might do more of in the coming months since there's only say so much I can squeeze into a few instagram stories. Today I'll be talking about pregnancy after loss, baby no. 2, home updates, how long we plan on staying in our house, and a few products I've shared recently. It's time for another Q&A. Answering your questions on pregnancy, home, and moving.
Answering your Questions on Pregnancy, Home, and When We Plan on Moving
Can you tell me where you got _______…
Margot's learning tower – it's great for small spaces and easily converts to a table!
Lightweight travel car seat (we love it!)
Our bed is from RH but I had the opportunity to partner with Serena & Lily and recently ordered my dream bed!
My shop also has a section with the most asked about items that I share regularly.
What has helped you cope with anxious feelings during this pregnancy after your loss?
Surprisingly, I was a lot more anxious when I was pregnant with Margot than with either of my other pregnancies. My second pregnancy was over so quickly and I found out I was pregnant again about a month later. I don't think I allowed myself to believe it was real until our genetic testing, ultrasound, and hearing we were having a girl. I sort of detached myself (not in a negative way, but just focused on work, Margot, etc.) and knew that it might not result in a baby. I'm only 13 weeks and feel more aware of the fact that it might not work out. It would be devastating if something were to happen, but I have Margot and Conor and whatever happens, we'll get through it. Day-to-day, I'm busy with my family, work etc and don't think a lot about being pregnant vs being consumed with the idea when I was pregnant with Margot. I hear this a lot from second time moms. You're just busier and the time sort of flies the second time around.
When did you feel comfortable leaving Margot with a nanny and returning to work full-time?
I thought I'd be that mom that knew my baby would be fine but I really struggled with this. I went back to work maybe 2.5-3 months (honestly can't remember and think I eased in part-time to start) after Margot was born and I don't think I was ready emotionally. We had a tough time with her as a newborn and looking back, I could have taken some more unpaid leave and really should have given myself more time. We were about to go into our busiest season and I didn't feel like it was an option.
Our first nanny didn't listen to my wishes about blanket safety. She was otherwise so sweet with Margot and her intentions were good, but my trust was a little damaged. Once Margot was sturdier, I felt a lot better. I would say it's key to find someone you trust and have a very open, honest relationship with. Try to get to know them and see them with your baby before you're physically back at work.
I'm also so lucky that I work from home as often as I do. I'm usually working away in my office but am able to say hi to Margot and see her when I grab lunch, coffee, or water.
What things made your life easier while on maternity leave?
Conor has a pretty flexible schedule since he's a realtor, and nothing was more helpful than not being left alone with a new baby. I know that's the case for most women, but it's such a rollercoaster and having support is so important. The second thing was friends who showed up. It wasn't always the easiest for me to get it together and leave the house (especially when Margot was on the fussier side) but the friends who showed up, helped, and didn't forget about me meant everything to me.
How are you planning for the daily tasks and logistics of having two? One of my biggest hesitations because I feel like 1 requires all of my attention.
I am not planning for this and have no idea what it's going to look like. I fully expect the first couple (or six, or twelve) months to be a lot. If I've learned anything in the last year and-a-half, it's that there isn't a way to plan what things will be like when a new baby enters your home. We will have our nanny while I'm on leave which I know will be very helpful. The one thing I'm hoping for is that I'll feel ok to have her watch the baby for a little bit a few times a week so I can get some one-on-one time with Margot.
What's something you'll do differently from the start with baby #2?
I'm sure I'll do lots of things differently. My only "plan" is to start Taking Cara Babies even earlier. I didn't take the course until Margot was maybe 2 months old and plan on doing it before we have baby #2 this time around. Want to know I did everything possible to help this baby sleep, but also know it's not entirely in my control.
Is Buddy being protective with this pregnancy?
Not as much as when I was pregnant with Margot, but he gets a little snarly when we're snuggling and Conor tries to say hi/get in the way.
How did you financially prepare for babies?
I didn't have Margot until I was almost 36 and in a very different place professionally. I honestly wouldn't have been able to afford a nanny just a few years before that. It was a matter of growing in my career, and I put everything I make on my blog plus a percent of my monthly paycheck in savings. My advice would be to create a budget and stick to it. Cut out everything that isn't necessary, never buy things you don't need or can't afford, and start putting a % away each month.
How long did you try for #2? Did you track your cycle?
There were a lot of questions like these and I really struggle with how to answer these questions because our bodies are all so different, so my #1 piece of advice is to talk to your doctor . I wish I had some advice for here but I didn't do anything special. I tracked my cycle using the Glow Period and Fertility Tracker app for years, mostly to stay informed. So when it came time to try to conceive, I stuck with the Glow app (that I had already been using) and when I thought I was ovulating, took this test to confirm.
I hate sharing that information because I don't want to make anyone feel badly, but it can also give some women hope, and it's my story. I was very, very lucky and got pregnant right away, but there wasn't anything else that I/we did, and pregnancy 2 ended at 6 weeks, so it hasn't been perfect by any means. Before trying for Margot, my doctor tested my AMH levels and they were pretty high, but that doesn't mean you'll get pregnant right away. I hate to say it's luck but I've watched so many women struggle, so I don't know what else to call it. We are extremely fortunate.
Any advice to a mid-30s lady who wants to be a mom but life is saying wait 2-3 more years?
First, I have been there and it wasn't easy for me. I can't say I know how you feel since we're all different, but it was up and down, for sure. Back in my late 20s, I thought a lot about getting married and having babies, so much to the point that I was maybe a little obsessed with the idea. Once I got into my 30s, grew my career, and dated (dated one guy the entirety of my 20s) I felt more at peace with where I was. It was sort of empowering to do things on my own for a while, and looking back, I wasn't ready to start a family before I did. I wouldn't change having Margot for anything, but if I had known I'd get pregnant so quickly, I would have waited at least another 6 months before trying.
My advice is to listen to where you are in life. Timelines can be so stressful, and letting them go will give you so much freedom. I am so glad I had the first half of my 30s to grow personally and professionally, to travel, and time to live on my own for a while. I grew up. Saved some money. Was in a place where I was able to buy a home. I know what it's like to want babies but also know how much life changes once they're here, and there really isn't a rush.
How long do you plan on staying in your current home?
We love our house but going into it, knew it wouldn't be our "forever" home. It's hard to say, but we would like to be in a new house in another 3-4 years. Long-term, we would like something we can really make our own, more open space, more storage, hopefully a mudroom, and designated home office. Our kitchen is 12×10 – it's small and doesn't have a pantry. We don't have a spot to put boots and are missing a real entry closet. None of these things are complaints. This house works for us and our needs right now, but I'd love a little more open space and storage as the girls grow up.
What's next for home projects?
I am going to do a whole blog post on this, but we're finally finishing our bedroom and living room, and going to turn the office into a nursery for the new baby. We'll be using the sunroom as an office. Basement needs some love, too. It's gross. Excited to finish everything and just enjoy our home for the next few years.
Now that you've been in the burbs for a while, do you still like it? Do you miss the city?
I do like it and I also have moments where I miss the city. It's not something I think about a lot unless I'm driving to/from work, although city traffic, and parking is a pain so I don't know. It really came down to wanting our day-to-day life to be easier (garage/parking), more space, and most important – what we could afford. Our checklist would have meant a 1 million dollar + home in the city and that was not happening.
What's the biggest/most expensive investment piece you've purchased? Worth it?
My Chanel flats and yes, they were worth it. I have the classic black/tan ballet flats and really do love them. It is rare that I spend that kind of money on shoes but decided to splurge right before my wedding. I wear them all the time (except for when it's snowing, of course). They're comfortable and look great with everything. I am not a heels girl so they are prefect for dressing up or down. I have never regretted buying them but would never recommend buying them or anything that isn't a "need" unless it's in your budget.
How do you stay organized?
I used to be so good at this but it is not easy with a baby. Finally getting back in a groove, so we'll see if it sticks. The pressure feels like it's really on because if we can't get it together when we just have Margot, it might be years before we do. I'm just always cleaning, but hope that as I've gone through drawers/cabinets and organized everything, it will be easier to stay on top of it all. We got the sunroom all cleaned up and I've been slowly tackling our kitchen cabinets, closets, etc.
Besides your current home, which was your favorite apartment that you've lived in?
My first Chicago apartment. It was the smallest of my apartments (under 600 sq. feet) and very modern and brand new (I usually love vintage charm), but it's where I got my start in this city and I loved living there.
How has your design taste changed over the years?
I think it's just grown with me. If you look at my first apartment, it isn't wildly different from my current home. Linen sofa, jute, a touch of brass, light, clean, and very…me. I definitely got into gold accents for a while and went a bit more feminine in my Lincoln Park apt, but found my way back to what I think is a more grown-up version of what I did in my 20s.
How do you keep your sh*t together doing everything you do?
I…do not. I guess it's a good thing I look like I have it together but I struggle as much as anyone else. I've been really stressed the past few months, but started making my health more of a priority. Most of my time goes to work and Margot, so it's really hard to make time for myself. I used to work out 5x a week and love working out, so I need to make that a priority again for my physical and mental health. It's just impossible to do after work since that's my time with Margot and I hate working out at 6AM, so that takes away from me enjoying it. It's a struggle. I also don't do everything. I do what feels like a lot but we all do a lot.
Please remember that have a husband, nanny, business partners, and two teams that keep The Everygirl and The Everymom going. My house has been a mostly unfinished mess (endless junk drawers, crap stuffed in cabinets, and the basement is a mess. I don't see friends nearly as often as I'd like. It's a lot. I also really don't want to sound like I'm complaining. My family is healthy, I have a baby on the way, my career is going well. We just all have our sh*t and are all struggling to keep it together.
Advice for creating a cohesive look for your wardrobe, home, etc?
Buy what you love. Scour pinterest and follow designers/bloggers/anyone who has style you love that inspires you. If you have a general look you're going for when designing a room, it takes time but makes it easier to figure out what pieces you do or don't want in your home. I'm not sure how cohesive a wardrobe has to be. I tend to invest in classic pieces that I know I'll like in the months and hopefully years to come. Most are neutral so everything just kind of works together. Have a little more fun with dresses! Those are a nice way to bring in some pattern and color.
Where do you leave Buddy when you travel?
I usually leave him with a friend (Jess Keys has offered to take him whenever I'm away – already offered to help with him when the new baby comes) and my mother-in-law helps with him, too. I have always left him with friends. He has an autoimmune disorder and can't really be around dogs we don't know, and places that board dogs won't take him since he can't be up to date on his vaccines (those shots would likely kill him). I am very cautious (and protective) when it comes to Buddy.
What are some of the most important things you look for in a candidate when hiring?
Aside from whatever skills the position requires (great writer, design skills etc), drive, work ethic, and a passion/excitement for the company.
Question about Anecdote. In addition to running TEG/TEM and your blog you launched a furniture company? Did I miss something?
Haha. Nope. That is correct although Anecdote is a home decor and furnishing store and not technically a furniture company. We only physically produce one piece of furniture. I don't run TEG/TEM/Anecdote on my own. I've had a lot less time than I'd like to help with Anecdote but TEG/TEM is my full-time job and I have a daughter so there's only so much I can do. There are a total of 5 partners/owners and the other 5 are really the reason it's done so well. I've just helped with site traffic/social.