Coffee Table Decor for Every Style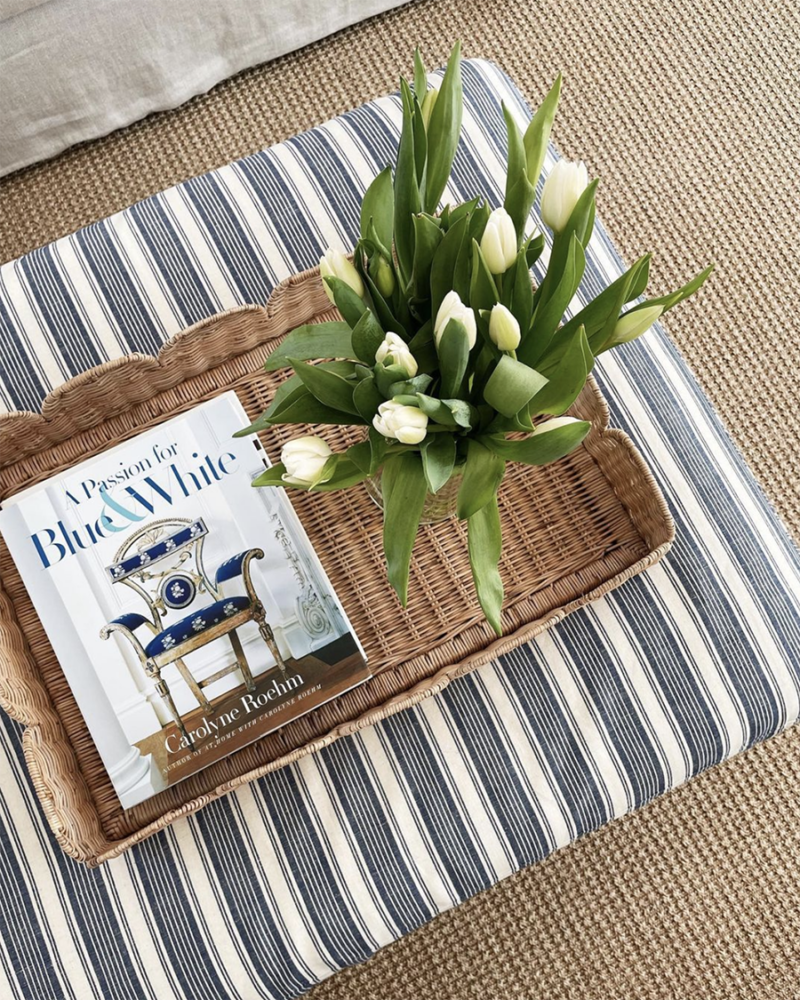 I have two coffee tables to style in our new home. There's this one in the living room and a large striped ottoman in the family room. When it comes to coffee table decor, I really like to mix a stack of books (or two) with natural elements – woven pieces, florals, and marble. Just start with a large tray, some decorative objects, and mix in items of different height. I'm sharing some coffee table decor ideas to help you make your space feel like home.
Coffee Table Decor for Every Style
My family room is one of my favorite places, and my while I'm still in the beginning stages of coffee table styling (I need a few small pieces to finish our large ottoman), I love how our coffee table décor looks. When styling a round table or ottoman, add a large tray to anchor the space and on that tray, place some books, florals, and other decorative objects. I prefer a rectangular or square tray on a round coffee table.
Coffee Table Trays
Trays are a great place to start – they anchor your coffee table with a large focal point, or fill a small space. They add visual balance and are always a good idea – so I'd recommend placing the tray one of the first things you do. Add some books, a vase, scented candle and an object. Different heights with florals and vases add interest. I personally love a woven tray for texture and marble and brass accents. Here are some great choices for coffee table trays.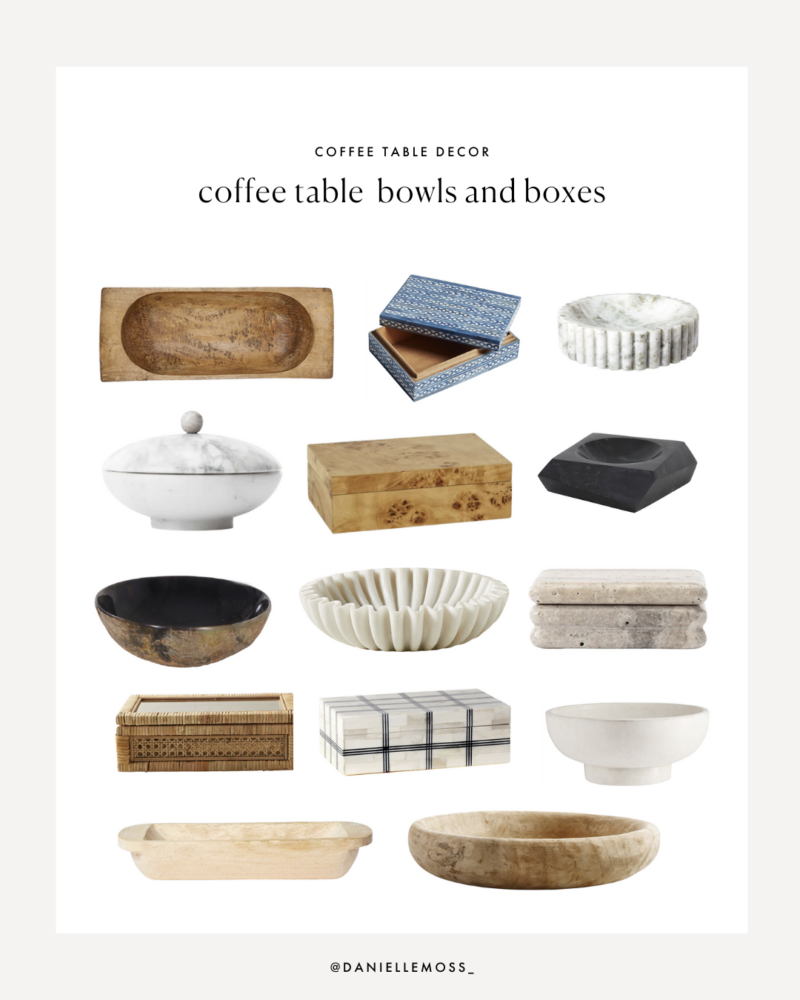 Bowls and Boxes
Decorative items are a great way to add interest and depth to your living space. A box is the best way to hide remote controls, and small items add interest. This is the time to really bring your personal style and the things you love to your coffee table or ottoman.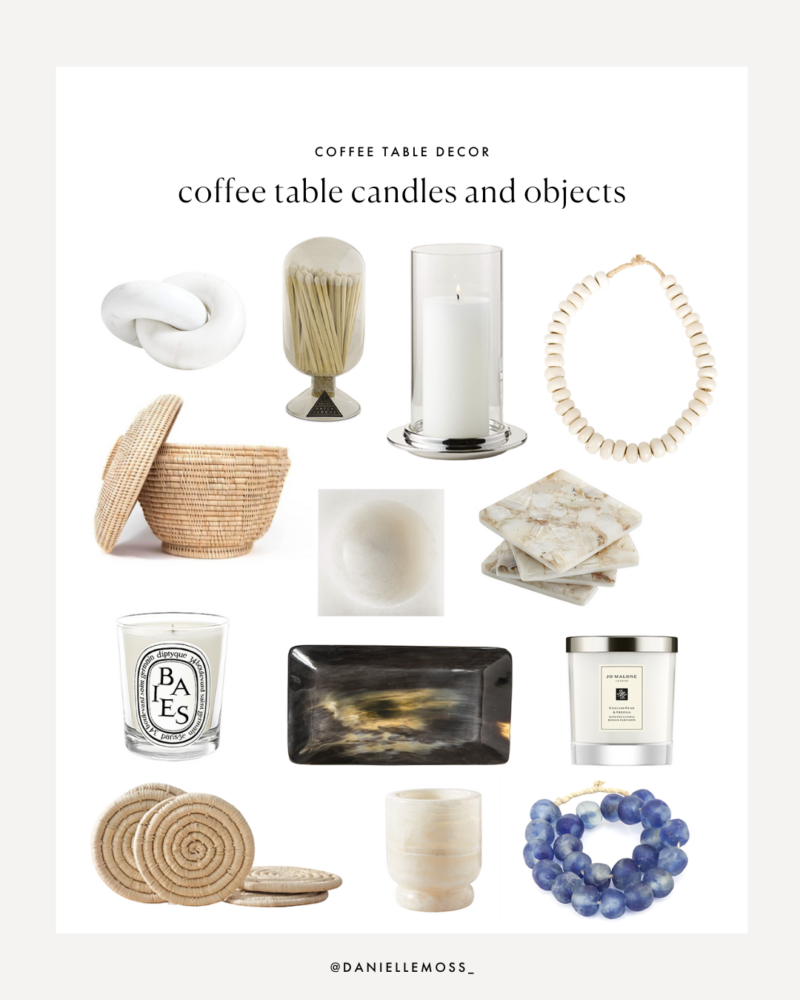 Decorative Objects
Bring some of your favorite things – from travels or experiences. I usually keep a candle out but with a preschooler and toddler, keep them up higher these days.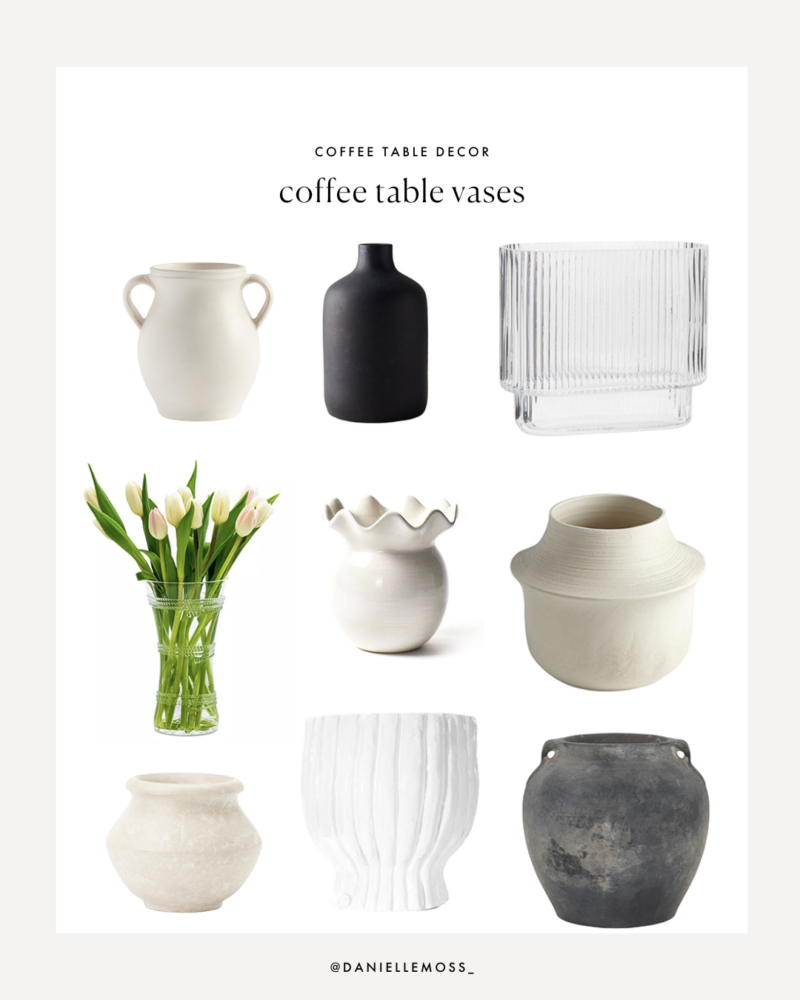 Vases
A vase of flowers are the easiest way to add height and they always make a space feel beautiful. They are a must-have for a beautiful coffee table display and are an easy way to bring life to any space. When I lived in my first small apartment, I had this bunching table as my one table, so I kept things simple with two stacks of books, a tray, an object, candle, and fresh flowers. And almost 12 years later, those are still pieces I would use today.
Beautiful Books for your Coffee Table
Coffee table books are a great way to display some of your favorite things like work from an interior designer or fashion designer that you love. Books also add perfectly flat surfaces to woven trays and ottomans, giving you additional space for decorative accents. Here are some of my favorite coffee table books that I like keeping on display in my home. These additional hard surfaces are the perfect place to stack items on your coffee table. You can see more here.
Coffee Tables
This post contains affiliate links. If you purchase something using my links, I may earn a small commission at no cost to you.