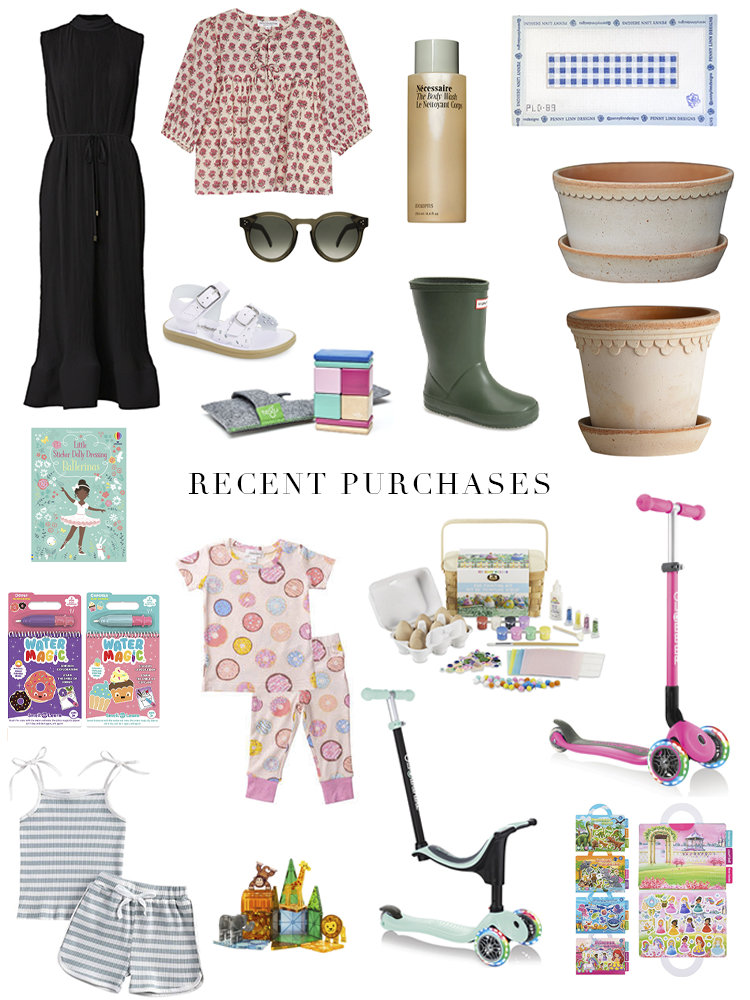 My purchases were a little all over the place this month. I'm working on a gardening campaign so there were a few gardening supples. We had our first warm day here in Chicago, so I bought the girls their spring and summer shoes. There's also a steroid pulse coming up next week (ugh) so I bought a few things to keep Margot entertained). Just two more rounds – we can do this. This is so random, but I came across a black dress and always struggle to find something when we have events, so I bought it. It's a black dress, so it won't go out of style, and one day, I'll need one, and won't have to worry about finding something. I bought this, too, but it's almost sold out so I'm not including it below. Here's what I bought this month.
What I Bought This Month
Bergs Potter Terracotta Pots
You know how I got really into gardening and planted these planters and boxwoods? Well, I'm excited to do our spring/summer planters and am actually working on a campaign around gardening. These pots had been on my list for a while so this was the perfect excuse to buy them.
Necessaire Body Wash:
I buy a new bottle every few months, and just ran out. You know I love my clean beauty products, and the eucalyptus body wash smells so good.
Needlepoint key fob:
I fell off the needlepoint wagon but want to get back on it, and this beginner canvas felt perfect for our new house.
Block print top:
A printed top that isn't blue. And you thought you knew me.
Sunglasses:
So, weeks ago, we were out with the girls and Kate was losing her mind in the back seat. Since we were in the Starbucks drive-thru and Conor was driving, I got out of the front and into the back. Sadly, my favorite sunglasses fell off my head onto the ground outside. When I pieced things together, I went back and there they were, but a car (probably ours) had driven over them. So I bought these.
Black dress:
I'm always scrambling any time I need a black dress and found this on sale. We don't have anything to go to right now, but one day, we will, and I'll be ready.
Tank and short set:
I make an effort to purchase outfits from small shops for the girls, but they need a few things that they can get dirty in. This set was an Amazon find and is so reasonable.
Donut sandals:
My girls love donuts, or eating the frosting off donuts. I couldn't not get these for them.
Waterproof sandals:
Margot actually had these last year, so I bought them for both girls this year.
Toddler wellies:
Margot outgrew her wellies and Kate didn't have a pair and is very into jumping right now. And I sort of forgot how much it rains here in the spring, so these seemed like a necessary purchase.
Scooters:
We were out scooting with the girls but Kate was moving so slowly and bending over to push her around the block killed my back. Our scooter had a seat but the push bar is key. Margot's scooter had a seat that folds up and down but doesn't come off, and I really wanted to get her scooting the old fashioned way. So, new scooters for everyone.
Safari Magna-Tiles:
My friend suggested that I buy these for the girls because her boys love them. The girls love Magna-Tiles, but these are by far their favorite.
Magnetic travel blocks:
We have been trying to get out with the girls a bit more and need tiny things to keep them entertained. These are great but we lost our old set, so I got two new ones.
Water magic books:
I usually buy the Melissa and Doug water wow books but my kids love anything with treats, so I bought these.
Reusable sticker books;
A steroid purchase. Anything to make that week a little less awful for Margot.
Doll sticker books:
These books are Margot's favorite thing. We've gone through quite a few of them, and are almost done with the two she has left, so I placed another order. Kate has been loving these sticker books, so I added a few to my order. I shared this on IG, but here's a tip. Peel back the outer paper on the sticker sheet to make it easier for your kids to peel stickers off the page.
Little Sleepies wearable blanket:
Kate has a pair of Jessie pajamas that she asks to wear nightly. I don't love them, but she does, so I had to buy this wearable blanket for her. I have a Little Sleepies coupon code, too. Use my link and Moss15 for 15% off.
A favorite dress for the girls:
Margot lived in this dress (in pink) last summer. It's so cute and priced really well (great quality too!). I would recommend sizing up.