My Favorite Small Businesses to Support This Holiday Season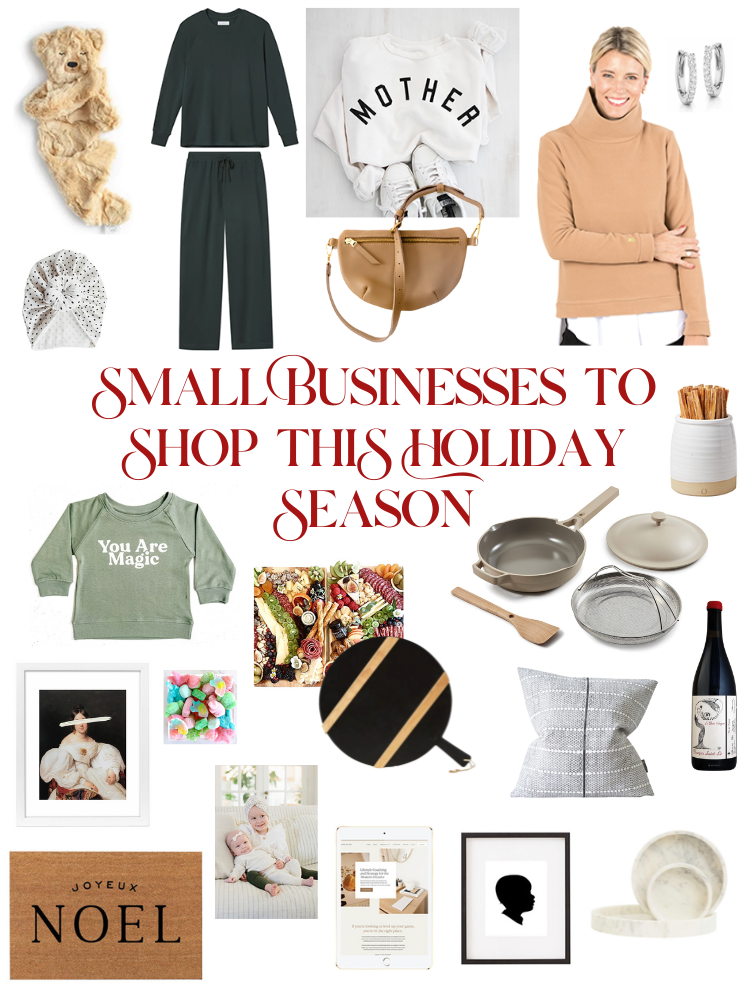 Now more than ever, it's so important to support small businesses. This has been a tough year for most of us, but we're in this together and need to support one another. As a small business owner, it's something I feel and think a lot about. I'll be honest – I've turned to Amazon more than I should during this pandemic, but I've made a concerted effort to shop small whenever I can, and want to share some of my favorite small shops just in time for the holidays. Here are my favorite small business to support this holiday season. Shop my gift guides here.
My Favorite Small Businesses to Support This Holiday Season
Abby Alley
I've seen this bag popping up on Instagram and love that it's chic and functional. As a mom, being hands-free is the dream. And even though I have to bring out a tote with stuff for the kids, it's nice to have my wallet, phone, and other essentials on me for easy access.
Dudley Stephens
Margot loves her pink fleece and so do I – I have three and have been wearing them on repeat.
The Softest Pajamas
This small, women-owned business is a favorite. LAKE makes the softest and most well-made pajamas (bonus: they have mens and maternity too). They make such a great gift.
Dana Rebecca
Another friend of mine, I love Dana and her jewelry. I have a few of Dana's pieces and love them.
Le Papier Studio
I love Vana's work and she's a wonderful human being, too. She donated product to our auction and even donated money to our hospital's fundraiser. We have silhouettes of the girls and Buddy in Margot and Kate's bathroom, and silhouette ornaments on our tree. The very best custom gift.
Shop Home Maven
I came across this store on etsy and knew this doormat was "the one." The designs are so great, and i love supporting a small, female-run business.
Linda's Barn
I love Linda! Another wonderful woman running an amazing business. We have one of her beautiful vintage rugs in our bedroom and it's perfect. Her prices can't be beat.
Josh Young Design House
From prints to commissions, my friend Josh's shop is one of my favorites to support. We have a few pieces in our home including the most beautiful painting above our fireplace, and another with our wedding venue address in the sunroom. We love you, Josh.
Susan Connor
Have a friend who loves design or treating yourself to something for your home? Susan Connor is one of my favorites. I love her pillows – the designs are beautiful and so chic.
Jayson Home
I've always loved Jayson for gifts and little trinkets.
Farmhouse Pottery
I splurged on a cutting board a few years ago and always have it leaning up in my kitchen since it's just so beautiful. The ceramics and serving pieces are lovely, too.
Our Place
This pan is as great as everyone says it is. Nothing sticks and clean-up is a breeze!
One Off Hospitality
These meal kits from some of our Chicago favorites are such a nice way to enjoy a meal you love while staying safe at home.
Bash Board
Conor's cousin got this for us after Kate was born and we loved it so much that he ordered one for my birthday. We've sent them to friends, too. Such a great gift to give right now.
Red and White
Support a small business by signing up for their wine club or do what we did and place a big order to pick up curbside. We're all stocked up for winter.
ATL Boards
You had me at candy charcuterie.
Semicolon Bookstore
Support your local bookstore! Semicolon also sells online!
Anecdote
From furniture to cozy up your home to decor and gifts, Anecdote is a (local) favorite.
Katie Kett Photography
Katie photographed some of the most important moments of our lives – our wedding, Margot when she was just one day old, and our growing family.
Tonic Site Shop
Jen's website templates are so clean and beautiful. She's a talented graphic designer and friend. Love her work!
Alice and Wonder
One of my favorite (local) businesses, I collaborated with Alice and Wonder on this You are Magic sweatshirt. A percent of every sweatshirt benefits our fundraiser for Alex's Lemonade Stand.
Ford and Wyatt
This brand is darling. My girls had the sissy sweatshirts last year.
Shop 6 Heart
Margot and I are huge fans of this shop. It's a small, black owned business that we have supported, and the turbans are the softest we've felt so far. She wore her "plum hats" throughout treatment – they are the softest and so cute, too.
PID Kids
This learning tower is great for small kitchens like ours. It converts to a table and is one of my most-asked about items in my home. Can't say enough good things about it.
Quincy Mae
We love Quincy Mae and Rylee and Cru! The sweetest, softest pieces for babies and toddlers.
Ryan Crew Co.
Margot and I both have a few custom bracelets and love them! Such a fun gift, and so, so budget friendly.
Slumberkins
If you've been following me for a while, you know how much Margot loves her fluffies, Big and Small. She can't go anywhere without Big, and these are safe (unstuffed and no buttons) for toddlers to sleep with.
Lou Lou & Company
Another favorite brand that both my girls wore all the time. The swaddles are so soft and stretchy – we love them and have given them to almost every friend who's had a baby. The brand since started making 2 piece outfits for older babies and toddlers, so Kate wears them all the time and has them to grow into, too.