Your Wedding Questions Answered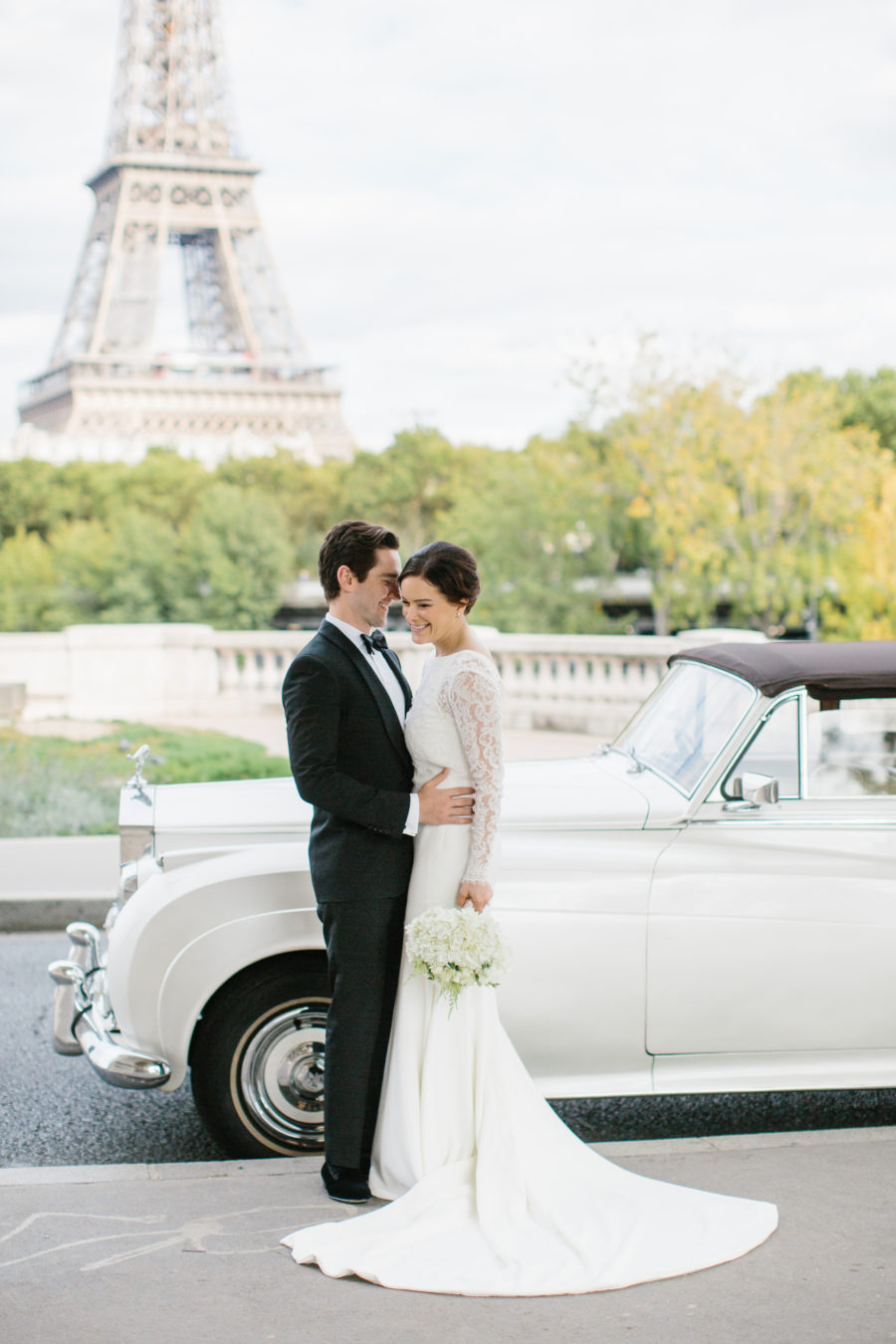 I never dreamed of being a bride or thought about the kind of wedding I wanted to have. In fact, given my difficult family dynamics, I always thought I'd elope. Being the center of attention is one of my least-favorite things. When I was getting ready for our ceremony, I looked out at our 18 guests and said "I can't go out there in front of all those people." My husband and I planned an intimate wedding in Paris, and it was one of the best weekends of my life. Turning what would normally be one day into a weekend in Paris was the best decision we could have made. We had so much time with our good friends. Here are your wedding questions, answered.
Q&A: Your Wedding Questions Answered
It is my hope that these answers will prove helpful and come across as honest vs. negative. Looking back, I could have eloped and wouldn't have any regrets, but I'm glad we were able to celebrate with friends and Conor's family. The biggest takeaway is this: it's one day and will not define the rest of your lives. The focus should be on your marriage and life together, as opposed to flowers that no one will care about when they wake up the next day. That's not to say that details aren't important – I love good design, but don't let it take over your life.
How did you choose a location?
We thought about Charleston and talked about a few other places in the US. Chicago would have been really difficult because Conor's family is huge and everyone's wonderful (and wants to celebrate us), but I think it would have been too sad since it wasn't likely I'd have any family at our wedding He has almost forty cousins while I have zero. Everything was so expensive and didn't make sense for a small wedding. Since we chose to keep our venue and decor simple, Paris actually ended up costing less.
How quickly did you choose a venue and date?
The sooner we did it the sooner people would stop asking about wedding plans, and I was turning 35 so waiting a year to plan a small wedding seemed pointless. We got engaged in March and were married seven months later. We also made the decision to have our wedding on a Monday since everyone was on vacation anyway, and we saved a lot booking everything on a day that isn't usually reserved for weddings.
Looking back, what details were important to you?
I was most looking forward to spending time with friends and family, and to taking photos in the city with our photographer who happens to be one of my closest friends. As far as details go, we wanted a beautiful Parisian apartment vibe and said yes to the first venue our planner showed us on FaceTime. I wanted to keep things pretty simple and put together a mood board with my vision (which I enjoyed), and let him run with it.
I also went a little overboard when shopping for outfits for the weekend, but that was fun, too. So basically I enjoyed the outfits and creating a mood board. How on brand for me.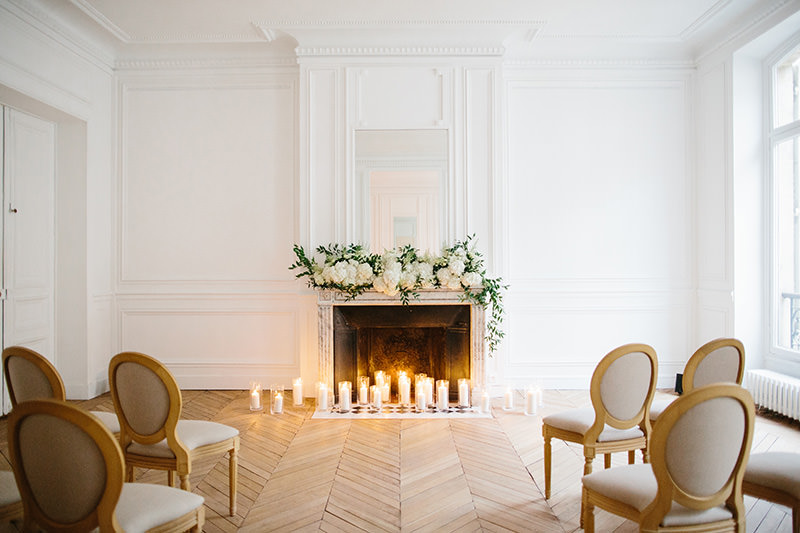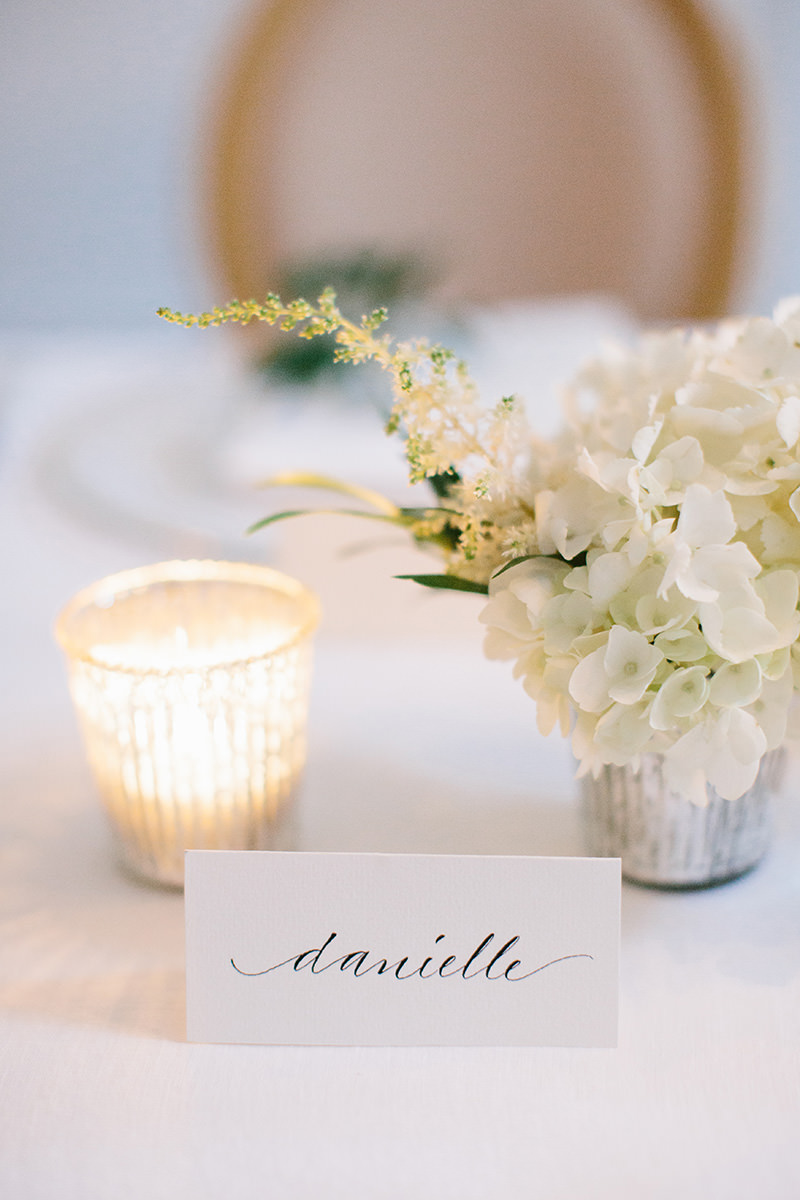 Best and worst part of weddings/wedding planning?
The hardest part was dealing with family stuff. I was not in the best place the months leading up to our wedding but therapy helped. We had our own hurdles since our wedding took place out of the country but our planner was amazing. The actual trip was so fun, but the details were not for me. Since we were out of the country, it was easier to just put everything in our planner's hands and not stress.
What is the one thing you would tell a bride about to get married?
Your wedding is not about decor or a party or a dress. No one will talk about the flowers or dishes years out. They'll remember how much fun they have. Do not let details of one day dictate your life for months. It should be fun and about building a life with the person you love most.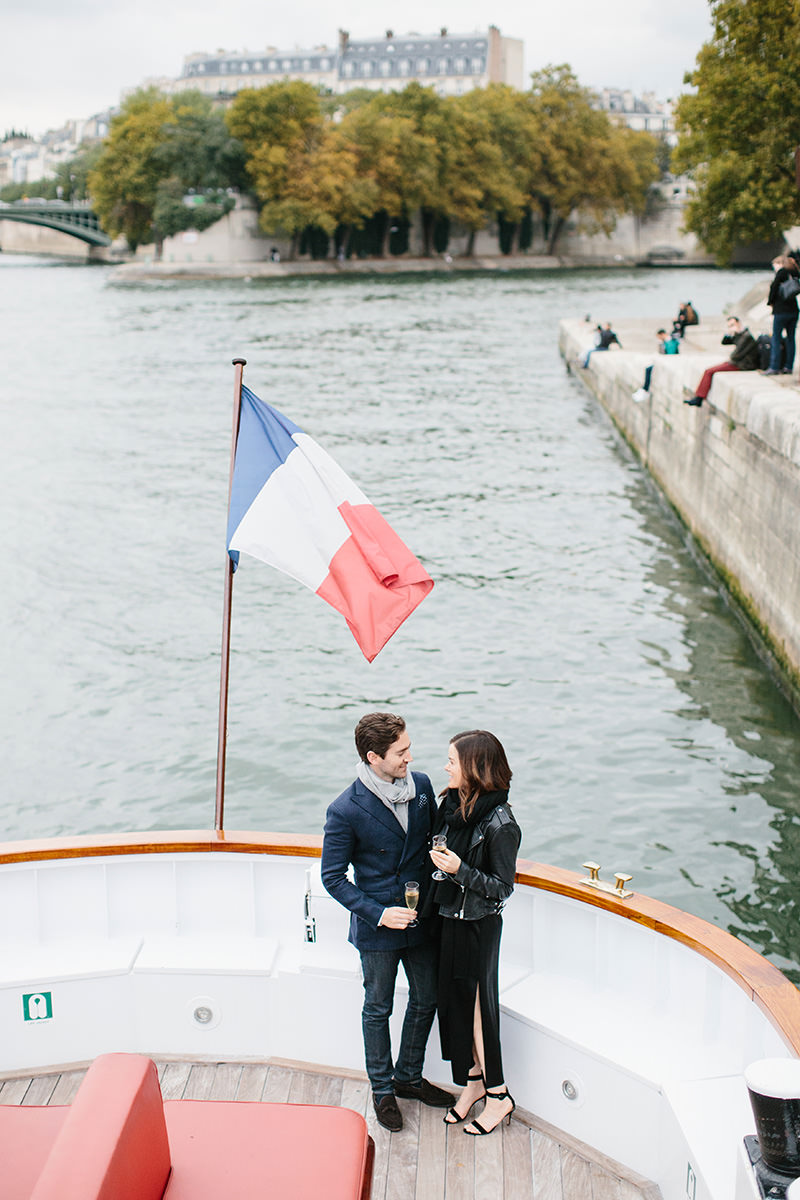 I went a little wild with the Paris outfits but it was fun (and worth it) – I still have everything.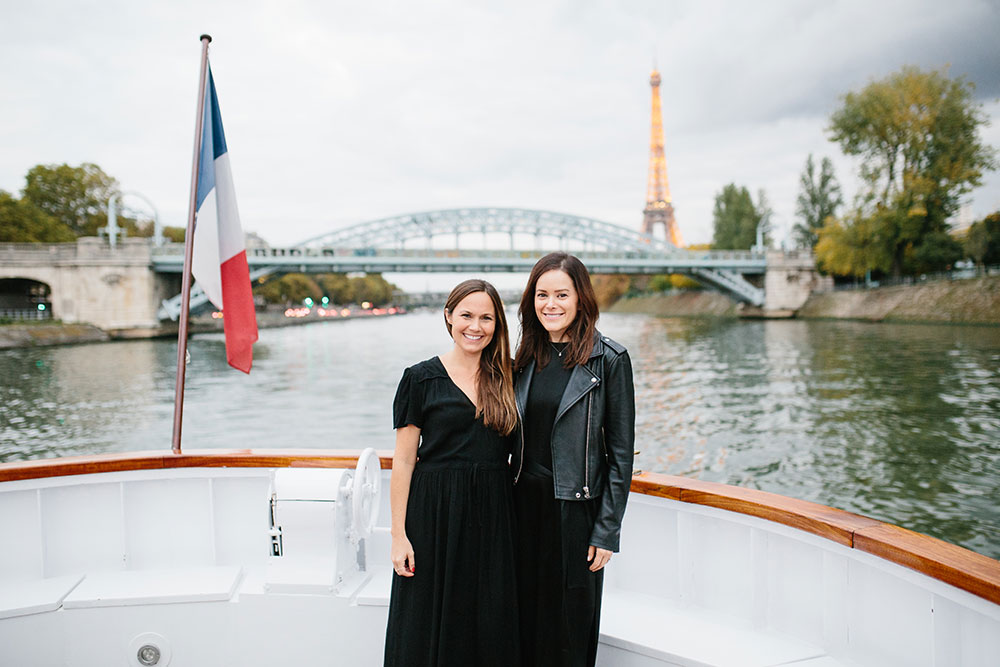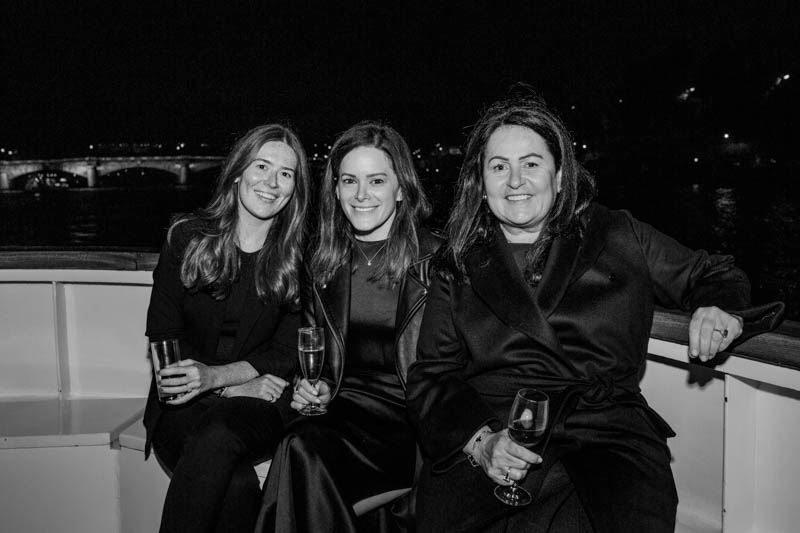 How did you handle not inviting parents you have a strained relationship with?
Well, I haven't heard from my dad since I was a teenager so I wouldn't call that relationship "strained" – it's been over for about half my life. Not inviting my mom was very, very difficult and I spent months in therapy since our relationship really crumbled after I got engaged. It was my hope that I could make it work but the things she said and did during that time were so horrible and in the end, I had to protect myself.
How did you handle asking/not asking bridesmaids.
Shocker: having bridesmaids was not for me. Labeling which friends are the best is not something I had any interest in, and I'm so glad I didn't. We asked all our guests to wear black so everyone was a part of the wedding in their own way. Not even four years out our guest list would look so, so different, so I'm glad we didn't have a wedding party, and no one seemed to care.
How was it not having a bridal party?
Great? I didn't want a bridal shower or bachelorette and didn't have to deal with any extra drama or decisions.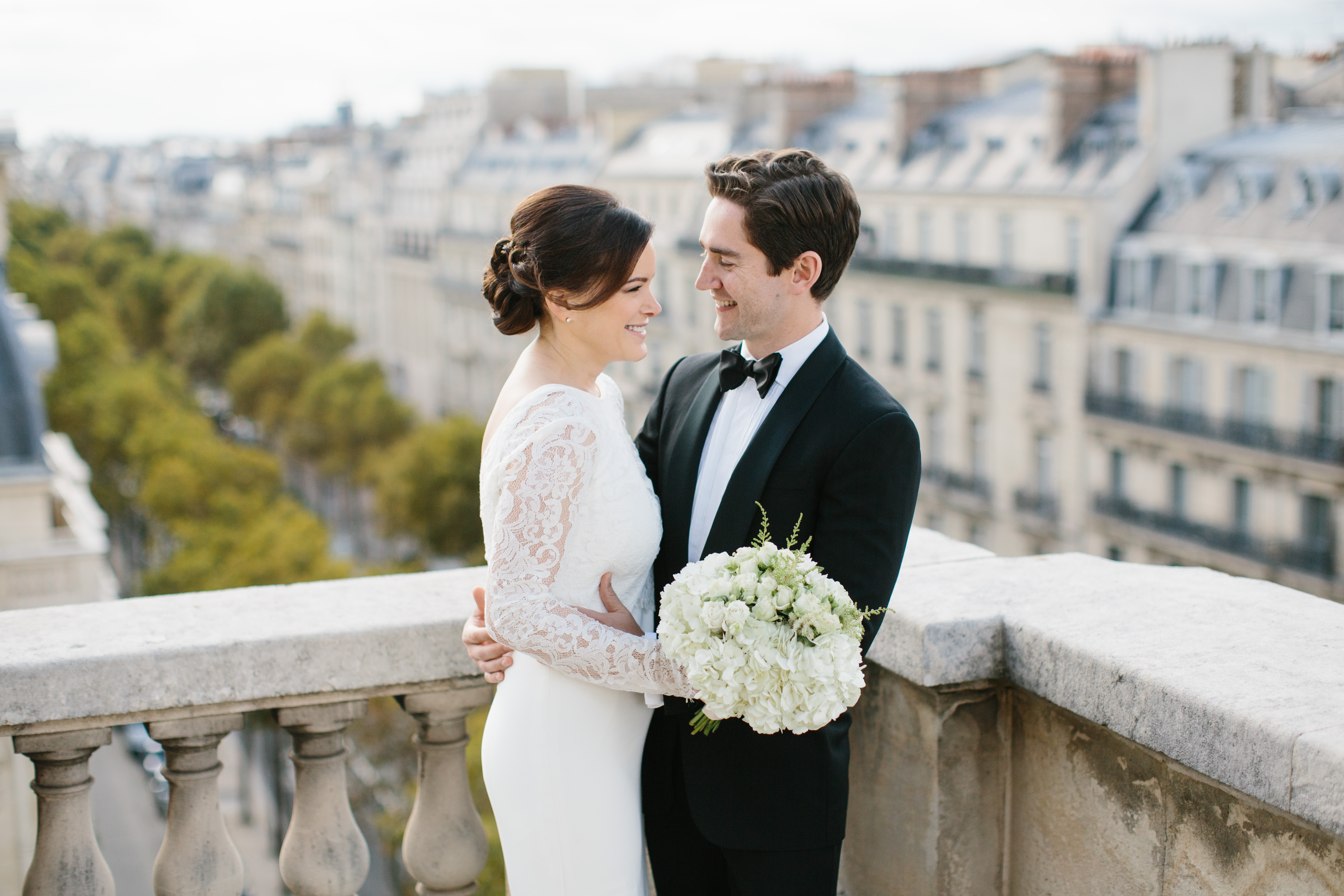 What is the one thing you wish you did and did not do when planning your wedding?
Our experience was so different since we only had a few calls with our planner (he was in Europe) and things just run so differently over there – a lot of the experience felt last-minute. I am probably the only bride who chose not to tour the venue or see anything before our wedding day, so I wasn't overly stressed over details. I wanted to enjoy Paris with my friends, but have zero regrets.
If you're having a small wedding, only invite people you really love that you want to have by your side. If you're not sure, don't invite them. There are some friends that I wish had been there that couldn't make it, and others we weren't as close with back then or didn't know, so that's all out of my control anyway.
We didn't really need to have the cocktail party in our hotel room. It was a fun night, but with such a small group, we could have met out for drinks and that would have been fine.
What were the most memorable things about your wedding? What would you do again?
Honestly, the whole weekend was memorable. I didn't know how much time we'd spend with everyone and some guests did their own thing, but running around Paris with Jessie, Emilia, and Jess was so much fun. We went to museums, lunches, and dinners. I'm so happy Katie shot our wedding but was sad that she was working our events and scouting locations vs. hanging out with us. So just being with everyone was great. I would do it all over in a second.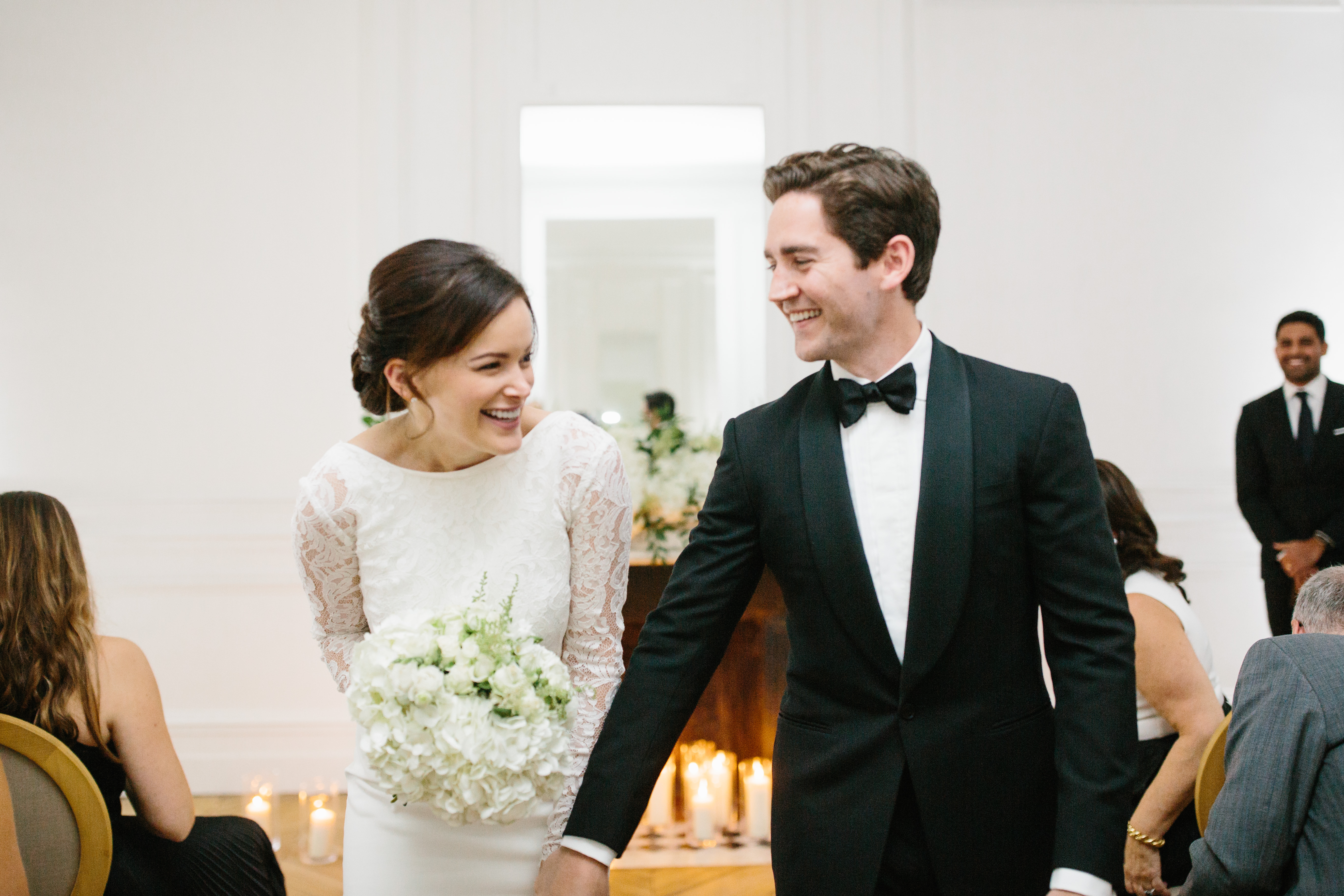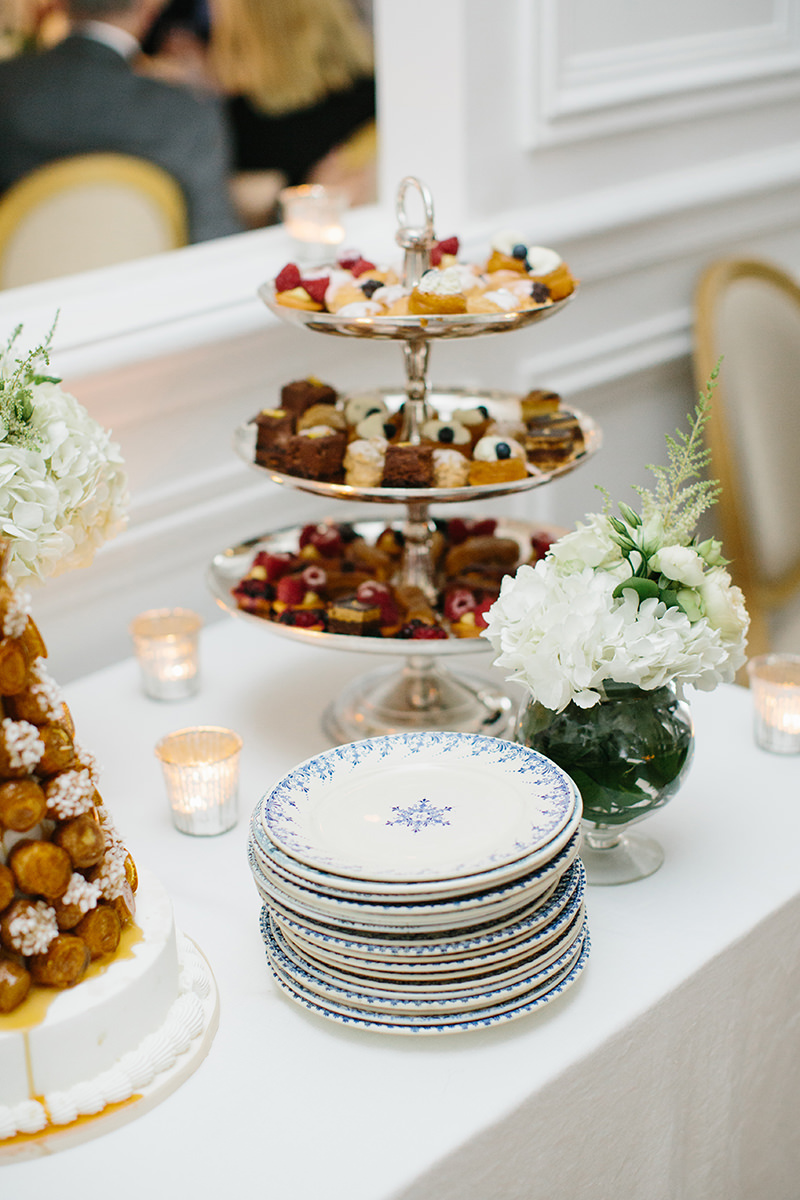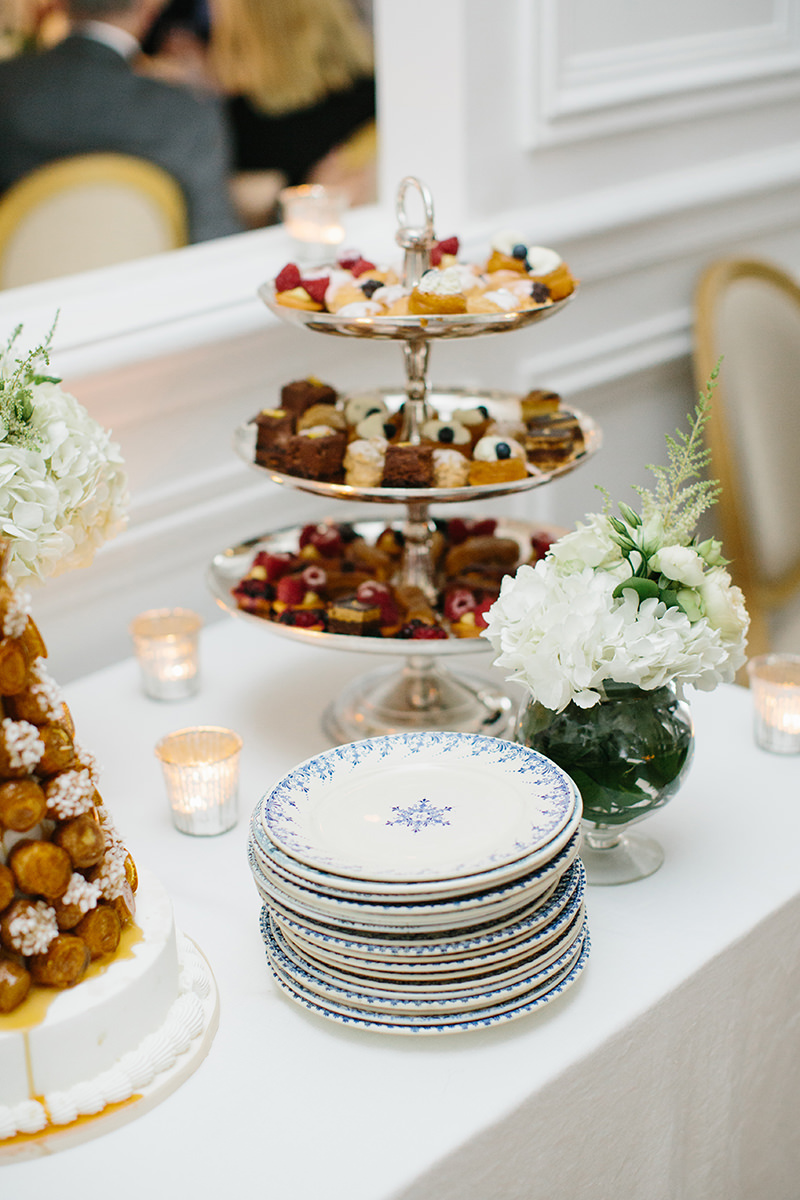 What would you recommend including on your registry?
We actually didn't register until after our wedding. Conor has a huge family and they all love to celebrate one another (which is lovely) so we had a big party back in Chicago. My mother in law planned the whole thing and all we had to do was show up. Also lovely. I was newly pregnant (honeymoon baby) and no one knew, so I was the only sober person there that evening. Everyone was dancing and I just wanted my bed and a a fluffy pillow – still, it was such a fun night.
I'll have to create a separate blog post on what I would register for now, but think about all the essentials that you want and need: sheets, towels, good knives, dishes, glassware, pots and pans, etc.
Advice for ring shopping? I'm so picky.
We talked about rings and I knew I wanted a solitaire diamond on a band. I don't personally care for halos or baguettes, so it came down to choosing between round and emerald cut. I would have been happy with either one, but we decided on round. My advice is to go with something timeless that you will never tire of. And go through a dealer. Don't shop retail ($$$).