Family Photo Outfit Ideas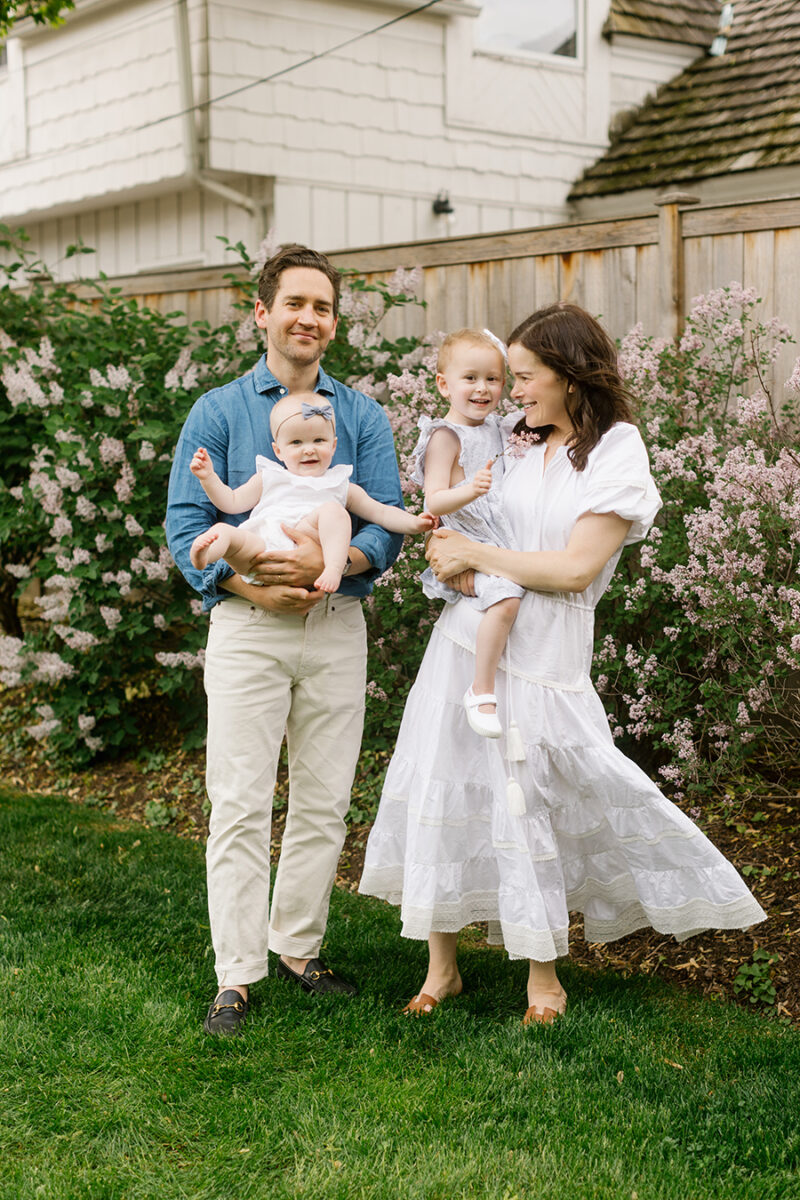 As someone who appreciates fashion and design, I didn't think getting my family dressed for photos would be that difficult. When I say "getting my family dressed" I should note that I am referring to myself and the girls. I knew Conor would wear jeans and a white or blue button down shirt, and luckily, he dresses well enough that I didn't have to put thought into his outfit. That said, a simple sweater or button down (white, blue chambray) is classic for a man. Here are some family photo outfit ideas and how I coordinated our outfits without buying matching pieces.
Family Photo Outfit Ideas
First and most important, decide on a photographer and location
My friend Katie Kett photographed our wedding and almost every important event in our lives, so we planned on having her take these photos for us. She had a beautiful location for us (at a park) but we planned on 3:30PM and do dinner right at 5, so we decided on our yard for photos. I sent her a few photos of the spots I was thinking of, and in the end, I love that these were taken at home.
Choosing family photo outfits
Figuring out pattern vs prints and coordinating colors while not having the girls in matching outfits was a process. Outfits and patterns should go together but not match. We could have easily added in a little light pink for Margot, but I love blue and kept our palette simple. Remember that things that look great in person don't always look right on camera, so try laying everything out and taking a few test shots. That might sound like a lot of extra work, but hiring a professional is an investment – it's worth it.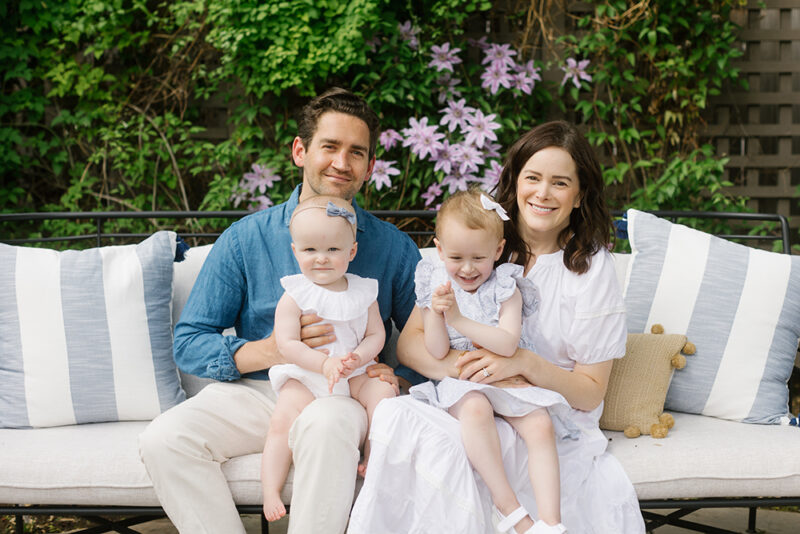 Coordinating family photo outfits
When I found a sweet little floral dress for Margot that she really didn't need, I bought it for family photos and hoped to plan the rest of our outfits around it. The floral print was soft and subtle, so a larger-scale floral might work well with it, or a solid blue, white, or flax. I ordered a handful of white dresses for myself and hoped one would work out, but also wanted a blue option. I found a blue floral wrap dress, hoping that the two floral prints could coexist but they didn't work well together. The girls' bows are from this etsy shop. We have the white and chambray in a few styles.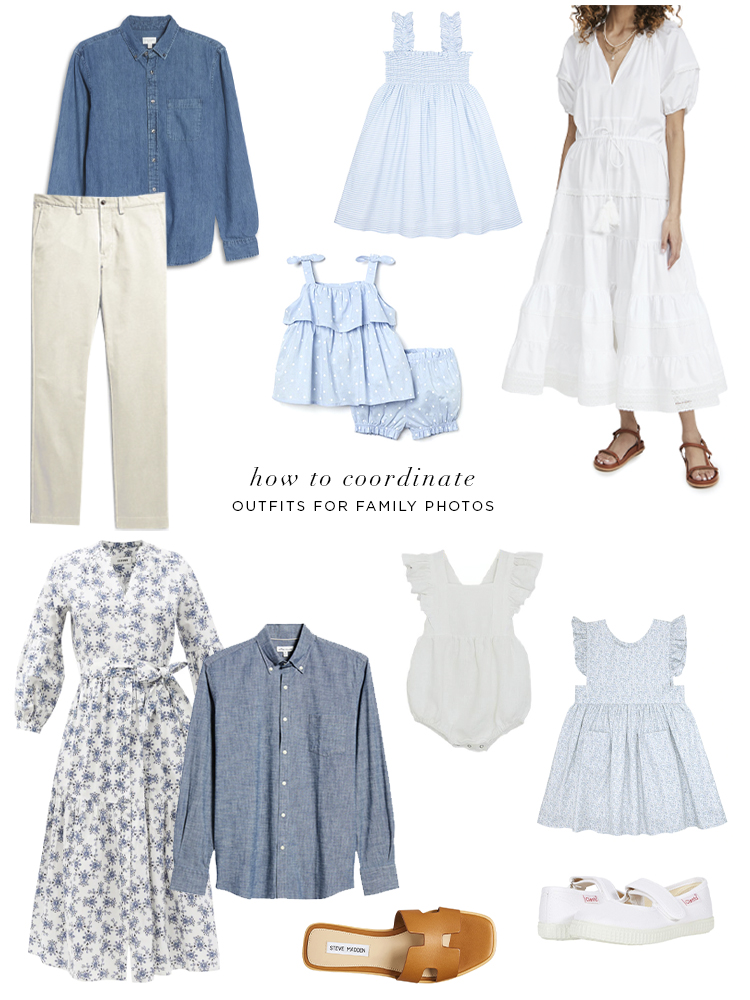 Family Photo Outfit Ideas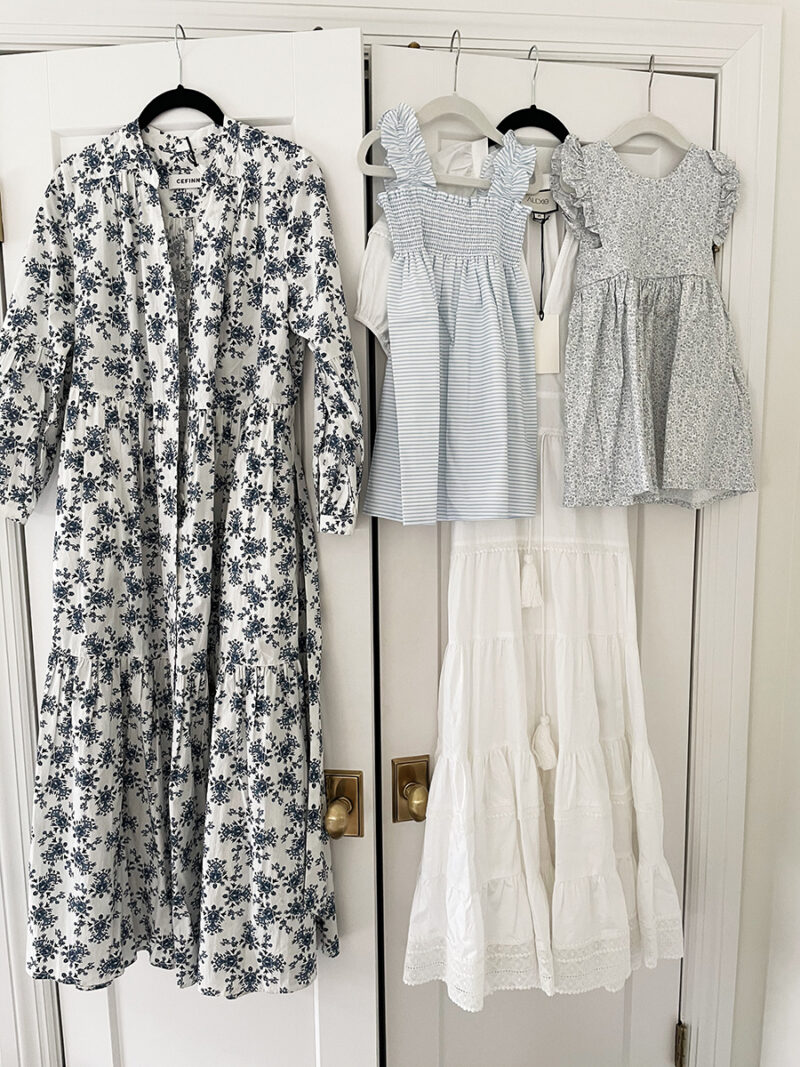 Family Photo Outfit Ideas
There was a panic moment when I thought the floral dress might not work for Margot, so I ordered a striped option for her. Since I had a sweet little bubble that used to belong to Margot for Kate, I wasn't too worried about her, but could we both wear white? A few people on instagram didn't seem to think it would work, but I love how these turned out.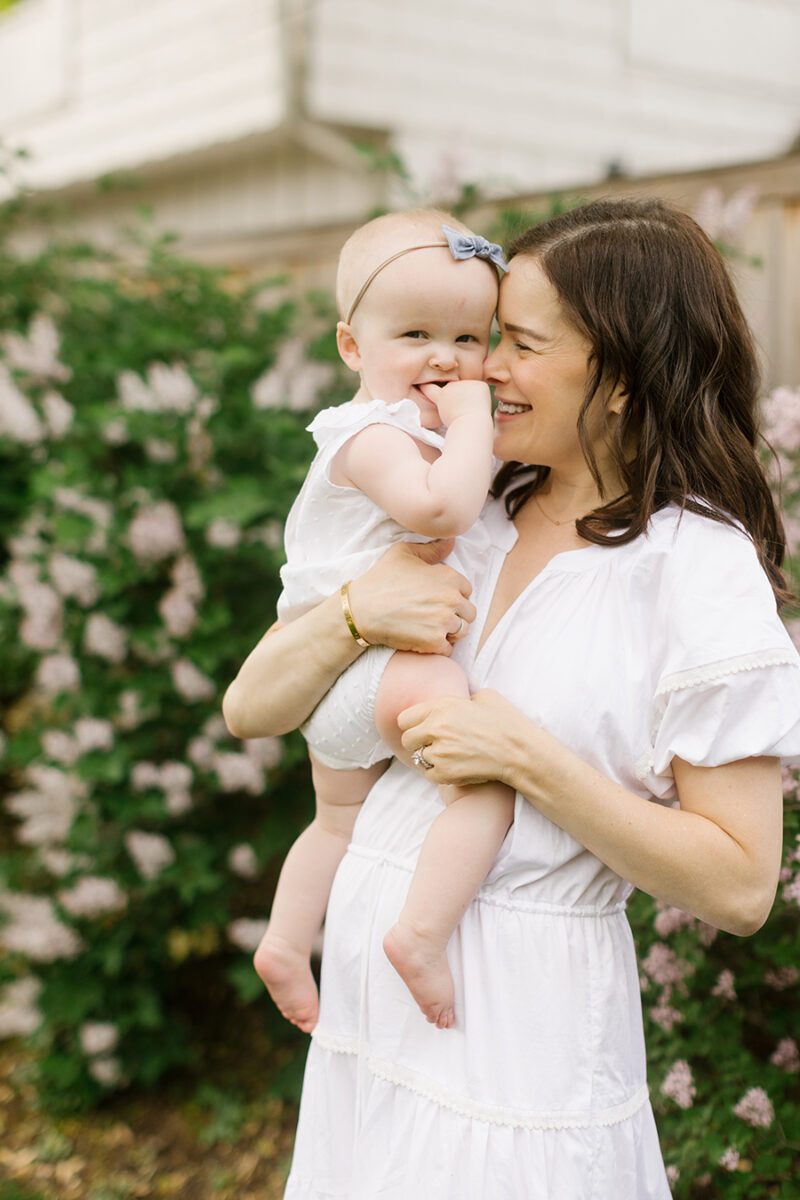 The plan was for Conor to wear a blue shirt and to hold Kate in white. I'd wear a white dress and hold or stand with Margot, who would be wearing. blue.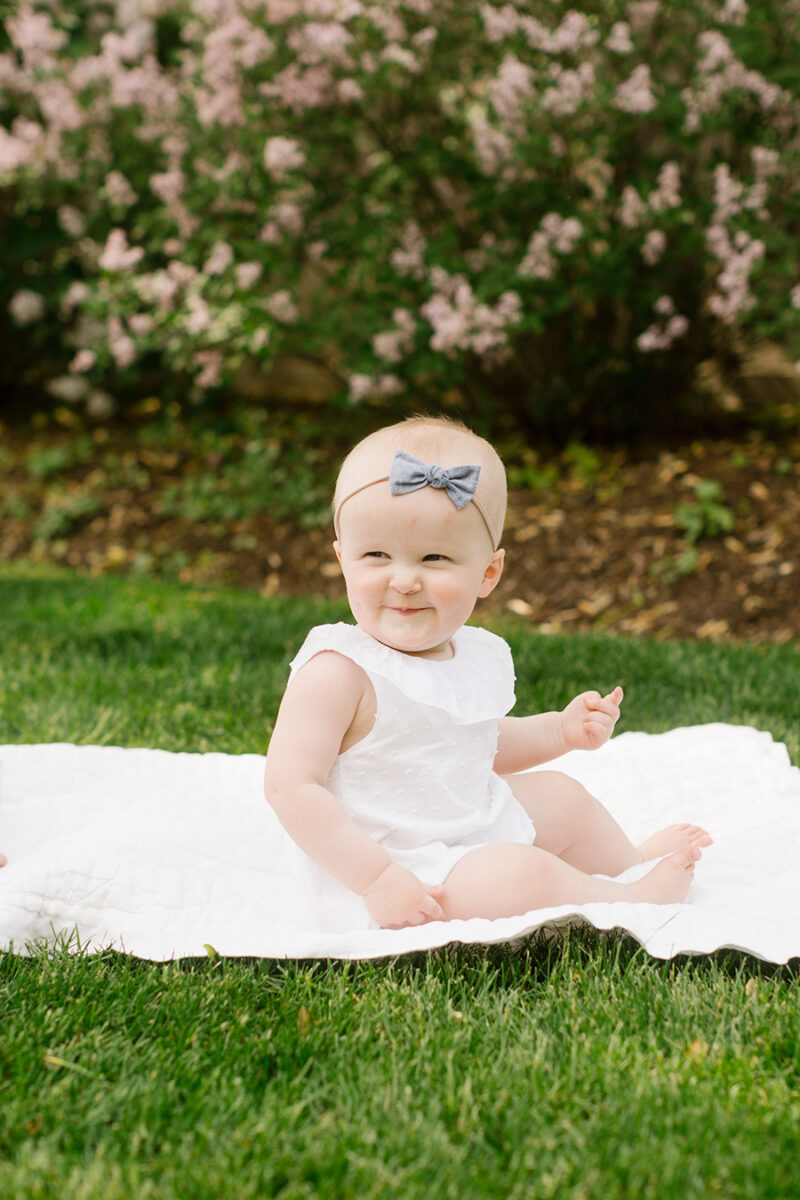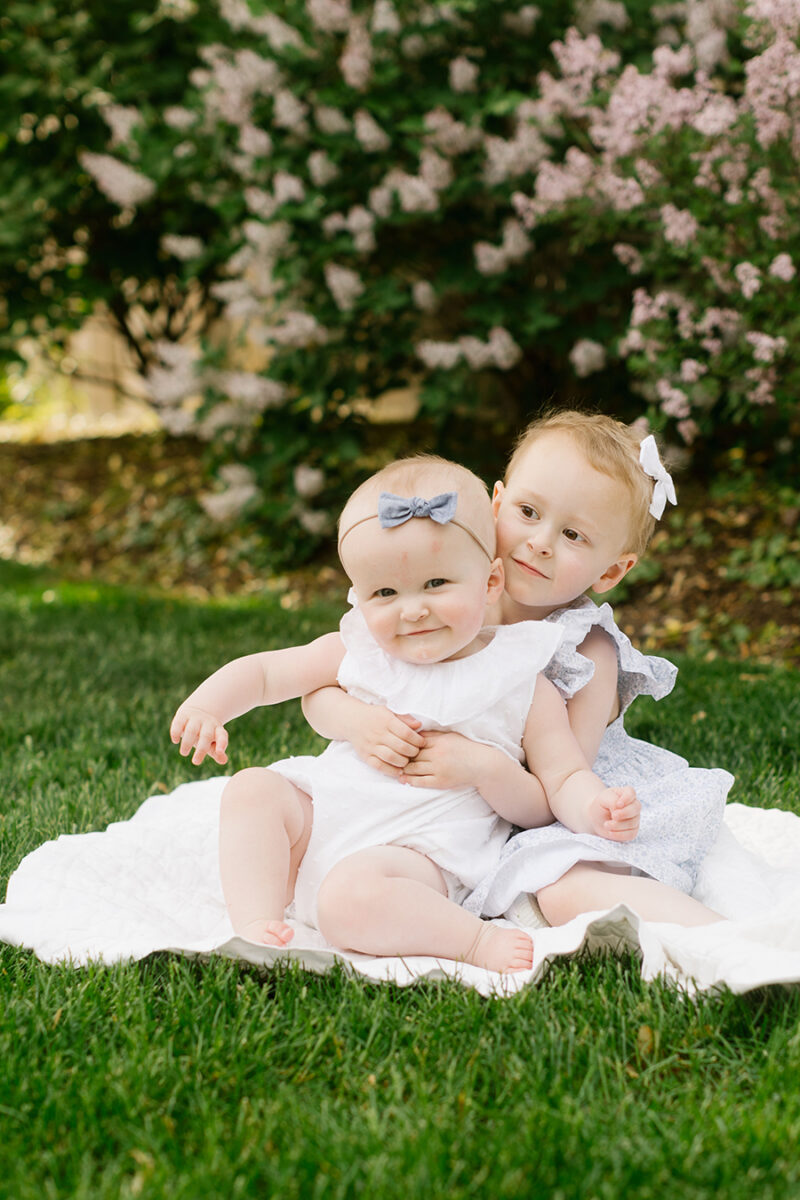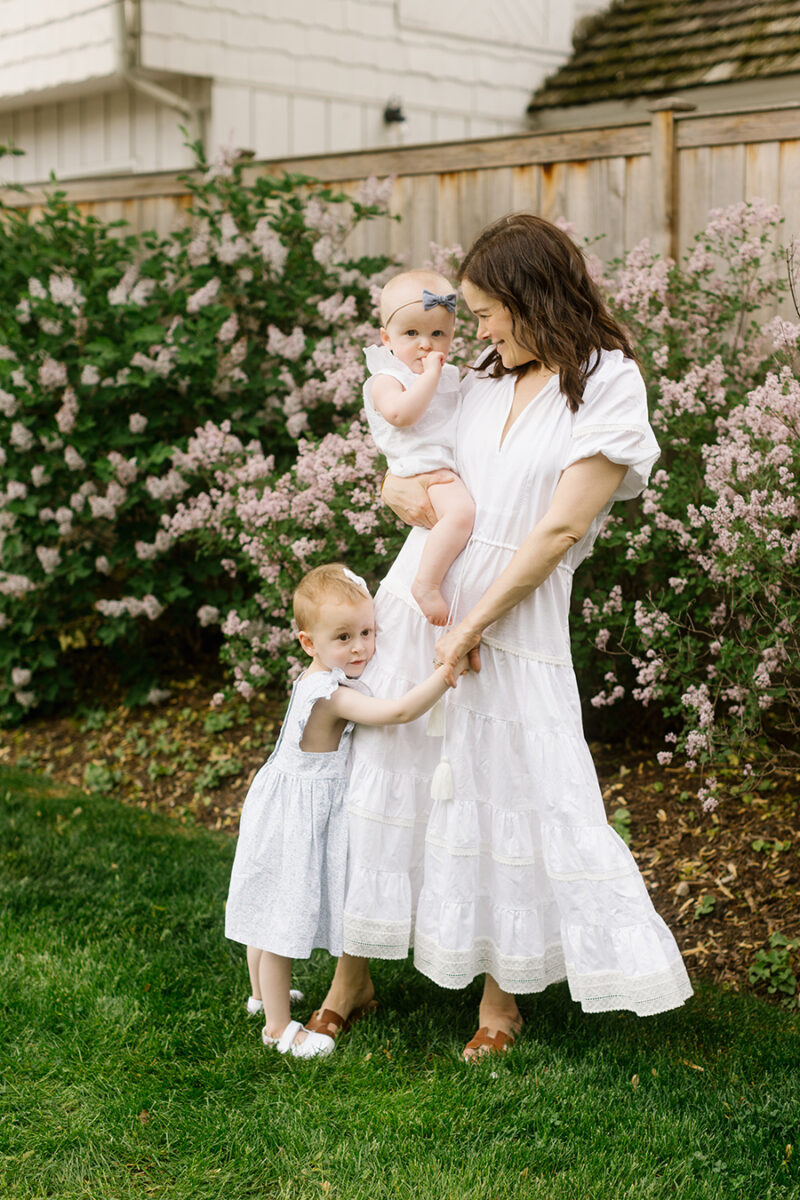 I wanted to wear a new dress and had this vision of white or blue since I love white and blue. Margot's first summer, she wore mostly white and blue, and she had this darling white bubble that I was hoping Kate could wear for photos. But if Kate wore white, could I wear white, too? We're pretty pale – would she get lost in my arms?