Your Online Dating Questions Answered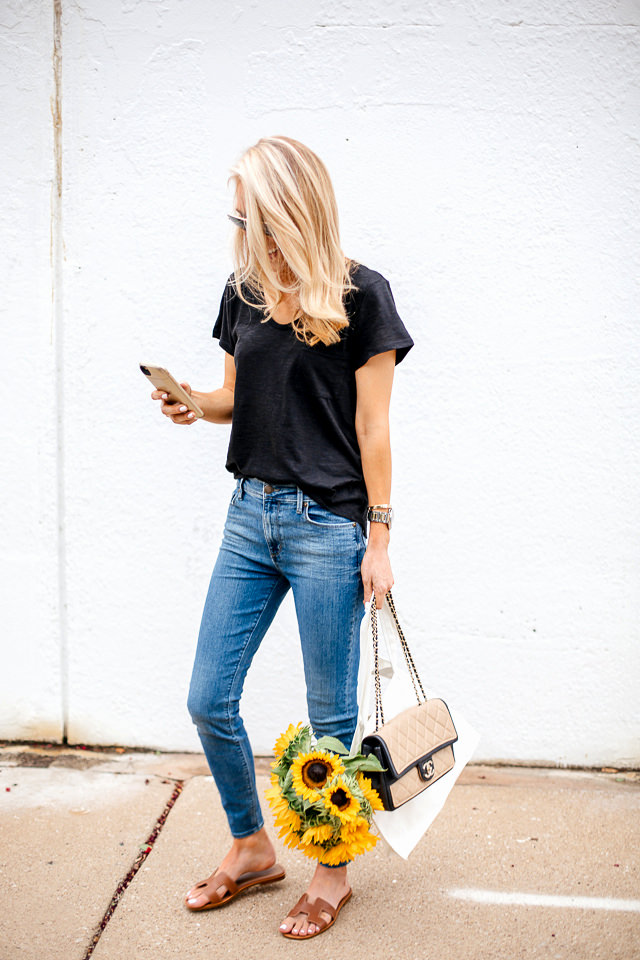 Dating hasn't been easy since the days of Downtown Abbey (poor Edith). Grand gestures and being "courted" seem to be long gone. With Tinder, Bumble, and other dating apps thrown into the mix, things have gotten even more difficult. But I met the man I'm going to marry on Tinder, so there's hope. Today, I'm answering your Qs about online dating.
Your Online Dating Questions Answered
While I'm hardly an expert on the subject, I receive a lot of questions about dating (and Tinder). Here are some of them.
I was wondering how you decided to use Tinder and what tips you had for using it / meeting guys? I am looking for something serious and like that Tinder is free, but my friends and I are worried about the quality of relationships that might come from it. Would love to hear your thoughts.
When I found myself going into my 30s single for the first time in my adult life, I felt both liberated and terrified. I worked from home and meeting someone in my living room (without online dating) was pretty unlikely. At the time, I was at CrossFit 4-5 days a week but there wasn't really anyone I was interested in. My only real method for meeting someone would be via a setup or at a bar or randomly at the grocery store but that never happened for me.
I talked more about online dating in this video, but the best advice I have is to see how serious/real someone seems in their profile and be choosy with who you communicate with. Will you see more creeps than you might encounter at a bar? Yes, which is why I swiped left (no) 9 times out of 10. Hook-ups can happen no matter how you meet, so if that's not your thing (it wasn't mine, either) just stay true to yourself.
There's no filter so guys can (and will) say just about anything. And you can't weed out seeing the horrible profiles, so it can feel both scary and defeating. You can read more about my experiences with online dating here, but I decided to give it a try since I was having trouble meeting anyone.
How do you motivate yourself to get out there again after being hurt and disappointed?
I can't tell you how many times I met a guy, thought I really liked him, and then never heard from said guy again and felt like I'd never meet someone else again. There were also so many times I met someone for drinks and left feeling so annoyed that I did my hair and makeup (and put pants on) for that.
Dating can be so fun and so discouraging. There were times it all felt like too much and when that happened, I'd sign off my dating apps and take a break. In fact, when I met Conor, I had just wrapped up this "relationship" and deleted tinder right after we started messaging. He seemed like a nice guy so I gave him my cell but had decided I wasn't ready for another round of online dating.
When would you typically bring up that you were looking for something serious? How did you let guys know you were looking for something serious without scaring them off?
Dating experts would probably disagree with this one but within the first couple (maybe 3-4) dates, I'd find a way to mention that I was looking for something serious. I wasn't asking for a commitment but wanted to be upfront. This definitely scared a few guys away and probably goes against every single dating rule. But I didn't want to date the guys who didn't want something real anyway.
Conor actually asked what I was looking for on our second date. He was new to Tinder after ending a 2 year relationship a month before we met. We both just came out of not-so-great relationships/dating situations and the signs pointed to this not working out. But it did.
How would you tell someone you no longer want to date them?
This was so hard. I always tried to be honest and as cliché as it might be, if I heard from a guy I wasn't interested in, I'd just tell them I didn't feel a connection. We've all heard that line and it can be taken so personally but really shouldn't be. We're not going to connect with everyone we meet and it's better to be honest upfront.
There was one guy I dated for about 3 months because he was so, so nice. I wasn't into him but tried so hard to like him and one night, he called me "babe" and I knew it had to end. I felt terrible but told him he was a great guy, but that I just didn't see us together. It was so hard ending that because he was the nicest guy, but just wasn't the guy for me.
This guy seemed really interested then blew me off after our second date. Should I give him another shot?
Years ago, I would have given that guy another shot. I've done it more times than I should count. If someone is into you, they'll want to see you. It is often the case that we go on a great couple of dates and idealize someone. They're so handsome and they reply to my messages! When did our standards get so low? No judgment–I've done it. Then he blows you off or does something to completely disappoint. But you let it go because he's all these other "good" things.
No one is perfect and mistakes are going to happen. But blowing you off, intentionally hurting you, or mistreating you? Not ok. So in this case, my answer would be no. You deserve better.
When did you feel comfortable sharing how you met with family and friends?
We told almost everyone else that we met at my yard sale which could have been true? Conor was actually at my yard sale but we met on Tinder a few days later. Once I knew he bought a ring, I finally shared our story on my blog
How many dates with other "duds" did you go on until you found your guy? After 1 year of going on both Tinder & bumble, and countless crappy dates, I threw in the towel and deleted the apps.
I wish I had kept a count the first dates I went on but they took place over the course of 3 years (really 2 since I "dated" 4 guys for about 3 months each) and 3 guys for around a month.
Do most people expect the guy to pay or do they split the bill?
This would depend on the date. Most guys wouldn't let me split the bill but I would typically offer because I think it's rude not to.