Spring Capsule Wardrobe: The Pieces to Wear This Season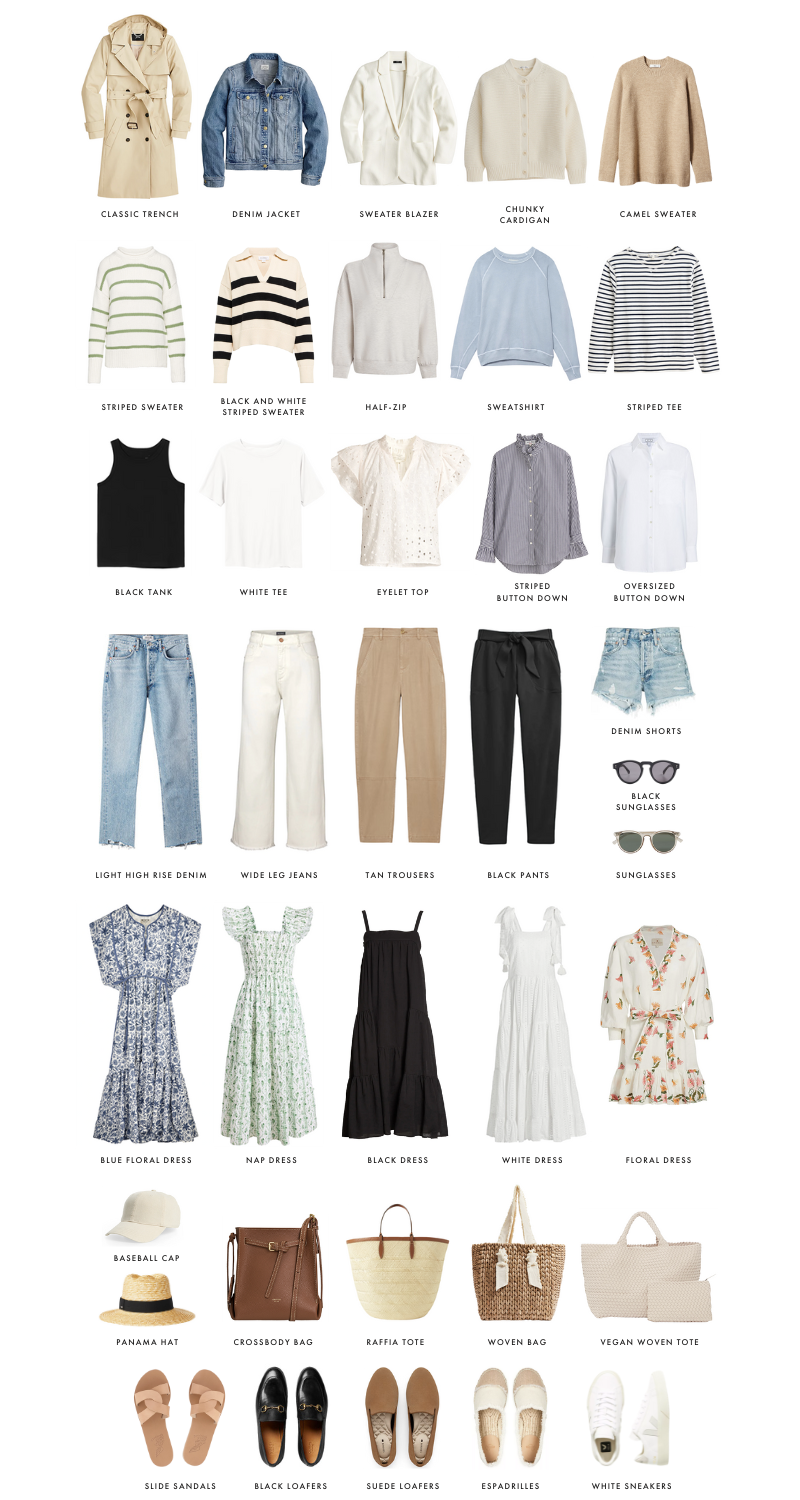 We are so close to a new season – spring is just about a month away! We have had an unseasonably warm week, and I keep thinking about all the things I love that come with warmer weather. I really miss wearing dresses and as I get closer to the end of this pregnancy, I can't help but think about what I'll be able to wear in the coming months. Last week, I published a post on pieces to add to your closet this spring and I fell into this spring capsule wardrobe. I always love fall, but spring may be my favorite season. Signs of warmer weather, more sunshine, and time outside. I love those cool spring days where you can wear a sweater over a dress, light sweaters, and slides. If you're looking for new pieces to wear this spring, now is the perfect time to shop.
Spring Capsule Wardrobe: The Pieces to Wear This Season
So let's talk about what a spring capsule wardrobe is. In short, you curate a collection of clothes that work together, and ones that reflect your personal style. Timeless pieces that you can (for the most part) mix and match – sweaters that layer with pants or sweaters, basic tees and tanks, and other classic pieces. It's a less is more wardrobe consisting of a mostly neutral color palette, but I like to bring in some pattern with dresses, and then neutral pieces you can add in to mix things up. I can't tell you how many times I would stand in front of my closet and not know what to wear. An drawer full of tees you never wear doesn't really make any sense. But a handful of tees that you love and wear all the time makes life so much easier.
I do own a lot of the pieces in this post but not all, and chose timeless pieces (some you've seen in previous capsules that I've done) that you'll wear year-after-year. So here it is: the perfect spring capsule wardrobe. I also left out a midi skirt which is a great, classic piece to have, but I feel like they can be harder for some people to style. And one more note, I'll be sharing some spring outfit ideas on LTK so be sure to follow me here, too.
How do I get started with a spring capsule wardrobe?
The first step is going through your closet and selling or donating the pieces that you do not wear. I'm talking abut the jeans that haven't fit for years, or the ones you're holding on to because you think you "might" wear them again. If it's been a long time since you've worn something (think a year +) it's time to part ways. The only pieces I hold on to are ones for nicer events: think nice dresses that I maybe haven't needed to wear in a while.
Trench Coat: There is nothing like a classic trench to make an entire spring outfit. Wear it with anything for a polished look, and it will keep you dry on rainy spring days, too.
Sweater Blazer: A sweater blazer is a great piece when it comes to spring style. A spring style essential, this piece is great for a fall capsule wardrobe, too.
Denim Jacket: This light jacket looks great with white pants or a dress – it's a spring wardrobe essential and a great option for cool (but not cold) days. I know some include a leather jacket for spring, but I'm always in light, airy mode and so ready to depart from leather come spring.
Chunky Cardigan: A warm but lightweight sweater will keep you warm in spring weather, and is easy to layer over a dress, tee, or tank top. Invest in lightweight sweaters in neutral colors that work with everything – this is one of those basic pieces you'll wear all the time.
Striped Sweaters: There's nothing more classic than a striped sweater. I included two – a classic black and white and green for something a bit more fun.
Half-Zip: I really am a big fan of the half-zip and love this color and style for spring.
Sweatshirt: I have this sweatshirt in a handful of colors. It's perfectly oversized, easy to wear, and the new spring season colors are really good.
Black Tank: Sure, you probably want a white tank, too, because it's a great layering piece. In an effort to keep things simple, I included a black tank and white tee. These are those versatile pieces that you'll always wear.
White T-Shirt: Another classic you could have in a few colors, but keep it simple. You do not need 10 tees in your capsule collection and can get a few different looks out of one white tee.
Denim Shorts: These are the best jean shorts, so much that I bought them a size up to wear post-pregnancy. But I kind of love the oversized ones and ended up wearing both. I just love how they fit and really do love the simplicity of denim shorts on a hot day.
Riley High Rise Jeans: Ok, so I never actually liked skinny jeans. Sure, they're practical for a winter capsule wardrobe since you'd tuck them into boots. These are my favorite pair of jeans and I think about them all the time since I am currently pregnant and cannot wear them.
Wide Leg Jeans: These jeans are the perfect fabric – they're lightweight and super stretchy (both forgiving and comfortable). Wear them a number of different ways and create endless stylish outfits. I cannot recommend them enough.
Floral dresses: I love floral dresses and nap dresses for spring and summer.
Bags: I like to make sure I have a great tote bag for when I'm with the kids. This woven tote is vegan, light weight, and perfect for running around with kids. I have the large and it's big, but holds all the essentials. And I love the ecru for a light, spring look. I'd also add a woven bag and crossbody to the mix – versatile pieces that add some different looks, texture, and function for each season.
This post contains affiliate links. If you purchase something using my links, I may earn a small commission at no cost to you.