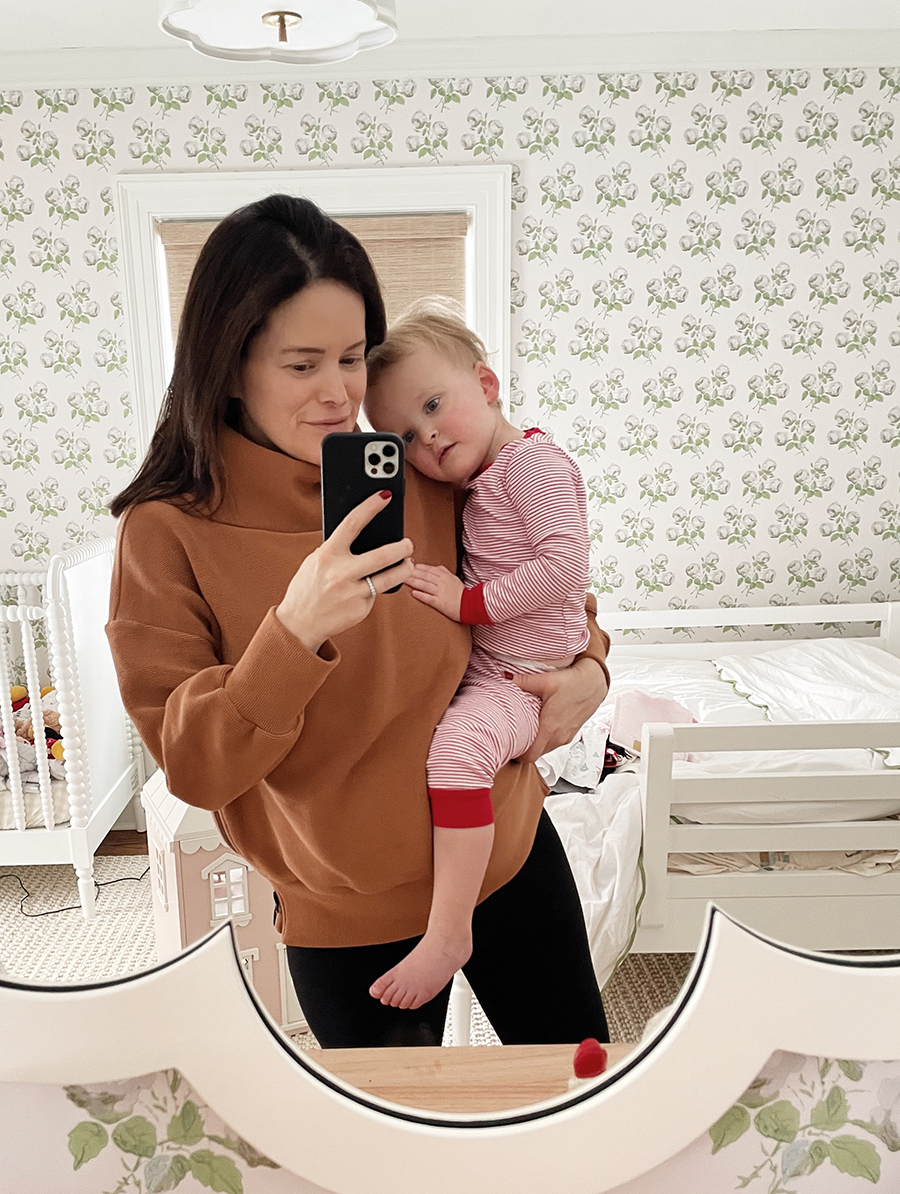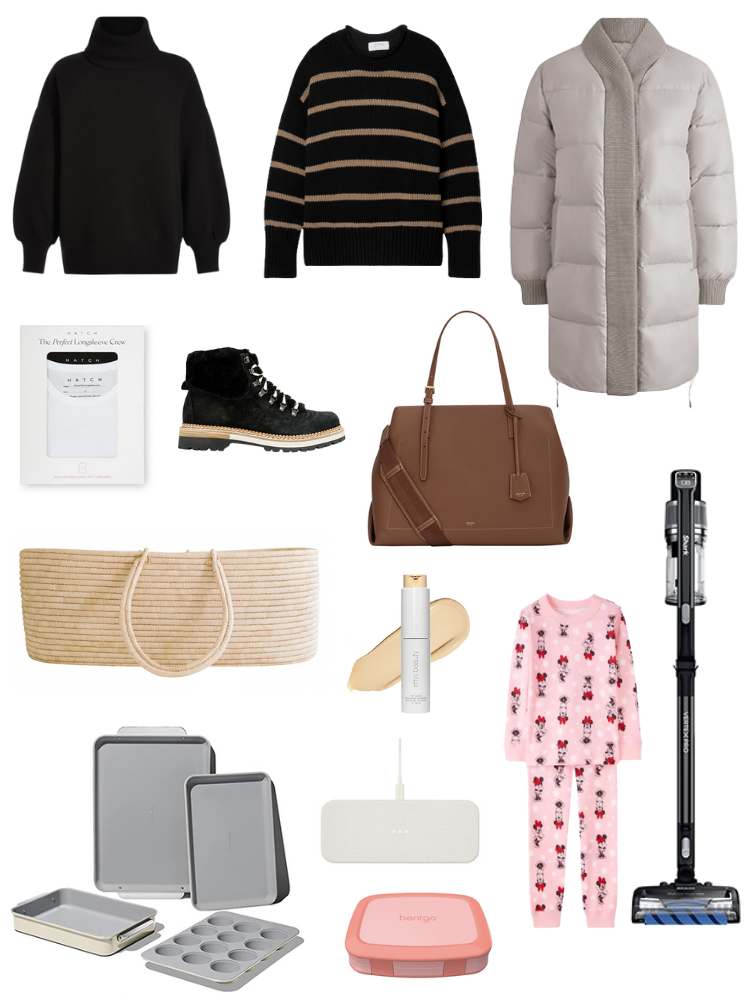 Christmas is over, and we're less than a week away from a new year. Things really did a 180 for us this past summer, and I am ready for 2023. I am almost 23 weeks along with my third pregnancy and am someone who, like those of you who are or have been pregnant, does not like maternity clothes. And I really don't want to invest in pieces I won't wear a year from now. I happened to hold on to a few things "just in case" so I live in my maternity leggings (these, these, and these) but have been wearing oversized sweaters and sweatshirts. So in an effort to look a little more together, I invested in a few things this month. So here are my recent finds for the month of December. Some I bought, some I found while placing a few orders.
Recent Finds: December
Sweatshirt
Varley sent me this sweatshirt and it's really perfect. I liked it so much that I bought two more, and plan on living in them for the next few months. I bought a small which is perfect now (and I am NOT small). But since there are side zippers, I will be able to wear them months from now, and post-baby, too. And next winter. A solid investment.
Boots
After not getting dressed for so long and just wearing my Uggs all the time, it was time to get a little more dressed. So if we're going to lunch or seeing people and it's freezing, these will be my go-to.
Puffer
The Varley team sent this puffer as well and I love it. I got it in a size small and it fits over my bump (and should for a couple more months). It's so warm – the Clo® Pluma synthetic fill insulation has an excellent warmth-to-weight ratio. And the cardigan knit detailing is really chic and different. It's priced well for a puffer, too.
Cotton Sweater
I shared my La Ligne sweater (I got a medium) a few weeks ago and it's pretty bump-friendly, so I ordered two La Ligne Marina sweaters. Since my first purchase was a little large (but again, bump friendly) I ordered a small so they'll last longer. I am hoping to wear them for another 2 months and then postpartum. Will share once they stop working, but keep in mind my bump is definitely on the larger side.
Maternity tees
My one maternity purchase because not one long sleeve shirt fits anymore. My sister-in-law is also pregnant and recommended these. I bought a medium and they fit perfectly.
Margot bag
I didn't buy this and may have made claims about diaper bags being "the worst". But this is a diaper bag that isn't really a diaper bag. First, it's a tote. But it's beautiful, I'd carry it now, and it easily attaches to a stroller. And since I plan on using this stroller without storage (more on that later)…
Liquid Foundation
This is new-to-me – I bought it in early December and have been using it pretty regularly since it makes my skin tone so even. When I need a little more coverage, this is it. This foundation is non-comedogenic and silicone-free. It provides all-day medium coverage and skin-improving benefits for a youthful-looking complexion.
Double Linen Charger
I never remember to charge my airpod case and was just tired of always having a long cord next to my bed, so I got this charger (in linen, since it's a lot less expensive) which charges both at once.
Cordless Vacuum
The woman who helps us clean our home asked if I could order an upright vacuum. The one we have has a separate canister and she doesn't love using it. She recommended Shark, so I started doing some research. And while I like our canister vacuum, this would be a lot easier to use, and would make mid-week touch-ups a lot easier. It arrives this week so I can't speak to how it works yet, but the reviews are really good. Seems promising! I'll report back.
Bassinet
I didn't hold on to our bassinet when I went through the "we're definitely done having babies" phase, so I started looking at new options. Ours was made by this same brand but this newer version is even prettier. I really like it. And for those who are interested, I've been updating my newborn essentials post.
Minnie Pajamas
Ok, so my girls don't need pajamas just yet. But – Kate will grow out of her 2Ts in the coming months, and she is Minnie obsessed. These just came out, happen to be on sale (very rare for new Disney products) and I sized up. I'll probably save them for V-day or late winter, but couldn't resist.
Bento Lunch Box
Margot has one of these and I like it a lot, but wanted something dishwasher safe (easier to clean). So we still use the gold glitter one, but I got two of these bento boxes since they can go in the dishwasher. They're great.
Nonstick Baking Sheets
Our baking sheets look a little gross. I have been considering these, but have one week to buy them (if I'm going to cave). Because come January, I am on a shopping hold.
Gabby's Dollhouse Tonie
Margot and Kate discovered Gabby's Dollhouse within the last week and are obsessed. Margot dances to "Cupcake Party" all day these days (it's adorable). Had I known about this a month ago, she would have gotten this for Christmas.
This post contains affiliate links. If you purchase something using my links, I may earn a small commission at no cost to you.