Newborn Essentials For The First Three Months (and Beyond)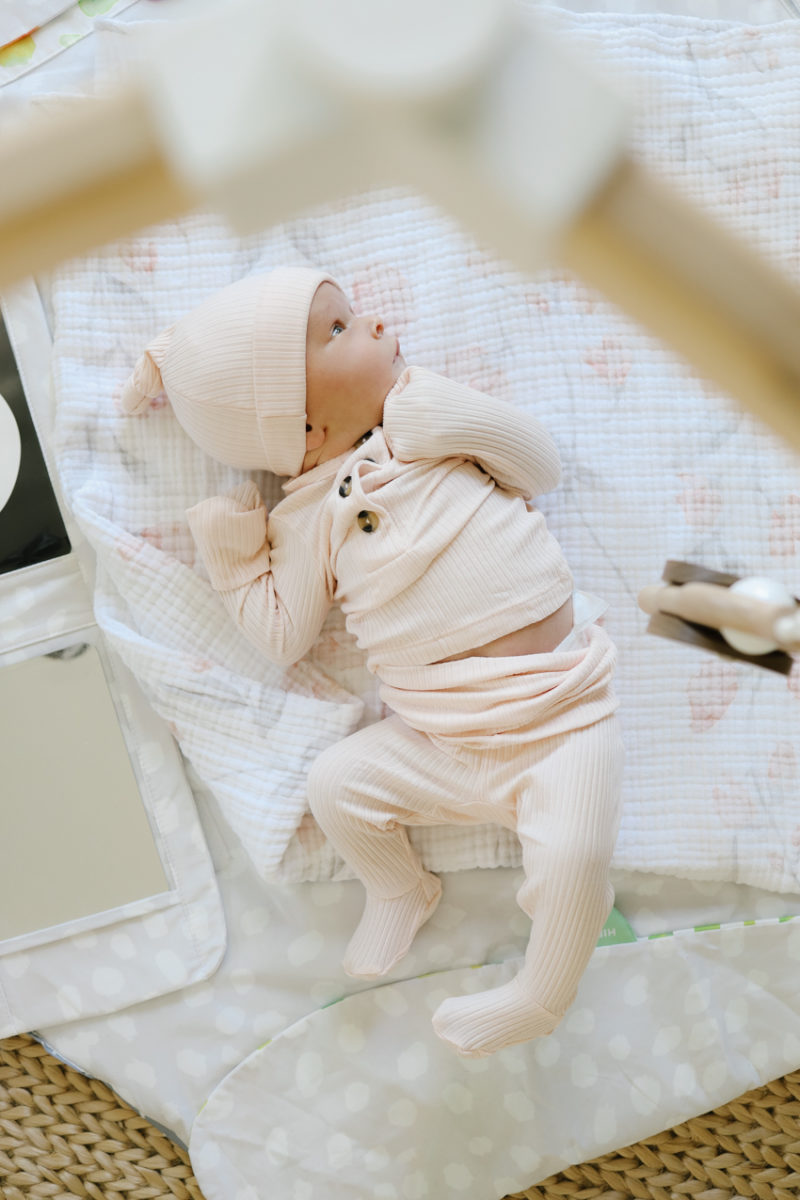 Now that I am over halfway with my third pregnancy, I am starting to think about the products I'll use for baby number 3. About what I kept, what I need, and what I won't use again. There's that part of me that feels like I can't remember anything, all while having a list of the things I love and know I'll use this time around. I've got my favorite nail clippers, baby seat, and monitor. When you're becoming a parent for the second or third time, you, for the most part, know what you need. Maybe you've learned that a diaper bag is more annoying than it is helpful. That babies need fewer baby outfits thank you think. So today, let's talk about the newborn essentials I plan on using for the first three months (and beyond).
Newborn Essentials For The First Three Months (and Beyond)
If you find yourself preparing for baby's arrival, whether it's your first or third, it can feel a little overwhelming. Even with a newborn baby checklist, there are so many options. Which swaddle should I use? Is the SNOO worth it? Do I need a baby swing? It's nice to have a complete list of things you might need during those first few days, weeks, and months of baby's life. But it's also important to remember that all new babies are different.
I found that it helped me to hear more about what other moms were doing, which is why I'm sharing all of this with you. My friends and other moms I follow always helped by sharing their stories and what worked for them. So I'm sharing all the essential items that got me through the newborn stage with both my babies. I cannot stress that there are so many different ways to care for and feed your baby, and that there isn't one "right" way. So here's what worked for me during the newborn phase.
Newborn Essentials: Places to Put Baby
Bassinet and Stand
This is one of those things I loved and used daily, but I sold it when I thought we were done. So here I am, having a third baby with plans to buy another one. It's really nice to have a place to put baby in your living space those first few months. The Snuggle Me infant lounger fits perfectly inside, or you can use it with the pad it comes with. This is easy to move from room-to-room and it's beautiful, too. You can use the basket without the stand. I just had the basket and borrowed the stand from a friend, but I really like having both.
Infant Lounger
I've tried both the dock-a-tot and snuggle me, and of course, did not keep either one. I'm planning on using the Snuggle Me this time around. It's cozier.
Bouncer
Both my girls loved this when they were babies, and I plan on using it with our third. It's easy to move from room-to-room, and lasts for such a long time. And it folds flat when not in use. There are a few styles and colors, so I ordered a new (blue!) cover for baby brother since our last one was a little beat up.
Baby Swing
I used the Mamaroo for a little bit but ended up selling it. And I've heard the best things about this swing, so I'm planning on ordering it. I'd like to have a place to put baby in our family room, and really like that this swing can be seated up or reclined. And it's both lower-profile and aesthetically pleasing, too.
Wrap carrier
Your new baby will love being held close, and wraps are a nice way for new parents to carry baby while being able to get things done. I didn't use this that often with my first but use it every single day with Kate and love it so much that I got a second one. She took at least one nap in it (often two) daily those first weeks and months. It makes life easier since you can keep baby close and still be hands-free. This was the only place she would sleep for two plus hours when she was really little. And we need those breaks! Being hands-free is huge. And the snuggles are pretty wonderful.
Padded Play Mat
I bought this right around the time my first started sitting up. She was wobbly and needed somewhere soft to land. Unlike other play mats, this one is very soft and padded. It's great for tummy time and gives toddlers (and even preschoolers) a cozy place to sit and play. We also have the waterproof cover, so it's easy to clean
Newborn Essentials: Play
Play Gym
Margot used this a lot the first year and once again, we're using it daily with baby sister. It's one of those must-have newborn essentials that's cute and grows with baby. It comes with a cover that turns it into a toddler-friendly tent.
Montessori Play Kits
I really loved the first year of Lovevery kits and saved almost everything. The toys are so simple and perfect for your developing baby.
3 in 1 Triangle and Mat
This simple toy was loved by both of my girls. You can hang it in front of baby's seat in the car or use it on the floor for tummy time. It also turns into a triangle (with magnets) and can even wrap around baby's stroller bar. It's affordable and versatile and I highly recommend it.
Our Favorite On-The-Go Toy
I swore against light-up toys but this is a must-have, especially for car rides. Both my girls loved this thing.Baby can switch between 10 total melodies, and will watch the lights when they're a few months old, but keep playing with it for the next year +. I love toys that last.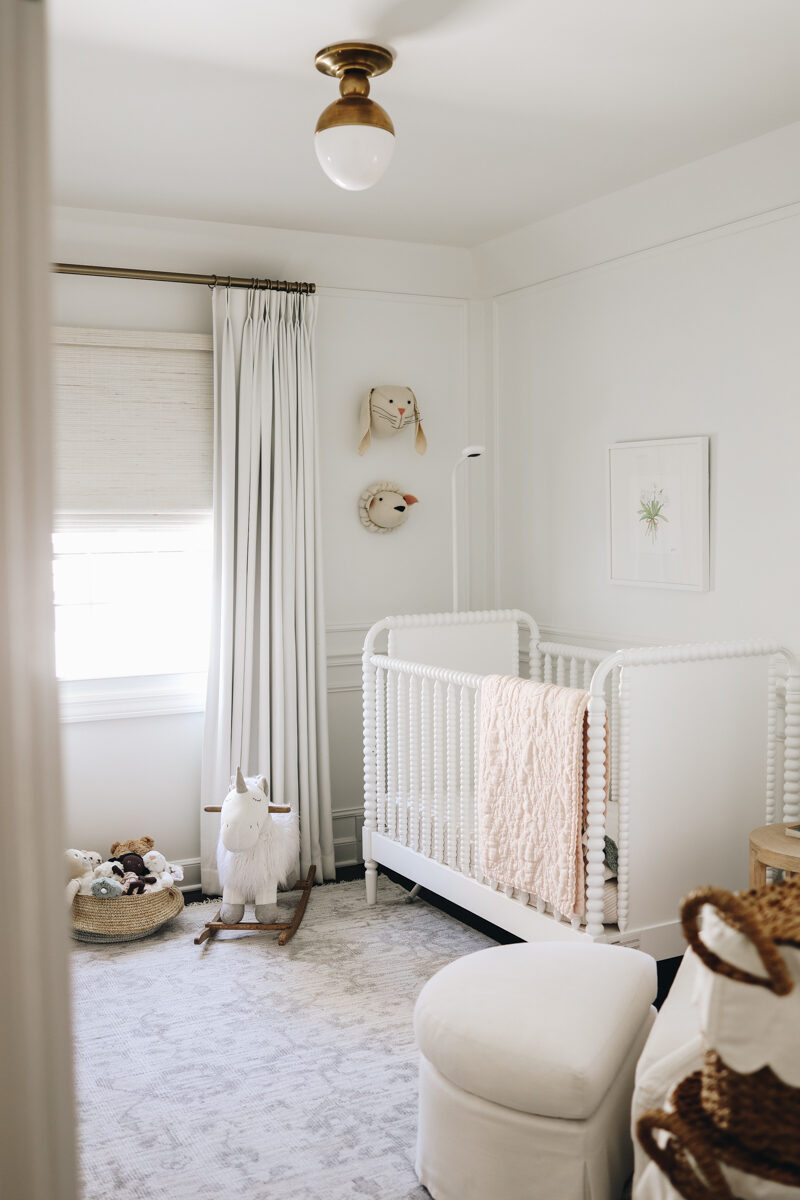 Newborn essentials for sleep
White noise machine:
Our travel white noise machine didn't cut it in Margot's nursery, so I bought this one on sale and it's been great. I love how easy it is to use and how well it works – so much that I bought a second for Kate. Right now, we use this in the bathroom outside Margot's room to make sure Kate doesn't wake her when she's asleep.
Night light:
We used the Hatch with Margot but I didn't want to buy a second one, so I did a little research and found the best budget-friendly night light. This night light is under $20 and works as well as the hatch. It's the perfect soft light for middle-of-the-night feedings or walking around the room while baby is asleep. I bought one for each of our nightstands and bonus: these are perfect for power outages. A single charge lasts forever. I think I charged it once after 2-3 months.
Nanit Baby Monitor:
I love the Nanit so much that we bought a second. You can read my full review here. It's easy to give access to anyone who might care for your baby. The mobile app is easy to use and you can see baby wherever you are.
SNOO:
Sleep was such a struggle with our first and in the end, it just took time for her to get there on her own. At first, we had planned on not using the SNOO since she became so dependent on it, but after getting to know Kate for the first month, I decided to give it a try. She's done so well in it and started sleeping 9-10 hour stretches (not every night, but most nights) at 2.5 months. I do think it helps ease her to sleep but don't know how much it's the SNOO vs. Kate being a good sleeper. It's pricey, but you can also rent it for $118/month.
Ollie Swaddle
I had planned on using a traditional bassinet but ended up with the SNOO a month in. I had decided on the Ollie Swaddle and still use it for an extra tight double swaddle. My friend swore by this so I purchased two before Kate was born. The Ollie is a great way to keep baby safely swaddled. Once baby can roll over, you'll want to make the transition to a sleep sack (so their arms are free).
Weighted Swaddle
The Ollie offers a nice, tight swaddle, and I do plan on using it, but I really like dreamland as well, so I'll likely try the swaddle out. My second slept in Dreamland's weighted wearable blanket, and both my girls used the dreamland weighted blanket as toddlers. At 2.5, my second still uses it.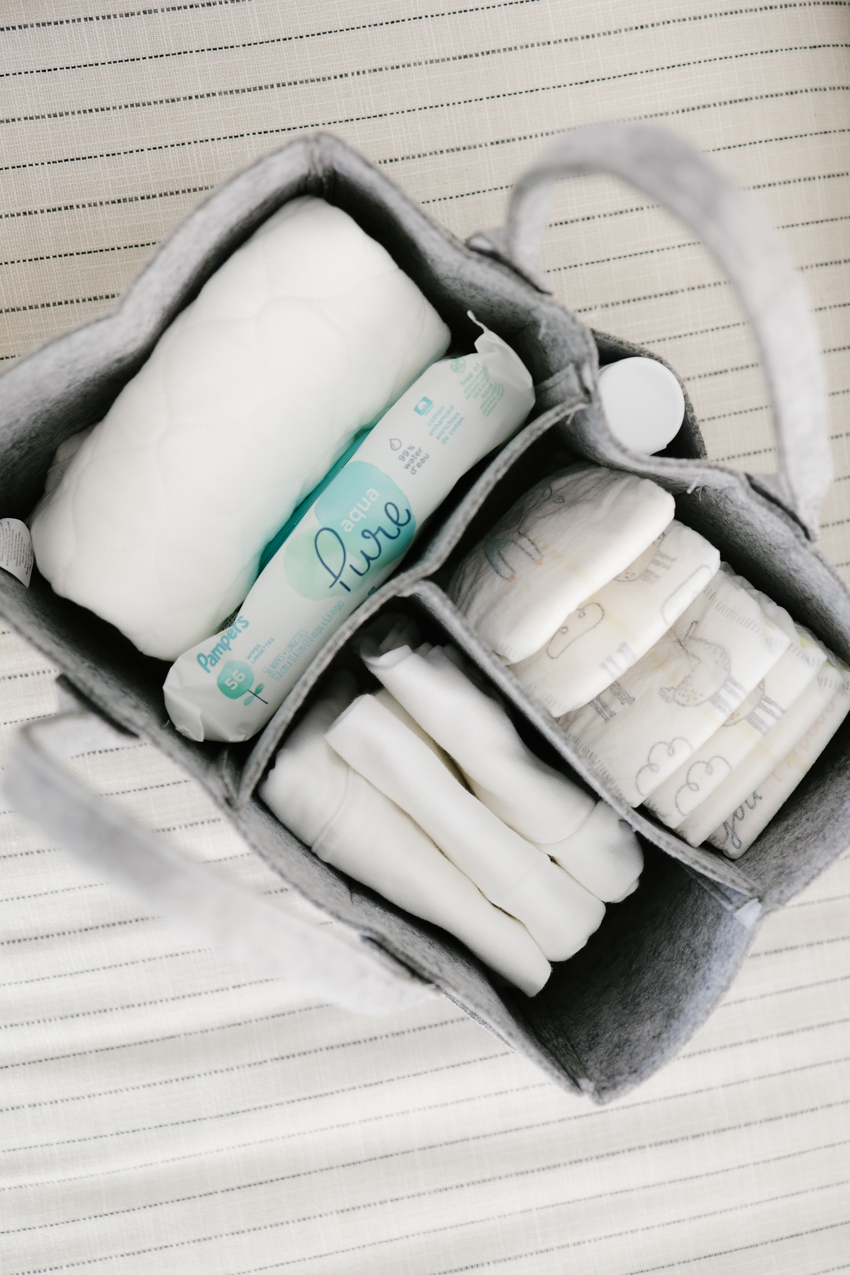 Newborn essentials for diapering, bath, and baby care
There are the basic essentials like diapers, wipes, and Triple Paste diaper cream is, in my opinion, the very best. I wanted to love cloth diapers and in many ways, I did. But our family couldn't take on any extra work. Pampers Pure diapers worked well the first month, and I loved how eco-friendly Abby and Finn diapers were, but they leaked. Honest diapers didn't work for us at all (they leaked and bled). Coterie diapers are not cheap but I love them. They are so so soft, hold up at night, and are as clean and eco-friendly as a disposable can be. The brand also partners with NativeEnergy to fund renewable energy initiatives. And then there are the other items, like a wipe dispenser and diaper caddy that I swear by. Here are my favorites.
Wipes Dispenser
I would advise against a wipes warmer since you can't take that everywhere with you – just get baby used to cold wipes. But the wipes dispenser is key. Just try holding a baby and opening a pack of wipes while making sure they don't roll off a changing table. This makes diaper changes easy.
Diaper Pail
We keep this in the bathroom (because dirty diapers do not belong in a nursery – so gross). and it works well for us. I like that you can use regular trash bags and don't need bags that are specific for a diaper pail
Changing Basket
We used the Keekaroo with my first but it ended up staining, and I didn't want to use it again, so I got this one. I love the look of this basket, and had it on my second daughter's dresser. But it's really easy to move around, so I liked having it out in the main room for a soft place to change baby.
Waterproof Changing Pads
I always have one of these in our diaper caddy and one on the changing basket. They're soft and easy to wash when diaper changes get messy.
Diaper Caddy
This has been one of my favorite purchases for Kate. I use it to store burp cloths, bibs, diapers, and extra outfit, changing pad, and pacifiers. We keep it by our bed at night and downstairs during the day. It's so light and easy to carry from room-to-room. Makes having all the essentials on-hand which is a must when you have two. I love this one, too.
Baby Skincare
I've tried a few baby skincare brands but have been sold on Tubby Todd since my first was a few months old. I highly recommend everything (especially the baby balm) but we really do use all of it. From bath products to skincare, I love Tubby Todd.
Newborn to Toddler Bathtub
Those sink bath inserts last for such a short time and you will eventually need one of these. Many of the baby tubs only last a short while, too, and one of my babies actually flipped herself over in one. Caught her right away but still – it was so scary. I love that this works from newborn to toddler, you'll use less water to fill it up vs having to fill an entire tub, and we never had any issues with it. Yes, it's large, but I just stored it in our tub, and it lasted until my toddler was ready to transition to the bath tub without a seat. Highly recommend this one.
Nail Clippers
I have never (not once!) accidentally hurt either of the girls while cutting their nails. These clippers make it so, so easy!
Pacifiers
I tested quite a few pacifiers and recommend just buying 1-2 of a few styles before stocking up on one particular brand. Once I knew these worked for my girls, they were all we used. My second baby was especially attached to them.
Newborn essentials for dressing baby
I've learned that less is more, and that it's really all about the basics when it comes to newborns. You don't need baby shoes, and baby really doesn't need more than 1-2 "outfits" – layette is best. anything with zippers is always nice, and I prefer gowns for sleep. Our third mostly has a mix of RL and Kissy Kissy layette for the first 3 months, and I'm not really shopping ahead. I did that with my first and there were quite a few outfits she never fit into.
Gowns and Footies
Like I said, I've learned to keep things easy, cozy, and simple with the newborn stage.
The Softest, Stretchiest Swaddle
We had a few swaddles and these are my absolute favorite. They're big and stretchy, and great for swaddling baby, or to lay on the floor for play time. I used these with both girls.
Newborn essentials for feeding
This is probably one of the most controversial topics, so it has to be said. However you feed your baby is the right way to feed your baby. Full stop. Choose to go right to formula, breastfeed if you're able, or do a mix of both. Do not let anyone make you feel like you have to do something that you don't want to do or something that is not working for you. I am going to share more about my experience soon, but long story short, have learned that breastfeeding doesn't always work out, and that it can be very hard months down the line. I wish I had quit sooner and that someone (other than my husband who did not want to see me stressed out) had told me I would feel so much less stressed out and exhausted once I stopped.
Comotomo Bottles and Nipples
I did a mix of formula and breastfeeding the first few months so she had bottles from the start, and like Margot, Comotomo worked for us. Don't forget the bottle brush!
Burp Cloths
Both my babies spit up a lot, so these were a crucial newborn essential for me. They're simple, affordable, absorb liquid well, and are easy to fold.
Bibs
Babies spit up a lot, so I almost always had them in a bib. These are one of my favorite styles – really soft and cute.
Newborn Essentials When You're On-The-Go
VISTA Stroller
I don't love the VISTA as a double. It's heavy and hard to maneuver, and my kids don't like being in a stroller at their ages anyways. But I love it as a single, we have the kick board which they would use, and kept the bassinet, so this will be perfect for newborn walks those first few months.
Doona
Our car seats were one of the things I sold because I didn't think we'd need them again. And with 3 kids, I want things to be as easy as possible. My older children will be 3 and 5 shortly after the baby is born and don't use a stroller. I love the idea of not needing to move a car seat from the car to a stroller just for the sake of having a basket below. My friends that have used this love it, and a good friend (and mom of 3) swears by it. I just ordered it since I want to make sure it works well with our other two seats (we're doing 3 seats across – should be fun).
Car seat mirror
Keep an eye on your baby during car rides with this car seat mirror. We have one of these for each of our kids while rear-facing.
Electric UV-Sterilizer
This seems like one of those gimmicky things that no one actually needs except it's tiny, under $20, and given the state of our world, the thought of a pacifier hitting the ground or being touched by anyone and not immediately sanitized made this tiny gadget seem like a must-have. I keep it in our diaper caddy and clean Kate's pacifiers daily.
On-The-Go Pouch
I just ordered this for our third, and plan on putting his essentials inside when we're on the go. I'm not a diaper bag fan, although I am seriously considering this beautiful tote.
Portable Sound Machine
I did have to replace one of these when it randomly stopped working and I prefer the Lectrofan for the girls rooms, but this is still great to have, and we used it a lot the first few months. If you're on the go or putting the baby down somewhere other than their nursery, you'll want to have at least one of these.
This post contains affiliate links. If you purchase something using my links, I may earn a small commission at no cost to you.