Newborn Essentials For The First Three Months
The process of preparing for a baby is so different when it's your second. There's no spending an hour researching the best nail clippers that won't hurt your baby or what monitor to buy. You've done it before and you can do it again. After going through all of Margot's old things, I figured out what I had and loved, what I needed, and I found a few new things that I ended up relying on. I'll note all old, new, and second purchases below.
Newborn Essentials For The First Three Months
Bouncer:
We used this bouncer with Margot, and got a new (even softer) cover for Kate, with a new matching toy bar. It's one of those items you'll use daily until baby is really on the move, and once they're walking, it can be used as a toddler seat. It's cute, easy to move from room-to-room (very lightweight), and folds flat, too.
Bouncer Toy Bar:
We just got this for Kate. She started really grabbing at the toys at around three months.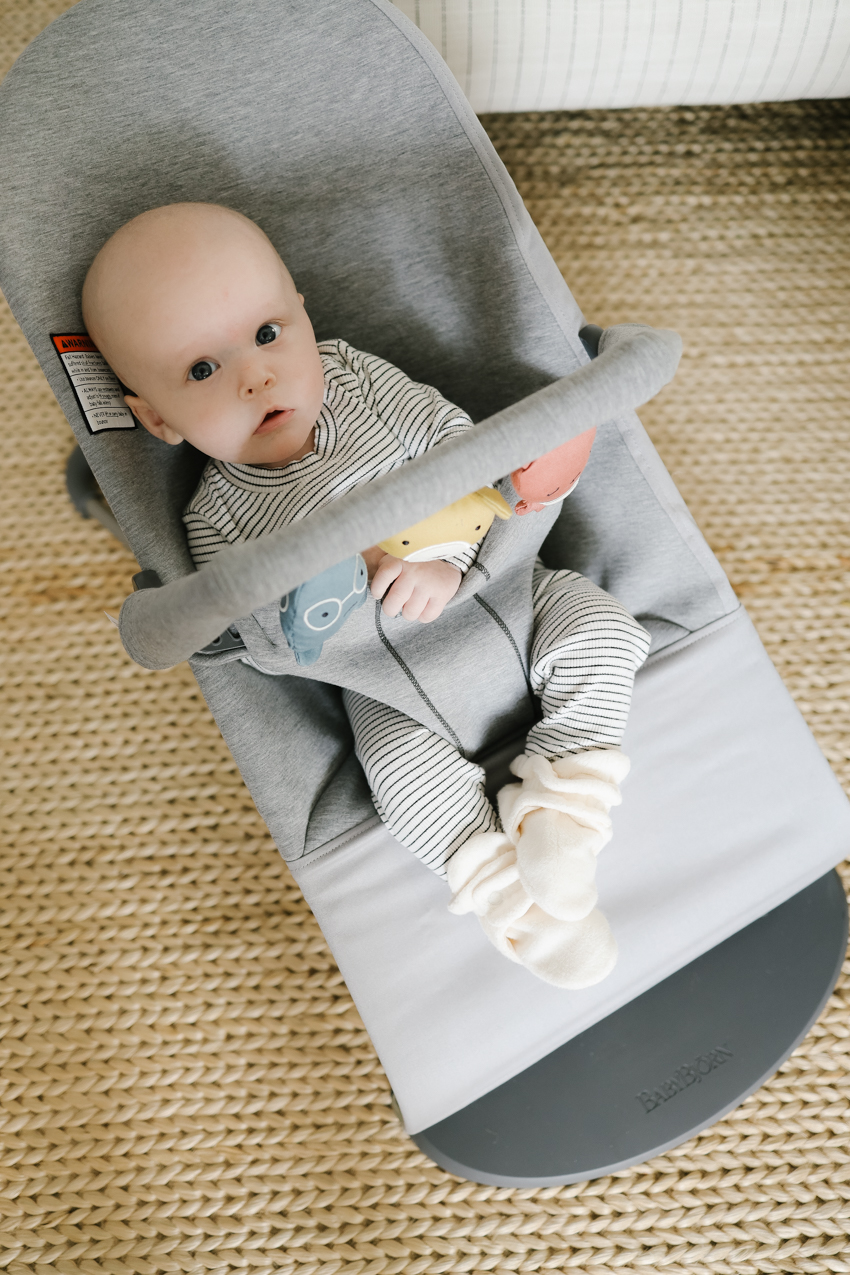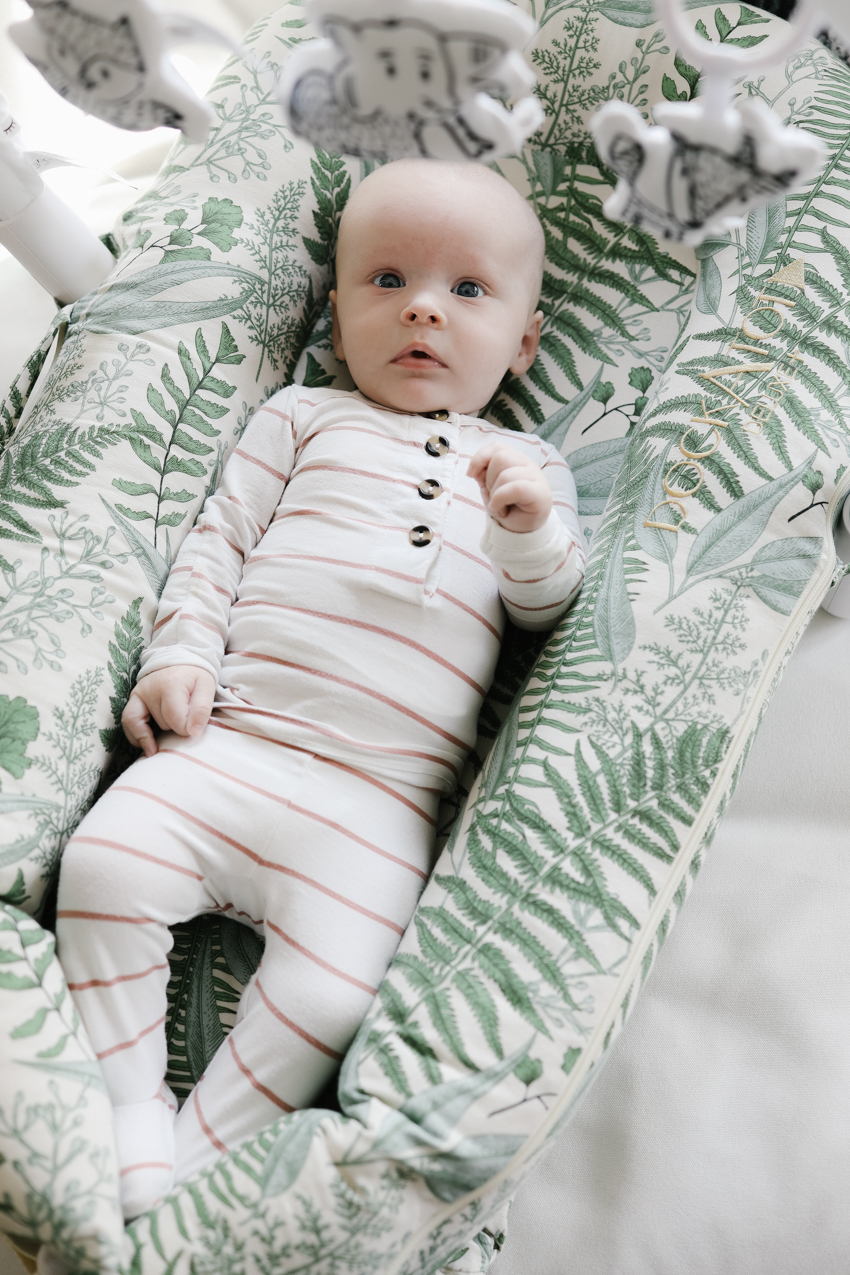 Newborn Essentials For The First Three Months
DockATot:
I've gotten so many questions about whether I prefer the Snuggle Me or DockATot. Margot slept in the snuggle me inside a pretty basket that we barely used with Kate, because we had a toddler running around . There's less room in the Snuggle Me and I like that the DockATot is completely flat. The toy bar also makes it more fun.
Toy Arch:
The toy arch was a great addition at around a month (or so). The little toys are cute, but you can hang your own from the rings, too!
Solly Wrap:
I didn't use this that often with Margot but use it every single day with Kate and love it so much that I got a second one. She takes at least one nap in it (often two) daily. It makes life easier (handsfree) and this is the only place she'll sleep two hours. And we need those two hour breaks!
Nightlight:
We used the Hatch with Margot but didn't want to buy a second one. This night light is under $20 and works as well as the hatch. It's the perfect soft light for middle-of-the-night feedings or walking around the room while baby is asleep. I bought one for each of our nightstands and bonus: these are perfect for power outages. A single charge lasts forever. I think I charged it when she was 2-3 months.
Baby Monitor:
We used the Nanit with Margot (still do) and love it so much that we bought a second. It's easy to give access to anyone who might care for your baby. The mobile app is easy to use and you can see baby wherever you are.
SNOO:
Sleep was such a struggle with our first and in the end, it just took time for her to get there on her own. At first, we had planned on not using the SNOO since she became so dependent on it, but after getting to know Kate for the first month, I decided to give it a try. She's done so well in it and started sleeping 9-10 hour stretches (not every night, but most nights) at 2.5 months. I do think it helps ease her to sleep but don't know how much it's the SNOO vs. Kate being a good sleeper. It's pricey, but you can also rent it for $118/month.
White noise machine:
Our travel white noise machine didn't cut it in Margot's nursery, so I bought this one on sale and it's been great. I love how easy it is to use and how well it works – so much that I bought a second for Kate. Right now, we use this in the bathroom outside Margot's room to make sure Kate doesn't wake her when she's asleep.
Ollie Swaddle:
I had planned on using a traditional bassinet but ended up with the SNOO a month in. I had decided on the Ollie Swaddle and still use it for an extra tight double swaddle. My friend swore by this so I purchased two before Kate was born.
Electric UV-Sterilizer:
This seems like one of those gimmicky things that no one actually needs except it's tiny, under $20, and given the state of our world, the thought of a pacifier hitting the ground or being touched by anyone and not immediately sanitized made this tiny gadget seem like a must-have. I keep it in our diaper caddy and clean Kate's pacifiers daily.
Bibs Pacifiers:
I bought these because they're cute and are supposed to work well. I actually tested out a few pacifiers with Kate and these are her favorite!
Elvie Pump:
The Elvie is the only reason breastfeeding has (sort of) worked this time around. I was about to give up which would have been fine (fed is best!!) , but wanted to give it one last shot. I can pump in the car or while I'm doing thing around the house. The technology is on the newer side so it can be a little annoying, but it's well worth it. I have a low supply and Kate was a slow, sleepy eater in the beginning.
She was probably 50/50 the first month, 30/70 the second and third, and now mostly formula. I was able to pump and put formula away and it's helped me maintain some sort of supply, so I'm saving that to mix with baby food when she starts purees and for if/when she's sick in the next six months. Pumping would have been impossible without the Elvie.
Comotomo bottles and nipples:
I did a mix of formula and breastfeeding the first few months so she had bottles from the start, and like Margot, Comotomo worked for us.
Brezza water warmer and formula mixer:
These two are a dream combo for a warm, perfectly mixed bottle. The water warmer gives you instant, warm water at the optimal temperature for baby. I then pour that water and formula in the mixer so there aren't any clumps or bubbles.
Bottle Maker:
This is a bit of a splurge but worth every penny. Bottle warmers are the worst and take anywhere from 5-7 minutes to warm a bottle, but this amazing little machine gives you a perfectly warm bottle in seconds.
Burp Cloths:
Margot spit up a lot. So much that not one bib or burp cloth survived that first year. Kate spits up a lot, too, so I've since purchased two more packs. They're simple, affordable, absorb liquid well, and are easy to fold.
Muslin Bib/Burp Cloths:
I have a few of these, too. They function as both a bib and burp cloth, and the coverage is much better than a bib. They're really soft, too, so I like laying them under her head when she's on a play mat or in her DockATot.
Portable Sound Machine:
I did have to replace one of these when it randomly stopped working and I prefer the Lectrofan for the girls rooms, but this is still great to have, and we used it a lot the first few months. If you're on the go or putting the baby down somewhere other than their nursery, you'll want to have at least one of these.
Diaper Caddy:
This has been one of my favorite purchases for Kate. I use it to store burp cloths, bibs, diapers, and extra outfit, changing pad, and pacifiers. We keep it by our bed at night and downstairs during the day. Makes having all the essentials on-hand which is a must when you have two.
Waterproof Changing Pads:
I always have one of these in our diaper caddy and one on Kate's changing pad. They're soft and keep diaper change accidents from getting too messy.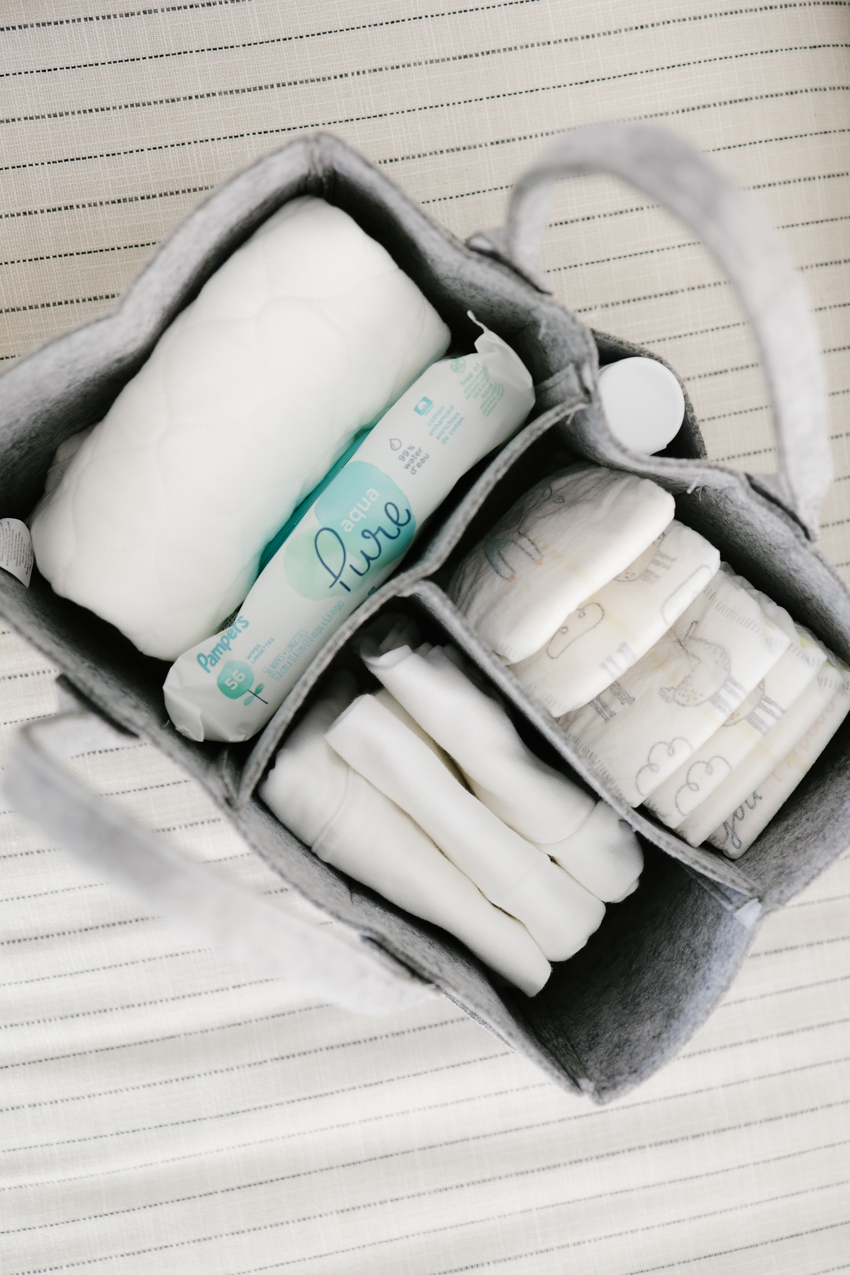 Newborn Essentials For The First Three Months
Diapers:
I was all over the place with diapers. I wanted to love cloth and in many ways, I do, but our family couldn't take on any extra work right now. Pampers Pure diapers worked well the first month and wanted to go back to Abby and Finn (they're so eco friendly). Margot's diapers had been very leaky so I tried Coterie and love them. They are so so soft, hold up at night, and are as clean and eco-friendly as a disposable can be. The brand also partners with NativeEnergy to fund renewable energy initiatives.
Water Wipes:
Someone gave us some Pampers Pure wipes and they were fine, but I went back to water wipes. I used them since Margot was born and they work so well. We're big fans over here.
Diaper Pail:
We keep this in the girls bathroom and it works well for us. Bonus: you can use regular trash bags and don't need bags that are specific for this diaper pail.
Diaper Cream:
I've been using this since Margot was a few months old and it works so well for us.
Nail Clippers:
I have never (not once!) accidentally hurt either of the girls while cutting their nails. These clippers make it so, so easy!
Swaddle:
We had a few swaddles and these are my absolute favorite. They're big and stretchy, and great for swaddling baby, or to lay on the floor for play time. I used these with both girls.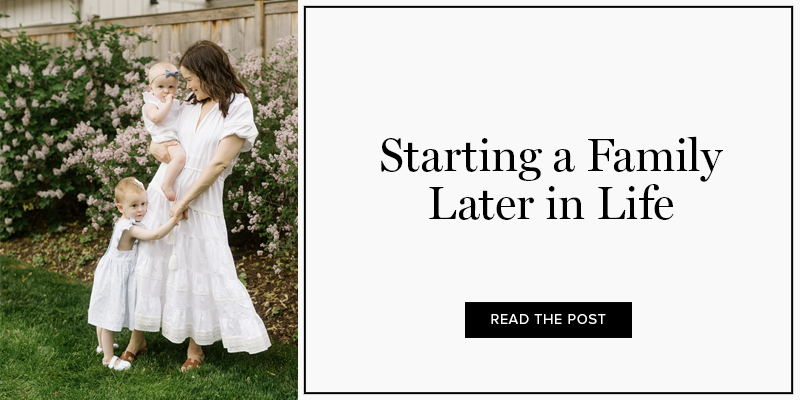 Baby Skincare:
I've tried a few baby skincare brands but have been sold on Tubby Todd since Margot was a few months old. I highly recommend everything (especially the baby balm) but we use all of it and will be using these products again with the new baby. I am purchasing an all over ointment and a bottle of dream cream for baby.
Newborn Bathtub:
I had this with Margot but actually never used it, although I wish I had. We used a sling tub that grew with her, but being able to stand at the sink while bathing a newborn is really nice. So this isn't a must-have, but it's easy and doesn't take up a lot of space. I love it.
Wipes Dispenser:
Another one of those things that might seem gimmicky, but try holding a baby and opening a pack of wipes while making sure they don't roll off a changing table. This makes one-handed wipe grabbing so easy. I love it enough that I bought a second for Kate's room.
Changing Pad:
Ok, so I used the Keekaroo for Margot and love it, but made the mistake of wanting something prettier and buying the beautiful basket one from Design Dua. It's beautiful but not very functional (can't imagine how she'll fit on it in another few months). I would have purchased another Keekaroo but this one has great reviews and is half the price.
VISTA Stroller:
I honestly wasn't sure I'd like how kids are stacked and not next to each other, but this stroller is so much easier than a wider one where they're side-by-side. Right now, we have it set up with a bassinet below (you'll need this adapter to attach the bassinet) and Margot on top. If you want to add the bassinet below you'll just need a lower adapter.
Rumble Seat:
I ordered a RumbleSeat for Margot to sit in once we stop using the bassinet, and we've actually put Kate up top with the infant insert, and will transition to that right at around 3 months.
Car seat mirror:
We have one of these for Margot and bought a second for Kate.
Infant car seat:
Our old infant seat wasn't fire retardant free and since I'm a little wary of chemicals, I decided to get a new one. I also struggled with how heavy those infant seats can get, and The NUNA PIPA Lite LX only weighs five pounds. I should note that it cannot be installed without a base but we aren't planning on flying any time in the next year, and installing without a base is a huge pain, so this works for us. The fact that it weighs half of what most car seats weigh was enough of a selling point for me.
Diaper Bag:
The brand did gift this diaper bag but it's the one I planned on buying, and I think it's going to be the perfect size for a newborn and toddler. I love the look and quality, and the pockets are perfect for staying organized.
Bottle Cooler:
This is great for keeping bottles or pumped milk cool when you're on the go. We've used it traveling with Margot and I now use it when I'm out and need to pump (which really only happens when I'm taking Margot to Clinic) or to store Margot's cold pouches.
The Softest, Easiest Outfits:
Lou Lou & Co (one of my favorite small shops) came out with two piece sets this year. The newborn ones fit the first 3 months and are so soft. We used Margot's old Lou Lou gowns a lot the first few months, too. Note that you cannot dry them which is a dealbreaker for some. I don't mind hang-drying. I really only dressed Kate in cozy pieces (so no real "outfits) and love Lou Lou Zara, Mebie Baby, and Mori.
Fleece booties:
Finding socks or booties that actually stay on is not easy, and these do the trick. I didn't start using them until around 3 months, but I love them.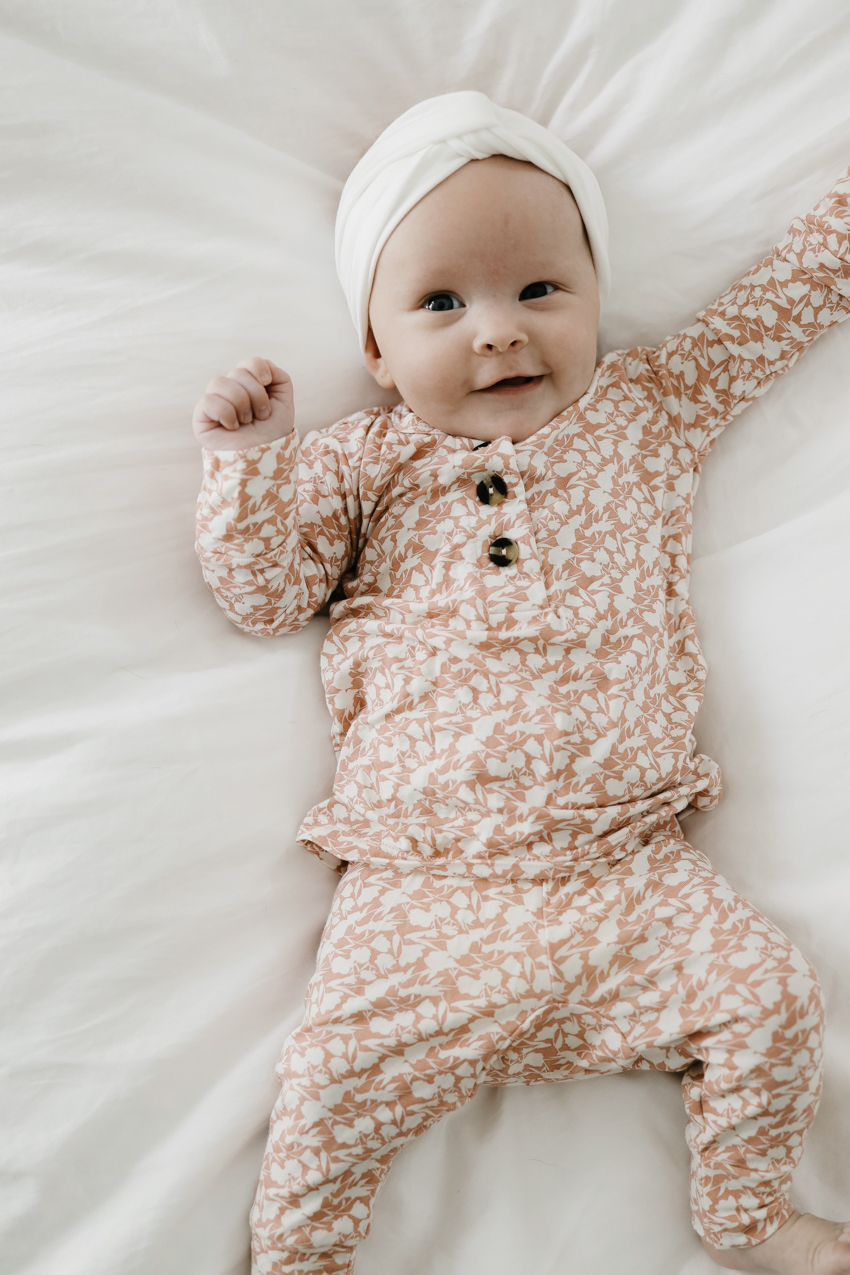 Newborn Essentials For The First Three Months
Play Gym:
Margot used this a lot the first year and once again, we're using it daily with baby sister. It's one of those must-haves that's cute and grows with baby. It comes with a cover that turns it into a toddler-friendly tent.
Padded Play Mat:
I bought this right around the time Margot started sitting up. She was wobbly and needed somewhere soft to land. Unlike other play mats, this one is very soft and padded. We also have the waterproof cover, so it's easy to clean