My Home Office and Guest Room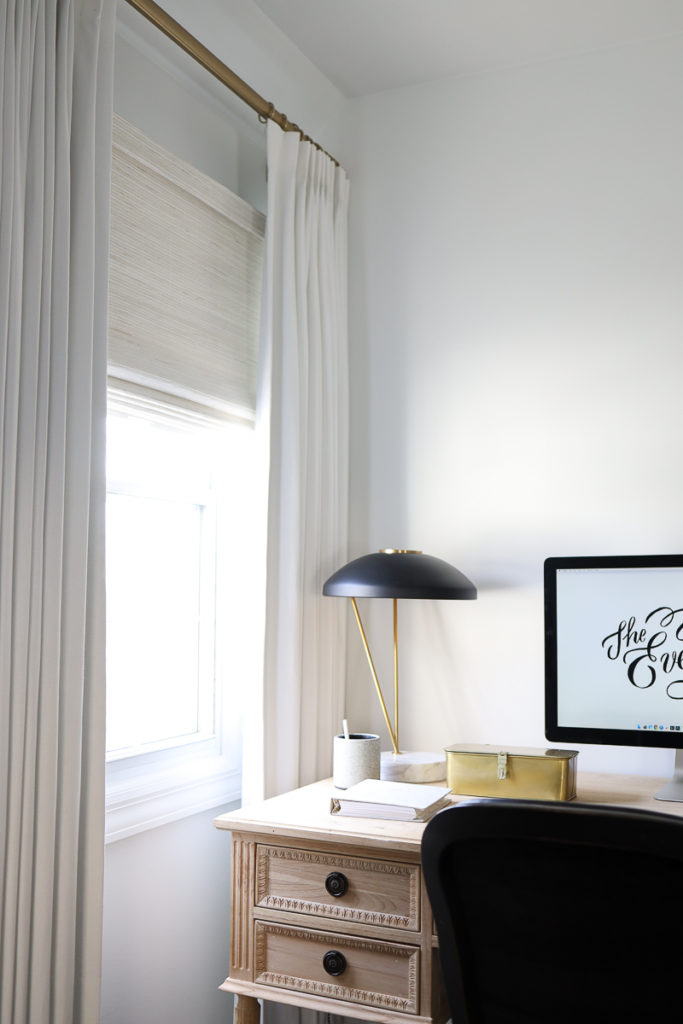 When I work from home, I spend my days in my home office/guest room. It's the 3rd bedroom in our home right next to Margot's room. This room cozy, quiet, and gets good light and I've loved working here, but in the coming months, I'm going to turn it into a room for Margot's baby sister. If that wasn't the case, I would likely add more art and a rug but I'm calling it. Here's a look at my home office and guest room.
My Home Office and Guest Room
The thought of our girls sharing a room sounds lovely, and it's something we plan on doing when they're a little older (maybe 3 and 5?) but baby sleep is HARD. She'll be in our room for a few months but even if this baby is a good sleeper, she'll go through leaps and regressions. Both girls will get sick and have nights where they don't sleep well, and I can't really wrap my head around how to time wake-ups from naps or navigating who to put down when at bedtime. I know people make shared rooms work, but it doesn't sound easy at this stage, and I'm all for easy, even if it means giving up my office and our guest room. Once they are both sleeping through the night regularly, we can revisit.
We have a sunroom that's just off the living room (with french doors that close!) so that will be my/our new shared home office once we make the change. I used to work from our dining table in a small 1 bedroom condo so really not too worried.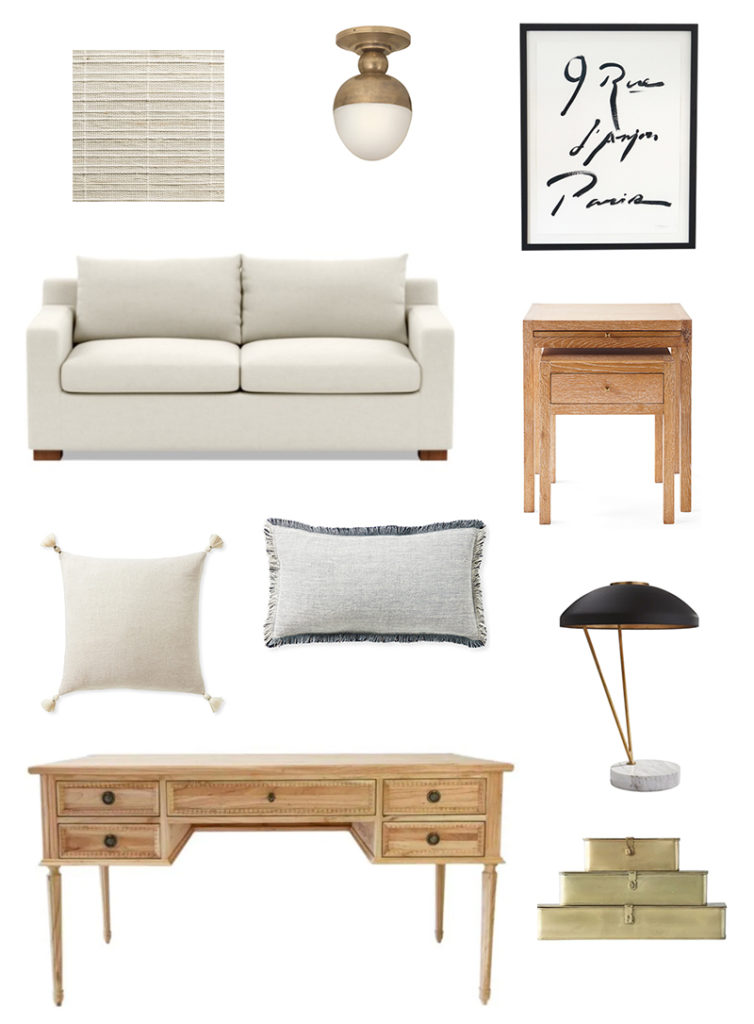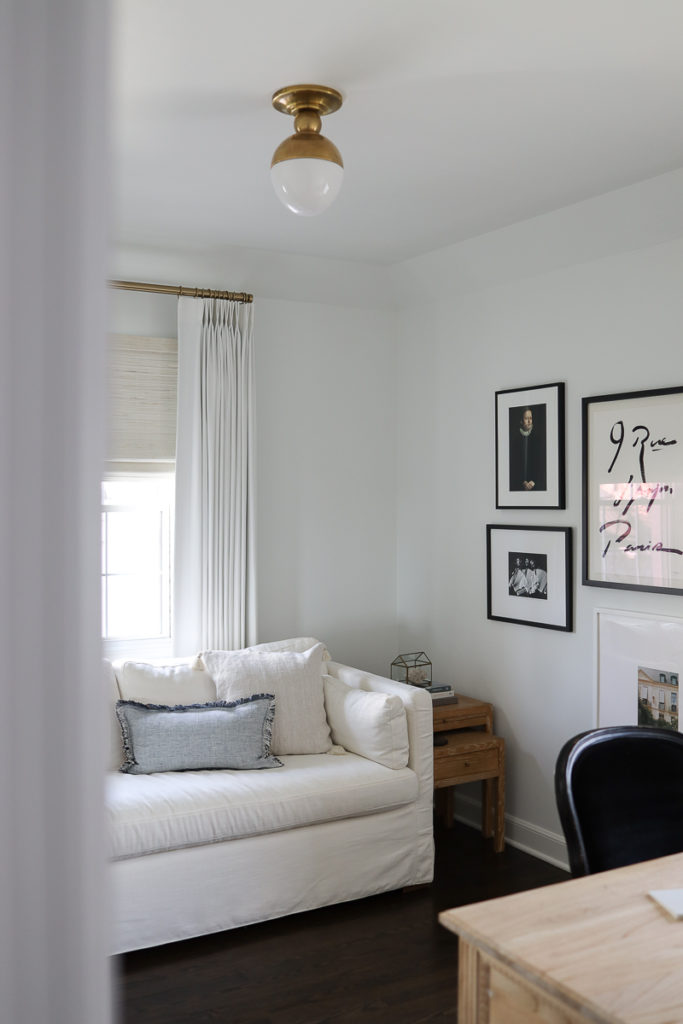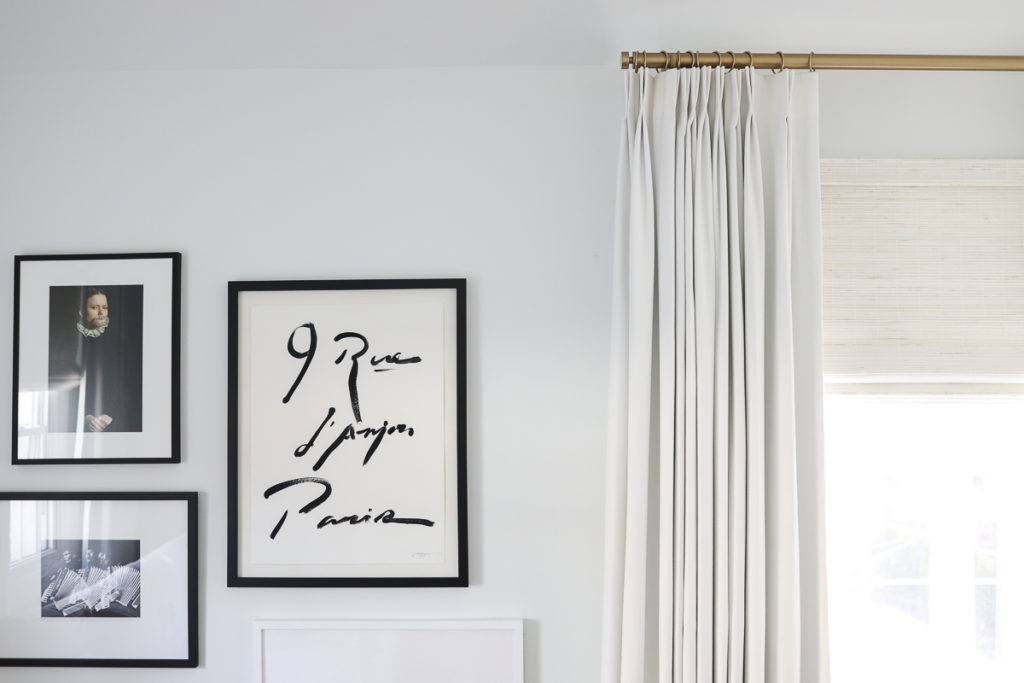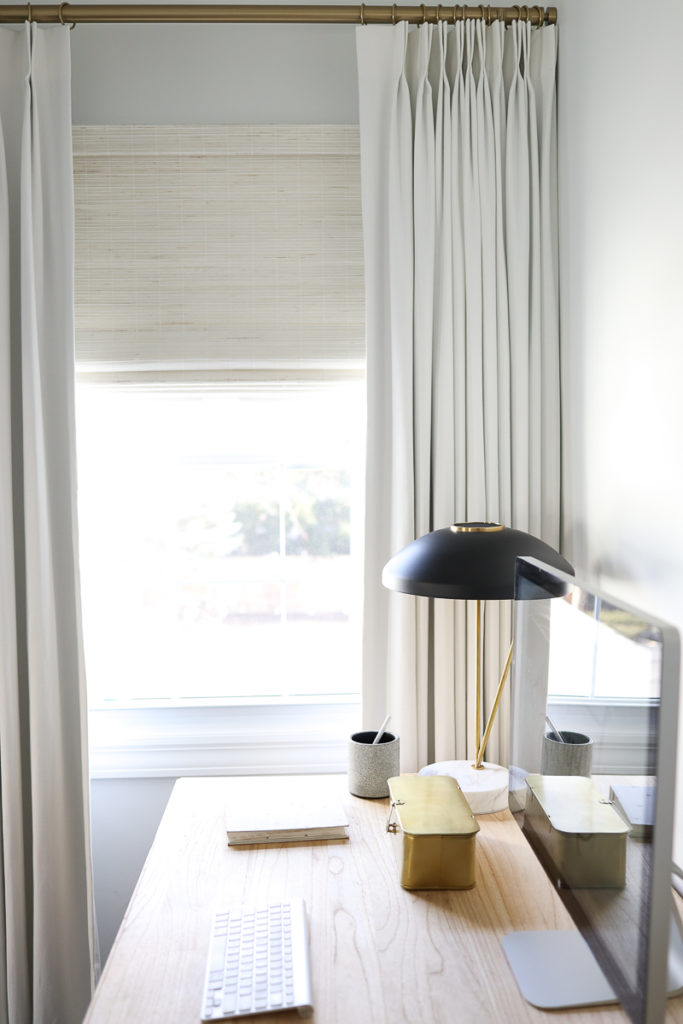 ince our window treatments needed to be outside mount, I had to find something that would easily allow light in but also leave the room dark enough for guests or a baby to sleep at night. I was so lucky to partner with Hunter Douglas on Margot's nursery, our office, and sunroom. They gifted us the most beautiful window treatments that I am truly in love with. When it comes time to add shades in any future homes, I will definitely go with Hunter Douglas.
I chose the Provenance Woven Wood Shades in Maritime Alabaster with a Room-Darkening liner and LiteRise Operating System, and Design Studio Side Panels in Bungalow Snow with Brushed Bronze drapery hardware. The shades are even more beautiful in person, easy to use and safe for babies (no cords!), and there are several options in terms of how much light you want to let in. I chose blackout for both bedrooms but chose an option that allows more light into our sunroom. The same exact setup can be found in Margot's nursery. You can see a peek here but I still haven't photographed that room. I'm really going to do that soon.
These shades, curtains, and hardware completely transformed both rooms.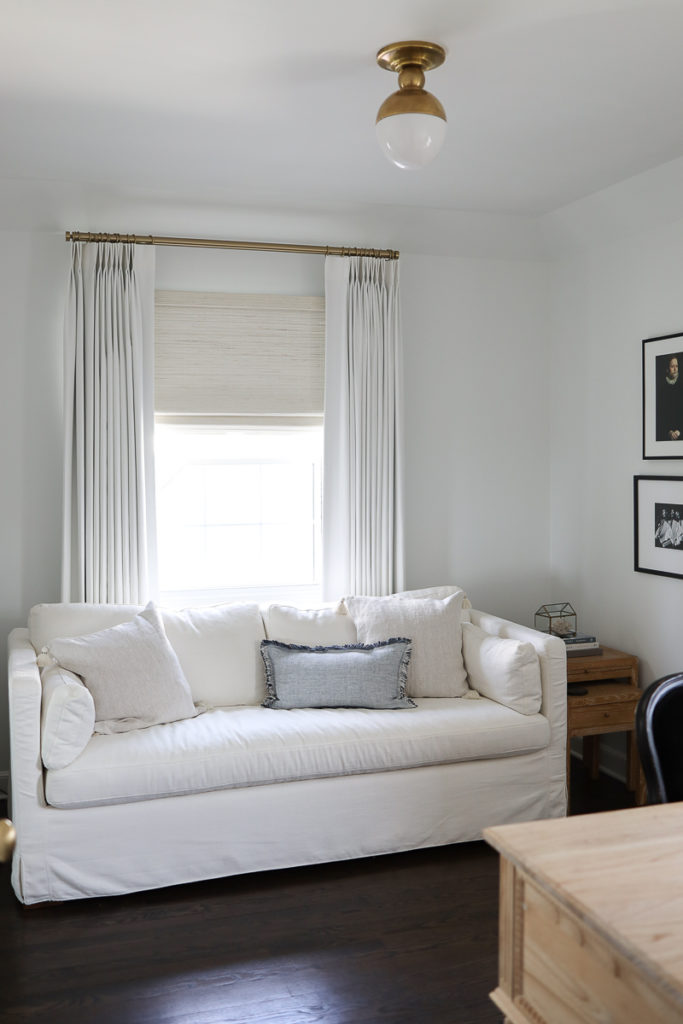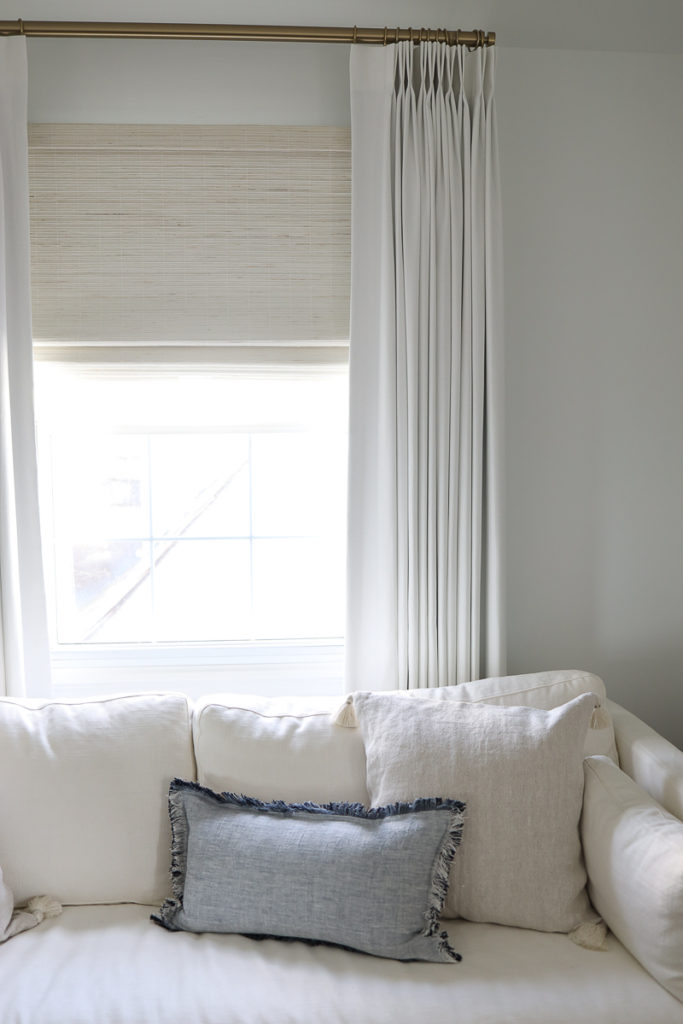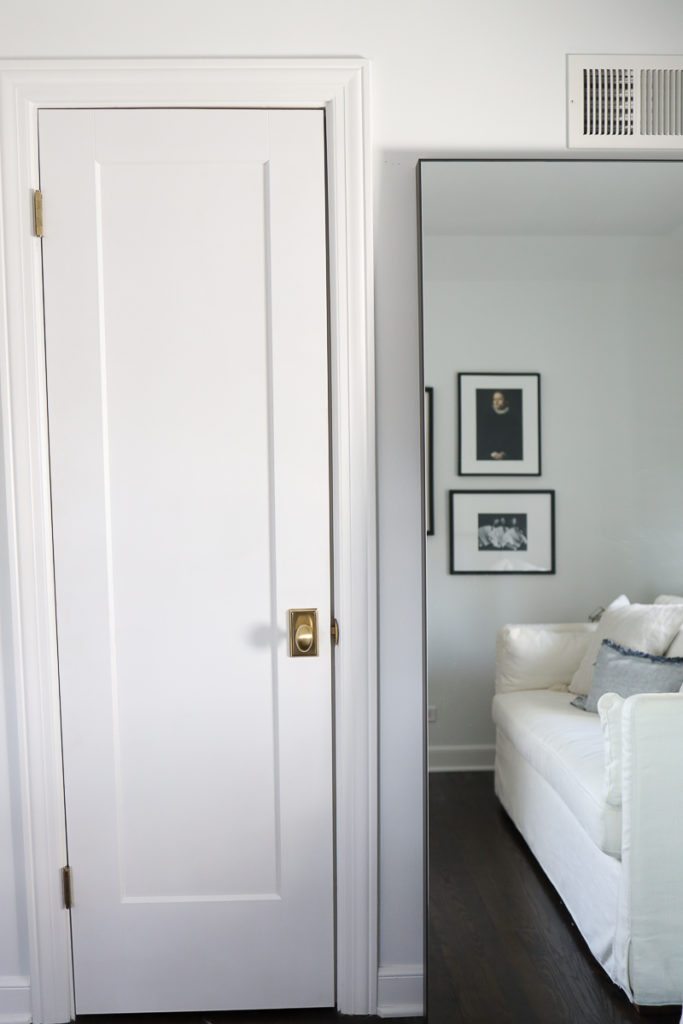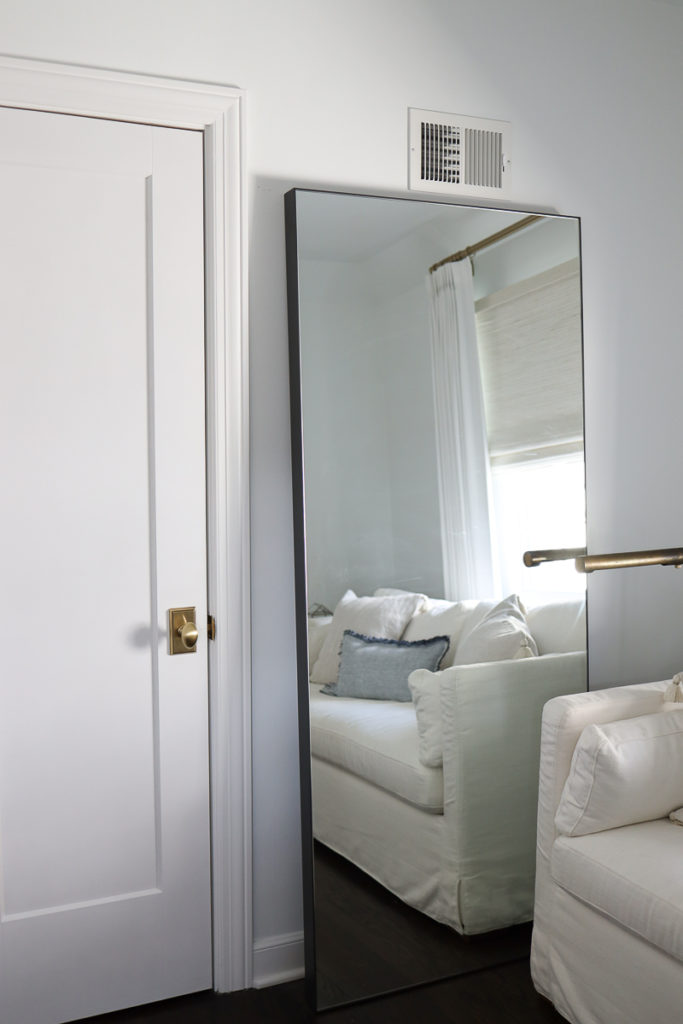 Shop the room here
Desk, Ave Home (seems that it's no longer available but they have some beautiful pieces)
Sleeper Sofa, Interior Define (linking new/similar model here)
Flush Mount, Circa Lighting (discounted)
Shades, Hunter Douglas
Floor mirror, CB2
Table lamp, Circa Lighting (discounted)
Paint, Farrow and Ball Wevet
Nesting table, Serena and Lily
Brass boxes, Anecdote
Velvet chair, Vintage from Anecdote
Blue linen pillow, Serena and Lily
Tassel Pillow, Serena and Lily
L' Exposition Art, Josh Young
Small gallery frame, West Elm
Oversized gallery frame with photo from a trip to Paris, Pottery Barn