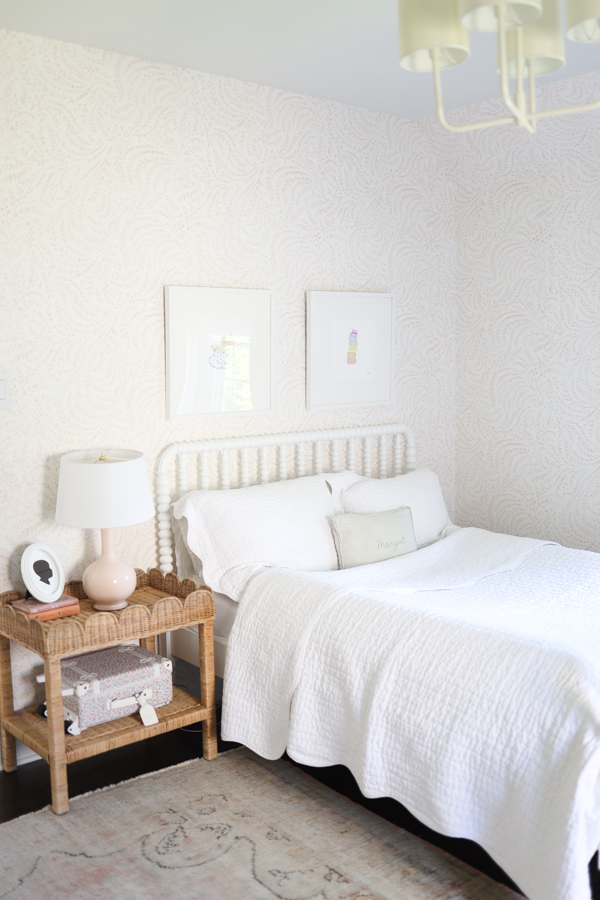 My baby turns 4 tomorrow and we're moving into our new house in less than a week. I was determined to get this grand tour up before her 4th birthday, and I did it. Since this won't be our house next week, it feels like the perfect time to share this girls room decor, furniture, and wallpaper with you. I shared Margot's nursery decor years ago, but never photographed her room after she got her new bed last October. See that moment here: it was so sweet! The room has been done, but photographing was clearly not a priority. My little girl's bedroom is one of my favorite rooms in our home, so I'm especially excited to share it with you today.
Margot's Big Girl Room
I had so much fun decorating this girls room with the softest, pink color palette. When designing Margot's room, I wasn't focused on one particular focal point, and created a few moments in my little girl's bedroom – and I'm so happy with how it turned out. It's all about the little details, from the scallops and vintage art to the bookshelves and dollhouse. I didn't use any bright colors or bold patterns, and love how it turned out. The design elements are soft and sweet – whimsical but perfect for a little girl to grow into. If you're looking for girls' bedroom ideas, I hope you'll feel inspired by this room.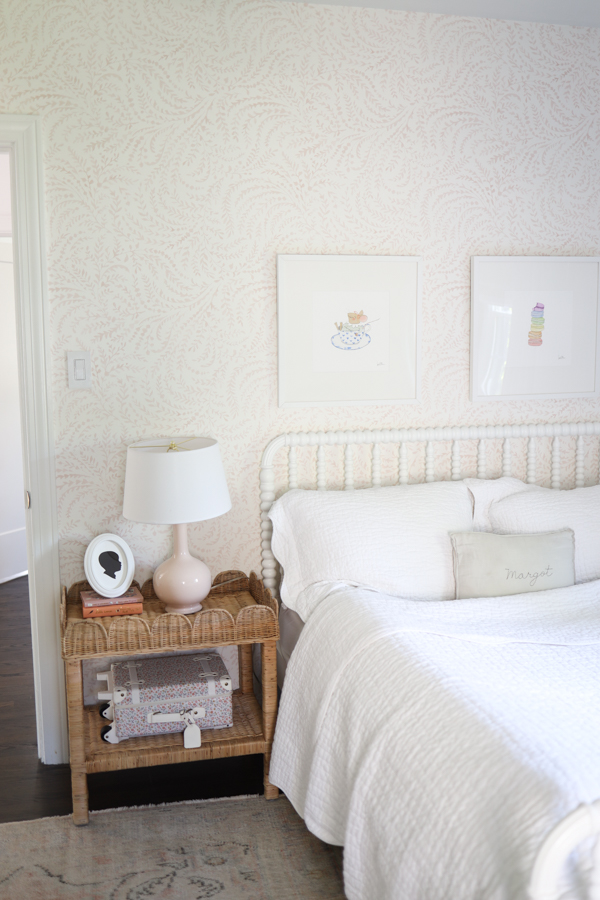 When I saw this rug (gifted from the brand) I knew it was the rug for my daughter's bedroom. This surprised me since pink isn't really my favorite color, but it was this rug that would inspire the palette for my daughter's room. It turns out pink was a great idea for Margot since it's now her favorite color. Although if you ask her, she'll tell you she prefers bright pink and dark pink.
Choosing wallpaper and paint
The room started out with white walls and stayed that way until around her first birthday. It was then that I finally committed to soft pink wallpaper. This paper is perfect for a little girls room, but I wouldn't choose it for the teen years. Knowing we would only be in this house for a few years, I went for it. Tastes change, so now that I'm in the process of designing her next room, I'm choosing fabrics that I hope even teenage girls will like, with the hope it will grow with her.
I have no idea how I came across this small Australian brand, but it was one of those "oh, that's perfect" moments, and I placed an order right away. This monogram is sweet and not too stuffy, and is a simple way to add something custom when doing a room makeover. So I bought the scalloped side table right after it came out. The scallops are so sweet, and love that it can be used as a side table or nightstand. The wicker and scallops are timeless but on-trend.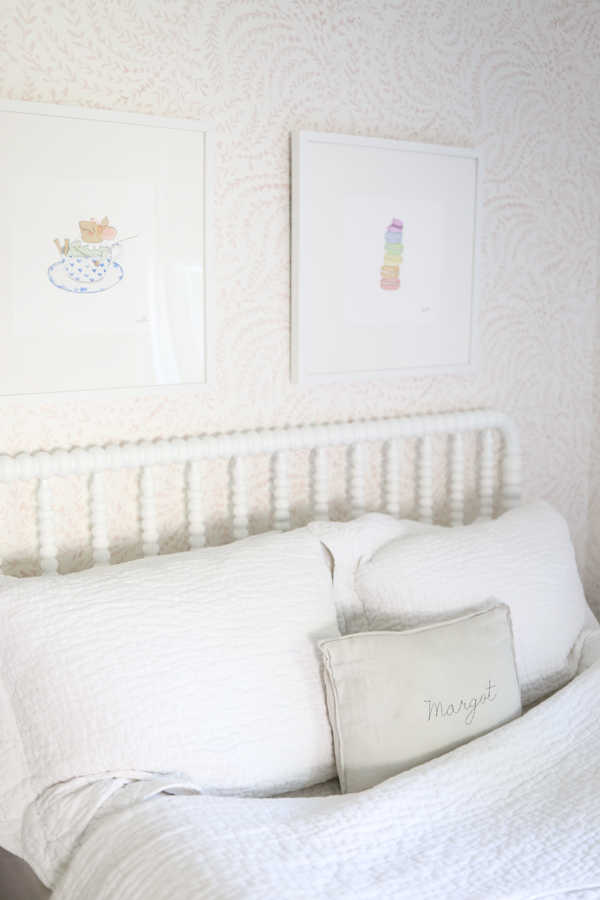 Jenny Lind Bed and Quilt
Margot slept in her crib which we converted into a toddler bed, until she was 3 years and 3 months old. When it was time to get a bed, I chose a full over a twin bed, and it was the best decision. A larger bed is great for snuggles and stories, and will be perfect for sleepovers, too. I've had to sleep with her more times than I can count, and couldn't have made it work in a twin.
We initially had the Jenny Lind bed rails and they were wonderful for the transition, but Margot asked to remove them last month since she's a big girl. But – I didn't want her falling so I added these soft bumpers that go under the sheet and they're great. I didn't want to overdo it with the scallops, but this quilt felt like the perfect addition. Crate and Kids did gift this bed to us, and that I made a donation of the same value to Alex's Lemonade Stand the same day. I love how it looks with the nightstand, and the texture is soft and feminine.
Sara Fitz Wall Art
I actually collaborated with Sara on these pieces that were inspired by my mouse house, rainbow, macaron loving girl. They work perfectly with the color scheme, and add a little pop of color, too. She donated a portion of each sale to Alex's Lemonade last year, and while our collaboration has come to an end, the prints are still available and would be so sweet in a playroom, bedroom, or nursery.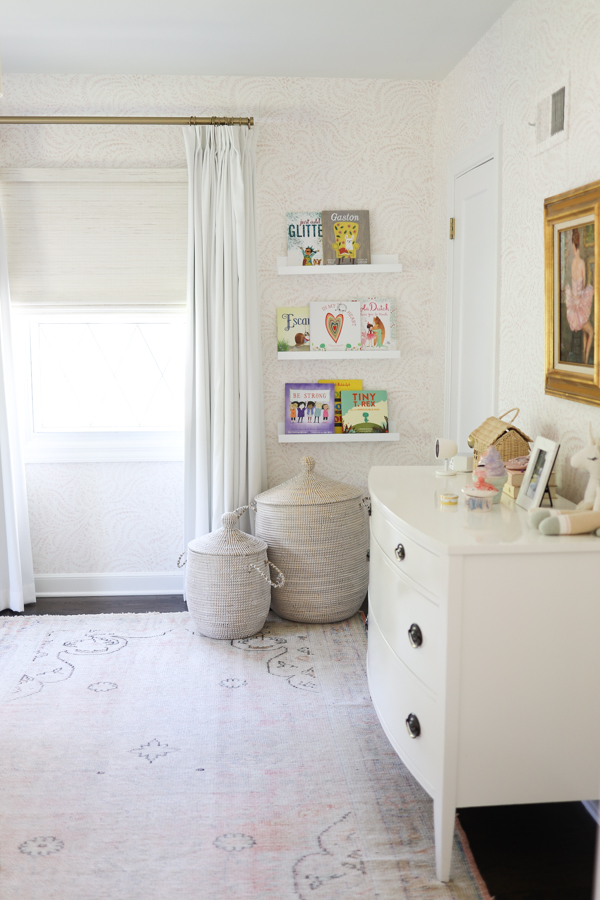 I shared all the details on Margot's window treatments in this post.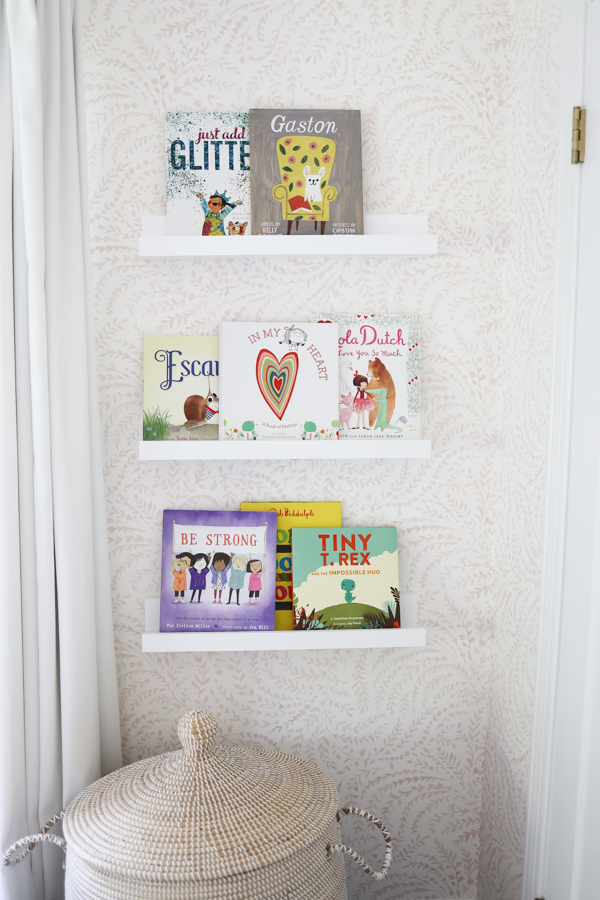 Basket and Book Ledge
Book ledges are always a nice addition to a nursery or kids' room. They serve as book storage and wall decor, and would be perfect for a small reading nook. Display your favorite books, and they are a great way to have fun with themed books for holidays and seasons. And this beautiful basket adds plenty of storage for stuffed animals and dollas.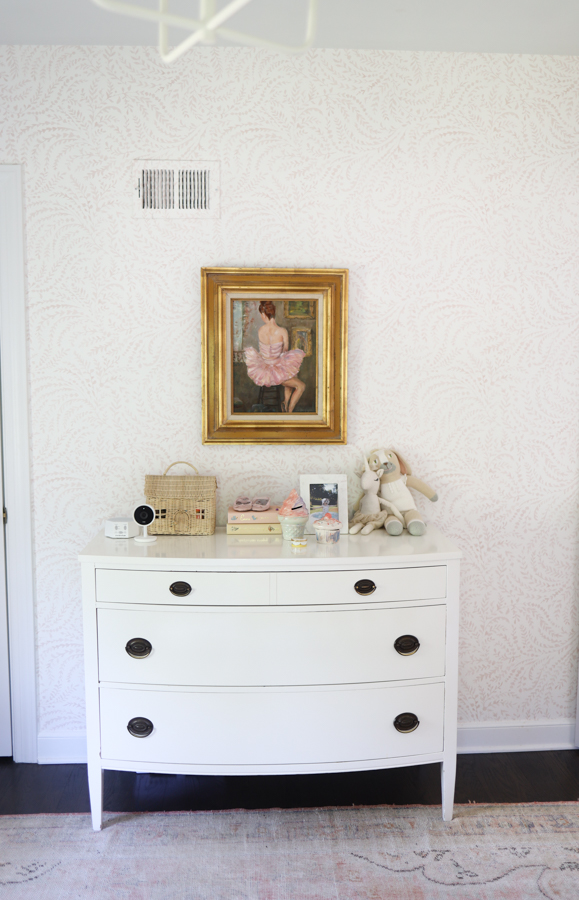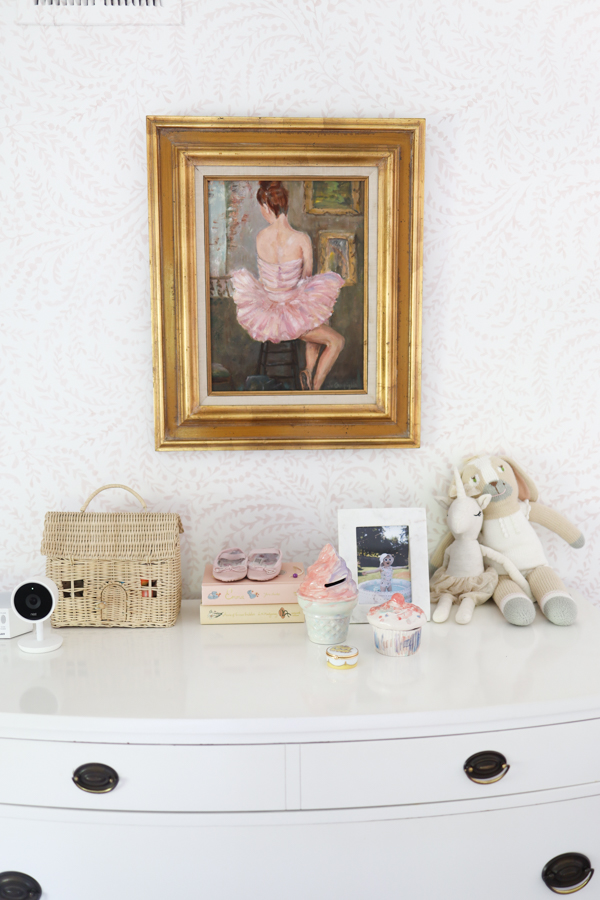 The dresser was purchased at an antique shop almost 11 years ago when I first moved to Chicago. In the back of my mind, I hoped that one day, I'd use it in my little girl's room. The art is the first thing my husband purchased for our daughter – he found it on eBay, and she loves it.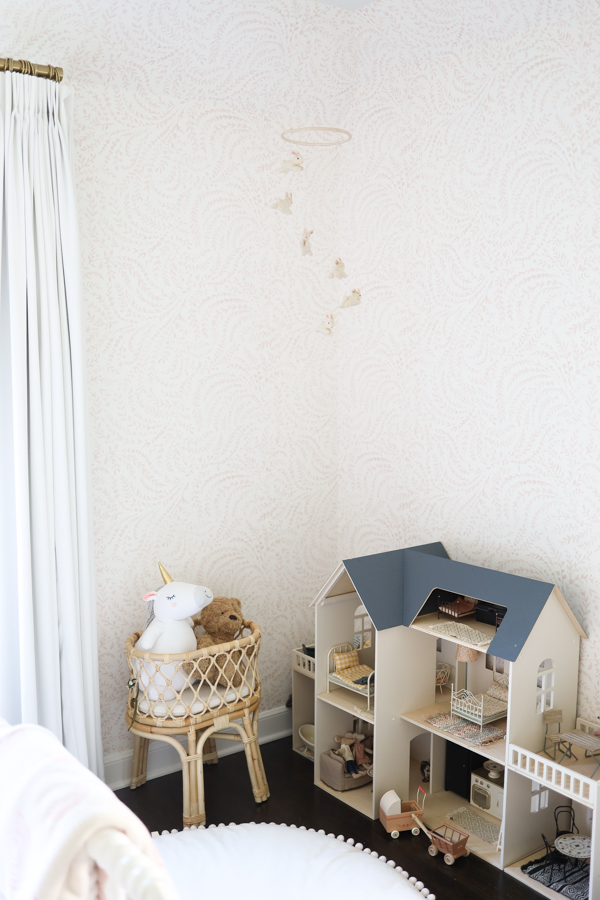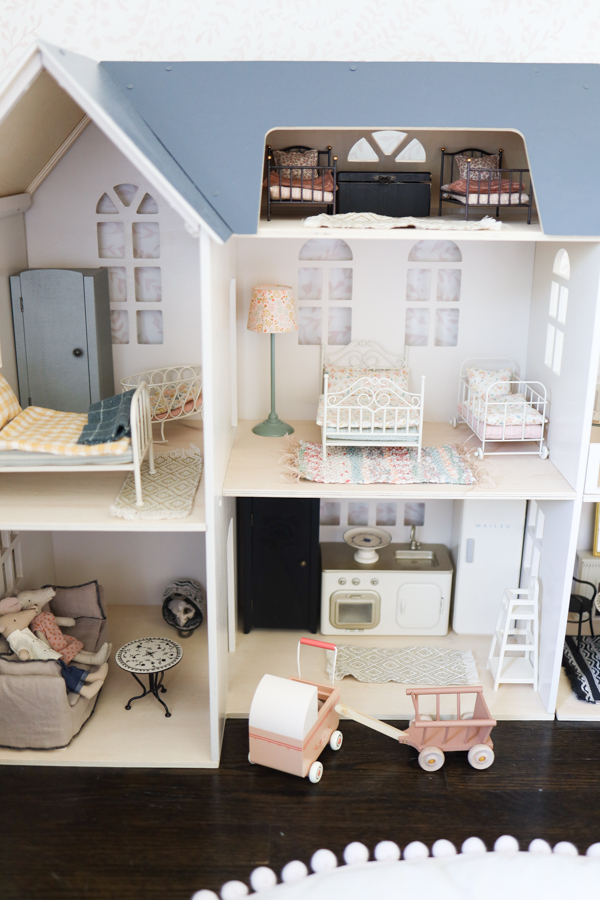 Margot has a lot of space at the foot of her bed, so I added this floor pillow to create a soft, cozy play space where she could sit and play with her mouse house. Floor pillows are always a nice addition when you have extra floor space.
This post contains affiliate links. If you purchase something using my links, I may earn a small commission at no cost to you.
See our stairway gallery wall in this post.