Gift Guide: Gifts for In-Laws and Grandparents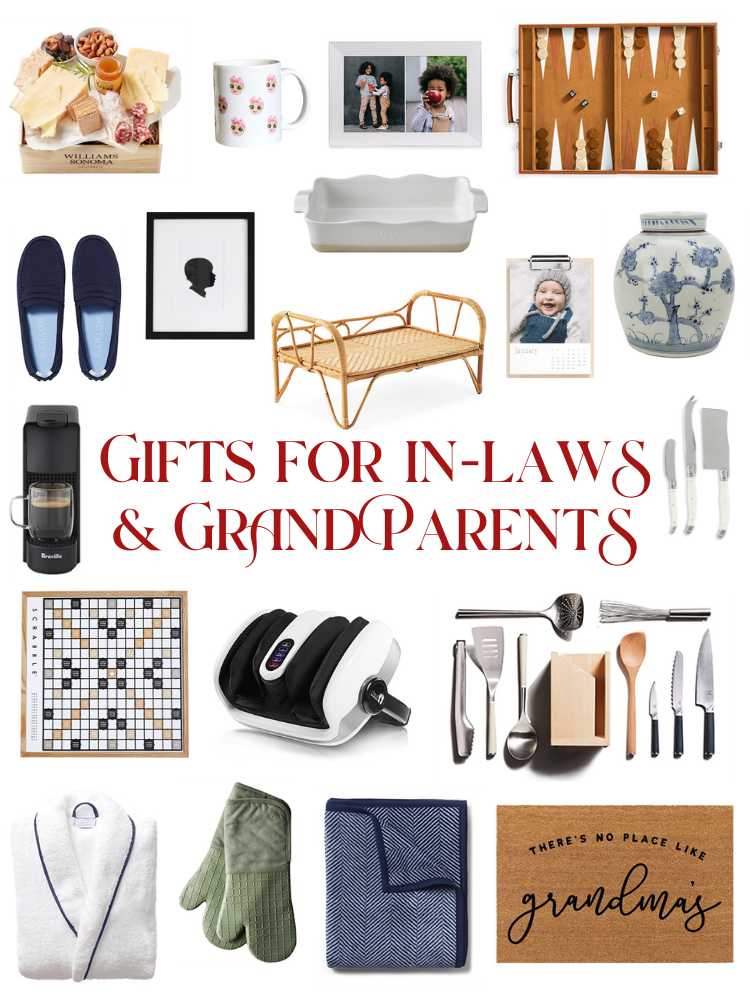 Why is it that every holiday season, we have the same struggle shopping for in-laws? I know it's not just me. Next to gifts for men, this is always one of my most-requested gift guides. Grandparents are a little easier because you can weave the kids in with a nice picture frame and photo, but do you really want to do the same thing year-after-year? I'm including a lot of what I included last year because these gifts really do withstand the test of time. But I've added a few new gifts, too. From slippers and games to candles and entertaining essentials, I've included gifts for couples, and a few individual gifts for grandma and grandpa, too. 🎅🏻 So here it is: The Gift Guide: the best gifts for in-laws and grandparents.
Gift Guide: Gifts for In-Laws and Grandparents
When it comes to gift giving, I don't just want a good gift or a thoughtful gift. I want to find the perfect gift. Something with that personal touch that says I get you. Finding gifts for any special occasion can be tough, but holiday gifts for in-laws and grandparents feel especially tricky. First, there's the price point. You don't want to overdo it, but want something nice. Choosing a gift for each family member isn't always easy, but it's the best feeling when you find the right gifts for each person.
Digital Frame
A digital photo frame is one of my favorite Christmas gifts to give, especially for relatives who might live far away. Quickly and easily upload photos, sharing those sweet everyday moments with the ones you love. If you prefer a classic (traditional) frame, I love this silver one, too, but I love aura frames for a unique spin and sharing special moments.
Monogrammed Robe
Weezie makes the best towels and robes, so consider the men's and women's robe for your in-laws this year. Bonus: You can have it monogrammed making it a little bit more personal. I have and love this fluffy robe – it has a piped edge, sleeves that roll up, and an attached tie that won't get lost. Oh. And it has pockets.
Custom Mug with Kids' Faces
This is the perfect present for grandparents (or aunts and uncles). Who wouldn't want to see your kids' sweet faces while drinking their coffee every morning? I got one for my sister and she uses it all the time.
Shiatsu Foot Massager
Take relaxation to the next level with this foot massager. I actually own this and love it! I got it on sale after a friend told me how much I needed it, and it's pretty amazing.
Fleece Blanket
Chappywrap blankets are so soft and cozy, and make great presents. This is a wonderful gift going into those cooler winter months.
Ceramic baker
Get this gift for the home chef in your life. It's a beautiful Christmas present. This Emile Henry ruffled baker is shaped from Burgundian clay, which absorbs, distributes and retains heat evenly, so gratins, casseroles and lasagnas brown to perfection. Inspired by vintage French bakeware, the graceful ruffled edge on the dish is based on a century-old ceramist's technique – updated to simplify cutting and removing a tidy portion.
Deluxe Scrabble
The ideal present for in-laws who like to plan game nights. This is a fun gift for the whole family. It's made of solid wood, has a lazy susan turning mechanism, and wood Scrabble tiles.
Breakfast in Bed Tray
This tray is gorgeous, and perfect for grandparents and in-laws who love a little relaxation.
Custom photo calendar
I am a big fan of Artifact Uprising. I made one of these for our family every year since we got married in 2017, and made one for each of my girls' first years. These books are surprisingly easy to put together – you can do it on your phone, although I prefer my computer.
Espresso machine
Art Print
This art print is a unique gift to give and a great option for in-laws and grandparents who love art. Only 150 prints were produced, and each one is printed on Hahnemühle, 100% Cotton fine art paper and is individually hand-signed and numbered. Each piece also includes a signed and numbered certificate of authenticity.
Ginger Jar
Home decor always makes a nice gift (for those who are into that sort of thing) and I always love a ginger jar.
Cheese Knives
Add a bottle of wine or a beautiful cheese board to this beautiful cheese knife set.
Oversize Cashmere Wrap
This is my favorite cashmere wrap, and is perfect for the grandmother or mother-in-law who loves luxurious gifts.
Doormat
Because there's no place like grandma (and grandpa's) house.
Comfortable, Washable Drivers
Rothy's are comfortable, sustainable, and washable. It took about 17 plastic bottles to knit this pair of shoes. By the end of 2022, Rothy's factory aims to be LEED- and TRUE-certified, validating that it's operating with green building practices and has achieved zero waste according to TRUE's requirements.
Custom Silhouette Art
I have one of these of each of the girls and a Buddy silhouette, too. Such a sweet, sentimental gift.
Oven Mitt
These oven mitts are pretty exceptional, which is a bold statement for oven mitts. But – they never hold up.
Slippers
These tempur-pedic slippers are made of soft suede and are fleece-lined. The padded memory-foam will be extra-comfortable for those
Cheese Crate
The perfect gift box for cheese and wine lovers. The box includes a variety of cheeses, dried figs, roasted salted almonds, salami, honey, and olive oil crackers.
Leather Backgammon Set
Another great gift idea for the game lover. I'm very into these beautiful board games this year. A leather-wrapped box opens to display a colorful game board with matching pieces, perfect for game nights with family and friends. Add a custom monogram for a finishing touch that will look great in any room.
The Iconics Kitchen Tools
This is a set of tools that every home cook can't live without. It includes essential items, carefully curated to help you chop, slice, stir and whisk your way around the kitchen. Choose from neutral, blue/grey, or black handles, and a maple or walnut block.
This post contains affiliate links. If you purchase something using my links, I may earn a small affiliate commission at no cost to you.