Stocking Stuffers for Kids
When it comes to giving gifts during the holiday season, Christmas stockings just might be my favorite thing to give. Christmas gifts can be overwhelming, but there's something about stocking stuffers that I love. I love when someone finds the perfect small gifts that say "I get you" and it's …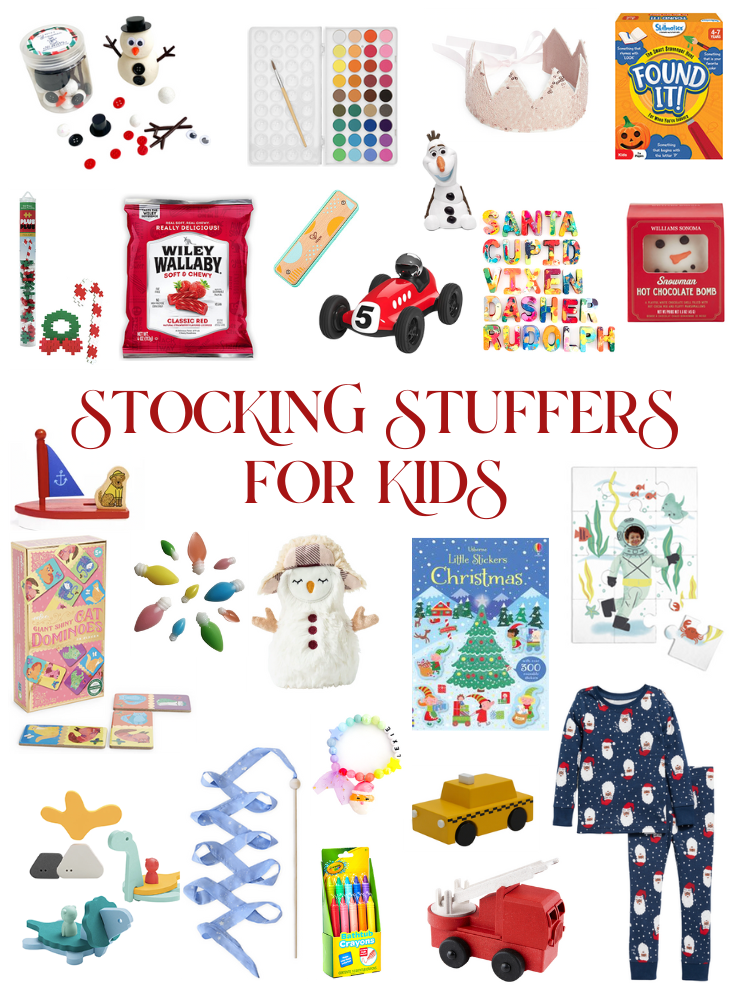 When it comes to giving gifts during the holiday season, Christmas stockings just might be my favorite thing to give. Christmas gifts can be overwhelming, but there's something about stocking stuffers that I love. I love when someone finds the perfect small gifts that say "I get you" and it's something you love that feels like you. So today, I'm putting together a list of what I think are the best stocking stuffers for kids. Keep in mind that I'm a mom to a 2 and 4 year old, so I know little kids and toddlers. But I did my best to include great stocking stuffer ideas for kids of all ages. From my daughter's favorite Wiley Wallaby licorice to cocoa bombs and toys, this list has everything you need to fill your stockings. Thank you to Wiley Wallaby for sponsoring this post.
2022 Stocking Stuffers for Kids
I love getting a head start on holiday gifts. It makes things easier for small shops and the people who deliver our mail when we order early. And it means being able to fully focus on the holidays when shopping is done. When thinking of stockings, I like a mix of fun and practical toys. Fun stocking stuffers like a board book, little things they'll love, mini puzzles, a card games, and more. The perfect gift doesn't have to be big. It just has to feel fun and special. Today's post is a one-stop shop for all your stocking stuffer gifts for kids. So here are the best stocking stuffer ideas for kids!
Dinosaur Bath Puzzle
I just discovered these bath puzzles at Danrie and ordered them for my nephew and my girls, too. There are few sets to choose from, and I think they'll be a big hit.
Watercolor Paint
My 4 year old is getting really into arts and crafts, so I'm going to order this watercolor set. It'll be a great addition to her art supplies.
Wiley Wallaby (Classic Red) Licorice
If you've been following me on instagram for a while, you know how much my family loves Wiley Wallaby licorice. My daughter Kate learned the word "licorice" early on, at just 2, and would walk into our pantry asking for her favorite flavors (classic red, green apple, and watermelon). So her stocking wouldn't be complete without her favorite treat. Fortunately for me, she's pretty good at sharing.
Wooden Harmonica
Who would have known that a harmonica would be one of my top picks for little kids? My children play with musical instruments nonstop, and a harmonica is the perfect stocking stuffer gift.
Custom Puzzle
I ordered one of these puzzles for each of my girls and love the different designs. From Disney to family photos, they have it all, and come in different sizes for children of all ages.
Snowman Mini
My kids love their Slumberkins, and their seasonal minis are especially sweet. The perfect stocking stuffer for little kids.
Found it Game
The perfect little something for my 4-year-old who has been getting into games lately. Can't wait to play this one with her.
Snowman Sensory Jar
Sensory kits and pieces are always such a hit with little kids. There are lots of small shops on etsy that you can support while buying something fun and unique that the kids in your life are sure to love.
Race Car
The perfect gift for the race car lover in your life.
Sensory Toys from @funauntjess
My sister started making these sensory toys for my kids, and they love them. So I convinced her to become an Etsy seller (it took months, but she finally caved) and her shop is awesome. I cannot recommend these sensory toys enough.
Streamer
Dance and create magic with this streamer. This is one of those things my girls would dance around with for forever.
Personalized Crayons
From their name to something fun and festive, these crayons make a great gift.
Christmas Sticker Book
My kids love Usborne's sticker books. The seasonal ones are really fun.
Cat Dominoes
I love a classic board game or card game, and this sparkly cat domino set is such a fun gift.
Olaf Audio Play Figurine
Our toniebox (audio player) is one of our absolute favorite things, so each of my girls will be getting a new Tonie in their stocking. My 2 year old is very into Olaf right now, and my 4 year old is all about Paw Patrol.
Sparkly Stickers
My 4-year-old is sticker obsessed. From stickerbeaks to Usborne books and of course, Pipsticks, she puts them on nearly every surface of our home. Seriously. They're everywhere.
Holiday Plus Plus
These are a great on-the-go toy, that I often bring to restaurants. Both my kids love them, and while they can't make the complex shapes, still have fun creating everything from houses to cell phones.
Hot Chocolate Bomb
Nothing says Christmas like a hot cup of cocoa.
Dolly Sticker Christmas Book
These are ideal for ages 4 and up – my older daughter loves them.
Wind Up Taxi
These simple wooden toys are so sweet.
Bath Crayons
Want to keep your kids busy in the bath? This will do the trick.
Maileg Mouse
Both of my children are obsessed with their Maileg mice and mouse house. I don't know what it is about these things (sure, they're really cute) but they will play with them (and their tiny accessories) forever.
Official Santa Claus $20 bill
Ok, this is awesome.
Bracelet
This bracelet is really sweet and I always love buying gifts from small (etsy) shops.
Eco Fire Truck Puzzle
This truck is durable, would work well indoors or out, or even in the bath. And I love that it's a puzzle, too.
Santa Pajamas
Why are Christmas pajamas the best? My kids start wearing them early and can't seem to get enough.
Bath Bomb
Bath bombs are always a fun treat for kids.
Holiday Penguin
I was a huge LEGO fan when I was a kid, and my daughters are really into Duplo. I'm hoping we'll be able to do things like this as they grow up.
Dots Bracelets
My 4-year-old loves these bracelets. They keep her really busy, and she loves wearing them.
Window Cling Art
I would have loved this when I was a kid.
Friendship Bracelet Kit
We love Kid Made Modern kits! And it's an on-the-go kit, which makes it even better. I love anything that keeps my kids busy when we're sitting at a restaurant or traveling.
This post contains affiliate links. If you purchase something using my links, I may earn a small commission at no cost to you.