2022 Gift Guide: 50 Gifts under $50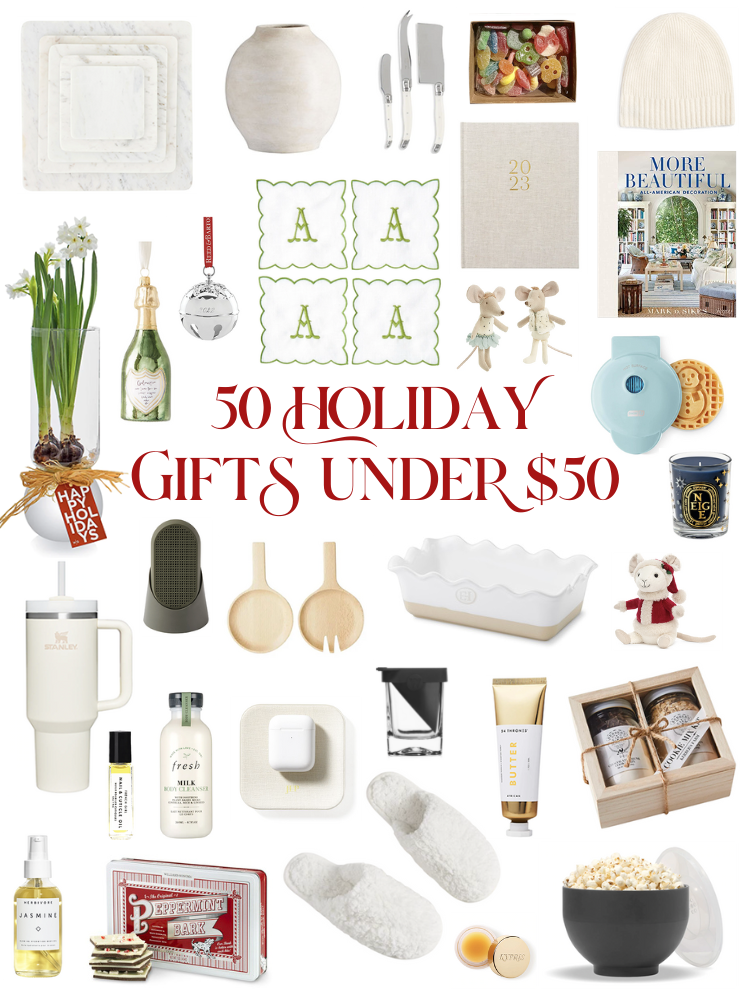 Holiday gifts can get expensive. Whenever you can find the perfect gift under $50 (or even better, under $25), it always feels so good. I have all your family members, your best friend covered this holiday season. From home cooks to beauty experts, here's a mix of affordable gifts for everyone on your list. So when it's time to do your holiday shopping, remember that the most thoughtful gifts don't have to be expensive. Here's my list of FIFTY of the best holiday gifts under $50 for everyone on your list. See the rest of my gift guides here.
2022 Gift Guide: 50 Gifts under $50
From family gatherings to finding the best gift ideas for everyone on your list, the holidays can be a little stressful. Gift guides are a way to alleviate some of that stress. I've put together the ultimate gift guide full of some of my favorite gifts, all under $50.
Cashmere touch screen gloves
These are a classic —complete with touch technology in the pointer fingers so you can text and take photos without removing your gloves. And there's a matching beanie and scarf, too.
Fringed edge scarf
This scarf comes in a wide range of colors and is such a reasonable price. These scarves were produced using sustainable fibers or processes, reducing their environmental impact.
Recycled cashmere beanie
Champagne ornament
Cheers something special with this champagne ornament.
Milk body cleanser
This hydrating body wash is made with soothing plant-based milks that gently removes visible impurities, maintaining skin's pH for a soft, conditioned feel.
Lip elixir balm
I am a big Kypris fan, and got into the brand when a friend recommended this elixir. I now use a few products including this lip balm.
Vanilla beauty butter
This new to me brand is one I haven't tried yet, but the reviews are amazing, and I just ordered it. My hands get so dry in the winter, and I love vanilla, so I'll report back.
Jasmine body oil
My favorite body oil that I am especially diligent about using during those dry, winter months.
Body wash
This best seller is one of my favorite items. I love it this much, so it needed a spot on my list of the best gifts under $50.
Cuticle oil
I'm noticing a dry skin theme here, but my cuticles get so dry during winter, and this cuticle oil bottle is definitely gift-worthy.
Teddy bear slippers
You might be surprised to know how hard it is to find nice slippers under $50, but I did it.
Charging block
The perfect accessory for your home or office, this linen charging block offers wireless convenience to keep your phone fully charged all day long. It looks so lovely on a nightstand or desk, and can be monogrammed with a name or initials for a thoughtful gift for the tech lover.
Quencher
This is probably on every gift guide so it's hardly one of the most unique gifts you'll see this year, but it's back in stock, and I love mine. Knowing how much I love it, it would be such a great gift. It's the best size and best water bottle out there.
Holiday candle
Nest New York candles are the best, and the holiday candle is one of my favorites to give as a gift, and I usually snag one for myself, too.
Blended by Kat Jamieson
One of my favorite (original) bloggers, Kat Jamieson published her first book!
Ceramic vase
I have this vase and it looks more expensive than it is.
Royal twins
These are the perfect size for dollhouses, and for carrying everywhere. My girls cannot get enough of their Maileg mice.
Paperwhites
A great option for the person who has everything (and loves beautiful things).
Monogrammed cocktail napkins
These cocktail napkins might be my favorite gift here. They are beautiful, aren't they?
Cookie mix gift box
I love the idea of gifting an activity, or something that can be used to make memories (and something delicious). This cookie mix gift box comes with two different flavors – what a treat.
Candy gift box
Gummy candies are my favorite. From licorice to sour candies, I love (almost) all of it, and Sockerbit is one of my favorites.
Marble platters
All but the largest size of these platters are less than $50.
Love & Lemons Every Day by Jeanine Donofrio
The perfect gift for the (vegetarian) home chef, or friend who needs some variety in the kitchen.
Nutcracker puzzle
It's that time of year, so why not give a gift that's festive and fun?
Snow candle
I love fragrant candles, and Diptyque is one of my favorite brands.
Bell ornament
A classic Christmas gift.
Linen desk agenda
Give the gift of organization with this beautiful desk agenda.
Bookshelf monopoly
A classic and fun way to give gifts – this monopoly set is quite pretty, isn't it?
Ruffled loaf pan
This loaf pan comes in a few different colors, and is a beautiful, elegant take on a classic loaf pan.
Waffle maker
We have a few of these waffle makers – they're so affordable and really take breakfast to the next level.
Olive oil
As a California girl, I can't not recommend Brightland's CA olive oil.
Olivewood cheese board
The perfect (tiny) little cheese board
Cheese knives
I feel like I've featured this time and time again, but these stainless steel cheese knives are beautiful. And bonus: they're French!
Spritz gift set
And my favorite. I love a good spritz, and this gift set really is the perfect gift.
Whiskey wedge glass
The perfect gift for the whiskey lover in your life.
Bluetooth speaker
Talk about a smart speaker – this bluetooth speaker is under $50!
Monogrammed Jute Tote
The perfect tote for running errands, trips to the farmer's market, or even keeping misc. items in your car organized. And I love that it can be monogrammed for that personal touch.
Peppermint bark
A classic, and I know peppermint is loved by some and not all, but I love Williams-Sonoma's peppermint bark.
Hot sauce
Something spicy for your spice-loving friend or family member.
Popper microwave bowl
How fun is this? We've been on a big popcorn kick, and this is more environmentally friendly than bags (healthier, too) and less high-maintenance than stovetop.
Salad servers
I've featured these before but they're so beautiful and affordable, so they're making my list again.
More Beautiful by Mark Sikes
I love this book by one of my favorite designers.
Margot Bracelet (my collab with Names for Good)
100% of proceeds from my Names for Good collaboration benefit childhood cancer research via Alex's Lemonade Stand. Makes a great gift for kids (and there's an adult version in white, too).
Baseball hat
My kids have a few of these Rey to Z hats – they are so cute (and fun).
Custom photo puzzle
My girls will each have one of these in their stockings, featuring their photo and favorite Disney princesses. Minted makes a bunch of different designs, and you can choose larger pieces for younger kids, or smaller, more complex puzzles for older ones.
Kids pajamas
I'm a real sucker for anything with a tree on a car, and these are awfully cute.
Baby sherpa booties
What's cuter than fuzzy baby booties? Nothing. Absolutely nothing.
Merry mouse
Have a baby or toddler to shop for? This merry little mouse is pretty cute, and under $28.
Fresh olive branches
Another great gift for the person who has everything, or something unique to bring to a holiday get-together.
Lemon ornament
Cody Foster ornaments are fun and whimsical (and priced very well).
This post contains affiliate links. If you purchase something using my links, I may earn a small commission at no cost to you.