Holiday Gift Guide: My Favorite Things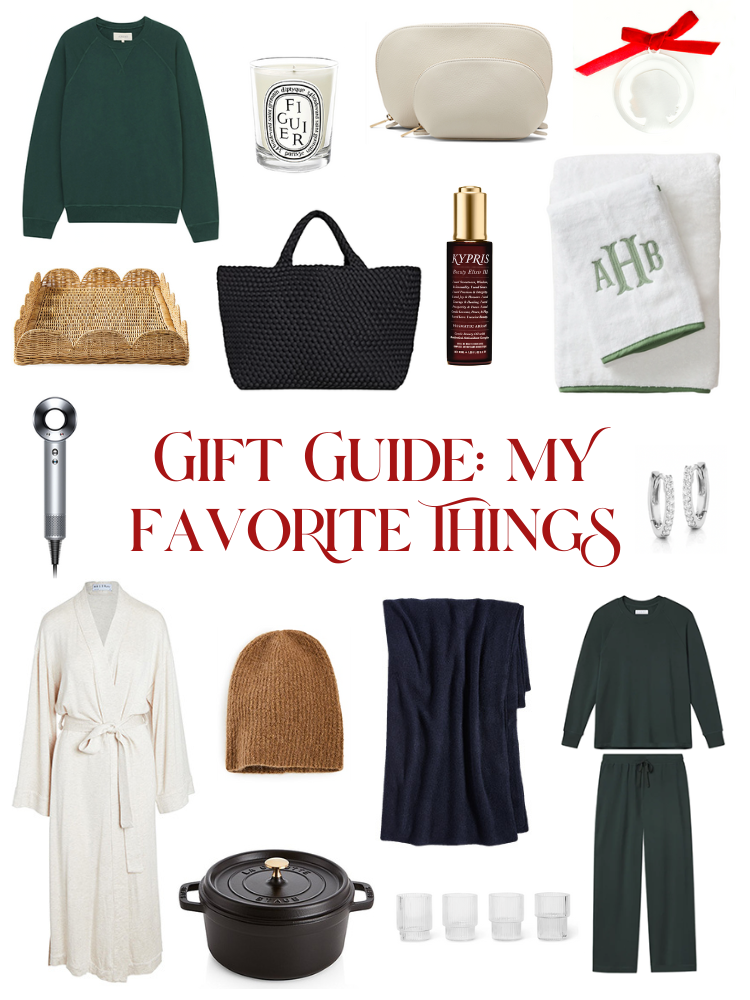 This holiday season, I want to put together a gift guide featuring some of my favorite things. Consider this my own version of Oprah's favorite things, except no one wins a car. These are all items I love and use all the time. Some I've been using for years, and others I found over the last year. I'm featuring a variety of women-owned brands and small businesses, and did my best to find something for everyone. Whether she loves travel, cozy pajamas, beauty, or the perfect work accessory, here are my favorite things to give this year.
Holiday Gift Guide: My Favorite Things
I really focused on gifts for the kids this year, so now's the time to start thinking about what we want this holiday season. And what to buy our friends, the ladies and fellas in our lives, in-laws, grandparents. I always love my favorite things lists, because these are the things I not only own, but love and use all the time. There's something for everyone, so I hope this makes your holiday shopping a little easier, and helps you with some ideas for yourself, too.
My husband and I usually keep gifts pretty simple. A few years ago, I asked for a set of ribbed drinking glasses. Zero regrets. I still use them all the time, and love them enough that they're still on my gift guide two years later. I found a great budget-friendly version, too.
The Great Slouch Sweatshirt
This sweatshirt has been a favorite item in my closet since 2019 And the good news is that there seem to be zero signs of the brand discontinuing it. It's lightweight but warm, perfectly oversized (the size 0 is very roomy on me and I am not a 0). Pair it with your favorite jeans or leggings for a chic yet casual vibe.
Vegan Woven Tote
This might be my favorite item of 2022, and it's definitely one of my most-used items the past year. I wore the ecru version all summer, and got the "mink" for fall and winter. It's lightweight, stretchy, easy to carry, and makes the perfect mom bag. Bonus: the company is female founded, and this bag is vegan! Founded by a mom of 3 in New York, the founder started this line to create something timeless and sustainable.
Stanley Tumbler
Ok, so this is one of those items everyone posted to the point that I didn't want one. You know, based on principle. But it came back in stock and I was like alright, I need to see what everyone's talking about. And I have used it pretty much every day since. In fact, it's on the table next to me as I work on this post. It's aesthetically pleasing, enormous, the handle makes it so easy to use, and it fits in every cupholder. Even the one on our stroller.
My Favorite Cashmere Sweater
This, like my cashmere wrap, is one of those items I have in a few colors (usually bought on sale). I got my first one years and years ago, and they're just so so soft. And perfectly oversized without being too oversized. We got one for my mother-in-law last year and she loved it.
The Softest Kimono Robe
I have this robe in two colors and pretty much live in it. I'm one of those people who can't really stay dressed in regular clothes at home. And after a shower, few things feel nicer (or cozier) than lounging around in a robe. It's super soft and the kimono sleeves feel elegant, so it's one of those items you won't not feel put-together in. I've given this as a gift a handful of times, and the recipients always love it.
Oversized Cashmere Wrap
This cashmere scarf is a splurge, but is so worth it. I have it in 4 colors (that's all I really need to say, right?), have owned them for years, and wear them any time I go out in the cold.
Diptyque Candle
This might not seem like an exciting gift to some, but I really think it's a lovely one. Buying someone a luxurious hand soap, candle, or body wash that they might not normally buy for themselves makes it an incredible gift. It's not especially unique, but it's one of those things they might not splurge on. And this Diptype candle is my favorite.
Diamond Earrings
It is no secret that I love Dana Rebecca. I actually got a new pair of diamond earrings for my birthday, but prior to that, alternated between my huggies, bar earrings, and studs. Huggies are the perfect, easy-to-wear diamond earring. They are 10.5mm in length, dainty, beautiful, and quite sparkly.
Monogrammed Towels
I've been using Weezie towels for a few years, and think these would be such a great gift. I'm pretty sure my sister doesn't read my blog (I don't expect her to, but this will be the ultimate test 😂) and I'm thinking she'd love these for Christmas.
Cashmere Beanie
One of those warm, essential but chic winter accessories that is both functional and stylish. I have this in camel and dark grey, and wear them all winter.
Dutch Oven
I have a few Staub pieces in black, and would lean toward a neutral color as a gift, unless you're helping your recipient grow a collection (in a specific color). Staub's enamel coating takes cast-iron cooking to the next level with improved performance, style and durability. And their pieces are beautiful enough to sit out on display in any kitchen. They're perfect for roasting in the oven, and for cooking soups and stews.
Ripple Glasses
Two years ago, I asked for a set of drinking glasses for Christmas. There wasn't anything I really wanted and they're beautiful, so I was thrilled with them. Perfect for orange juice, a cocktail, or an especially elegant glass of water. I
Conifer Relax Set
Talk about cozy. This set is new to me, but I have it in two colors and have been wearing it all fall.
Moisturizing Facial Oil
I've never been this committed to a single beauty product and my skin has never looked better. I use it twice a day religiously.
Hair Dryer
I've had this for years and years, and it's still going strong. A splurge, but one that's worth it.
Cuyana Makeup Bag Set
A classic must-have that I've owned for years and years. I've featured this time and time again, but it's such a great gift. It can be monogrammed, too! You really can't go wrong with this one.
The (under $300) Diamond Necklace
I've had this for years and couldn't love it more. It's simple, timeless, and looks good with everything.
Custom Silhouette Art
My silhouette art and ornaments are some of my most cherished possessions. I can't think of anything sweeter or more sentimental than a silhouette of your wedding photo, pet, or human baby.
Scallop Woven Tray
This gorgeous tray is so versatile – try it anywhere you need a relaxed vibe or extra storage. I have ours on the ottoman in our sitting room, and it houses books (and flowers) and if we didn't have young children, would hold my favorite Diptyque candle, too.
Ballet Flats
Timeless, beautiful, and women-owned. These flats are as timeless as Chanel flats but a lot more affordable. They are very comfortable, too, and are truly the perfect gift.
Eye Pods
I started using Westman Atelier products about 2 years ago and these eye pods are *chef's kiss.* This would be a great gift for the beauty lover in your life.
Luxury Lip Tint
Great branding and the feel of lip balm meets the perfect tint without the thickness of lipstick or stickiness of gloss. That made sense, right? My point? I love Henne's lip balm and lip tint.
This post contains affiliate links. If you purchase something using my links, I may earn a commission at no cost to you.