Recent Purchases: What I Bought in July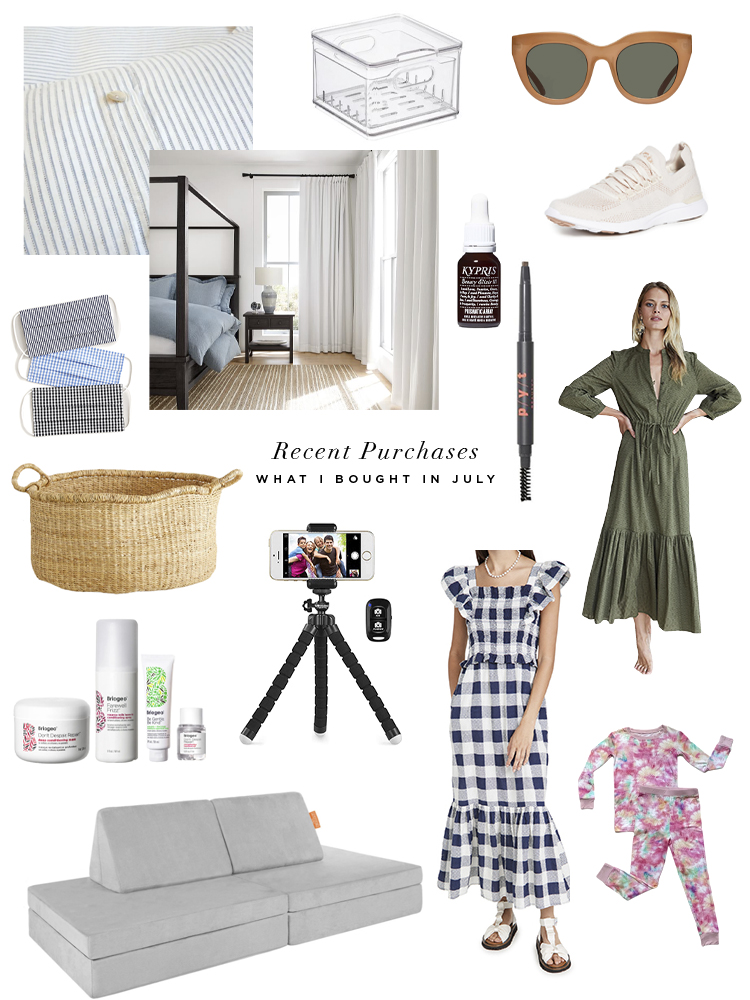 These posts always make me want to not buy anything the following month because how did I buy so much? Oof. But then  I look at these purchases, and they all make so much sense. 🙃 Lightweight summer masks, something for the girls to climb, fridge organization, beauty essentials, etc. I know the iPhone tripod might seem weird but I'm thinking of posting what I wear each day and this feels like the way to do it. And I haven't purchased new sneakers in years – it was time. Hoping those motivate me to start going on long walks again? Here's what I bought in July.
Recent Purchases: What I Bought in July
Duvet
We added this beautiful duvet to our bed.
Linen Curtains
Making some changes to our bedroom and added these linen curtains
Summer weight face masks
These are so lightweight – perfect for staying safe in warm weather.
Beauty Elixir
Just bought my 5th or 6th bottle of this magical elixir. It's my #1 skincare must-have. My skin has never felt better.
Brow Pencil
Filling my brows is the first thing I do and might be the one thing I'd choose if I could do anything to get ready for the day. I've been using this pencil for over a year now and love it. And bonus: it's clean!
Hair mask
The Briogeo hair mask is incredible so I purchased this kit
Floor storage basket
I bought one more of these for the play room
Bolga Basket
Ordered two more of these for the girls toys
PJs for the girls
I set alarms for three new designs this month. These PJs are the softest and stretchiest. Use this link and code MOSS15 for 15% off
Robot Vacuum
I bought a roomba but it was too loud, so I got this (recommended by a friend) and I love it.