My Favorite New (To Me) Products of 2021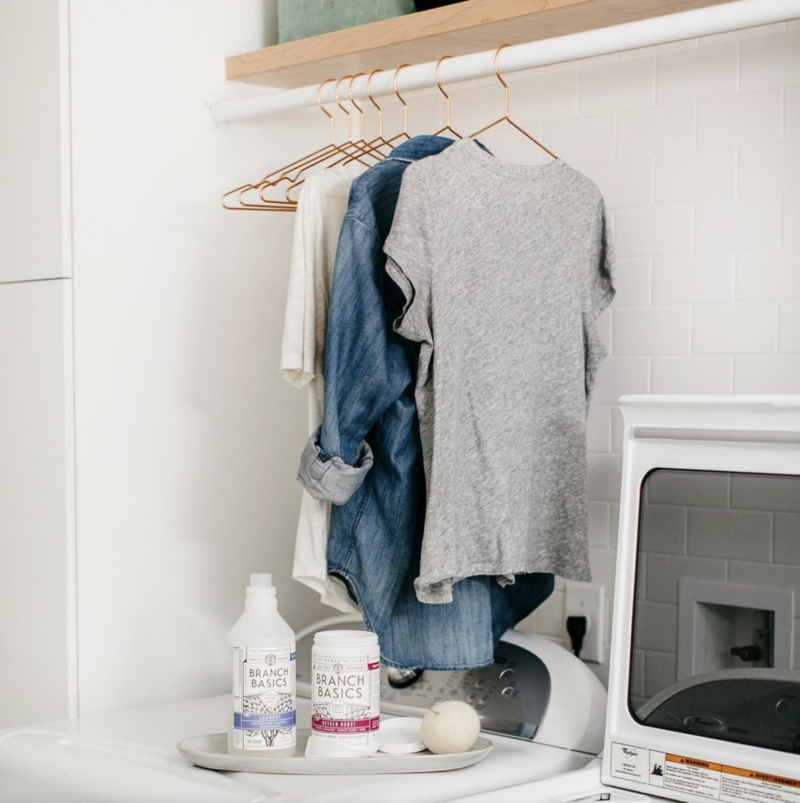 When I decided to put together a list of my favorite products from last year, I had no idea what a role cleaning and organizing would play. It was an unusual year – I spent a lot of time at home and have two young girls, so I spent a lot of time cleaning my home. A lot of the products I love and use daily I've owned for quite a while, but 2021 brought some amazing, new brands and products into my life. My home is cleaner (have you seen my shower?!), it's definitely more organized, and my loungewear collection has grown a bit.
The Best Brands and Products I Discovered (and Loved) In 2021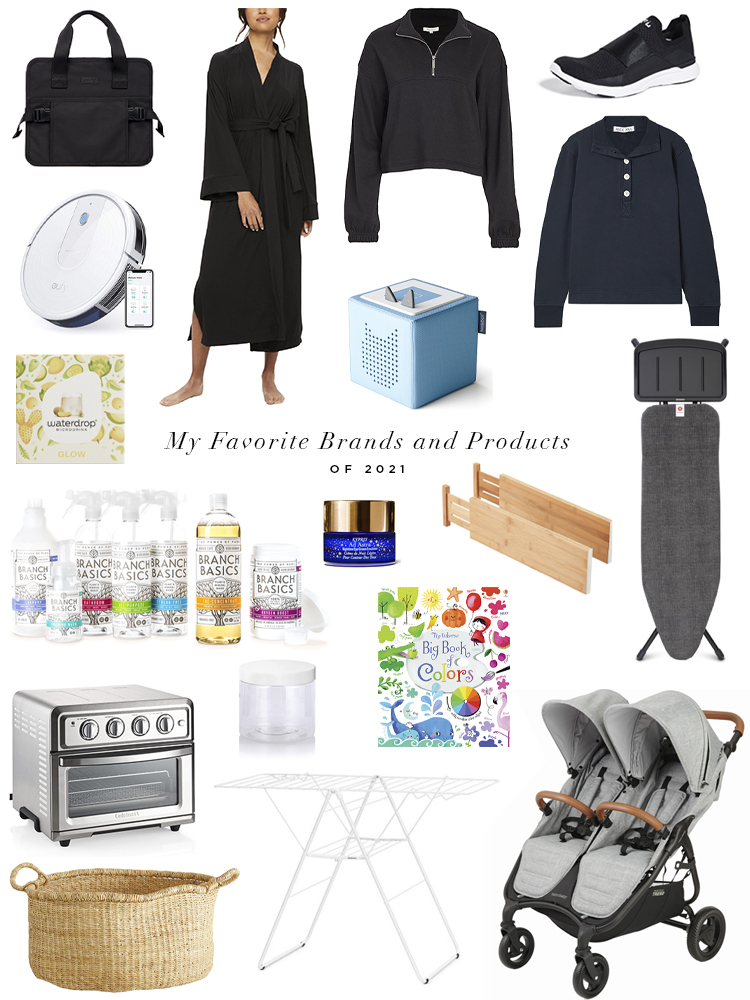 Branch Basics Starter Kits
You know I only use eco-friendly cleaning products, so when a friend raved about Branch Basics, I had to give it a try and I've been hooked since. The concentrate fills your streak-free, bathroom, and all-purpose cleaning bottles, so restocking is as simple as refilling, and you barely use any for one bottle. The oxygen boost is life-changing. I use it on our grout, upholstery, and laundry. Use the code MOSS for 15% off the Premium Starter Kit, Glass Starter Kit, and Laundry Kit.
Robot Vacuum
This nifty little gadget has been so good to us that I purchased an additional one for the second floor. Yes, I still have to sweep when someone (Kate) throws food all over the floor, but it tackles all the crumbs and whatever it is these kids drop on the ground, and even cleans our rug.
Drying Rack
Sensing a theme, but I really focused on cleaning and organizing this year, and purchased the largest version of this drying rack. I was so tired of never having enough places to hang clothes to dry and this holds so much more than a typical rack. It's sustainable, great for small spaces, and so functional.
Ironing Board
Our old ironing board was gross and hard to open. This board is sturdy, aesthetically pleasing, and with 7 adjustable heights, is very, very functional.
Air Fryer
My friend Jess Keys raved about her air fryer again and again (and again) and I basically had no choice but to buy one. She was right – we use it every single day. It is the best way to reheat pretty much anything, amazing for making veggies, chicken, frozen anything and everything. Reheated french fries sound sad but the air fryer makes them delicious again.
Waterdrop
My friend Jess made me try these, too. Or I should say that she convinced me. It's been months and months and the waterdrop obsession is still going strong. I was horrible at drinking water before waterdrop, so it's safe to say it changed my life.
Bamboo Drawer Dividers
Really went wild with all the organizing. But in all seriousness, these look like they were made for my drawers and spark joy.
Car Organizer
I keep one of these in my trunk and one in the backseat to hold the girls toys, extra diapers, hand sanitizer, wipes, etc. It's so nice having a place for everything.
Large Floor Storage Baskets
These baskets change the way we store toys and really changed the way my girls play. And bonus: they look nice in our living room! We keep our toys (by type) in these baskets and they hold everything from Duplo to all our wooden toys.
Jars for Toys and Craft Supplies
Another toy life-changer. I use these for lite brite pegs, to make mini sensory (clay) kits, Margot's tiny toys craft stuff etc.
Slip-on Sneakers
These are the most comfortable sneakers I've ever owned, and are just so easy to use when I'm solo with the girls. No untied laces, and they come on and off so easily.
Half Zip Sweatshirt
I love this thing. Have it in 2 colors and it's under $80! It fits TTS but I have a small and medium, and prefer the medium. I like sweatshirts a little oversized, so would recommend sizing up.
Fleece Sweatshirt
Toward the end of 2021, I found myself looking for something cuter than a basic sweatshirt. Now that it's winter and we're still isolated, I don't really go anywhere or do anything, but sometimes, want to feel a little more dressed without actually getting dressed. This feels like an elevated sweatshirt, and I wear it at least 2x a week, so it had to make the list.
Kimono Robe
The softest, dreamiest robe of my life. And it looks nice on. I have more than on since it has to hang dry and I always need one on hand.
Eye Cream
We're all pretty tired, right? This eye cream is a splurge but it is phenomenal and worth every penny. A little goes a long way, and it infuses your eye area with so much moisture, leaving you looking refreshed, even when you're not necessarily feeling that way.
Cordless Water Flosser
Feeling less and less cool as I go through this list. My dentist recommended this one after some insane dental work and I love it.
Double Stroller
I didn't love how the vista functioned as a double. Two friends that I trust recommended this stroller and I couldn't love it more. It's light enough to travel with, easy to use (open and close it with one hand)! "
First Aid Kit
This might seem random, but I keep one of these in the car, one in the stroller, and one in our home. I can't believe I spent the first almost 3 years of motherhood taking Margot to the park without a first aid kit. We haven't actually needed it but given all we went through, having something with us felt necessary. We have a larger first aid kit as well, but this is nice for minor bumps and scratches.
Toniebox and Tonies
I have raved and raved about the wonder of Tonies and it is hands-down the best toy of 2021. Both my girls love it and use it pretty much all day long. It's recommended for 3+ but my younger daughter has been into it since around 15 months, and started using it independently early on. I'd say 1.5+ is the perfect age to start, but know it will get years and years of use.
Usborne Books
A friend recommended these books and both my girls love them. This book and the 1001 Things series are my 2 year old's favorites.
Thank you to Branch Basics for sponsoring this post. Branch Basics is a brand I love that I've been using since placing my first order in April 2021. I may receive a commission on the items in this post, at no cost to you. As always, I hand-selected everything featured in this post and only share items I love and recommend.