Recent Purchases: What I Bought in May
Temps (finally) started to warm up and I found myself needing (ok, wanting) some new summer basics. Then I splurged on a new pair of sandals. I never (ever) spend that much on shoes but got them (in the chestnut color) for my first Mother's Day and wear them all …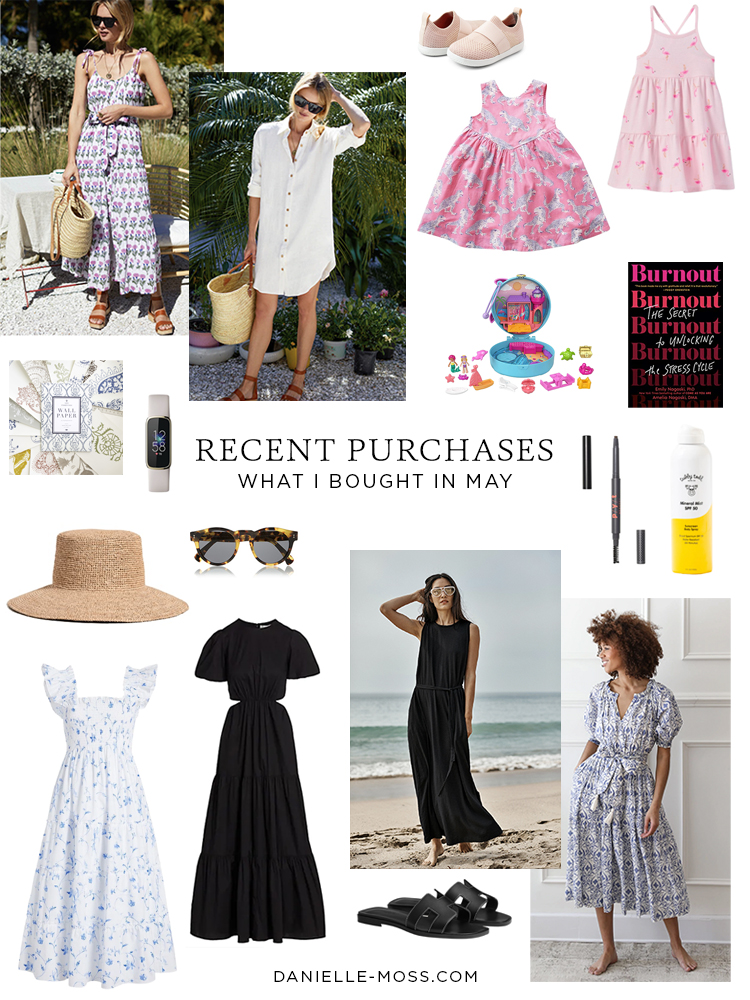 Temps (finally) started to warm up and I found myself needing (ok, wanting) some new summer basics. Then I splurged on a new pair of sandals. I never (ever) spend that much on shoes but got them (in the chestnut color) for my first Mother's Day and wear them all the time, so I went for it. They are the best, and have been my most-worn sandals to date. I love them so much that I actually wrote an entire blog post on my Hermes sandals. Here's are my recent purchases: what I bought in May.
Recent Purchases: What I Bought in May
It happens every year. I find myself excited for the warm weather and end up wanting more dresses. But in my defense, I wear dresses almost every day when it's warm. But living in Chicago, I live for warm days where I can be outside. Long walks, pool days, patio lunches – it's the best. I'm also putting a real effort into moving my body more and at the recommendation of a good friend, purchased a fitbit. It's been great so far and definitely keeps me in check.
Every few months, you'll see my brow pencil in here. I don't wear a lot of makeup but always (always) fill in my brows, even if I'm just going to get a workout in. Makes such a difference for me.
And let's discuss these dresses. I have been loving Mille – the dresses fit so well and the prints are beautiful. While I'm sort of known for my neutrals and the fact that I don't like a lot of color, I couldn't resist this Emerson Fry block print dress. The cut is so great – it can be worn with or without the belt, and it's such a pretty print.
You can see how these dresses fit on LTK and in my instagram highlights.
This post contains affiliate links. If you purchase something using my links, I may earn an affiliate commission at no cost to you.