Gifts for The Home
I have a few more gift guides to go, and today, have one of my favorite categories for you. These are the gifts for new homeowners, or for your best friend or family member who loves home decor. I've included gifts at various price points from women-owned shops, and black-owned …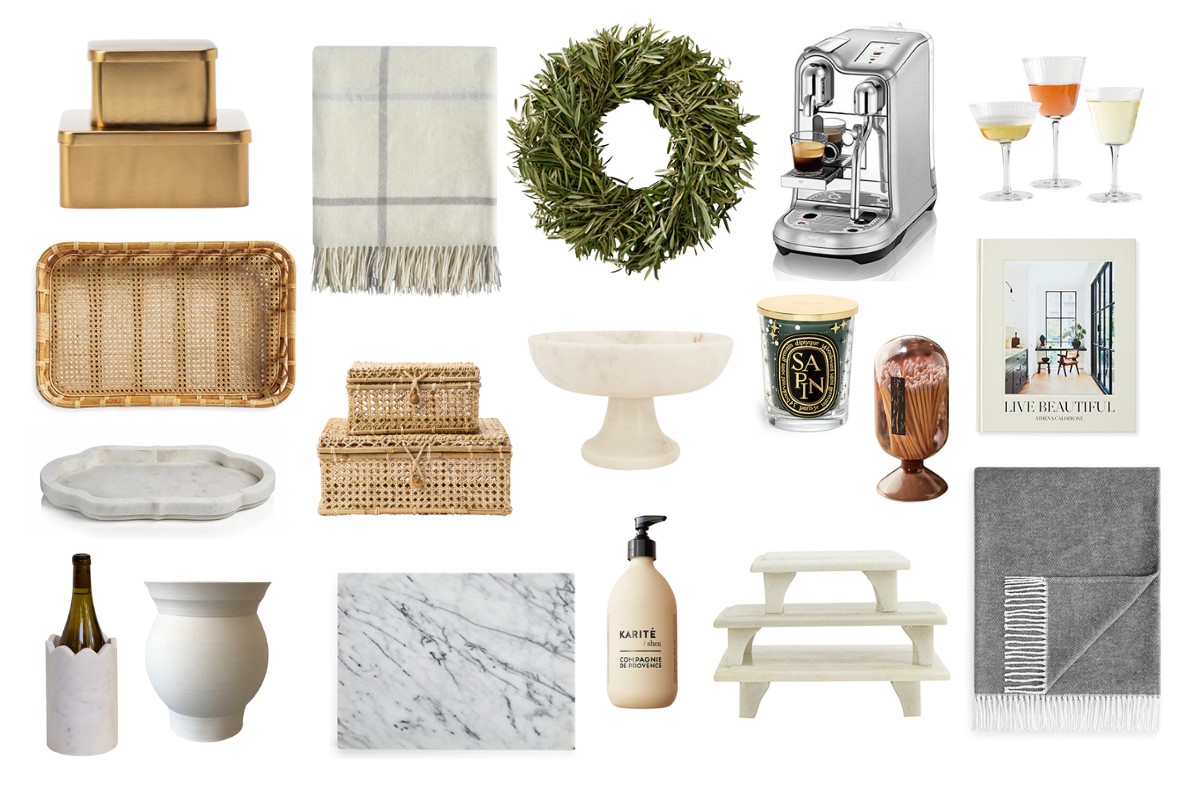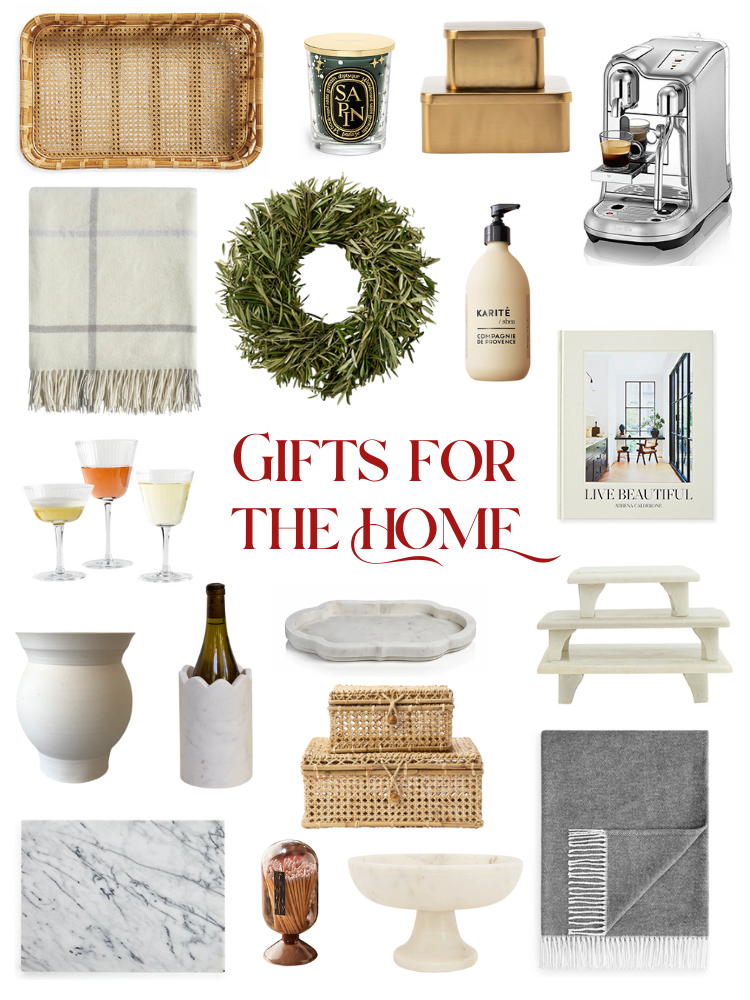 I have a few more gift guides to go, and today, have one of my favorite categories for you. These are the gifts for new homeowners, or for your best friend or family member who loves home decor. I've included gifts at various price points from women-owned shops, and black-owned businesses, too. From a cozy throw or hand soap to a candle or the perfect marble accessory, these are the best gifts for the home. Shop the rest of my gift guides here.
Gift Guide: Gifts for The Home
If you're looking for a thoughtful gift for someone who loves home decor, or for the best housewarming gift for a new homeowner this holiday season, I've got you covered. Because it's that time of year, and while the following list would all make great holiday gifts, they'd work for any and all special occasions. These are the best gift ideas for the home.
Marble Tray
This would be such a great gift – it's a beautiful (unique) marble tray that would work well in any living space.
Nourishing Shea Soap
A thoughtful holiday or housewarming gift, pair this beautiful hand soap with some tea towels and a candle.
Quilt
I have really fallen in love with block prints and this pattern is beautiful. Made of cotton voile, this cozy, easy-to-layer quilt would make the perfect gift.
Wicker Ginger Jar
I love ginger jars and all things woven. So this modern take on a traditional ginger jar feels traditional but unique, too.
Metal Box
Crafted from iron in a brass finish, this box is sleek, stylish, and bod. Another great housewarming gift for your friend or family member with a new place, or for those who love decor.
Espresso Machine
I've featured our espresso machines time and time again – it's one of my top picks for home gifts. This is a splurge, but it's a great gift for coffee lovers and makes a fantastic latte.
Pine Tree Candle
I love Diptyque year-round, so when the holiday season rolls around, consider a holiday-scented candle.
Match Cloche
If you're looking for small gift ideas for the home decor lover, this is the perfect gift – it's both pretty and practical.
Marble Pedestals
These footed trays are crafted from white marble with subtle hints of cream-colored veining. Perfect for serving hors d'oeuvres or cheeses, or for giving your centerpiece a boost in height or as a base for your houseplants. Or use it on a dresser to store accessories.
Vase
This handmade vase from Domain by Laura Hodges Studio is a beauty.
Live Beautiful
In Live Beautiful, by Athena Calderone of EyeSwoon, Athena reveals how carefully crafted interiors come together. She also opens the doors to two of her own residences. With each homeowner, Calderone explores the initial spark of inspiration that incited their design journey.
Marble Platter
What can't you do with this affordable platter? It's under $50 and works perfectly as a cheese board. Cool white marble serving platter with grey veining unique to each piece makes a sophisticated presentation of cheese, charcuterie, breads and crackers.
Silver Frame
Another gift I've featured year after year, traditional options like picture frames are classic. And this one is timeless and chic.
Cane Boxes
Marble Footed Bowl
This footed bowl makes a big impact – it's a gorgeous piece. Timeless, simple, and sophisticated, this classic pedestal dish is crafted from cool white marble, with touches of cream and grey veining that make it completely unique.
Cashmere Throw
This cashmere throw is under $150 and is made of 100% Grade-A cashmere. Give the gift of luxurious comfort in an elevated plaid.
Etched Glasses
These wine glasses featured etched fluting and clean, gently tapered profiles. Subtly textured with sturdy shams and stems, these are perfect for everything from water to wine or cocktails.
Wine Chiller
The perfect (beautiful) home to keep a bottle of wine cool. A great gift for the wine lover, and it's beautiful, too.
Cane Tray
This tray sits on our kitchen island, and houses all our miscellaneous "stuff" along with a lavender-filled urn.
Olive Wreath
This fresh olive wreath from Williams Sonoma makes a great holiday gift, but would look beautiful post-holidays too.
Olive Oil Bottle
Give the gift of beautiful olive oil storage. This bottle is a handsome addition to your counter or table. And a stainless steel stopper ensures your finest oil pours easily from this wheel-thrown bottle.
Marble Ripple Bowl
Solid chunk of Banswara Marble ripples round and round in impressively handcrafted bowl made in India. Ivory in color with subtle brown veining throughout.
Tea Jar
You can't ever go wrong with blue and white, and this small floral tea jar is a great way to start or add to your collection. Use it to store espresso/coffee pods or tea.
Live Now by Victoria Hagan
One of my favorite designers released yet another design book in late 2021. These are always go-to gifts since they are both enjoyable to look at and beautiful on display.
Water Hyacinth Basket
This decorative bowl is ideal for holding fruits or other table produce. Ecovibe gives 1% of annual online sales to environmental nonprofits doing important work across the globe.
Throw Blanket
Nothing says cozy like a new throw. I love giving a great throw blanket or throw pillows, but be mindful of the the decor of your gift recipient. Choose something that feels like them.
This post contains affiliate links. If you purchase something using my links, I may earn a small affiliate commission at no cost to you.