Where to Buy Gallery Wall Frames and Art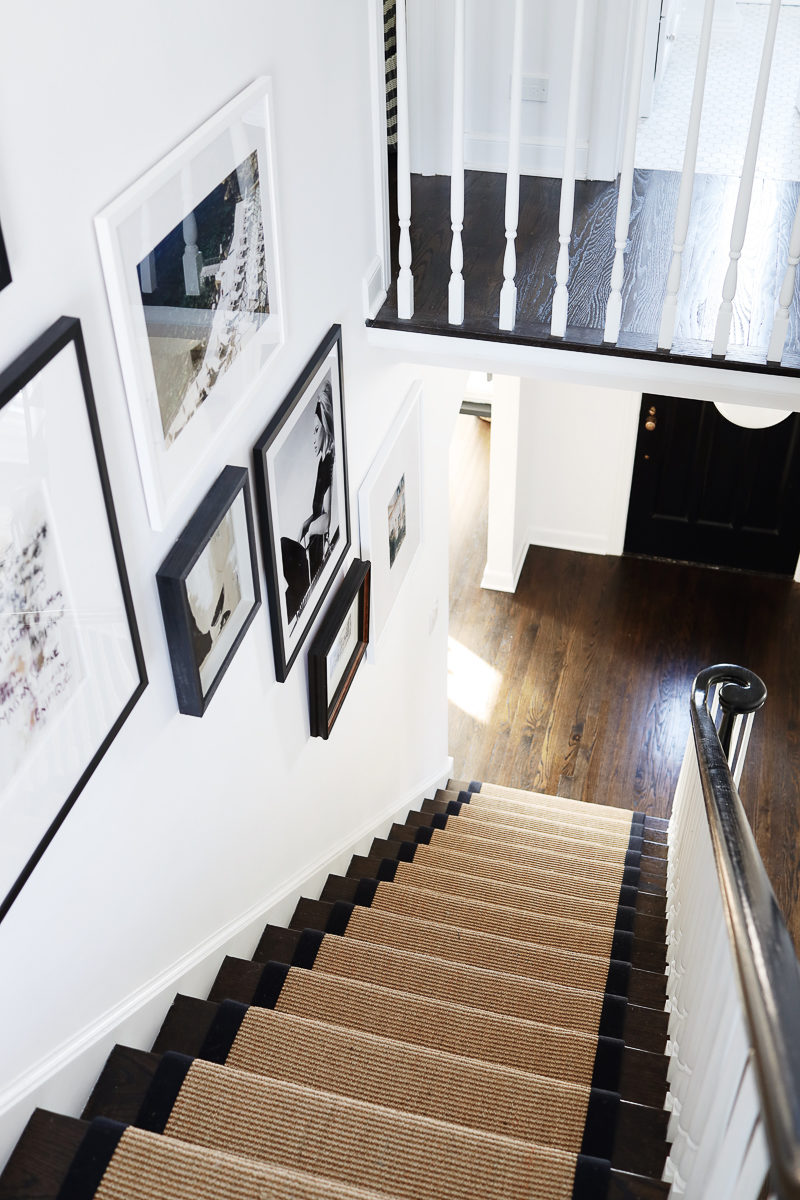 When we took down our stairway gallery wall before our move, seeing all our art got me thinking about a few things. About the gallery wall hanging process, picture frames, and some of my favorite pieces of art, too. Gallery walls are a good way to fill both a large or small wall, and look great in every room from dining rooms to living rooms. You can mix different style frames to create a photo wall or mix and match frames to add interest. I personally love an eclectic mix of photographs and paintings. So I thought I'd share some favorite gallery wall ideas with you. I've put up a few gallery walls over the years and have relied on everything from Minted prints and photographs to paintings and vintage pieces to fill them.
Gallery Wall Ideas: Where to Buy Frames and Art
Gallery walls are a great way to make a space feel complete. Some might call them trendy, but they are in fact, timeless, and have been around for centuries. Yes, centuries. It's really about the art and frames. Have you stepped inside an RL restaurant? The typically grasscloth walls are covered in beautiful artwork and have such a classic, timeless look. From perfect grids or a triptych to an eclectic mix of frames to fill a large blank space, they are a timeless trend that when done right, can look classic with a contemporary edge.
Since a collection of photos and art adds interest to white walls, gallery walls are great for rentals. They're an affordable way to mix new pieces and vintage finds, too. It's the easiest way to fill a wall – add art from different sizes in any room of your home. And creating a beautiful gallery wall isn't as hard as you might think, and wall decor doesn't have to be expensive. You can find art and frames at an affordable price.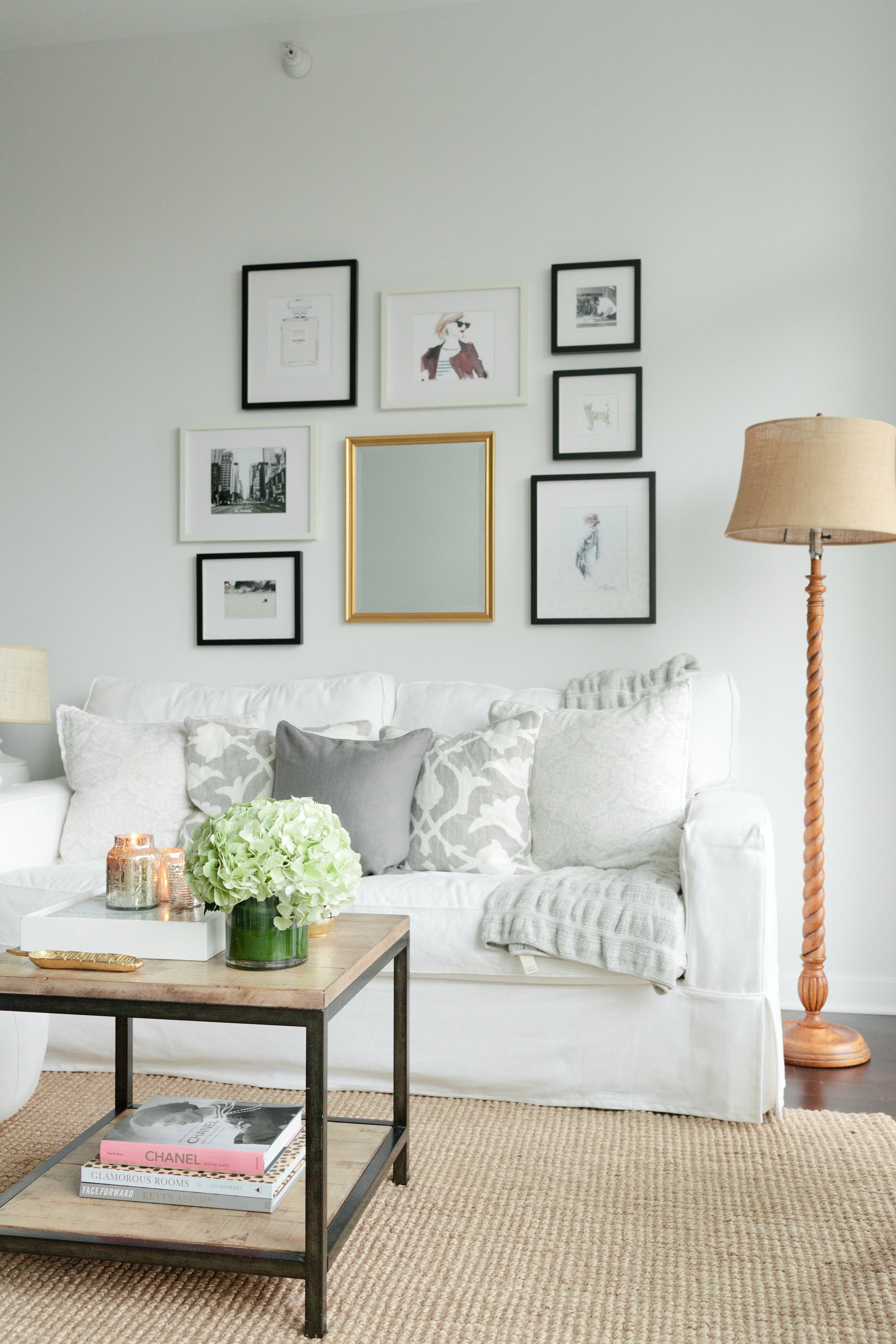 My living room gallery wall
Here's a look at the gallery wall from the living room in my first Chicago apartment. It's a smaller gallery wall comprised of a flea market find mirror and wooden frames from Pottery Barn. A gallery wall adds interest to small spaces, and looked so good in my 600 sq. foot apartment. As you can see, I stuck with my typical neutral color palette, which is a great way to tie pieces together. Consider frame size, adding a few of the same size, and then some smaller and larger frames. I added a mirror as a focal point, and steered clear of larger pieces altogether.
Gallery walls are a fun way to add visual impact to a small space. A mix of white and black frames with a gold mirror, filled with a few simple prints, photographed, and even family photos made this an easy and budget-friendly gallery wall. The photo on the top right is one of my favorite photos of my grandfather at work. It's a fun way to add personal touches like family photos and mix them with things you love.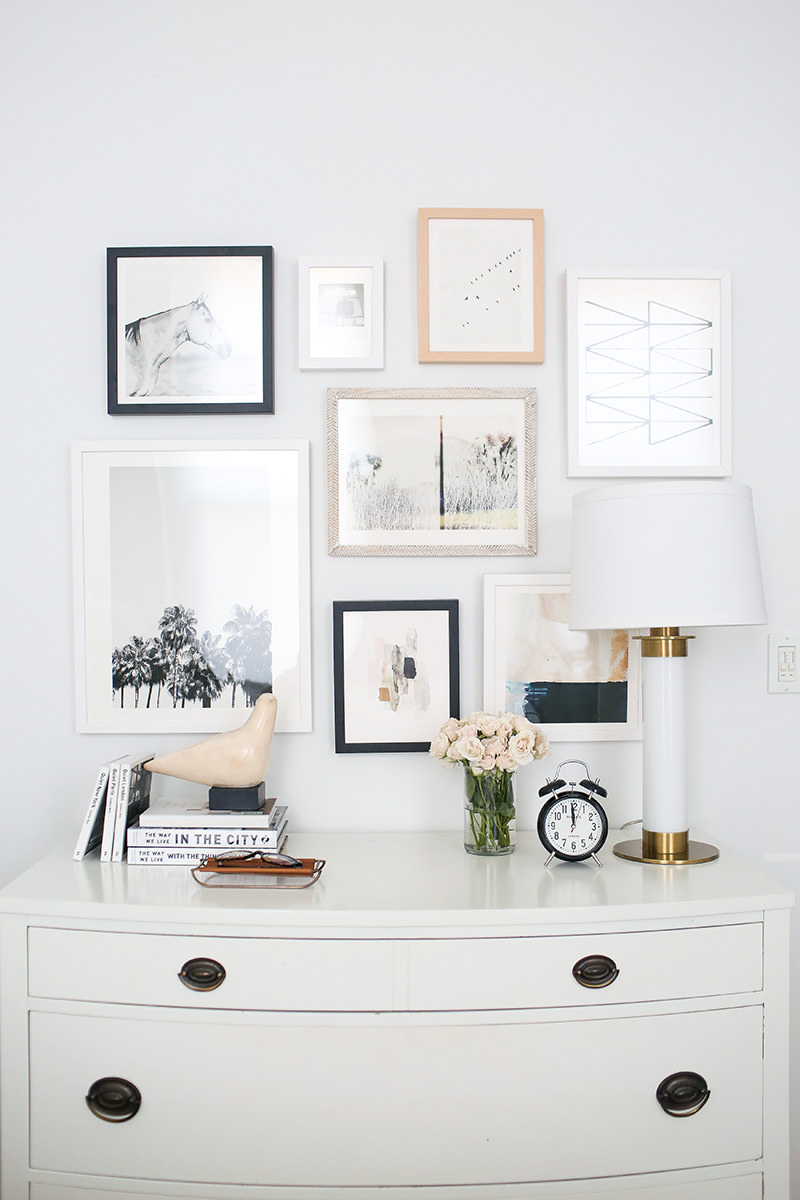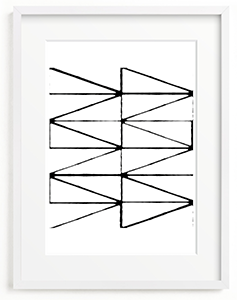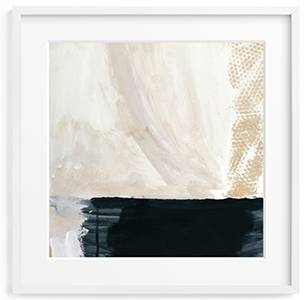 What you'll need to hang your gallery wall
All you'll need is a measuring tape, hammer, picture hooks, and nails. The first thing you'll want to do is start with a blank wall. Measure the wall space where you'd like to hang your art. If you're creating an eclectic gallery wall, things don't have to be perfectly lined up or centered. I do like to have tape on hand if needed but I don't usually use it. I do always use a nail to mark where a frame should go after holding it up on the wall, even if I've used a photo to figure out where everything goes. Hold each frame up, make sure it's in the right spot, and draw a line at the top of the frame. Then measure from the top of the frame to the wire or nail hook.
Gallery Wall Supply List:
Gallery wall art
Pencil
Tape
Picture hanging nails (or screws and anchors but I prefer nails)
Hammer
measuring tape
Art. You'll need art. Gather your favorite art prints, photographs (a mix of landscapes and personal are always nice), sketches, and paintings. I personally love a mix of black and white with a little (mostly muted) color. And I love a touch of blue, too.
For the most part, I tend to stick with wood gallery frames (I'll link to some favorites below) but like a mix of vintage and brass frames.
Choosing art
A cohesive gallery wall doesn't mean that all the pieces have to be the same type (all photography) but it can mean that. Consider a color palette that flows together, large-scale black and white photography, or sticking to one subject matter. Try to keep your pieces similar in tone and style.
Assuming you're not creating a perfect grid, be sure to mix portrait (vertical) and landscape (horizontal) prints. This makes the gallery wall look more interesting. And mix up frame colors, sizes, and styles, too.
How to hang your gallery wall
The first step is to find all of the art you want to include in your gallery wall. I prefer a mix of mediums and sizes, so photographs, prints, and paintings in various sizes and frames sizes. Consider adding a mix of black and white frames, and some natural and gold frames, too. Add a mix of white mats in various sizes. Different shapes and sizes add interest, and fill in larger spots on an otherwise empty wall.
Next, you'll lay your art pieces on the floor to create a gallery wall layout. It's a good idea to start with the biggest piece and work around that. If you're super type-A (like I am, yet I strangely do not do this) try creating the gallery wall out of painters tape. That sounds like way too much work for me, and takes away the creative esse of putting it together like a puzzle, which I actually kind of enjoy. So you could do what I do and just lay it all out on the floor. Take a photo on your phone and start hanging. Easy enough, right?
There wasn't a way to lay everything out for our stairway gallery wall in advance. To do this, I started by hanging the largest piece and add smaller pieces around it. Always start with the largest piece (or pieces) and go from there. The best way to do this method is to hang the gallery wall with someone. Have them hold pieces up before hanging them.
Gallery wall layout
Gallery wall art arrangement is the hardest part because the options are endless. This is, without question, the hardest part. But I also think it's just the part that feels the hardest. For me, once I get going, I'm in a groove and it all comes together. If you're struggling, look at Pinterest or follow some of your favorite designers on instagram. The most popular arrangements are grid and asymmetrical. Both have their positives and negatives. Grid-style gallery walls are clean and sophisticated, but require exact measurements, which stress me out a little bit. Keeping things level is a challenge. But asymmetrical? That's the dream for me. It looks good but doesn't have to be perfect.
Gallery wall spacing
A good rule of thumb for a good gallery wall is to make sure there isn't too much space between art. There aren't specific rules that I follow, but there is a wrong way to hang a gallery wall. One of the most common design mistakes I see is too many small frames with too much white space between them. It always ends up looking a little awkward. White space is ok, and it doesn't have to be a symmetrical grid. Frames should be close (some closer than others) and do not need to be perfectly even. I'm telling you – I love the look of an eclectic gallery wall and how they are just about going with it.
Creating a grid-style gallery wall
If you want to create a more clean, modern look, try a grid arrangement. This can be done in 2 or more rows. If you create a grid-style gallery wall, spacing should be perfect, and all frames should be the same size.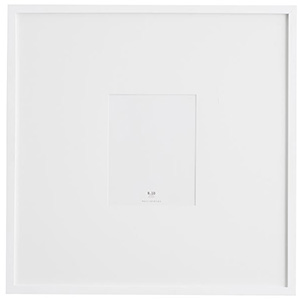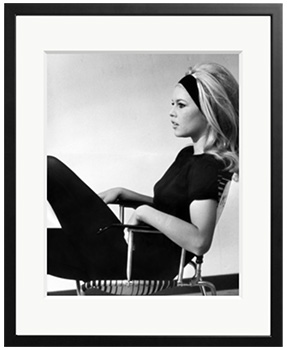 These oversized Pottery Barn frames are great mixed in a gallery wall or paired together, stacked or in a large grid. If you're creating a grid, you'll want to use a level to create a straight line. That's why I tend to prefer an "imperfect" gallery wall – there's zero pressure for them to be perfect. Beautifully crafted, these clean and simple frames bring museum quality to your walls. With multiple styles, finishes and set sizes to choose from, you get to curate an inspired display that mixes found art, favorite photos and treasured letters. Designed for vertical or horizontal display, whether set on a tabletop or mounted to a wall. Mounting hardware is included.
My favorite gallery wall frames
I love this gallery frame set from Pottery Barn but prefer to buy single frames (I'll link those in a second). These are my favorite wooden frames that I've used throughout my homes. They come in varying sizes with different mat sizes as well. I really like a larger mat with smaller photo which adds some interest to your photograph.
These are my favorite black gallery wall frames. I love the two largest sizes with larger mats – they really make an impact.
These are the most affordable frames but I do strongly prefer the Pottery Barn frames. The IKEA frames will do the trick, but the mats are just too small for me. You could order new mats but that sounds like an ordeal, and the Pottery Barn ones are, in my opinion, a worthwhile investment.
Some of favorite places to buy gallery wall art
I shared a roundup of affordable wall art in this post but will share some favorite resources as well.
Minted is one of my favorite sources for budget-friendly (and large scale) wall art. There are quite a few frame options to choose from (over a dozen!) and most prints come in large-scale sizes. You're able to see a size chart of how large the piece is next to someone for reference which really helps. Minted also offers a few types of paper options – my favorite being the archival option, but they're all great. Most (not all) pieces can be matted, and I love a good, crisp, white mat.
Artfully walls is another great source for unique, affordable art. They're available at artfullywalls.com and at Anthropologie. I love their frame selection (they're beautiful) and the designer picks are so helpful if you need some assistance choosing pieces.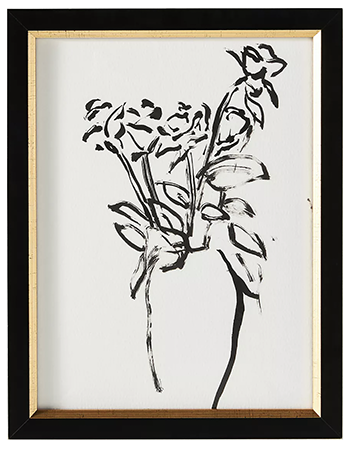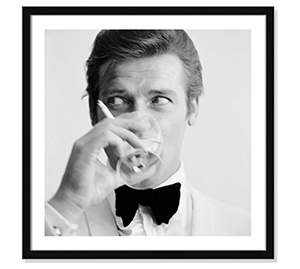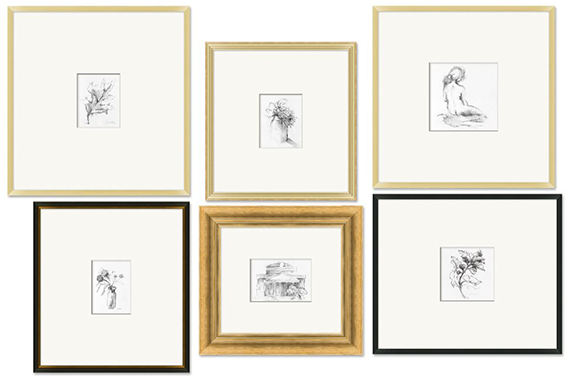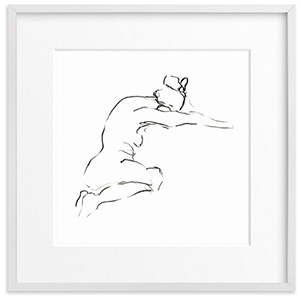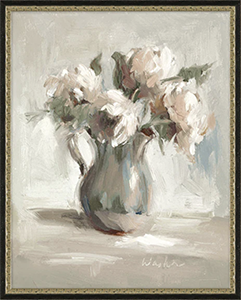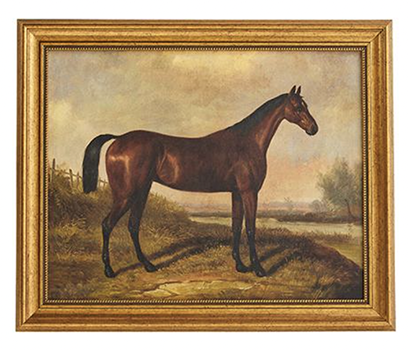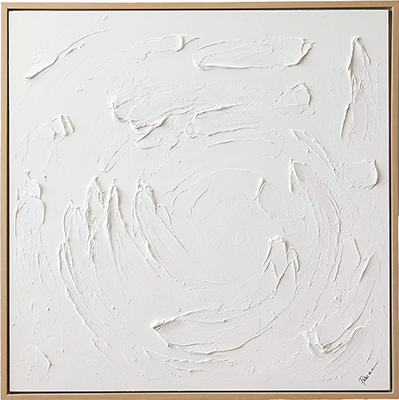 This post contains affiliate links. If you purchase something using my links, I may earn a small commission at no cost to you.