Timeless and Tasteful Easter Decor Ideas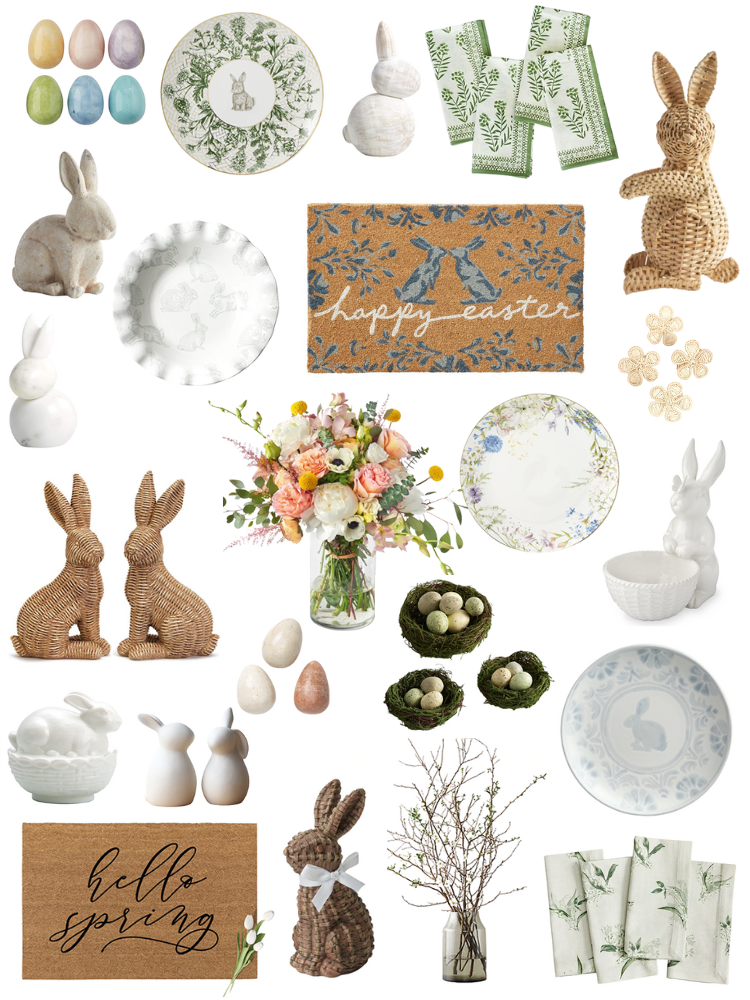 Easter is one of those holidays I never decorated for before kids. It started out with Easter baskets – see my favorite Easter basket stuffers here – and then a few Easter eggs. But when you have two bunny-loving little girls, things change. And when winter is never-ending, spring decor can be good for the soul. Enter the bunnies and outdoor Easter decorations for our front porch. Easter decor is the perfect way to kick off the start of spring. Warmer weather, spring flowers, and tree branches. So today, I'm rounding up some tasteful Easter decor for your living room, front door, and little touches to place throughout your home.
Timeless and Tasteful Easter Decor Ideas
Nothing says spring is here like a beautiful spring wreath, pastel colors, and beautiful tablescapes for an Easter brunch. I'm planning a lovely Easter brunch at home in our new dining room, and we'll finally use our dining table for the second time. I don't usually buy dishes for holidays, but there are some beautiful spring napkins and other finds that work as Easter table decor. The best part (for me) has to be the flowers. I just filled a flower pot with some TJs spring blooms and they're pretty uplifting. No, you don't need an egg wreath, eggs, and bunnies all over your home. Keep it simple with a couple small things and some spring flowers.
I've included some decorative eggs, Easter table settings, and some rattan bunnies (just ordered the standing Pottery Barn one) – all timeless decor that will look beautiful in your home. But it's enjoying all the things that start the spring season that I really love. Nests and baskets of eggs, rattan bnnies in the family room, and something festive for the coffee table. Here are my favorite Easter decorating ideas.
This post contains affiliate links. If you purchase something using my links, I may earn a small commission at no cost to you.