Easter Basket Ideas for Babies, Toddlers, and Little Kids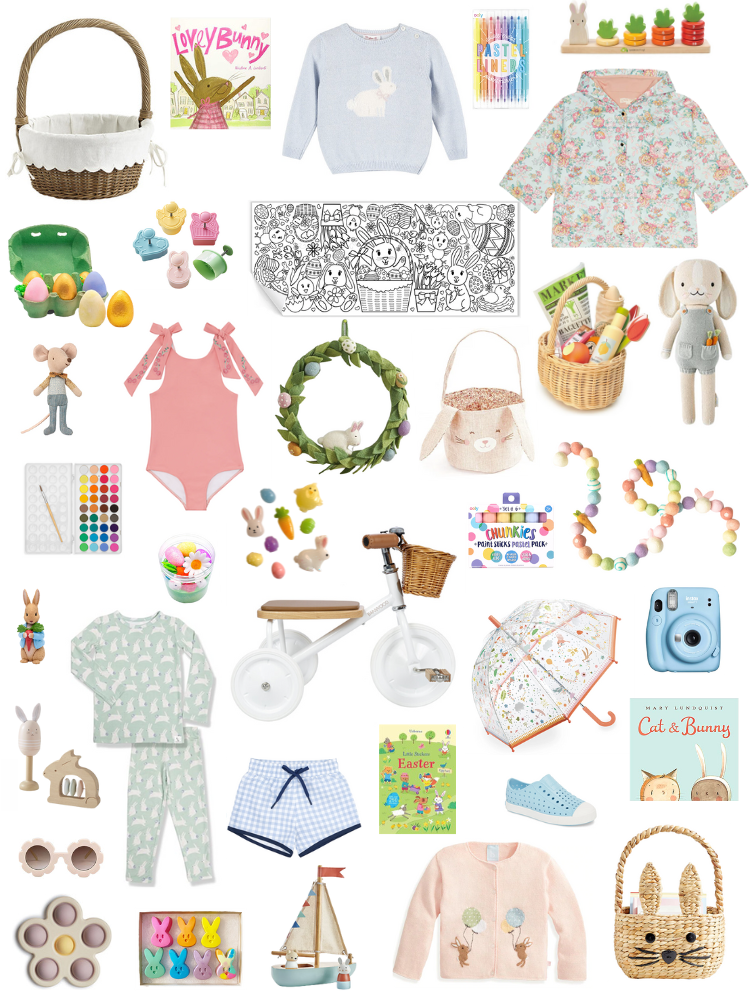 Easter is two months away, so I realize I'm early with this one. But – Easter baskets sell out pretty quickly and the decor and pajamas are already out in stores. I'm keeping our baskets simple, as I always do, with a book, some art stuff, and a small toy. You could do a theme: outdoor toys, swimwear, a bubble machine, sidewalk chalk or crafts. Or a mix of some simple favorites: stickers, wooden toys, books, pajamas, and chalk. And don't forget the easter eggs filled with jelly beans and other sweet treats. If you're shopping for a baby, toddler, or child in the 3-4 range this year, here's what to buy. Here are my Easter basket ideas for babies and little kids.
Easter Basket Ideas for Babies, Toddlers, and Little Kids
Kids' Easter baskets are one of those things I didn't think I'd enjoy so much, but it's so fun seeing their little faces on Easter morning. If you have a baby or little kid, these are some of my favorite Easter basket ideas that they are sure to love. We love indoor Easter egg hunts when it's too cold, but I'm hoping for a Chicago miracle so we can have one outdoors this year. I've included some great ideas for your own baskets that your kids are sure to love. You can use Easter basket fillers but I gave up on those and just stick with pajamas and small toys.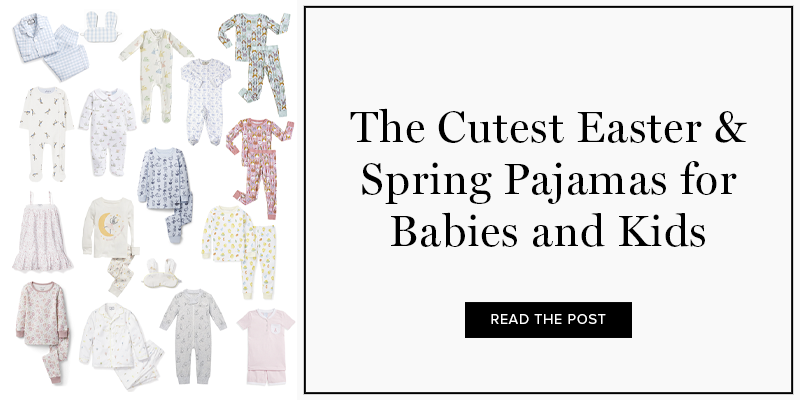 Easter Baskets and Bags
First up, the basket. They tend to sell out quickly, so if you're going to do anything early, this is it. We have this one, and I love the simple, traditional look. It's such a beautiful basket and is brought back year-after-year, so I just got a third one for our little guy. But if you prefer something simple, consider a little tote, purse, or bucket bag. If you don't want to go the personalized route, these Easter basket tags are a cute option for non-monogrammed baskets.
Easter Basket Springtime Books
I always love books as gifts and they are a great addition to an Easter basket. My girls love to read, and when you find a favorite book, they're fun to give. We have holiday-specific books that we bring out seasonally, and it's always fun to bring them out. I've included some great options below.
Crafts and Creativity Easter Gifts
Craft supplies are some of my favorite gifts to include, because most are simple, affordable, and will offer hours of fun. The sensory kit pieces are just the right size for little hands. I cannot recommend the sticker books and coloring banner enough. And a tip: if you buy the banner, tape it to the floor and let the kids go wild. it's huge, so if you want to get more out of it, cut it in half. Ooly makes some of my all time favorites when it comes to art supplies for both little and older kids. Crafts always add some fun bright colors to your basket and make for great Easter basket stuffers for kids of all ages.
Easter Gift Ideas: Wooden Toys, Dolls, and Stuffed Animals
Simple wooden toys, puzzles, stackers, and figurines are always a fun addition to an Easter basket. If you have a Toniebox, the peter rabbit figurine would be a great gift. If you don't have a Toniebox yet and have one or more children age 1-5, I cannot recommend it enough. We are good on stuffed animals but my kids love Maileg mice, so I'll probably get them each a mouse or bunny. I don't know what it is about those mice, but they are all over our house.
Clothes, Accessories, and Pajamas
Outfits, pajamas, and accessories can be fun, too. At the very least, some seasonal pajamas and maybe some bunny ears to make things festive. But this is a great time to choose functional items that your kids will need for spring and summer. Think: sunglasses, dresses, hats, and waterproof shoes.
Swim and Outdoor Easter Basket Gifts
Swimwear and outdoor gear always make for fun Easter basket ideas. Rain boots for splashing in puddles? Easter baskets can be a fun way to give them something they actually need.
Easter Decor and Baking
Here are a few fun gifts for making Easter treats and adding some festive decor for spring.
This post contains affiliate links. If you purchase something using my links, I may earn a small commission at no cost to you.