Our Favorite Toddler Friendly Activities To Do at Home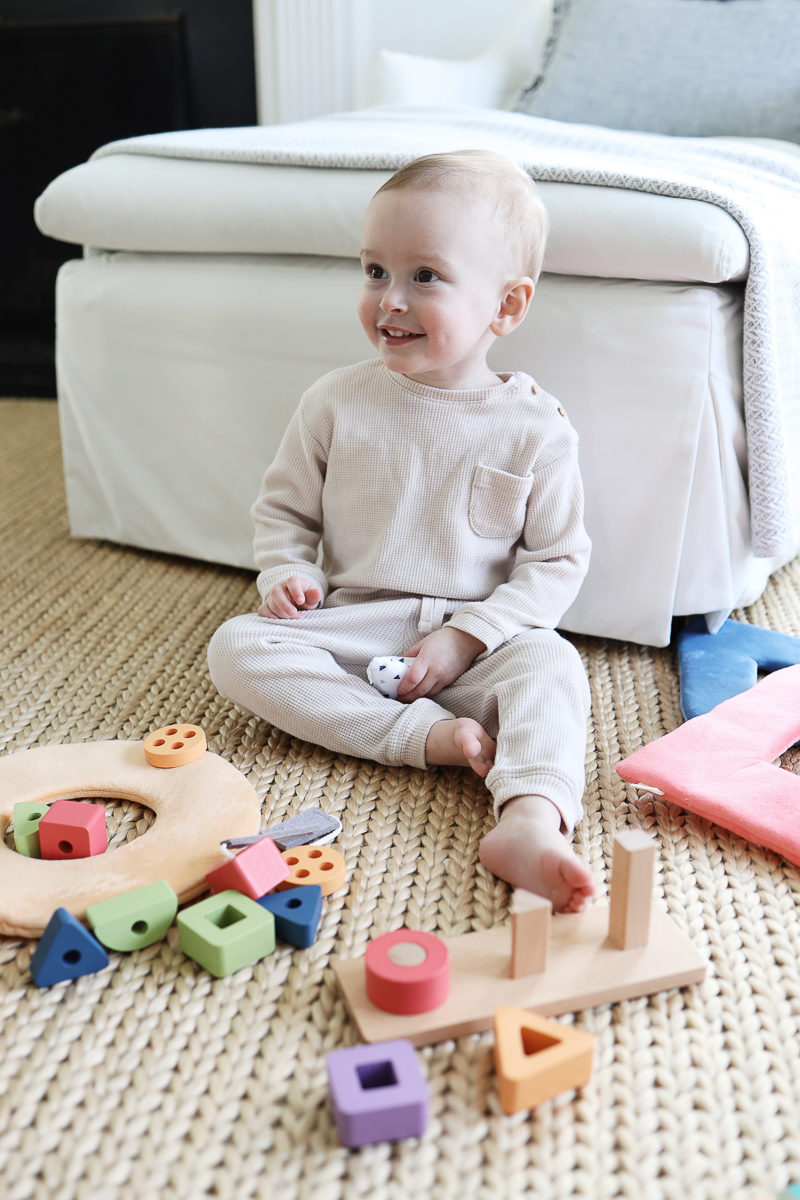 We're one month into self-isolation with our toddler and both my husband and I have been working from home without childcare. If you're new here, I'm one of the founders of The Everygirl and The Everymom so everything I do can be done online (minus a few photo shoots all happening at home), and Conor is a realtor here in Chicago and has been working on admin/orders for Anecdote. Since we're lucky enough to be able to be at home, isolating started early along with the decision to have our nanny stay home to keep everyone (her, us, and our community) safe.
Working from home hasn't been an adjustment, but never leaving the house, not seeing anyone, and working without childcare has come with its challenges. We're making it work and I have loved the extra time with Margot, but figuring out how to work with a toddler is…hard. It's best to have set work times when possible, so we will each try to get a few hours of work in while the other parent is on Margot duty. Each morning, we go over our schedules so we can figure out when and how to split our time.
I've tried to make being at home fun with some new and exciting toys and activities and today, want to share what's been working for us. I'm teaming up with Julia of Lemon Stripes (mom to Amalia, 2.5), Emily of Isn't That Charming, (Mom to Joey 4, Gracie 2, and Beau newborn) and Olivia Jeanette (mom to Sebastian, 3 and Hugo, newborn) to each share how we're keeping our little ones busy while we're self-isolating (and working) at home.
Work (and Play) Together
Toddlers are natural helpers, so giving them tasks can be fun for them and it can help us a little bit, too. I've been getting Margot involved in everyday activities for a while now and it definitely takes some time, but stick with it. She helps makes my coffee (puts the pod in and pushes the button on our Nespresso machine), puts her shoes in a basket by the door, helps clean up after meals (not always helpful but a great habit to start), puts her toys away, places her dirty clothes in the hamper, and will "work" at my extra keyboard.
We've been cooking and baking with this learning tower that also converts to a toddler table. Margot helps prep fruit or pour ingredients, and we made cupcakes and cinnamon rolls, too. Sprinkle duty has been her favorite role to date. I make Birchbenders pancake mix a few days a week since it's easy and she can help prep. We use cookie cutters to turn them into fun shapes (Mickey, whales, stars, etc). She's also really into our spice rack.
If your toddler is on the younger side, hand them a jar or two of sprinkles, or a spoon and a pot.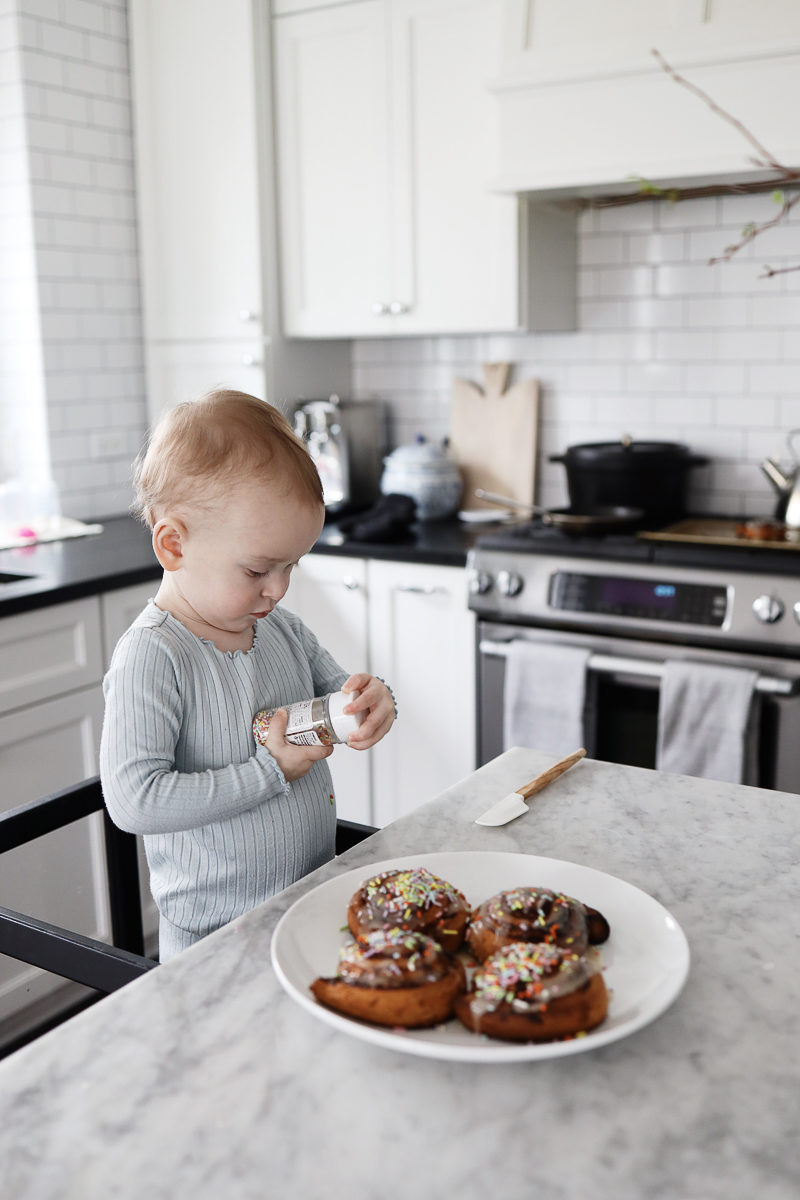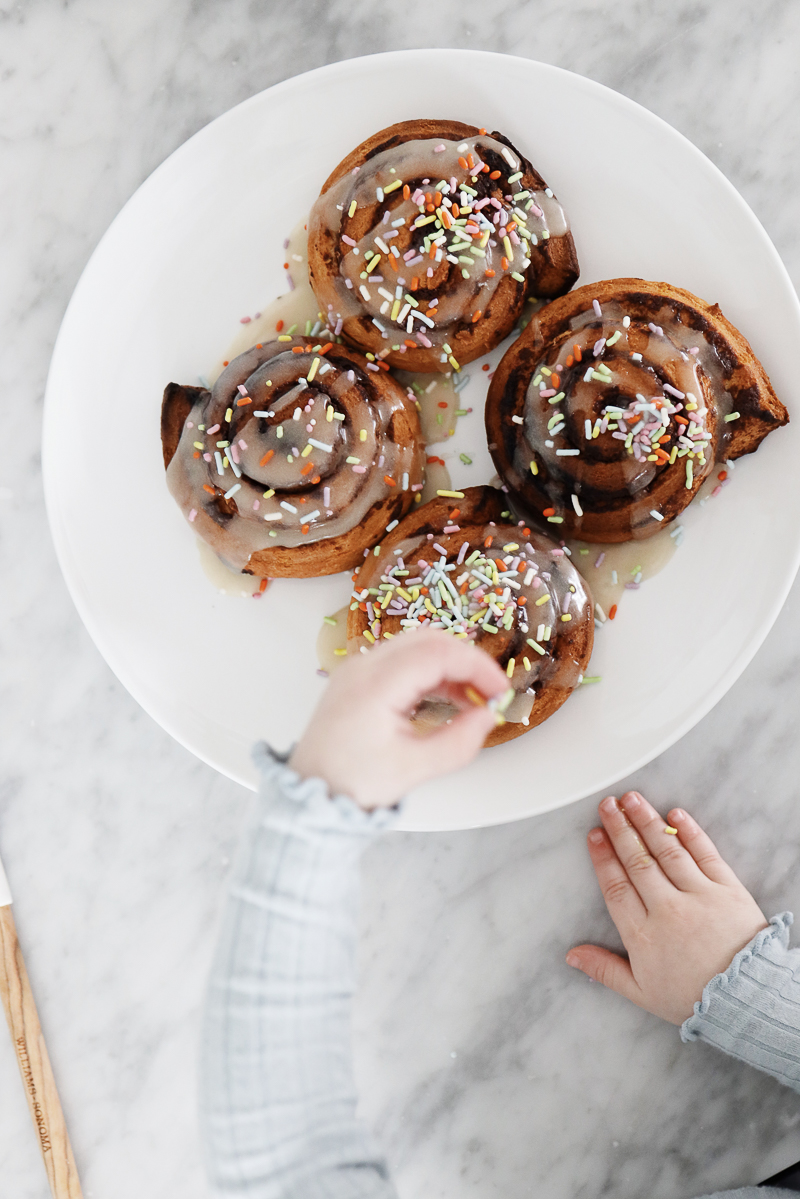 Introduce New Toys and Activities
This seems like a fairly obvious tip, but introducing a new toy or activity that will keep your toddler busy will be fun for both of you and it will likely buy you a few moments of sanity. We love KiwiCo's Panda Crates. A new stage-specific crate comes every two months, and Margot has loved playing with them. The Montessori-style toys are so sweet, simple, and keep her entertained. We've had so much fun with our newest crate. Save 30% on your first order with the code MOSS.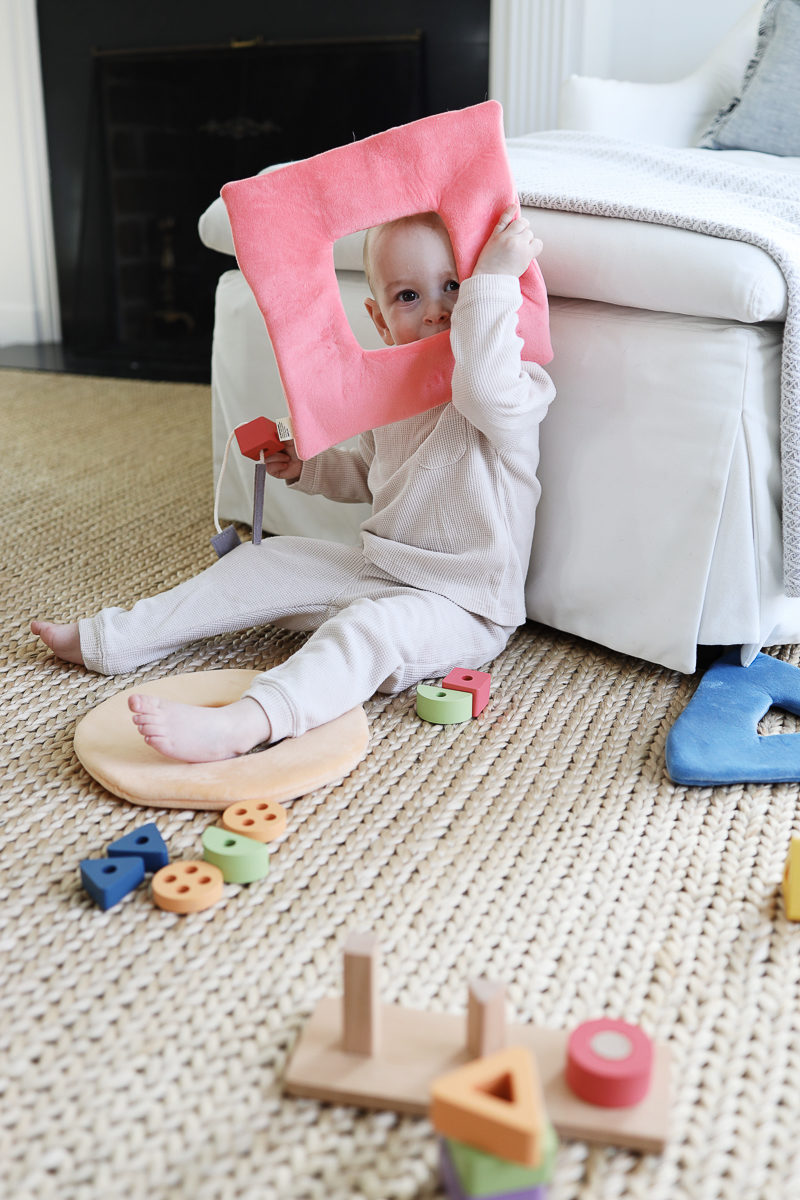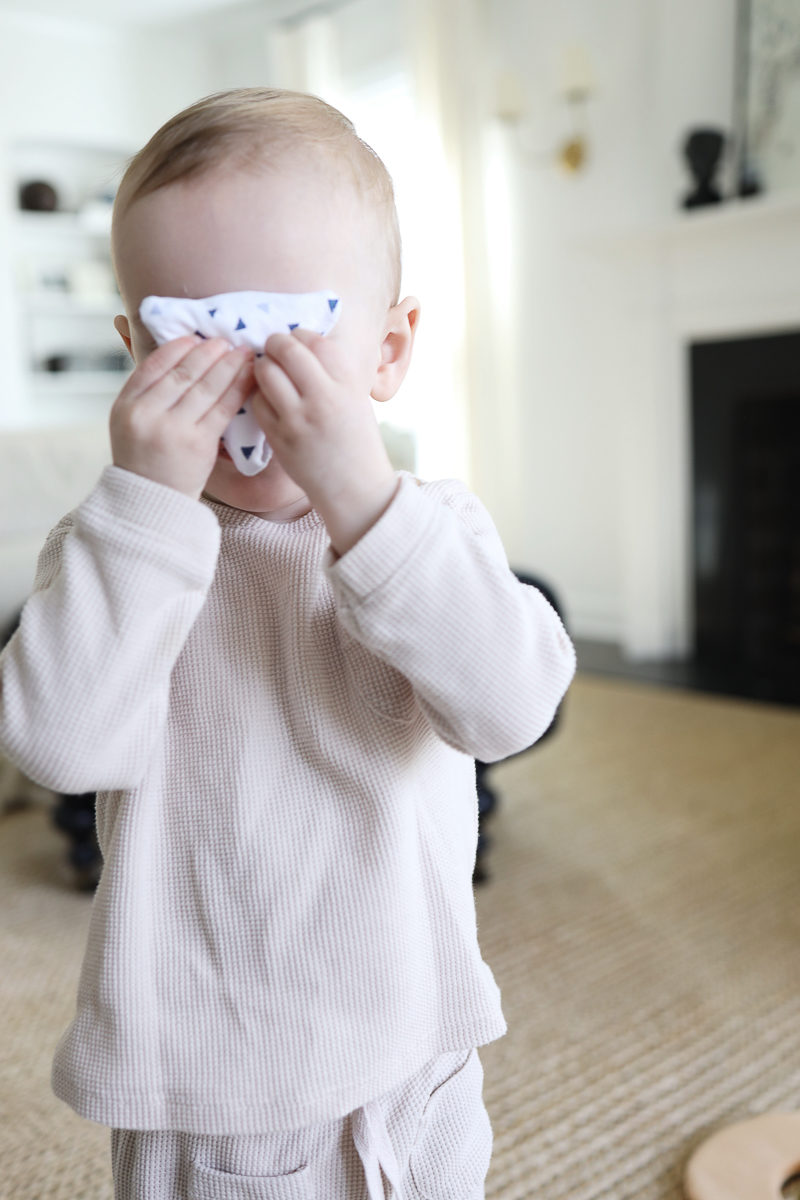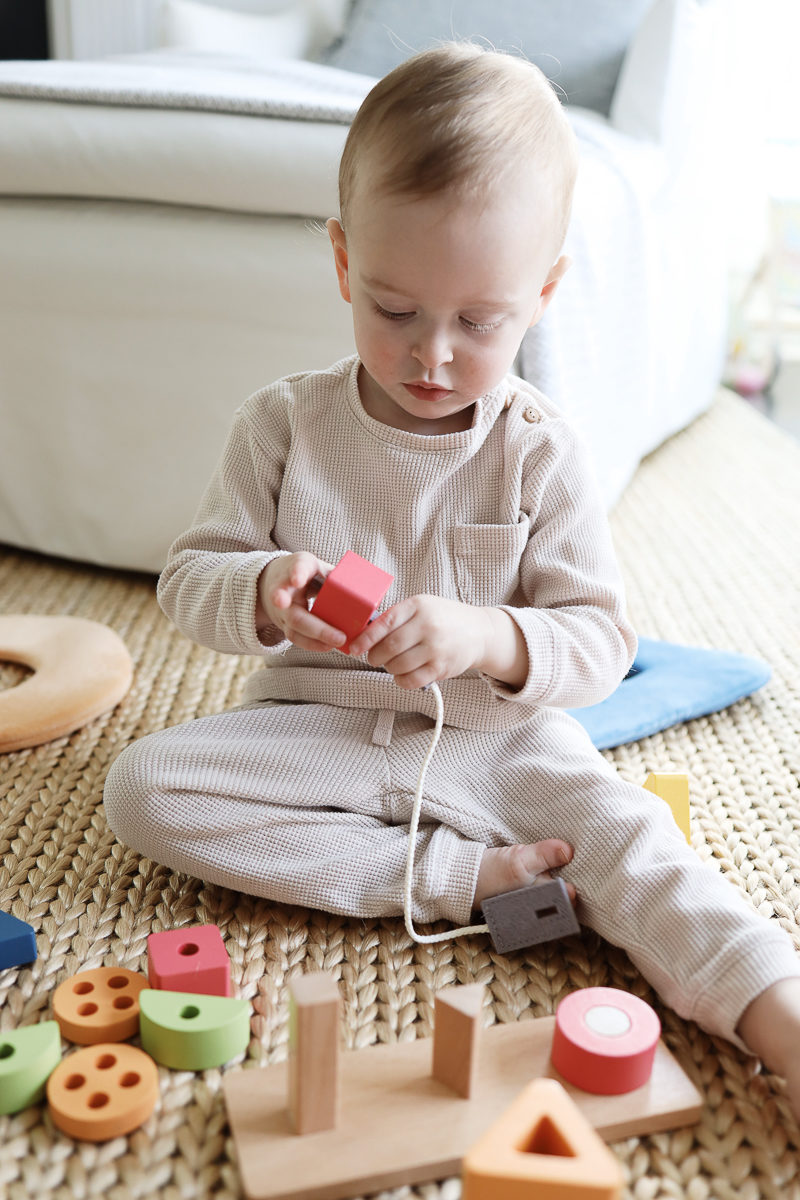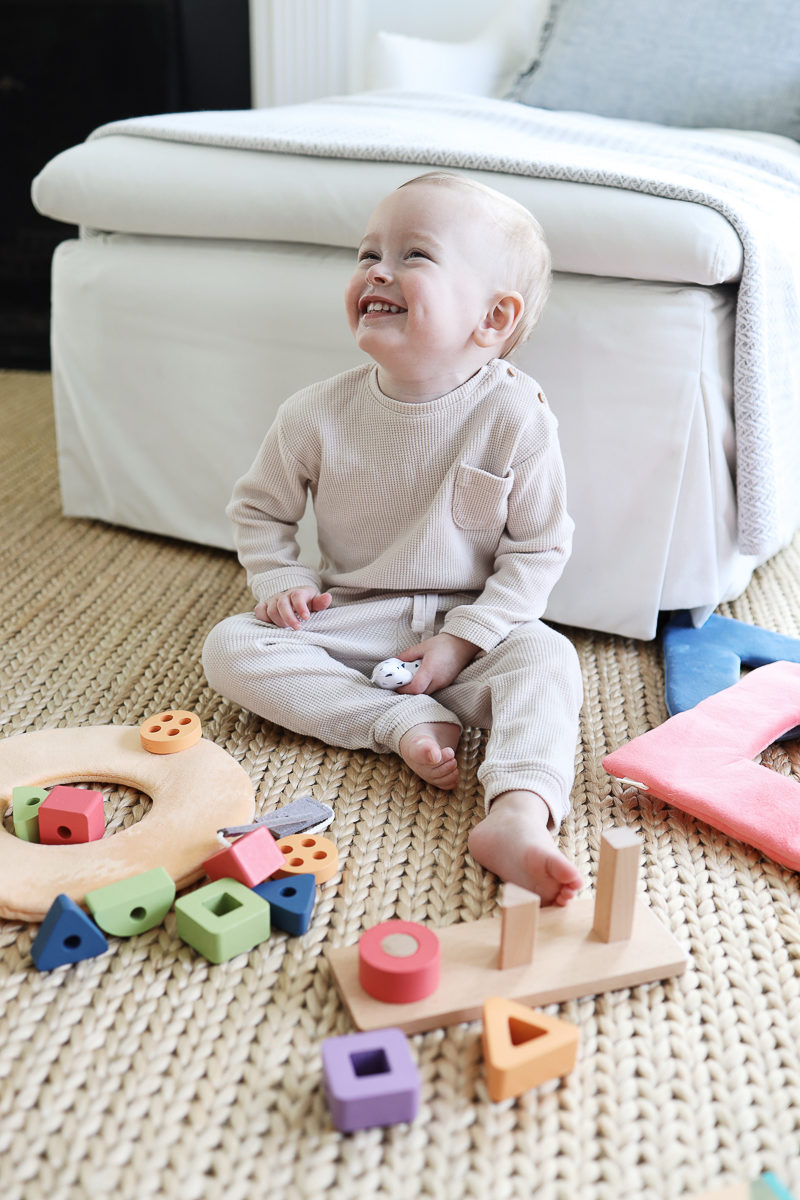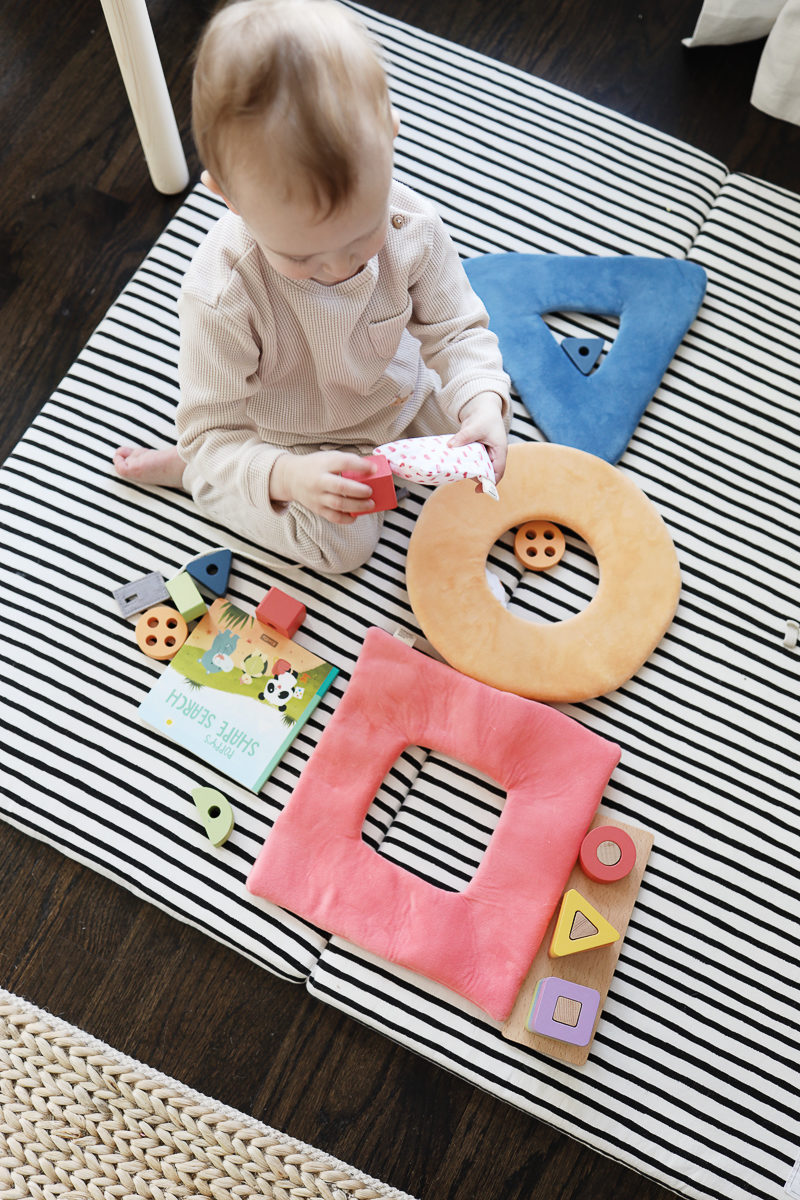 Right when we went into isolation, I was at the point where I had realized that Margot didn't have very many age appropriate toys, so I did some research and placed some orders online. I shared all her favorite toys and how we store them in our living room here. I've also linked most of my favorite items for babies and toddlers in my shop.
Once you figure out what toys will keep your toddler busy, you're golden. Their attention spans can be short, so a safe play area that allows shifting from activity to activity is key. Everything's easily accessible in baskets, so Margot can shift when she's ready. She loves clay and coloring, so those activities happen almost daily.
It's also amazing how far a $3 bag of cheap plastic Easter eggs will get you. I ordered those at Target and she uses them at her play table, in baskets, and in the bath tub. She also loves paper cups and playing with my makeup and brushes (just make sure that's supervised and everything's sealed/clean). Don't be afraid to try new things and see what sticks.
Reading / Quiet Time
I know not all toddlers are into books, so if you're struggling with picture books, peek-a-flap books are a really fun way to get toddlers engaged. She's really into Dory and loves this one, too. Find books about your toddler's favorite things whether that's a character, type of animal, trucks, etc. Margot has struggled with sleep, so we avoid quiet time with books in her crib, but creating a cozy space with a pile of books works if you keep at it.
Screen Time is OK!
Before isolating, I limited screen time during the week. There wasn't a set rule but since we only had mornings and evenings together (Margot is normally with our nanny while we work), I always wanted to make the most of that time together. TV was limited to weekends but these days, when she requests "TB" (TV) or "show in bed" (a show in mom and dad's bed), I will allow it, but save TV time for when we both have work to do and need the help.
We're doing anywhere from 1-2 hours a day which might sound like a lot,  but we're both trying to get work done and are doing our best. Margot will sit down and watch almost an entire movie start to finish so it's been a life-saver when we're busy with work. Her favorites are Daniel Tiger, Nemo, Dory, Frozen,  and The Secret Life of Pets.
I try to make TV engaging and will talk to Margot about what's happening. It's all balanced out enough with books, arts and crafts, and toys, and again, we're all doing our best.
Get Outside
The weather is all over the place here in Chicago, but we're getting glimpses of warm, sunny days, and always make it a point to get outside. We're lucky enough to have a yard, but don't really have anything for Margot other than a water table, and it's been too cold to use that.
I'm ordering sidewalk chalk but for now, we ran around with bubbles, broke out some beach balls, pushed her in her little car, and looked for birds and flowers. If you don't have a yard, try going for a walk or just blowing bubbles on your front steps or patio. Please be sure to consider the CDC's guidelines before going out.
Be Active Inside
Make forts, climb through tunnels, jump, and if you're really desperate and have the space, consider a bounce house. I bought one for our basement and while Margot isn't the most active, I'm hoping it will get her moving.
Create a "Safe" Toddler-Friendly Space
Right before we went into isolation, I had Safety Matters (our baby-proofer) come by to mount our new living room console, bedroom dresser, and floor mirror to the walls. Our house was mostly baby-proofed but these newer pieces needed to be secured before spending this much time at home. Before Margot was as mobile as she is, I used this playpen to contain her when I needed to throw some laundry in the washer or take a quick shower, but I think she's a little too old for that.  I have a Nest Cam on the console in our living room and one in her playroom, so I can see her if I ever need to run into the other room for a second. There's a google home in our kitchen, so I can keep an eye on her while prepping lunch or dinner if she's playing in the living room.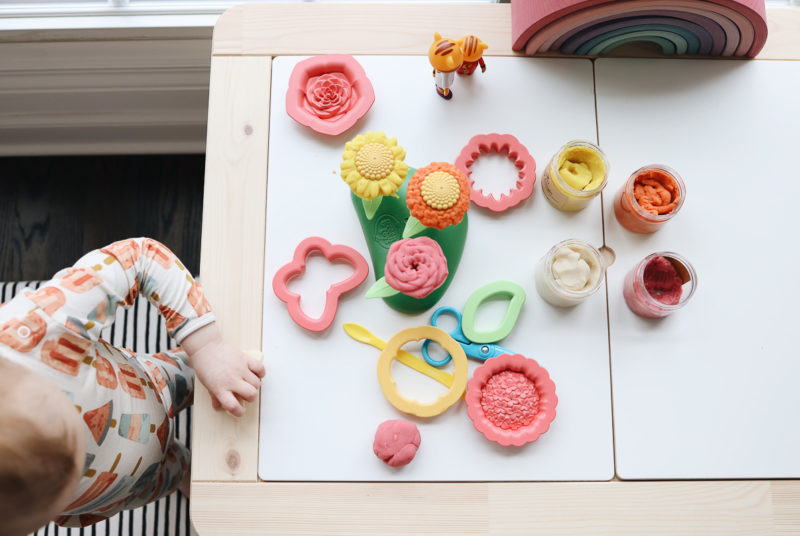 FaceTime and Online Classes
Big City Readers is offering free classes on instagram live every morning at 10AM. We love Beth! We've also FaceTimed friends and family, too. She's still young and not that into it, but it's nice to have a friend or class on in the background while she plays.