10 Fashion Essentials I've Added to my Closet in 2020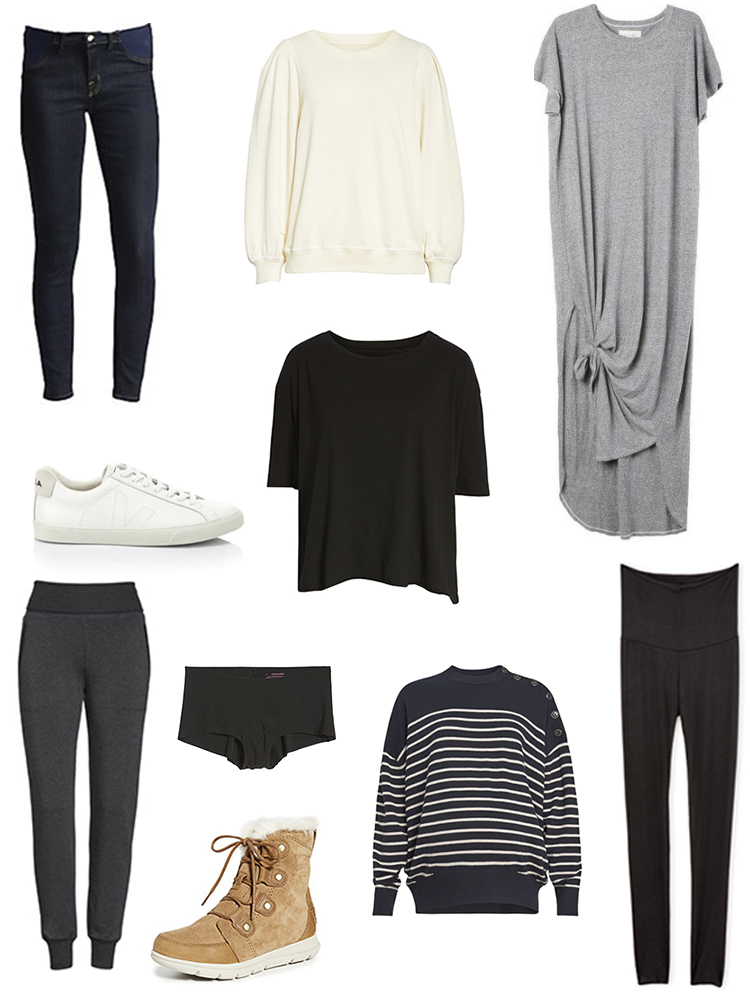 Now that I'm 16 weeks along and starting to outgrow my clothes, I've needed to add a few things to my closet to get through life and winter, too. We're also traveling somewhere warm next month, so I wanted to pick up a few things that will work on the trip and post-baby this summer. Here are the 10 fashion essentials I've added to my closet this year.
10 Fashion Essentials I've Added to my Closet
I tried so many pairs of maternity jeans when I was pregnant with Margot and didn't really love anything. Most ended up hanging off me after wearing them for just an hour or two but I found a pair I don't hate. In fact, I liked them enough that I bought them in a second color so I guess i'll be wearing those, and I've otherwise been all about leggings these days. I'm trying a few things from Hatch but want to spend as little as possible on maternity, and try to find pieces I can wear after, too. See more in my shop.
Knotted tee dress
The perfect basic tee dress that will work during pregnancy and post-baby
Striped sweater
This is maternity but is also designed to just be oversized post-baby, and I love an oversized sweater.
Oversized sweatshirt
Ok, this is another splurge but I bought a striped one on sale and have been living in it. It's oversized enough that I should be able to wear it pretty far into this pregnancy and it's really cozy, too.
Maternity jeans
These are the only skinny maternity jeans I've tried that aren't hanging off me by the end of the day. I liked them enough to buy a second pair (on sale) and definitely recommend them.
Coziest sweatpants
I wear these almost every single night and weekend. They are buttery soft and perfect for a growing belly, too. Just bought 2 more during a sale!
Softest $15 tee
I have 2 of these and just bought a few more. They're soft and great for lounging or sleeping in. The fit is also pretty loose so they'll be nice the next few months of pregnancy.
Maternity (and beyond) leggings
These are my favorite maternity piece to date. I lived in them during my first pregnancy and wore them for months and months after, too since you can pull them over your belly or fold them down. I'm still in the same pair but love them so much that I just ordered a second.
Butter hipster
If I'm lounging at home or going to bed, I have these on. They are SO comfortable and truly feel like I have nothing on. A bit of a splurge and they never seem to go on sale, but I have just enough to get by. It was time to replace some of the older ones that I've had for a while, so I just invested in a few more.
Esplar sneakers
These are a basic white sneaker but I love that they look great with denim, or make your basic yoga pants look a bit more polished.
Explorer boots
I love my Joan of Arc boots but they're so big and bulky, and I need something I don't feel ridiculous in when I'm going out in the snow.