What to Ask During a Nanny Interview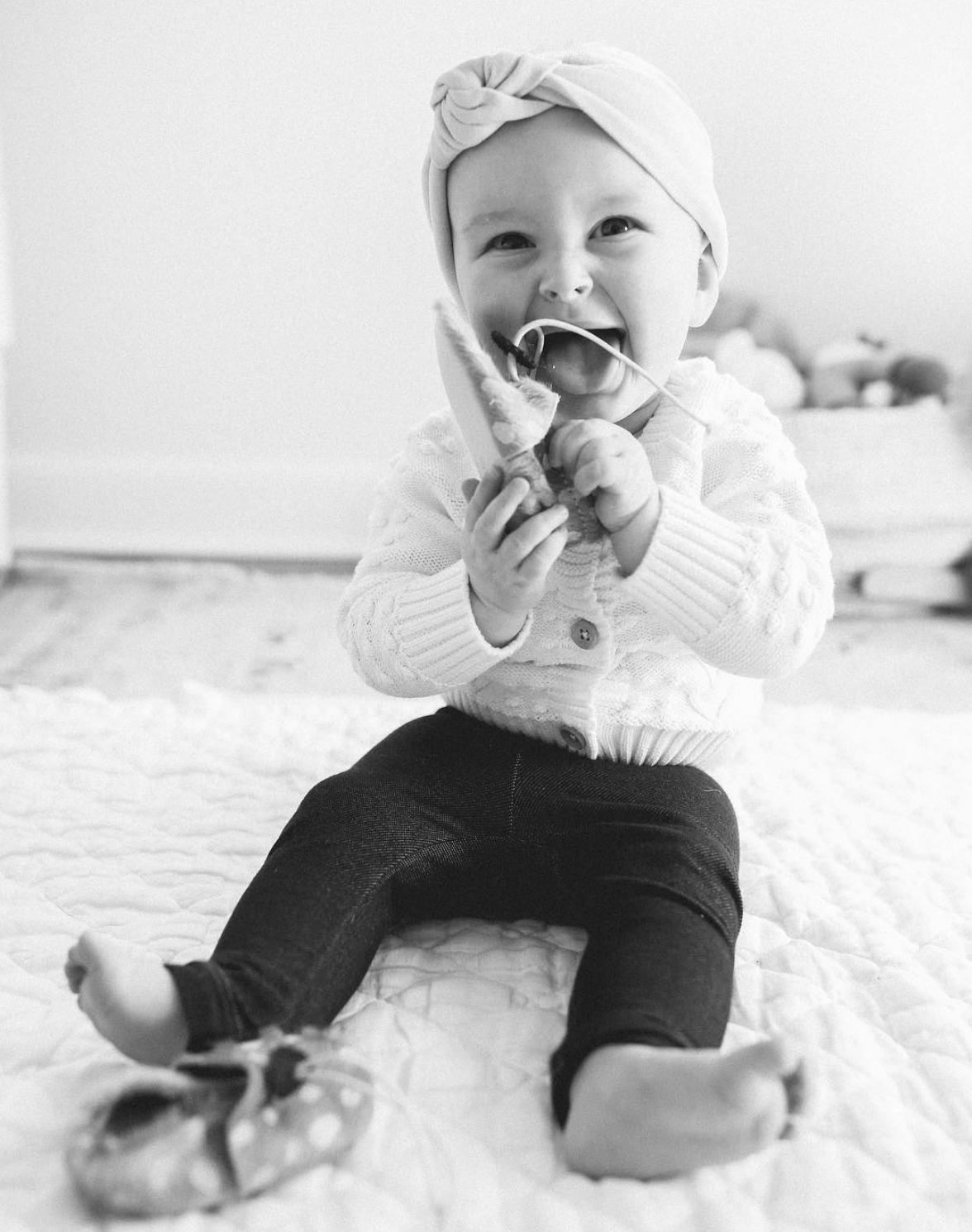 The nanny hiring process is a lot like dating. You're either set up or matched through an agency or friend, meet, and ask a bunch of awkward questions while attempting to get to know each other. Sometimes, you know it's not a fit early on and have to sit there continuing a terrible interview and then you get really lucky and feel that magic spark, hoping they feel the same way. Ugh, dating.
When Margot was 3 months old, we hired a wonderful nanny who worked for a friend of a friend, but she ultimately wasn't a fit for us. There isn't some terrible story about why it didn't work out. Things ended well, but like I said, it wasn't a fit. She was really loving and even messaged us a few weeks ago to wish Margot a happy Valentine's Day.
A couple months ago, we got the ball rolling on the hiring process and let me tell you – it is not easy finding someone you trust enough to watch your baby. Conor and I learned a thing or two about the questions we should have asked and felt a lot more prepared this time around. Since we didn't have any luck with referrals and the mom emails I'm on didn't get us anywhere, I turned to Sara of Gold Coast Nannies who did all the preliminary work for us (background check, references, certifications etc) and she sent us the most amazing angel of a nanny. She's so sweet to Margot and is the perfect fit for our family.
Here's the list of questions we asked during our second round of interviews.
Ask about experience and training
We let the nanny take the lead and asked her to start by talking about her experience. Some questions to ask: How long were you with your last family/why did you leave? What ages have you cared for? Are you CPR/first aid certified? Are you up to date on vaccines? (flu and whooping cough are very important!) Are you looking for a long-term position?
Talk about caregiving styles
During our second round of interviews, I told each nanny that I knew she probably had a certain way of doing things, but that I wanted to be sure if something came up that I felt strongly about, that she would be comfortable respecting me as Margot's mom. Everyone said yes to this one, but it felt important to me.
There are things us moms are bound to be passionate about, like not letting a baby have a blanket in their crib, for example. If you asked your nanny (nicely) not to do that and she did it anyway, that wouldn't be ok.
Our nanny asked me to let her know if there was anything I felt strongly about (loved that!) or if I see her doing something incorrectly (hasn't happened), and I asked her to tell me what is/isn't working so I can learn from her experience, too. Our nanny knows I trust her, and we have all said that open, honest communication is very important to all of us.
We talked about wanting someone who was very engaged and loving. Someone who truly enjoyed being around babies and toddlers.
Talk about the position
Ask about her schedule. We were looking for someone who would also be available for occasional date nights. Not a must but a huge plus for us since we haven't started looking for a sitter. Ask what duties are in her usual job description. Do you need help with light housework? Meal prep for baby? We were hoping for help with Margot's laundry, washing bottles, and keeping her play area clean. Anything else would be a bonus. If your nanny doesn't mention something you were hoping to have help with, just ask.
If you want/need someone to drive your baby somewhere, ask if she's comfortable doing that. Talk about salary and vacation time. We offer 2 weeks paid vacation: she picks a week and we pick a week, and 3 paid sick days. It was our agreement that we'd work on getting her more hours if we left town beyond the paid week because I wouldn't want our travels to stress her out financially.
We hoped whoever we hired would really engage with Margot. Lots of reading, playing, walks, and activities.  It's also very important to me that she feels comfortable in our home. I made sure she knew she was welcome to drinks and snacks and knows how to use the coffee maker, etc. Yes, this is a job for her, but her job happens to be in our home, and I want her to feel comfortable and welcome here.
Our nanny is so engaged with Margot. They read and play, and she lights up whenever she's around. She also seems to enjoy helping around the house, and I am beyond grateful because keeping things tidy can be a real struggle on work days (although I'm actually motivated to tidy up at night knowing she's coming to work in the morning). It's not something we asked for, but when Margot naps, she does a little light cleaning – sweeps the floors, empties the dishwasher, and wipes the counters down – and she even folded our laundry which felt like a gift. I thank her for her help every single day. 
Tell her about you and what you're looking for
Remember that she has to want to work for you, so it's really important to talk about you, your family, parenting styles, and your baby, too. We needed someone who was ok with the fact that we work from home, and made it very clear that we'd do our best to stay out of the way on those days. I made sure she knew we were looking for someone to be a part of the family in a way – who would hopefully stay with us for a few years.
Get to know her
It's really nice to spark a little conversation and get to know this person who might be spending time in your home. Ask about her life, hobbies, and family.
I've loved getting to know our nanny. Last week, I was working from home and we both opened up about some family stuff while I was making lunch. I'm not sure how the conversation started but we shared a lot, and it was really nice getting to know one another. I love hearing about her kids (they're all grown up now), travels, and we both love yoga, so it's fun talking about that, too. It was really important to us to hire someone we got along with since we work from home a few days a week, and I want to have a great relationship with the person who cares for my baby. We hope she'll be with us for a while – especially if we have another baby – and that she'll become part of the family and stay in touch, too.
Set up a trial day for the nanny to spend time with your baby
Sarah recommended this and I'm I am so glad we did because there were two who interviewed well (one through the agency and one through a mom email list) but when they came to spend time with Margot, were both dead silent for over an hour. Both lovely young women who were probably better with older children. I get it – Margot is 7 months old and conversationally brings very little to the table – but it's best to find someone who engages with your baby.
One nanny told me she doesn't communicate with fathers. Conor is very involved in Margot's care so that wouldn't work for us.
Margot was asleep during the interview with our new nanny but we had a great chat with her and had her come back for a trial that weekend. Even though we liked her, I didn't know what to expect when I was her with Margot. We saw her with Margot for less than a minute and knew. A few minutes later, I told her I'd love to hire her as Margot's nanny and she accepted.
Do you have any other questions or advice? I'd love to hear from you! 
* Since all the nannies we interviewed have been women, I used "she" to refer to potential nannies but want to acknowledge that ANYONE can be a nanny. I also talked specifically about finding a nanny for a baby since that was our experience.