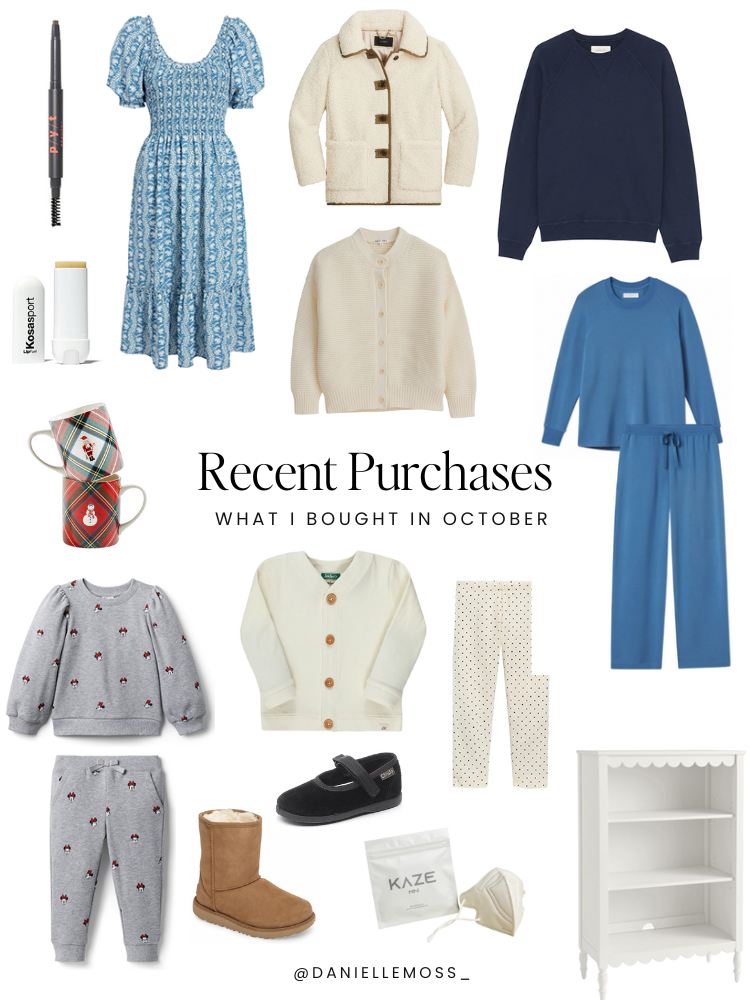 It's November! And Halloween is (finally) over! I couldn't have been more ready to take everything down, and got it all put away this morning. The holiday season can officially begin! Although I've been posting gift guides for a week or two since I wanted to get everything ordered early. I bought a few things for our trip, restocked some beauty essentials, and got the girls' Christmas gifts (which I shared here). Here's what I bought in October.
What I Bought in October
I'm not a Disney person and wouldn't want to go without kids. But I'm so excited to take my girls to Disneyland. We've been watching Disney parade videos for years now and both girls love Disney movies, so they're going to freak out. I told the girls about our trip last weekend since I pulled Margot out of school this week to make sure she's healthy for the trip. And I wanted her to understand why she couldn't go to school. I'm not sure they got it – the reaction was…interesting. But they're really excited now, although they've never been anywhere like this and I'm not sure it feels real (to them) yet. Enough rambling for now. Here's what I bought in October.
Chunky cardigan
it's usually hot or cold here, so most of my sweaters are thicker. I needed a cardigan to wear over dresses, and ordered this one from one of my favorite brands. I love it.
The perfect oversized sweatshirt
Ok. So I have too many of these and (hangs head in shame) ordered three more this month, in ivory, navy, and green. But – they are so easy to wear and perfectly oversized. I love wearing them with my favorite Lululemon pants or jeans.
Sebastian Coat
This hasn't arrived yet and was purchased with store credit, but I'm really excited to try it on. I am very much feeling the lighter, cozier, fuzzy pieces this fall/winter which I suppose is no different from any other fall or winter.
Another pair of Align pants
Every year or two, I like to purchase a new (fresh) pair of Align pants. I have them in a few colors but the black work with everything, and I work from home. It was about that time.
Sherpa jacket
I debated this one for a while but it was sold out in my size for a moment, and I felt sad. So I knew it was meant to be when it came back, and like my sweatshirt, it's perfectly oversized. I should also mention that it's really warm and cozy – warm enough to wear when it's 40 degrees, which is usually real coat / puffy coat weather for me.
Lounge set
This LAKE lounge set is the best. The brand sent me one in green and I loved it so much that I bought a second. I'd normally wear a small in LAKE but bought a medium since I thought this one would be nice a little loose, and it is. It's the coziest, and I love anything that leaves me feeling a little more put together when I'm lounging at home.
My favorite lip balm
Not much to say. I love this lip balm and just ran out, so I restocked it.
Brow pencil
I have ordered this too many times to count, and usually order two when I'm low on my last one, so I never (ever) run out. Even after microblading I still used this to fill my brows in, which I always do. Always.
Stewart plaid mugs
I'm a sucker for Christmas plaid, so I ordered two sets of these.
Penny bookcase
This bookcase is a part of operation "make Kate's room more fun since we don't have a playroom" and it just arrived. We're going to build it this week.
Cardigan
The girls needed some cardigans for cooler Disney nights.
Minnie sweatsuit
This finally went on sale, so I had to get it.
Leggings
These are some of my favorite leggings for the girls, so I snagged two more pairs since theirs were a little trashed.
Velvet mary Janes
I got these for Margot and Kate for Christmas, and they are so, so sweet.
Boots for the girls
We live in Chicago, so no explanation needed on this one.
KN95 masks
I realized we were running low on KN95 masks for the girls, so I stocked up again. We'll wear them when we travel and usually wear them when we're anywhere crowded.
This post on what I bought in October contains affiliate links. If you purchase something using my links, I may earn a small affiliate commission at no cost to you.