Designing a Room for a Little Girl
When designing a room for a little girl, there are a few ways you could go. My 4 year-old loves all things pink and if it were up to her, she'd probably have rainbow bedding. Her last room had pink wallpaper, and when we moved into our new home, I …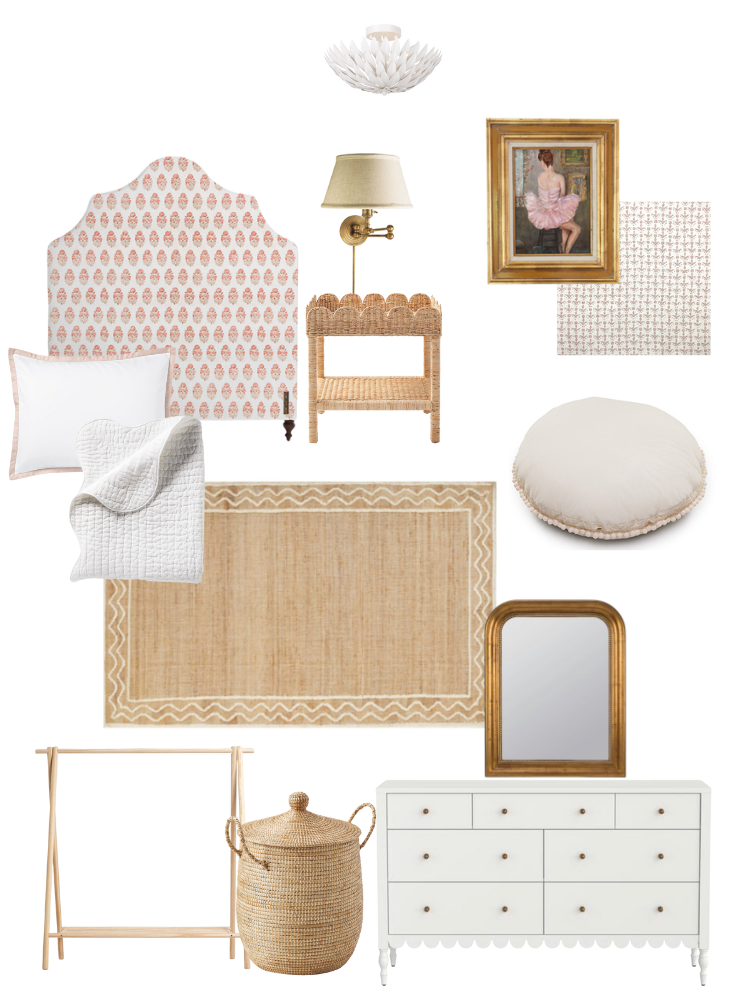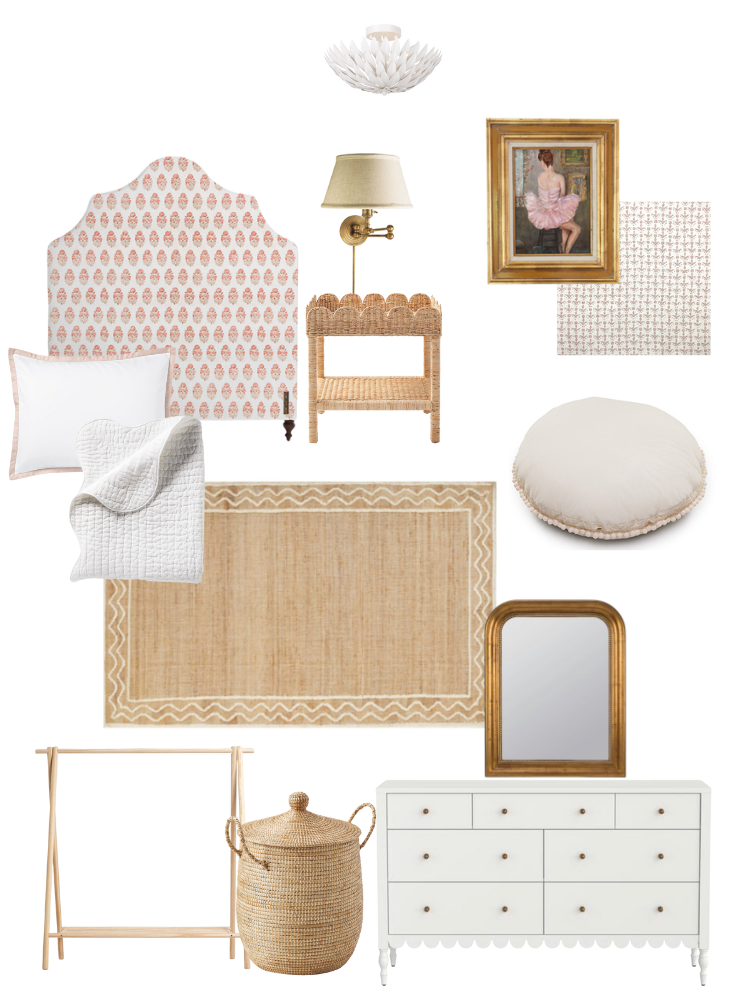 When designing a room for a little girl, there are a few ways you could go. My 4 year-old loves all things pink and if it were up to her, she'd probably have rainbow bedding. Her last room had pink wallpaper, and when we moved into our new home, I wanted to create a similar space that she'd love. Room planning can be tricky – I didn't redo the entire room, but made a few updates that I'm so happy with. This room feels soft, feminine, and transitional. With a few changes, it could even be a guest room. So today, I want to share the process on designing Margot's bedroom, and how I made it a space she loves at 4, but one that still feels sophisticated enough for a 10 year-old.
Designing a Room for a Little Girl
We have a lot of work to do throughout our entire home. The living room is current a play room, there's a major renovation project that needs to happen for all our baths, and we still have an empty room or two. Figuring out floor plans, design ideas for each room, and how to make each living space function (and feel cozy) for our family has been a project. But making sure my girls had rooms that felt like home was very important to me, so their bedrooms came first. It's always a good idea to start with a small room, and making the kids rooms feel complete was a great place to start.
Working with a designer and choosing fabrics
My interior designer friend Kira David was in town, and met me at my house to help me narrow things down for the girls' rooms. She made the creative process fun. We looked at various options for fabric – I knew I had to go with a pink color scheme since it's Margot's favorite color. But if I was going to invest in anything custom, which I wanted to do in this house, I had to choose something that would last. She pulled out this Lisa Fine fabric and I just knew. Finding this fabric was the most important step, and the rest of the room came together after that. When I showed Margot, she gasped audibly and maybe even shrieked a little bit. It was "the one". We started putting together a mood board and figured out the room layout, and I'm so happy with how it's coming together.
Sure, the room could look a little more preschooler-ish but then I'd have to redo it in the years to come. It feels like the perfect space that she can grow into. Personal items like photos, dolls, and dress-up clothes make the space feels special to her. One that felt sweet and fun, but with color and pattern that she'd still like when she's older. And even at 4, she loves the color palette and all the things that feel like her.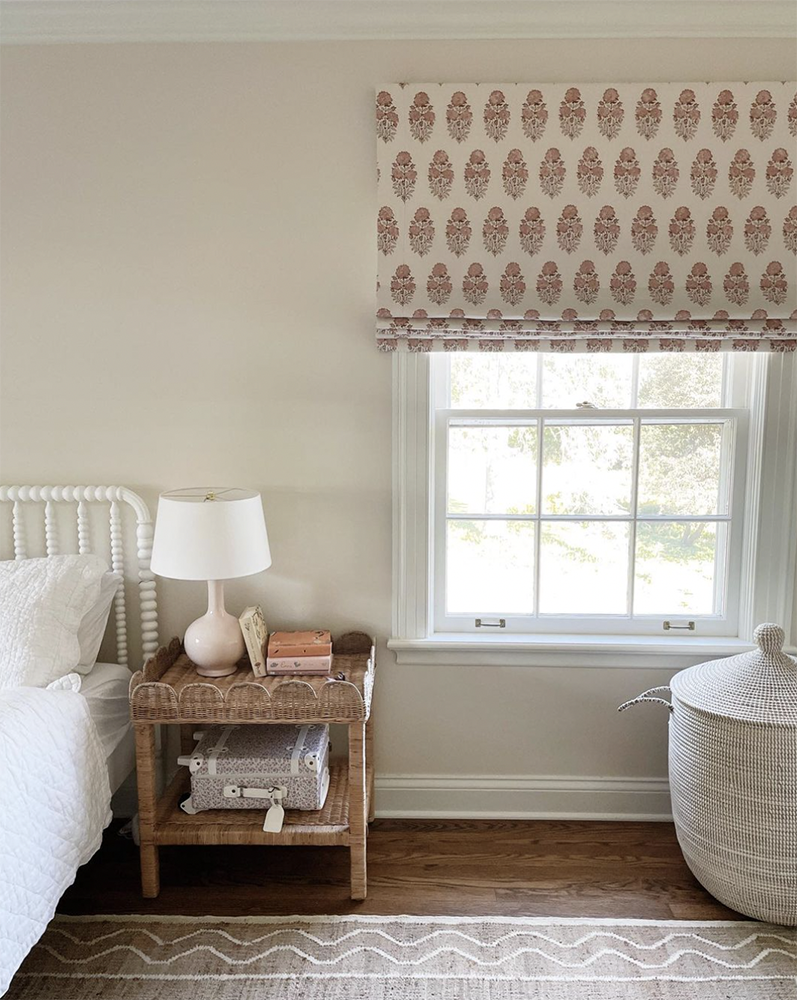 Ordering custom window treatments
I worked with Basia Frossard, who did the window treatments for my mother-in-law's last home. Kira ordered the fabric for me and sent it right to Basia, and they took a few months, but were so worth it. Custom window treatments were a huge splurge for me, but this is a "forever home" (ok, nothing is forever, but we'll raise our kids here) and I am so glad I had these made for Margot.
A quick note about custom fabrics and throw pillows
If you love this fabric or other designer fabrics that are available to the trade, you can often find them on Etsy. I was able to find a Sister Parish pillow for Kate on Etsy, and it was a lot easier to order a pillow vs ordering fabric and finding someone to make the pillow for us. It's the best option if you want something custom without spending a lot of money.
Ceiling light
Flush mount light fixtures can be tricky. Conor actually found this olive leaf light, and it was one of those things I loved immediately. I've found that if I'm unsure about something, I'll probably get sick of it. But if it's an immediate "yes" then we're good.
The perfect soft pink paint
The paint was a process. I tested a few pink and creamy paint colors, and for the life of me, could not find one that felt right. They were either too pink, too white, or too beige. But Farrow and Ball dimity was the perfect wall color.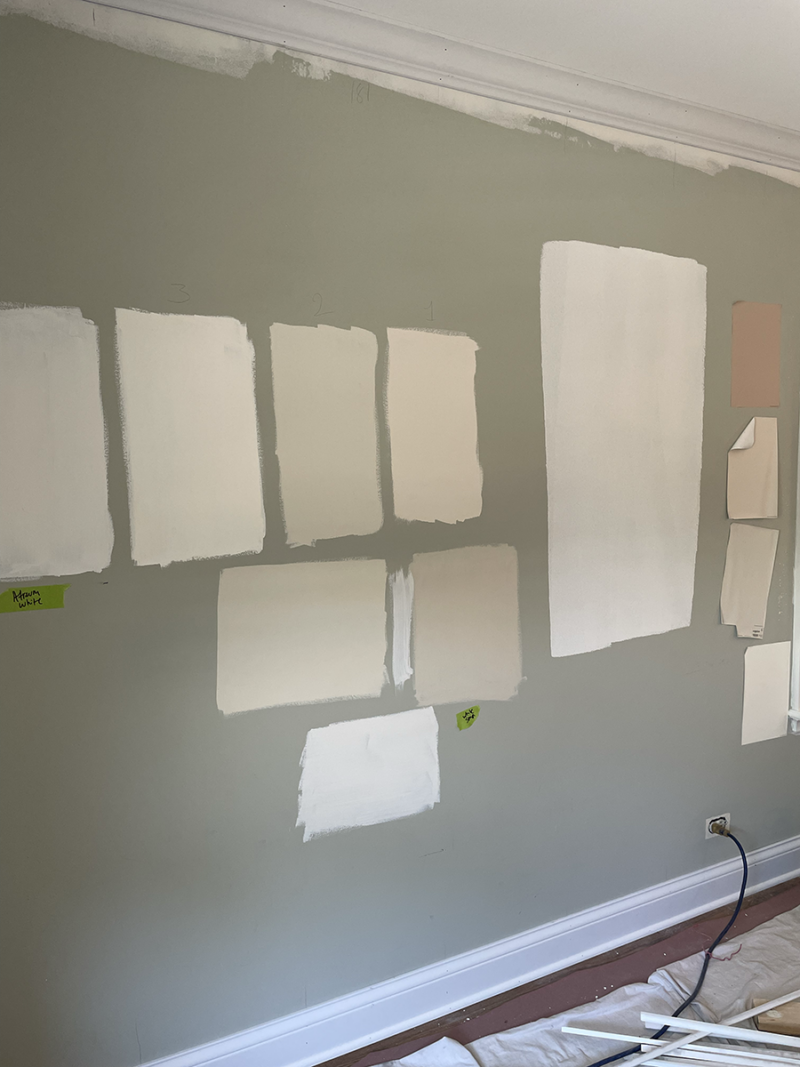 Custom headboard
We love Margot's Jenny Lind bed, but I'm actually going to move it into her sister's room when she's ready for a bed since it makes more sense in that space. I'm having a headboard made, but it will be very similar in shape to this Serena and Lily one. Kira connected me with her upholsterer who also does custom furniture. He is reupholstering a chair and is making a custom headboard for Margot. I'm using the same fabric that she has on her window treatments on her headboard, and a smaller, soft pink print (also found by Kira) for the chair. I'm telling you – having the help of a professional designer is life-changing. Sure, I could come up with something on my own, but never would have found these fabrics. It's going to be so good.
Even though the fabric was a bit of a splurge, the bed is still going to cost less than the Serena and Lily version, and we were able to make it at the perfect height for her room. It will (hopefully) arrive before Christmas. She knows it's coming and is very excited for her pink bed. I did just order a headboard vs an entire bed because that added way more to the project than I wanted to spend.
Wave Jute Rug
The rug is by Erin Gates for Momeni, and I've gotten a lot of questions about how it works in a bedroom. It is very flat but fine to sit on, and feels good with a thicker rug pad under it. I just love the wave pattern, and highly (highly) recommend it. All the area rugs in Erin's collection for Momeni are beautiful. If I hadn't done a block print on the windows, I would have chosen this rug for Margot's room.
Nightstand
This side table is a favorite piece of furniture. It's so simple and sweet, and could work as an end table or nightstand. The wicker adds warmth and the scalloped detail add a timeless charm. This versatile piece could be a side table, nightstand, or even an accent in a hallway.
Plug-in wall lamp
I'll hang this lamp as soon as the new headboard arrives. I love a swing-arm plug-in lamp, and this one is really beautiful in person.
Scallop quilt
More scallops because I just can't seem to get enough. A soft cotton voile back makes it extra inviting, and the linen-cotton front adds just enough drape. Use it on its own as a cover or fold it at the end of a bed – it's cozy and beautiful.
Border duvet and shams
Another touch of pink without being too pink. She may not have rainbow bedding, but she does have this.
White dresser
Margot's dresser is vintage and was one of my first purchases when I first moved to Chicago. I saw it in the window of The White Attic (now closed) in Andersonville, and when I bought it at almost 28, had this dream of one day giving it to my little girl. If you're looking for a white dresser, I love this option from Pottery Barn Kids.
Mirror
I added this mirror above Margot's dresser. Finding art proved to be challenging, and I may move things around at some point if I find something fun. But it's pretty and works for now.
Vintage oil painting
This is the first thing Conor bought for Margot. He found it on eBay, and our pink, ballet-loving girl loves it. When it comes to art, I usually look at Minted, Artfully Walls, Sonic Editions, and both etsy and eBay for unique finds. I'd love to find something bold for this room but like most of the things I love, will know it when I see it.
Chair Fabric
We had a small chair in our old sunroom/office and decided to have it reupholstered for Margot's room. Kira paired this fabric with Margot's headboard fabric and the two go together so well. I'm really excited to see her chair – she's going to love it.
Dollhouse
Both girls love the Maileg dollhouse, and I love how sweet it looks in Margot's room. She plays with it all the time, and it's definitely one of those things that makes the space a bit more whimsical and magical for her.
Floor pillow
I keep this on the floor at the foot of her bed, right in front of the dollhouse. It was a gem of an etsy find. It's the perfect spot to cozy up with dolls and books.
Clothing Rack
This was in our playroom, but the basement of our current house is unfinished. Since we don't have a playroom right now, I wanted to make the girls' rooms extra fun and special. Each room will have a dollhouse, and Margot has her dress-up clothes, book rack, doll bunk bed, and this little doll table, too. She loves playing dress-up, so this clothing rack has been the perfect addition to her room.
Doll bunk bed
Her American Girl dolls need a place to sleep…
Basket
We keep stuffed animals and toys in the medium-sized basket.
This post contains affiliate links. If you purchase something using my links, I may earn a small commission at no cost to you.