Kate's Nursery Decor
Putting together baby's room is always one of the most special tasks for first-time parents. Kate's first nursery was simple and sweet. I would have loved to have wallpapered her last nursery but knew we wouldn't be in the house more than a few years. We moved right around her …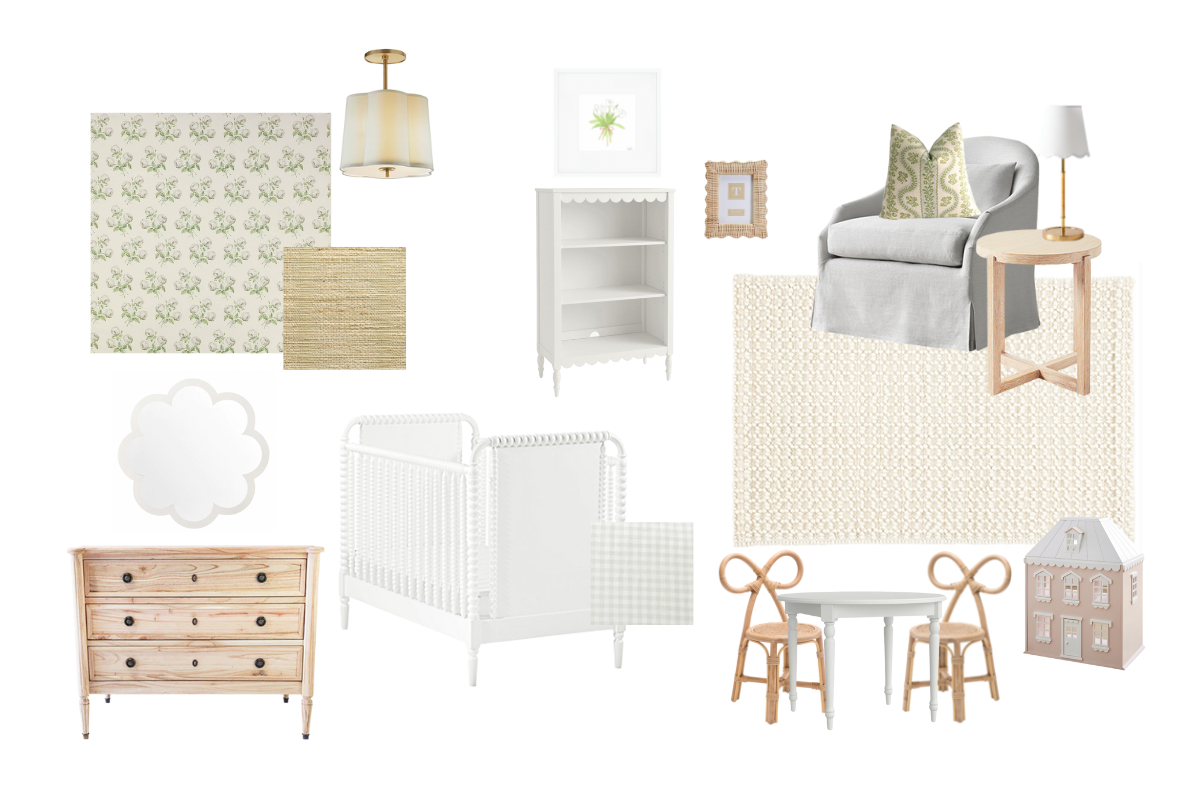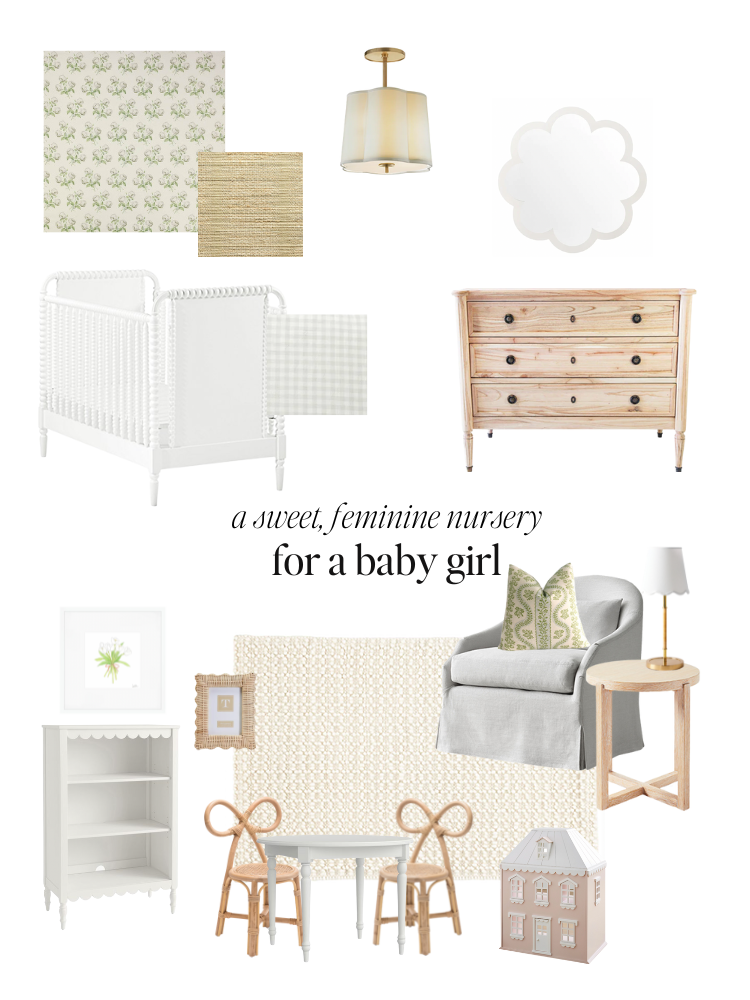 Putting together baby's room is always one of the most special tasks for first-time parents. Kate's first nursery was simple and sweet. I would have loved to have wallpapered her last nursery but knew we wouldn't be in the house more than a few years. We moved right around her second birthday, so it wouldn't have been worth it. When putting this room together, I made a few changes to her nursery decor and added the wallpaper of my dreams to her new room. I didn't even look at paint colors – I knew this wallpaper paper was "the one" and she loves it. I chose a classic print that would work throughout her childhood. The overall look is sweet and feminine, but will make for an easy transition into a big girl room, too.
Kate's Nursery Decor
Creating this room for my baby girl (or toddler) was so much fun. I went with a very neutral color scheme for her first nursery, and wanted to bring in some color and pattern this time around. Not too much because it's me, but I love this design for a baby girl. Most of the pieces will grow with her, which I love. So let's talk about the changes and why I made them.
First, our old rug was beautiful but too small for this space, so I chose a new, cozy, beautiful rug from Annie Selke (gifted). It's the perfect rug for a baby's room since it's soft and would work with almost any decor. I didn't love the design or color of Kate's old dresser, so I got the one I had wanted for years, and love every single thing about it. I kept the chair, side table, and crib, and made some additions for my daughter to use as she grows.
Scallop Hanging Shade
This shade is so beautiful in person, and I love how sweet and feminine it is.
Bowood wallpaper
This wallpaper pattern is gorgeous. Timeless and feminine, without feeling like it only works in a nursery. I've seen it in guest rooms, offices, and pretty much everywhere, and just love that it will grow with her.
Scalloped Mirror
This is the one piece I do not own (yet) but I am either going to splurge on this or find something similar.
Dresser
This dresser is on the smaller side for a changing table, and I actually just keep our changing basket below. It does fit, but we're transitioning away from diapers anyway. That said, I love this dresser and really wanted to get it when Kate was born, but was talked out of it. A friend said the drawers were too small (and they are small) but it's just so beautiful that I don't care.
Crib
I love this Jenny Lind crib so much that I also have the bed in big sister's room. I really like how the crib looks, so I'm actually taking the (almost) new bed from Margot's room and moving it to Kate's room in the next 6-8 months. I'm doing a patterned headboard in Margot's new room.
If you're looking for something feminine but different, this crib is beautiful. And if you want something a little more modern but still feminine, I love this one, too.
Crib sheet
I went with a light grey gingham crib sheet and like that it brings in a little pattern.
Gilder
If I was setting this up for a new baby's room I would reupholster this glider in the throw pillow fabric from Sister Parrish, or a green stripe or gingham. But because my daughter is already two, we'll remove the glider when we bring her bed in, so it's not worth the investment.
Throw Pillow
Throw pillows are a fun way to add some color or pattern, and can easily be switched out. They're a pretty affordable way to do something fun without spending too much money.
Table lamp
This table lamp delicate and like many of the items in this room, has the prettiest scalloped shade.
Play table and chairs
We won't have a playroom for a while (basement is a disaster) so I'm adding a table and chairs to give Kate a play space in her new room. The chairs should arrive in the next month or two, but I'm actually saving the set as a Christmas gift. A table and chairs will last for years, and can make great nursery décor too.
Soft wool rug
This rug would work with almost any nursery theme and is one of the softest rugs I've ever felt underfoot. It's also nice and thick, so it's a great space to lay baby down, or to crawl and play.
Wall art
This is one of my favorite prints, and it's one of the most special item's in Kate's room since I collaborated with Sara Fitz to help raise money for our ALSF fundraiser. I chose white tulips with a pink bow since my girls love pink. It's one of my favorite decorative accents,
Bookcase
I really wanted to display books, but didn't want to add book ledges. They're sweet in a nursery design but feel a lot more like baby nursery decor and I'm not sure how long they'd last for a child. And since the room is wallpapered, a bookcase felt like a safer way to display a few toys and books.
Dollhouse
Add this to the list of things I'm doing to make Kate's room more fun since we don't have a playroom. The girls have the Maileg house, but it's been in Margot's room since that's where it fits, so I got this one for Kate. I'm ordering a few little Maileg accessories for it, too. She'll love it!
Baskets with scalloped liners
Ok, so these are beautiful but disclaimer: they are kind of a pain and sometimes, the basket lids won't line up and they'll sink in/look funny. Still, I love them, and just store old baby clothes and blankets – things that we do not need to access day-to-day.
Scalloped frame
I love adding a frame or two with favorite photos. This woven frame adds some texture but doesn't feel like kids decor, so it's something you'll be able to hold on to for a long time.
Personalized pillow
The sweetest baby shower gift for a newborn baby, I just love these pillows. They're handmade in Australia and so beautiful that I purchased them for both my girls. It comes in a few different colors, and is such a sweet addition to a baby or child's room.
Hunter Douglas Burlap Sack PowerView Window Treatments
We had Hunter Douglas woven shades in our last home and I was so excited to partner with the brand on this home. These shades are the same ones we had in our sunroom, but with blackout, and the best addition: they are electric. I was very TBD on whether or not to add a remote control but Rachel from Beyond Shades (the rep I worked with) raved about them, and I am so glad I took her recommendation. I double tap the heart and both shades open to my "favorite" height preference. PowerView saves time but more important, always looks perfect.
This post contains affiliate links. If you purchase something using my links, I may earn a small commission at no cost to you.