Weekend Reading: Ciao from Tuscany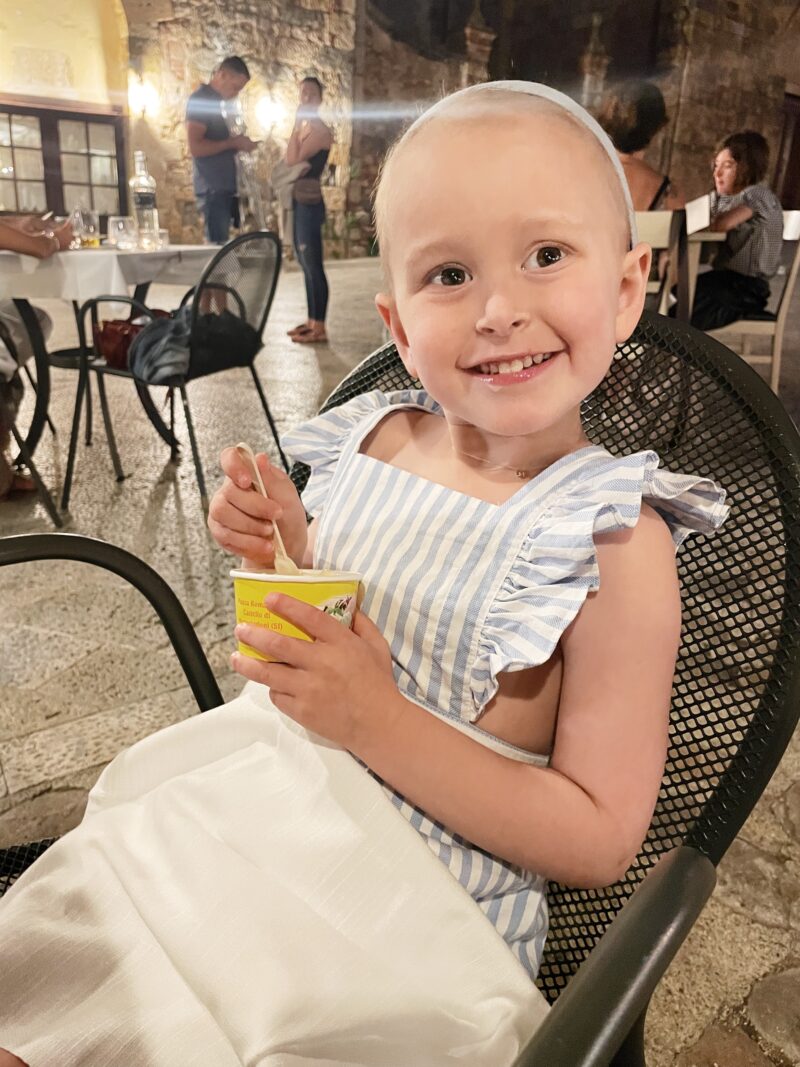 Ciao from Tuscany! I didn't plan on blogging on this trip and actually left my computer at home. It's the first time I've done that (ever) and it feels great to sign off. I'm still me though, so I take a few min to stay on my inbox so I don't come home to complete overwhelm, but am otherwise checked out. But It's 11PM and I napped for 3 hours today, just hours after sleeping in until 10AM. Didn't think I'd be so well-rested. And I've never written a post on my phone before but can't sleep so here I am.
Weekend Reading: Ciao from Tuscany
I can't believe we're here. After spending the last 2+ years being as isolated as we were, this feels very surreal. After all Margot went through. I find myself in awe of her – in disbelief that we can do this. The week before our trip, I was super-anxious and didn't want to be this far from our hospital. My transition to a new normal has been better than anyone could have anticipated, but this felt like a huge leap. Half of my time as a mom has been spent getting my daughter through treatment. Weighing every decision and even interaction. Everything. It's unfortunately all I know.
It's also childhood cancer awareness month, and that always makes me think a little bit more about what we went through. For Margot to be allowed to be here, off medicine, happy and healthy is truly everything. She's thriving. I'm less worried than I was but think part of me is still holding my breath or in a low grade level of shock? I'm not sure. It's really strange to one day be "done" – she gets to be a normal kid now. Take the trip. Live your lives.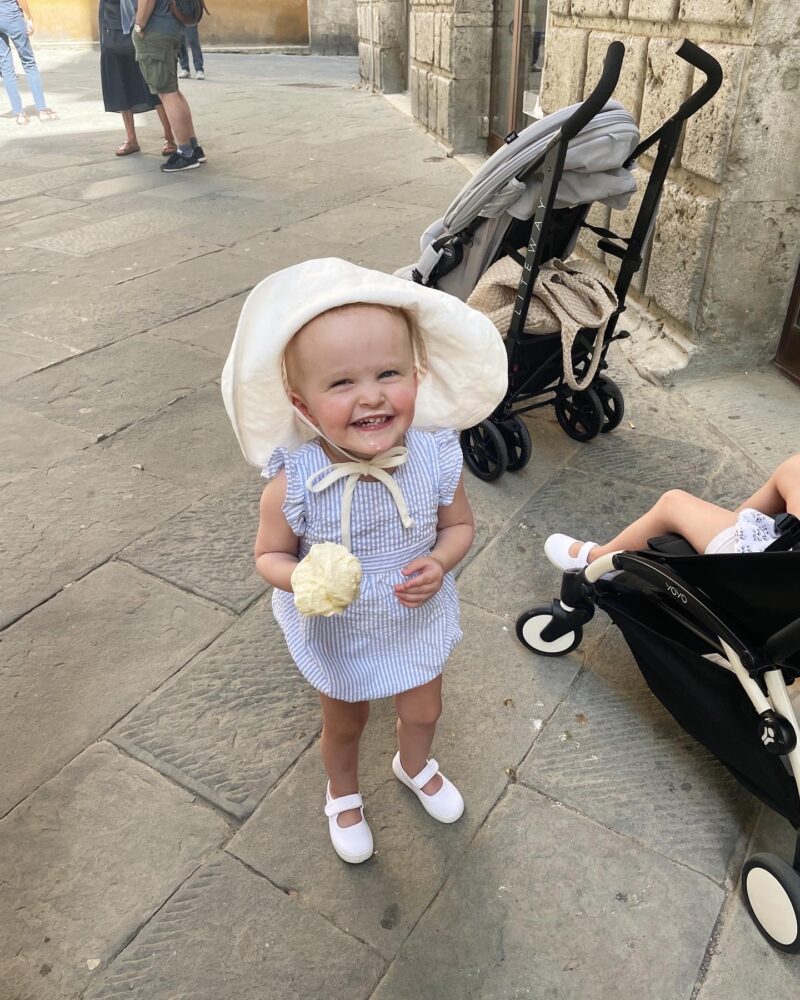 Trip details
I plan on recapping the trip, what we packed, and our travel toys and gear after we return. I'd just prefer to be able to tell you what did/didn't work vs providing a random checklist. You can see my travel essentials for a long flight here.
And since I got a few questions about their FAA approved airplane harness, I'll link that here, too.

I have received a surprising number of questions about Margot and Kate's mary jane sneakers so I'll link them here. They're comfortable and built more like a tennis shoe but look like mary janes. The brand makes sneakers, too!
How it's going
The trip has been wonderful so far. We have had some moments but we're traveling with a 2 and 4 year old so that's expected. And it's been better than I expected. Sleep on the plane wasn't fun but it never is. Being flexible helps, and I am very much a no-plan kind of traveler. I like relaxing and with views like this, it's still incredible being here. Are the kids tired? Ok. Let's have a lazy day.
Margot, as expected, has been a great traveler at age 4. I'm calling 4 the magic age for travel. She doesn't nap, is pretty chill, and can keep herself entertained with small toys. Margot also isn't a big fan of sleep so she just keeps going all day and would stay up until 9/10 if we let her. She was not a great traveler at 1 so this feels life-changing. It's been easier traveling with both girls at 2 and 4 than it was with just Margot at 1. Kate is more of a wild card (she's 2, after all) but has done amazing. She has slept in most days, naps every day, and is sleeping pretty well at night. We have one more week so I'm hoping it continues.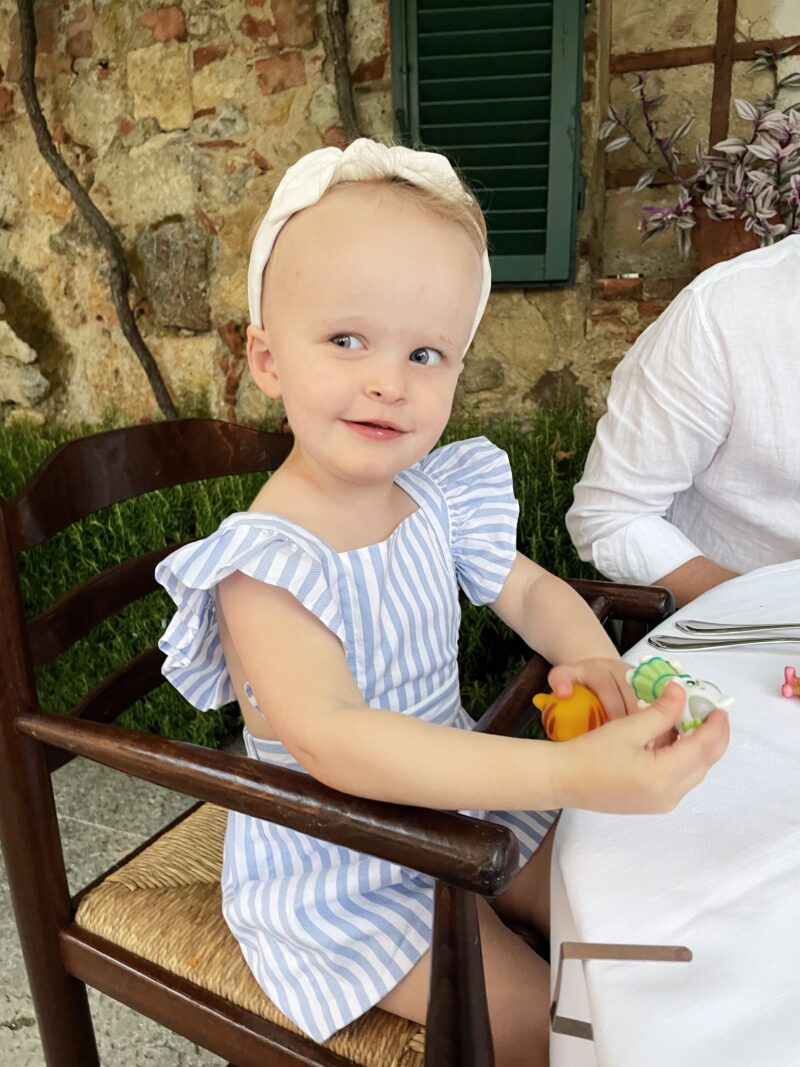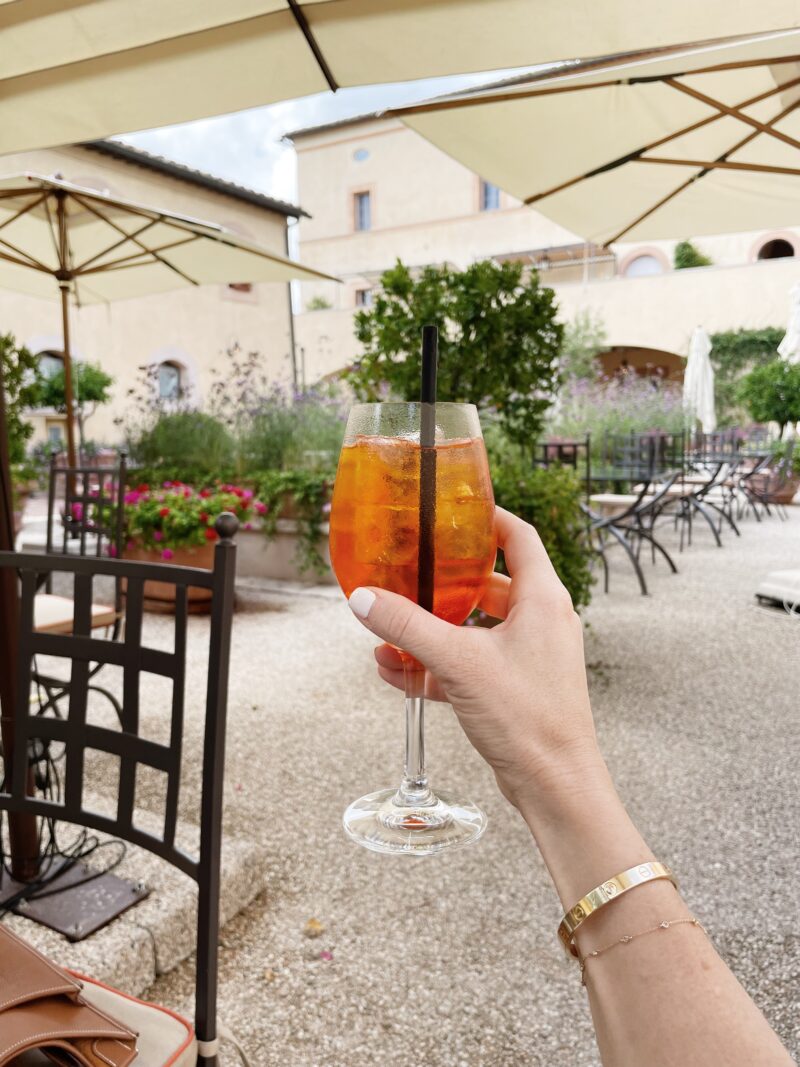 Traveling after living the way we have
I got a few questions about this. It's been fine for Conor and mostly for me. I have done pretty well but was worried about the airport and plane, and am definitely less ready to be "all in" when it comes to living normally. I feel good about the things that are important for our mental health: preschool, play dates, seeing friends etc. But I am definitely not ready for weddings and large gatherings and don't know when I will be. Traveling was ok. We had KN95s on at the airport. Having the girls in the window and middle seat felt safe since they weren't near anyone, and I was masked in the aisle the entire flight. It's been a week and no one is sick, so there's that.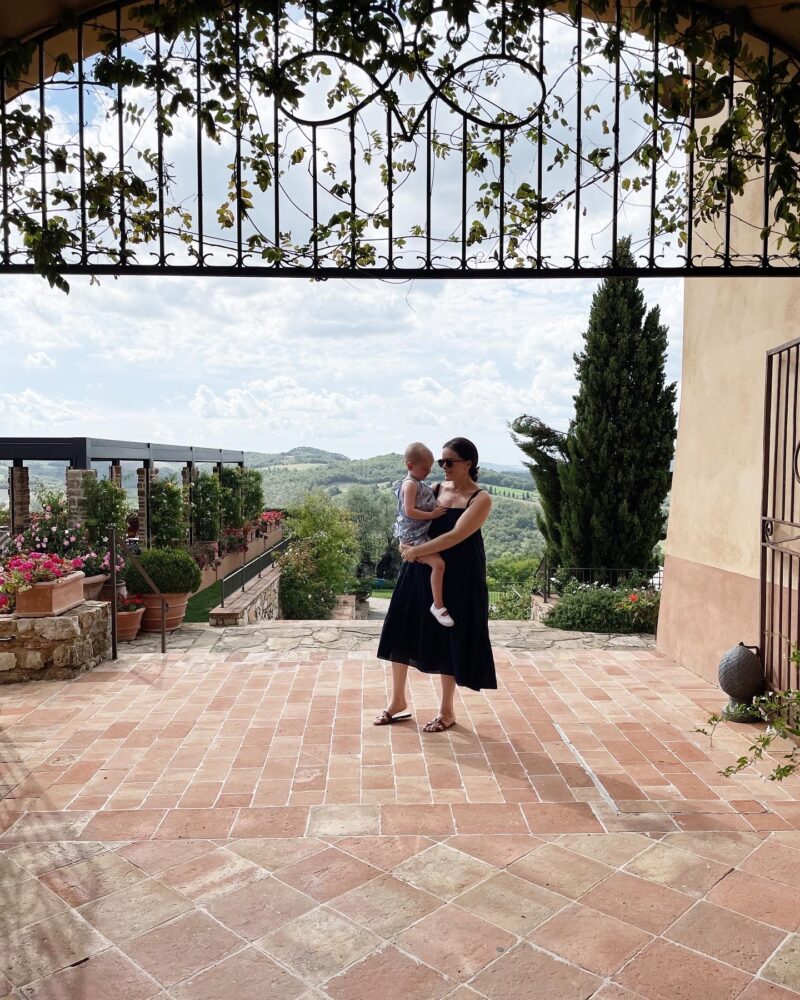 My Birthday is a week away
I'm turning 40 in exactly one week! We'll celebrate my birthday here in Italy and then fly home the next day. 40! I honestly can't believe it. So much changed in my 30s and a lot happened, but it feels like it flew by – I'll have to write more on this later. It's not the scary thing I thought it was years ago – I'm a much happier, more confident person at 40 than I was at 30 or even 35. I can attribute a lot of the no-bullshit mentality I have to the last 2 years, but there's a confidence in who you are that comes with getting older. I know what matters, who matters, who my friends are, and the things that used to get to me…don't.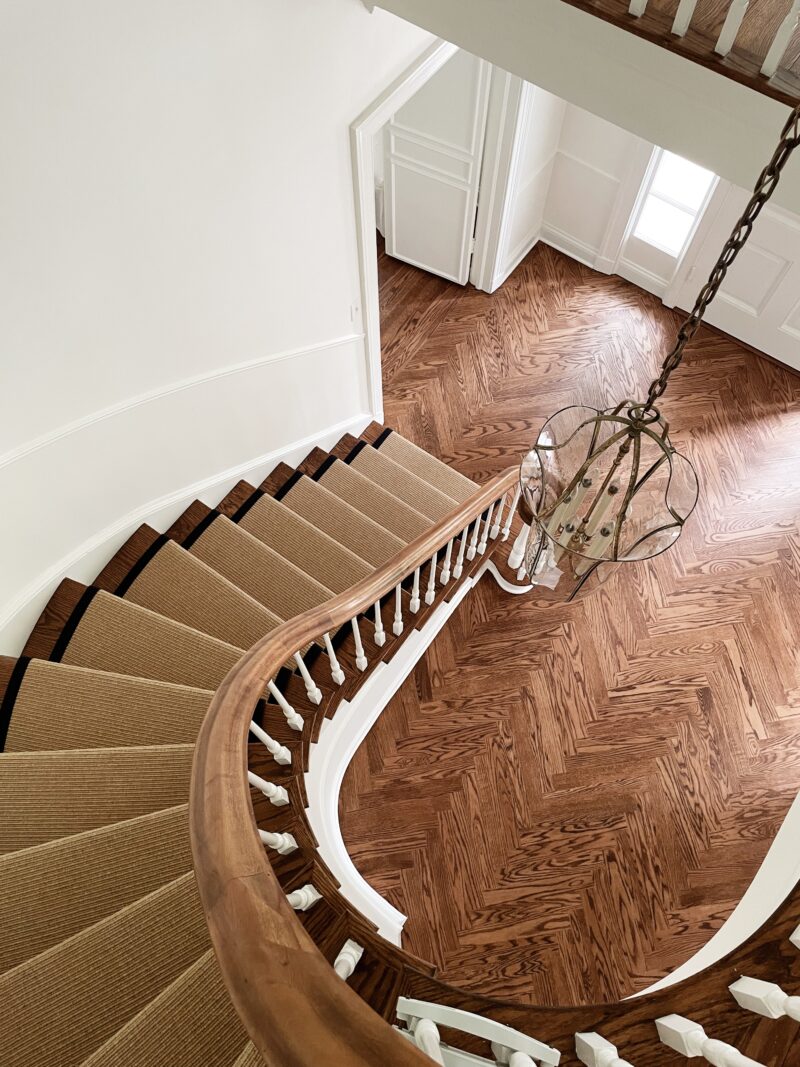 House Updates
Our stair runner was installed the day before we left, and there's still so much to do, but it felt good to get that done. See the details in this post.
I also had the entire exterior of our home cleaned the week before we left. We used Shack Shine and had a great experience. It made a huge difference! They're coming back to do all the interior windows and window frames in a few weeks. (not discounted or gifted – I'll always tell you when that's the case).
Hope everyone has a great weekend!