Two Nursery Trends I Love
Now that we've been in our house almost two years and have a second baby on the way, I am determined to get this house finished so we can enjoy our home with our two little girls (!!) for a few years. I recently shared an update on the living …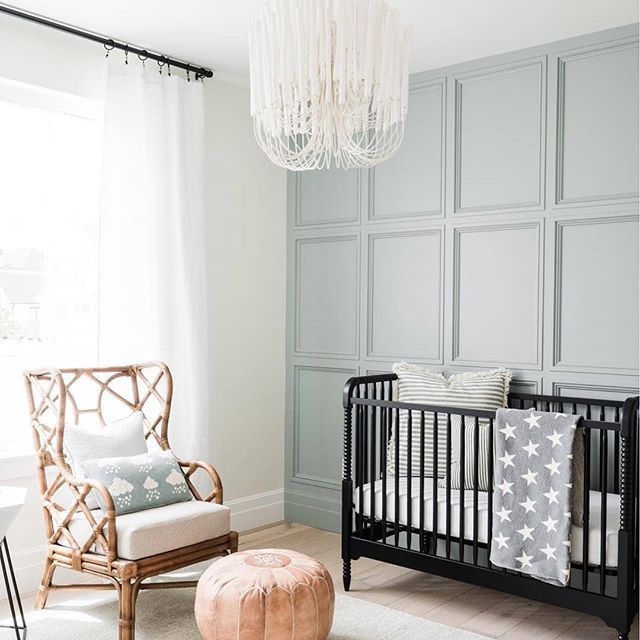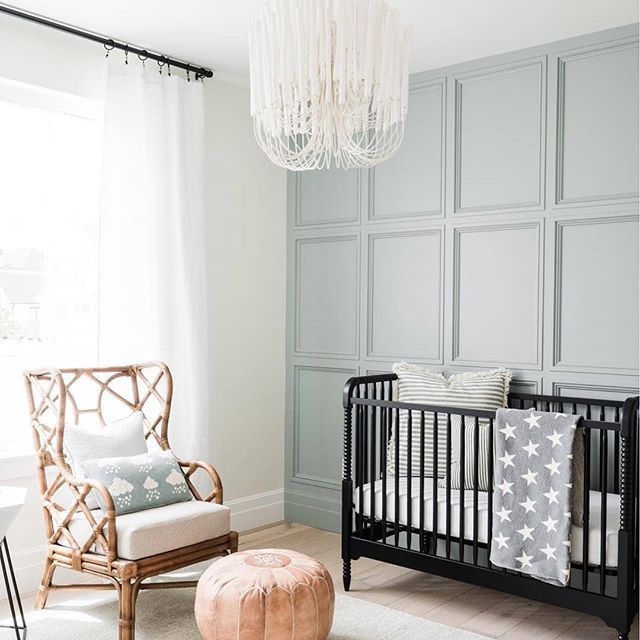 Now that we've been in our house almost two years and have a second baby on the way, I am determined to get this house finished so we can enjoy our home with our two little girls (!!) for a few years. I recently shared an update on the living room which has basically been completely redone (and in case you missed it, I explained why in the post). Here are two nursery trends I love.
Two Nursery Trends I Love
We're finally redoing the laundry room side of our basement. Nothing fancy – just some drywall, paint, and IKEA cabinets. We are adding a much-needed pantry and I'm working on all the finishing touches that make each room feel like home.
And finally, I am hoping to have this baby's nursery done before her arrival this summer.
Margot's nursery wasn't completely "done" until her wallpaper and window treatments went up last summer. It felt a little stark before then, and I still haven't gotten around to shooting it. That needs to happen in the next few weeks. Yesterday, I did a very big thing and ordered the crib I've been really into but unsure of for the last couple of weeks. I found myself going in a very different direction for baby sister's room (less pink, less feminine, and a little more "me"). Today, I'm sharing two design elements I've decided on, along with a few decor/furniture options for the room.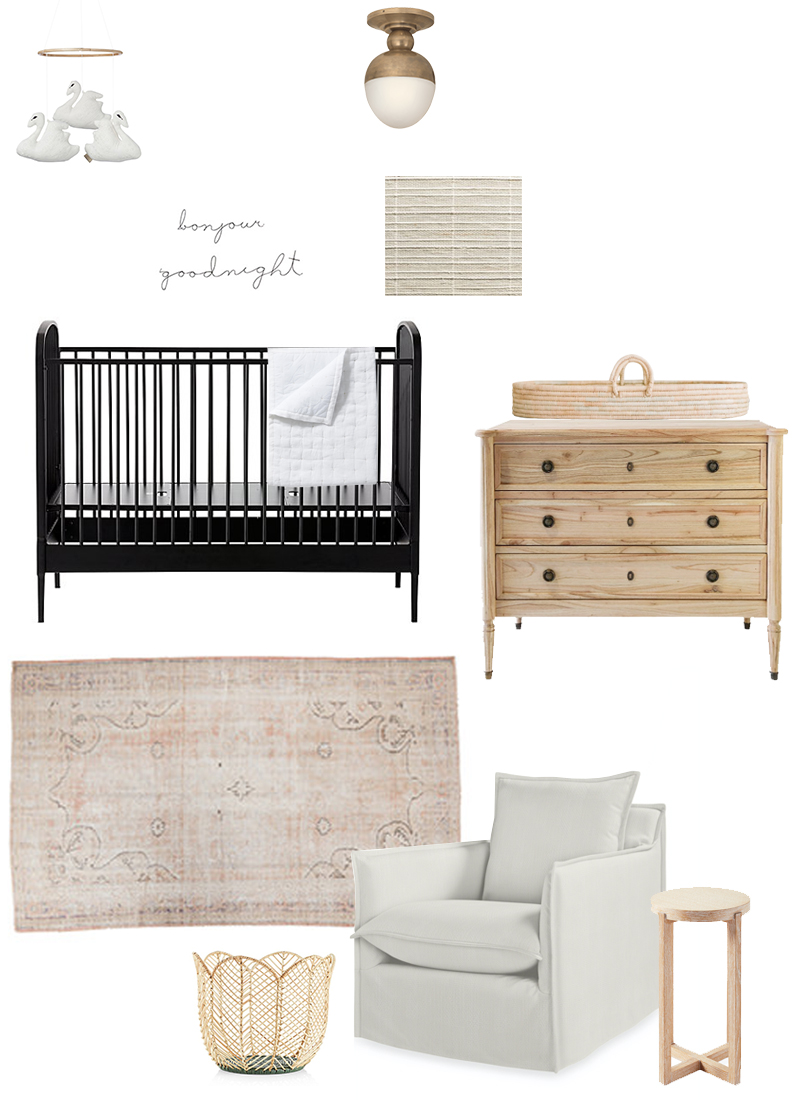 Designing our nursery
A black crib might sound kind of cold, but there's something about a black metal crib that feels traditional (and fun) to me. I love mixing modern and traditional, and I think (or hope) that it's going to work. I ordered this exact one the other day! Then there's the glider. I found myself coming back to this knife edge glider which is definitely on the more modern side, but I'm feeling it. Kim of Eat Sleep Wear has one in her son's nursery and I love how it looks (and she confirmed that it's very comfortable).
The Dresser
The dresser is a big splurge but I'm choosing an heirloom-quality piece that we can put anywhere in our home in the future. I actually have the matching desk and have loved this piece for years. It's stunning.
The Rug
I decided to make Margot's rug the one statement in baby's room since Margot didn't need pink wallpaper and a pink rug. I bought a simple, cozy, woven rug for Margot's room, and will be putting the vintage one in baby's room.
Nursery Decor
The room will need shelves, art, and some decor, but I love where it's headed, and can't wait to share more with you in the coming months! I'd love for you to weigh in on the black crib trend! What do you think?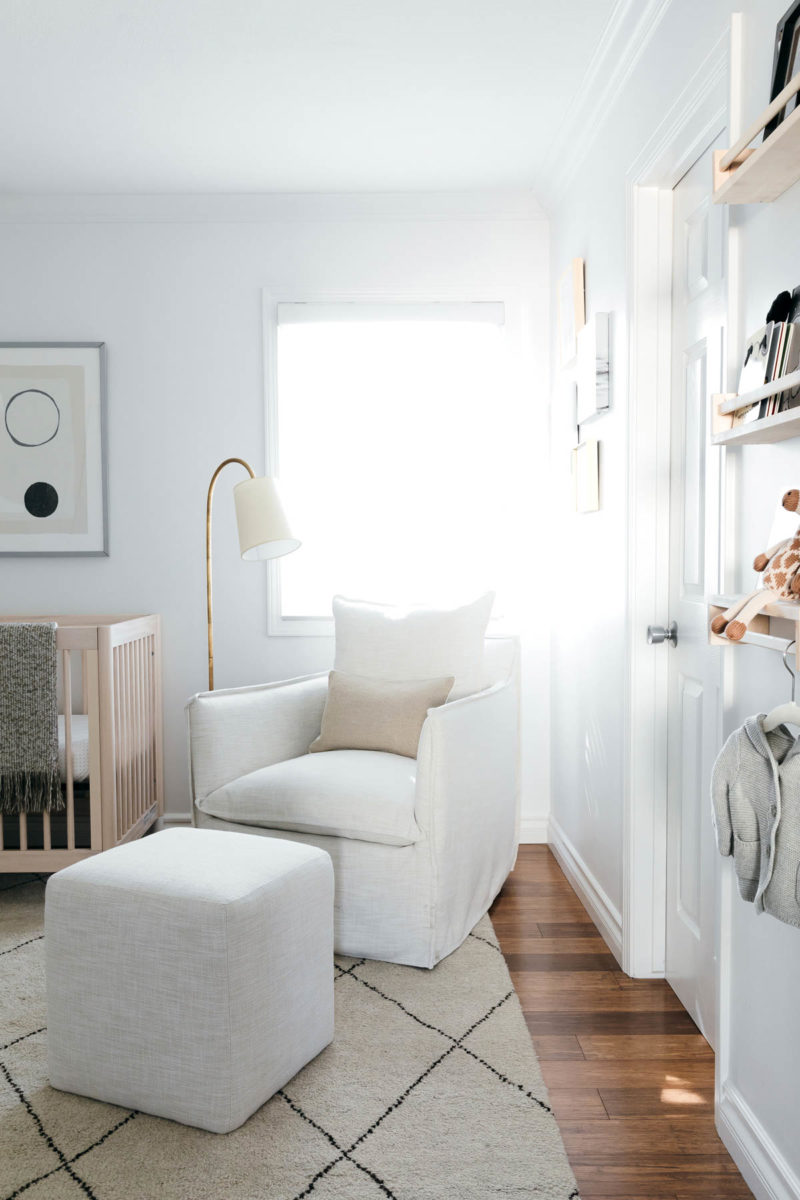 via eat sleep wear
Shop the Nursery Trends I Love