My Home Tour: Before and After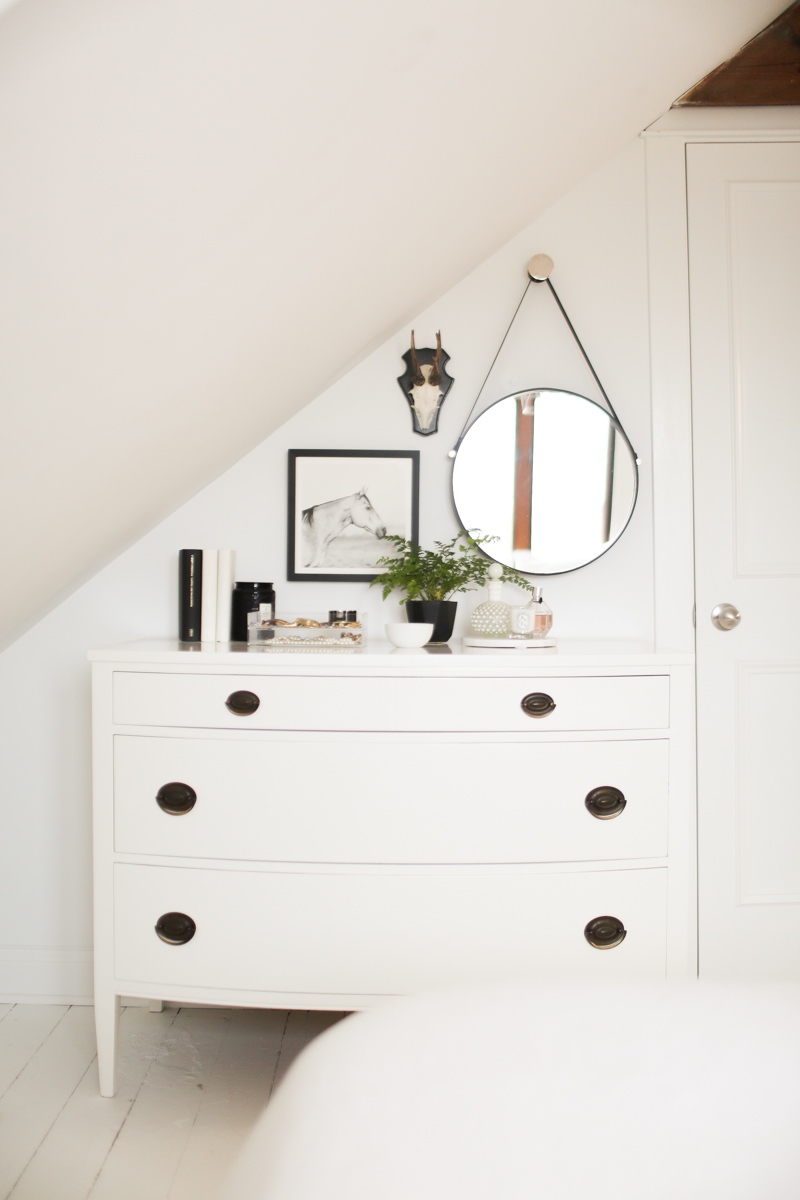 Last week, I shared the before, after, and in-between process of decorating of my living room. The number of changes that room saw meant it got its own post, and today, I'm sharing the before and after photos of the rest of my home.
After my last move, I sold quite a few accessories, got rid of a very large shelf that displayed them, pared down my home and closet to the essentials. This meant keeping my favorite accessories and displaying them on a handful of smaller surfaces in my home. The desire to have "stuff" around is gone, so it's all about the basics that I love. Sticking to a mostly colorless palette is easy for me. Any color would clearly stand out in these rooms, and I never tire of black, white, and grey. So it's a natural fit for me to gravitate toward these pieces that I can't and won't tire of.
Here's one more peek at my living room. You can see the full before and after here.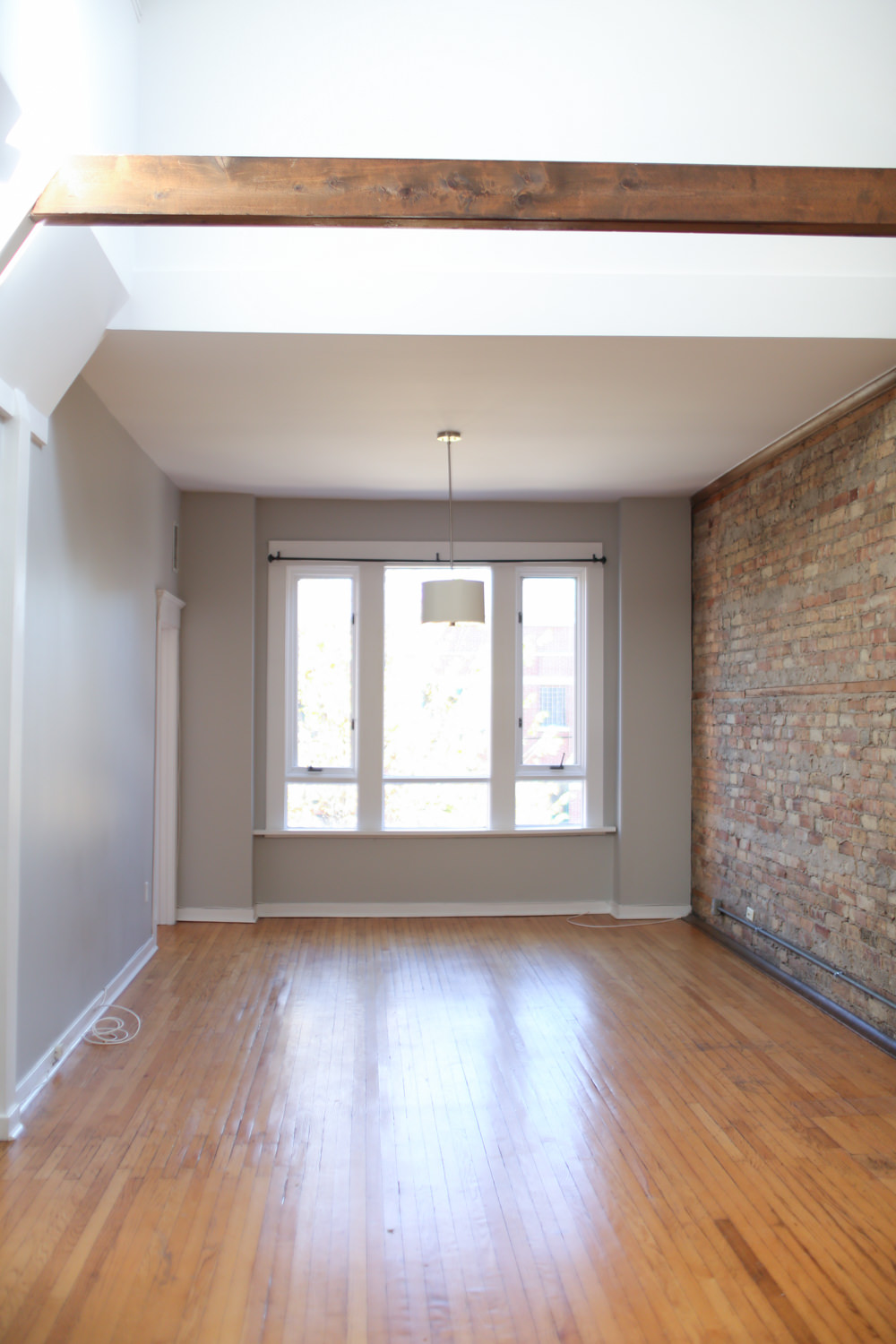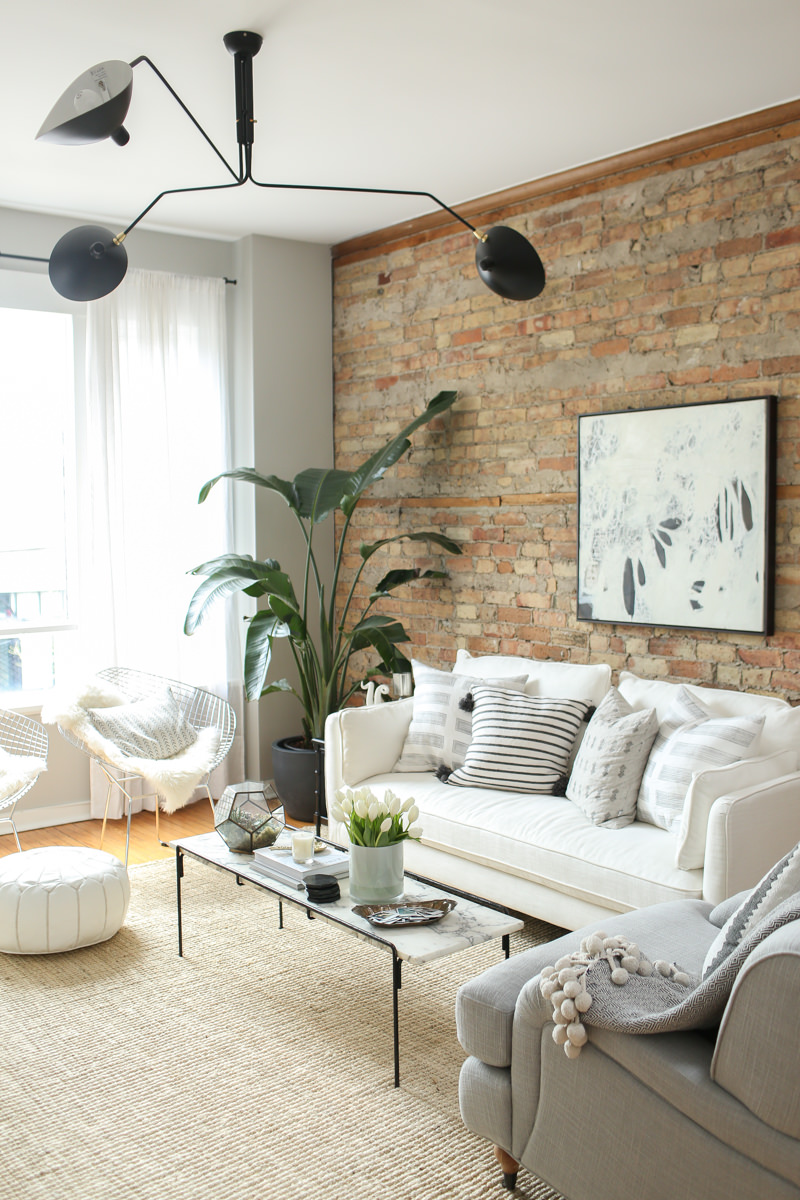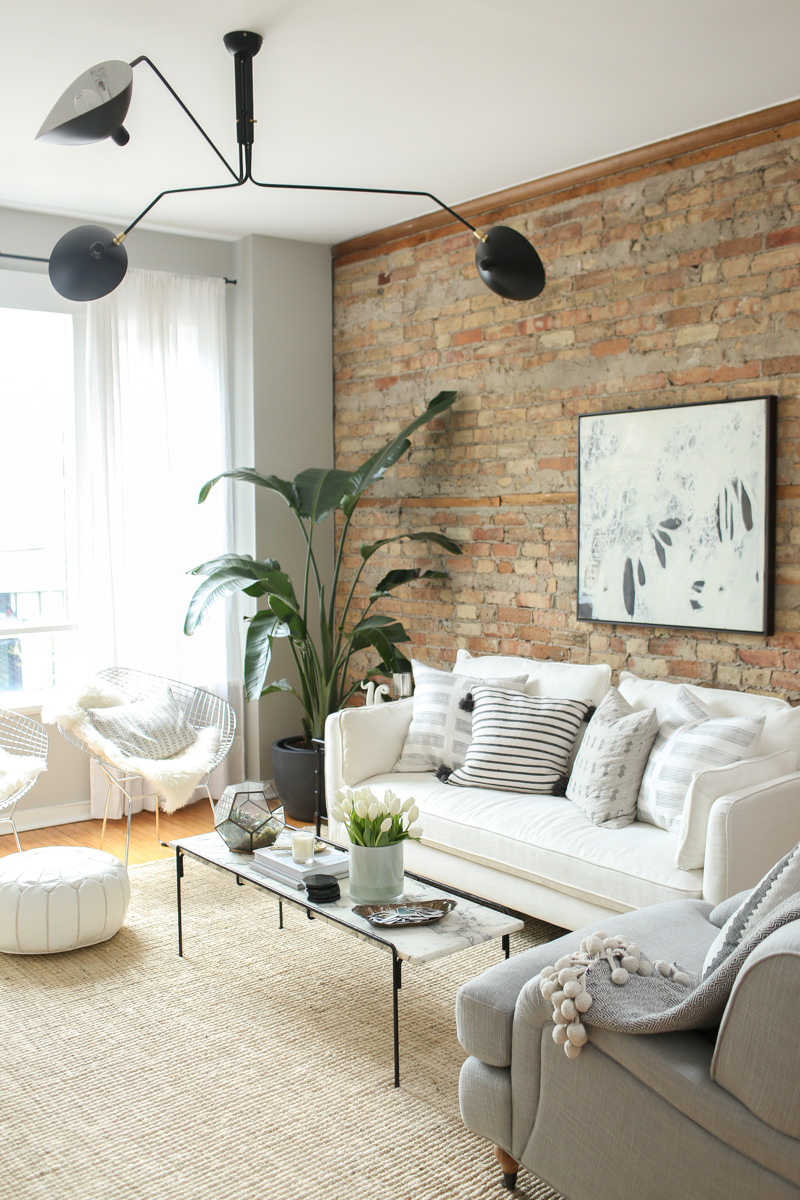 The Office
Aside from the living room, this is the room that saw the most change. Here's the world's worst "before" photo of the creamy beige walls which were repainted in Benjamin Moore's Stonington Grey.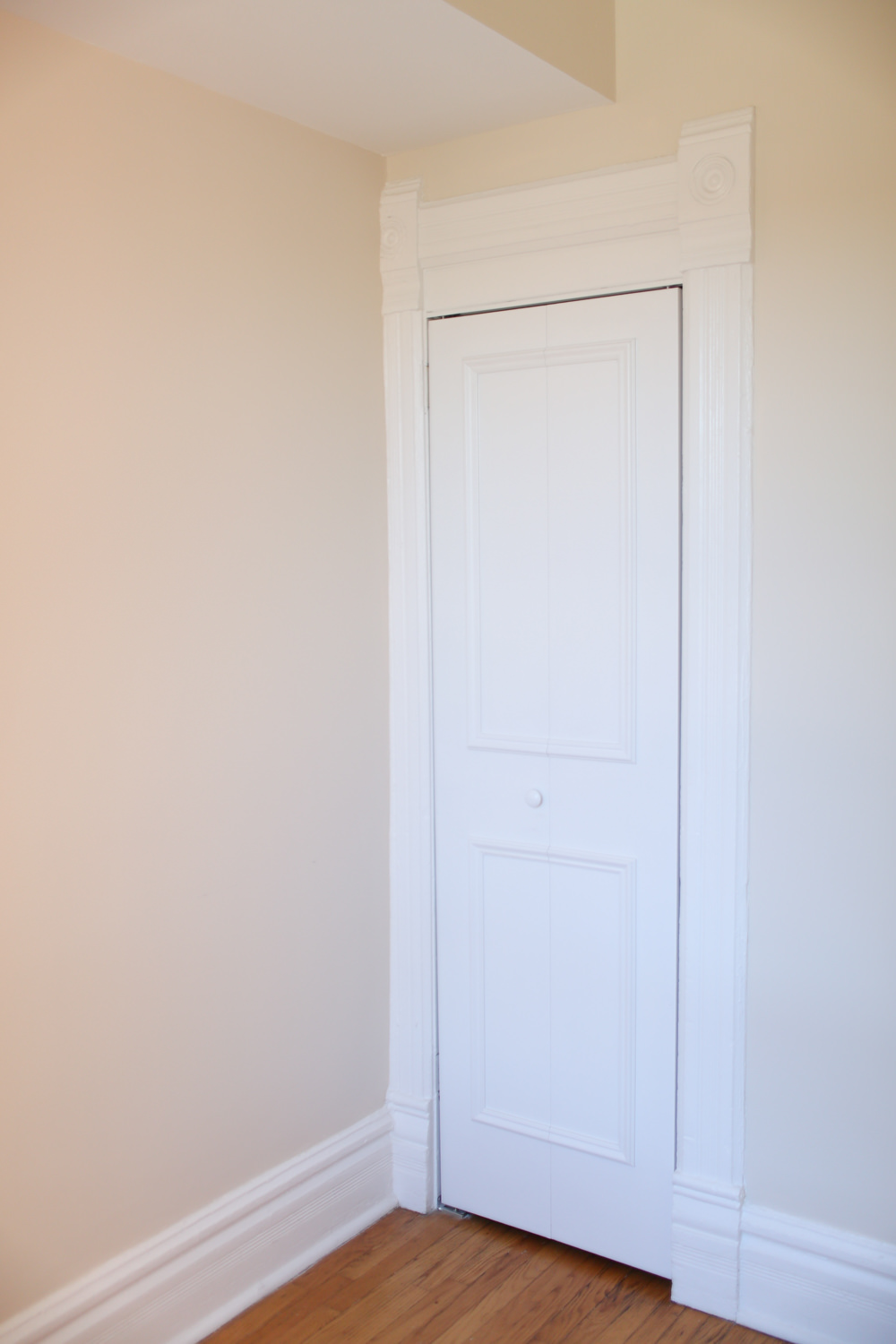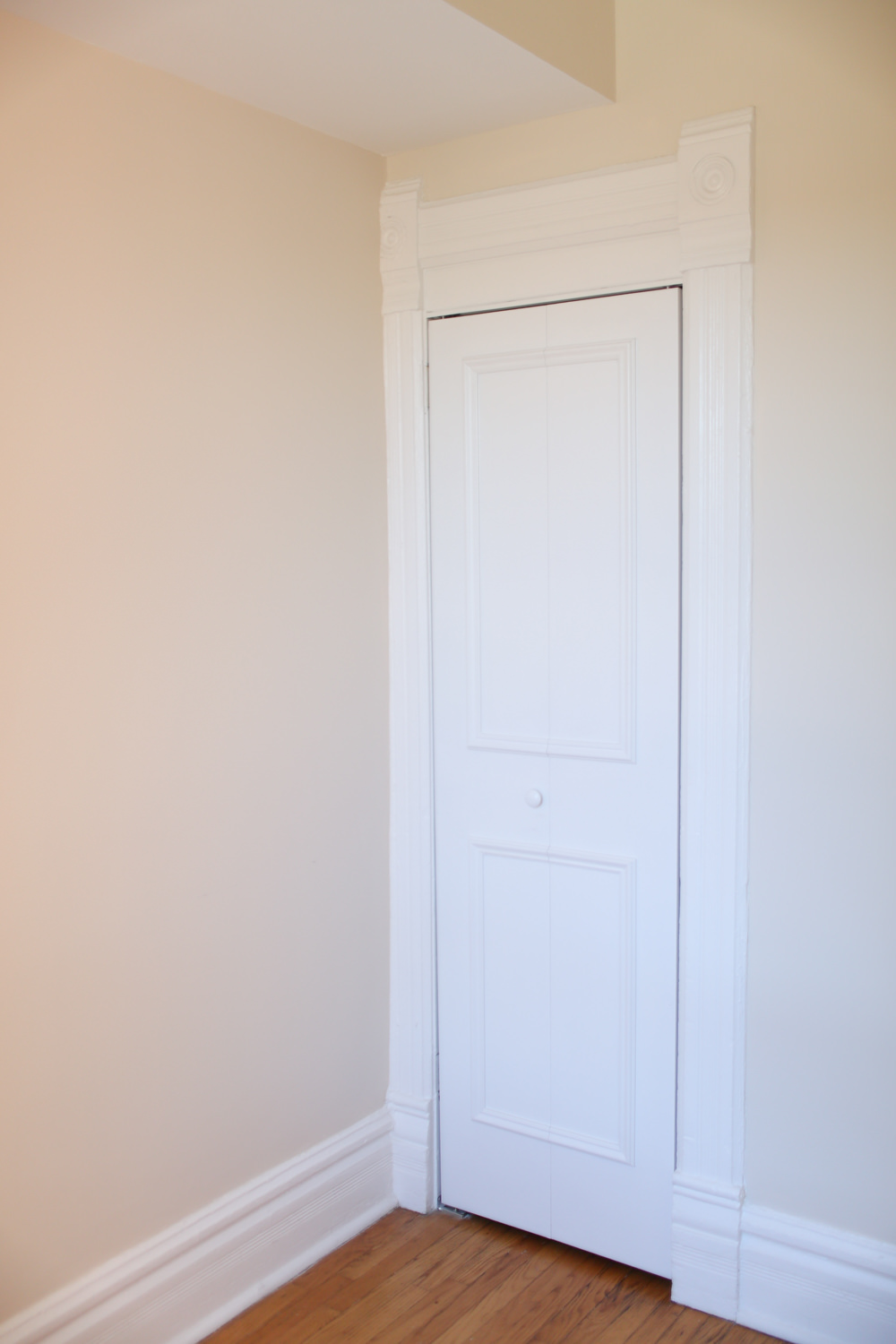 It started to come together once I got my Meg Made desk in there, but with the only outlet on the opposite wall, a rug was in order along with this nifty little cord-hider.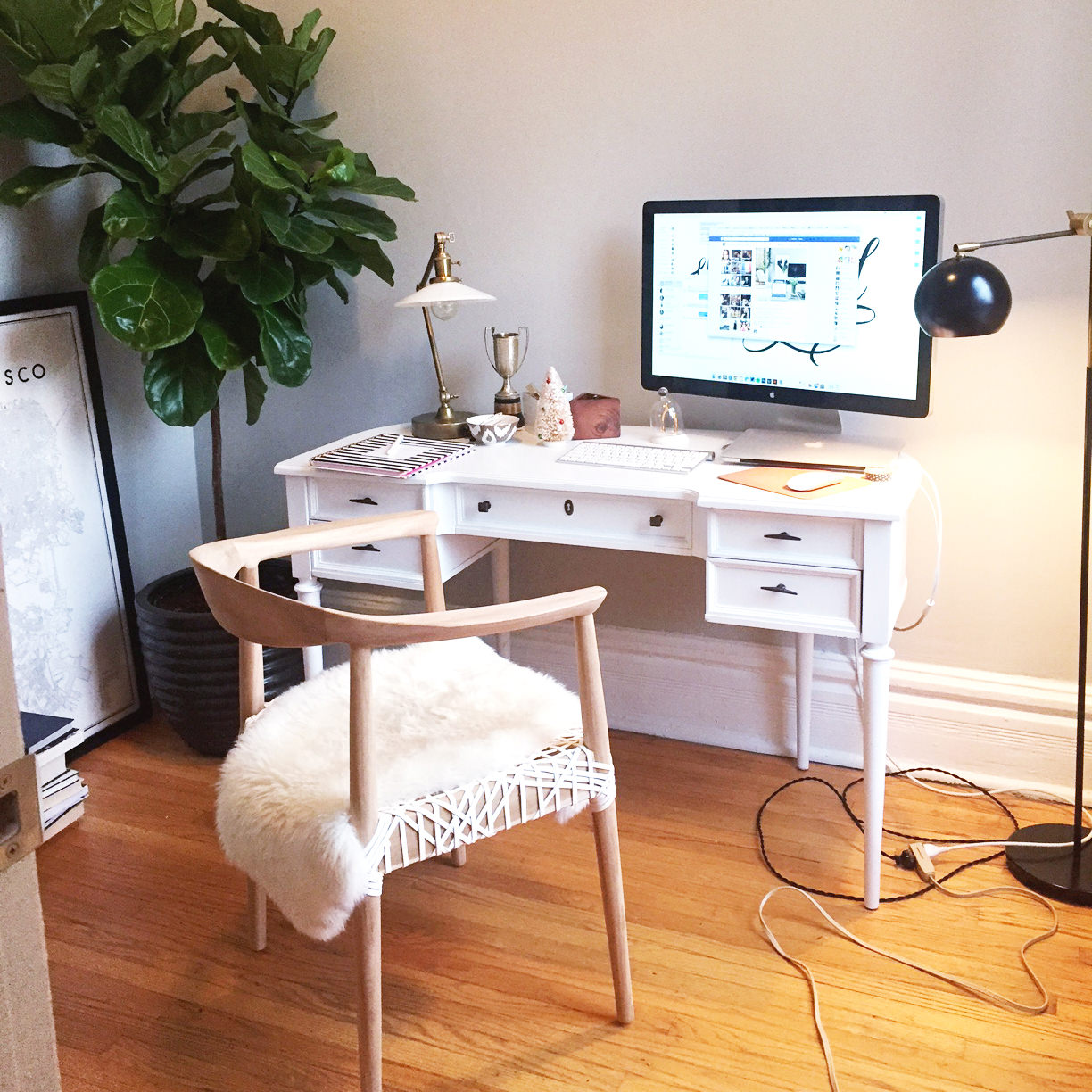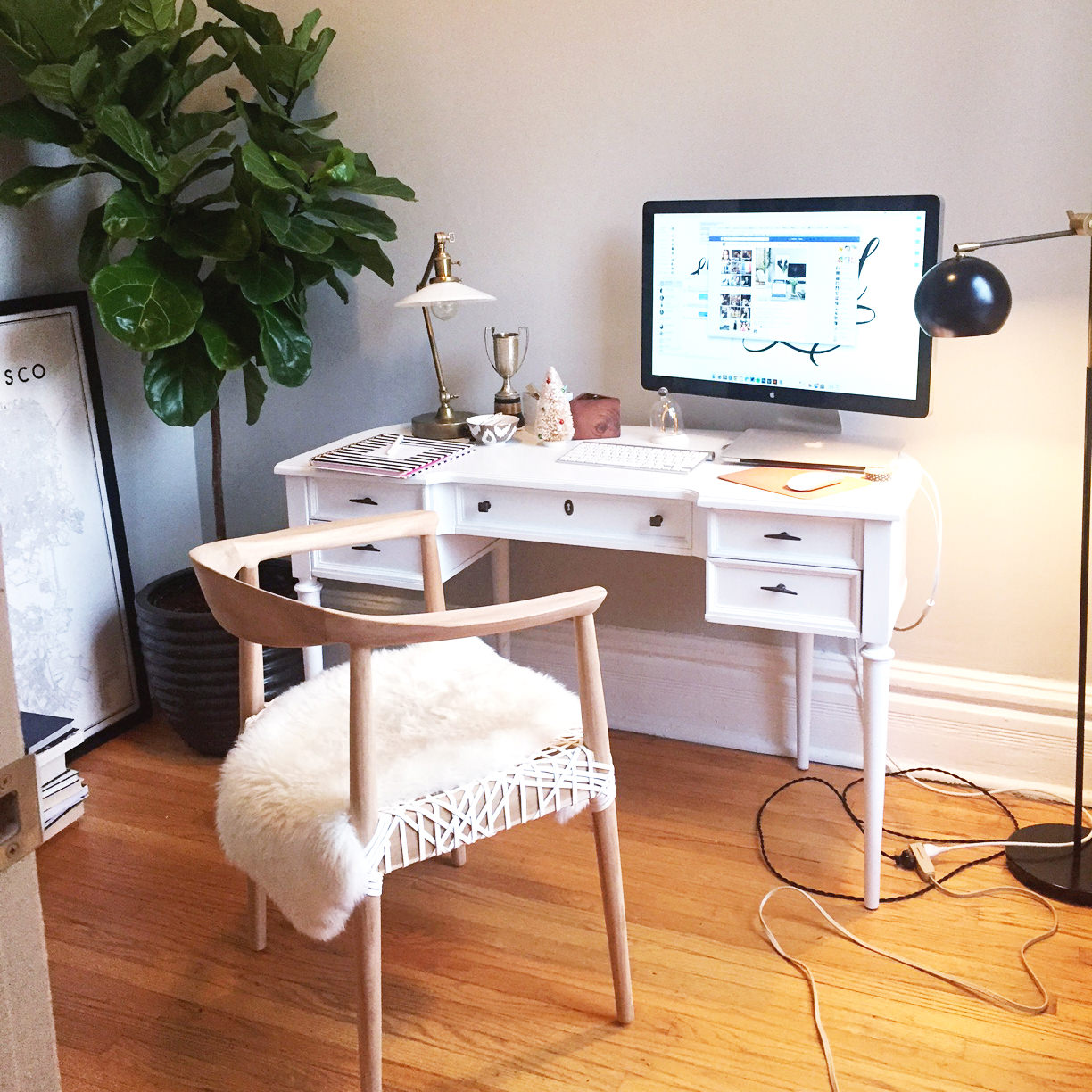 The moroccan rug looked really pretty but shedding drove me crazy, so it was eventually changed out for a jute rug from Serena and Lily.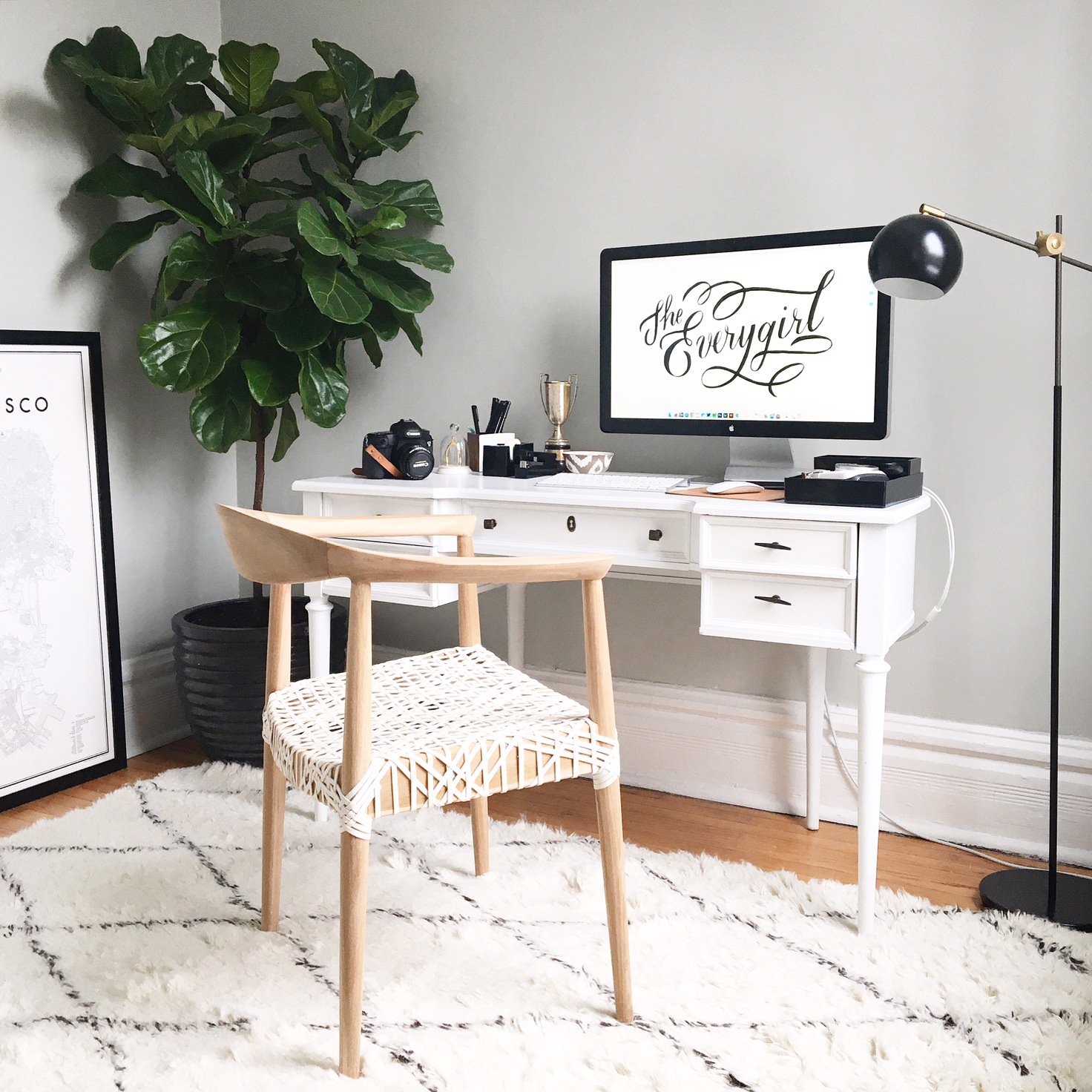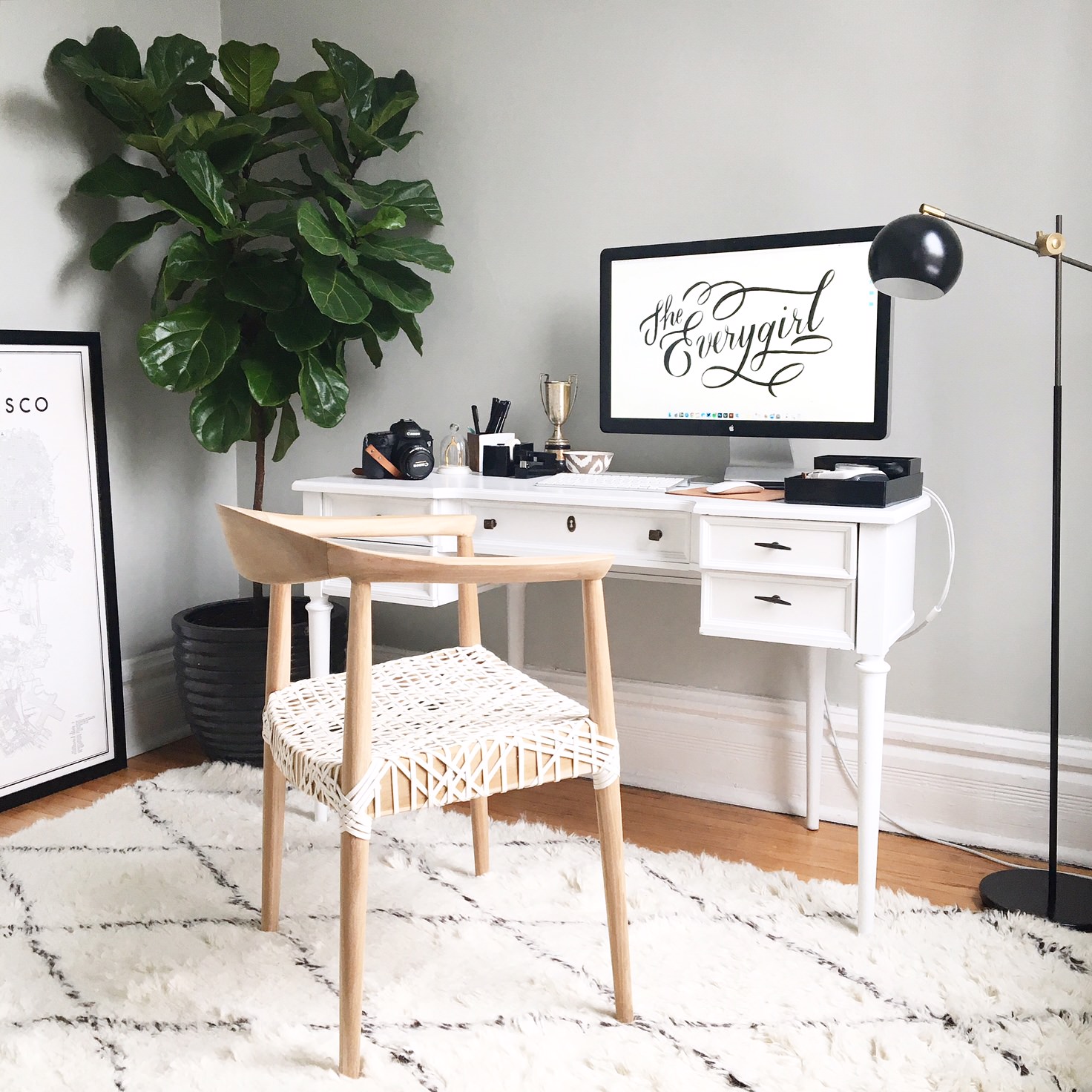 I gave this mini gallery wall a go, but it just wasn't doing it for me. Although looking at this photo now, it doesn't look so bad, right?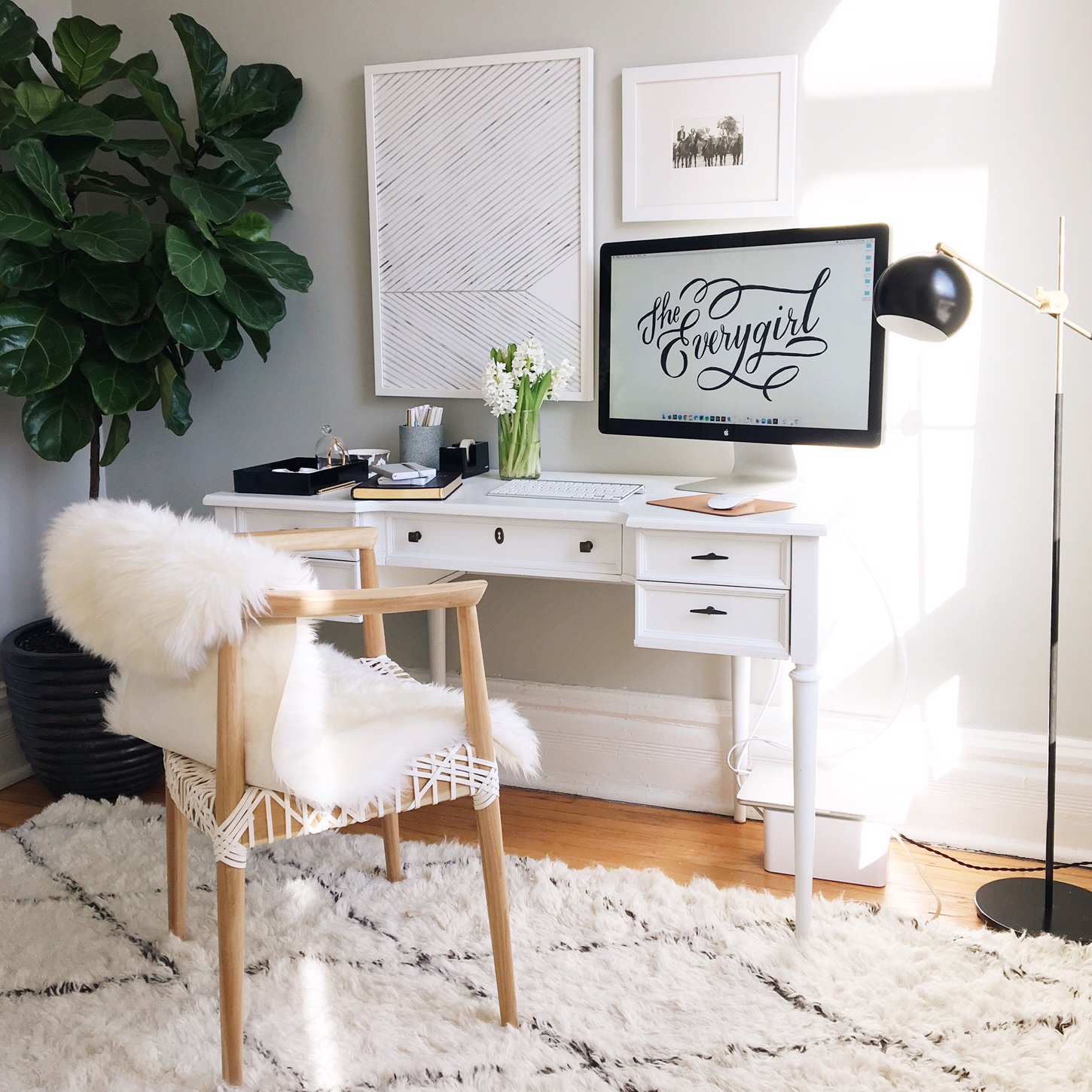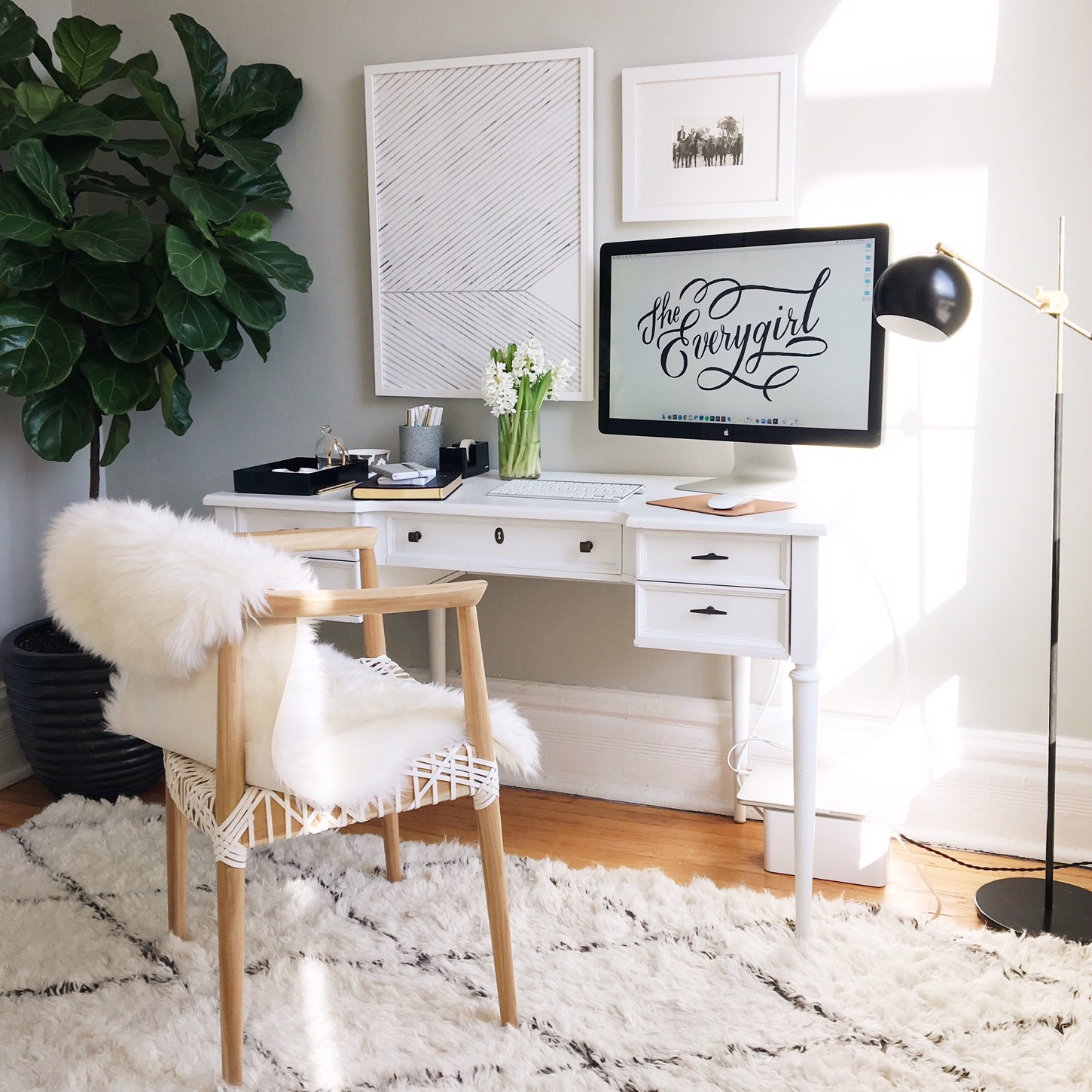 Then my horses made their way into my office. And done.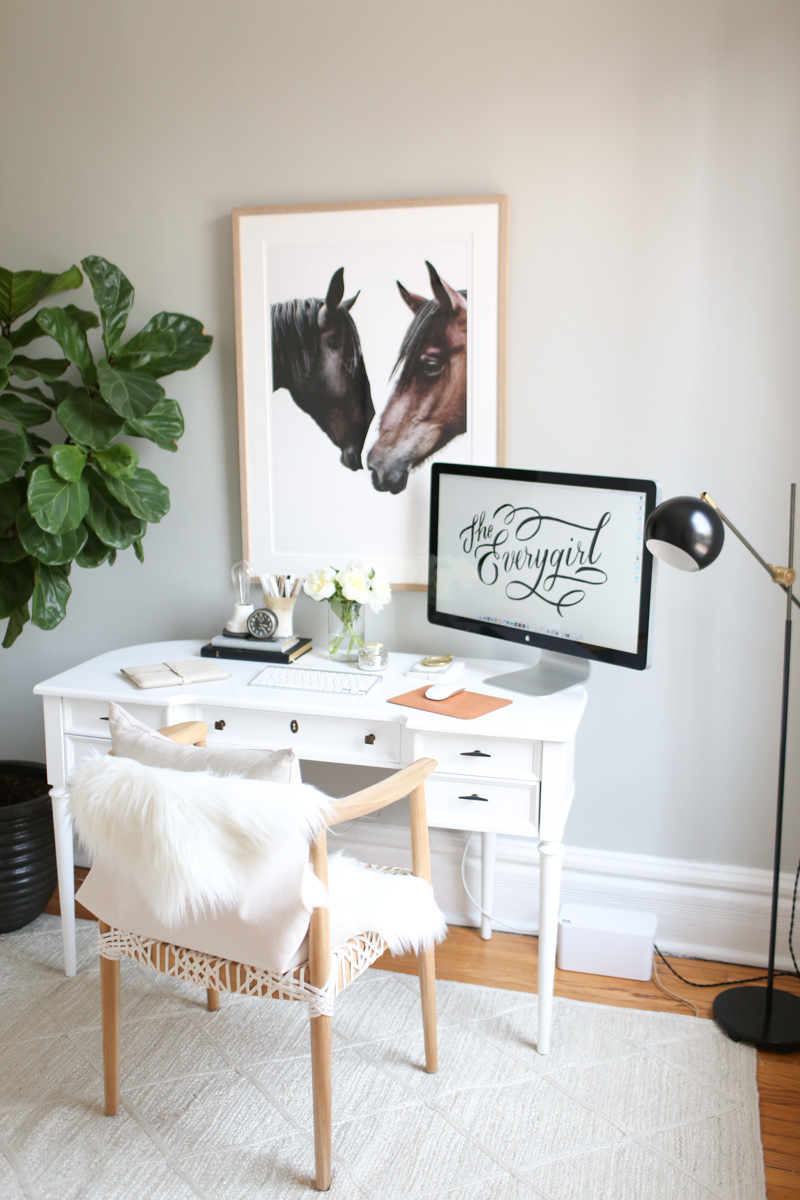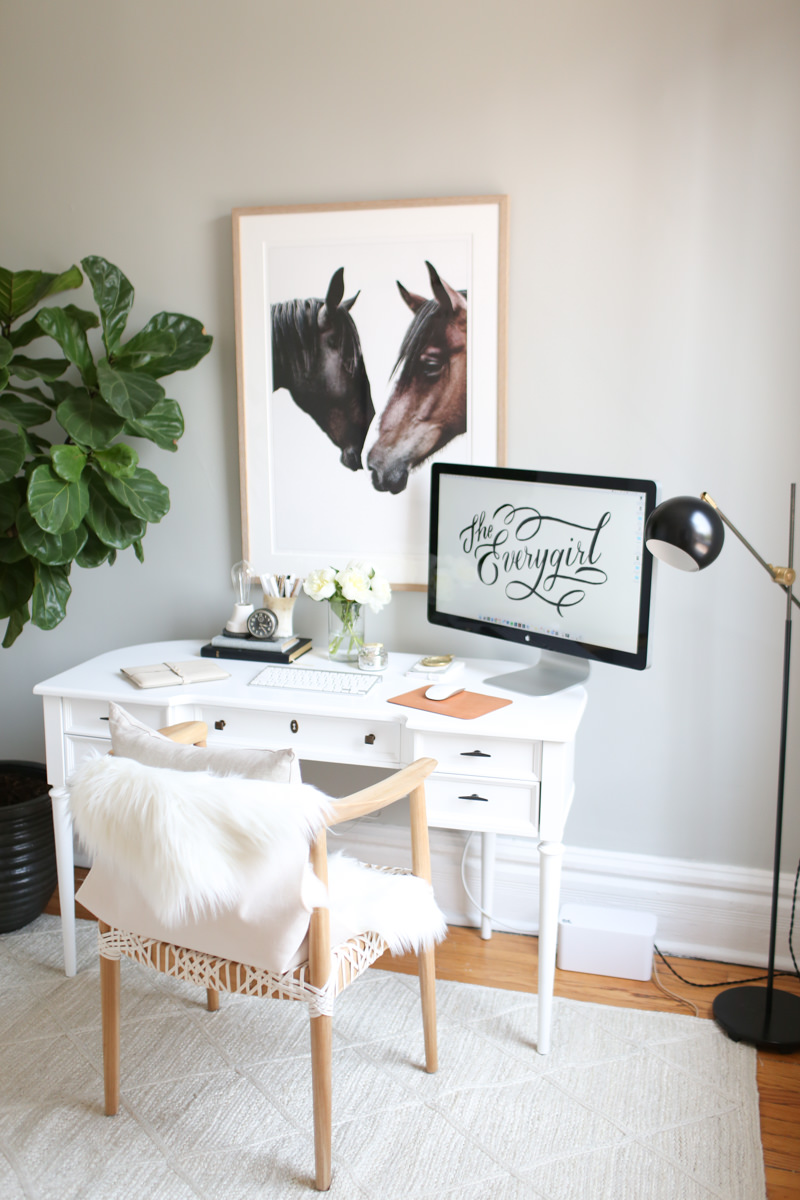 The Dining Room and Kitchen
These were the easiest rooms to decorate. I had a pretty set vision of what I wanted it to look like, and it all came down to finding a reasonably priced large white table (great for aerial photography) and black chairs. And I already had a tiny bistro table that fit perfectly in the kitchen.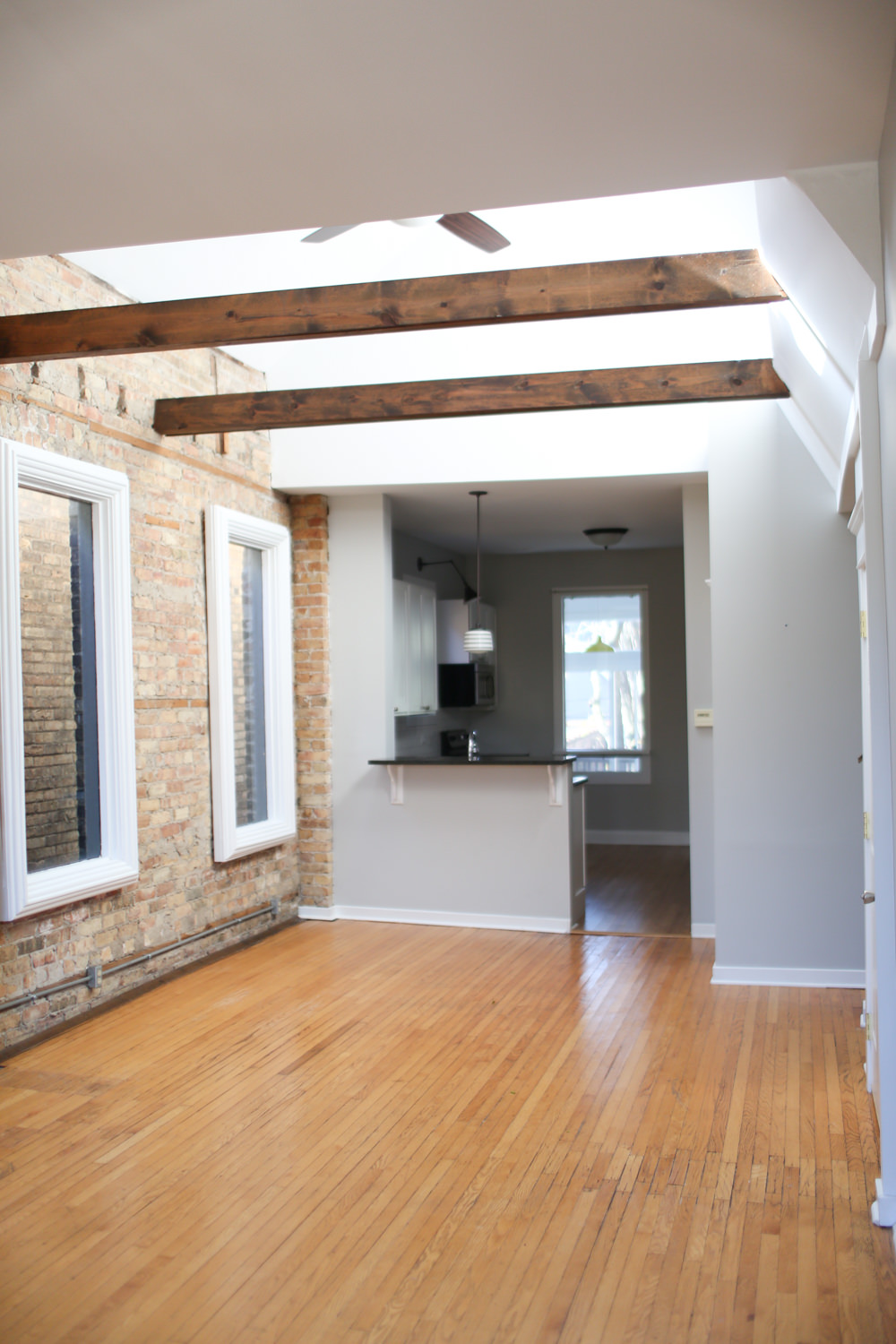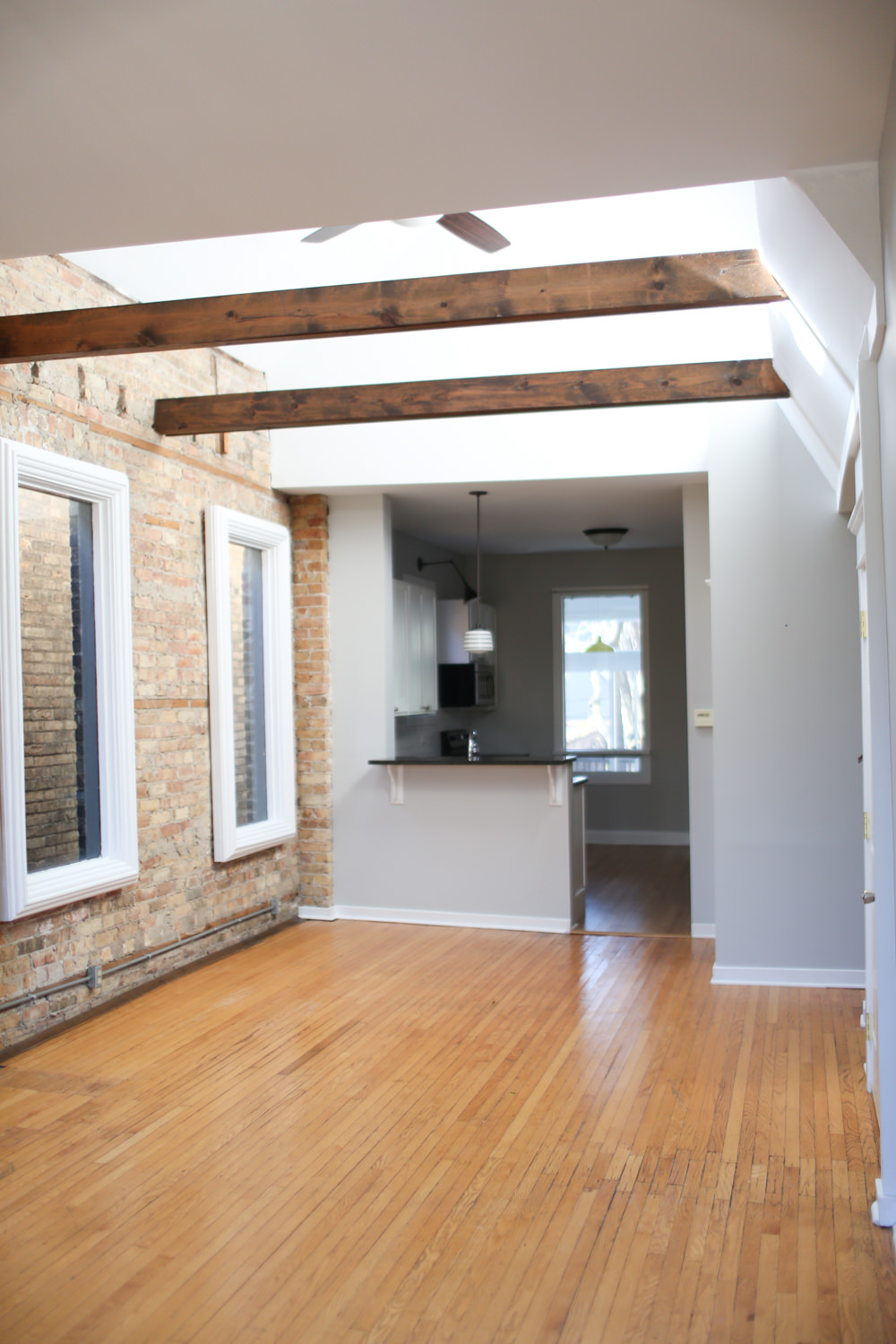 While I didn't want to invest in pieces I likely couldn't use later, a small table would have looked ridiculous in this space. The large table has been great for dinners and co-working–was definitely worth it. Since I knew what I wanted, it's a lot harder for me to provide any tips other than please size your rug accordingly. I'm not big on rules, but I feel like I usually see rugs under dining tables that are way too big or way too small.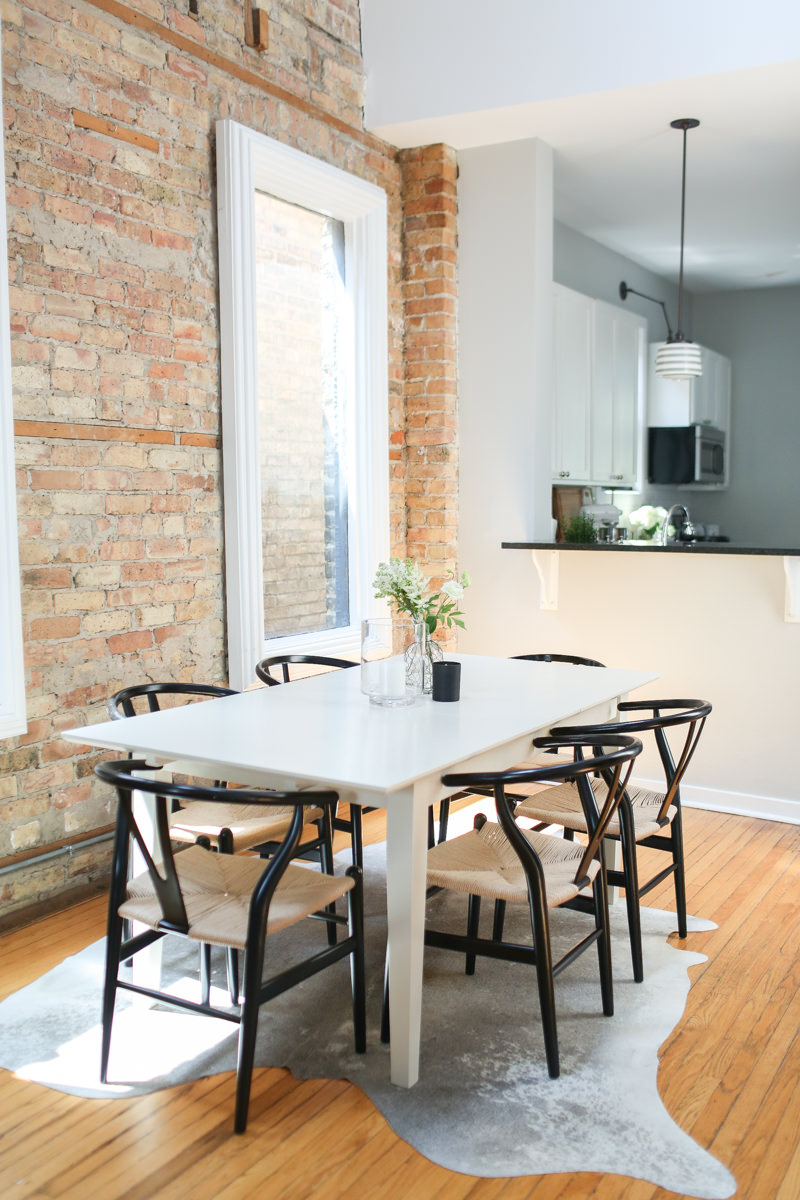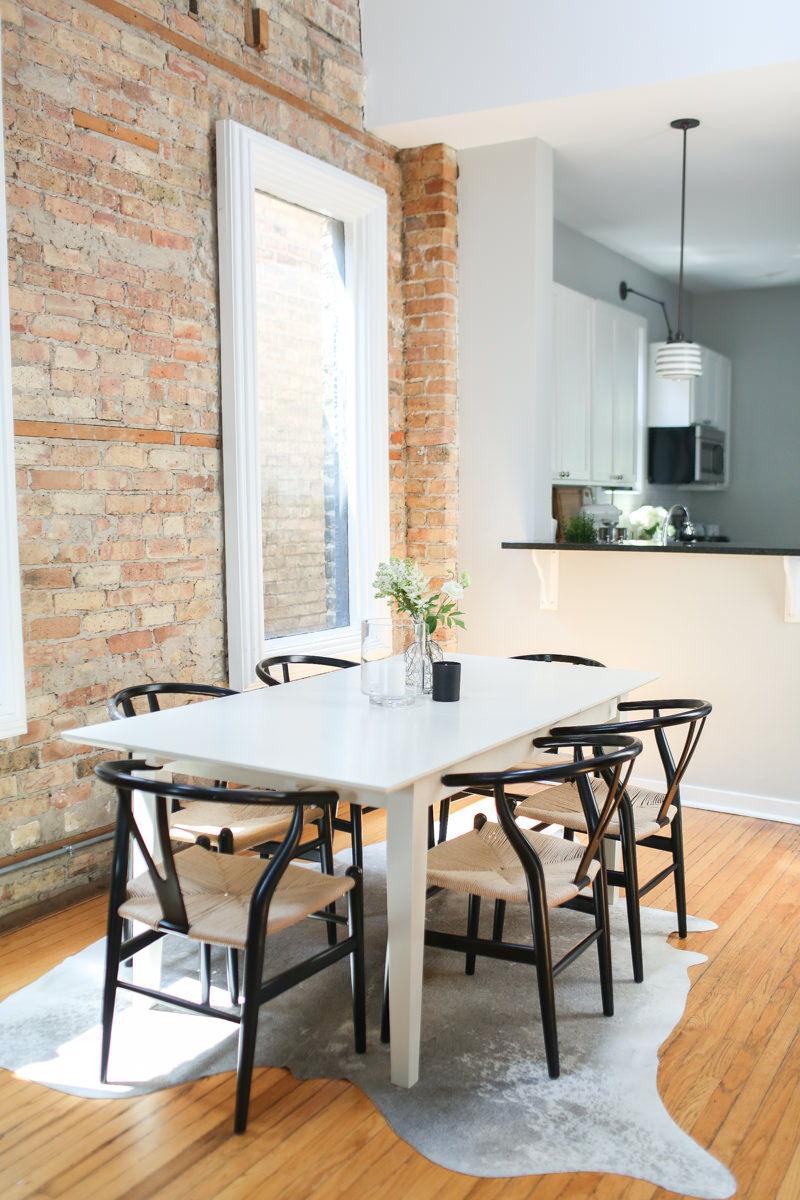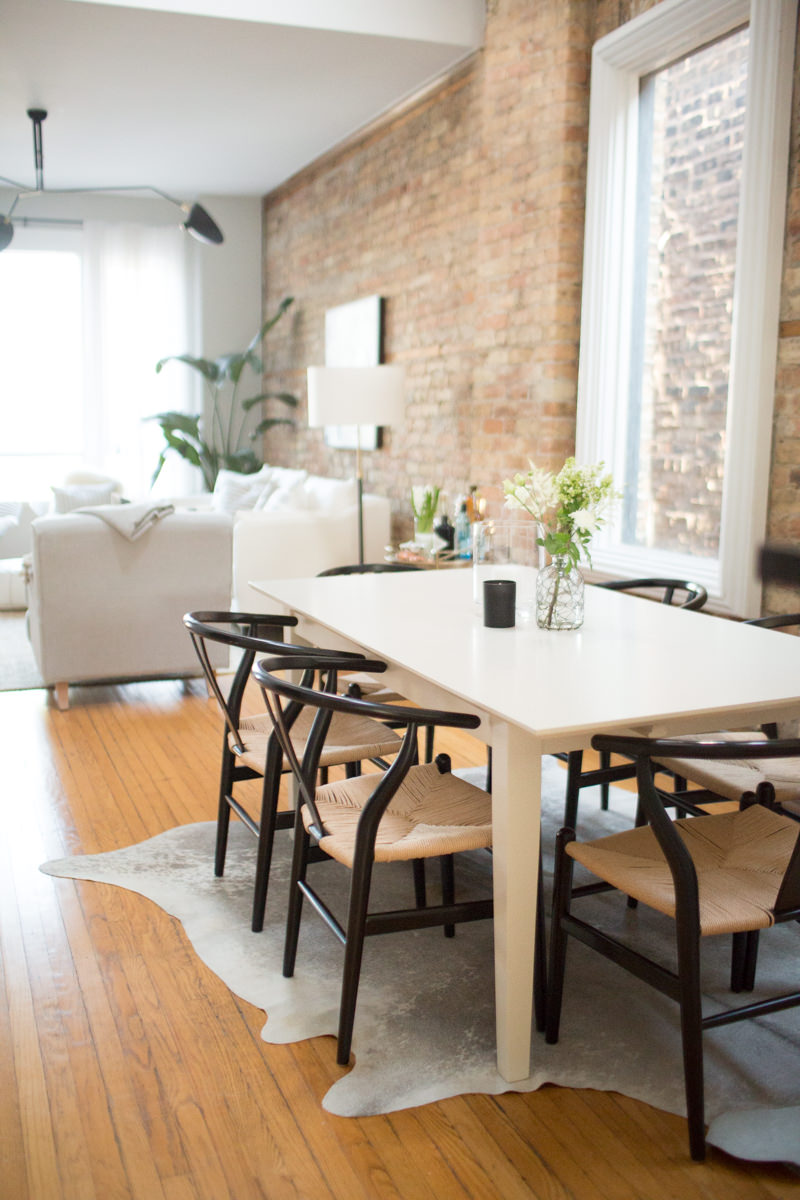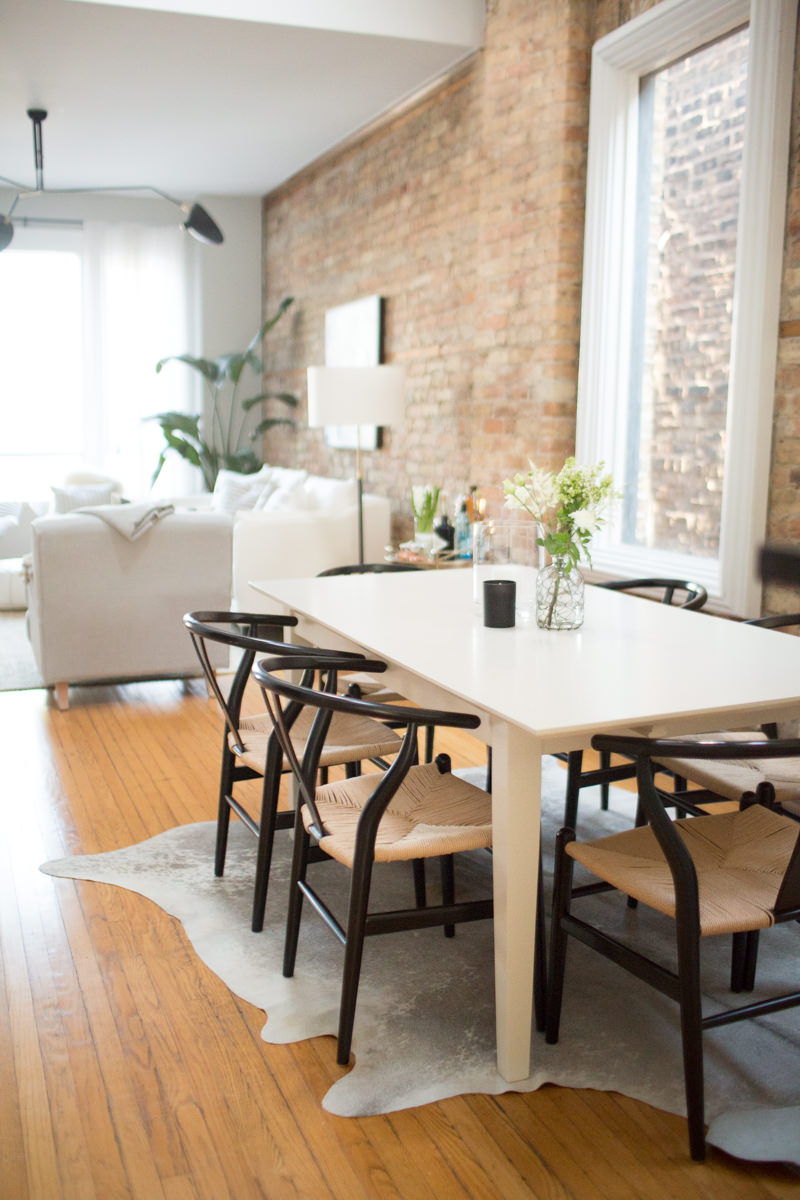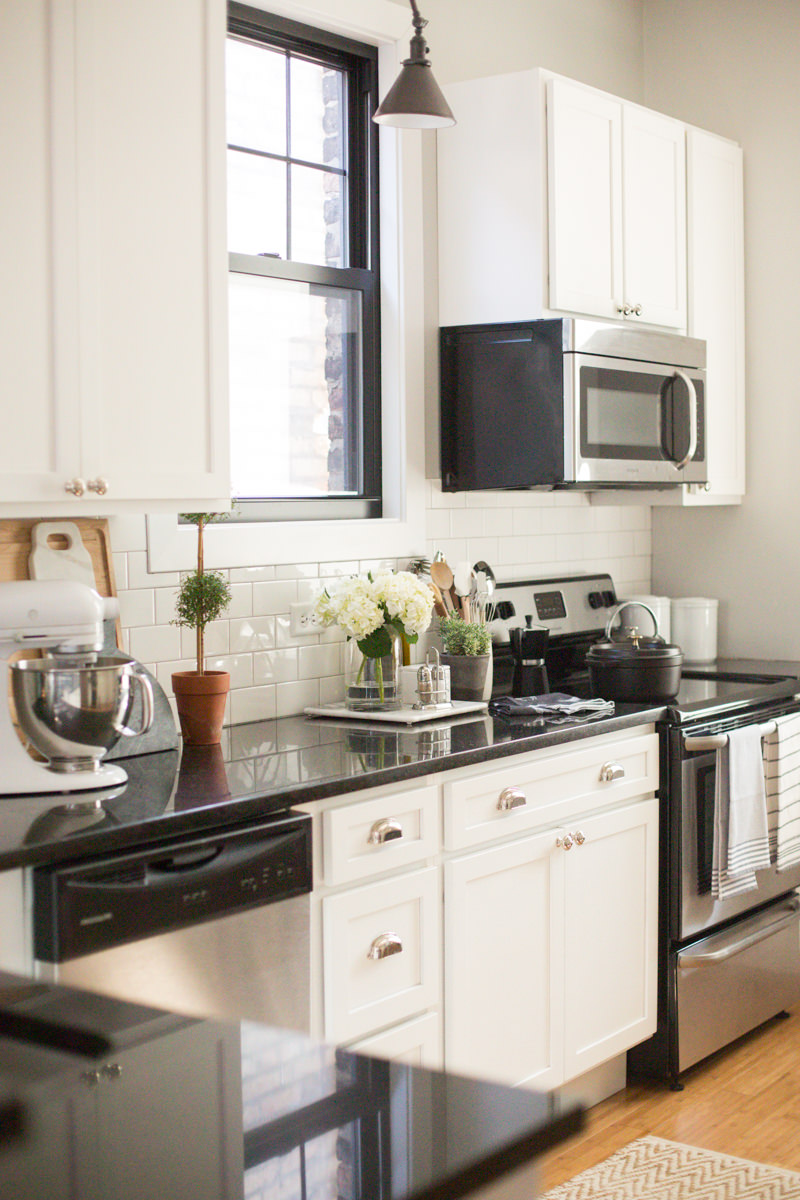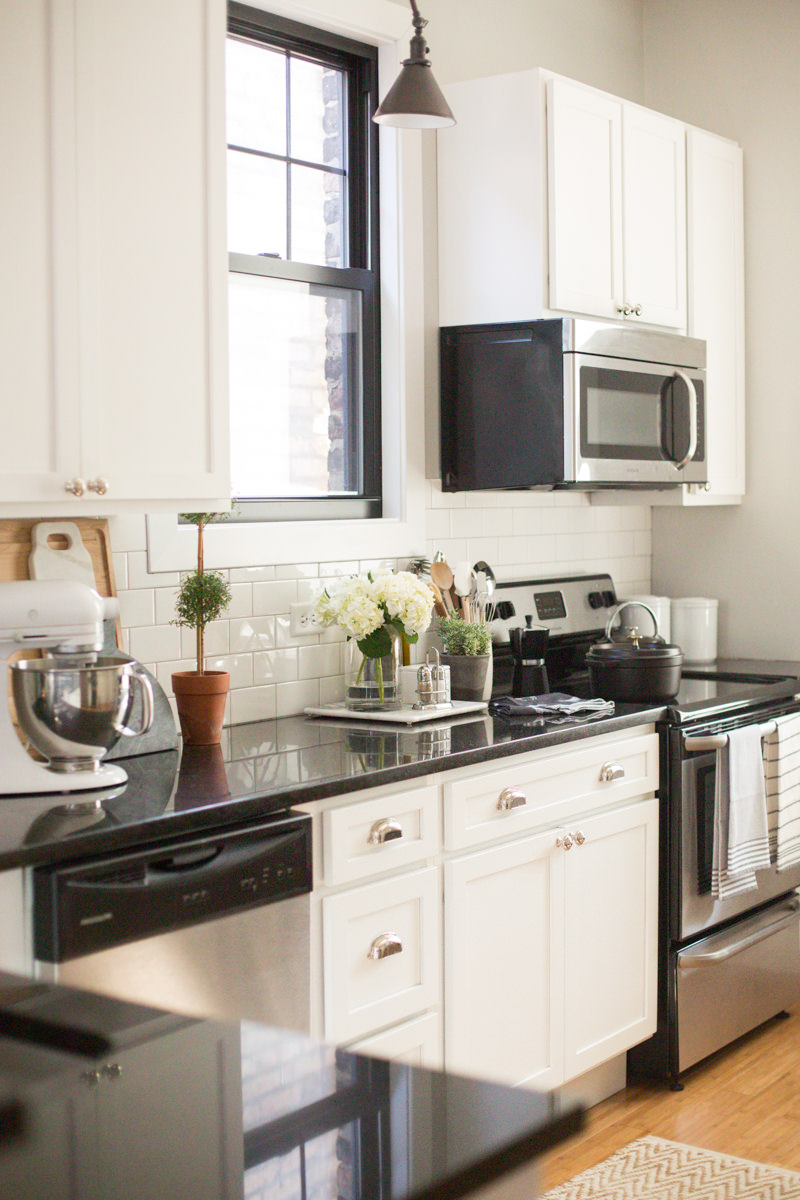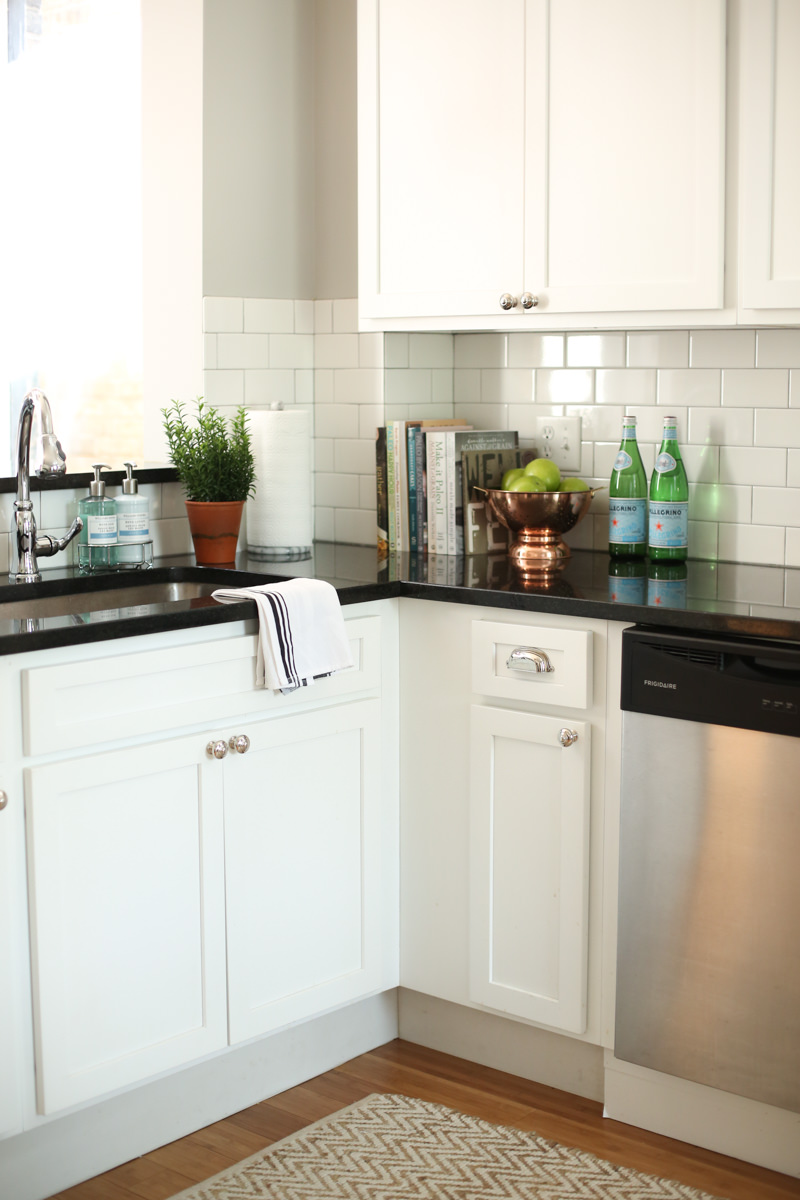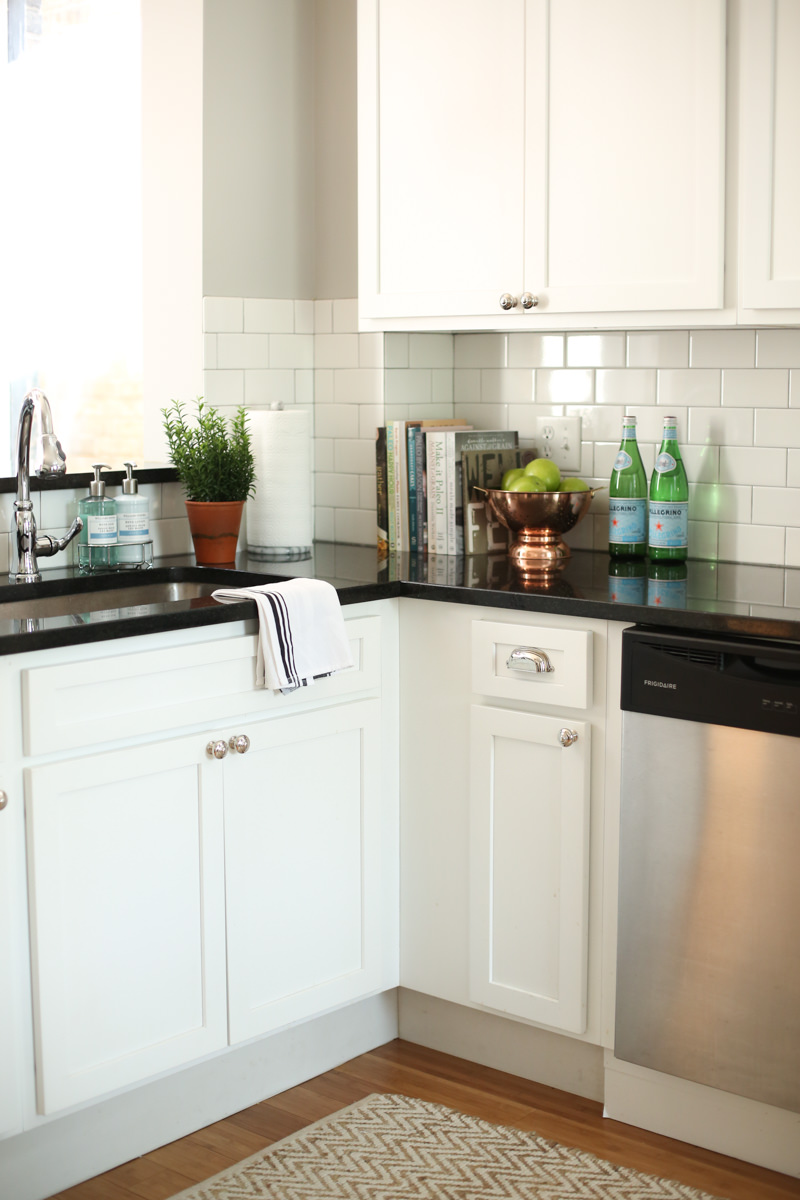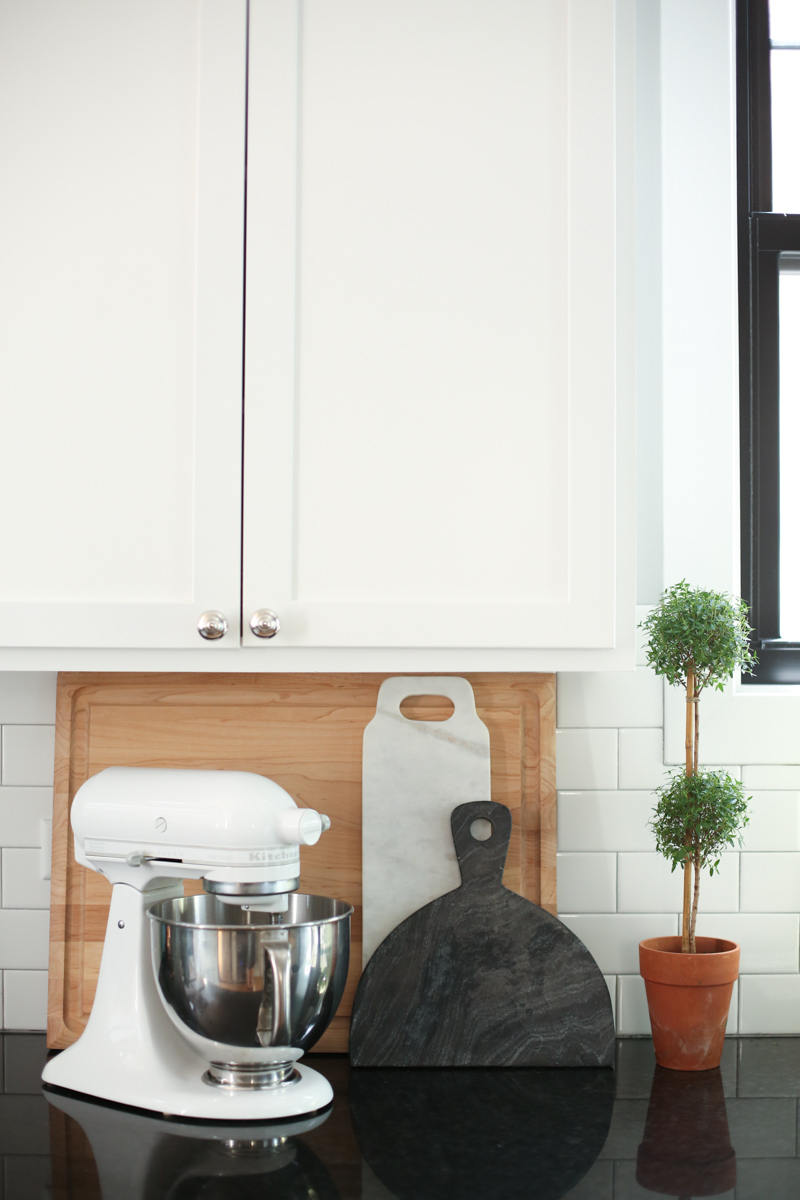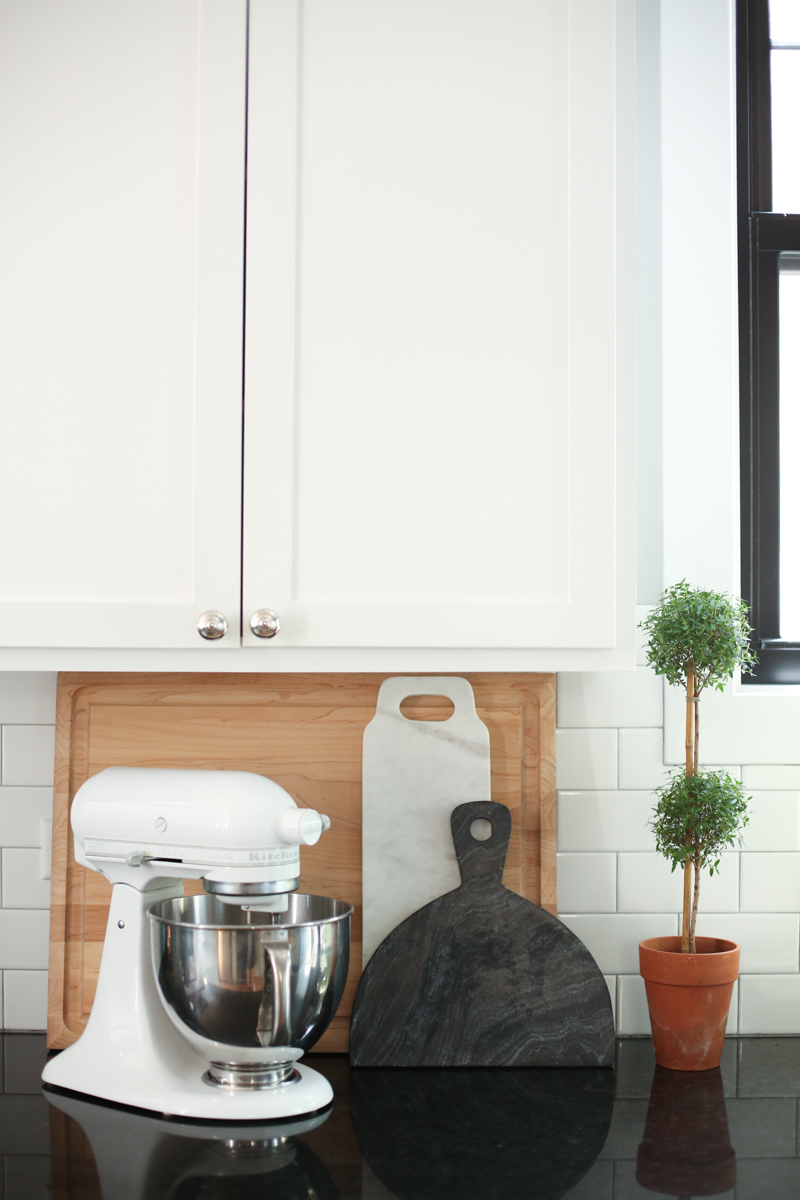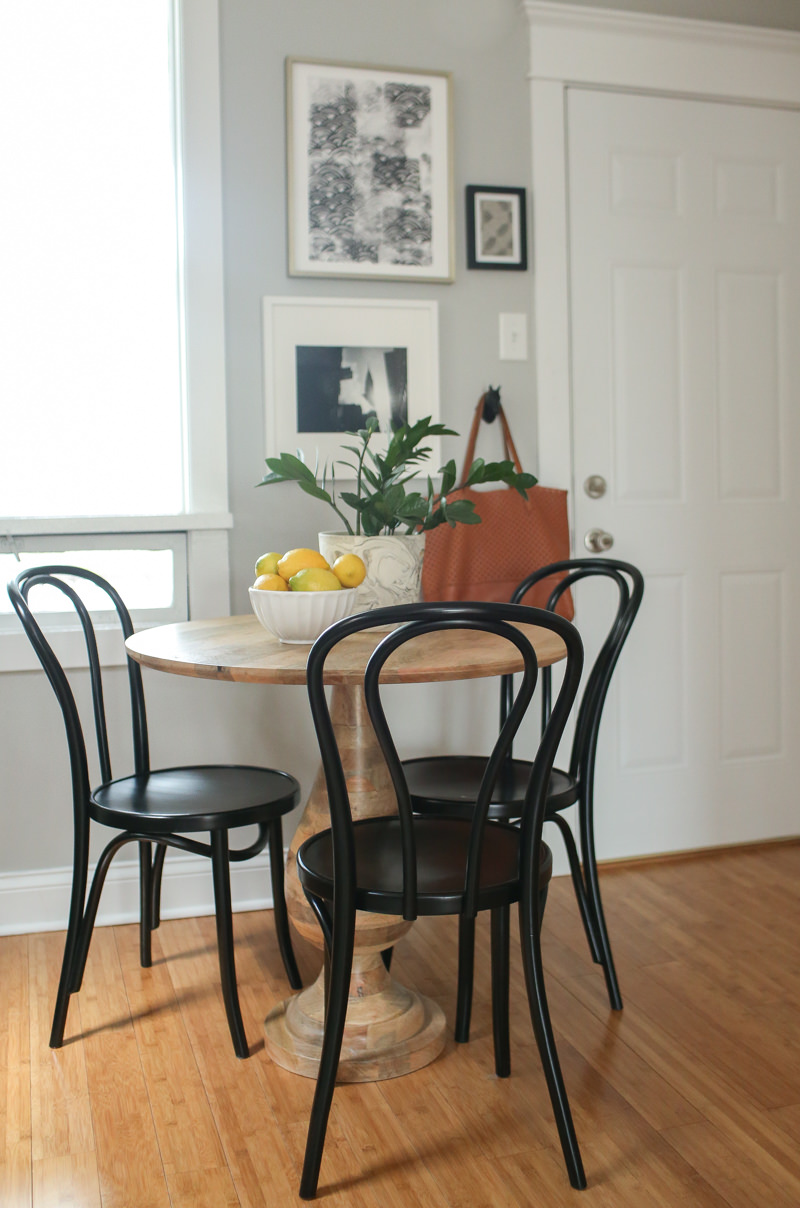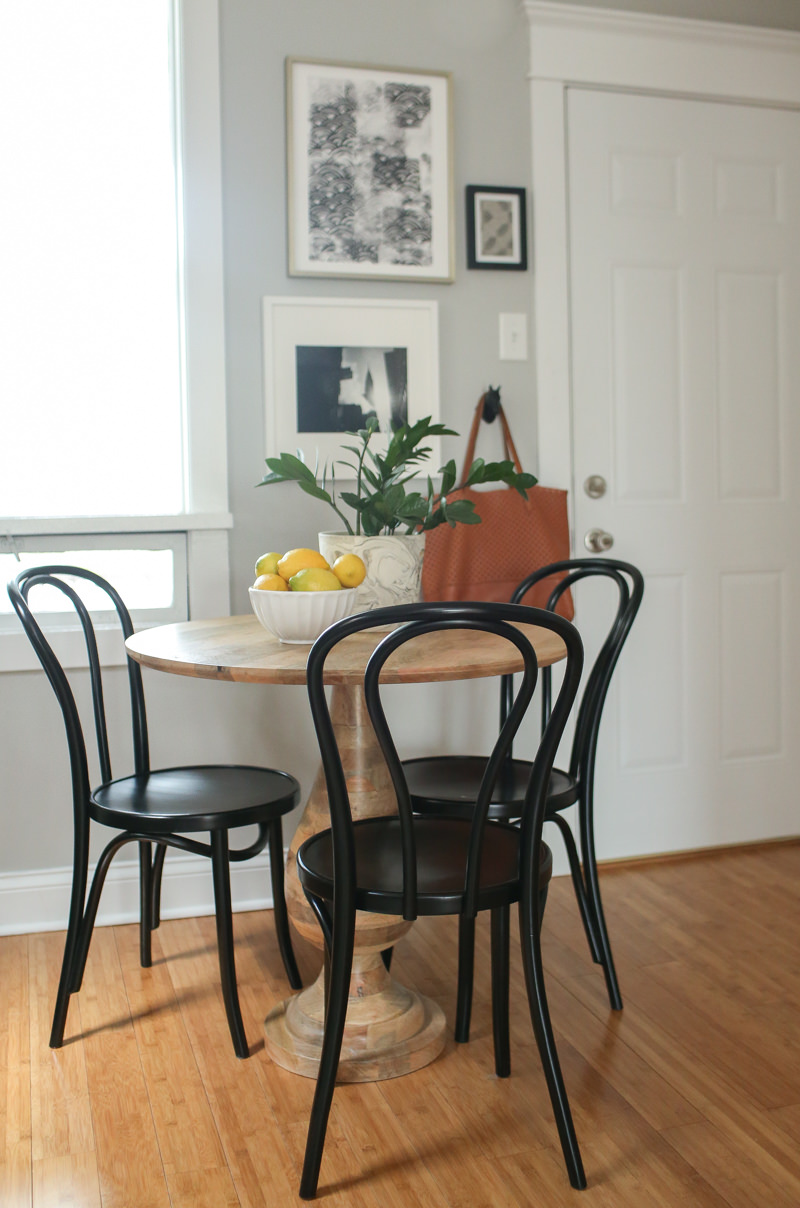 The Bathroom
I don't feel like I have any concrete styling tips for this one (which seems to be the theme of this post) so feel free to leave any questions in the comments section below.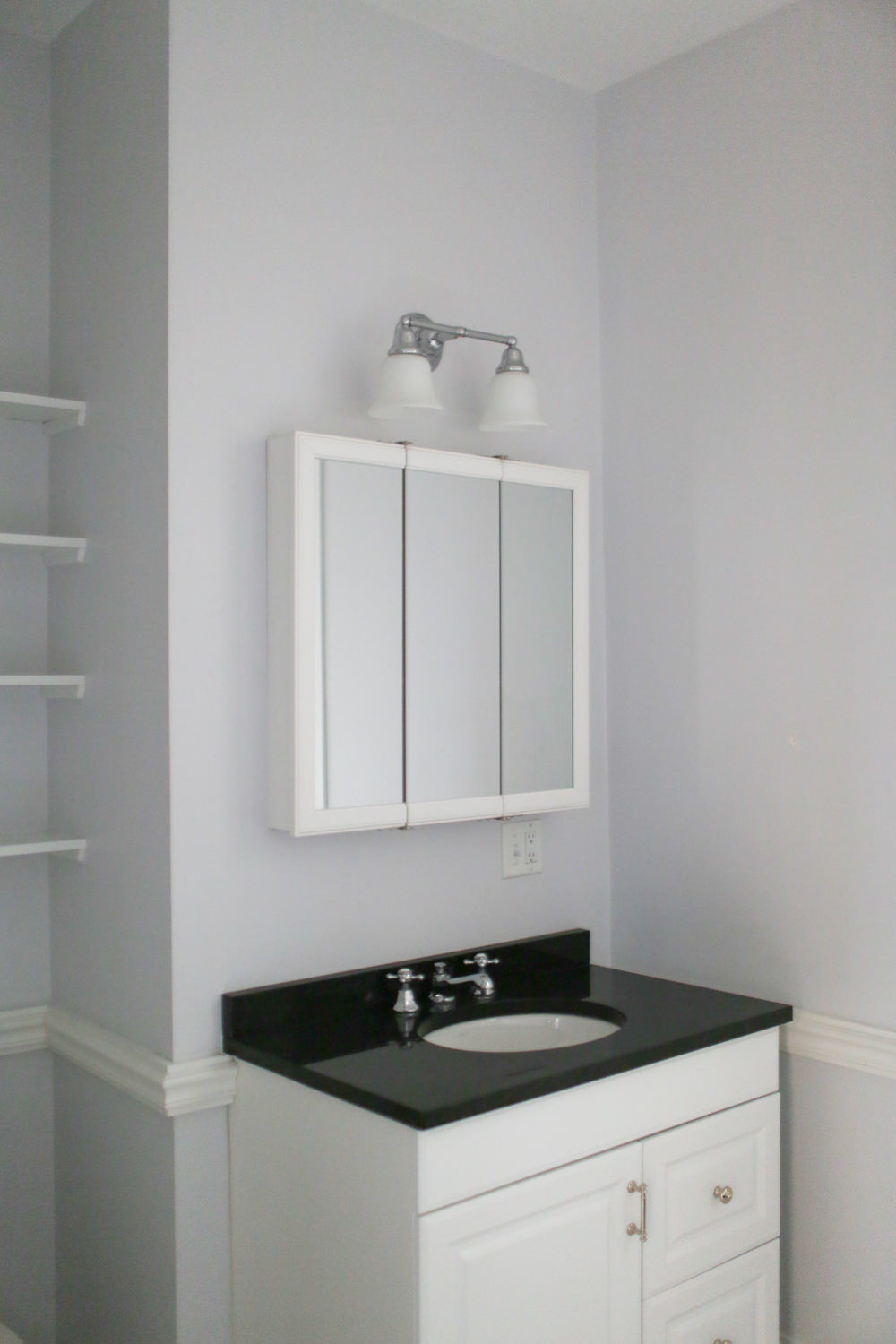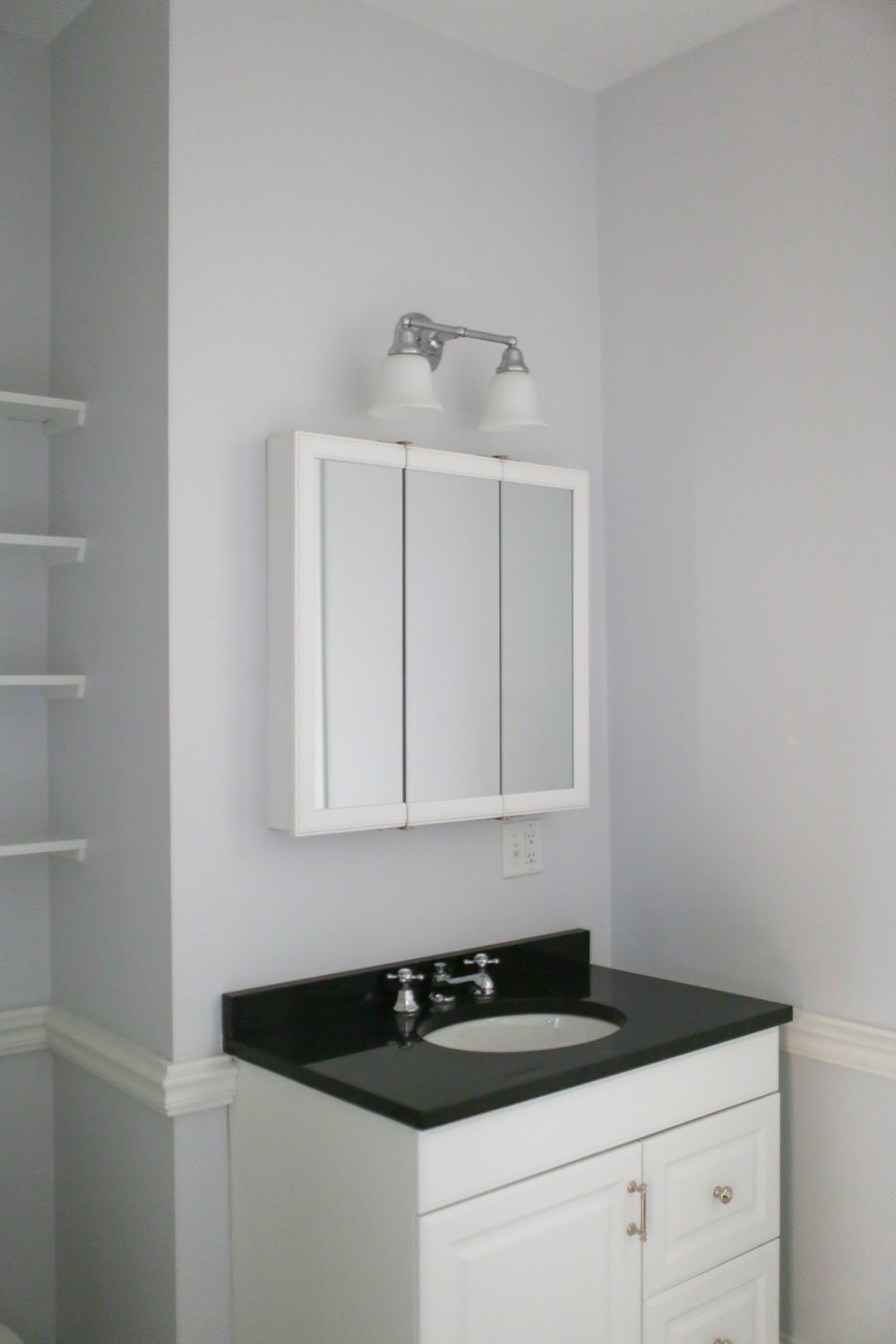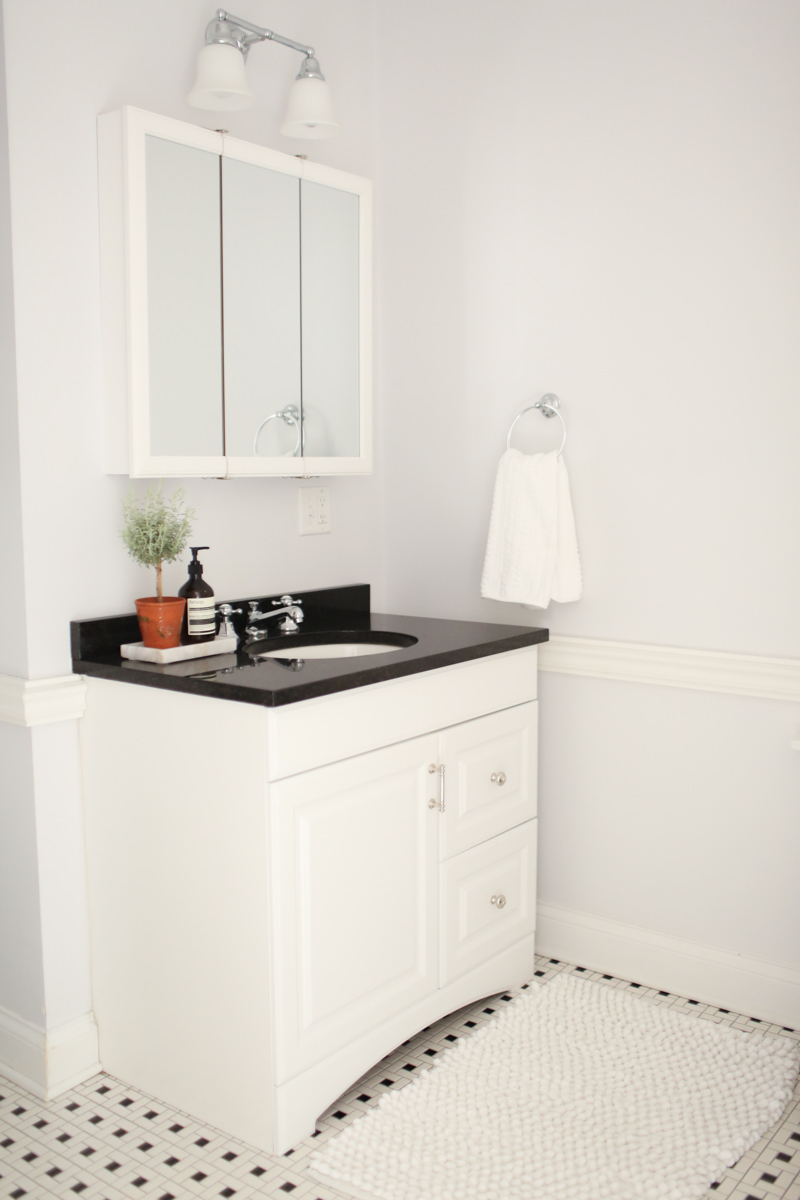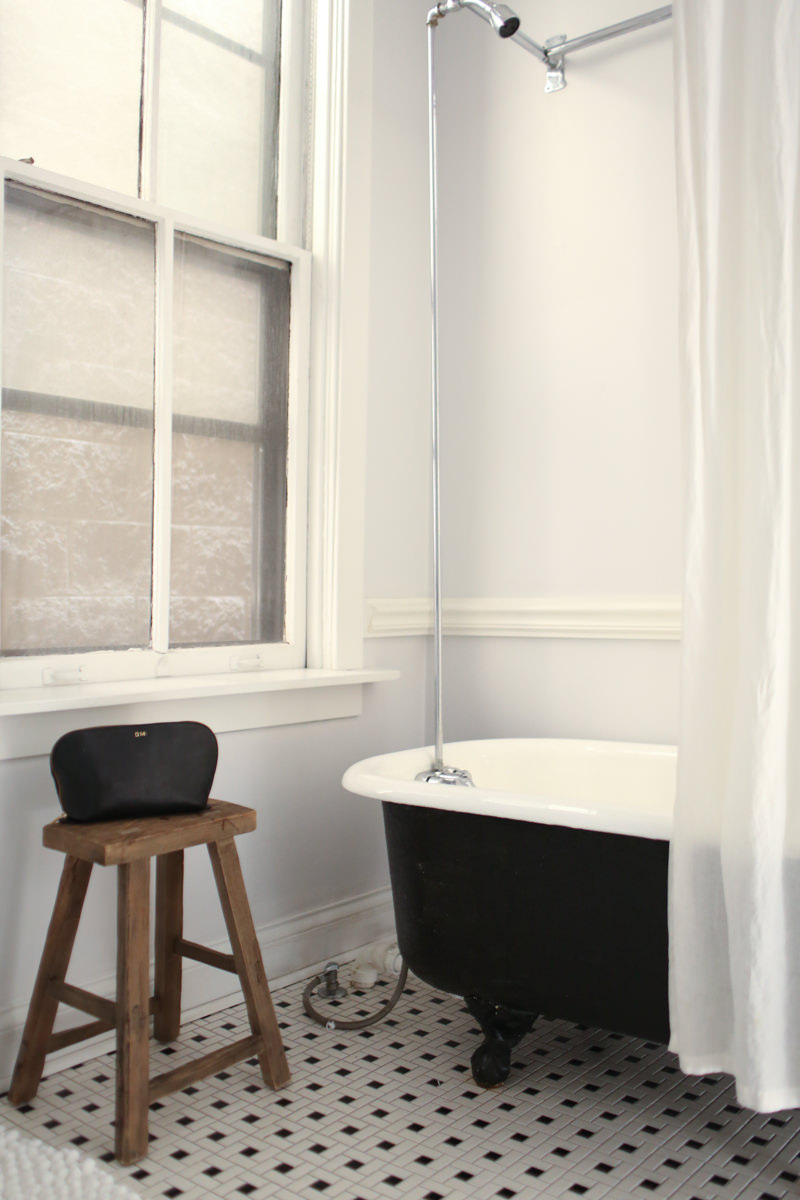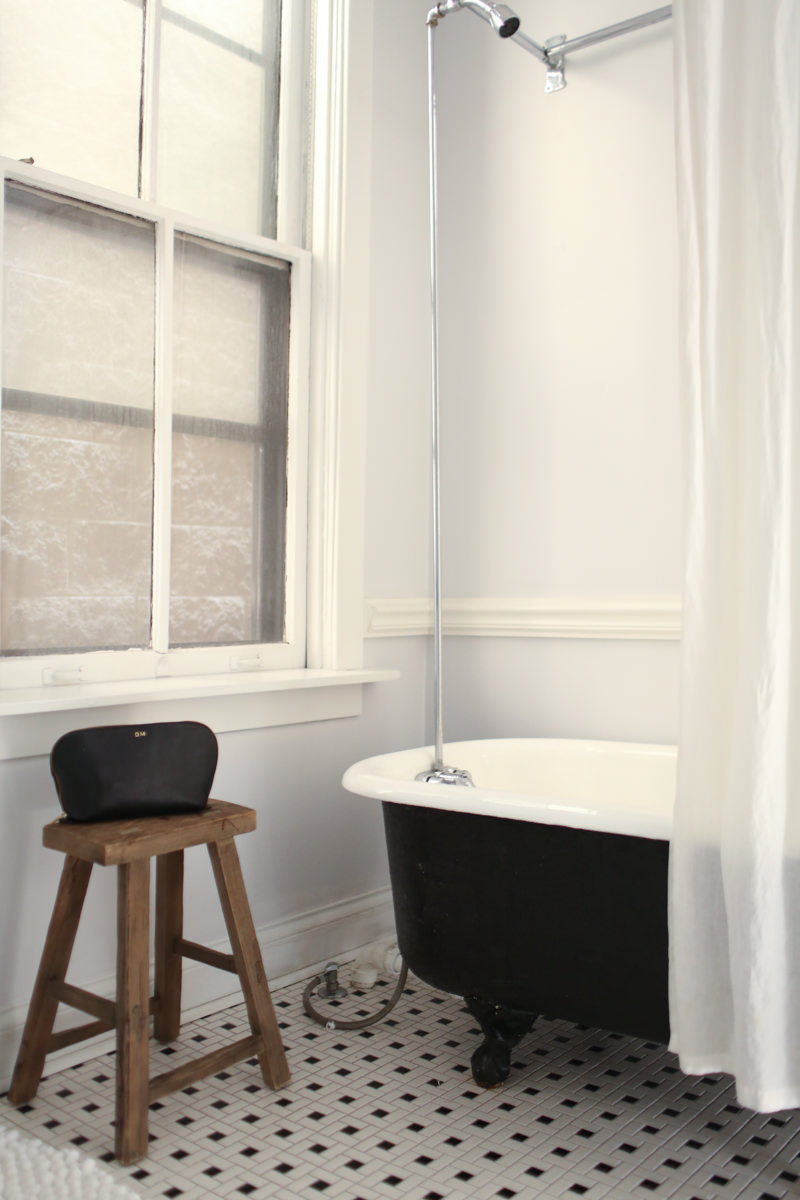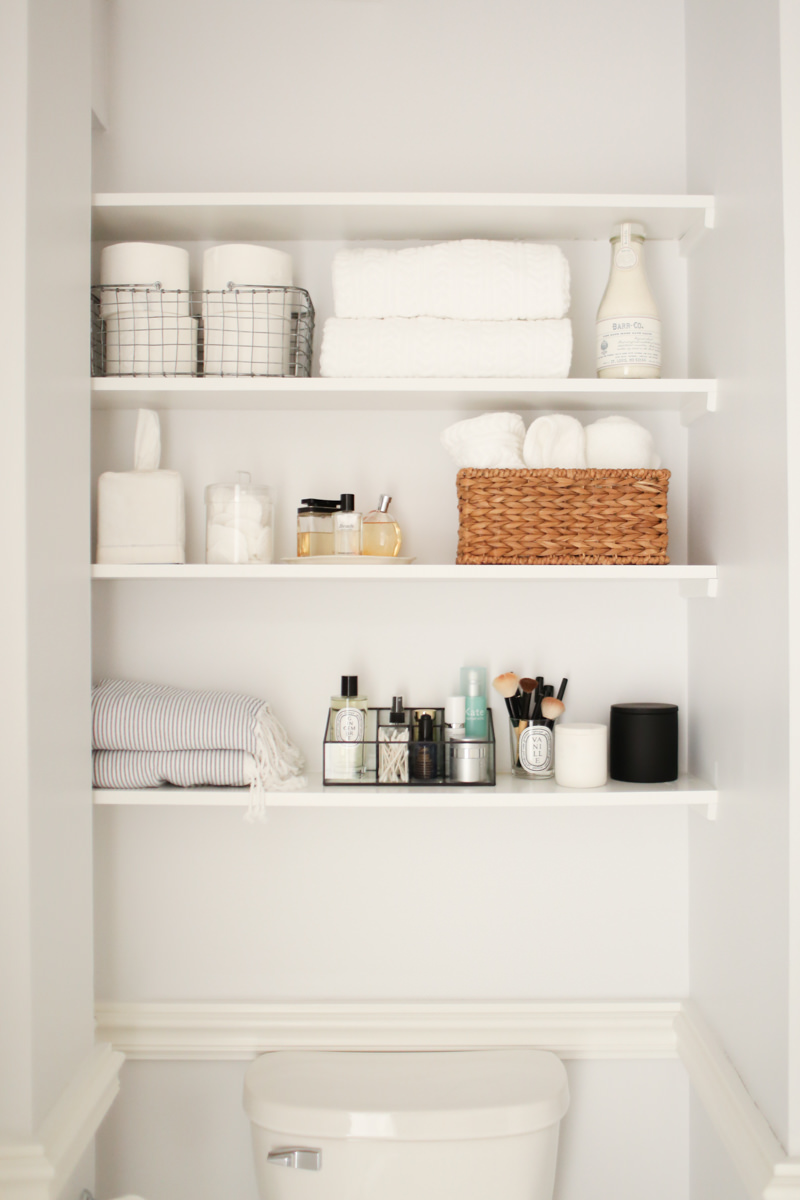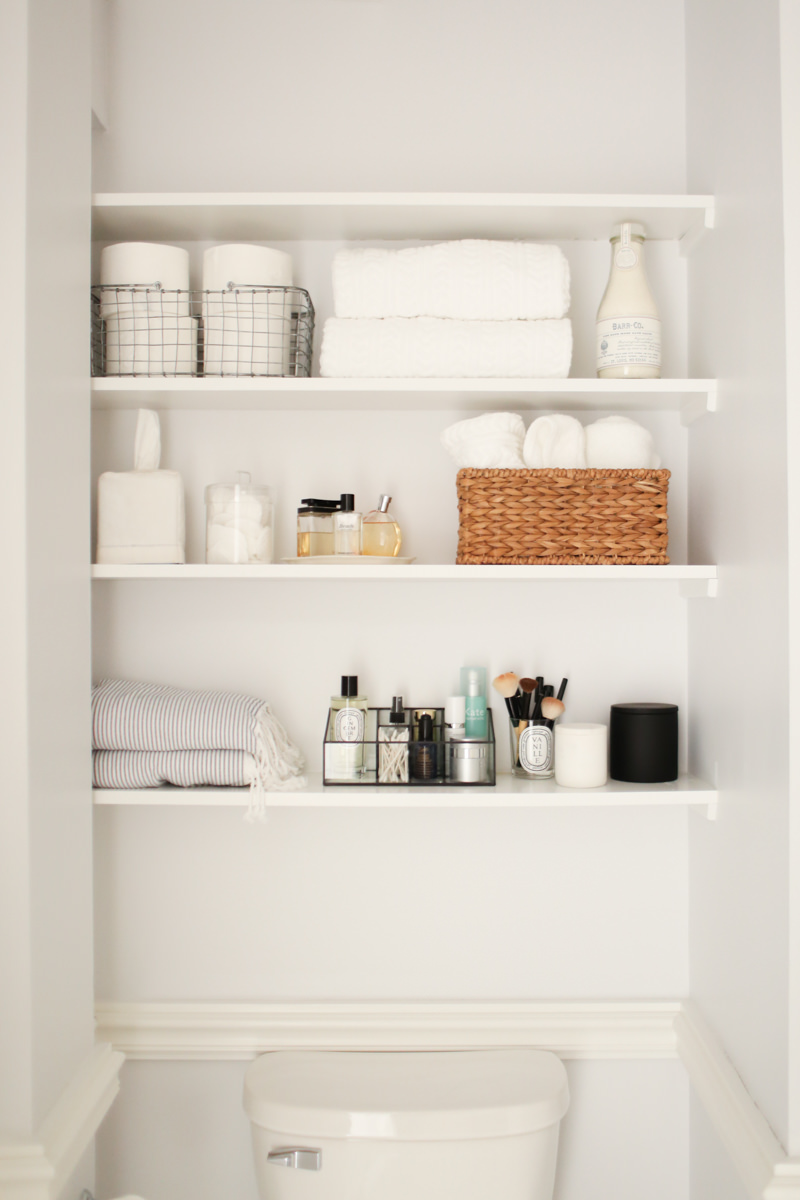 The Stairs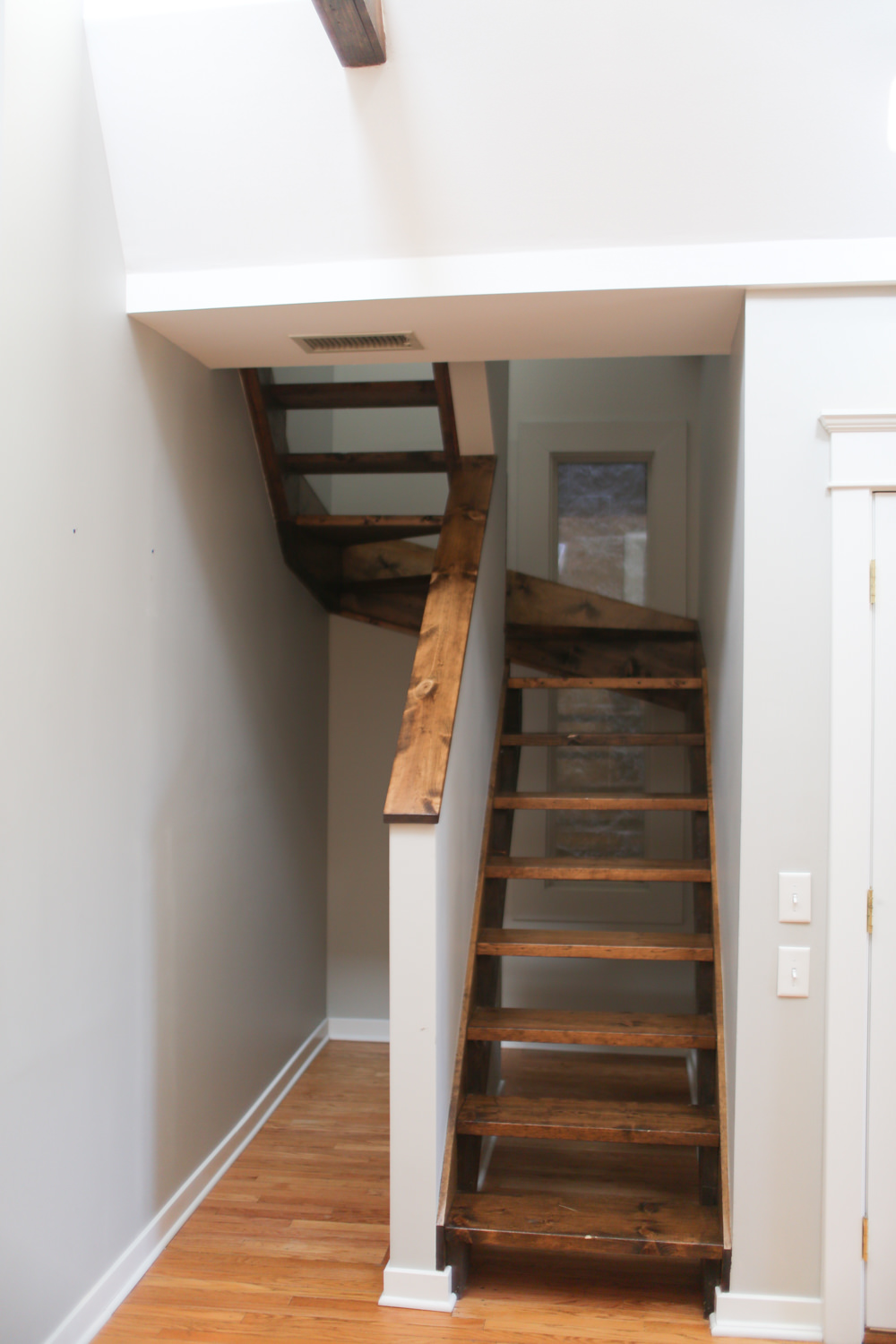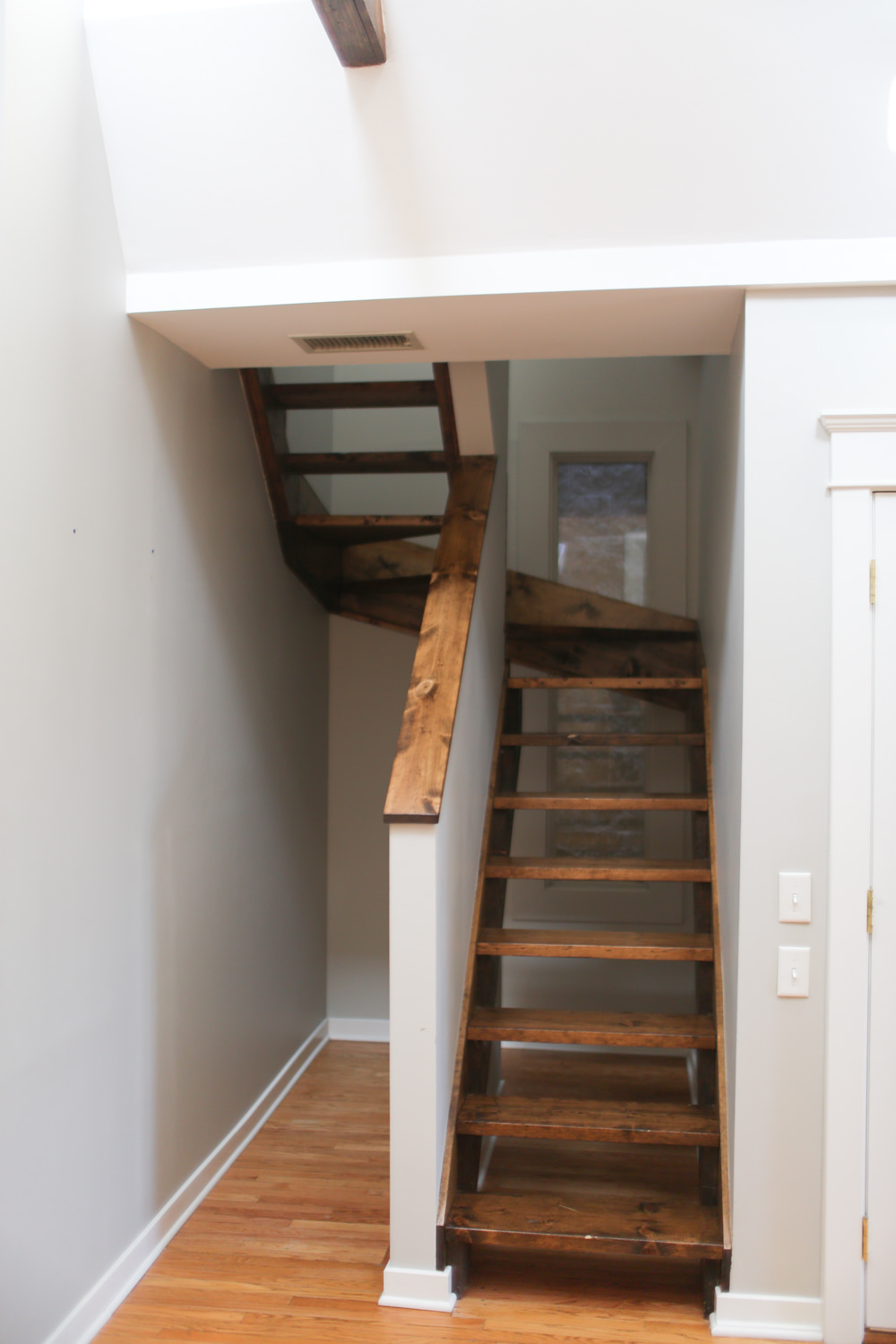 This gallery wall was a last minute decision, installed a few weeks before shooting (with my friend's dog by my side). To be very honest with you, had I not had a home tour to shoot or a bunch of great art laying around, I wouldn't have bothered. But it really upped my stair game, don't you think? I am decently terrible at hanging gallery walls–I measure nothing and just wing it.
You can read more about curating a gallery wall here.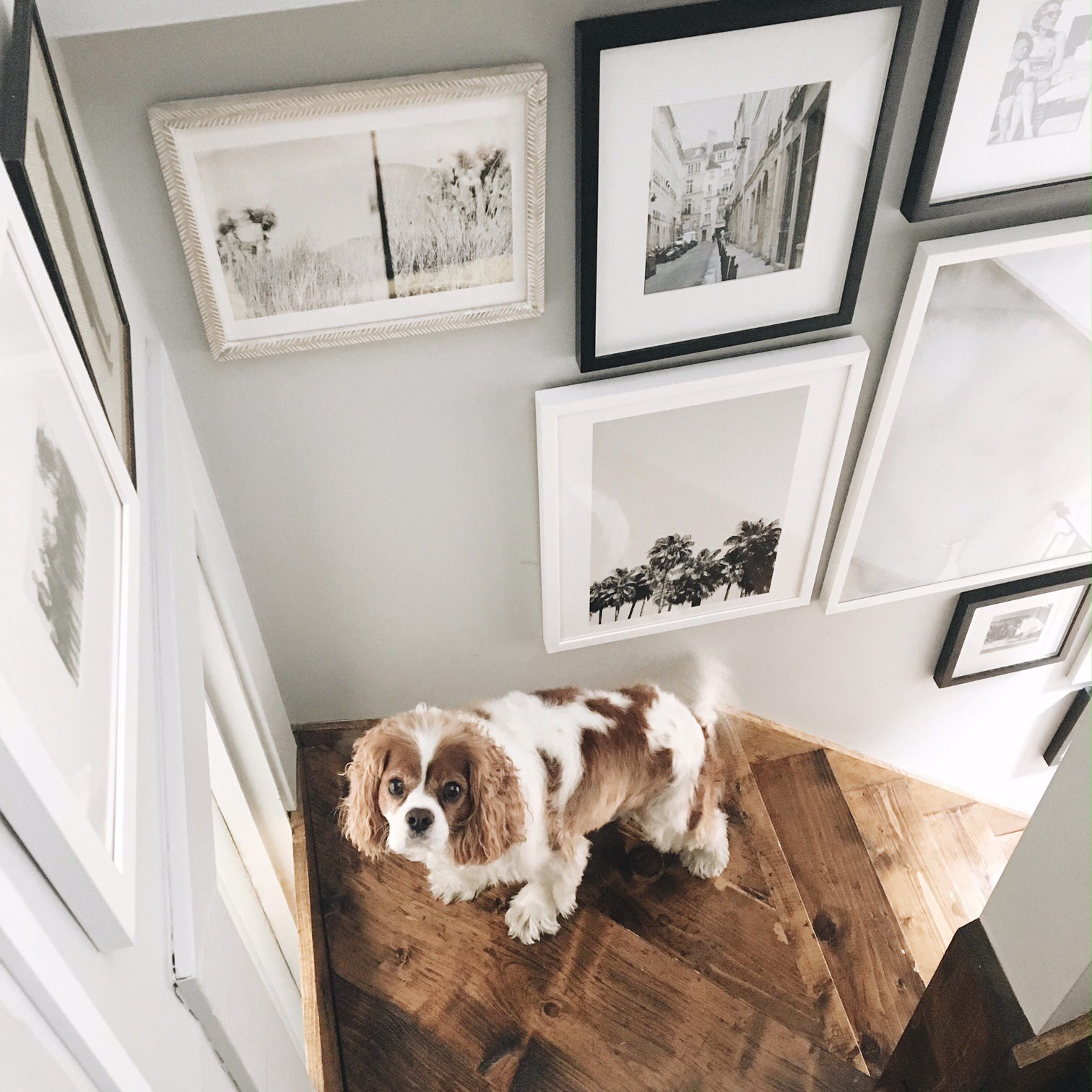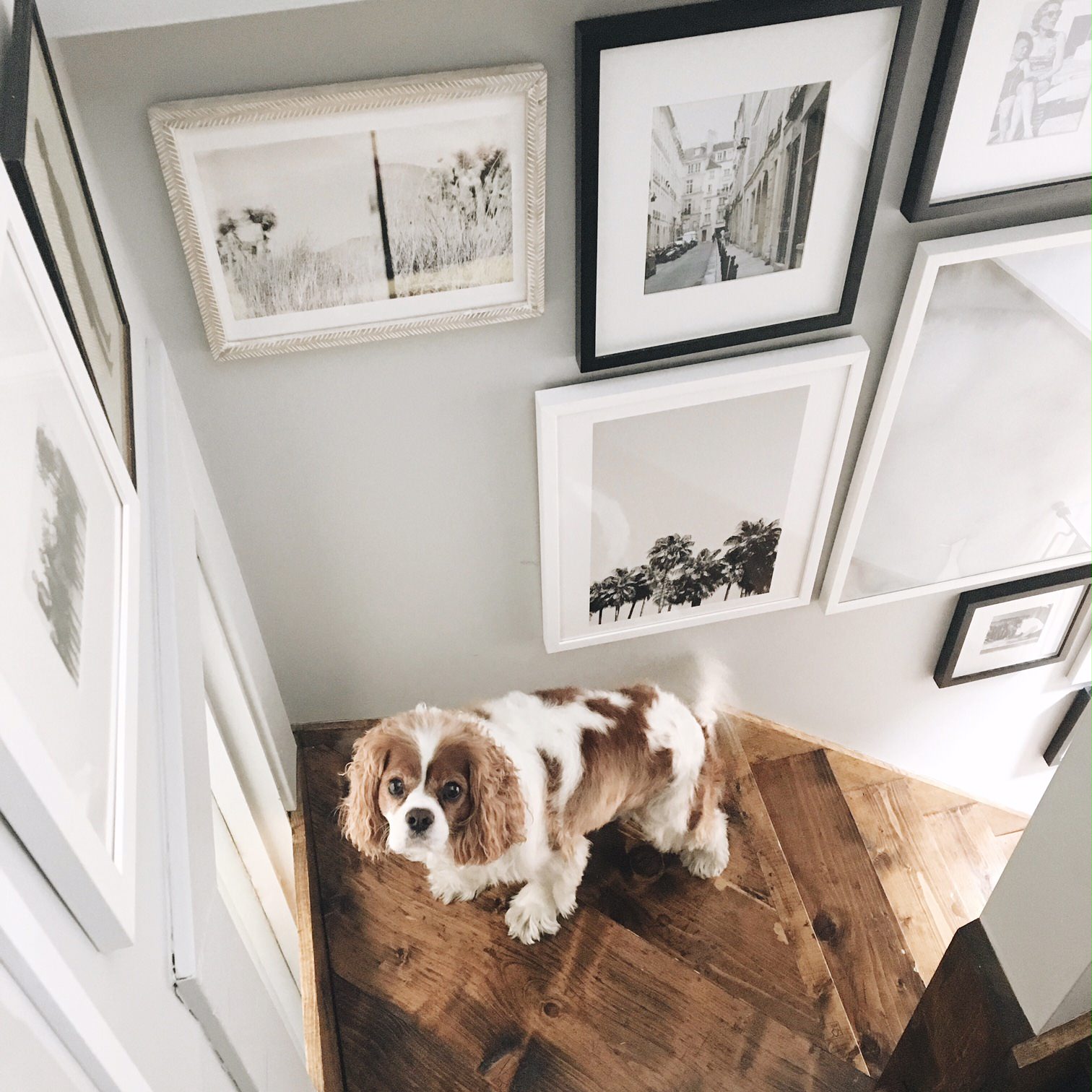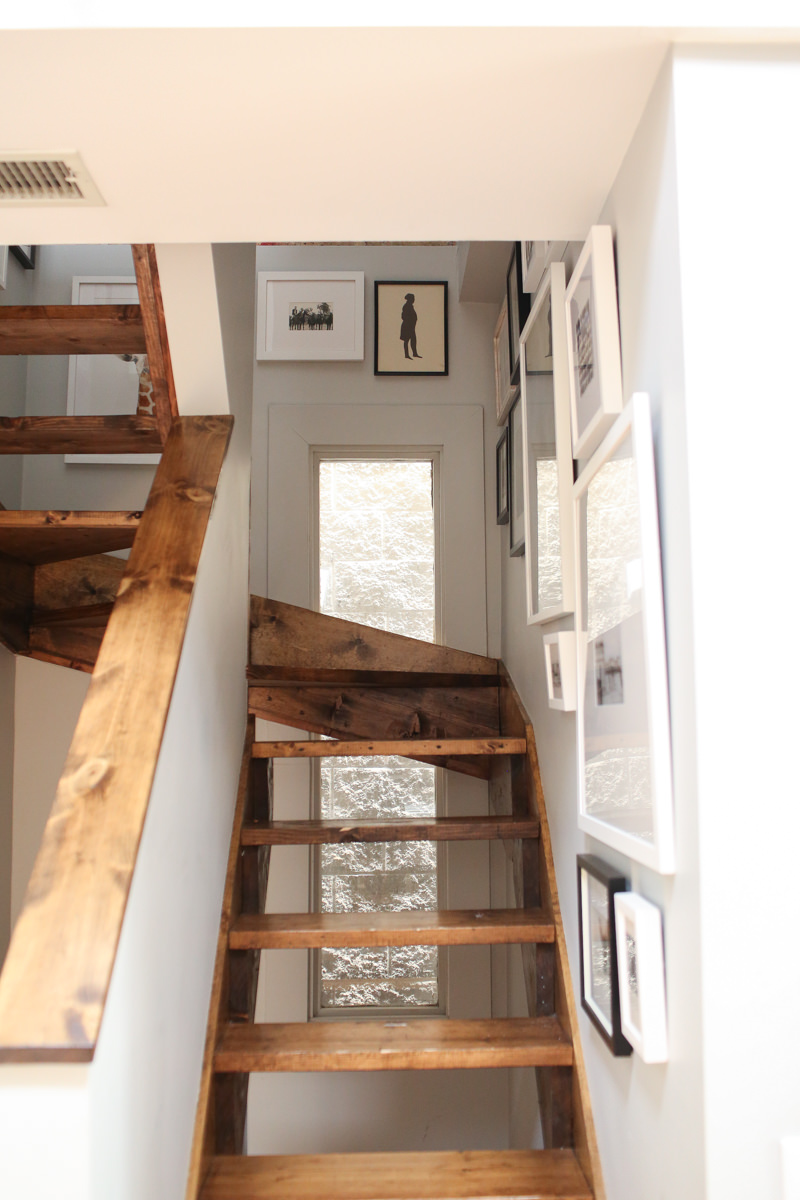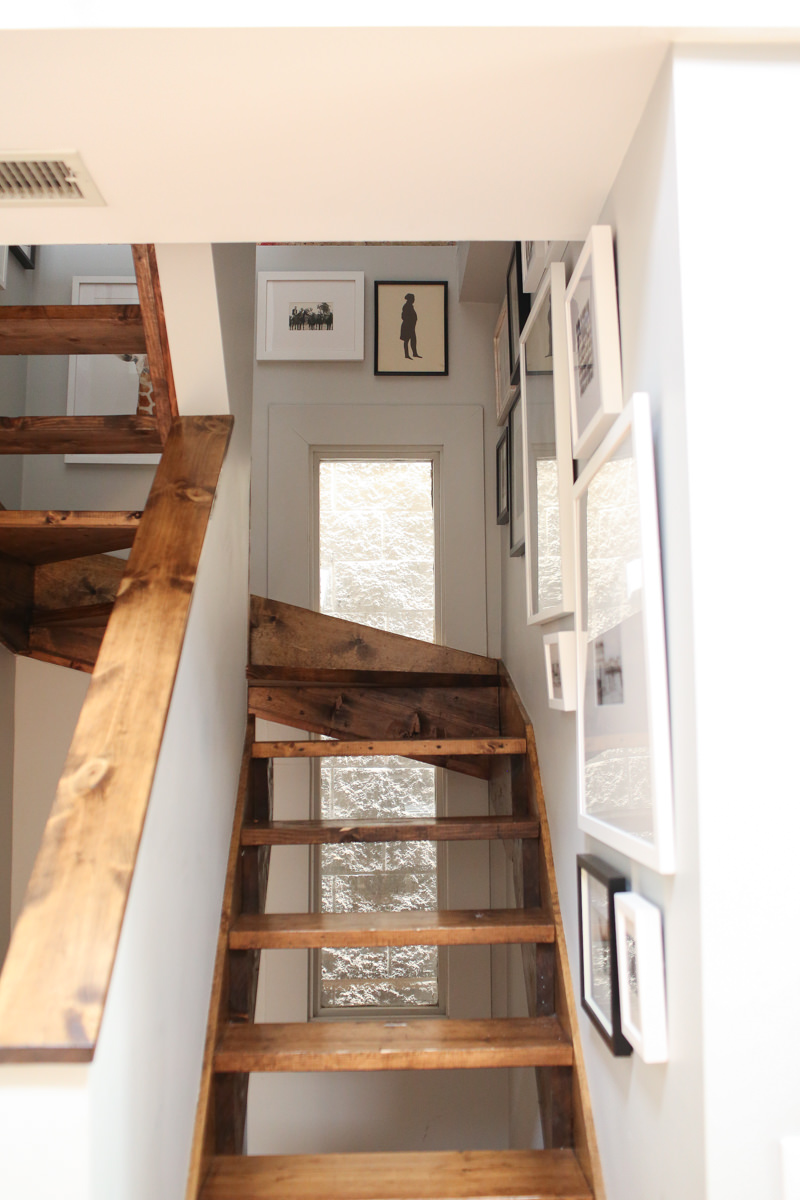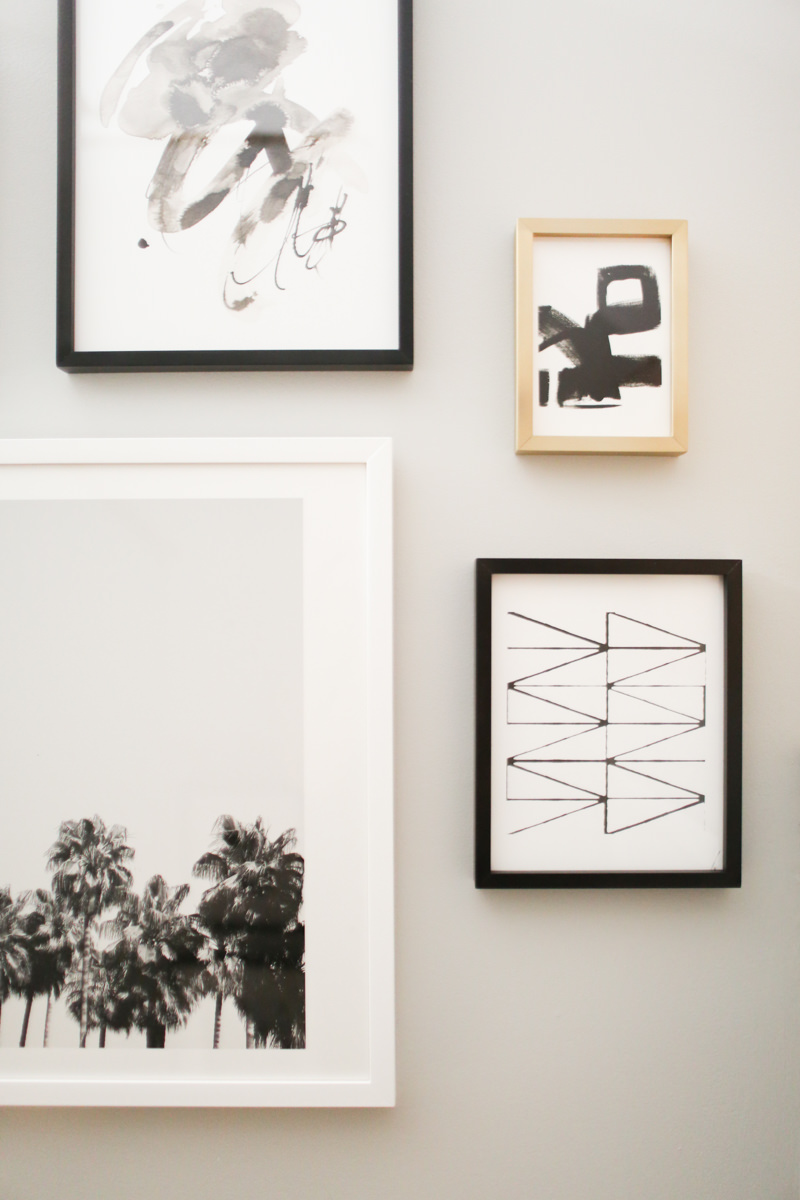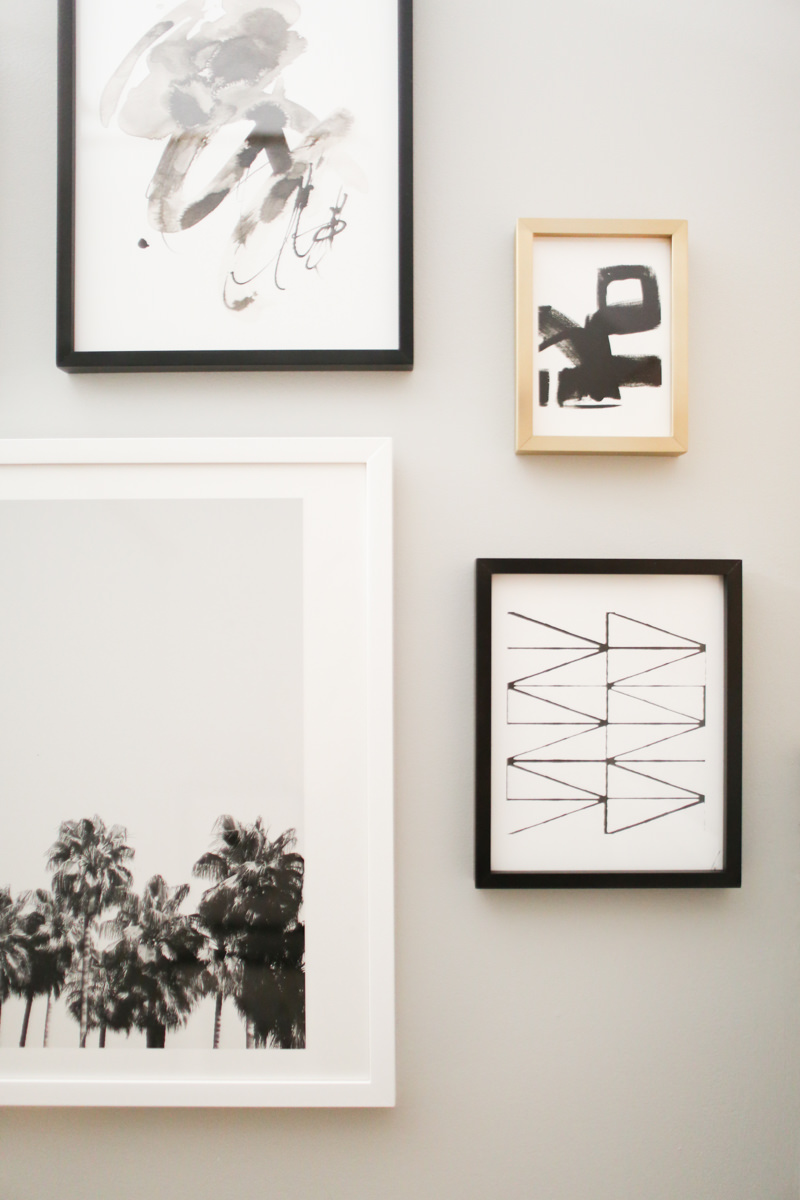 My Wonderfully Awkward Hallway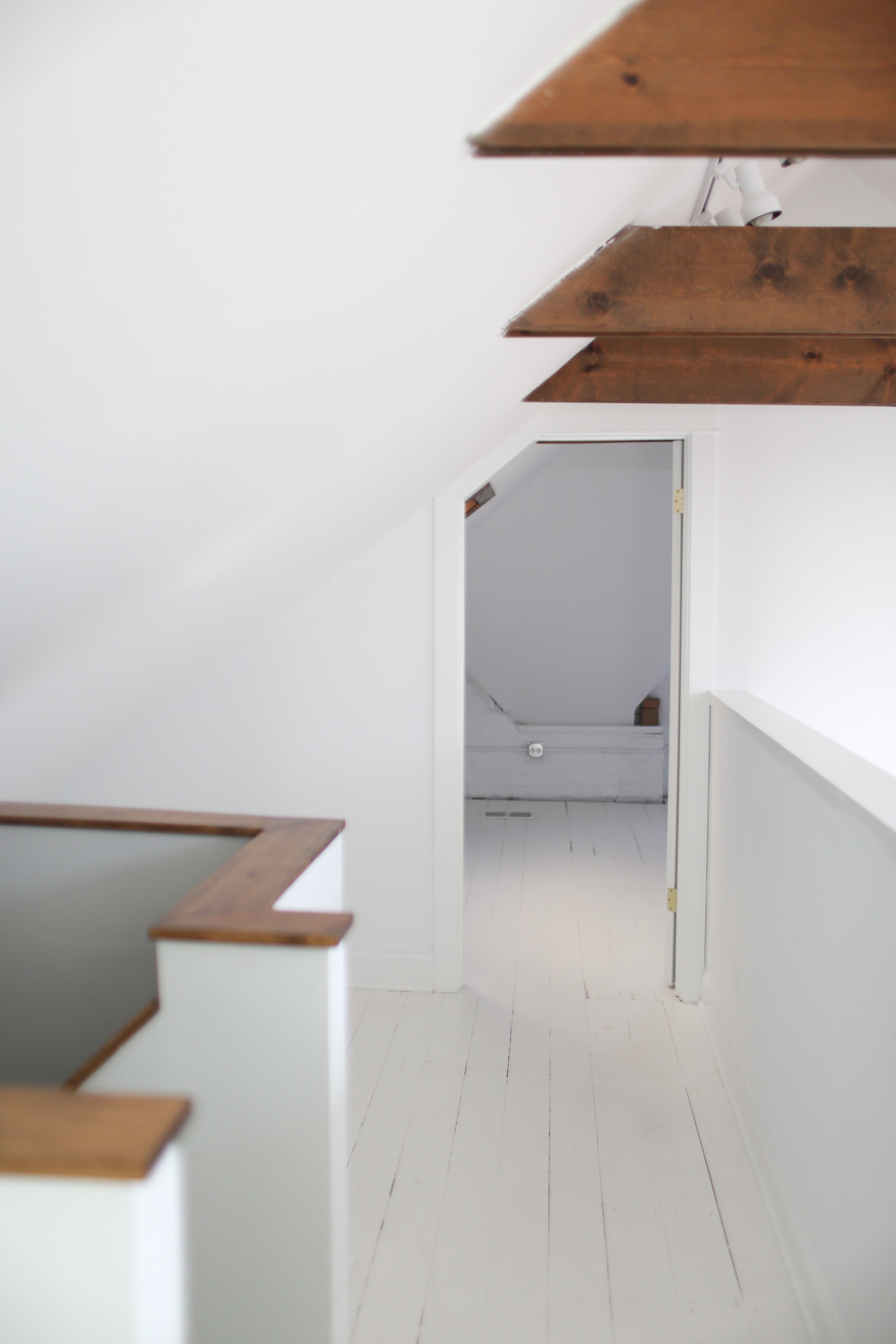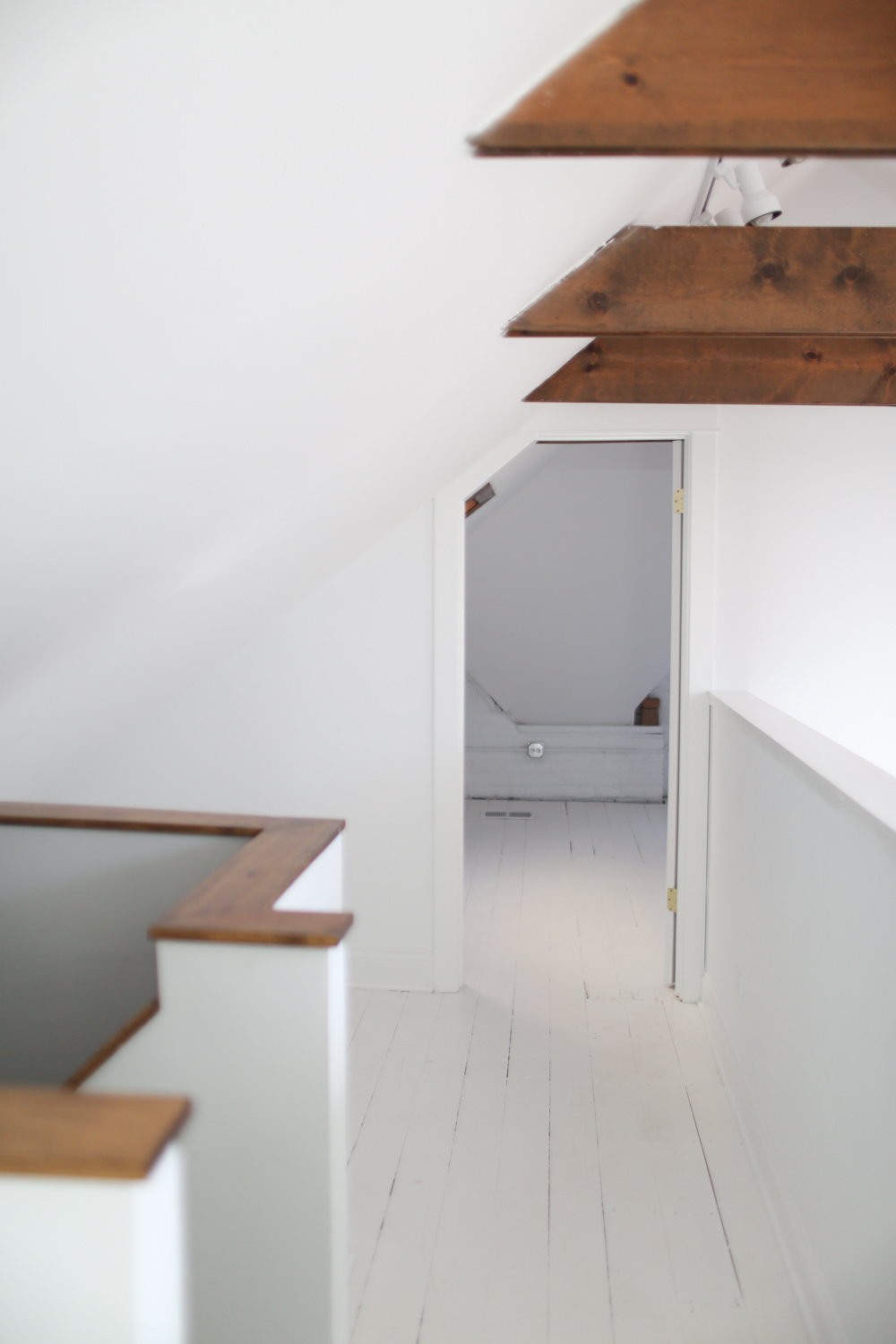 This place is full of crazy little nooks, and I wanted to add a little something to this hall. A runner would have been nice but in the end, the plan was to stay here a year and move again since I was only guaranteed a year, so investing in something I might not be able to use in my next place didn't make sense to me.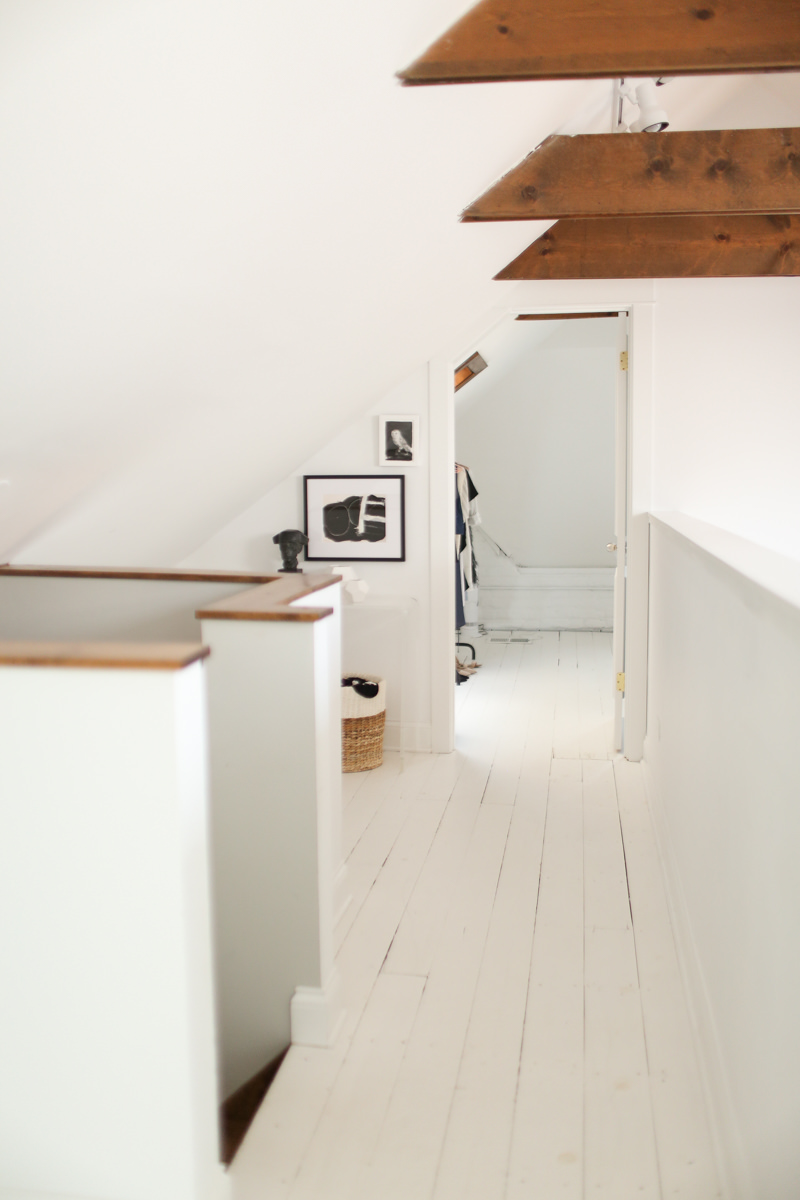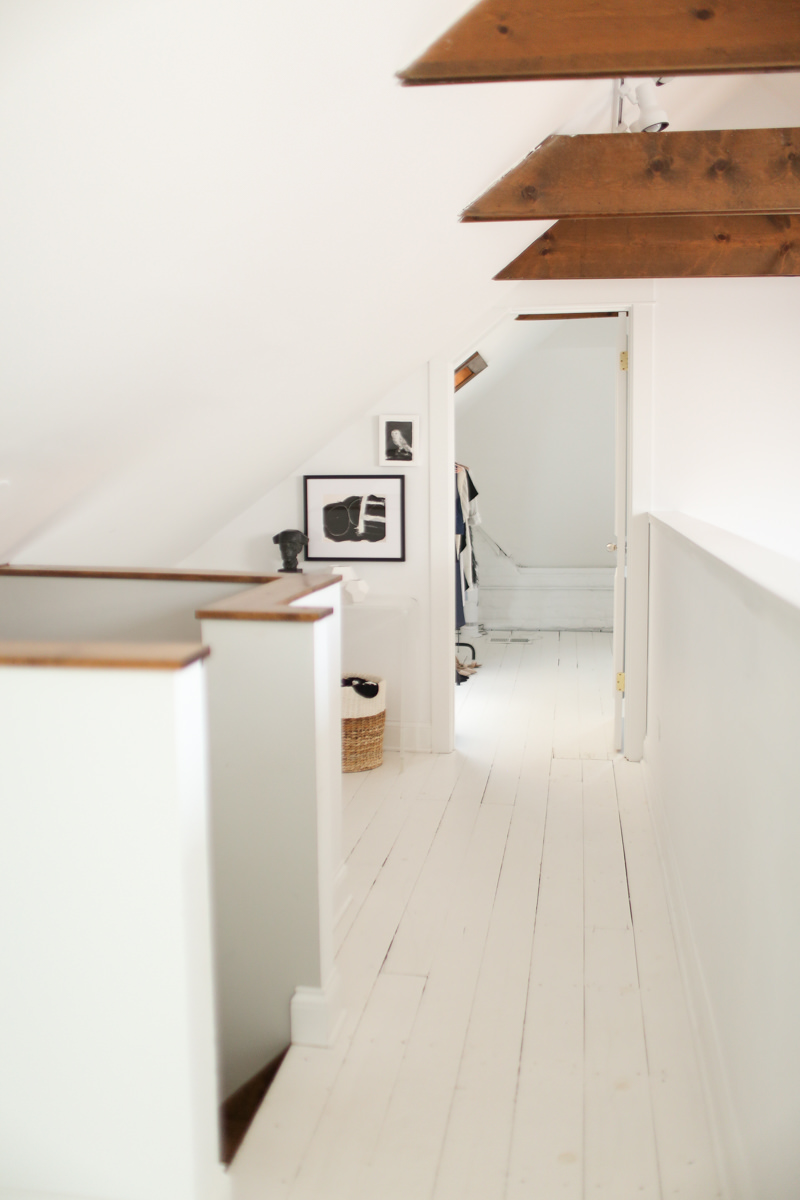 My lucite console fit perfectly along with this art from Artfully Walls. I knew I wanted to keep this very black and white down to the stone textile throw. Baskets are great extra storage for blankets, dog stuff, etc. Even if you're storing misc. junk in there, throw a blanket on top to keep things looking tidy. PS there are totally random things mixed in there with 2 blankets.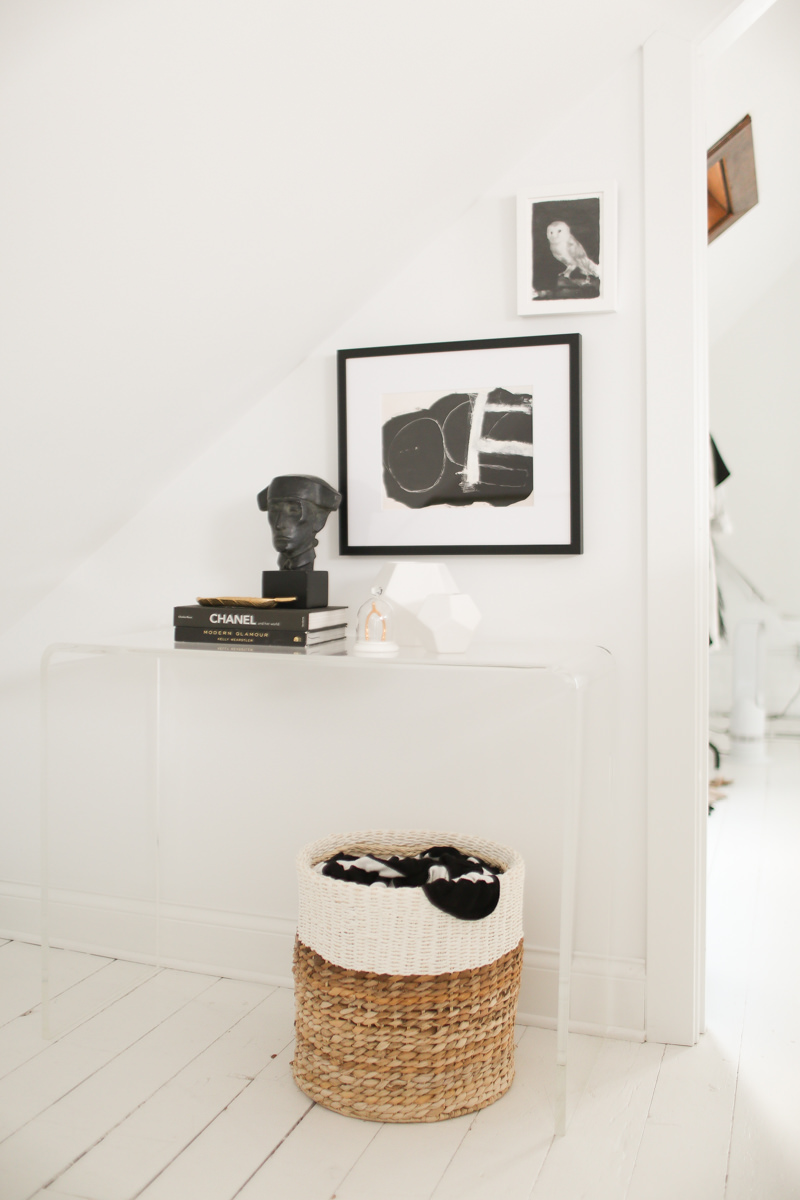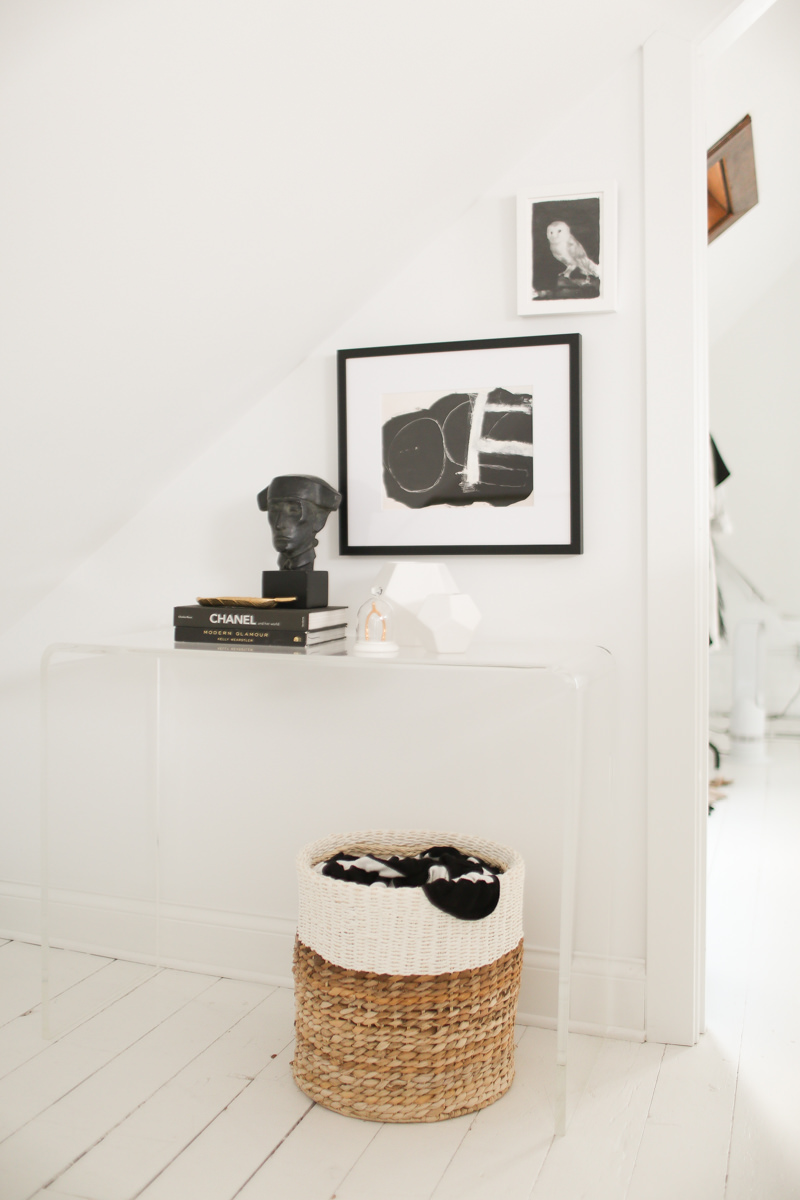 The Bedroom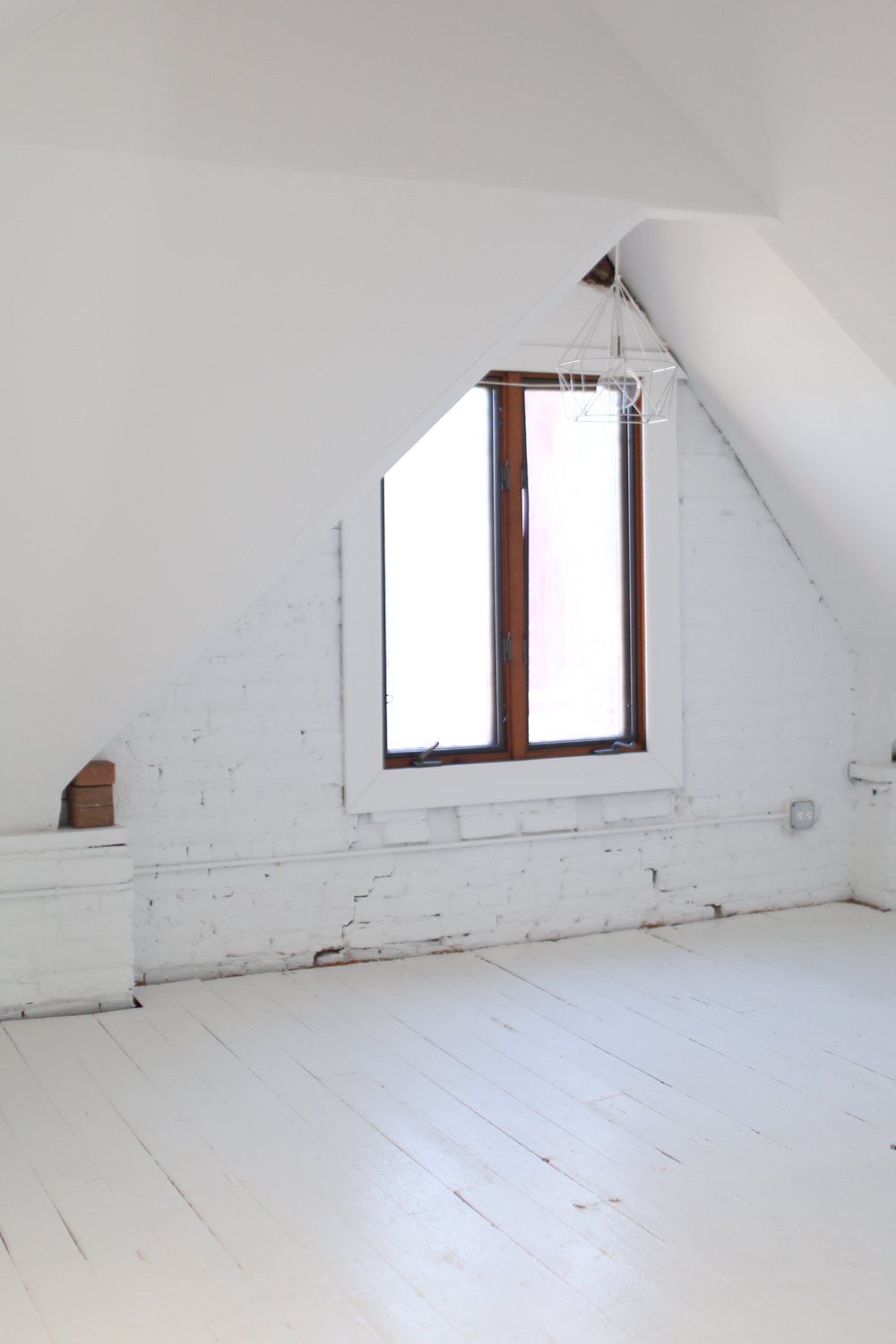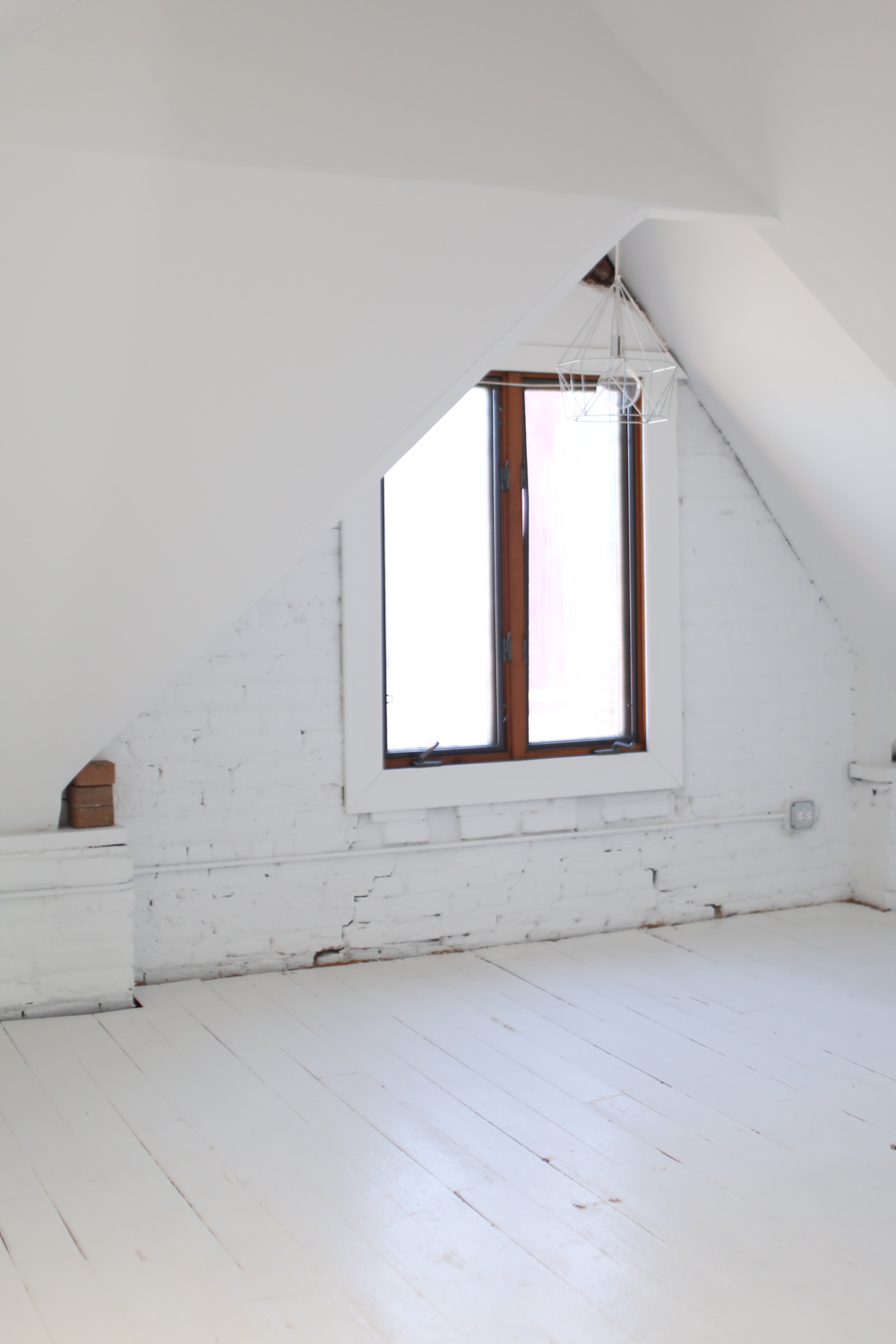 Deciding where to put the bed was easy. The ceilings are pretty low and the slants are worth the 5x a day I smashed my head into the wall my first few weeks living here. I'm down to maybe 1-2x a week now. Anyway, I had to lose my bed frame and didn't want to invest in a platform bed (but did almost buy this one), so I bought a linen box spring cover. Nightstands are always stupidly expensive and not something I wanted to spend money on, so I found these for $80, and am very, very happy with them.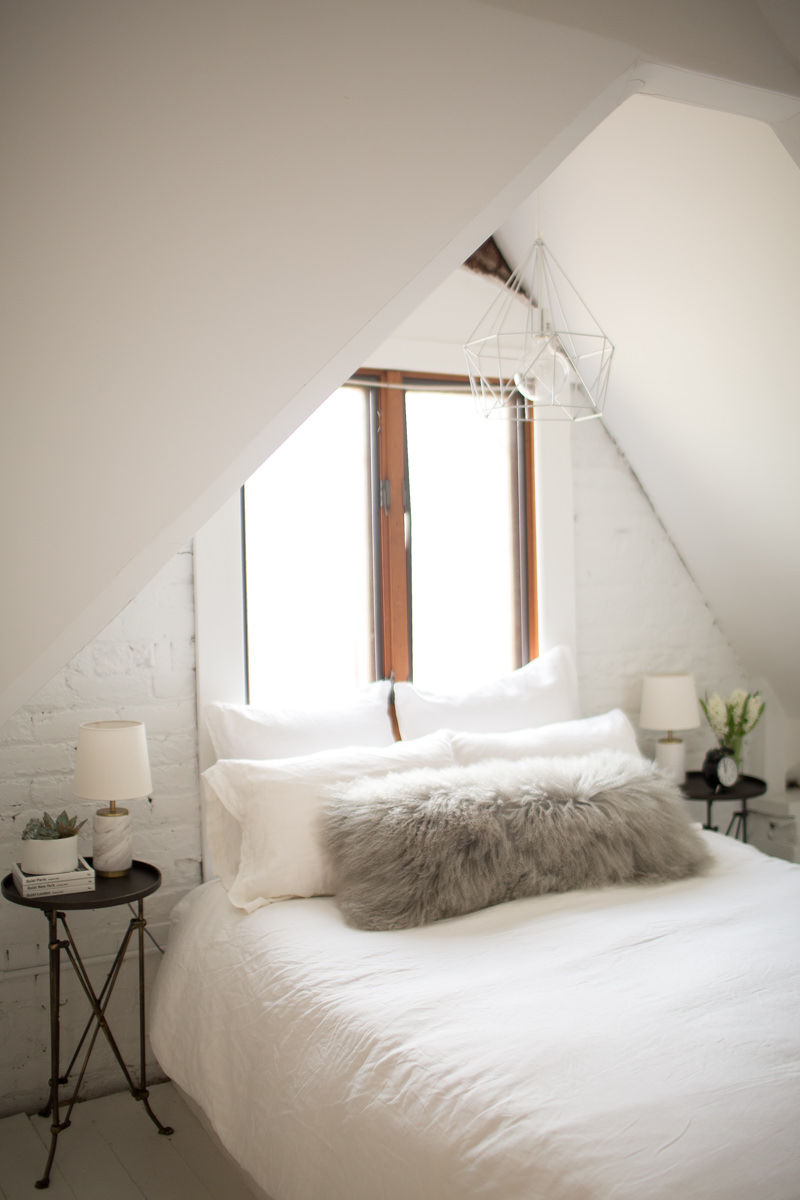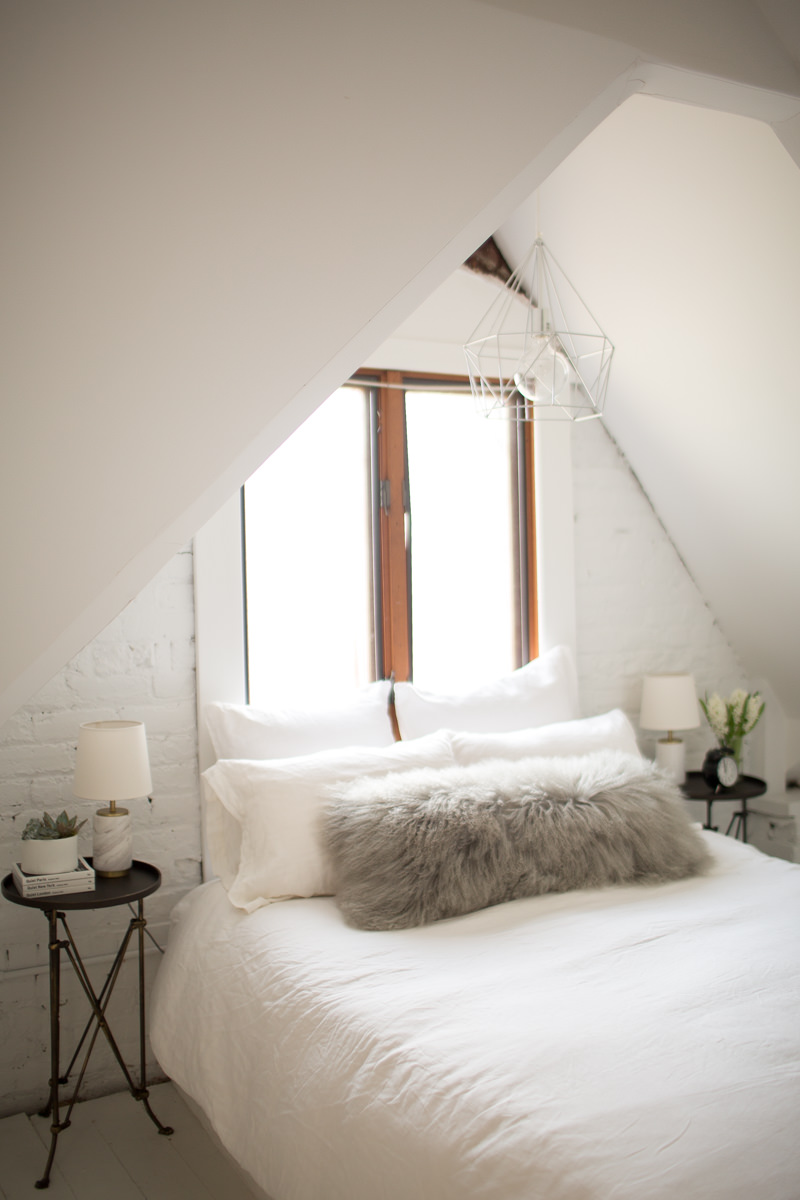 This isn't my favorite photo, but it will give you an idea of the shape of this room.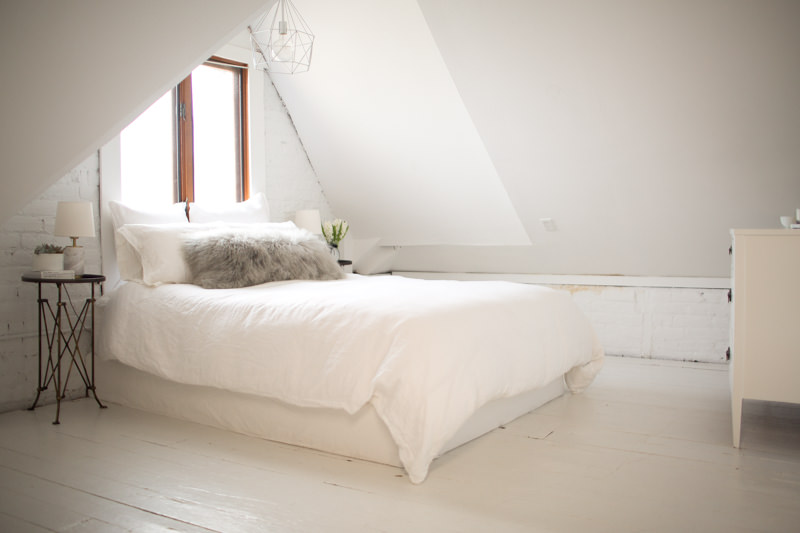 The awkward nook directly across from my bed was filled with my dresser, which I had refinished by my friend Meg of Meg Made, and some art.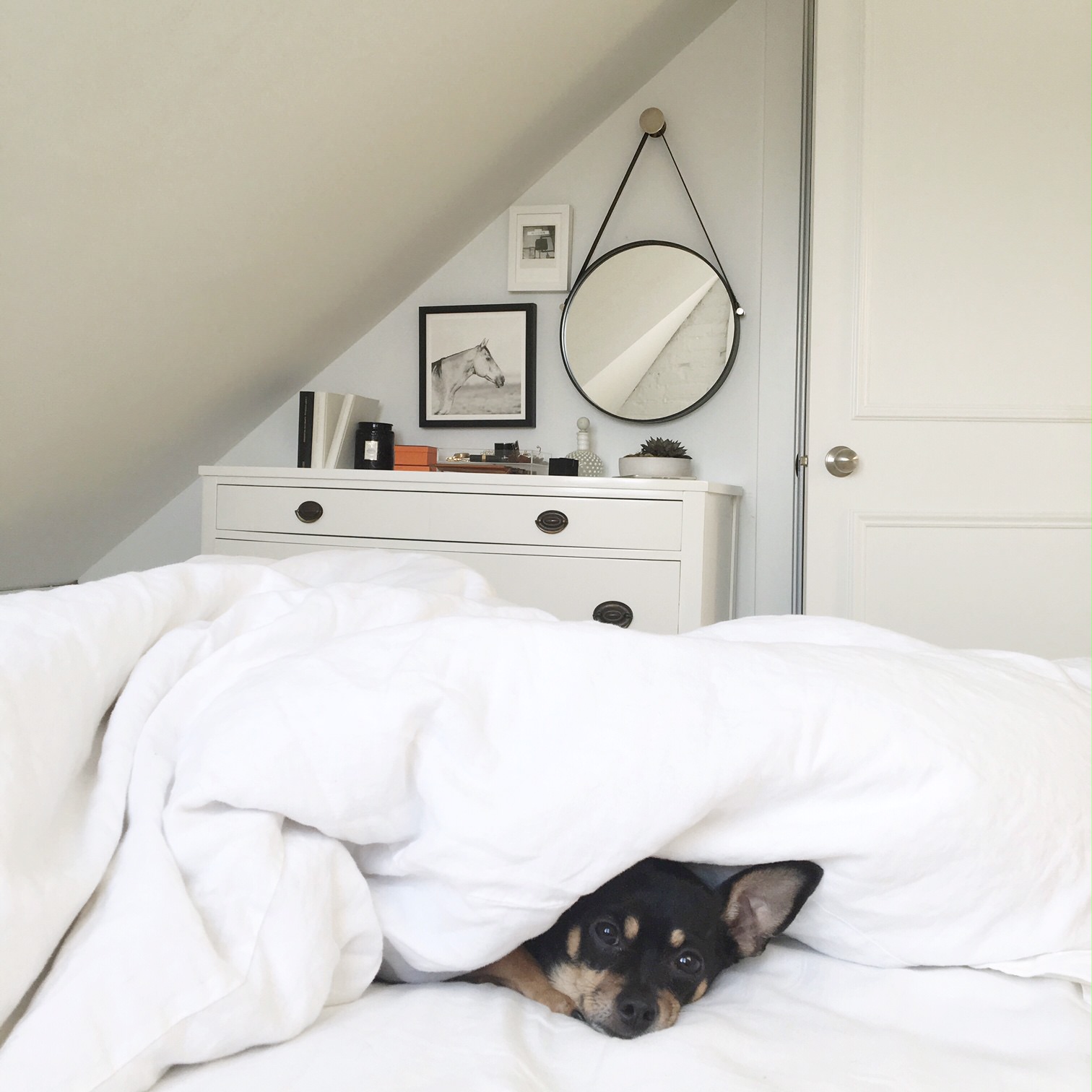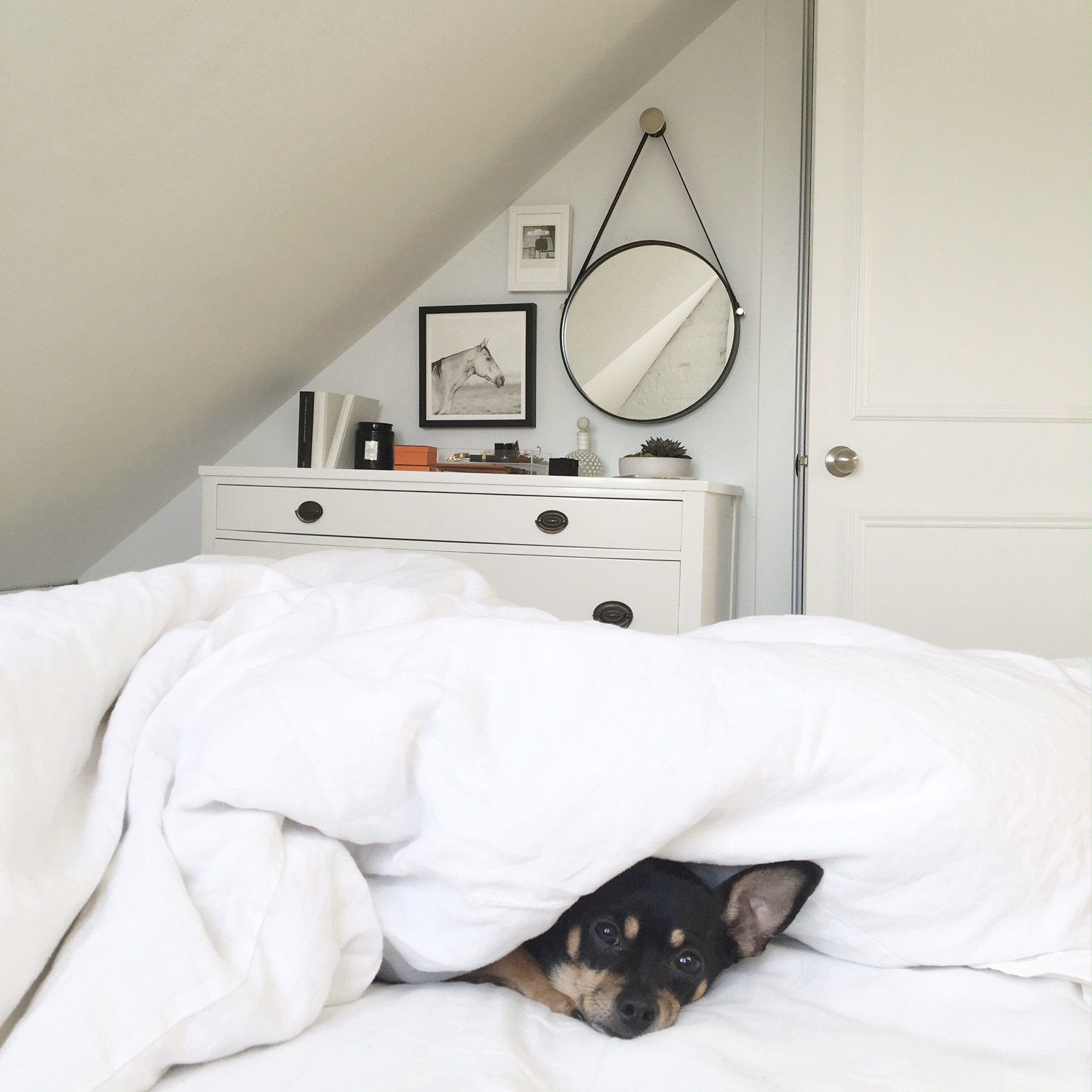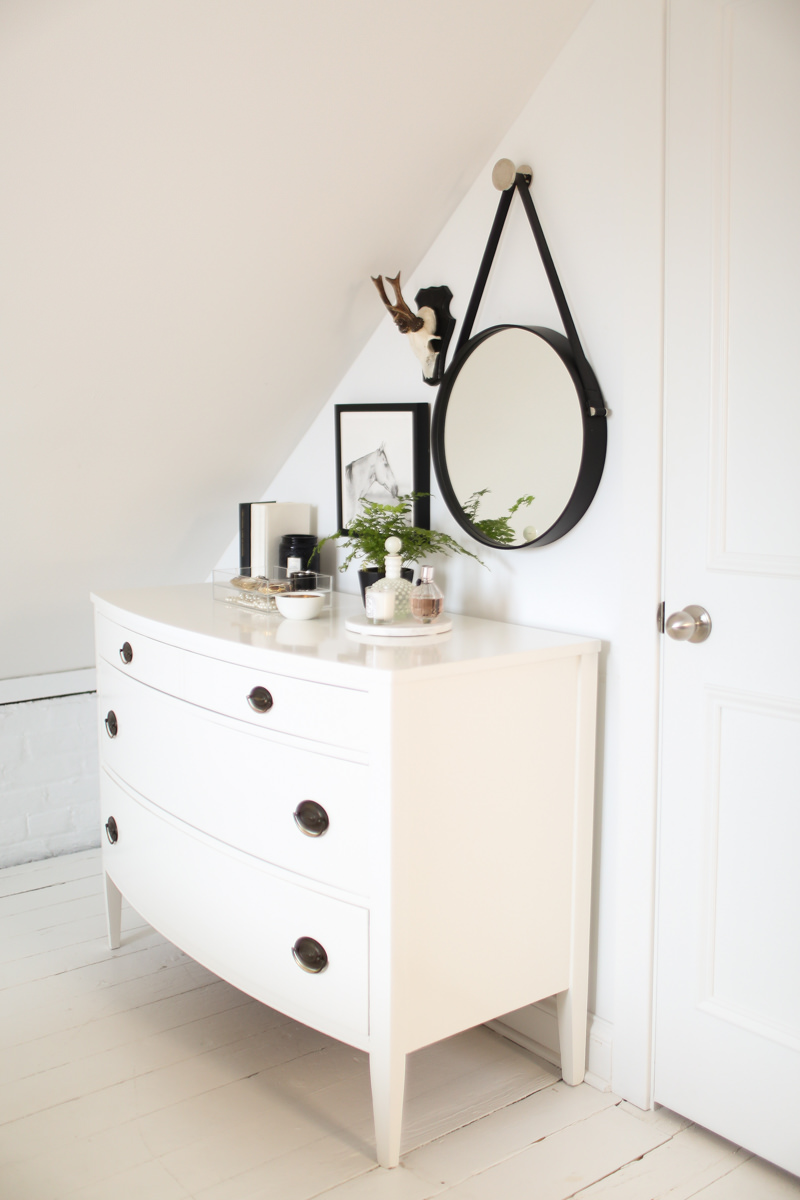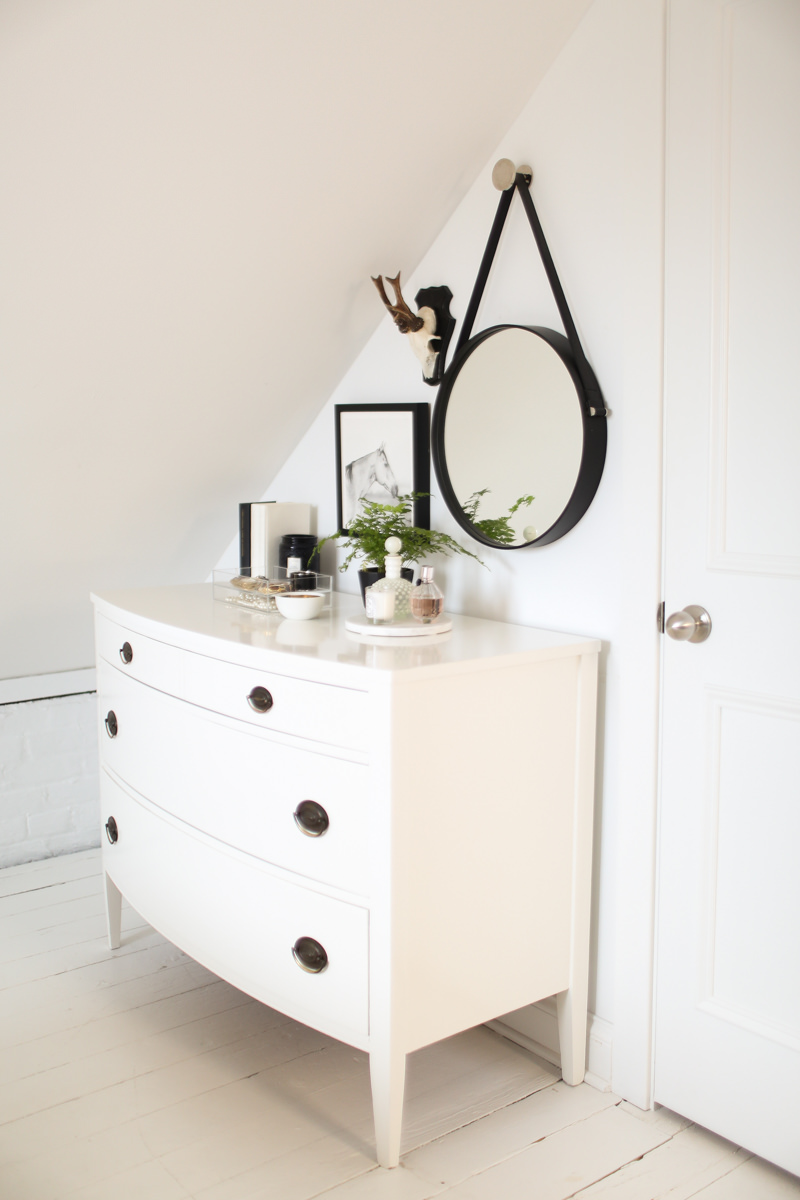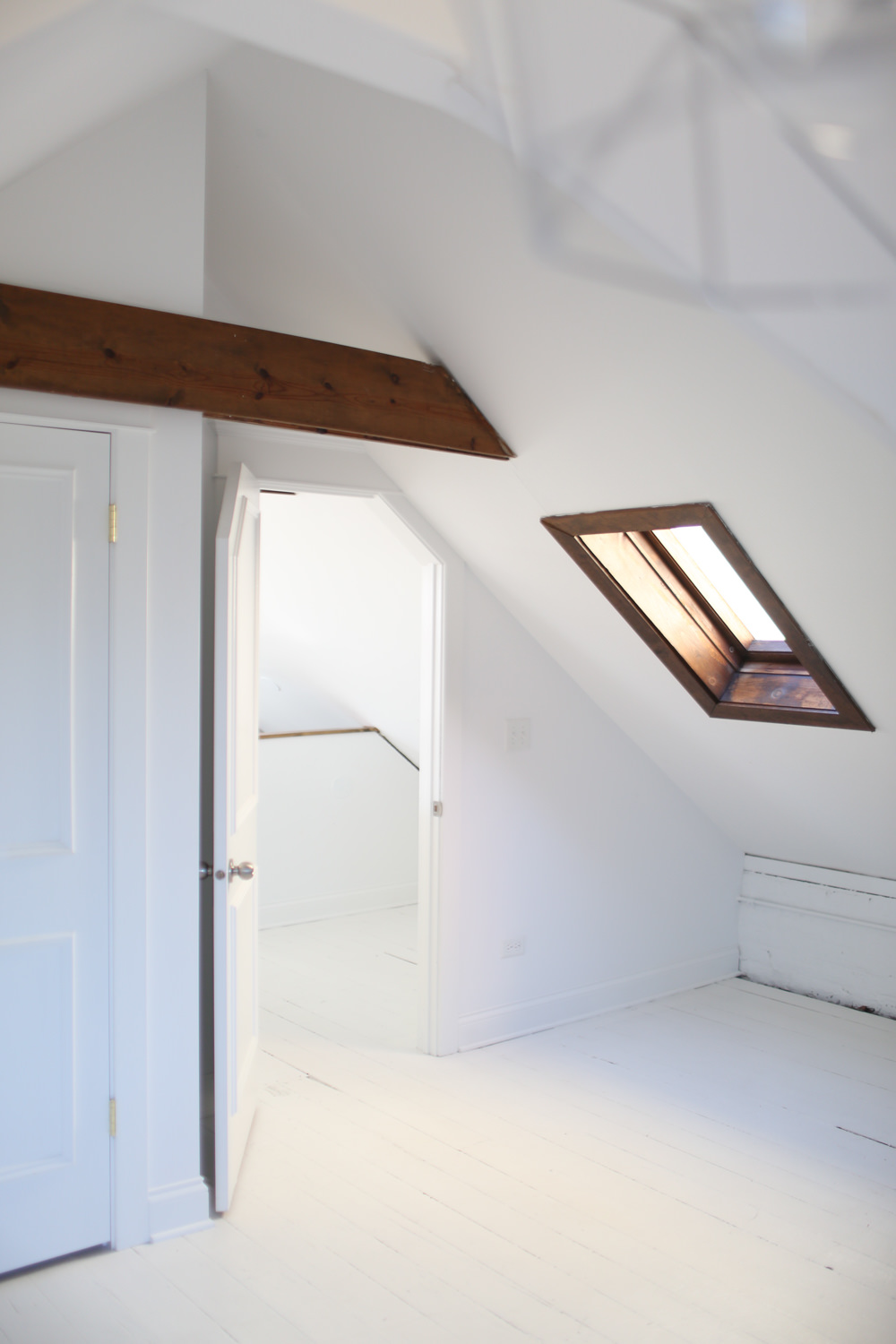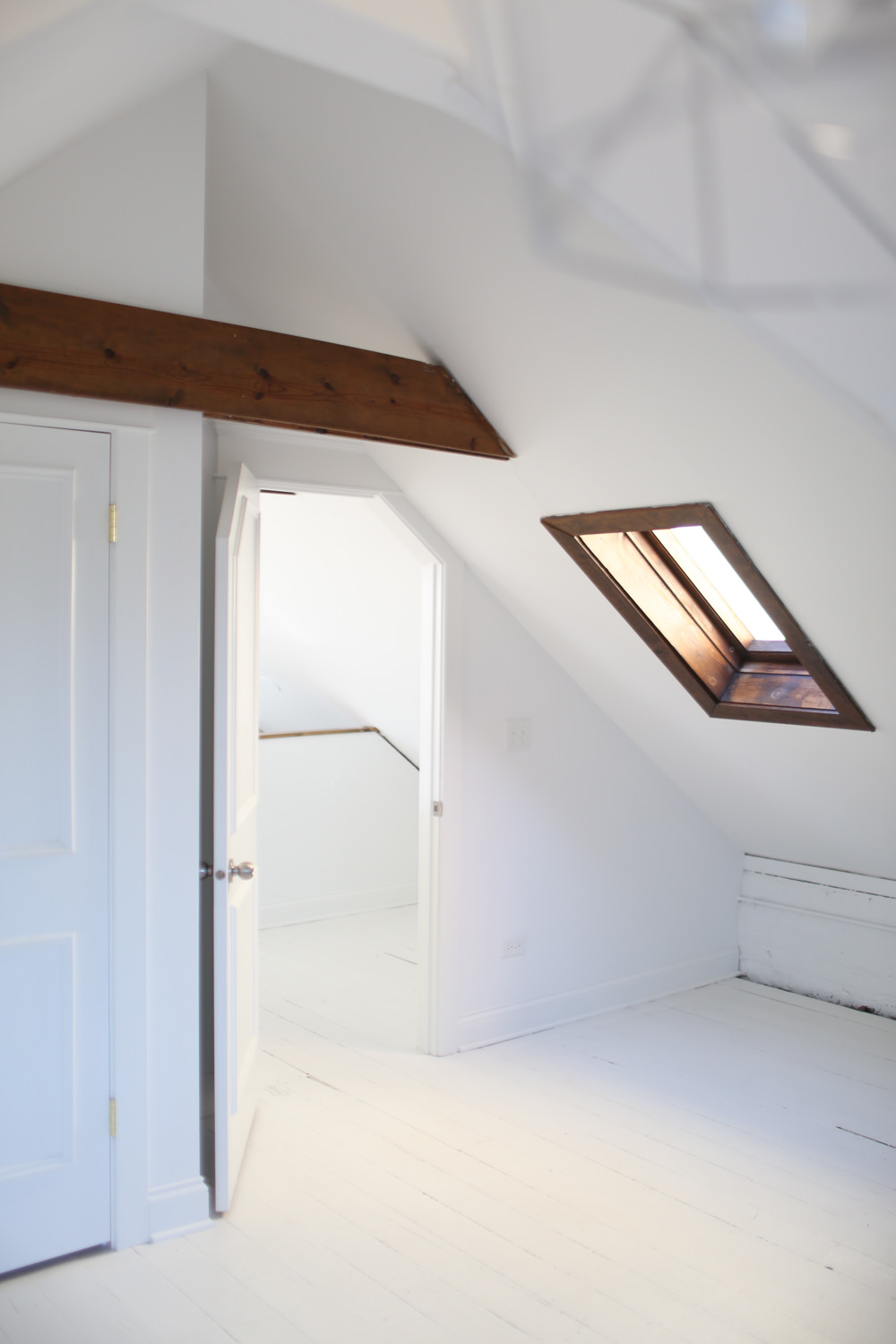 The even more awkward space on the other side of the door needed something and was perfect for my bench and Ikea clothing rack.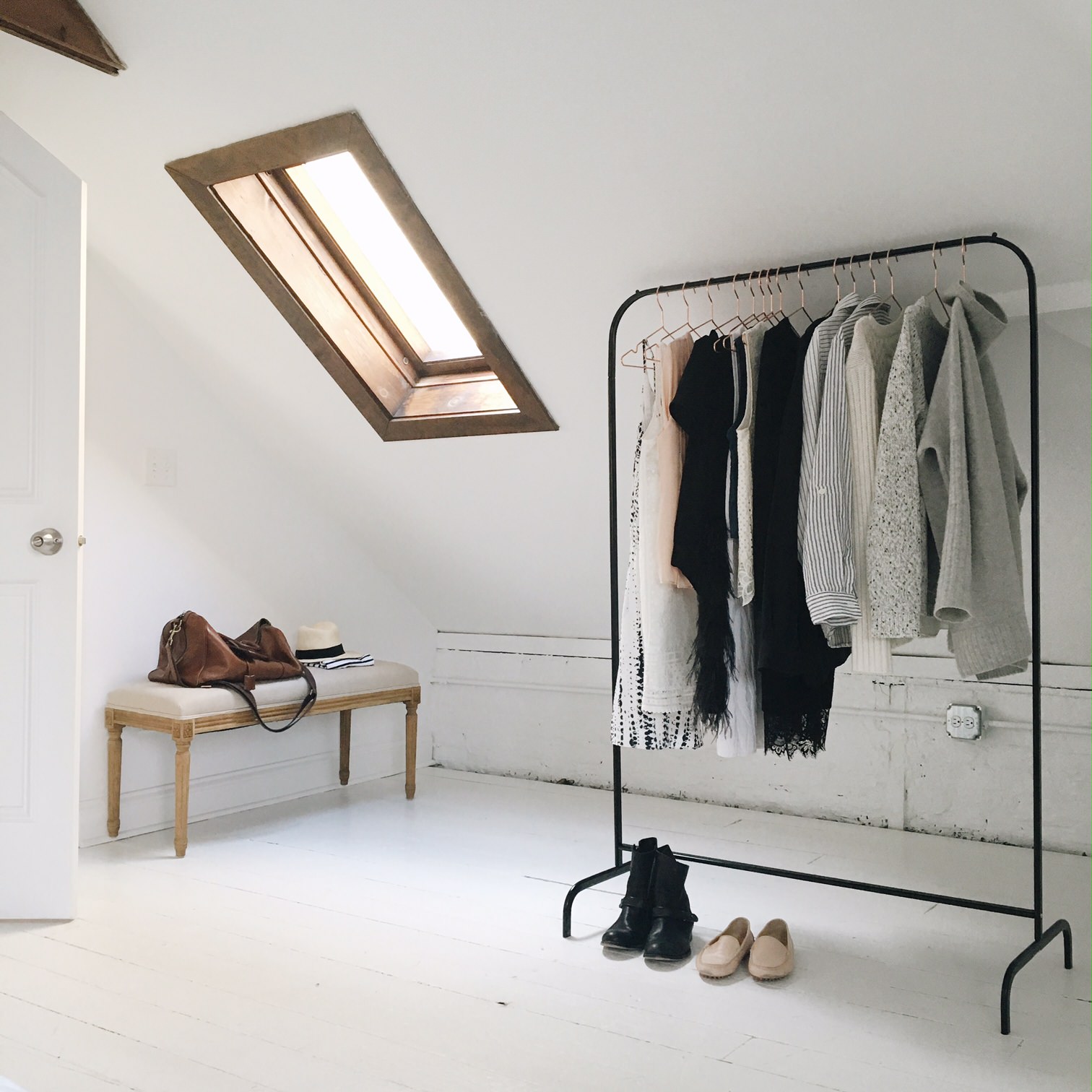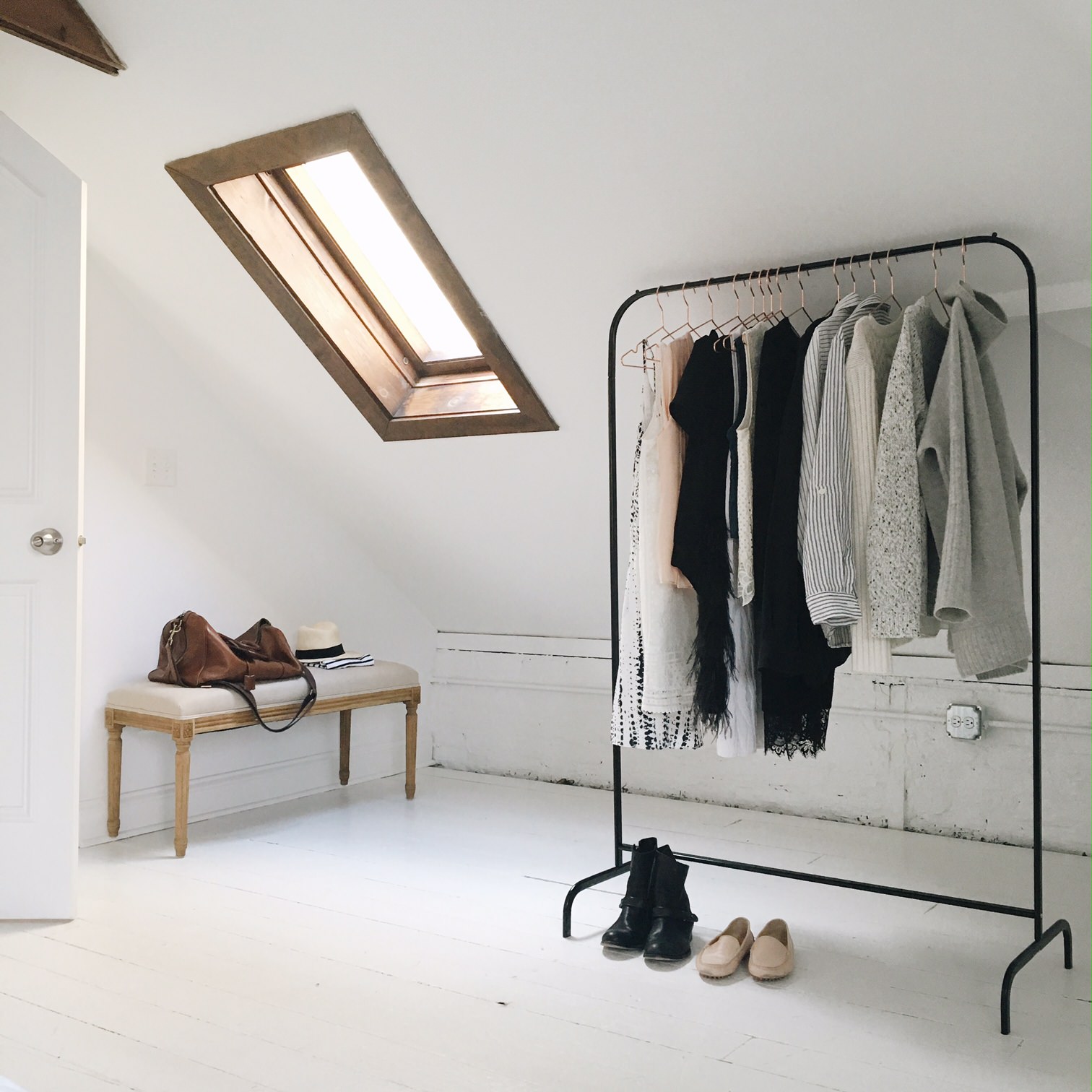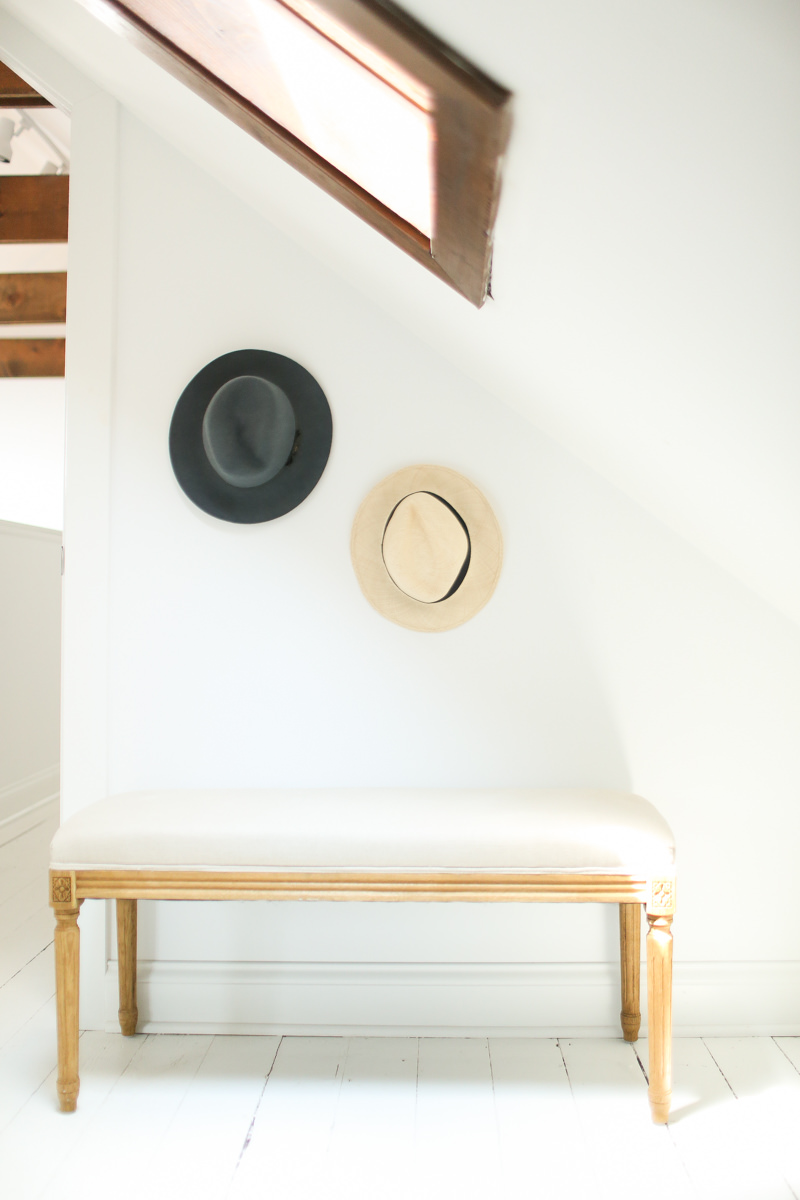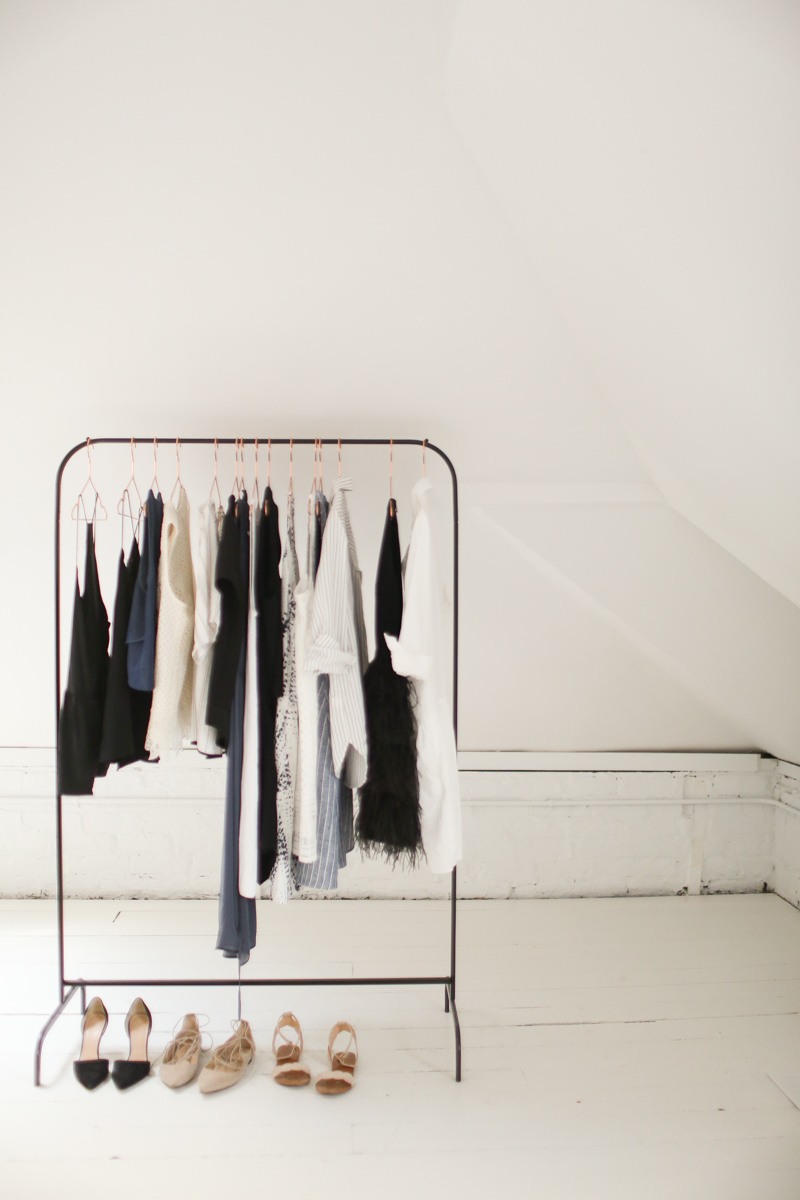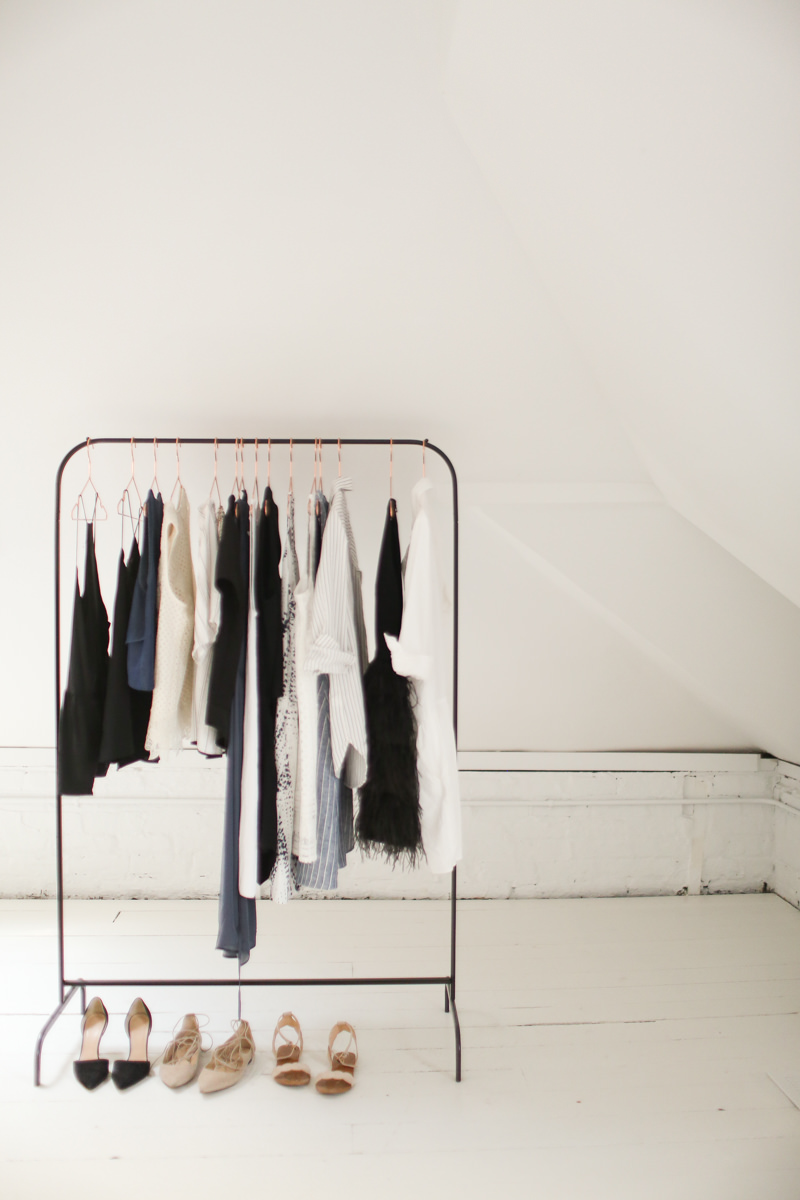 The Guest Room / Studio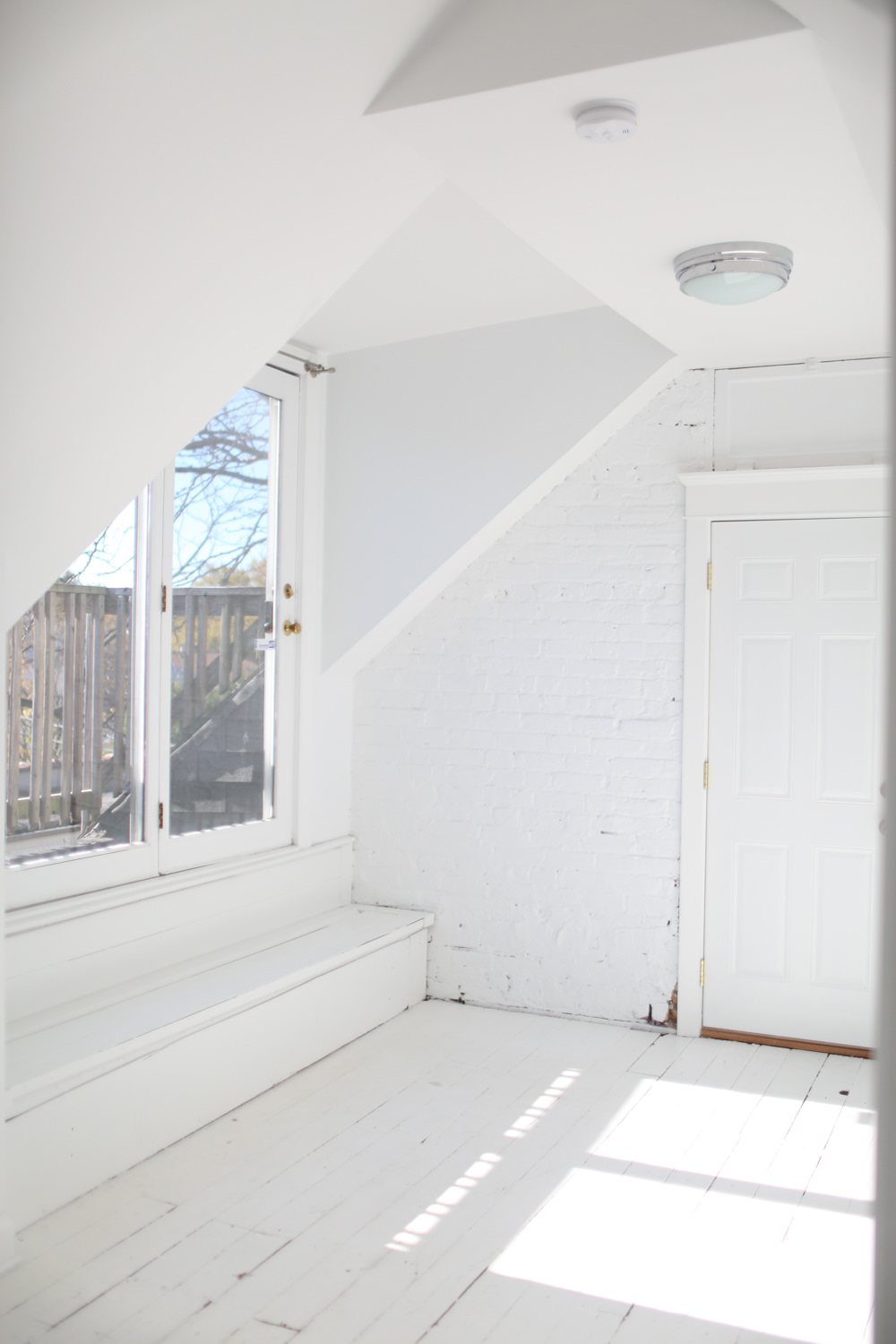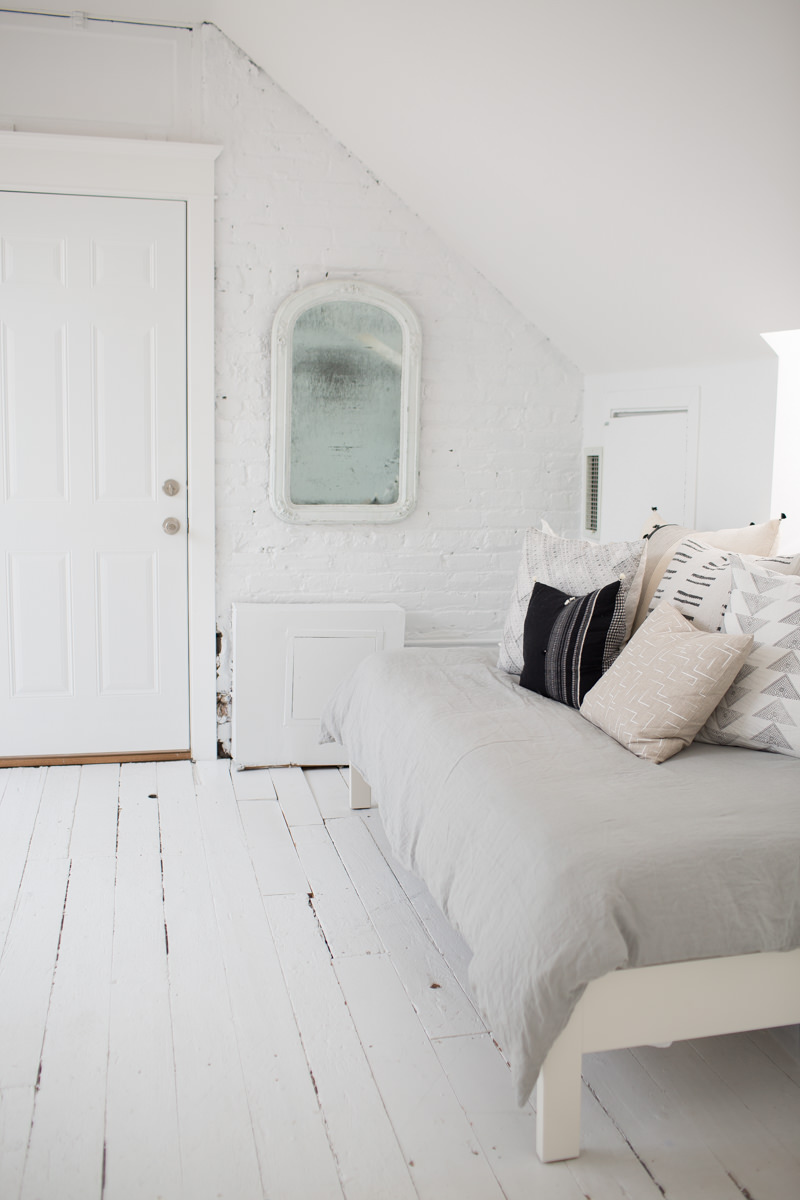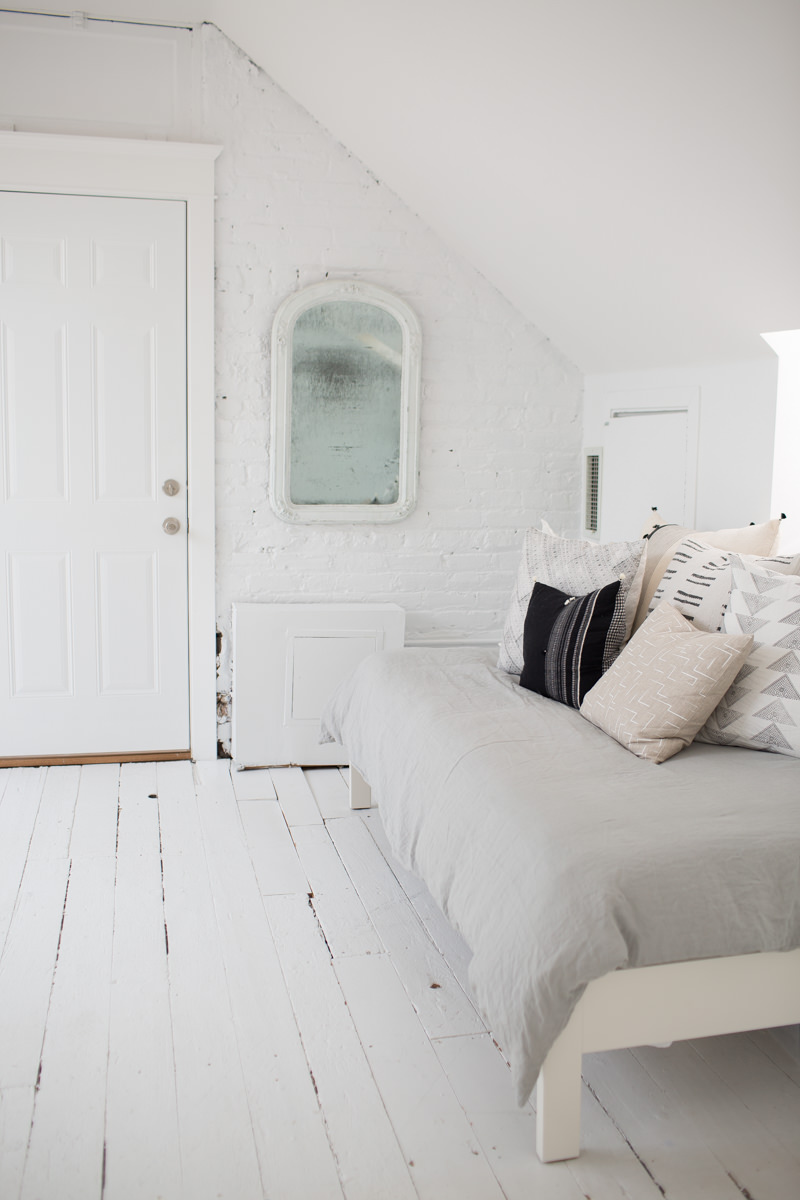 This room was a huge selling point for me since it's a big, empty, white room with painted wood floors and brick walls. Perfect for shooting, but since I don't do that every day, I wanted to give it another purpose. Enter my twin bed frame and Casper mattress. A daybed for relaxing (ok, so I never do this but do fold laundry there) and for houseguests. I've actually had a few friends and even Everygirl team members stay in this room. And I  have 2 more friends coming to town through September. While I don't have plans to keep the bed, it's definitely served its purpose.
And The Deck
I seem to have lost all the before photos of my deck, but you get the idea. It's not in the best shape and the surrounding area isn't very pretty, but I gave it my best and am really happy with how it turned out.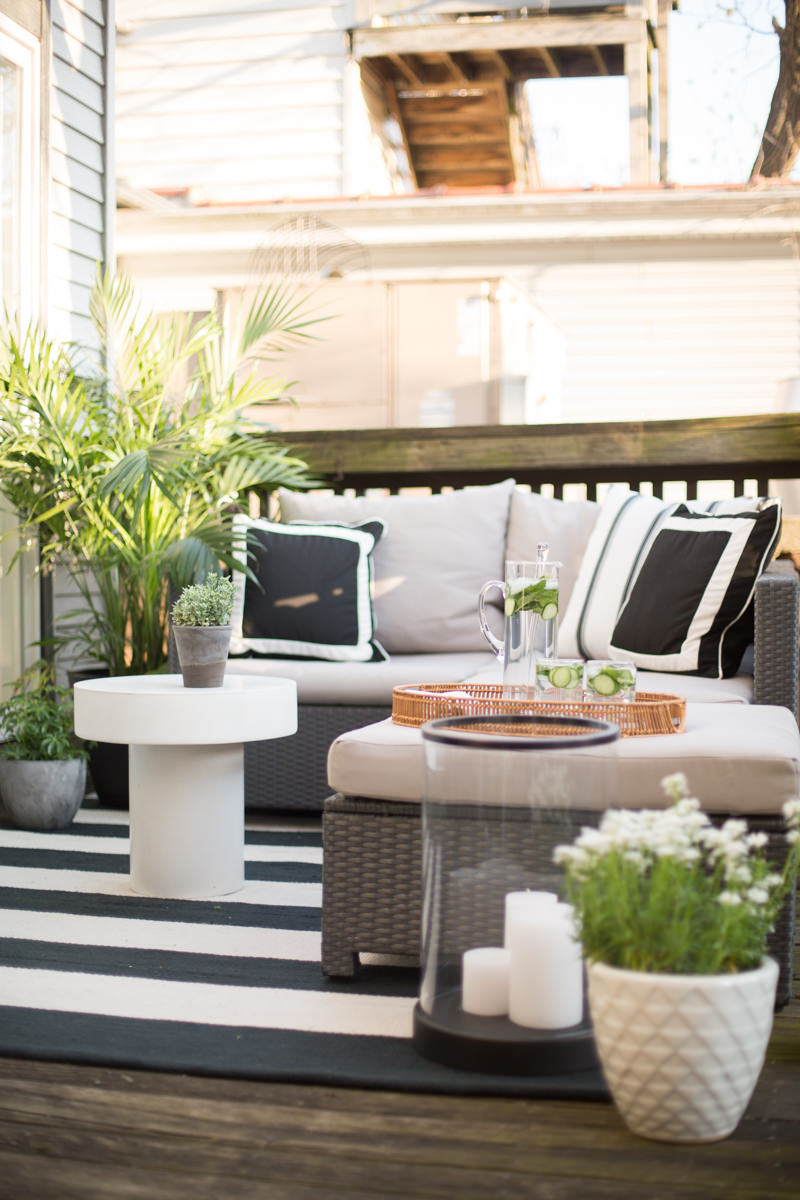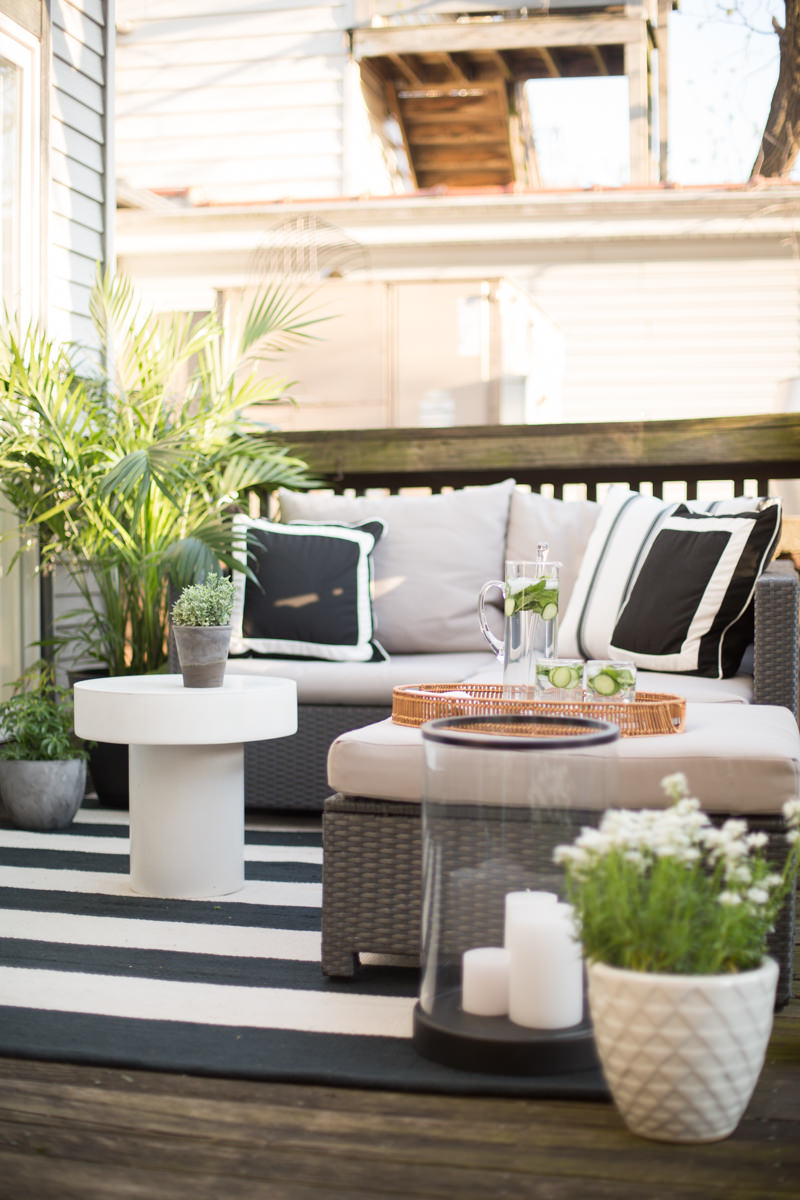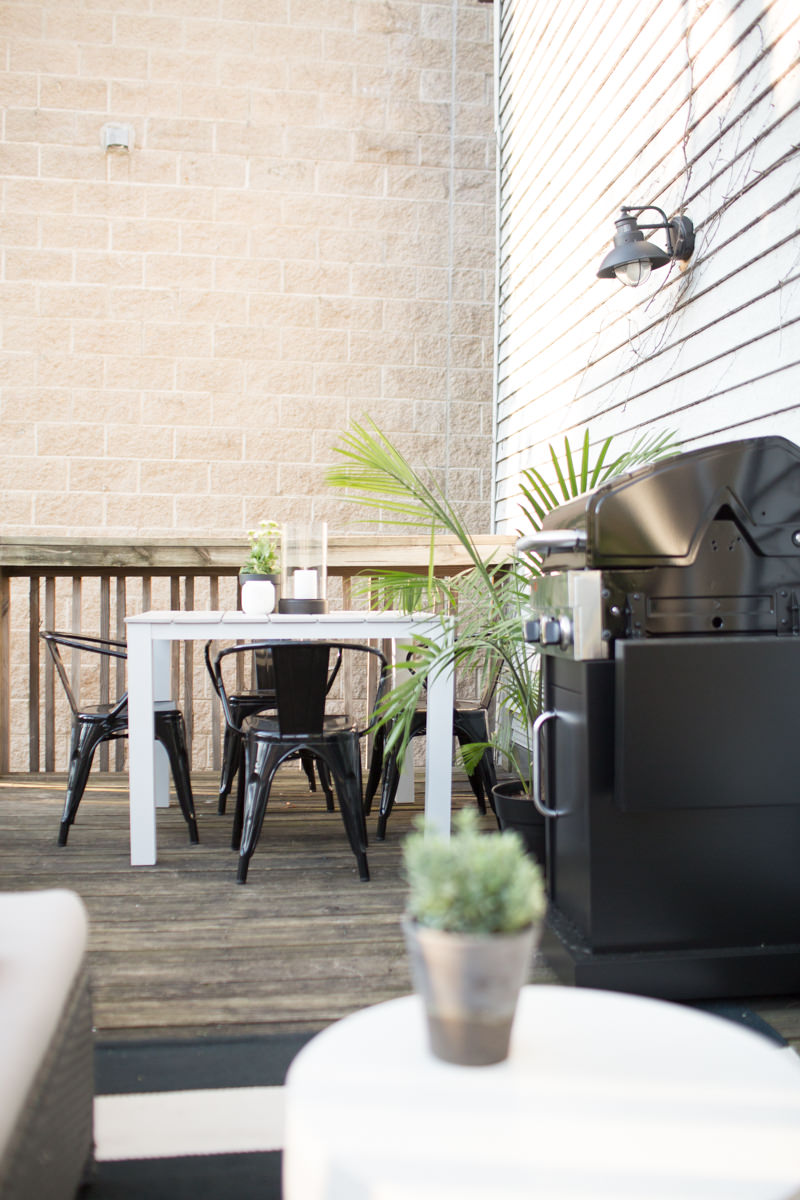 You can shop my entire home tour on The Everygirl and watch the video here!
Have any questions about the decorating process or anything you see here? Leave them in the comments section!