The Baby Essentials I Still Use After 18 Months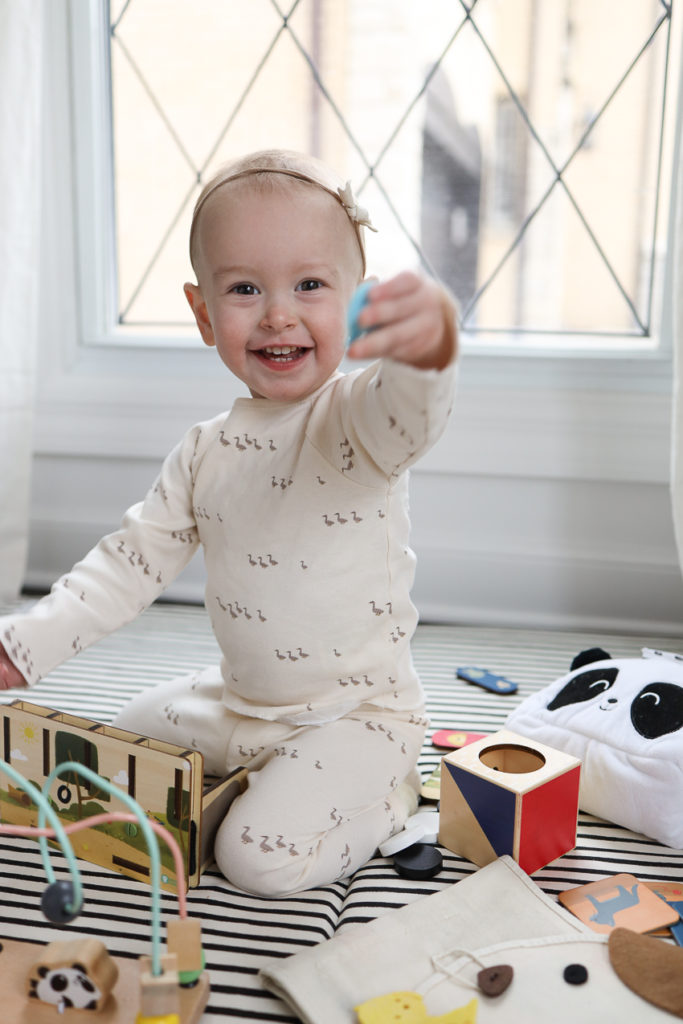 I'm almost a year-and-a-half into motherhood and am always getting questions about my favorite baby brands. What is Margot playing with? What's she wearing? What stroller should I invest in? What detergent should I use? (it's this one, by the way). Since finding out I was pregnant, I've relied on friends and did a lot of internet research to find out what worked for other moms. It's always nice to hear that there's a product moms love, but which ones are really worth it? What's worth investing in and still a go-to after the first year? Here is my baby essentials checklist: the items I still use after 18 months.
Baby Essentials Checklist: Items I Still Use after 18 Months
Today I'm partnering with KiwiCo (one of my favorite brands) to share my list of the products/brands I love most. We've been using their Panda Crates for a few months now and Margot loves playing with them. The Montessori-style toys are so sweet, simple, and keep my toddler engaged. I've seen other moms post about this brand for years and can understand why. So here are the 20 items I'm still using after 16 months of motherhood.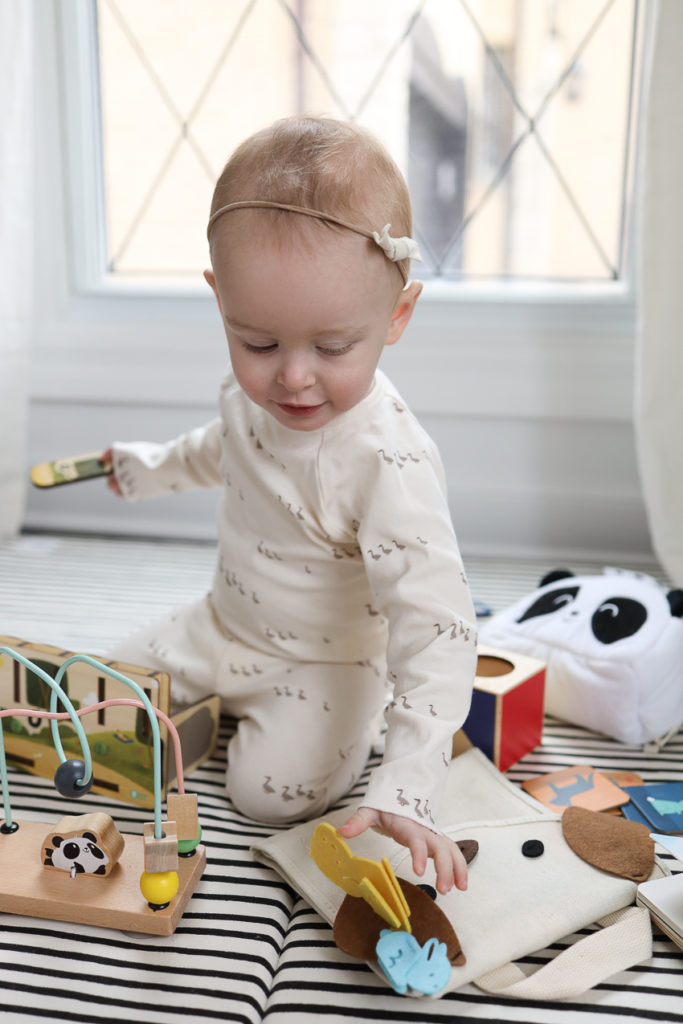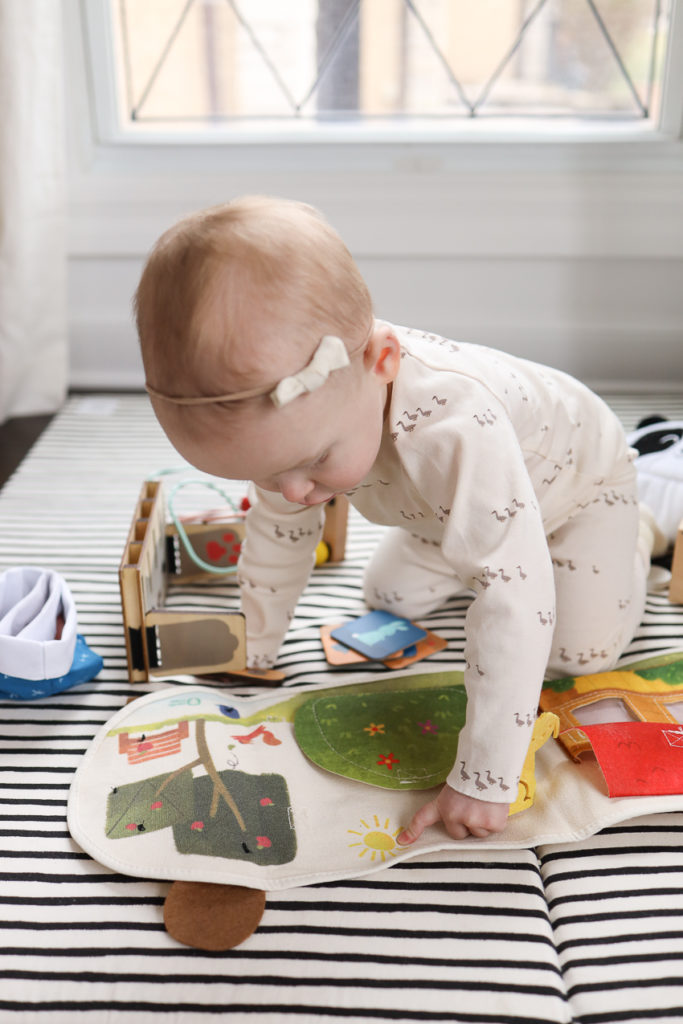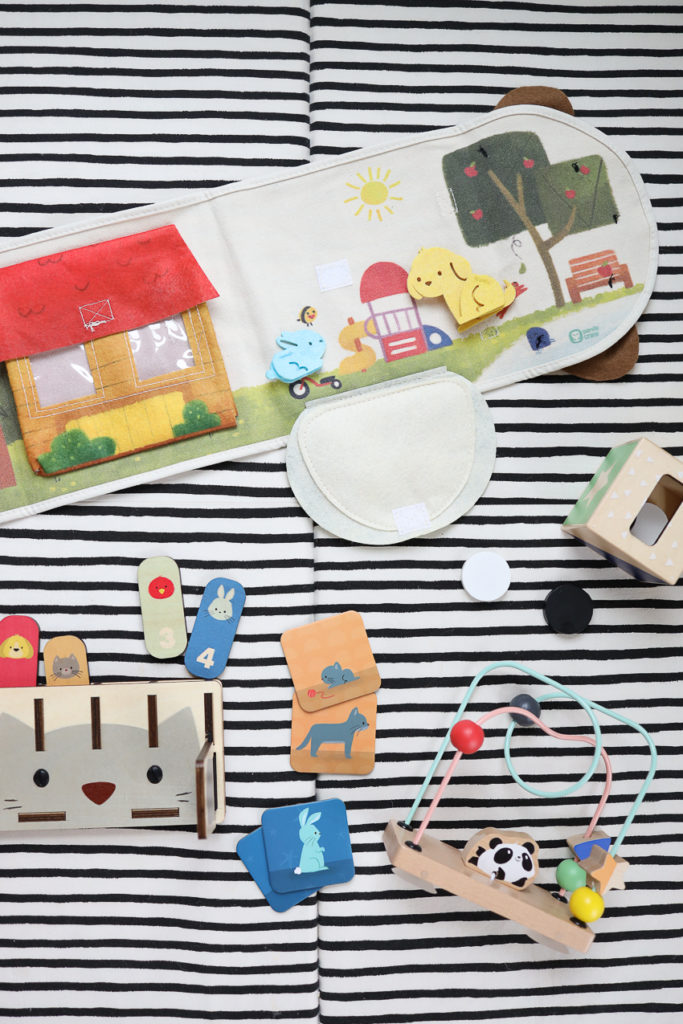 Baby Essentials Checklist: Items I Still Use after 18 Months
The Best (Budget-Friendly) Toy Subscription: I get the most questions about Margot's favorite toys, and one of my favorite brands the last few months has been KiwiCo. Margot has been loving her Panda Crates and plays with toys from older crates almost every day. They're budget-friendly – less than $15 per month – so cute, simple, and truly wonderful for development. A new age-appropriate kit arrives every 2 months with tips on how to play with your child. This is something I plan on continuing as Margot grows up since the kits go all the way through childhood.
Save $15 off your first month's subscription (excluding the cost of shipping!) for KiwiCo with code MOSS
Margot's Loveys: I have received so many questions about these and how I got Margot to attach to them. Before she turned one, I bought one slumberkins to put in her crib since they are free of any stuffing and buttons. She immediately loved it but used to split up a lot so I bought a few more since they were always in the wash. It all kind of spiraled and before I knew it we had a handful of them. She sleeps with at least 3 and is low key obsessed. I buy them for all my friends babies and everyone seems to love them.
The Softest Baby Blanket: These are so soft, and I love them so much that we're on our second one. A great blanket for the stroller, playing at home, or sleep. I didn't let Margot have a blanket in her crib until maybe a month ago, but she sleeps with this (and her "fluffies" and seems to be sleeping better now that she has a blanket, too. It's so soft and cozy, and makes a great gift.
The Best Playmat: I tried a few playmats and this one was the cushiest. I got it when Margot started sitting up but wasn't very stable, and she still uses it daily. It's cute, soft, and folds up to save space!
Clothes: If you want to know where a piece of clothing is from, the answer is almost always Zara or H&M. The knits are so soft and the quality (for both) is really wonderful.
The Softest Pajamas: These are a little bit of a splurge but they're also the softest pajamas ever and so, so cute. Can't recommend them enough.
Baby Monitor: The Nanit is amazing! I recently had an issue with the camera: it went dark after 16 months, so I emailed customer service and they replaced it. Such wonderful customer service! I knew I didn't want to carry a separate screen around. When Margot was really little, we had the monitor on an iPad in the kitchen, and both Conor, our nanny, and I all have it on our phones. It's so nice that I can peek in on her whenever I want – great for working or traveling parents.
Baby Skincare: We've been using Tubby Todd products since Margot was a few months old and other than her diaper balm, it's a brand we use exclusively for everything from body wash to sunscreen. I love the brand, the branding, and how amazing it is for baby's sensitive skin.
Margot's Favorite Bath Toys: Margot has always loved these and is even more interactive now that she makes animal sounds and knows who's who in the animal world.
Eco-Friendly Diapers: Using biodegradable diapers was something I knew I HAD to do. I've tried cloth but in the end, they are just too much work to use all the time. We have always loved Abby and Finn although I did switch to another brand that I could buy in store (these can only be shipped) but recently signed up for a subscription again because they really are the best.
Sound Machine: I loved the oh-so-popular Marpac sound machine but no longer need it on the go (still recommend it for the first year) but we use this one in Margot's nursery and it's so effective.
The Best Bibs: These have the most coverage, are really soft, easy to fold, and seem to bother Margot less than other bibs I've tried. They're the best bibs when you're on the go, and if you know Margot, you know she loves this heart one for obvious reasons.
Lobster Seat: If you live in a smaller home, want to save space, and prefer to keep things simple, I highly recommend this lobster seat. We do have a high chair but this is just so much easier day-to-day. It's easy to clean (I wash it every week or two), saves space, and is great on the go, too.
Toddler-Friendly Plates: It took a while for us to get into a groove with these because Margot was BIG on throwing everything. They do stay on the counter but she quickly figured out how to peel them off and toss them. Now that she seems to be past that, we love giving Margot her meals on these mats. The tiny sections are perfect for her almond milk yogurt.
Toddler-Friendly Flatware: Yes, this is a thing and I swear these were a game-changer for Margot. We really struggled to get her to eat, and I saw a friend's son using these and ordered them immediately. Margot loves feeding herself and will finish off an entire container of yogurt now! It took a minute for her to get used to them but she always asks for her "foon" (spoon) and loves feeding herself.