My Thoughts on Screen Time and Light-Up Toys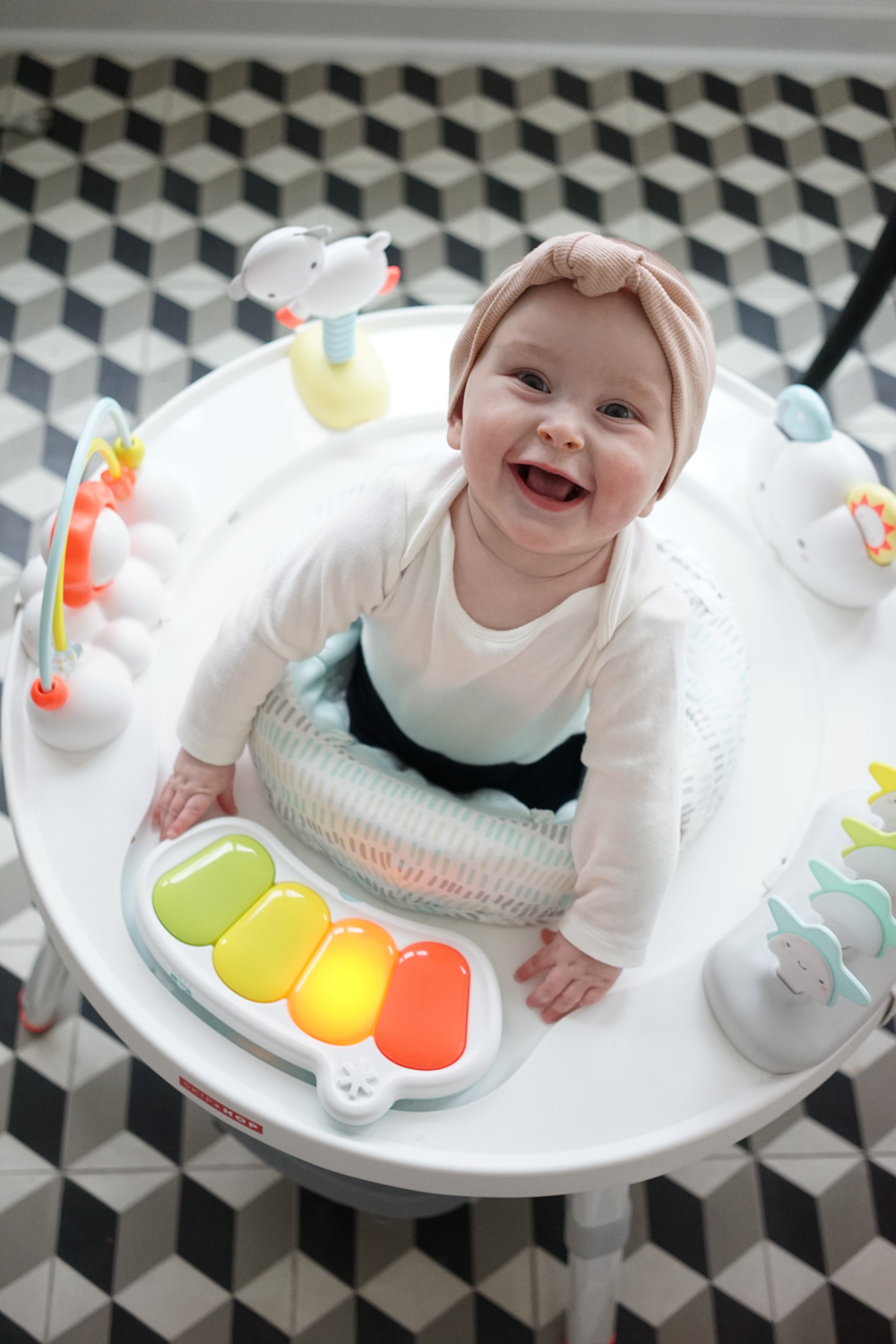 When Margot was born, I was very against her seeing a TV, cell phone, or computer screen, and made the decision to hold off on light-up toys for as long as possible. It was my plan to keep anything and everything electronic away from Margot until she was 18 months old because I wanted to keep her young and innocent, and have this part of her life be the way things used to be. Ok, so I may have said she wouldn't own them because I wanted to keep electronic gadgets out of her life for as long as possible because let's face it – kids love that stuff and it's only a matter of time before she's playing a game on my iPhone, right? My views have already changed in the short almost seven (tomorrow!) months that I've been a mom.
My Thoughts on Screen Time and Light-Up Toys
Before I dive in, if your little one plays on an iPad every day or if you avoid screen time altogether, you're a great mom. This is a zero judgment zone. As parents, we all need to do what's best and what feels right for us and our babies.
I'll never forget Margot getting an adorable but bright light-up rattle as a gift. I was still new to motherhood and she didn't own any light-up toys. I said something along the lines of "oh that's way too bright for her" (not the color – the lights) and was so nervous about her gravitating toward the toy that I think I hid it in a cabinet. Then we went through months of struggling to take her out in the car seat without a meltdown and a friend recommended this trusty little toy. It's plastic and colorful (swore I'd avoid both those scenarios, too) but found myself buying it because maybe, just maybe, she'd love it. And she did. Still does. Seriously you need one.
I swore I wouldn't buy any gear that put Margot in a position she can't be in on her own (recommended by a physical therapist friend). Then we were at a friend's house and she loved their activity center so so much, and I found myself ordering one. With lights. Yes, I did my research and bought one designed by an occupational therapist and we limit her time in there to about 20-30 minutes a day max. She's very sturdy in there and has her feet firmly planted on the ground, but I know floor time (laying and sitting) is best so we do that most of the day.
But really, look at her little smile.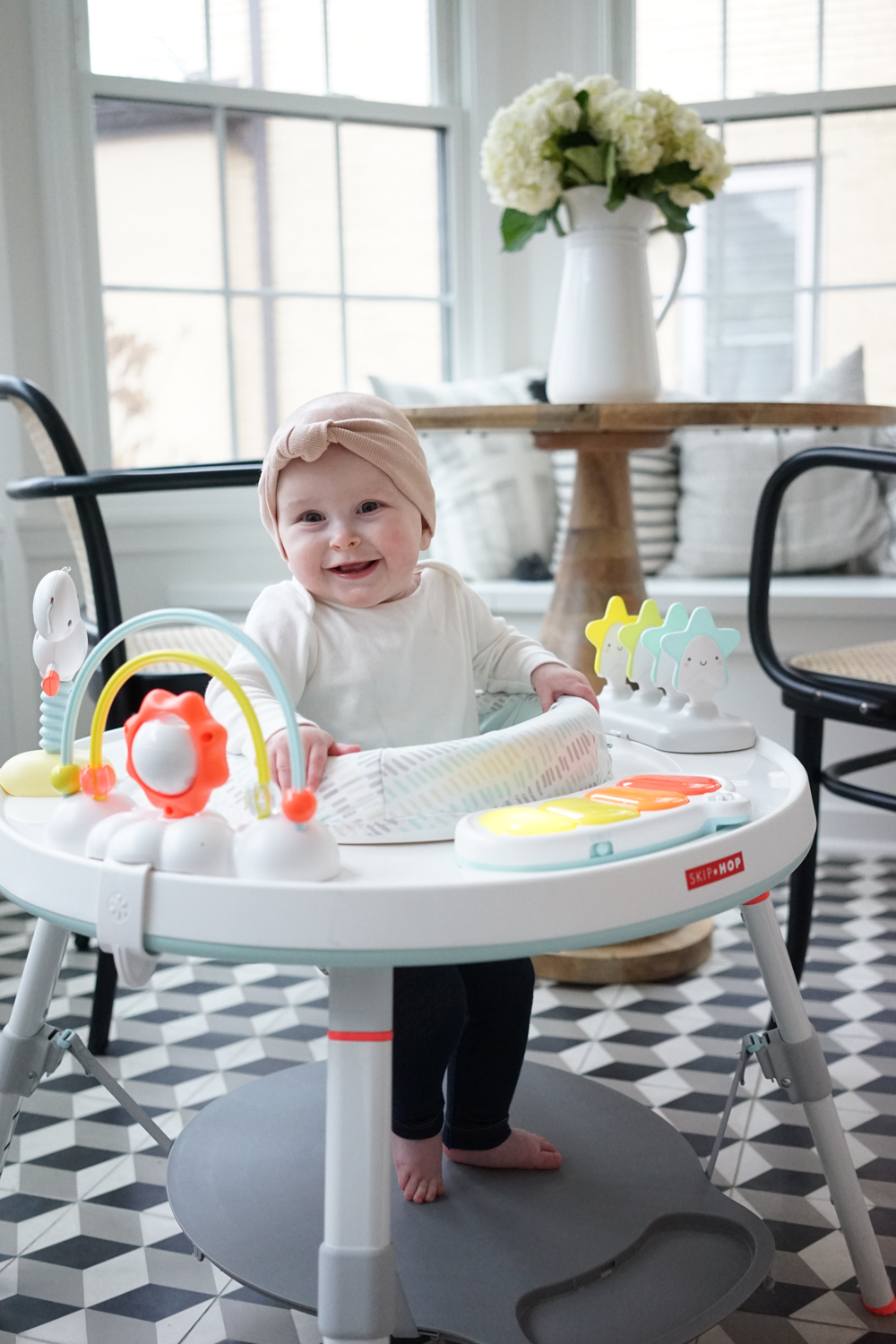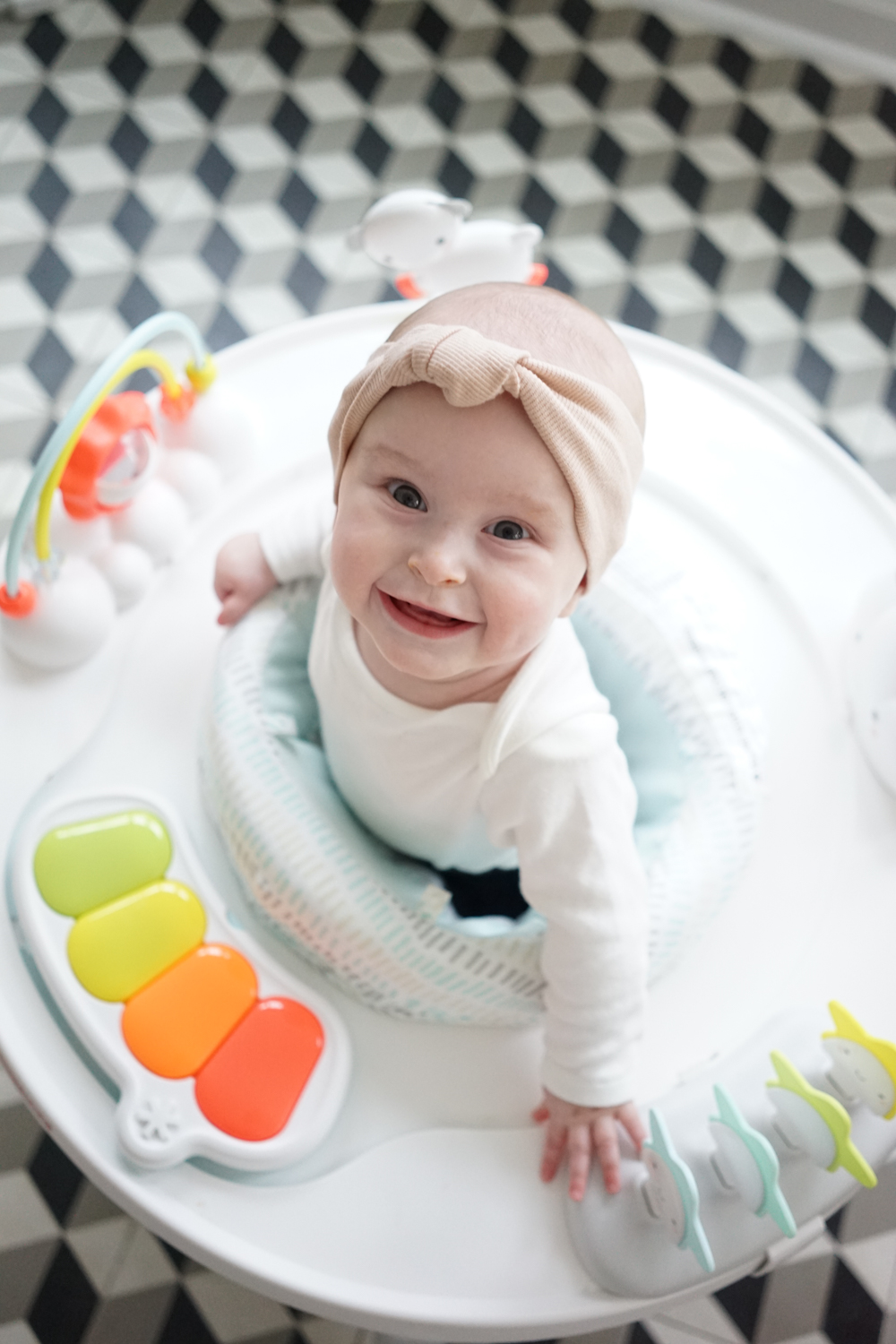 Motherhood has been the best possible lesson in letting go and in learning that you really should never say never.
Before having Margot, I swore I'd do whatever I had to do to get my baby sleeping through the night by 3 months but that didn't work for her. She slept through the night at 6.5 months and guess what? We survived. And she's the most perfect little human I've ever known. She wasn't going to wear pink but I've discovered a love of blush and mauve and she even owns a pink onesie with unicorns all over it. Colorful toys were a no-go for me. Soft, neutral-ish hues only. A week ago, I excitedly ordered a few of the brightest toys I've ever seen to add to her collection. "She'll love them" I thought. And she does. Never. Say. Never.
Why no screen time
My "research" on screen time consists of knowing that babies don't learn anything watching something on a screen and that they need face-to-face interaction. These devices are addictive and can make all of us anti-social, and too much screen time can make it hard for babies and children to learn to manage their emotions later. There's so much info out there and I am not an expert, so I'll say this. The American Board of Pediatrics advises that babies not have any screen time until 18 months, so I am, for the most part, doing my best to stick to that.
It's only a matter of time before TV, phones, and computers will eventually come into play, so why not let her have a "normal" baby experience? I'm fairly certain I watched Sesame Street before I was 18 months and I'd say I connect pretty (ok, I'm actually really good at connecting with people).
I was very anti-screen time, light-up toys, and basically anything having to do with technology.
Seasoned moms are all "ok, so how long did that last?" because babies love lights and music and sometimes, you just need a break or in my case, to make it through a ride in the car without baby freaking out. We made it a few months before a a couple parents recommended this little toy (under $8 and a must-have for all new parents!) to keep Margot busy when we were on the go. I was desperate because she would get really fussy in her car or stroller, and that little guy got us through so many outings. She still loves it and for the most-part, we only use it in the car.
We still have very few light-up toys.
I think 3 total including her activity center. I'll just go ahead and link to our favorite one that I've gotten endless messages about. She loves it! I still prefer simpler toys for my baby girl, but the light-up ones are fun, too. It's ok to do things differently than you thought you would.
About a month ago, Margot got her first cold. She was so fussy and when we were sitting in the bathroom with the shower running for maybe 10 minutes and I wanted to keep her calm and happy. So it happened. I played baby shark and a few Disney clips on my iPhone and everyone's ok. Sometimes parents need to do calm a sick baby, jump in the shower, or answer email and sometimes, they need a little help.
It's all about balance. I know things will shift as Margot grows up but I know that I'd like to avoid screens as much as possible for now. That face-to-face interaction, being able to sit through a meal is important to me. I am personally fine with an iPad or iPhone while traveling. There's a time and a place, and those things in moderation, or to keep catastrophe from arising, are fine. I assume one day I'll figure out what works for us with screen time. I can't wait for Friday night movie nights in our backyard all summer!
How we handle screen time right now
So for now, if she's in the room with us, the TV is off. I do my best to keep computer and phone screens away from her (and to generally stay off them when I'm with her) unless she's sick and watching Be Our Guest from Beauty and the Beast.