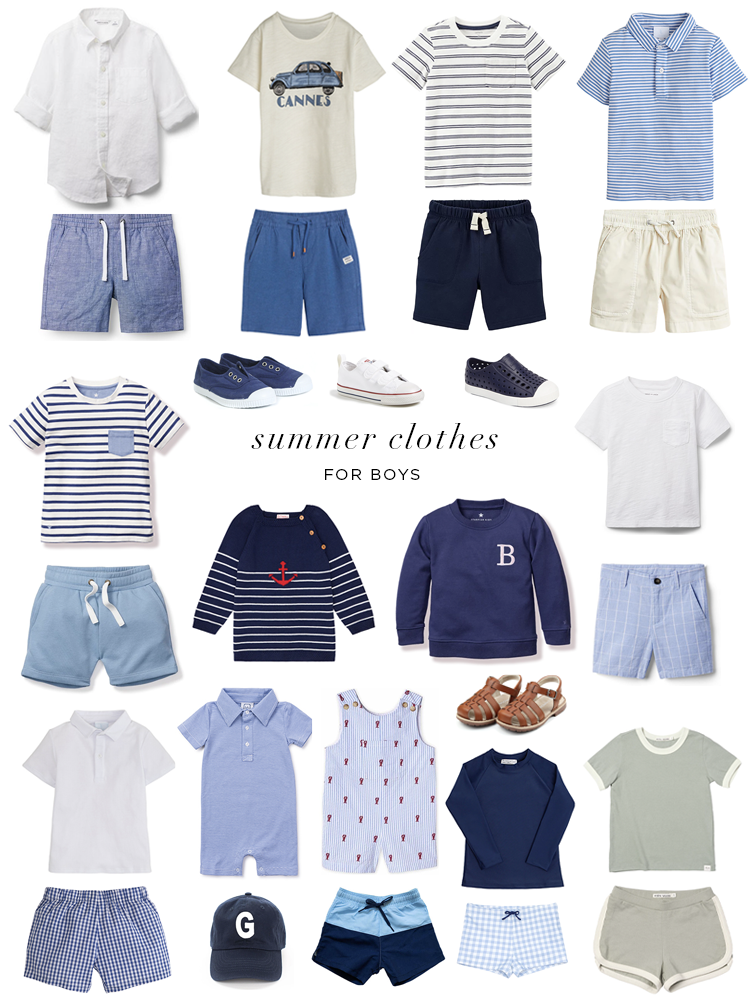 I'm a mom to two girls and every so often (as in once every couple months) will get a request to share clothes for boys. So since basically no one asked, I thought I'd share some warm-weather summer styles for boys. There's no question that girls' clothes are cuter. That's not to say there isn't cute stuff for boys out there, but there's just way more to choose from for little girls. You just have to look a little harder for boys. I included lots of blue, stripes, and a touch of gingham, and it was fun. I always wanted girls and am so happy I have two, but little boys are just so sweet. So here are some summer clothes for boys. You can shop my list of summer clothes for girls here.
Summer Clothes For Boys
Now that I've done a search, Janie and Jack is hands-down my favorite brand for boys, and everything's 20% off right now. They have some really cute pieces! Lots of blue, stripes, and linen, so it's my vibe. My favorite shops for affordable kids' (play) clothes are H&M, Old Navy, and Carters has some great options, too. Good solids and stripes. I tend to stay away from anything too graphic, but like a cute and simple graphic tee. Maisonette is always has the best selection of everything for kids, and I love Little English and Bisby, too. You know how I love my blue and stripes, so this boys' palette speaks to me. I'm including lots of options at various price-points – a few splurges, and budget-friendly outfits for play. Boy moms, this one's for you.
This post contains affiliate links. If you purchase something using my links, I may earn a commission at no cost to you.