Our Paris Wedding: Ceremony, Reception, and Playlist
October 9, 2017 was one of the best days of my life, and I couldn't be more excited to share the details of our day with you! Our wedding ran on Martha Stewart Weddings but I wanted to share more photos and details here, so yesterday, I shared part one of …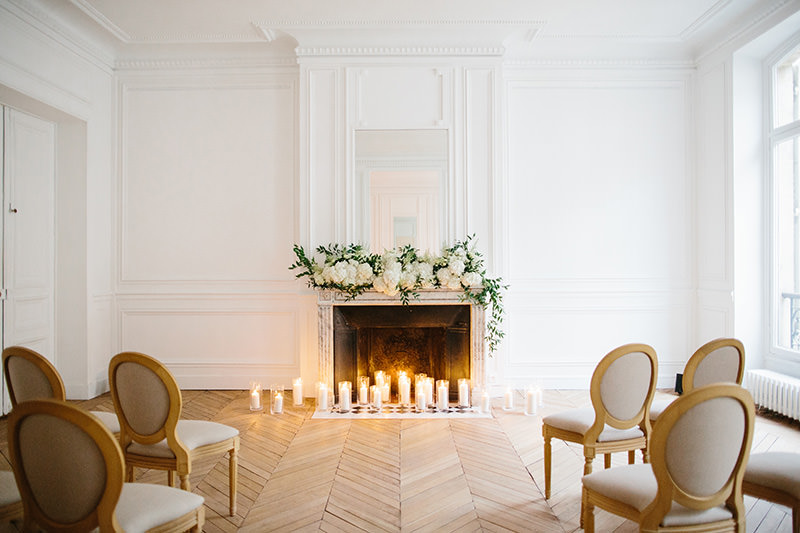 October 9, 2017 was one of the best days of my life, and I couldn't be more excited to share the details of our day with you! Our wedding ran on Martha Stewart Weddings but I wanted to share more photos and details here, so yesterday, I shared part one of our wedding day – the first look and portraits. Today I'm sharing our Paris wedding ceremony and reception.
Our Paris Wedding: Ceremony and Reception
I realize not everyone is in the position to have friends handle photography and videography, but I was so lucky to be i the unique position to have Katie and Pat photograph our wedding The photographs are better than anything I could have dreamed up, and it was so fun involving friends in the process.
Most of the videographers I looked at were way too expensive and most videos seemed a little..stuffy? I wanted my video to feel real and not like some cheesy movie trailer. What Dan produced is just so perfect and so us. I gave the guy zero guidelines and what have us is better than anything I ever could have imagined.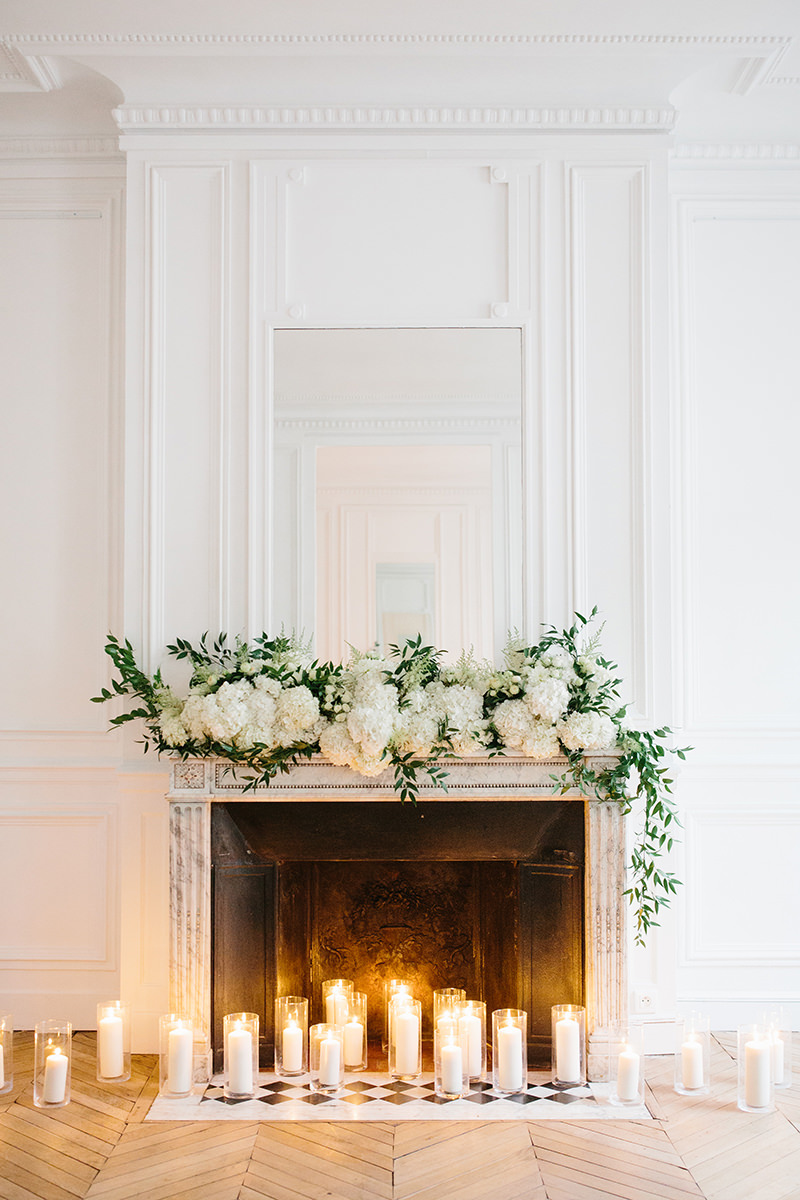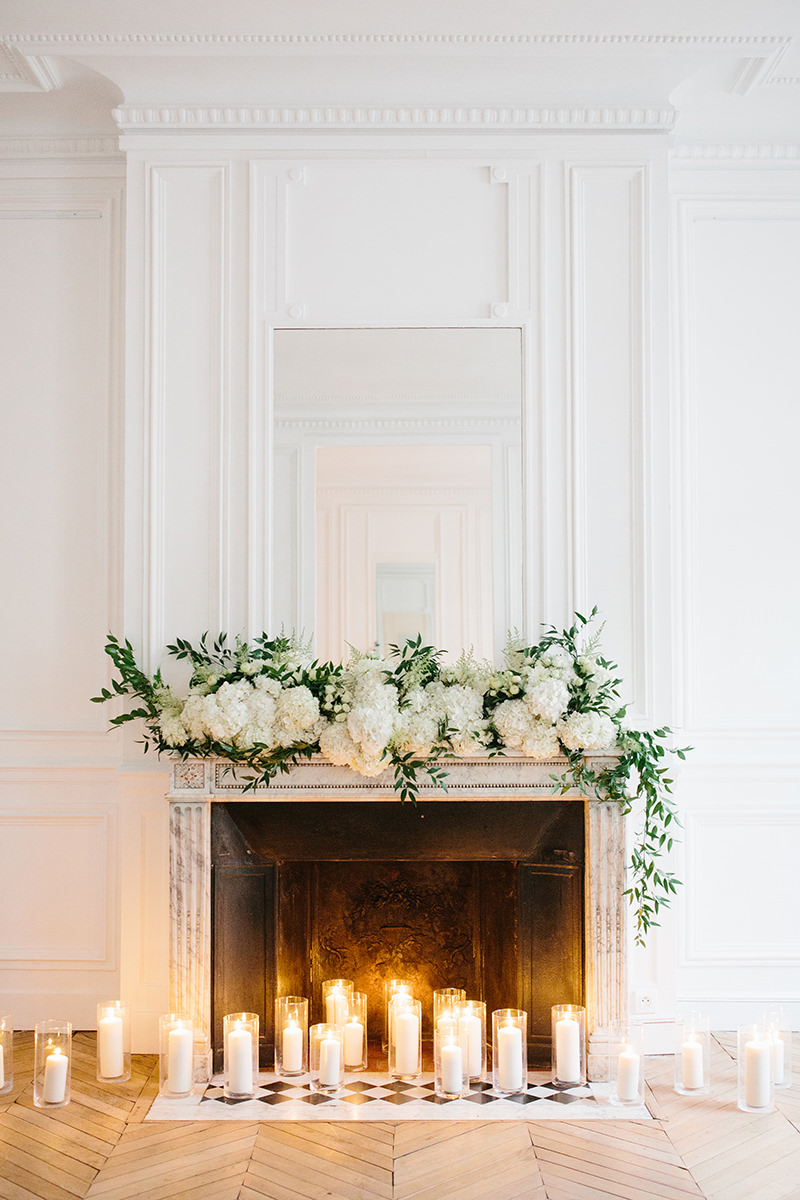 The Venue
Finding the venue was so much easier than you'd think, once we found our planner. I found Billy of Luxe Paris Events while scrolling through Style Me Pretty one night. We scheduled one skype call (with the one planner) and knew he was the one on that first call.
Billy he sent us images of the space we ended up choosing and it was so perfect for us! He also does his own florals which I felt made things easier. We decided to spend the entire weekend focusing on our guests and not the wedding, so we didn't didn't tour the venue before our wedding day. I trusted Billy entirely and knew it would be perfect. And it was really fun walking in and seeing it set up for the first time.
We skipped the wedding cake and went with a traditional croquembouche. I prefer pastries to cake so this was an easy decision. And you'll notice a touch of color – I really wanted vintage plates and love these blue ones Billy rented for us.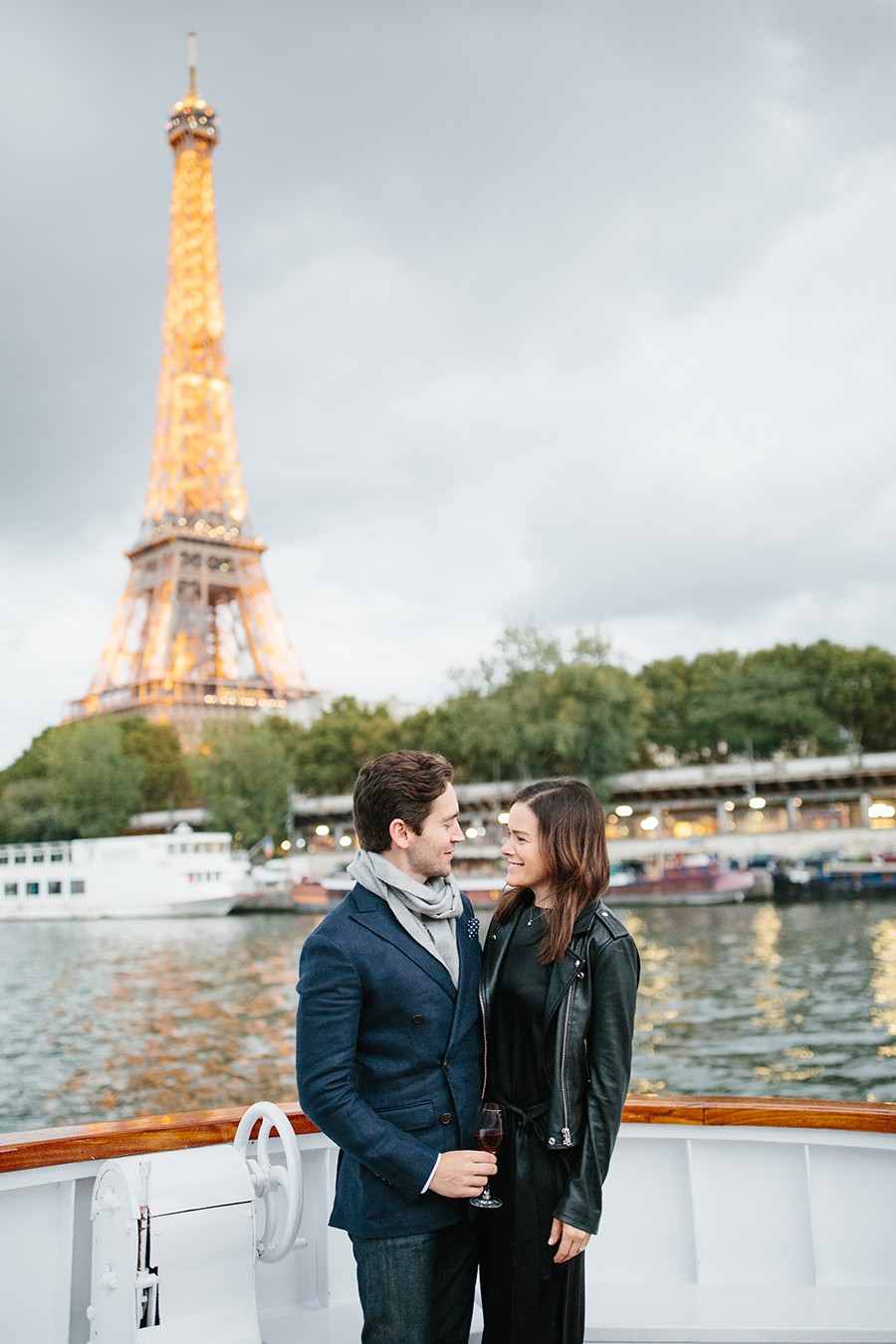 Our Paris cocktail party and river cruise.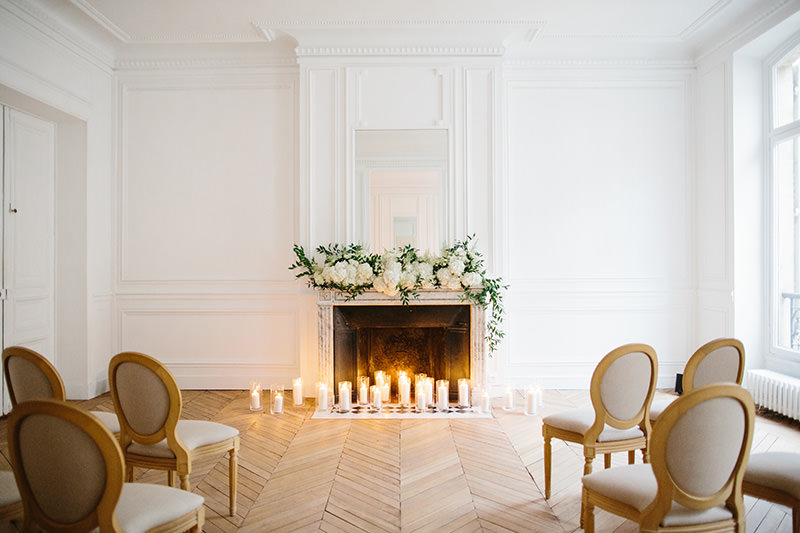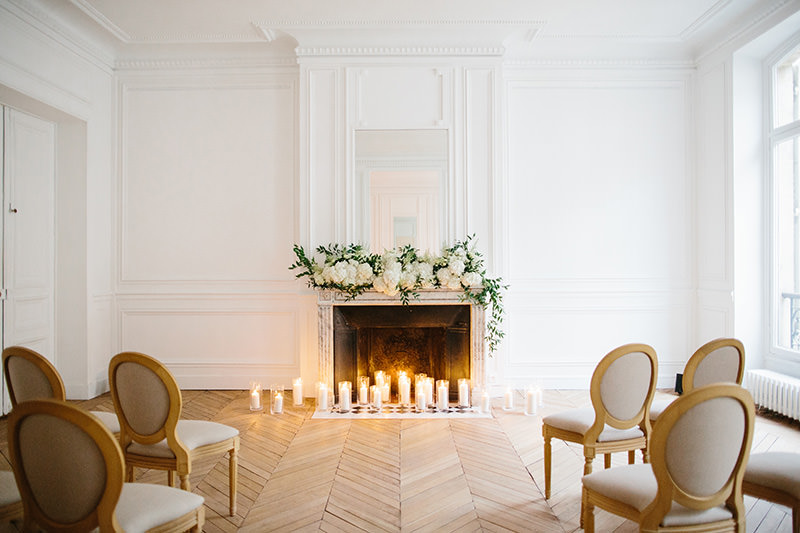 The Ceremony
I got really nervous again before walking out "in front of all those people" – all 18 of them. And that is why I never could have had a big wedding. Being a bride wasn't really for me, but keeping the guest list small and making the weekend more about everyone and less about us made it a lot easier.
I walked into the room my own and Conor met me at the end of our very short aisle, then we met our friend/officiant Wil at the fireplace. I was pretty fidgety and nervous throughout the ceremony but Wil did such a great job and kept things short and sweet for us. We read standard vows since neither of us wanted to recite something personal in front of everyone, so our letters to each other were read during the first look.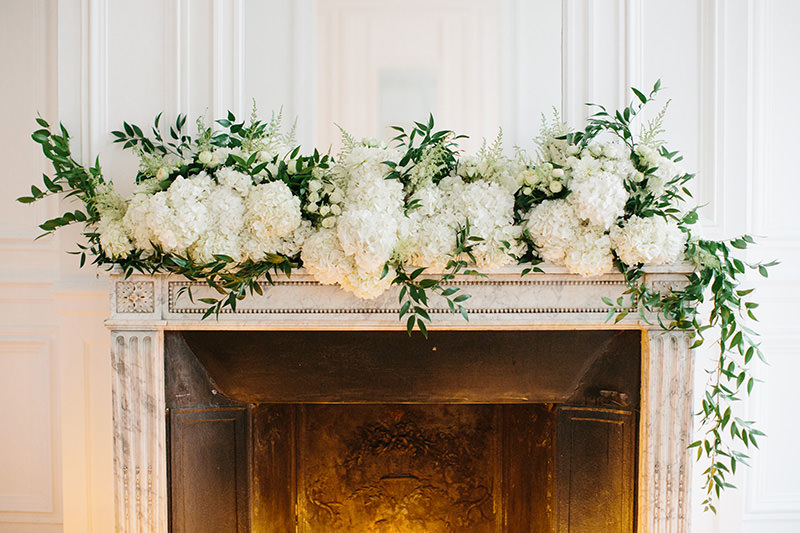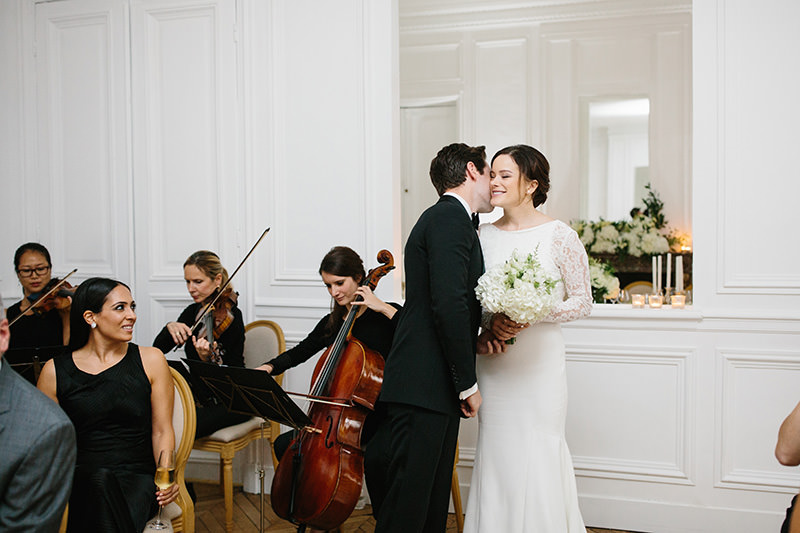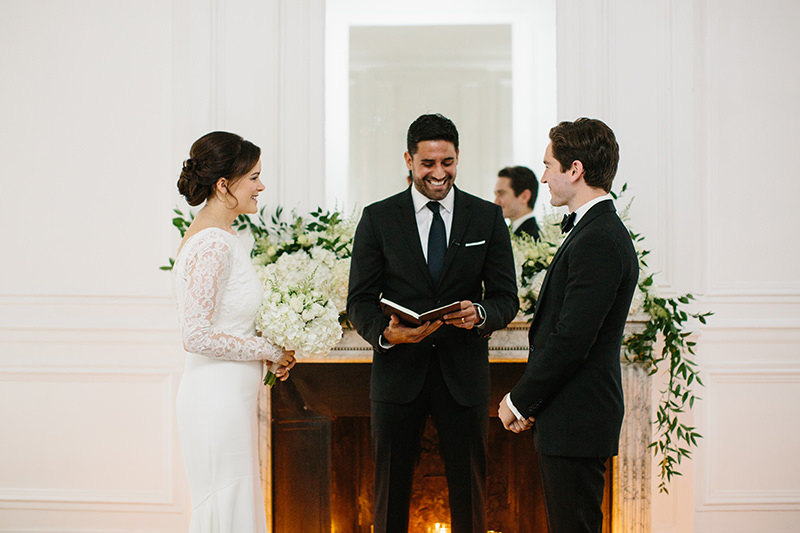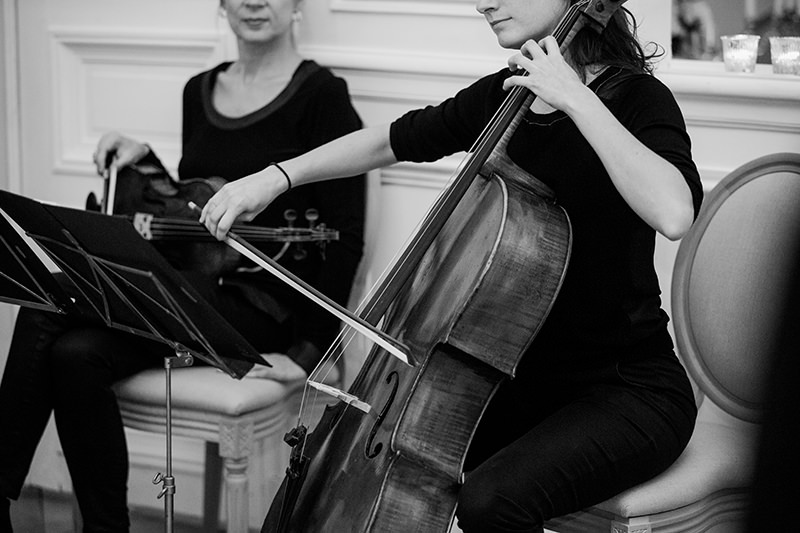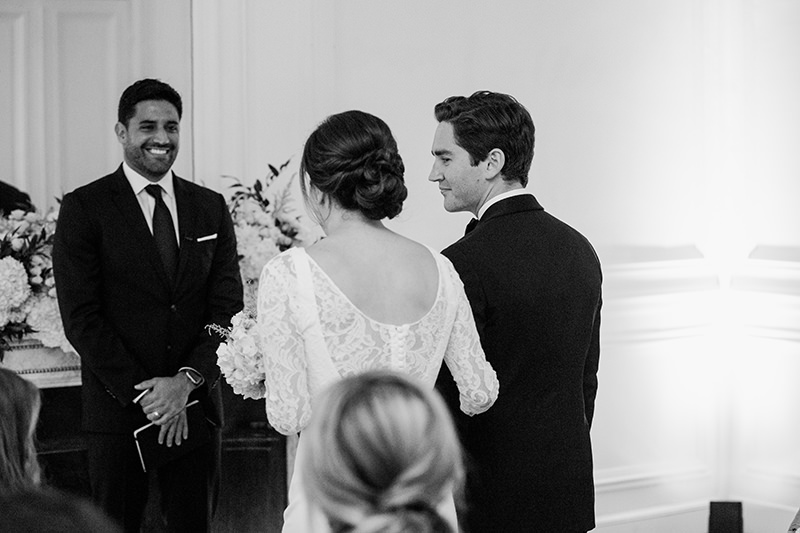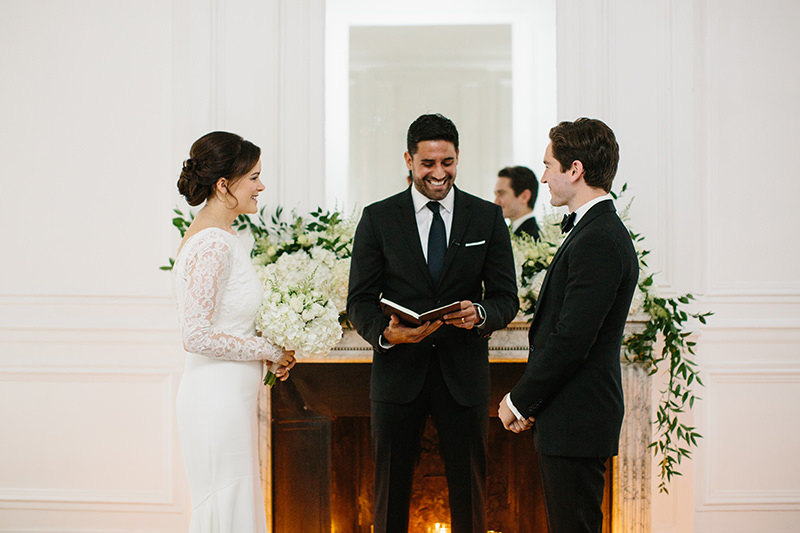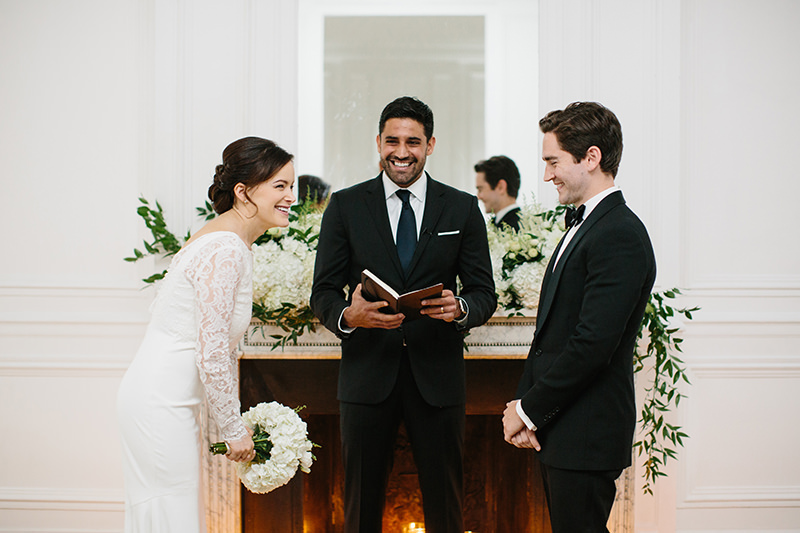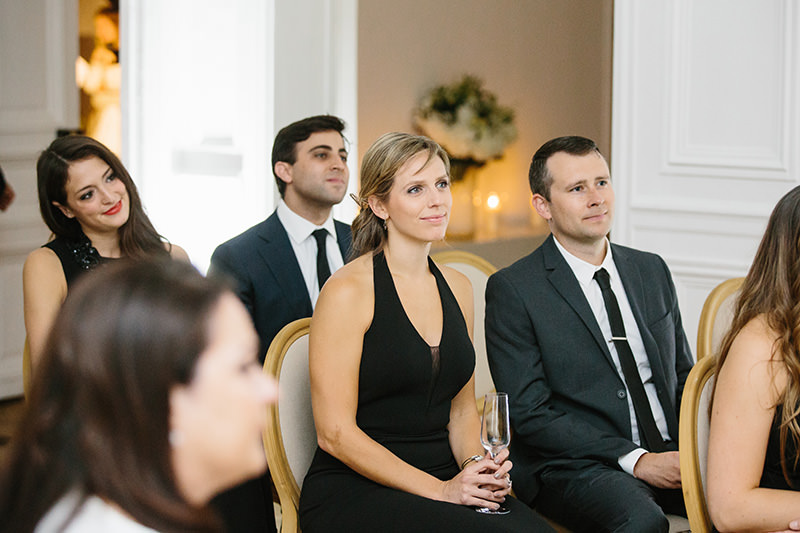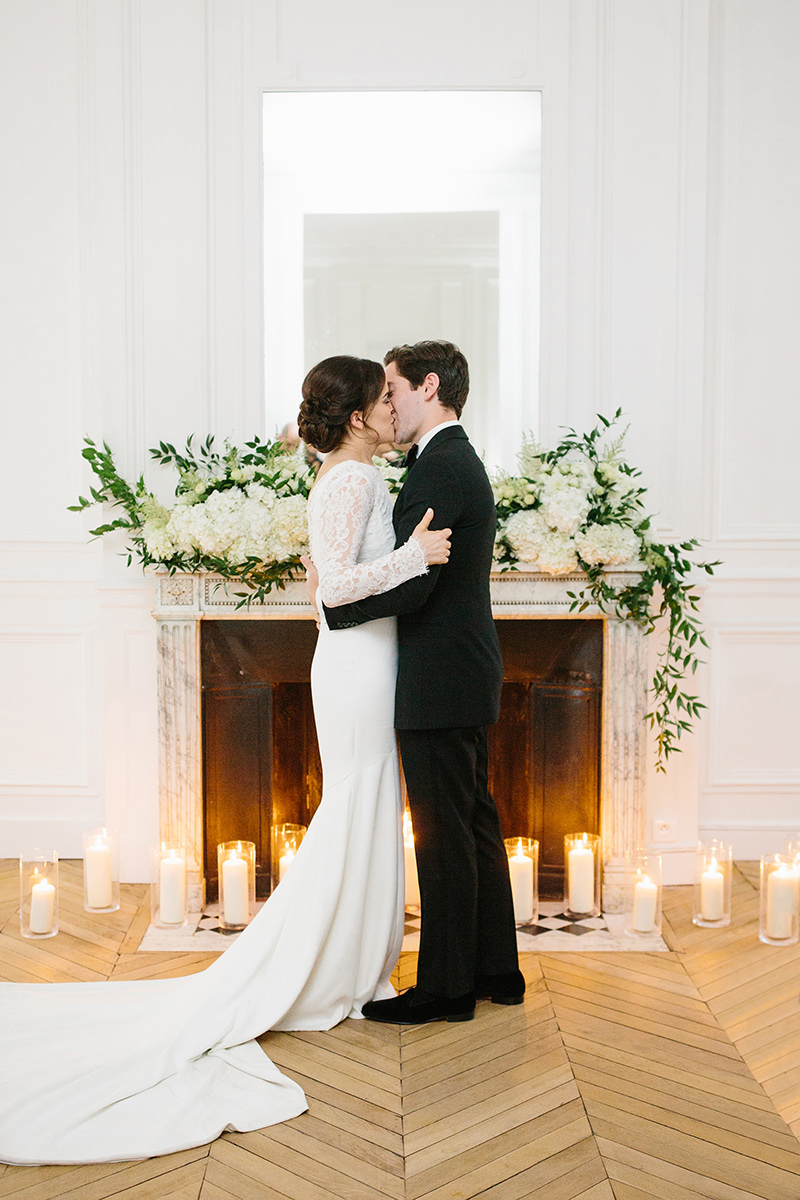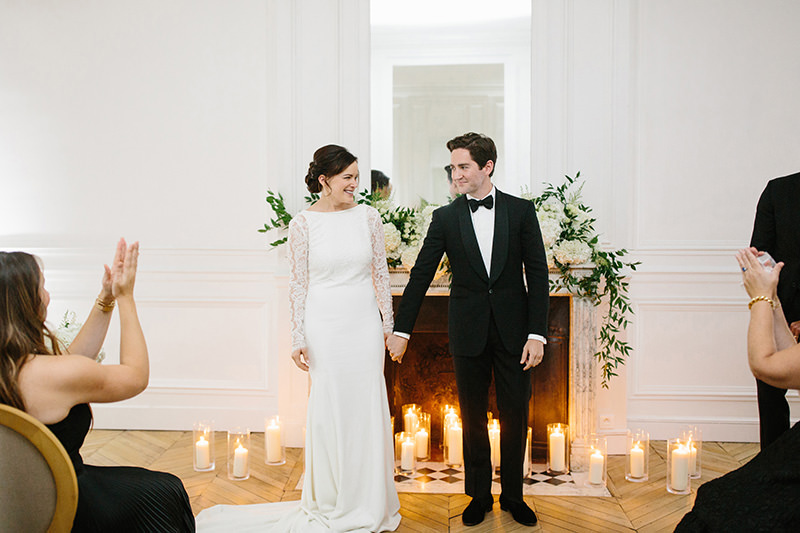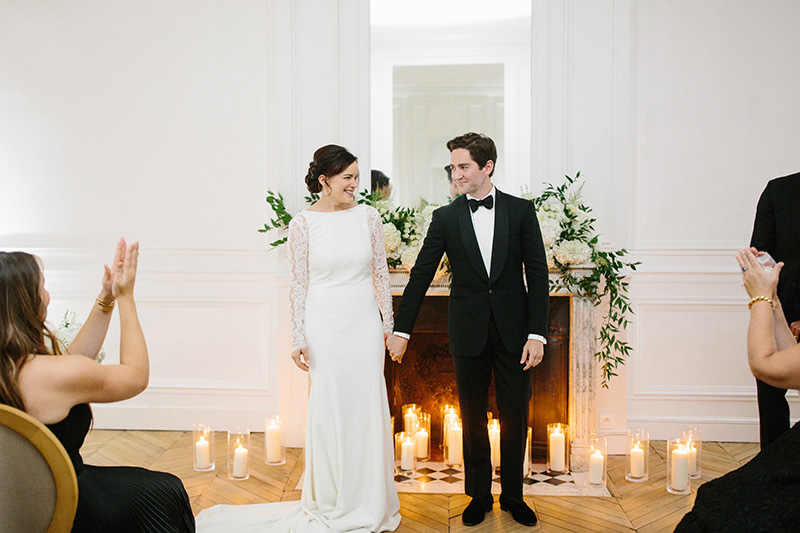 Dinner and Reception
This was the one place where I knew exactly what I wanted down to the simple menu. I mocked something up in photoshop (down to the vintage blue and white dessert plates) and Billy made it all come together so beautifully. We ended up buying the linen napkins that we used at the wedding, and I now have two sets stored away for our children. I know, I know.
We decided to have one long table because we were in a unique position of having a small group, and wanted it to feel like everyone was really together. Dinner was amazing! Almost everyone gave a short toast/speech leaving most of us laughing until we cried. Literally.
Our Paris Wedding: Reception and Dinner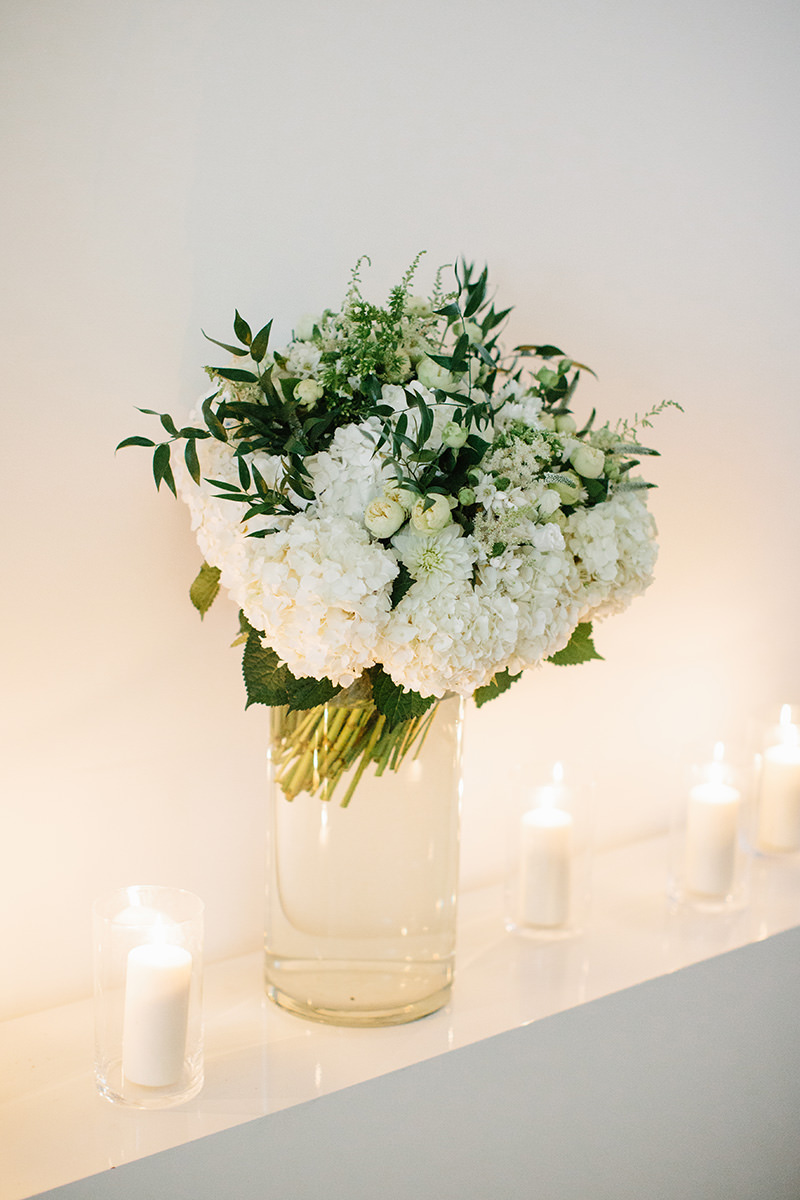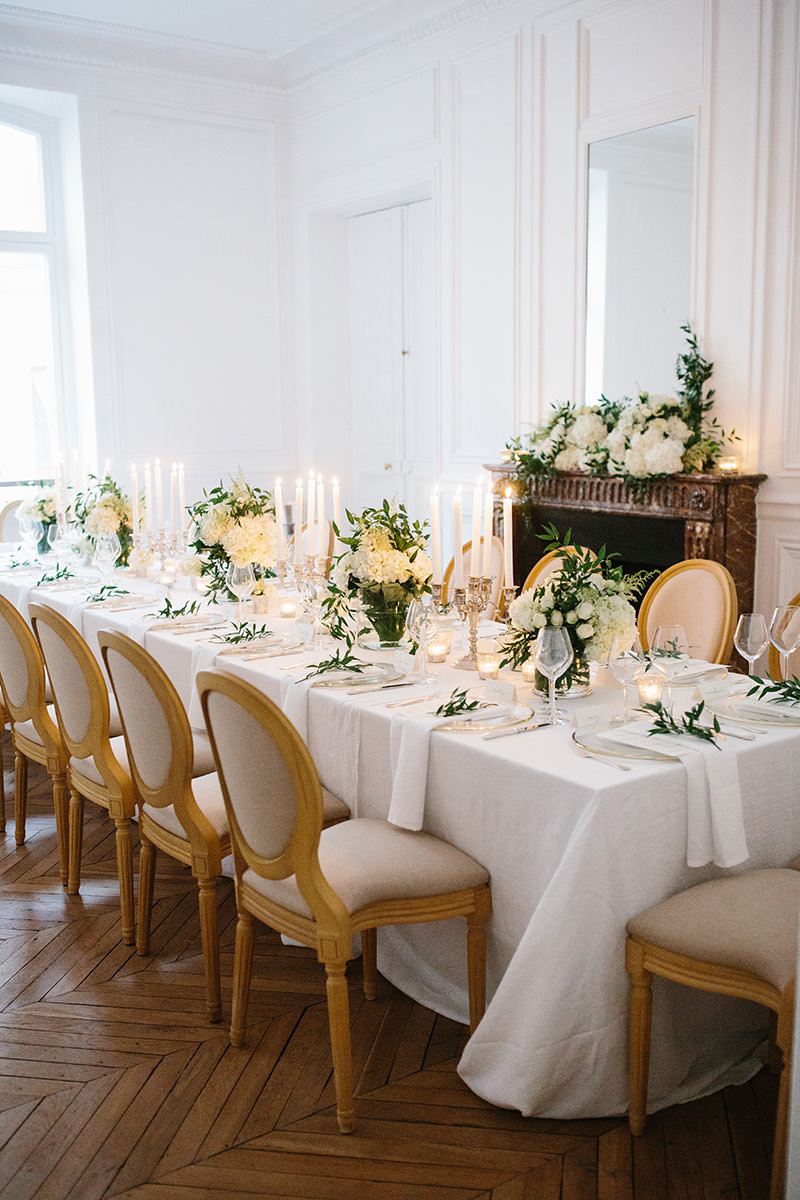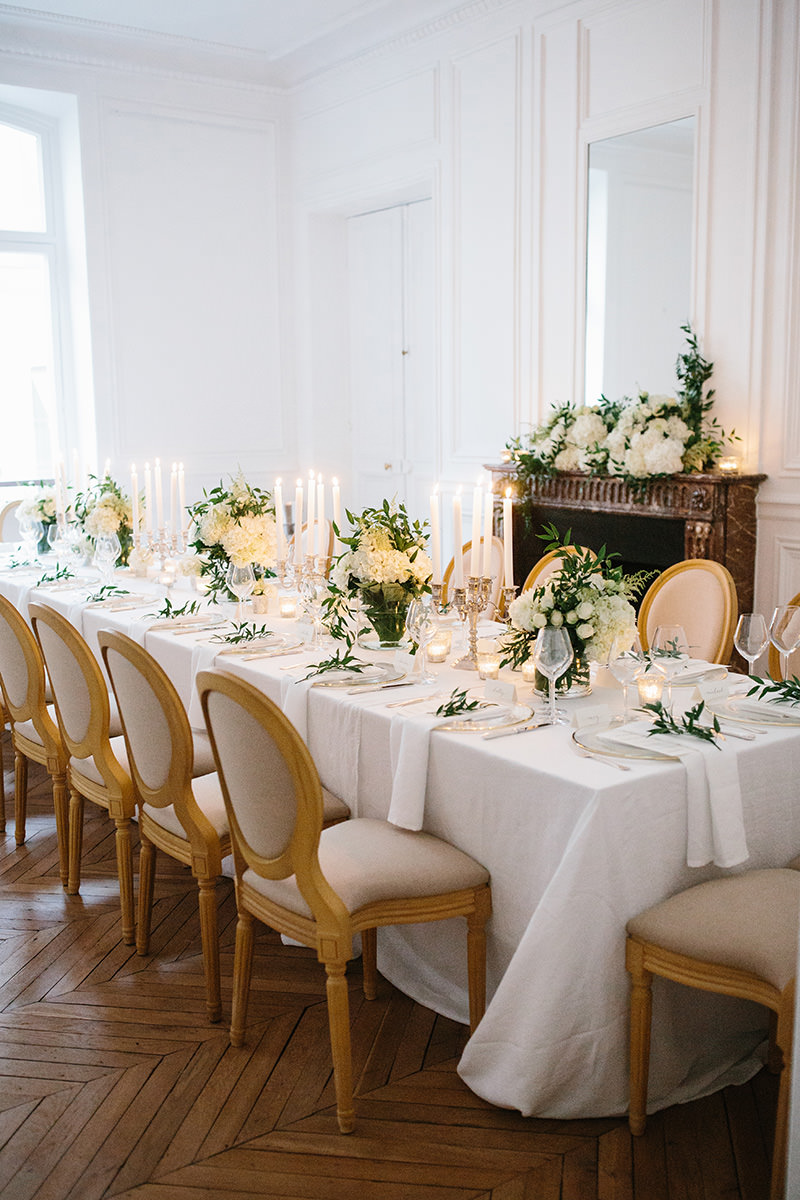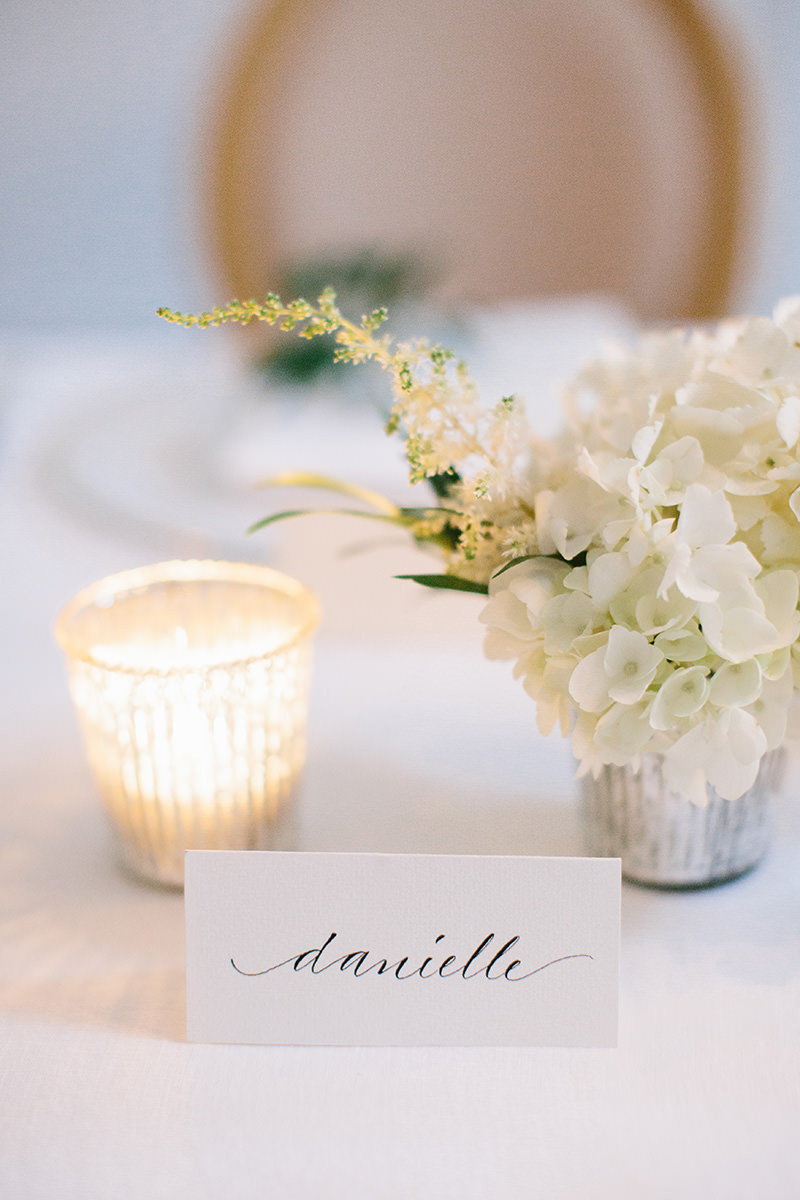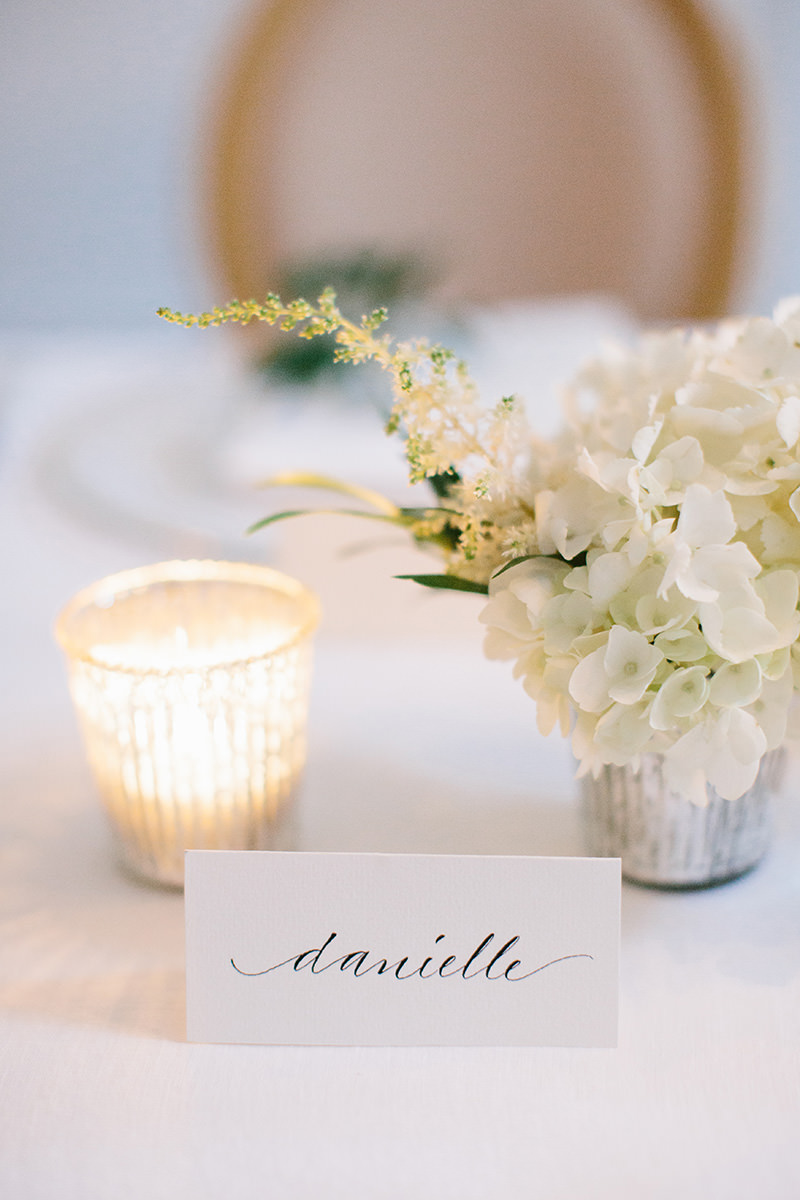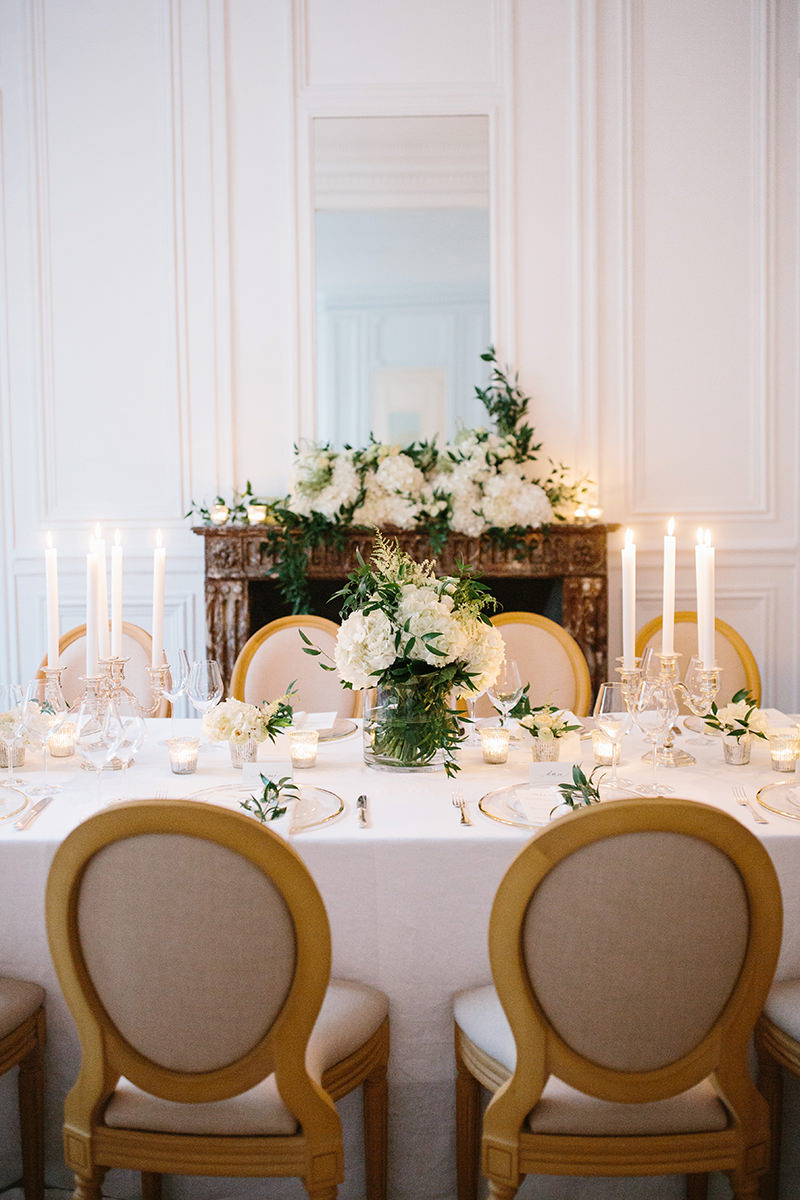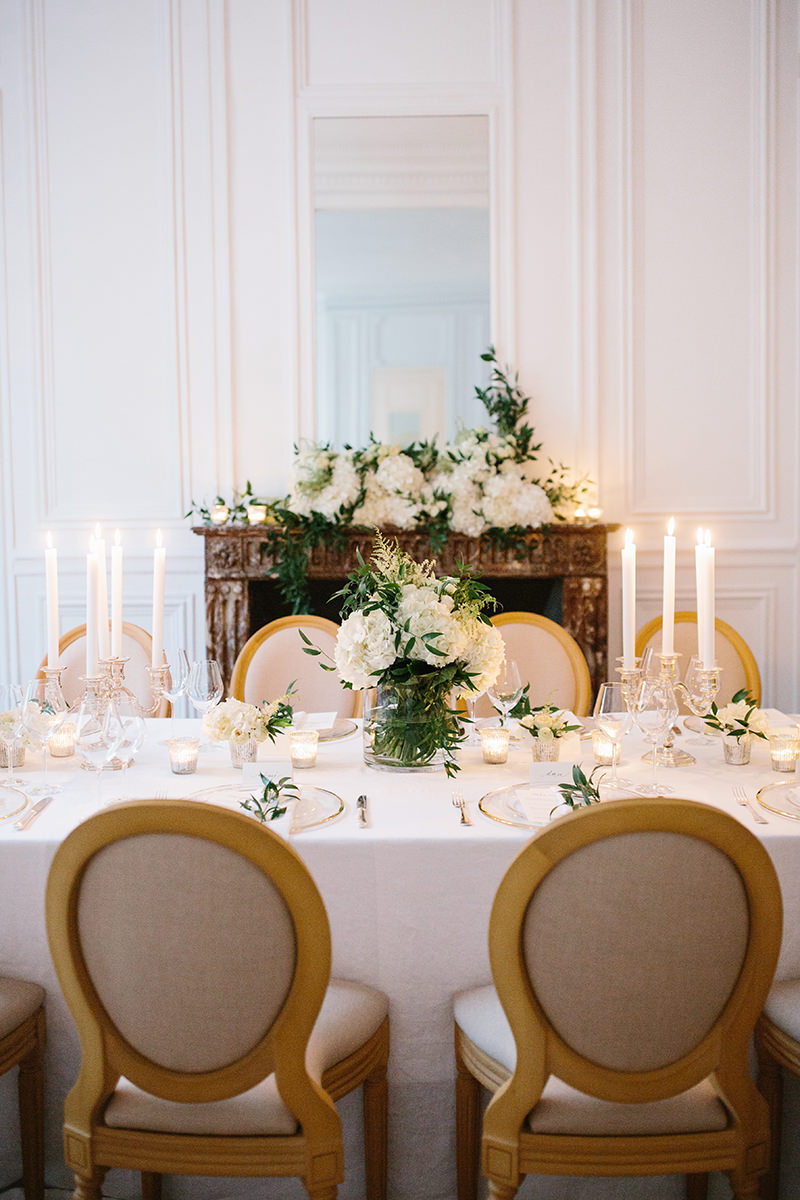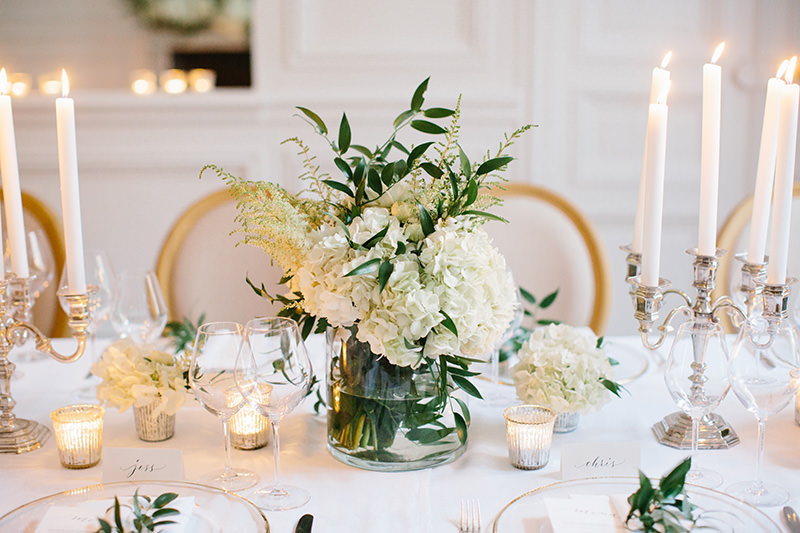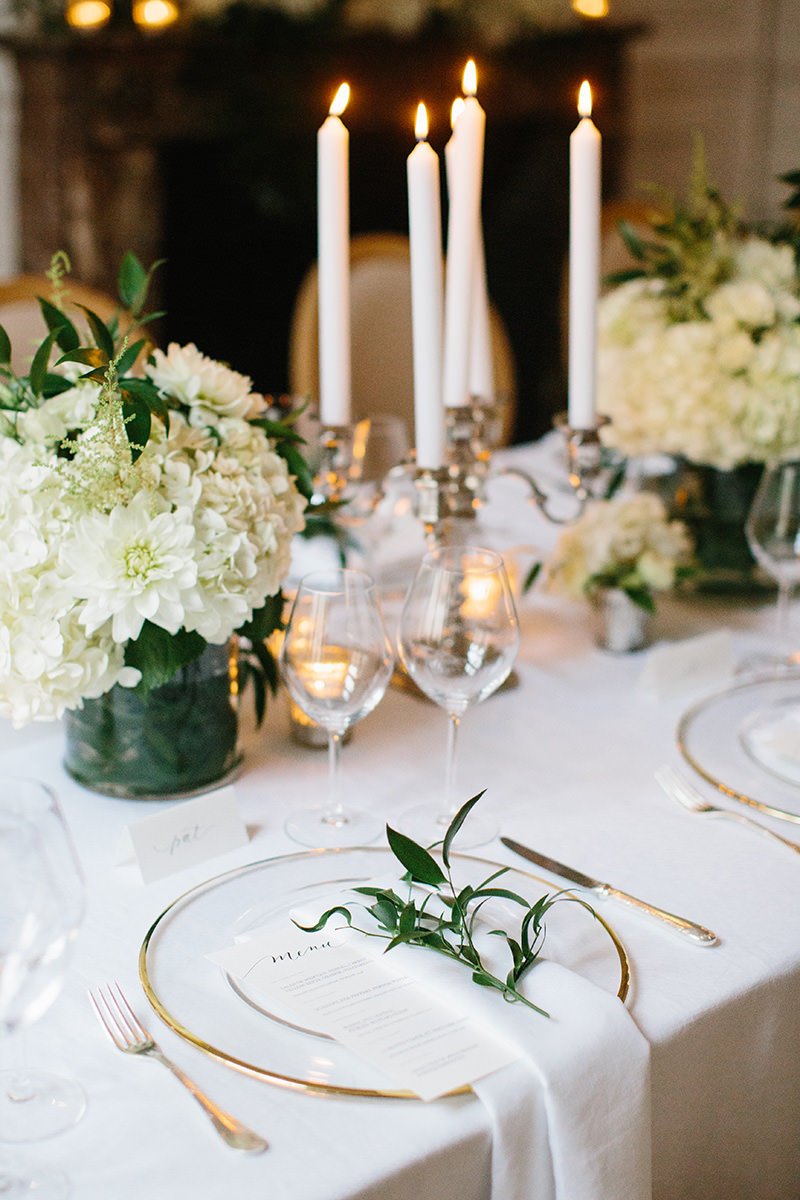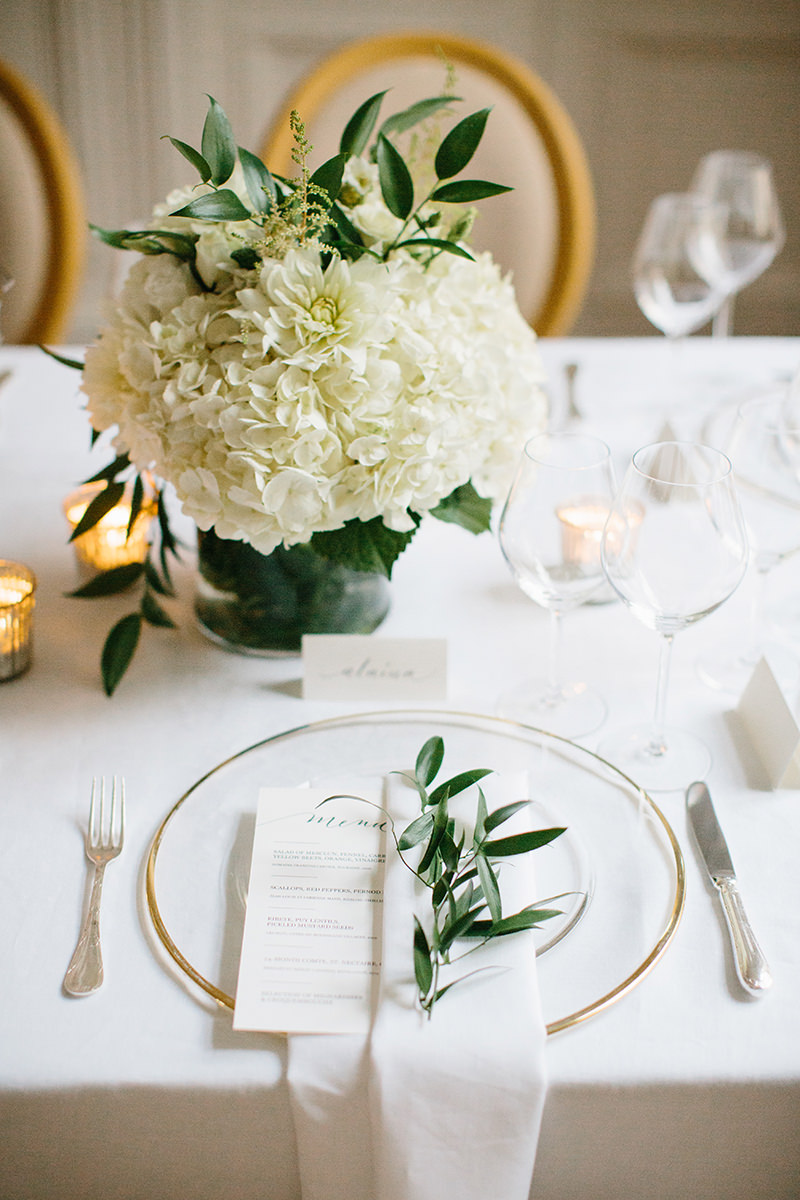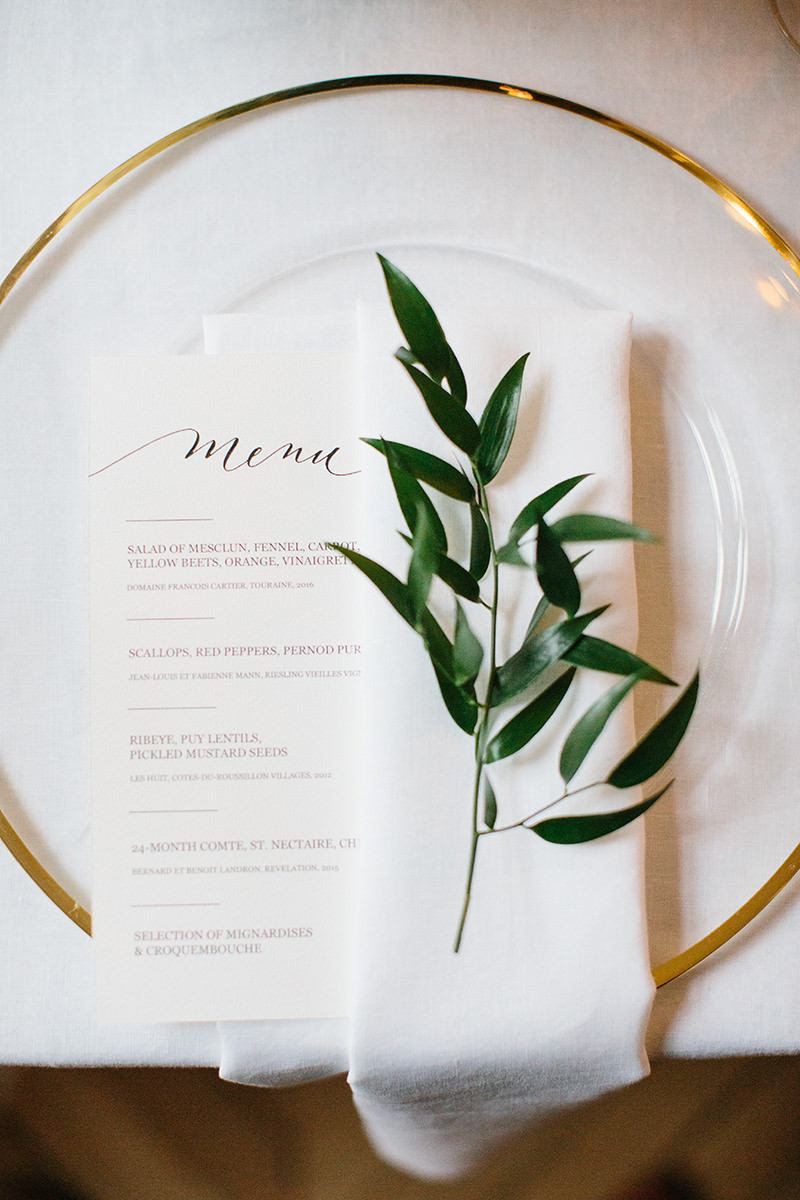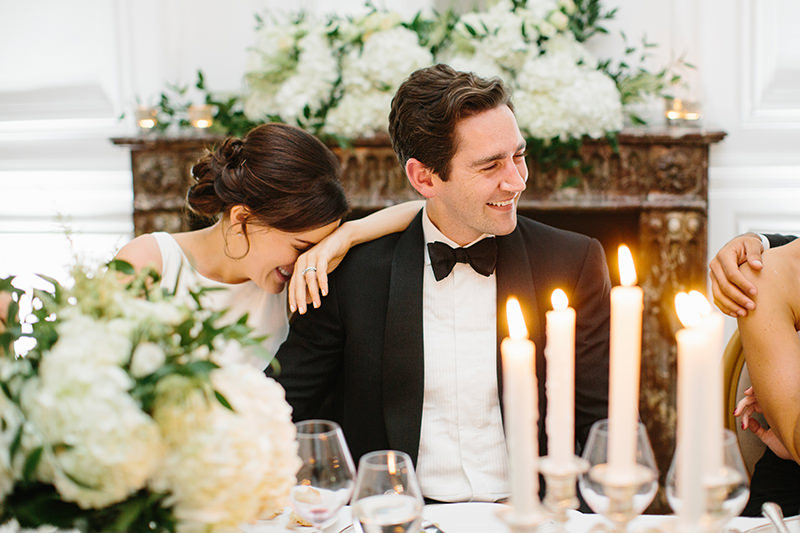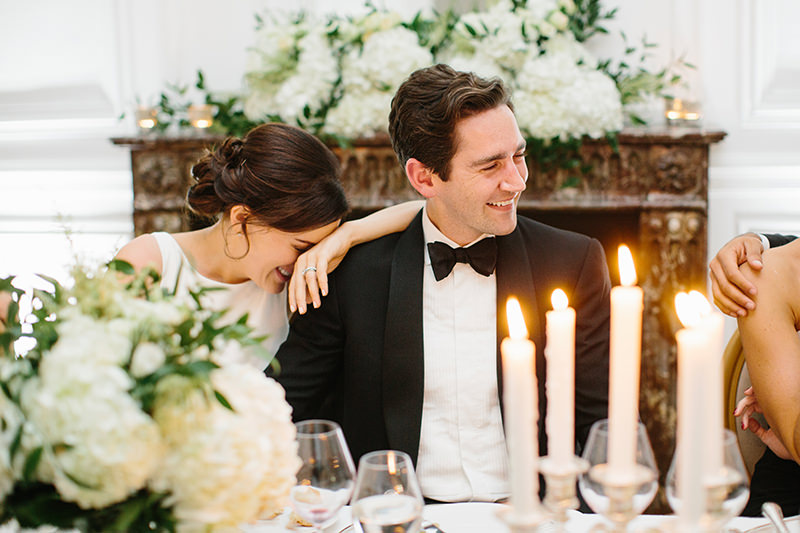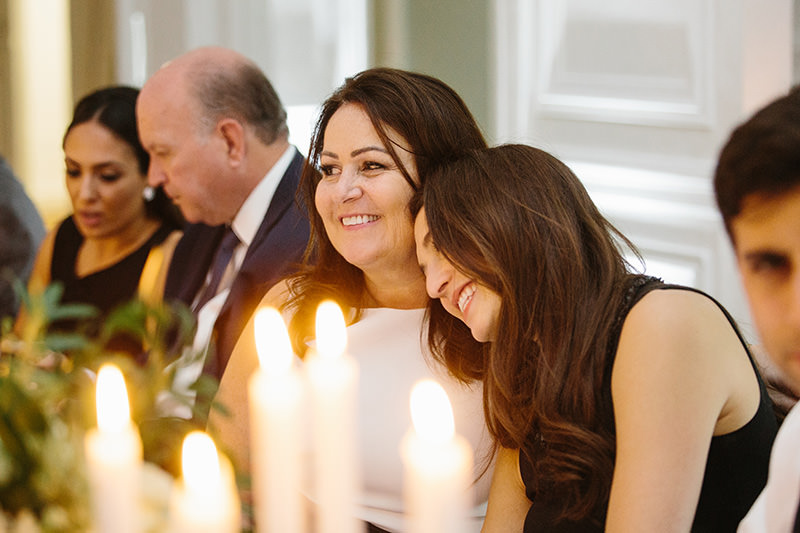 I would like to add that these two met that weekend.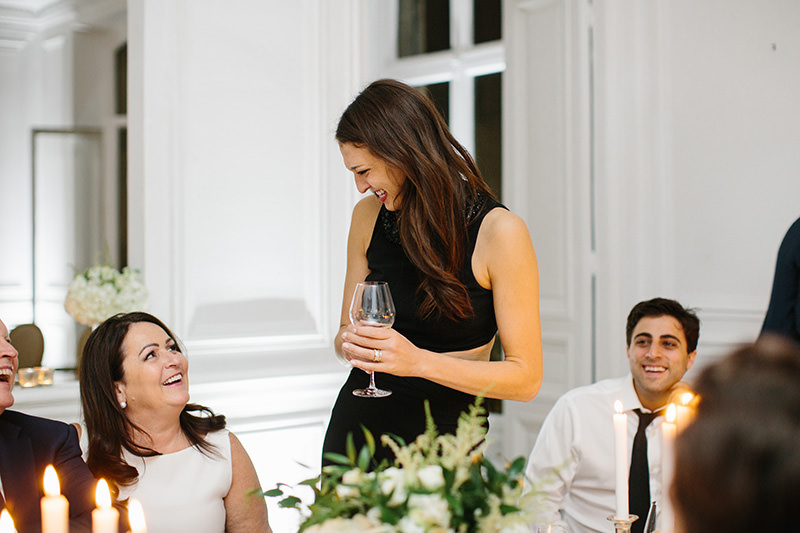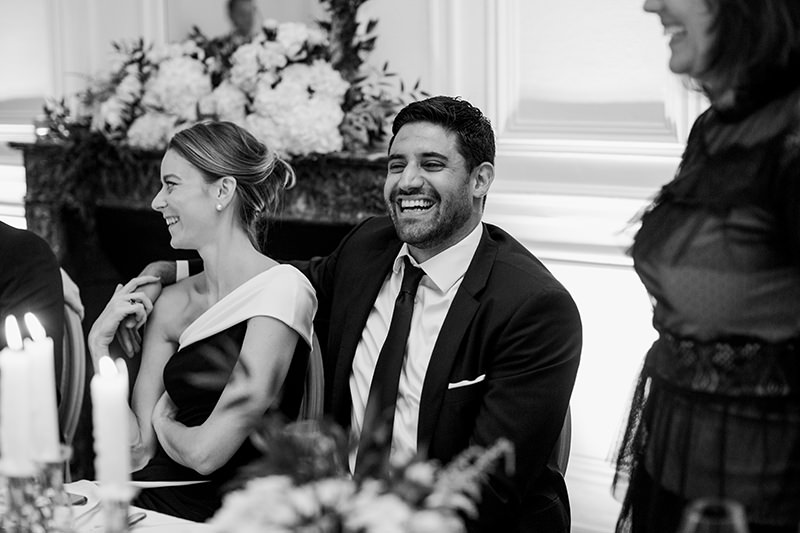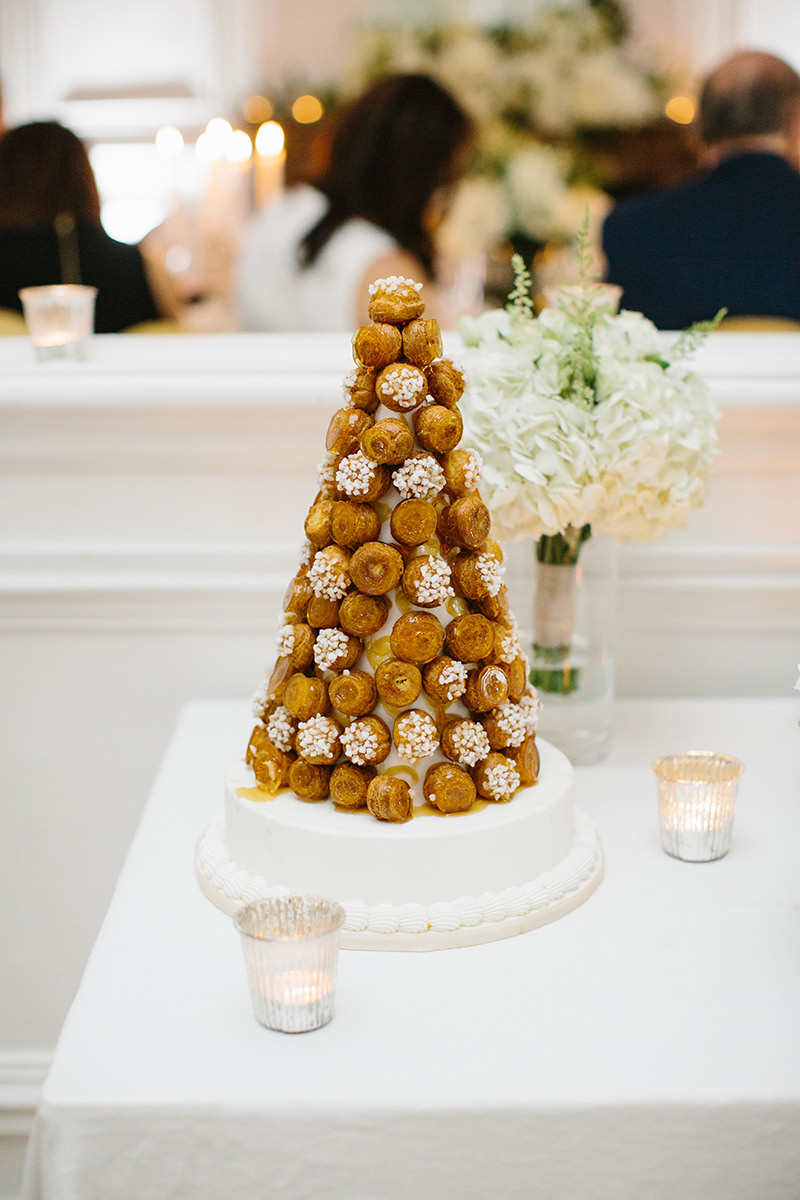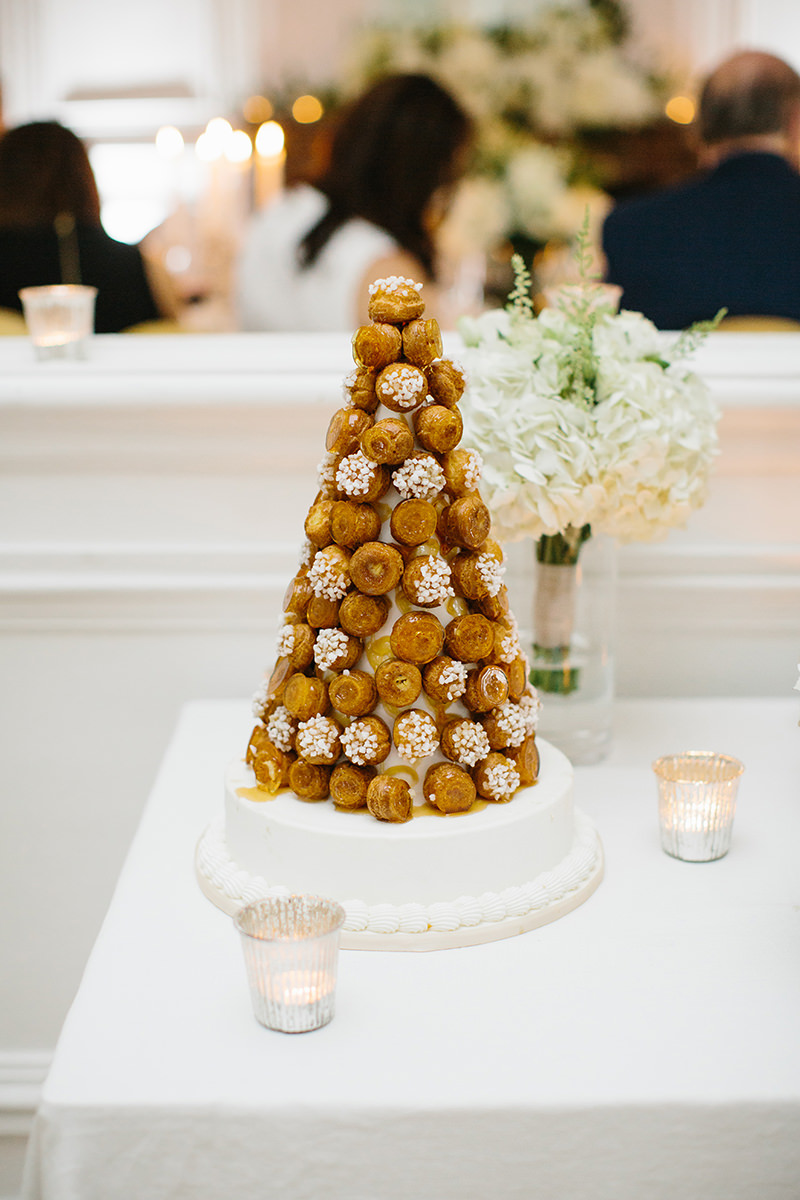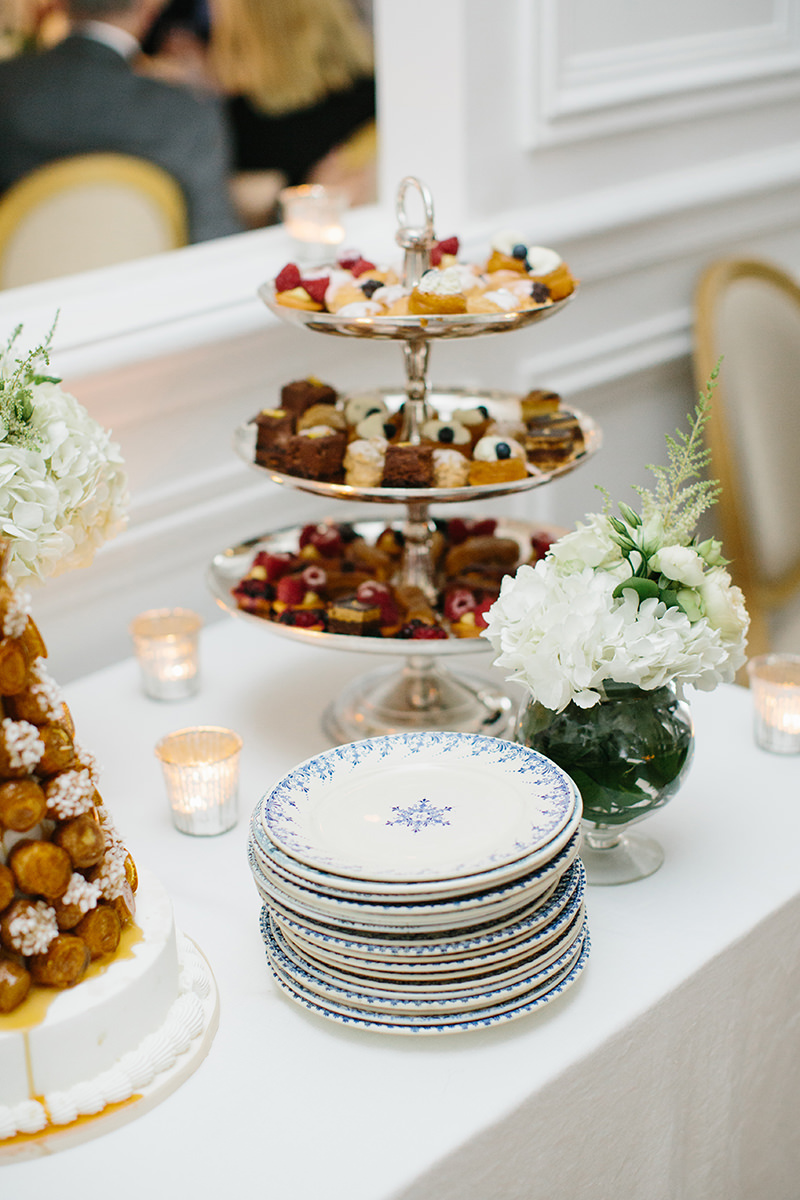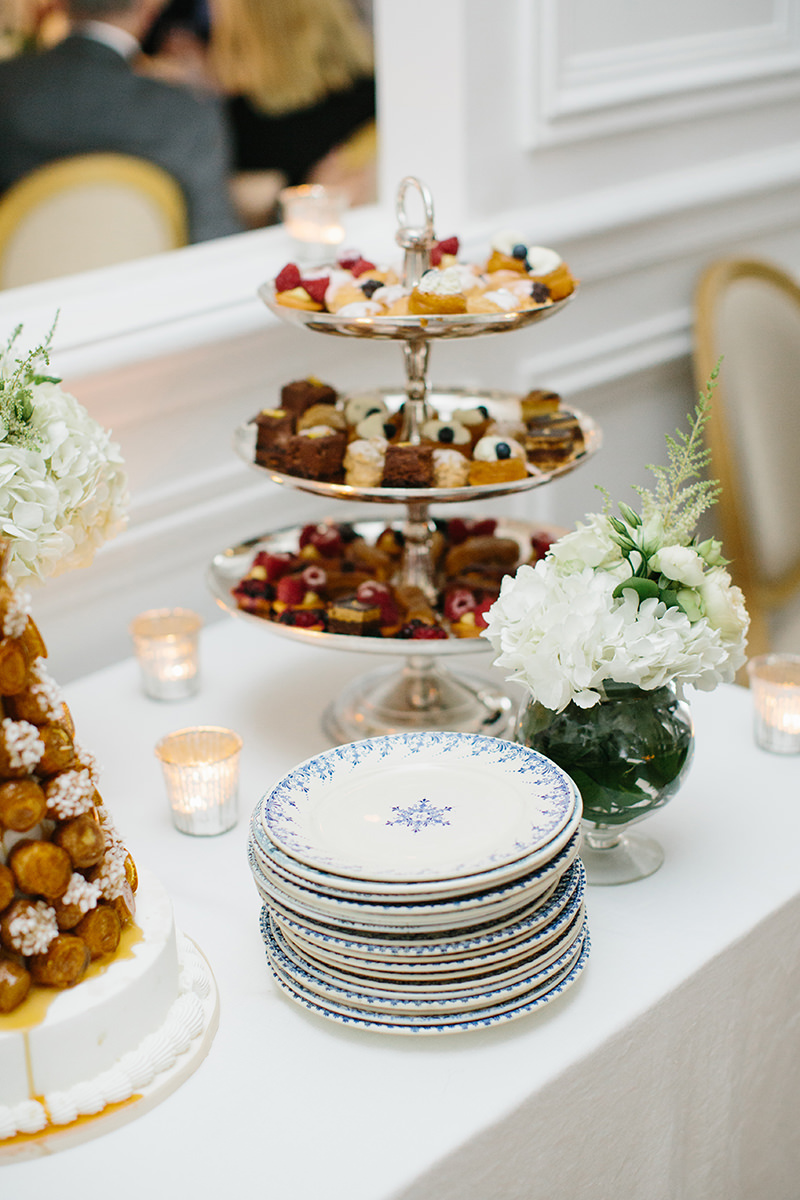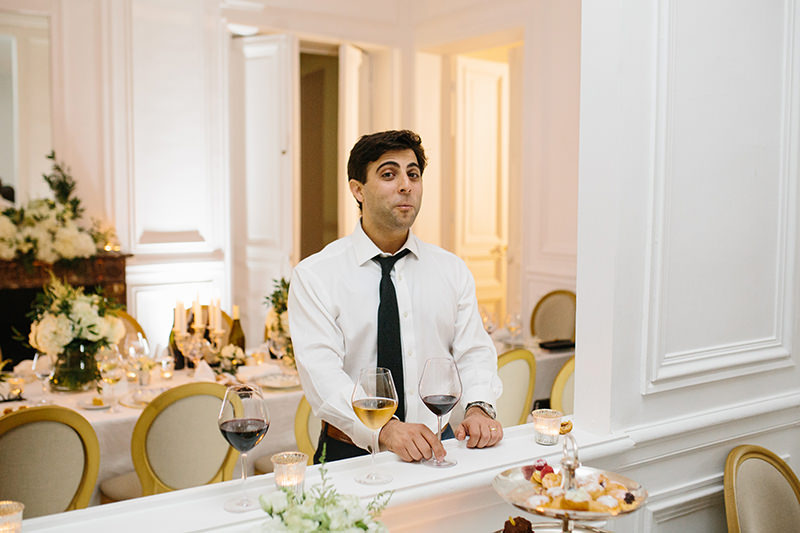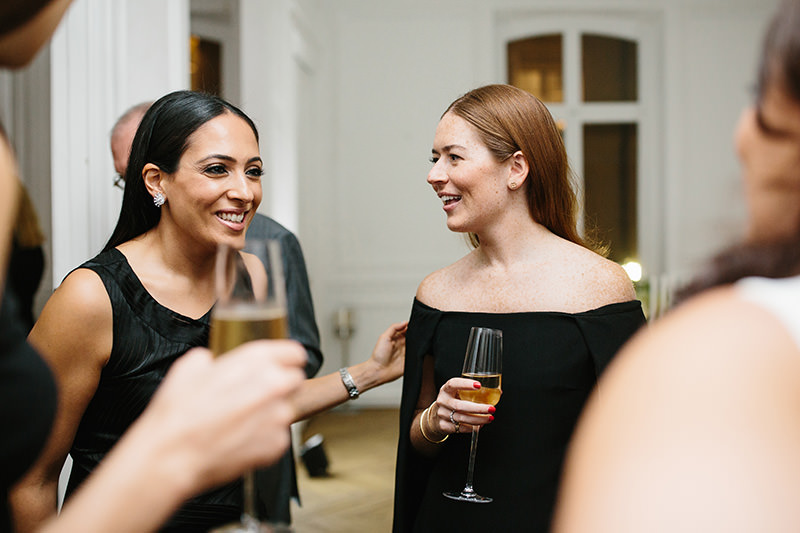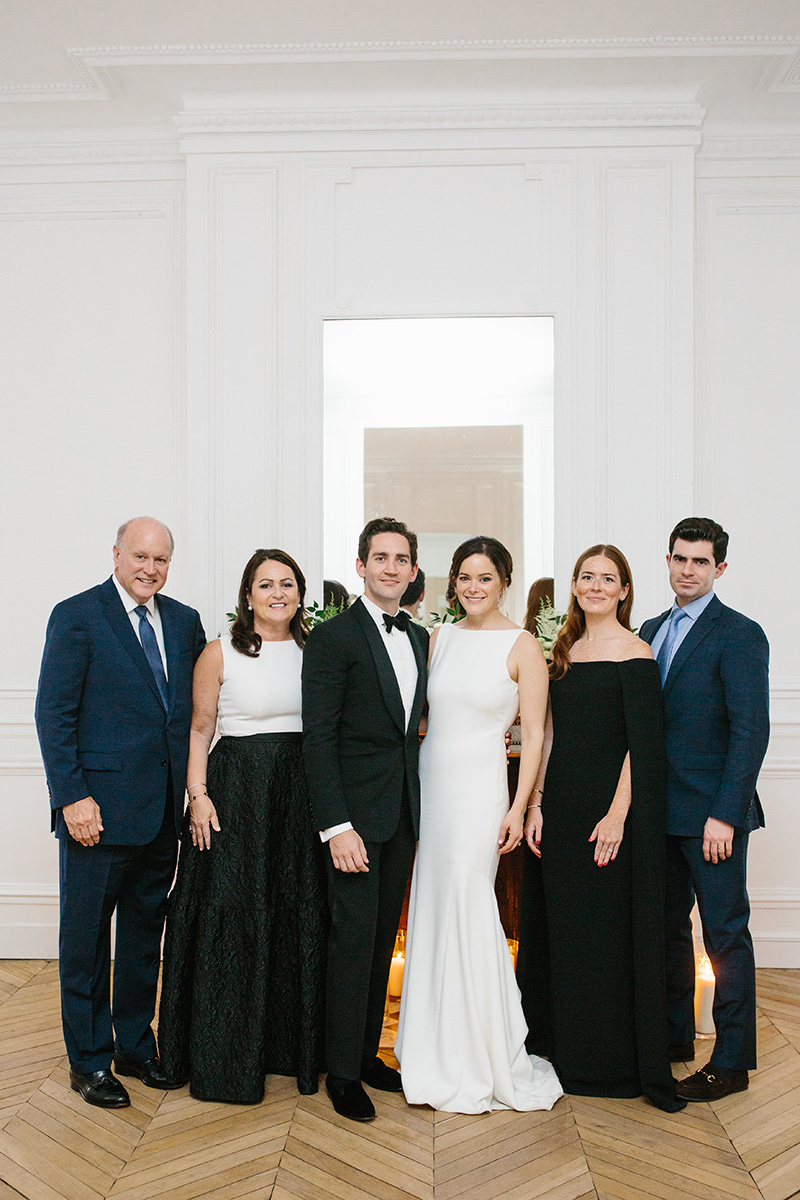 Love that everyone wore black which was sort of planned. With such a small group, I didn't want anyone to stand out, so we asked everyone to stick to a mostly neutral palette. When a few girls told me they were wearing black, I let everyone else know and here's the end result. I love it.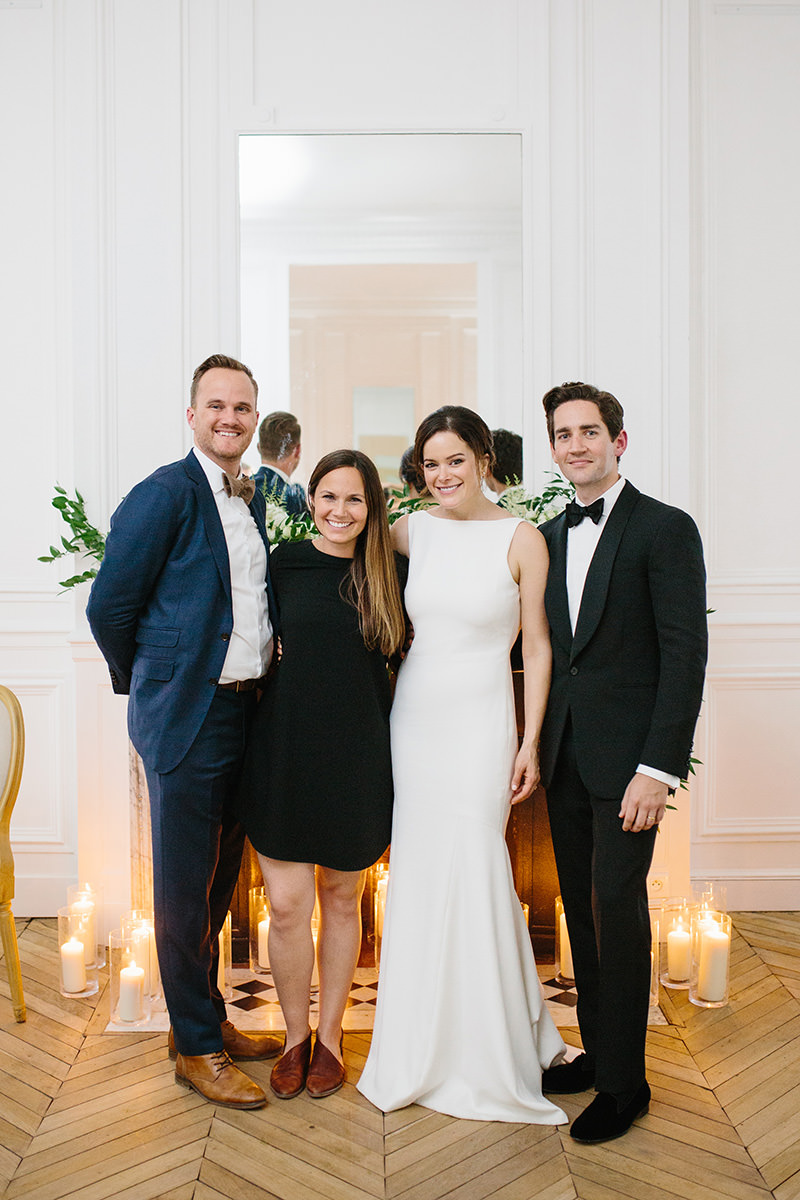 With our photographers (and their baby – Katie is due this week!) Love all 3 of them.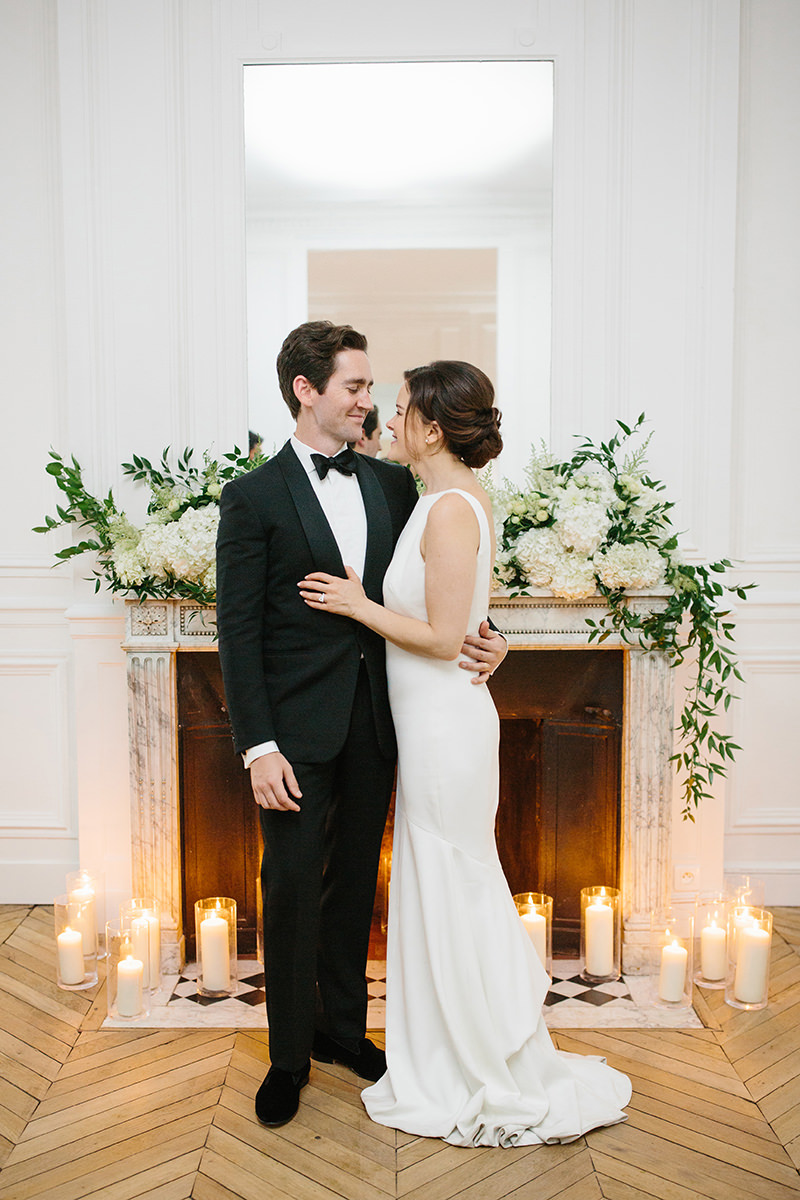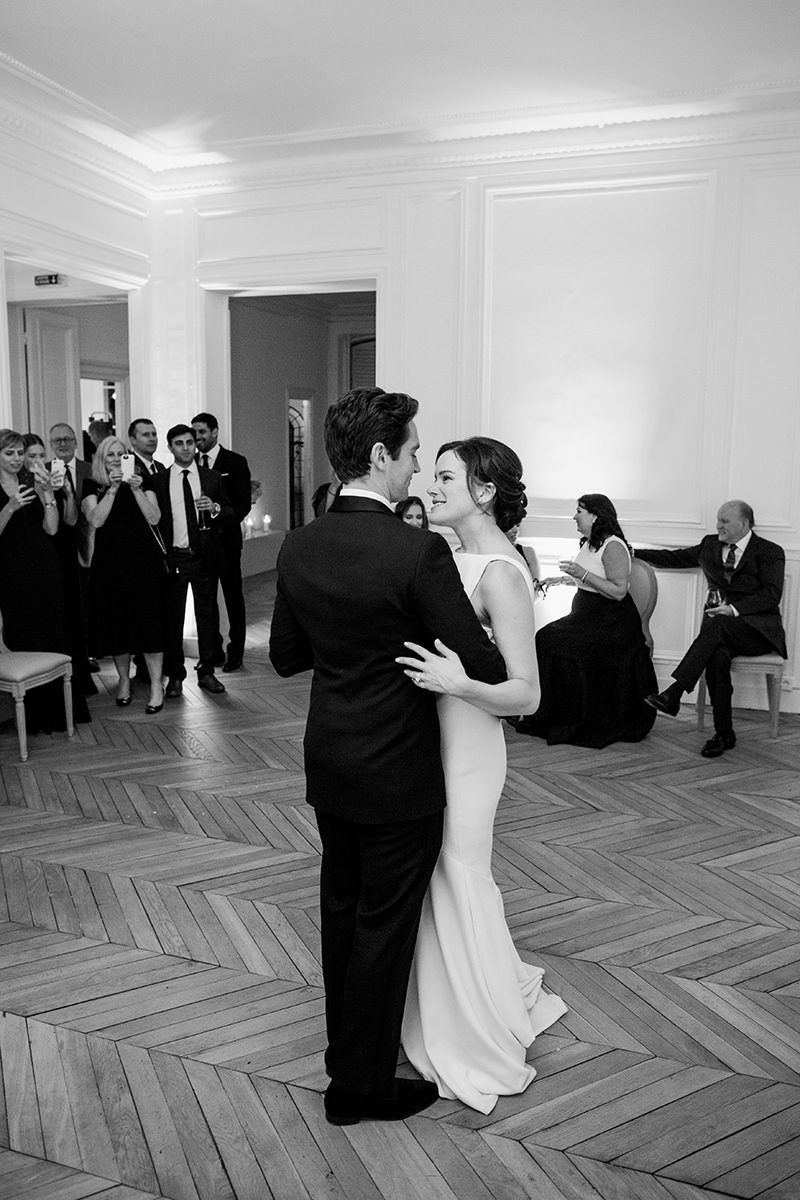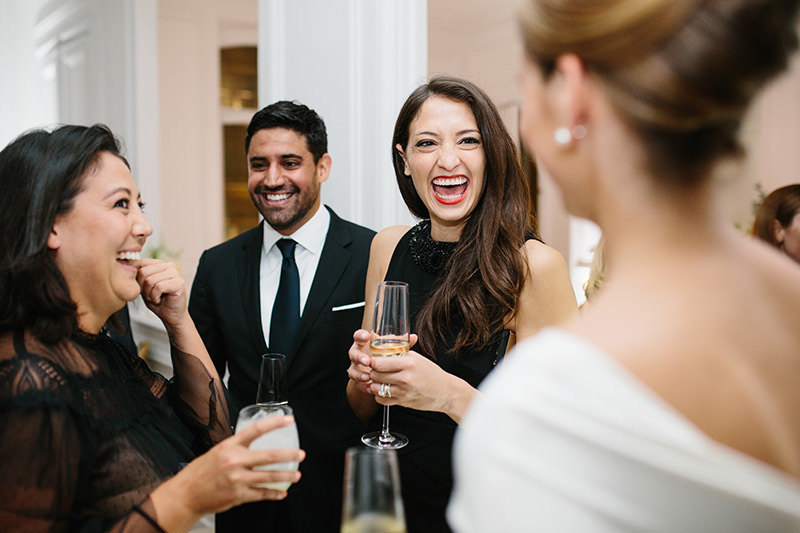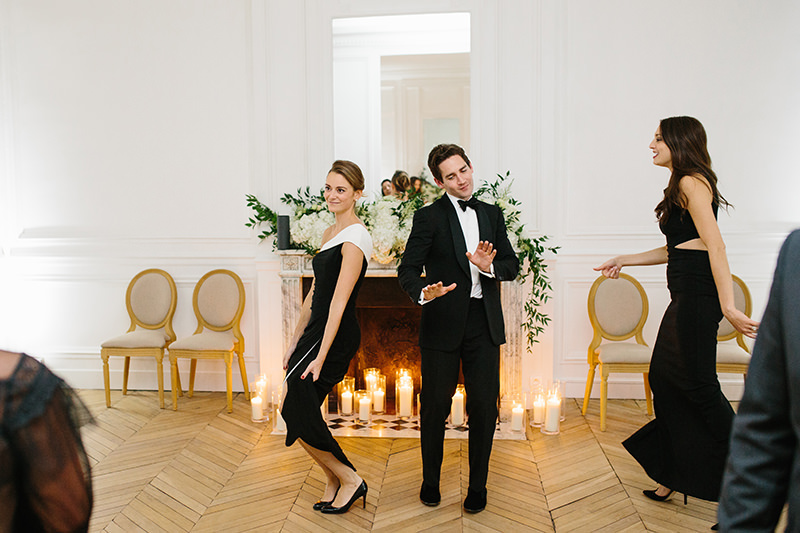 One of my favorite dancing photos.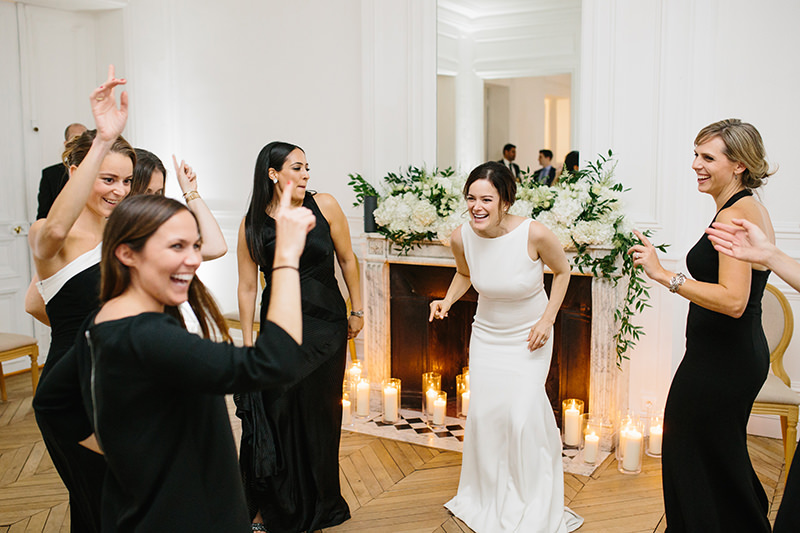 Katie's signature move.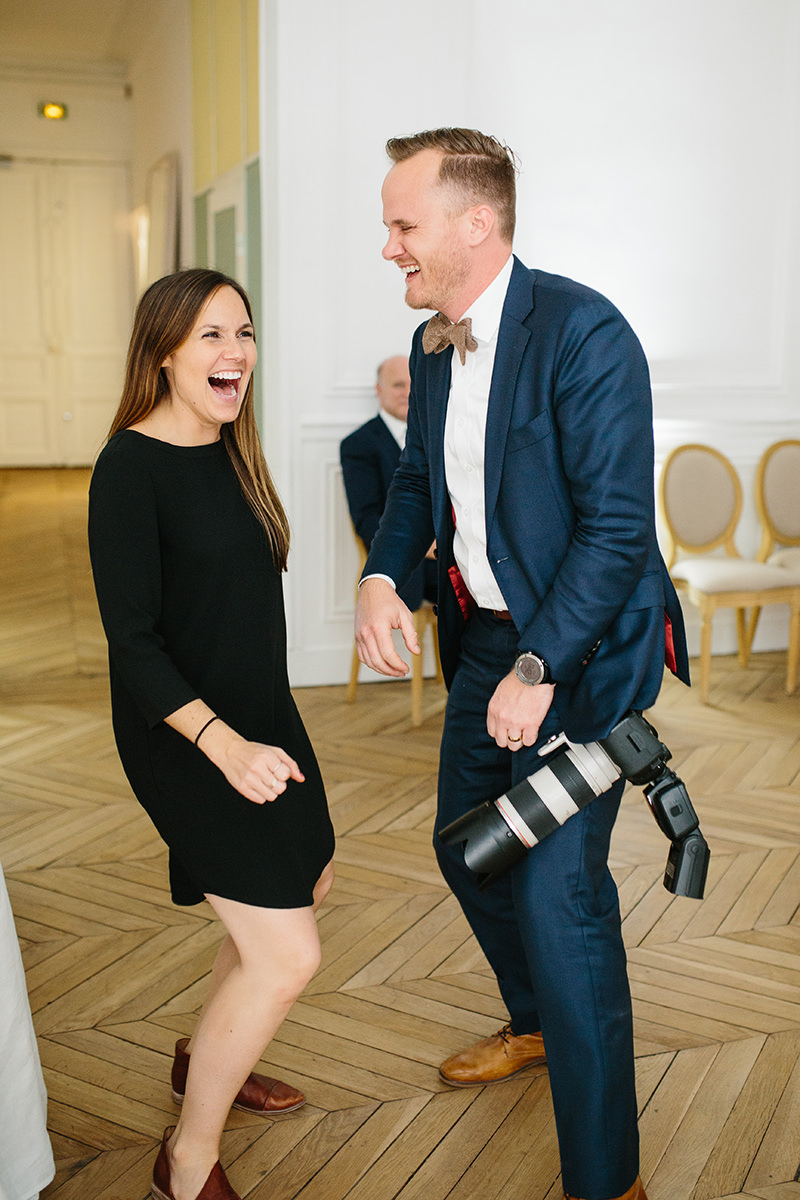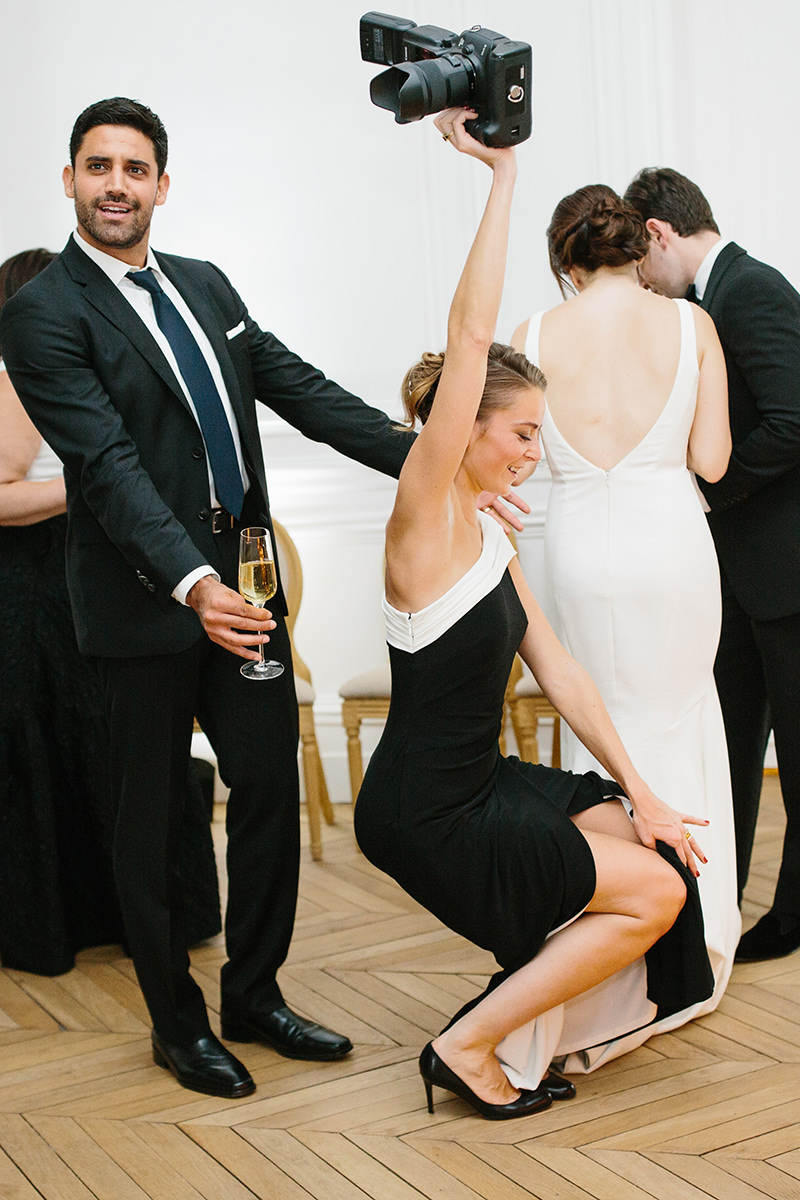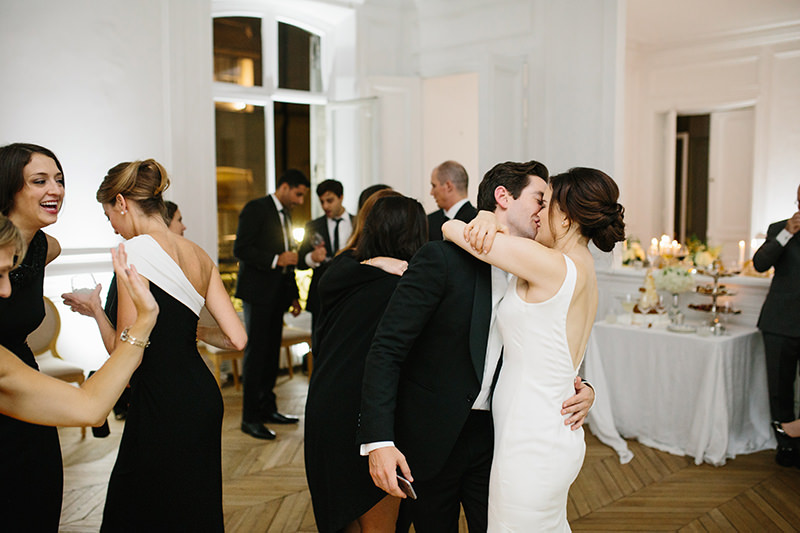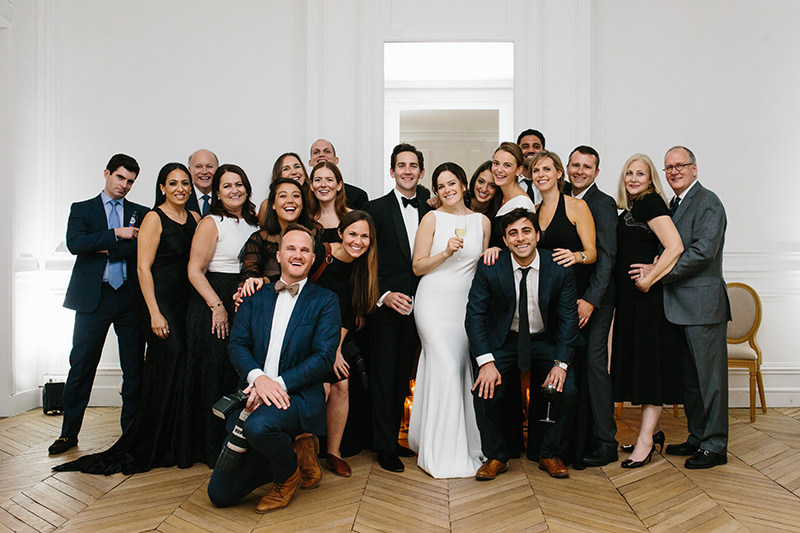 Our Paris Wedding: Sparkler Exit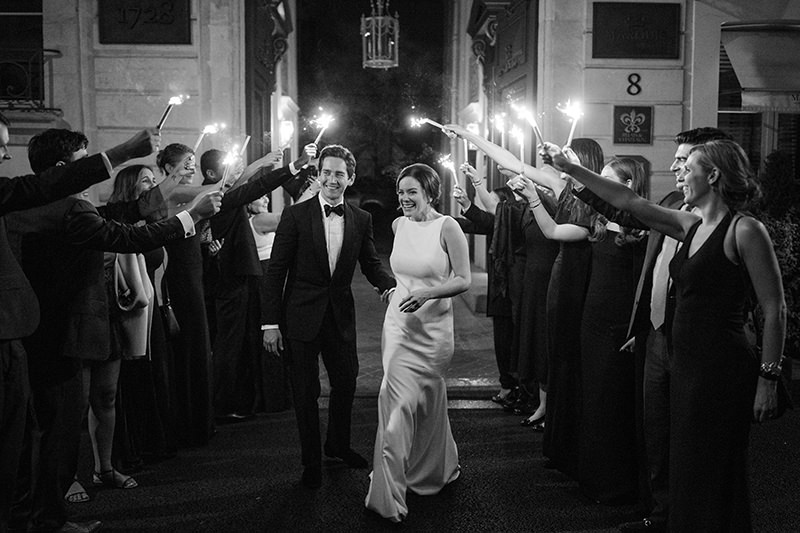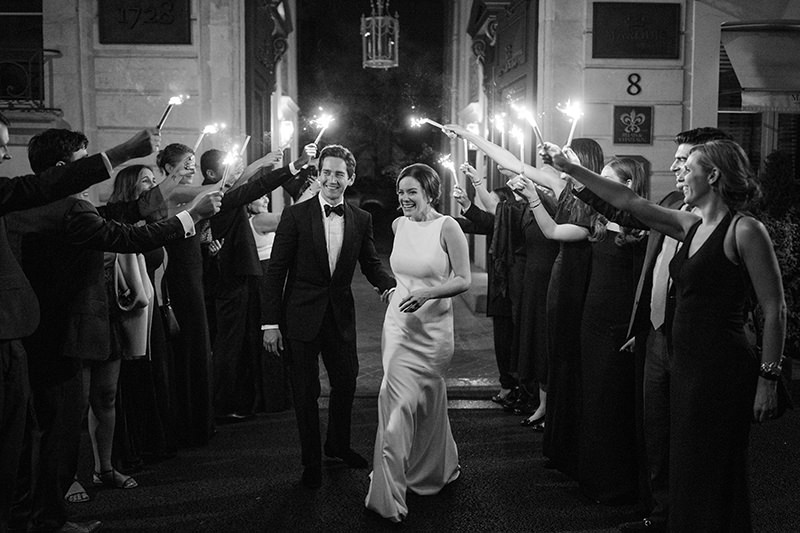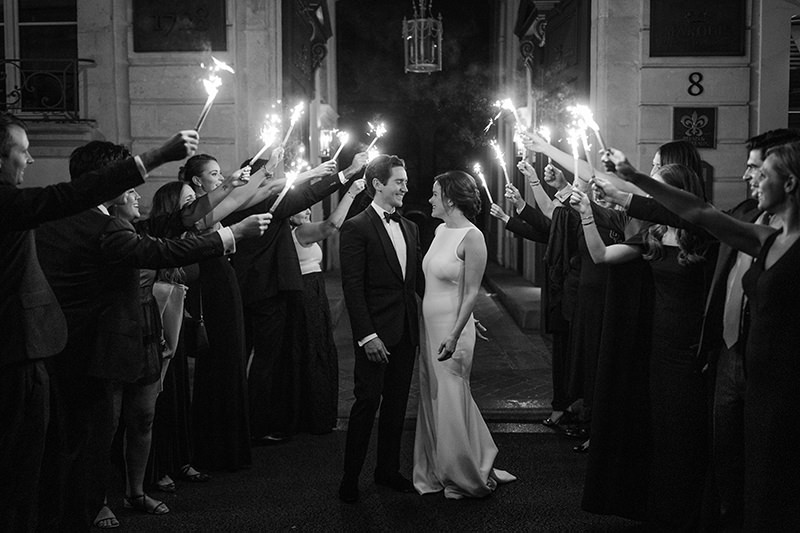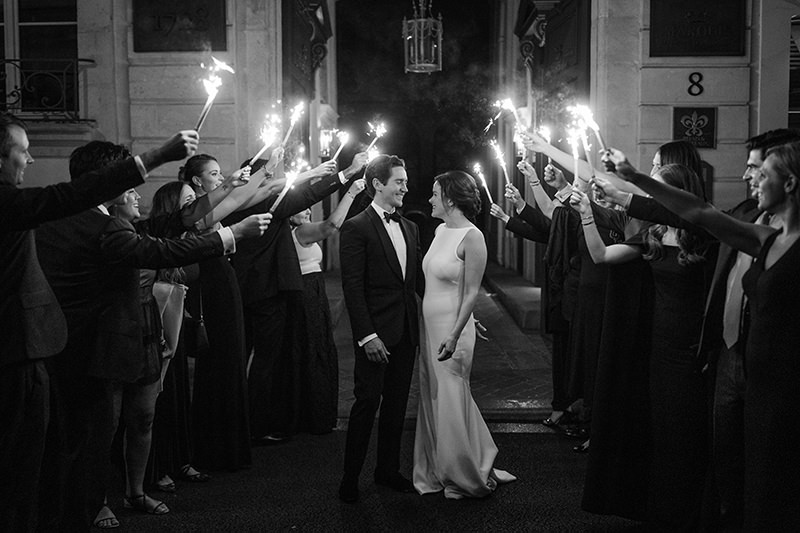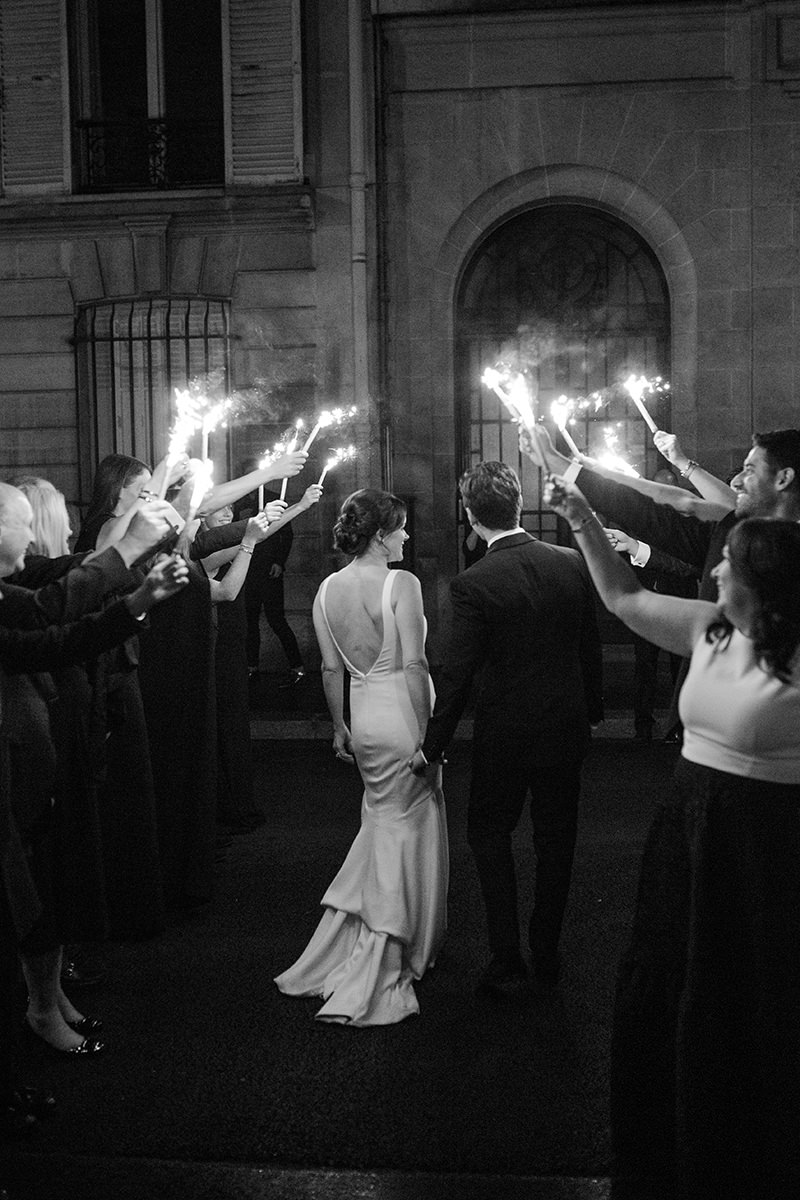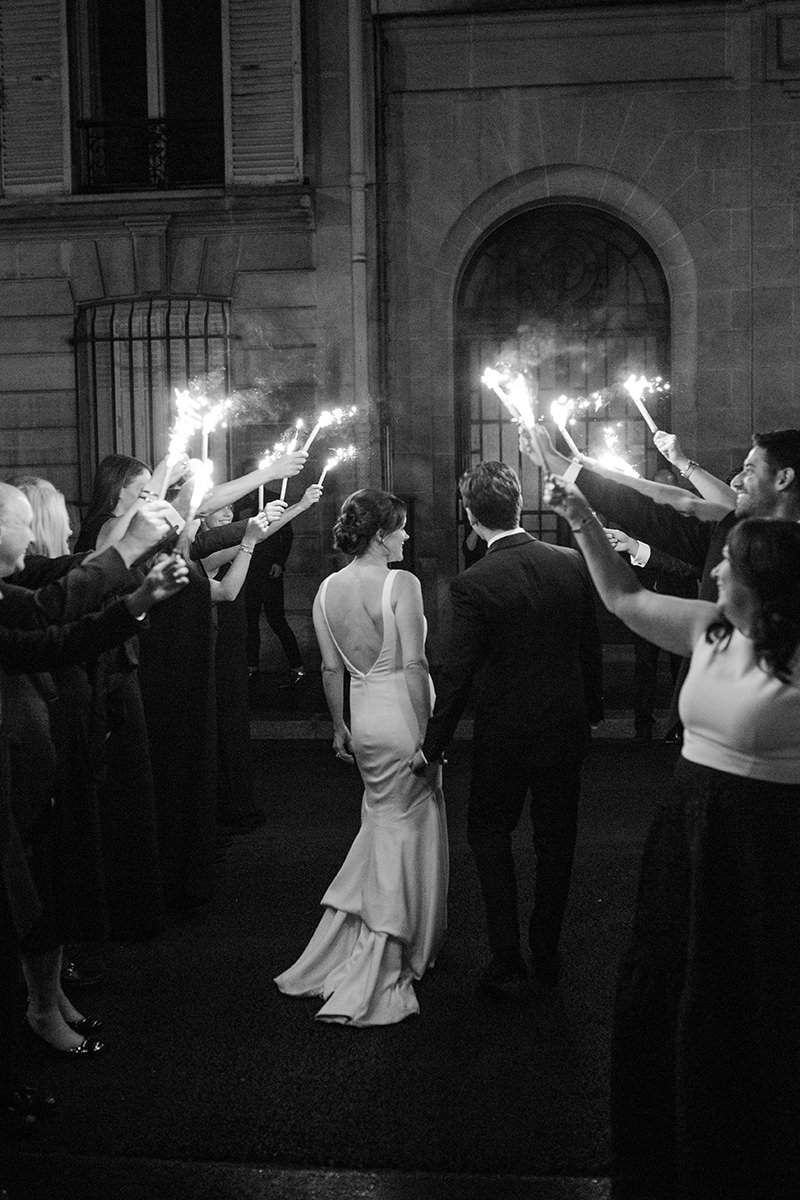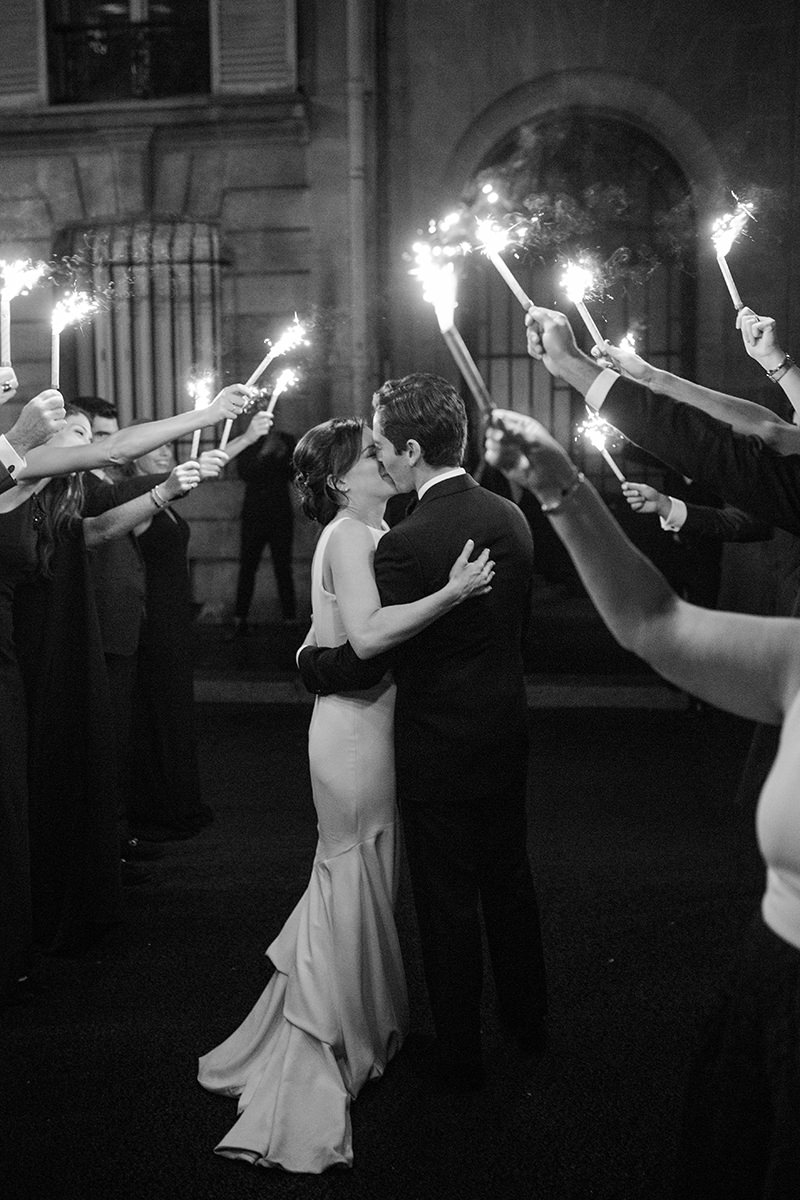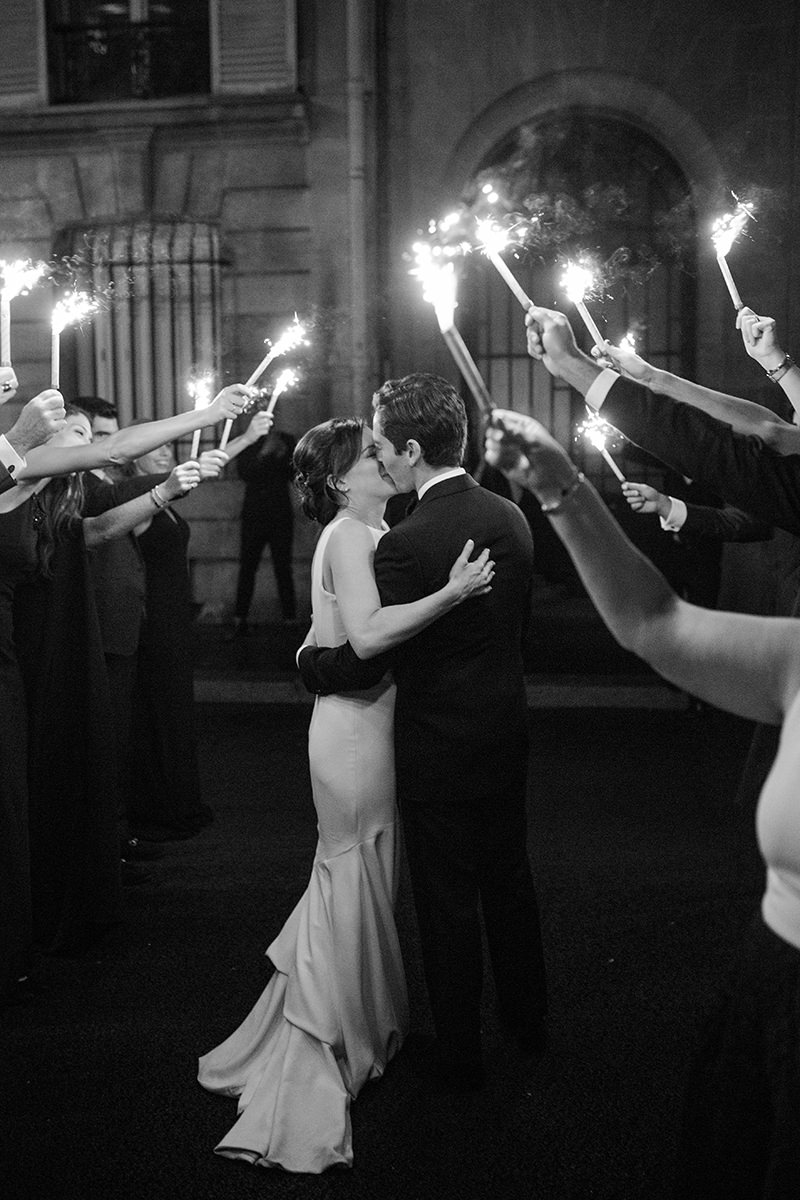 Sort of pointless and a bit staged (Conor did not get why I had to do this) but they're some of my favorite photos from the evening.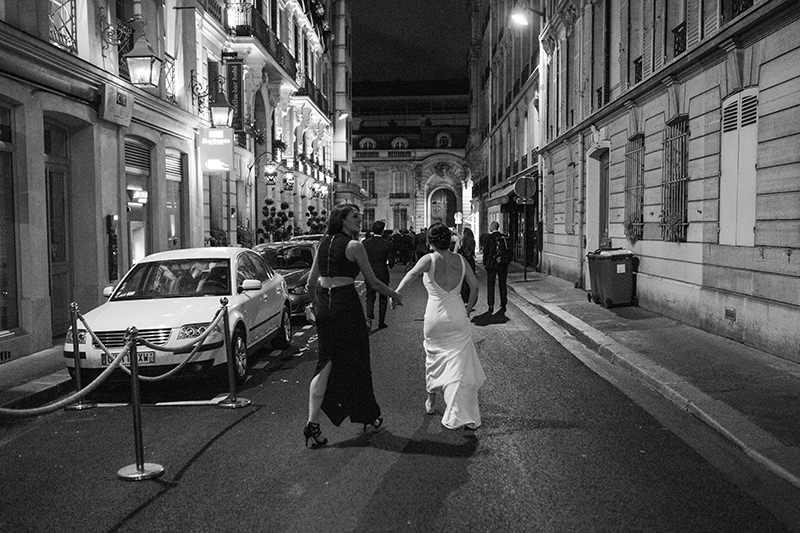 We ended the night with a sparkler exit and then ran (literally) down the street to a nearby bar for drinks, then went back to our hotel with Jessie, Eli, Wil, and Emilia for late-night pizza and to sign our marriage certificate.
Our Paris Wedding: Playlist
The Details
Photography: Katie Kett
Event planning and florals: Luxe Paris Events
Videography: Shhmedia & Co
Stationery: Minted
Custom Map: Kelly Etz
Wedding Monogram: Kara Anne Paper
Dress and lace topper: Lovely Bride
Officiant: Wil Schobeiri
Robe: Lunya
Shoes: Stuart Weitzman
Hair and Makeup: Harold James
Venue: 9 Rue d' Anjou, Paris
Catering: Zia Paris
Rentals: Options Rentals
Music: Conor put our playlists together and we brought this speaker with us