Paleo Slow Cooker Chicken Noodle Soup Recipe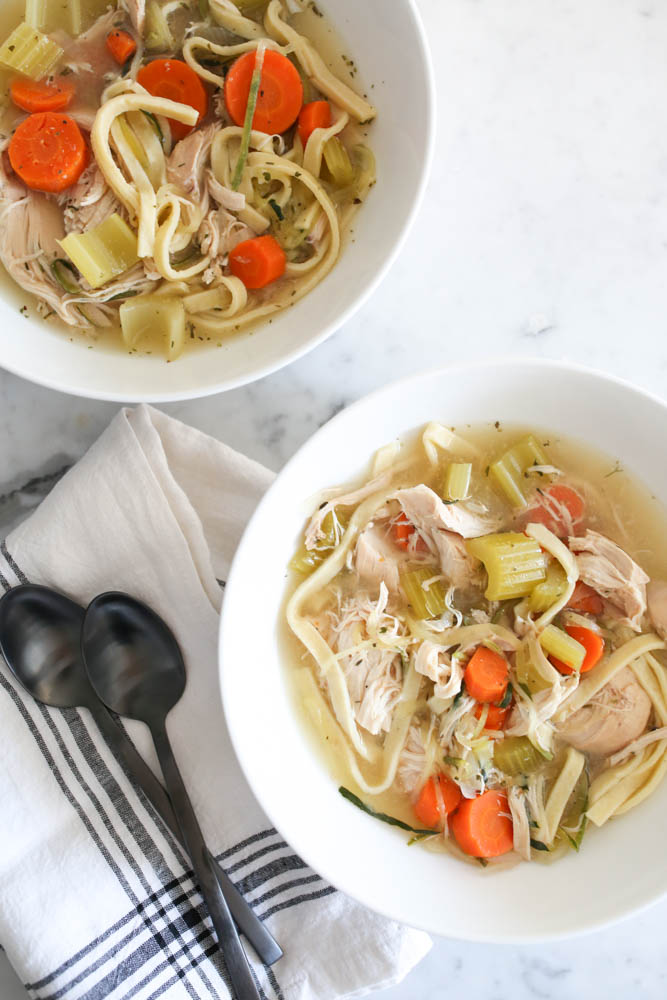 It's cooling down in Chicago, and with cold weather comes sweaters, hot cider, and making cozy, hearty meals for cold nights. And what's better than homemade chicken noodle soup? This is such an easy recipe and goes perfectly with cozy sweaters and pajamas. This is the best chicken noodle soup, and can be made paleo with almond flour noodles.
Slow Cooker Chicken Noodle Soup Recipe
I love a classic chicken noodle soup. A few years ago came up with best paleo chicken soup recipe. As promised I spent some time adjusting and perfecting this recipe. That meant making it a few times before I was ready to share it, but it's time.
I love making this in a slow cooker but it can also be prepared in a big pot on the stove. I've never made it in a pressure cooker but would be curious to try it. It has such great flavor and the best part: It is just as good the next day. So the next time you have a sore throat or it's freezing and you need something to warm you up, try this delicious recipe that will be loved by the whole family.
Ingredients
4 skinless chicken breasts, a whole chicken, or a rotisserie chicken (if you like darker meat, add some skinless chicken thighs)

1

medium onion

chopped

4-5

celery stalks,

diced

5

carrots,

diced

32 oz. organic chicken broth
2 cups organic chicken stock or bone broth (or a little more, depending on how soupy you like your chicken soup)
Cappello's gluten free pasta is my favorite noodle (available at Whole Foods) or zucchini noodles cooked al dente

1

tablespoon

herbes de Provence

1

teaspoon

sea salt

1/2

teaspoon

fresh ground pepper
sprinkle some fresh dill for a little extra flavor
top with a little fresh parsley if you're into garnishes
1 or 2 bay leaves
A note on noodles
This is a recipe I made back during my paleo days, so I always used almond flour or a gluten free, paleo-friendly noodle. You can also use zoodles if you're Whole30. Note that you can use wide egg noodles, gluten free noodles, or almond flour noodles.
Instructions
Line the bottom of your slow cooker with a little olive oil and your skinless chicken breast. Put the remaining ingredients on top of the chicken breasts and cook on high for 4 hours or on low for 6 hours.
When the soup is ready, use two forks to shred the chicken. The shredded chicken is so good and so soft – and the dried herbs add so much flavor. If you're using zucchini noodles, add those during the last 45 minutes since they cook so quickly and will fall apart otherwise.
Store in an airtight container and pour yourself a bowl of soup whenever you're in the mood for great comfort food that week.